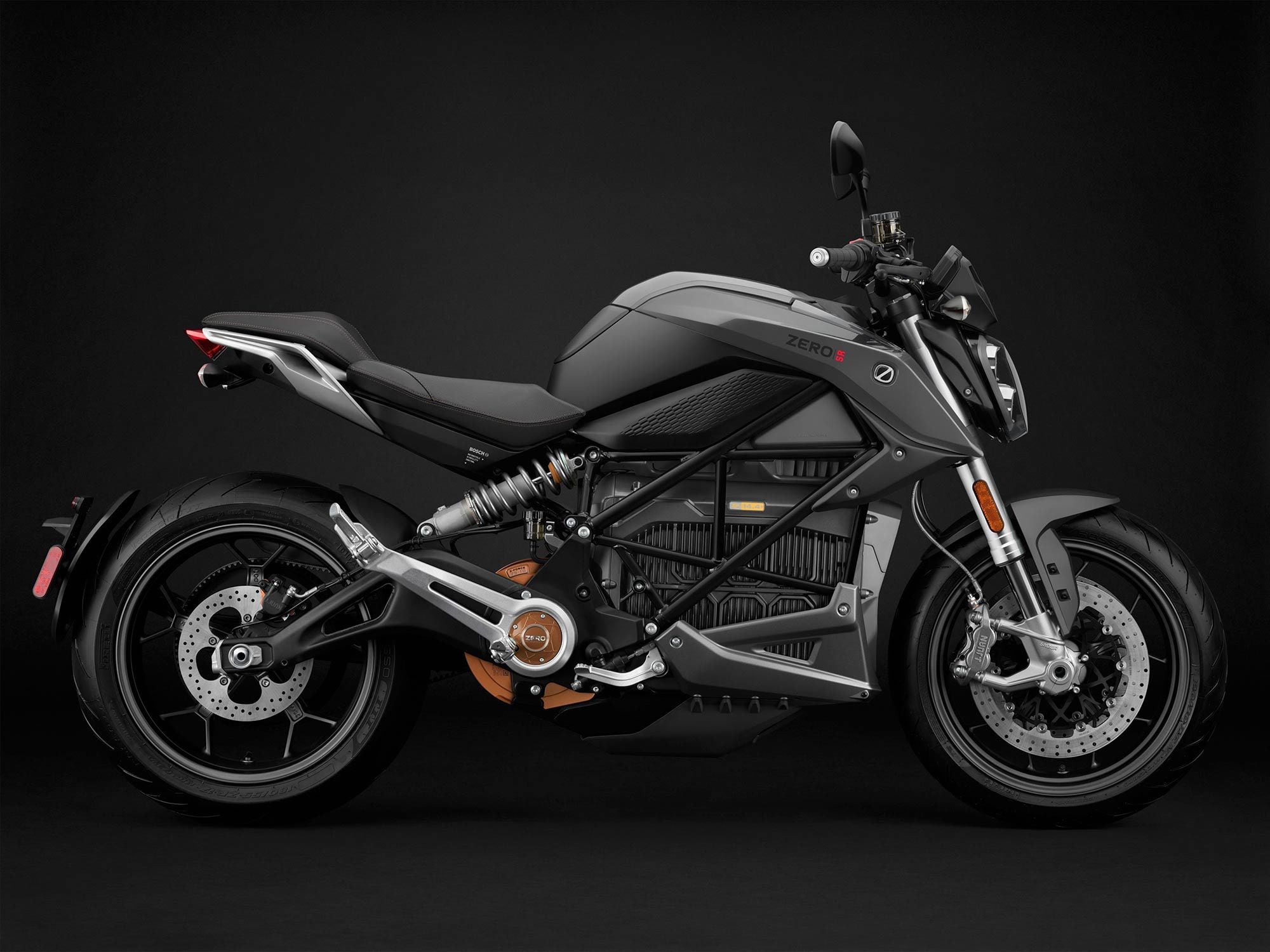 Zero's new SR model showcases all the company's latest tech advancements, including a new battery and software upgrades. (Zero Motorcycles/)
Capacity, charging rate, and range. If you've paid any attention to the many gripes about the quickly expanding electric vehicle marketplace, you know those three aspects are always at the top of most consumers' lists of concerns with EVs.
It's a complaint they've heard plenty, and it looks like Zero is listening. The company just rolled out a host of upgrades that will appear on a few of its 2022 models, including improvements to the larger Z-Force lithium-ion batteries, which increase capacity by 20 percent, along with faster charging times and extended range via Zero's new Cypher Store portal, which allows new software upgrades to be uploaded to bikes on the fly. To top things off, the brand also announced its new 2022 SR model, which also happens to showcase most of this new tech in stock trim.
Related: 2020 Zero Motorcycles SR/F Review
New battery offers more capacity, better thermal management, and a lighter weight. (Zero Motorcycles/)
Let's tackle the battery increase first, as 20 percent is a substantial boost in onboard capacity when you're talking about electric vehicles. The new ZF batteries, according to Brian Wismann, VP of product development, receive a brand-new die-cast aluminum design, and a focus on more efficient thermal management as well as improved weatherproofing. Wismann says serviceability has been addressed as well, so the power packs can be more easily accessed for maintenance or upgrades. As a side benefit of the revised architecture, the new batteries are 6 pounds lighter too, even while maintaining the same footprint as the older ZF 14.4 unit.
The new cells will come in two flavors, the ZF 14.4+ and 15.6+ kWh, with the "plus" designations indicating that capacity can be upgraded even further on certain models, to 17.3 kWh (which is where the 20 percent increase comes in) without having to buy a new battery. Zero says that if you opt for its Power Tank add-on (available in 2022), you can potentially increase onboard storage to nearly 21 kWh—a high-water mark for the company (though all of those aforementioned upgrades come at additional cost). In real-world terms, the company cites a range of 227 miles in the city and 113 miles at higher speeds of 70 mph with the highest capacity configuration.
The 14.4+ battery will come standard on all the three 2022 S model bikes—the new SR, the returning SR/S, and the SR/F—with all being able to accept the capacity upgrades as well. The larger 15.6+ battery, meanwhile, will be an option on the more premium 2022 SR/S and SR/F bikes.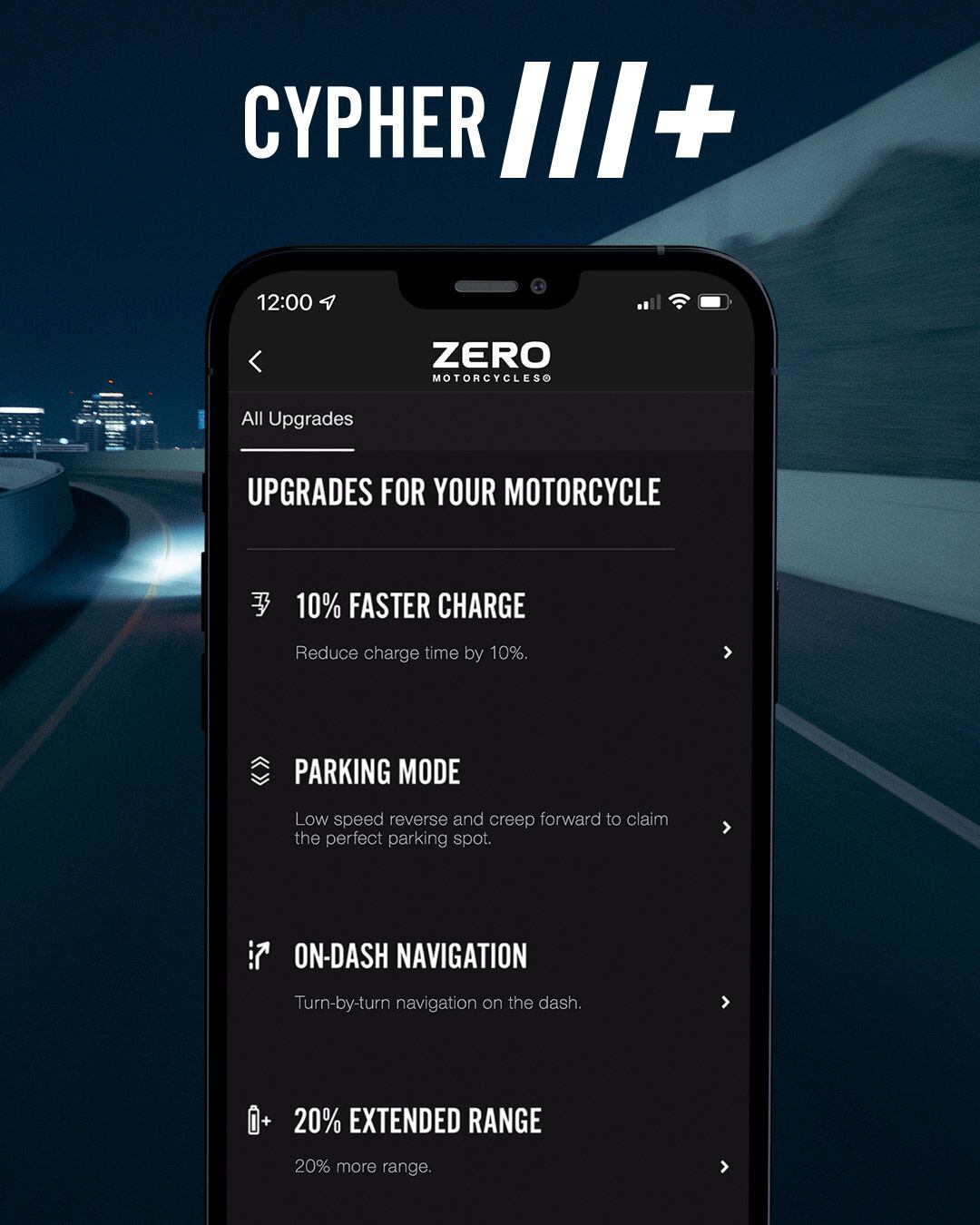 With the new Cypher III operating system, Zero now lets riders buy specific performance boosts for their bike, on their phone. (Zero Motorcycles/)
Zero also dug into its software for improvements with the launch of the Cypher Store, an online portal that leverages the latest version of the brand's Cypher III+ operating system (standard on 2022 SR, SR/S, and SR/F models). It means customers can access upgrades for their bikes online or with the Zero app—tweaking specific things like the aforementioned battery capacity, requesting faster charging (from 10–100 percent), or speed and performance boosts (15–50 percent), and even an on-dash navigation feature, once these become available in early 2022. Of course, every one of those upgrades comes with a price tag: It'll run you $2,195 for that 20 percent increase in battery capacity and $1,495 for a 100 percent faster charging time. Other features will be rolled out over time, says Zero, with differences from model to model—some even being backward compatible. But the bottom line here is that riders can buy and add upgrades to their bike however they want, without going to a dealership, and with the tap of a button.
Zero's online configurator will allow you to select a bike and see what's available for it once all this stuff comes online next year. Pretty cool.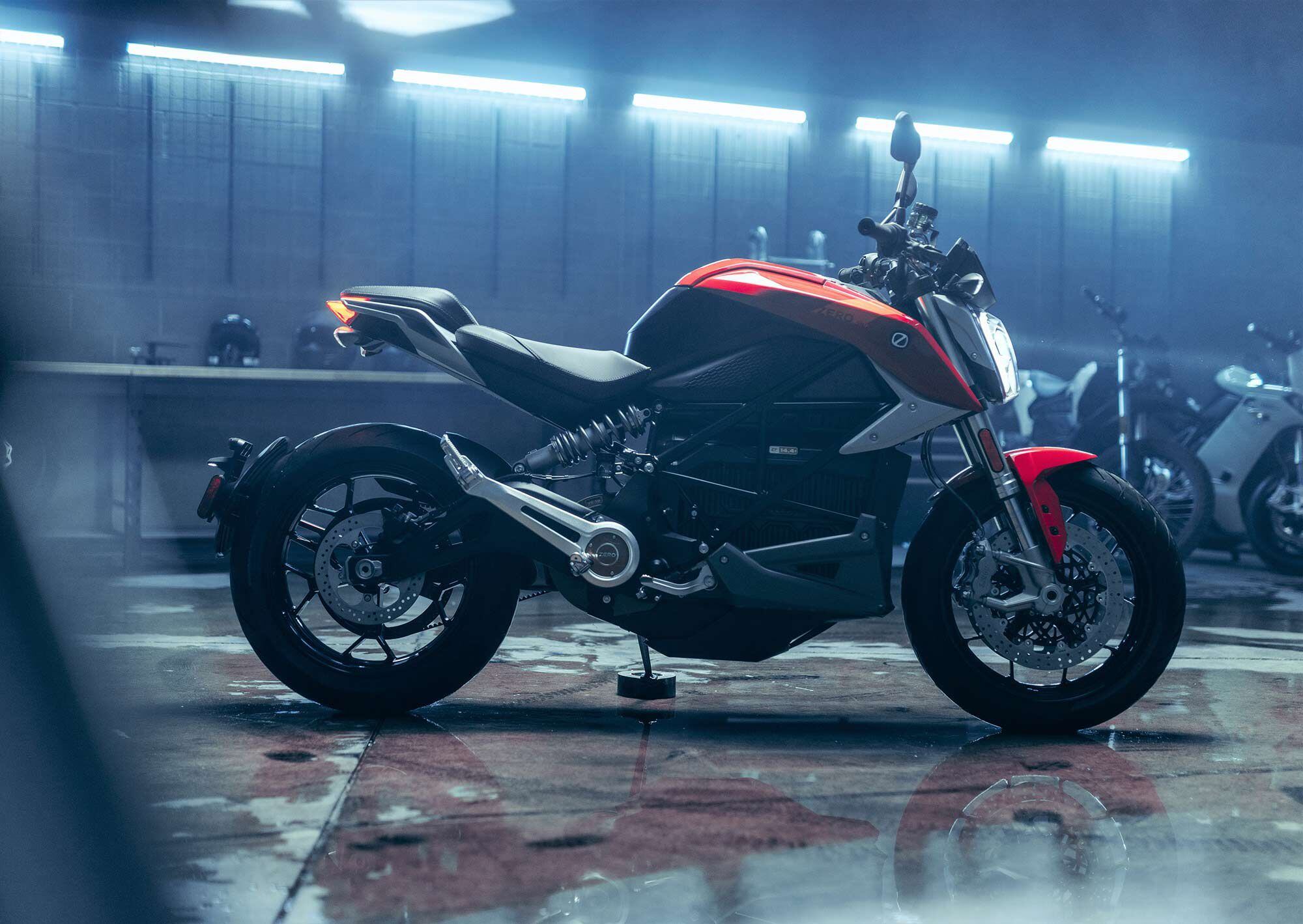 The more premium 2022 SR/F model will also come stock with the new battery, but also offer the larger 15.6+ unit as an option. (Zero Motorcycles/)
Meanwhile, Zero also figured it'd launch a new vehicle to introduce and showcase all this stuff, and that model—while technically not new—is the 2022 Zero SR. The company is touting it as its "most adaptable vehicle," but it's also better known as the company's most successful and popular model to date.
Judging by the profile, however, it looks like it's been updated fairly comprehensively, though Zero didn't divulge all the specs, only saying the 2022 SR is powered by the ZF 75-10 motor and makes a claimed 74 hp and 122 pound-feet of torque, with a top speed of 104 mph.
As for physical and mechanical changes, we can definitely make out obvious differences between the older model and the 2022 version, chiefly in the new faux tank shape, which perches over the now steel trellis frame with beefier Showa suspension up front, carrying distinctly sleeker headlamps and dash cluster. The new profile serves to highlight the real star of the show here, the new brawny 14.4+ battery pack, now on full display in the frame.
The SR's swingarm also looks carried over from the SR/F, as does the more substantial rear shock. J.Juan brakes, already in use on the SR/F and SR/S models, look to be the same spec on the new SR as well. In fact, if you squint, there's a great deal of similarity between the SR and the SR/F, down to the wheels and footpeg hangers.
The difference from the rest of the S series is price, with the more basic SR carrying a kinder tag of $17,995 (before any state or federal EV incentives). Also new to the SR is the ability to charge from the public EV charging network via standard J1772 connections. The 2022 SR will come in Thermal Red and will ship to Zero Motorcycles dealerships worldwide through Q1 2022.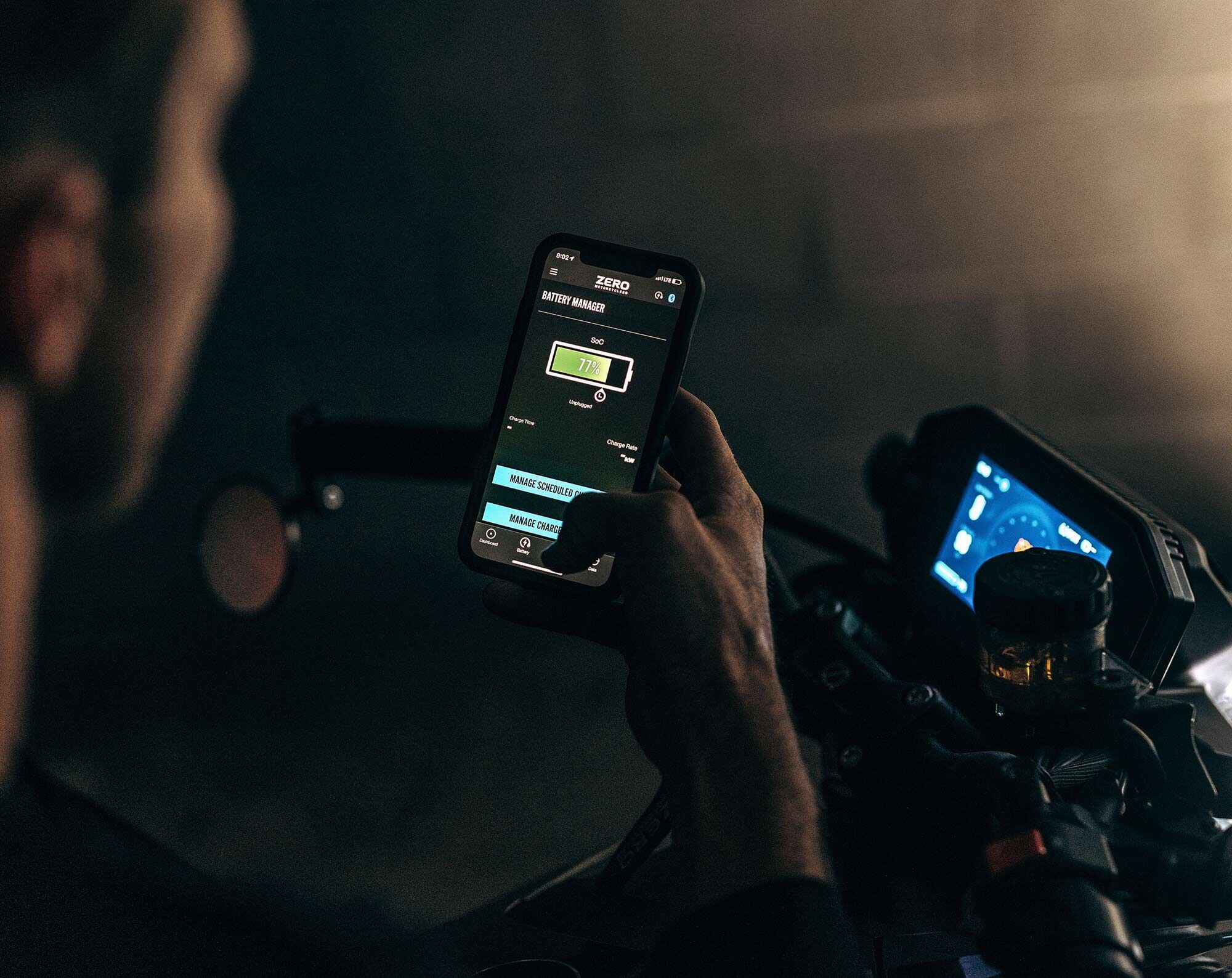 More power, or more range? You choose with the tap of a button (and a good chunk of change). (Zero Motorcycles/)