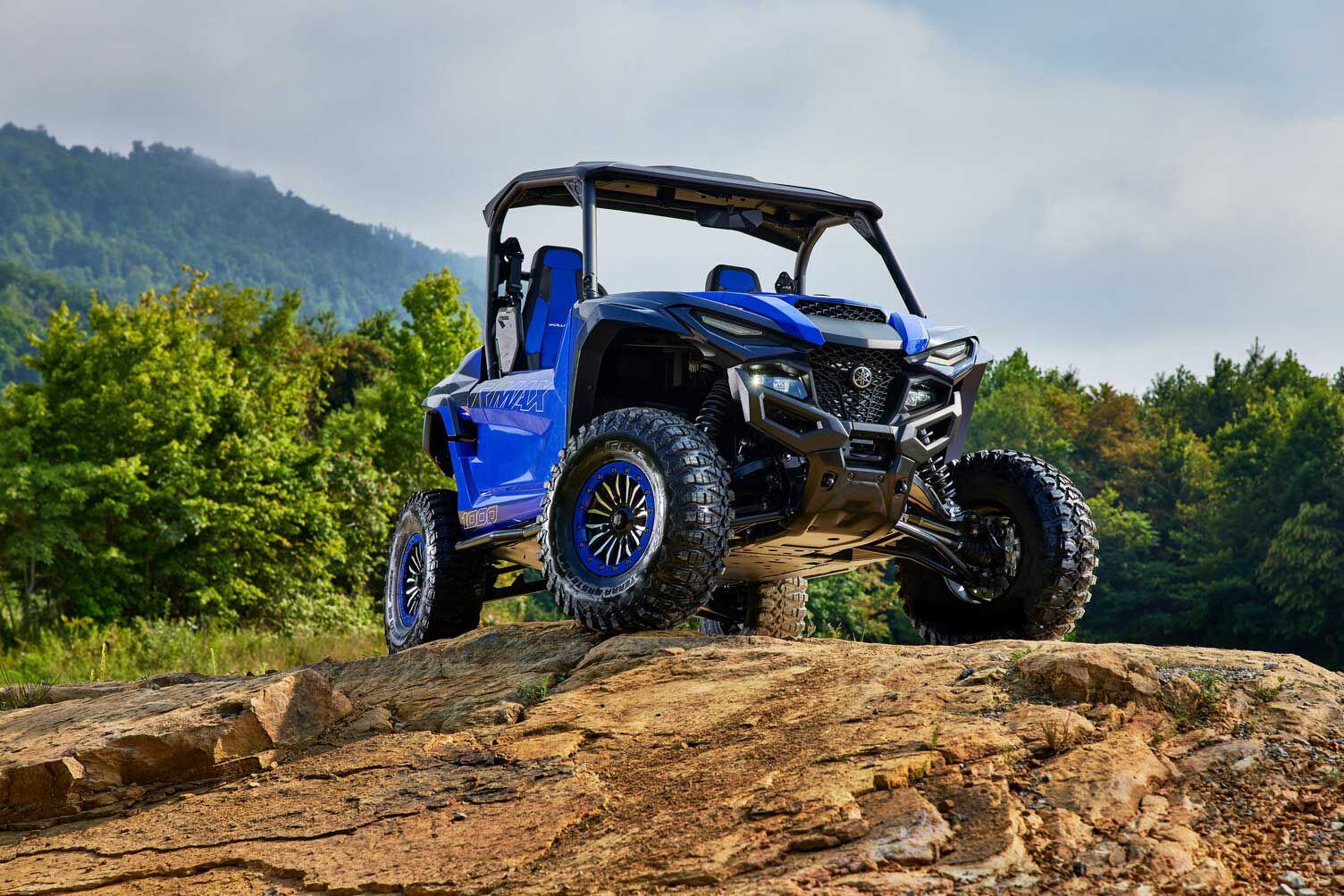 For 2022 Yamaha is expanding the RMAX lineup with the RMAX 1000 Sport, which gets square tire sizing, adjustable suspension, and all-new beadlock wheels. (Yamaha/)
The 2022 Yamaha Wolverine RMAX lineup is getting a bunch of updates next year, including a whole new trim level, new tires, and a stereo system on the XT-R. New for 2022, the RMAX 1000 Sport slots in between the base RMAX, which will now be called R-Spec, and the familiar XT-R trim level. At the top of the heap sits the RMAX Limited Edition, or LE.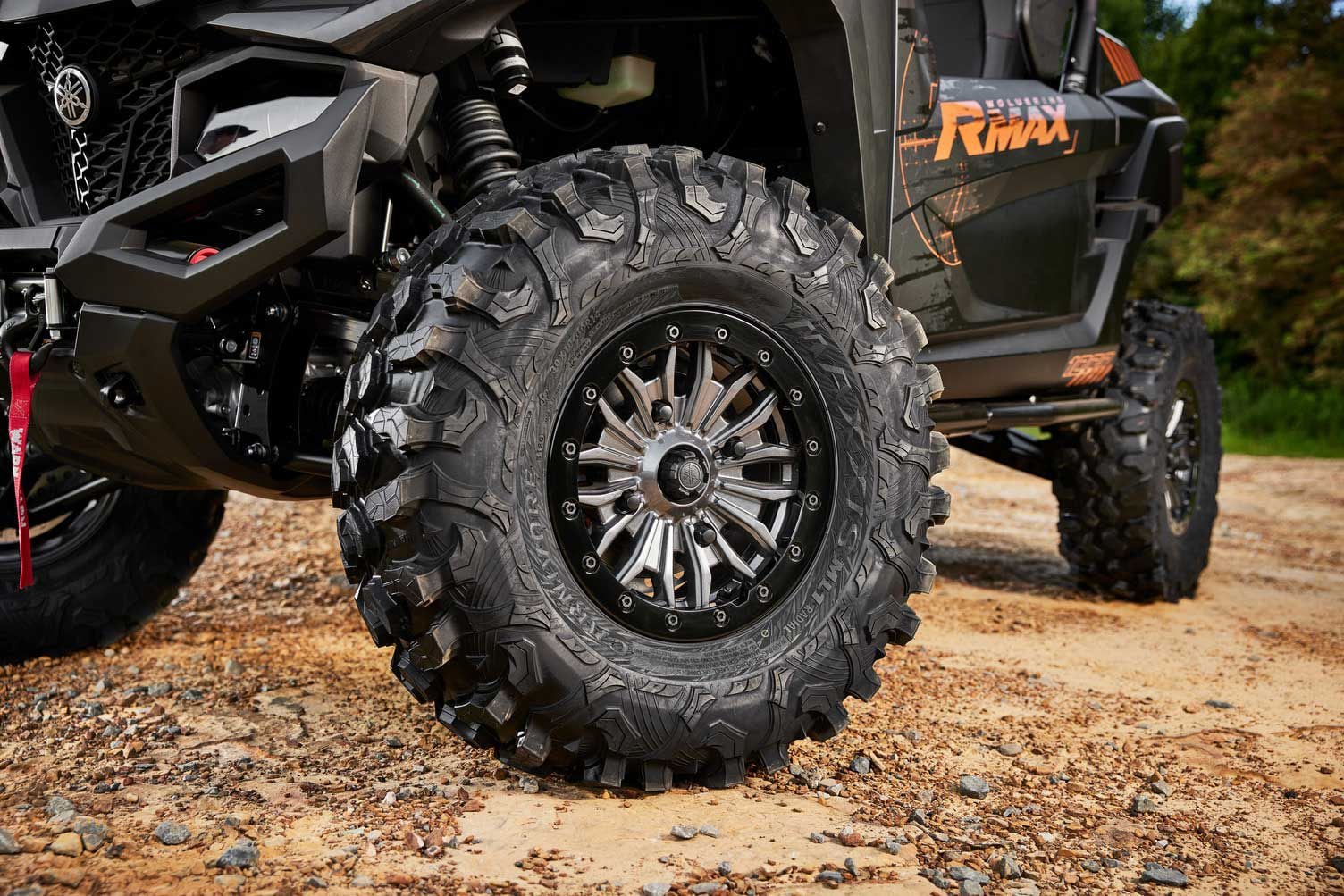 New for 2022, the RMAX Sport, XT-R, and LE two-seaters get a set of color-matched aluminum beadlock wheels. (Yamaha/)
The upgrade to the Sport model gets you adjustable Fox 2.0 shocks with 24 clicks of high- and low-speed compression adjustment, double springs, and crossover for preload adjustment. Ground clearance is unchanged at 13.8 inches, as is travel at 14.2 inches front, 16.9 inches rear.
The two-seat RMAX Sport gets 30-inch GBC Terra Master tires front and rear, which are wrapped around a set of color-matched cast aluminum 14-inch beadlock wheels. The Terra Master tires can be flipped around to give different handling characteristics depending on terrain. The beadlocks are a first for a factory RMAX, and will also come on the XT-R, which will still ride on Maxxis Carnivores.
The RMAX XT-R gets a stereo as standard for 2022, as well as a stealthy black and carbon paint job. Otherwise, it's very similar to the wonderful 2021 model. (Yamaha/)
Four-seaters will soldier on with staggered 29-inch tires on 14-inch wheels.
The RMAX Sport, XT-R, and Limited Edition all get Yamaha's coveted D-mode throttle control, while the R-Spec model is prewired for the system, which is available from Yamaha's accessory catalog. New to the XT-R is Yamaha's SSV audio system, and the RMAX 4 1000 LE will now have second-row speakers. Audio is available from Yamaha as an accessory on the R-Spec and Sport models.
The RMAX R-Spec, seen here with optional factory accessories including a light bar, bumper, and winch, is the entry-level RMAX. There's no adjustable suspension or beadlocks, but you get a sunshade and more than enough capability. (Yamaha/)
Limited Editions get a new color, second-row speakers on the four-seat model, and will keep their iQS electronic suspension. Like the XT-R, the LE gets Maxxis Carnivores and a 4,500-pound Warn winch. The XT-R uses manually adjustable Fox QS3 shocks.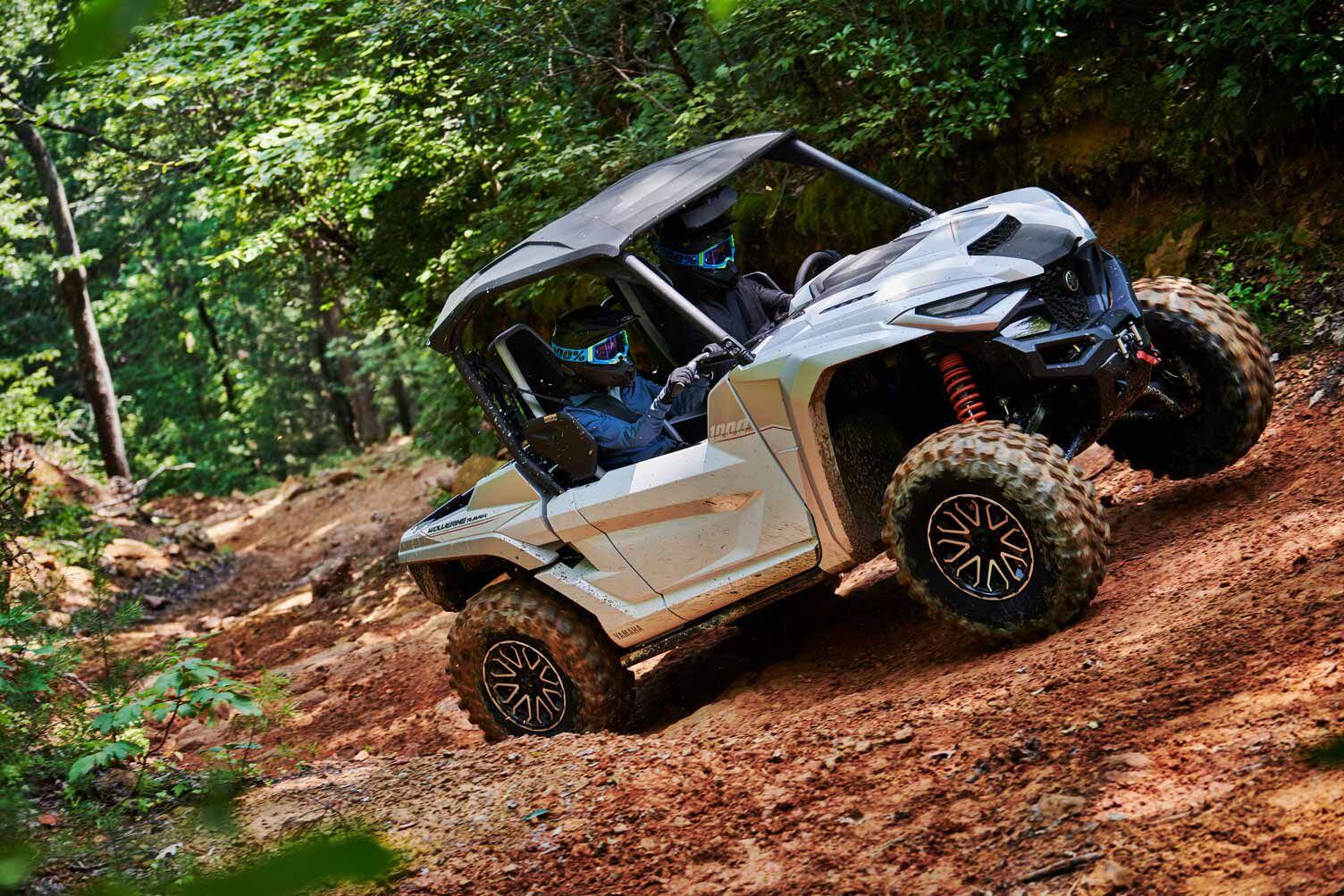 The RMAX LE remains the top of the pile, with iQS electronic suspension and on the four-seat model, second-row speakers. (Yamaha/)
No word yet on when the updated RMAX line will hit dealers, but Yamaha has announced pricing. The R-Spec comes in Armor Grey and yellow, and will start at $20,699 for the two-seater or $22,699 for the four-seat rig. The RMAX Sport comes in Team Yamaha Blue, starting at $22,599 for the two-seater. The XT-R trim also gets a new matte black and Metallic Carbon livery with orange graphics, and starts at $23,899 for the two-seater. The LE trim comes in matte silver, with an MSRP of $24,399 for the two-seater.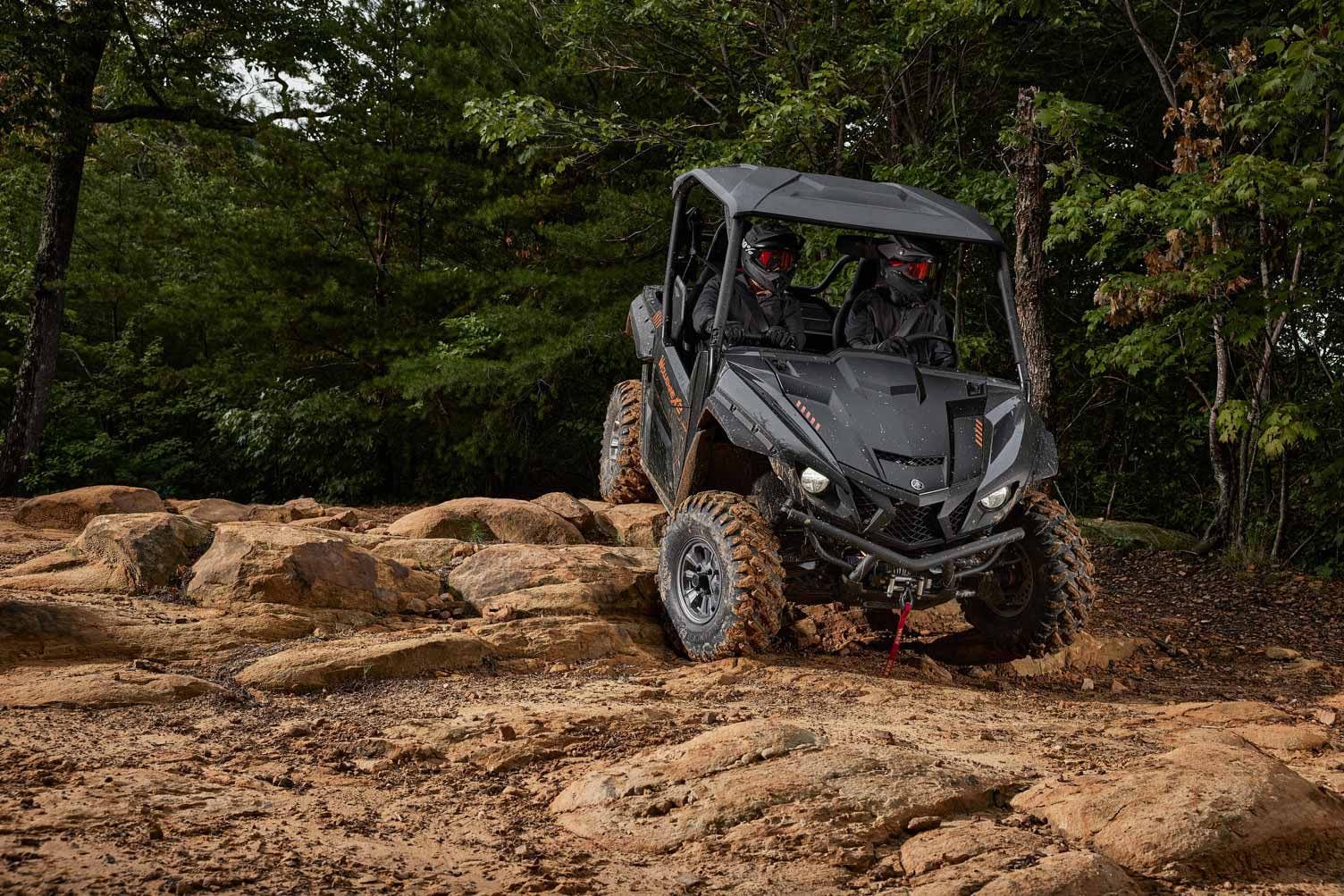 The 2022 Yamaha Wolverine X2 XT-R now comes with a center rearview mirror, a suntop, and a Warn VRX 4500 winch. (Yamaha/)
If you don't want the full-fat Wolverine RMAX 1000, the Wolverine X2 and X4 lines got some tasty upgrades for next year too.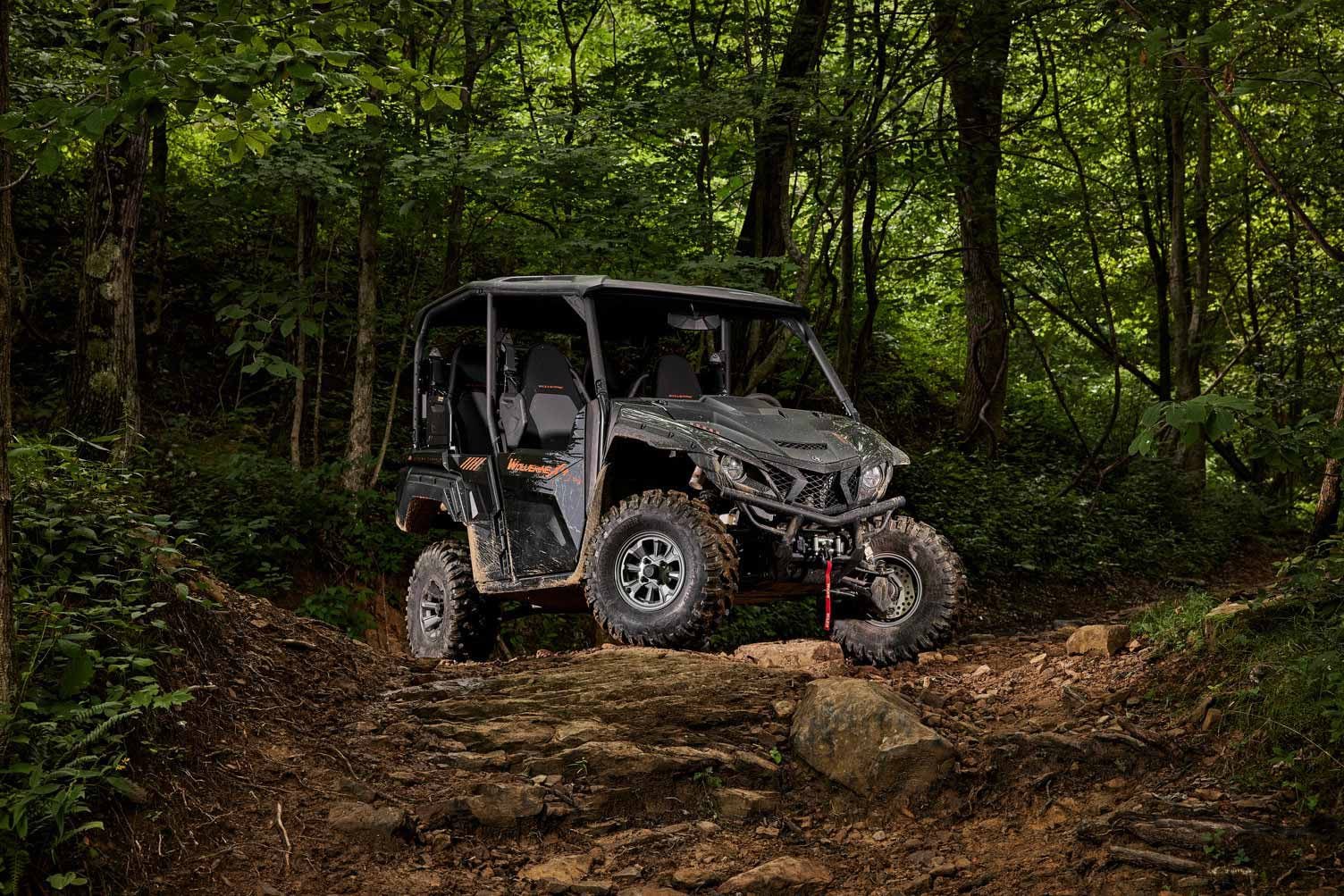 The 2022 Yamaha Wolverine X4 XT-R packs self-leveling rear suspension in addition to the rest of the XT-R upgrades. (Yamaha/)
Now, all Wolverine X2s and X4s will come with a suntop. All X2 and X4 XT-Rs will also get a Warn VRX 4500 winch, KYB piggyback shocks, and a center rearview mirror. The X4 XT-R gets self-leveling rear shocks.
The 2022 Yamaha Wolverine X2 and X4 come in Armor Grey and yellow or Realtree Edge color schemes, starting at $14,899 for the X2 in gray and yellow. The X2 XT-R comes in Tactical Black and Carbon Metallic, starting at $16,499 for the two-seater. Look for both the RMAX and Wolverine X2 and X4 to start showing up in dealers this month.
Meanwhile, the 2022 Viking and Viking VI Ranch Editions add some flare with Copper Metallic painted bodywork and matching interior. The trim also throws in the excellent rearview mirror for the RMAX along with underseat storage, cast aluminum wheels, a more comfortable steering wheel, fender flares, and a rear grab bar. All of that will set you back $14,599. Vikings will be available in November.