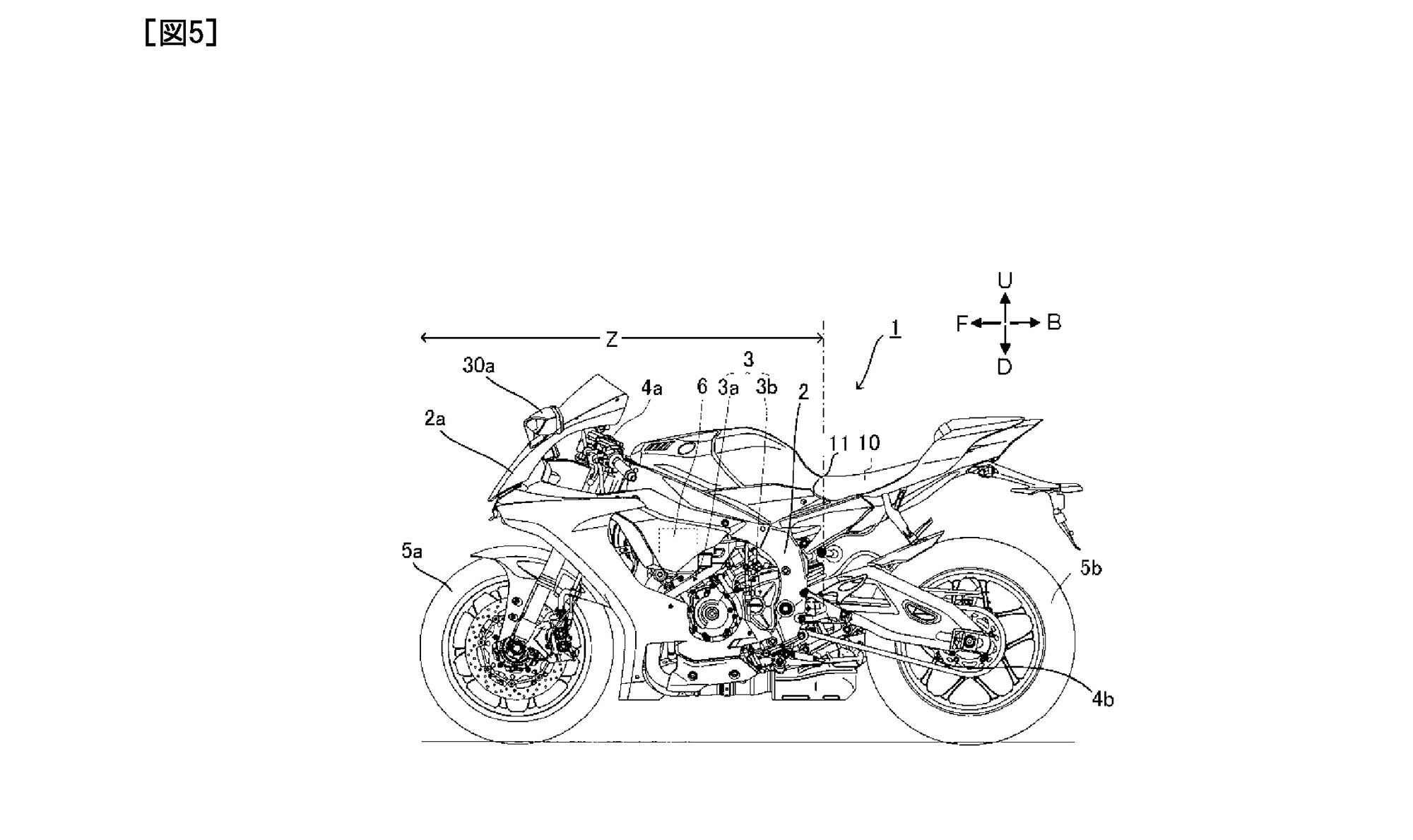 Yamaha's new rider warning tech is shown on an R1, which already has a limited amount of dash space. (Japanese Patent Office/)
We've already seen the start of a revolution in rider safety with the rapid adoption of cornering ABS and traction control, and 2021 has been the year that radar sensors have joined the barrage of crash-prevention tech. Now Yamaha is looking to the next stage of bike safety and a patent for its rider interface system shows how it might look when you're onboard.
While BMW, Ducati, and KTM have already launched radar-assisted bikes and Kawasaki has confirmed it's also going down the same route in 2022, the two biggest Japanese firms—Honda and Yamaha—have been keeping quiet about their approach to the technology. That doesn't mean they're not joining in though; Honda has filed dozens of patents relating to motorcycle safety systems including radar and vehicle-to-vehicle networks, and Yamaha is similarly laboring behind the scenes on the same tech.
Related: Motorcycle Safety
In this case, the R1's existing TFT display remains as is; the additional warning icons are shown in the rearview mirror glass. (Japanese Patent Office/)
This patent, published in Japan, reveals Yamaha's approach to a very motorcycle-specific issue that the new technology introduces; how to convey all the extra information from the additional sensors and V2V communication to a rider. While modern cars are increasingly moving toward vast touchscreen displays, aided and abetted by audible alerts and head-up displays, bikes just don't have the instrument panel real estate to follow suit. Audible warnings aren't much use either, and dashboards flashing up endless layers of messages are more likely to be a distraction than an aid.
To illustrate its solution, Yamaha's patent uses the YZF-R1; a bike that simply doesn't have space for a larger instrument panel, and already features a TFT dash with access to a mind-boggling amount of information. Instead of making that display even more complex, Yamaha's idea is to fit additional displays behind the reflective glass of the mirrors, flashing up large, instantly identifiable icons to alert riders to dangers.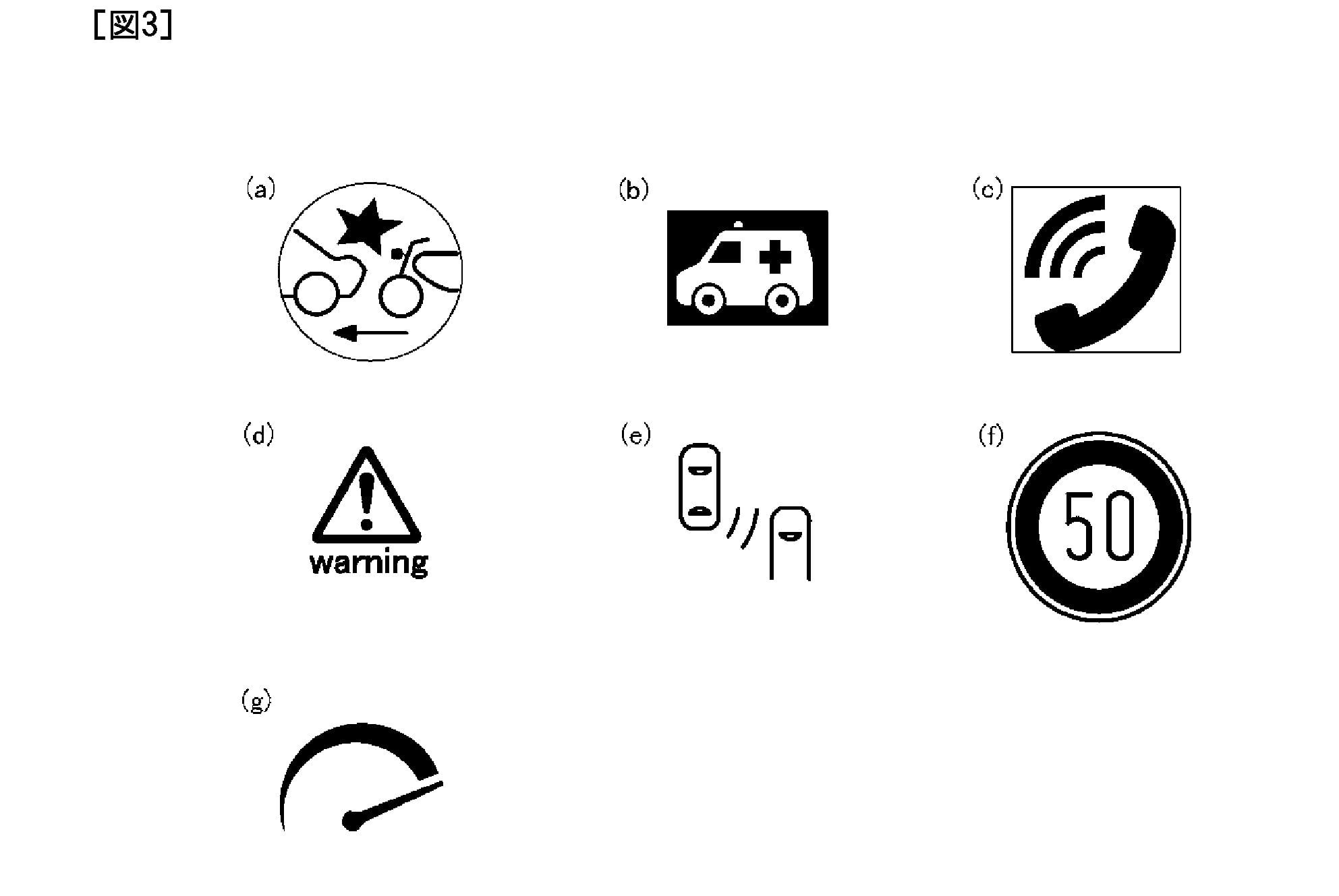 The new icons convey warnings about impending dangers. (Japanese Patent Office/)
Along with Honda, BMW, and KTM, Yamaha is a core members of the Connected Motorcycle Consortium, which recently established a set of basic specifications for a "Cooperative Intelligent Transport System" (C-ITS) for motorcycles, allowing them to communicate with other vehicles and even with roadside infrastructure in a network that helps warn riders and drivers of risks before they're even visible. The system is intended to help with a vast array of real-world situations—left turns, intersection movements, lane changes, warnings about traffic, weather or road hazards, and even to assist with lane merging. This patent appears to show how Yamaha is considering conveying all those new warnings and assists to a rider.
Related: Increasing The Security Of Motorcyclists In Traffic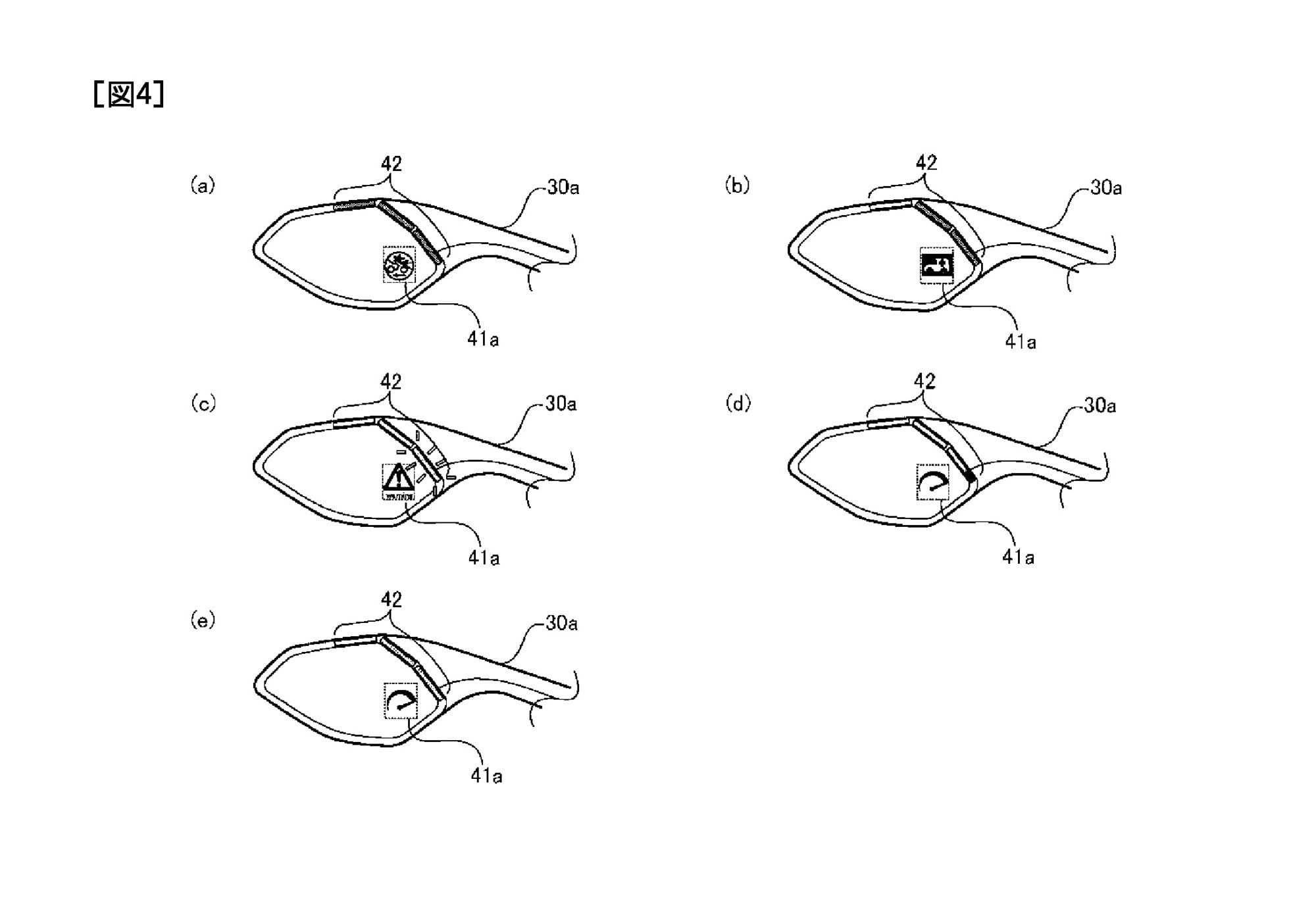 The cockpit view doesn't change, but the mirrors act as additional displays, illuminating the appropriate icon. (Japanese Patent Office/)
The view from the rider's seat looks much the same as any conventional bike. There's no change to dash, for instance, and no visible extra displays. The only clues that it's not a normal R1 are three slim LED strips mounted on rider-facing edges of the mirrors, above the glass. The patent says these can be lit in a variety of ways—with different numbers of the LEDs lit and different colors used depending on the level of risk and urgency of the warning.
Underneath those LED strips, there's a color display panel built into each mirror, behind the reflective glass. Normally hidden, these displays will illuminate and show an icon to indicate the nature of the alert.
Yamaha even illustrates many of the planned icons in the patent, including one that warns of an impending collision when you're approaching the back of another vehicle, one that shows an emergency vehicle is approaching, a blind-spot warning icon, a speed limit sign, and an overspeed warning. There are also more mundane symbols, like an incoming call icon; once you've turned the mirrors into additional displays, it makes sense to use them for more than just emergencies.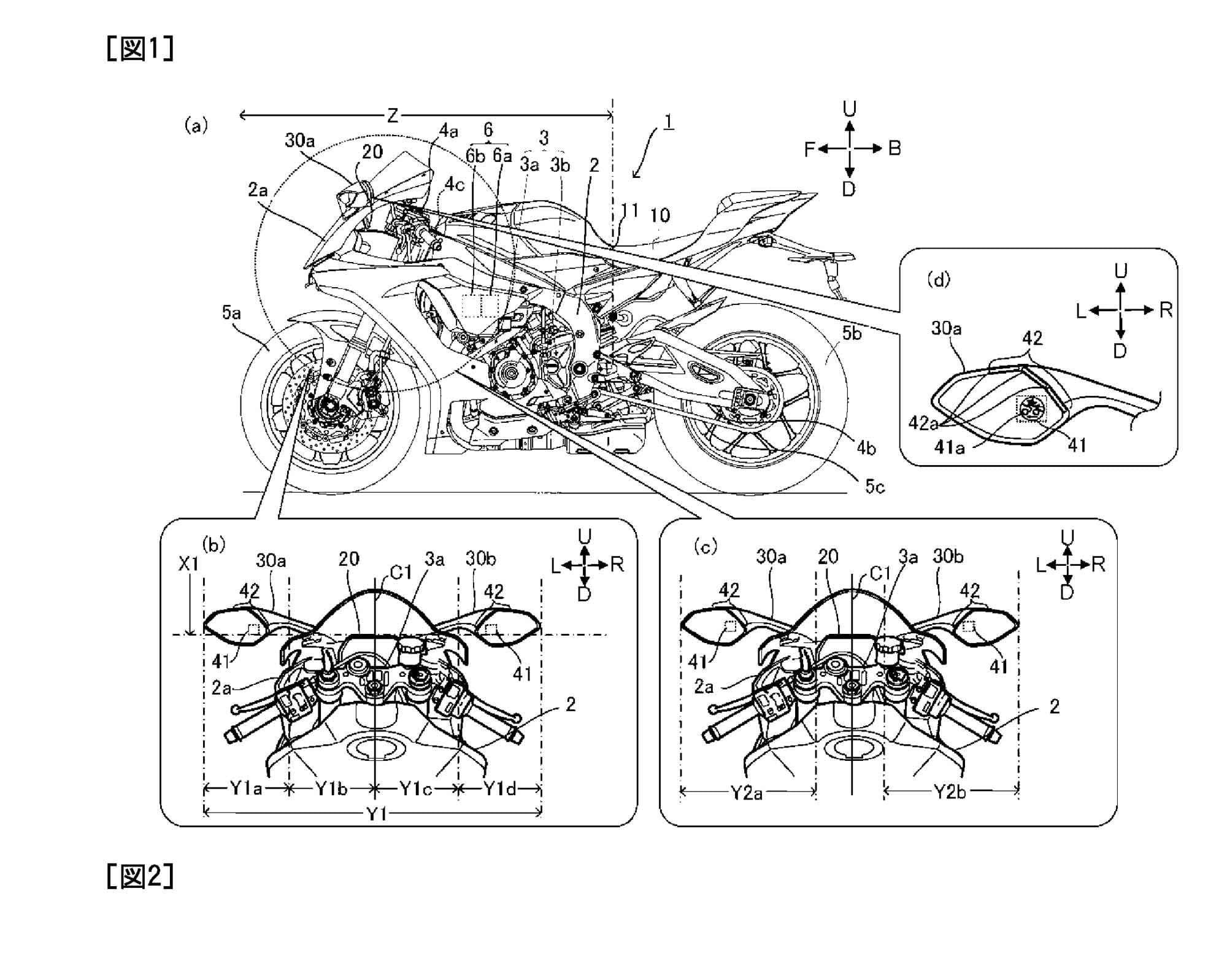 The system also mentions front and rear radars and a vehicle to vehicle comms layer. (Japanese Patent Office/)
Depending on the nature of the alert—lane-change assist systems or an approaching emergency vehicle warning, for instance—just one mirror's lights and icon might be illuminated. Although the patent doesn't go into detail about the systems proving the alerts, it does make specific reference to both front and rear radars—used to reveal when you're approaching a slower vehicle and for blind-spot monitoring—and a vehicle-to-vehicle communication system, which appears to be the C-ITS that Yamaha has helped develop.
The YZF-R1 seems a strange choice for the introduction of this sort of system and could be a red herring. The patent also shows images of how the alert system might be incorporated into the dashboards of the Niken three-wheeler and the TMAX 560 scooter, on which the warning LEDs are shifted from the mirror edges to the sides of the windshield.
Related: Ride Vision Launches Collision Avoidance System for Motorcycles
Other patent drawings also show the system deployed on a TMAX scooter, with warning lights placed elsewhere. (Japanese Patent Office/)
Just how long will it be before this sort of thing is a production reality? That's a big question. Vehicle-to-vehicle and vehicle-to-infrastructure communication systems have been under development for the best part of two decades but are still limited in their real-world use at the moment and nonexistent on motorcycles. The establishment of a standard for such systems on bikes early this year is a big step toward changing that, but prototypes—Yamaha, BMW, and Honda have all built compatible test beds—still carry two panniers' full of electronics. It might still be several years before showroom models get this sort of tech, but it's definitely on its way.