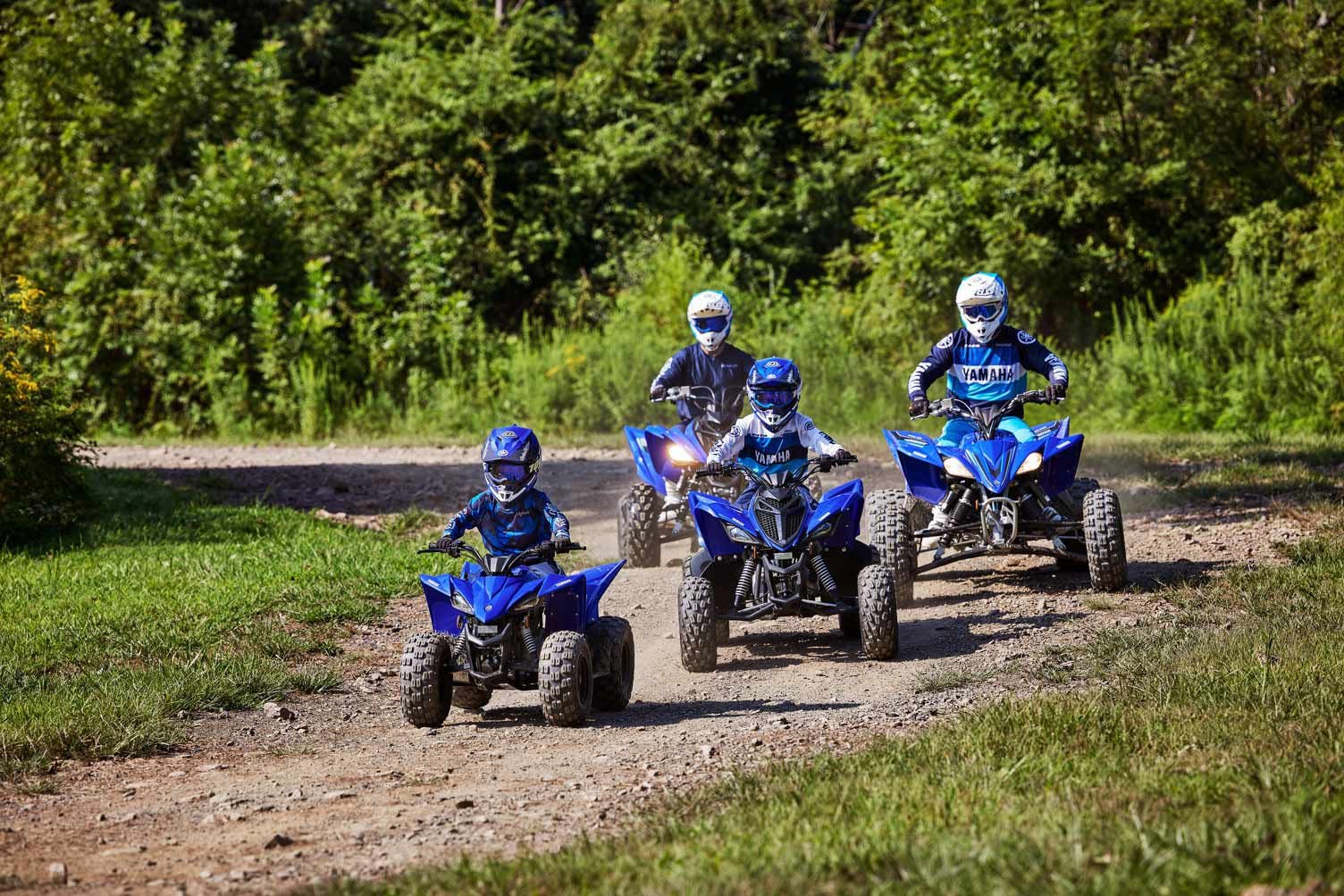 Yamaha's youth models return for 2022. (Yamaha/)
Yamaha is working hard to keep its lineup of ATVs well-rounded. In addition to launching new options for the Kodiak range, the manufacturer continues to serve its lineup of youth models. For 2022 the Yamaha Grizzly 90, Raptor 90, and YFZ50 return with a promise of infusing excitement into the lives of those who are fortunate enough to ride them.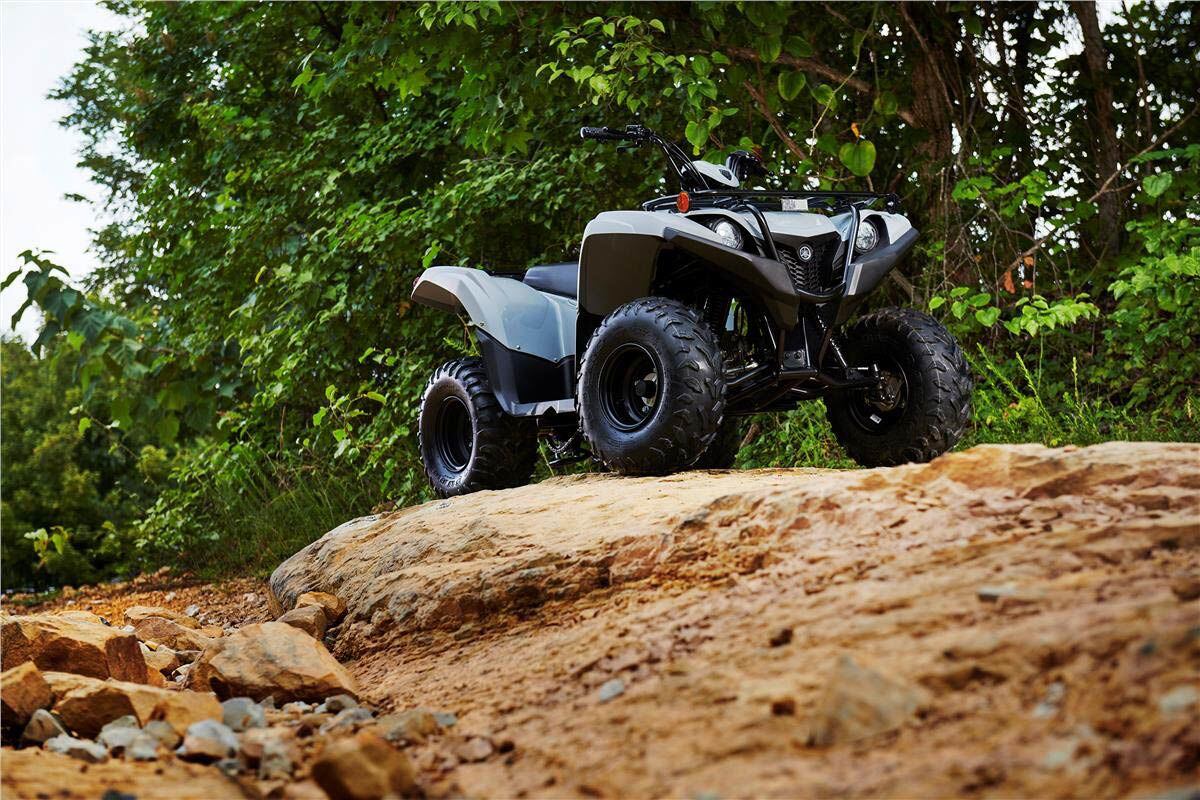 The 2022 Yamaha Grizzly 90 looks just like a scaled-down Grizzly. (Yamaha/)
The Grizzly 90 returns with a 90cc SOHC air-cooled four-stroke two-valve single-cylinder engine. It's a carbureted unit that is simple to maintain while keeping cost affordable. Ease of operation is a priority and evident in the model's electric start and Continuously Variable Transmission (CVT) with forward, neutral, and reverse gears. Power is sent solely to the rear axle via chain drive. A monoshock swingarm at the rear and single A-arms up front contribute to the machine's simplicity and straightforward demeanor. Unlike other youth models, the Grizzly 90 has front and rear racks to instill dreams of future full-size Grizzly aspirations.
The 2022 Yamaha Grizzly 90 is designed for riders ages 10 and up. Armor Gray is the only color available and pricing sits at $3,199.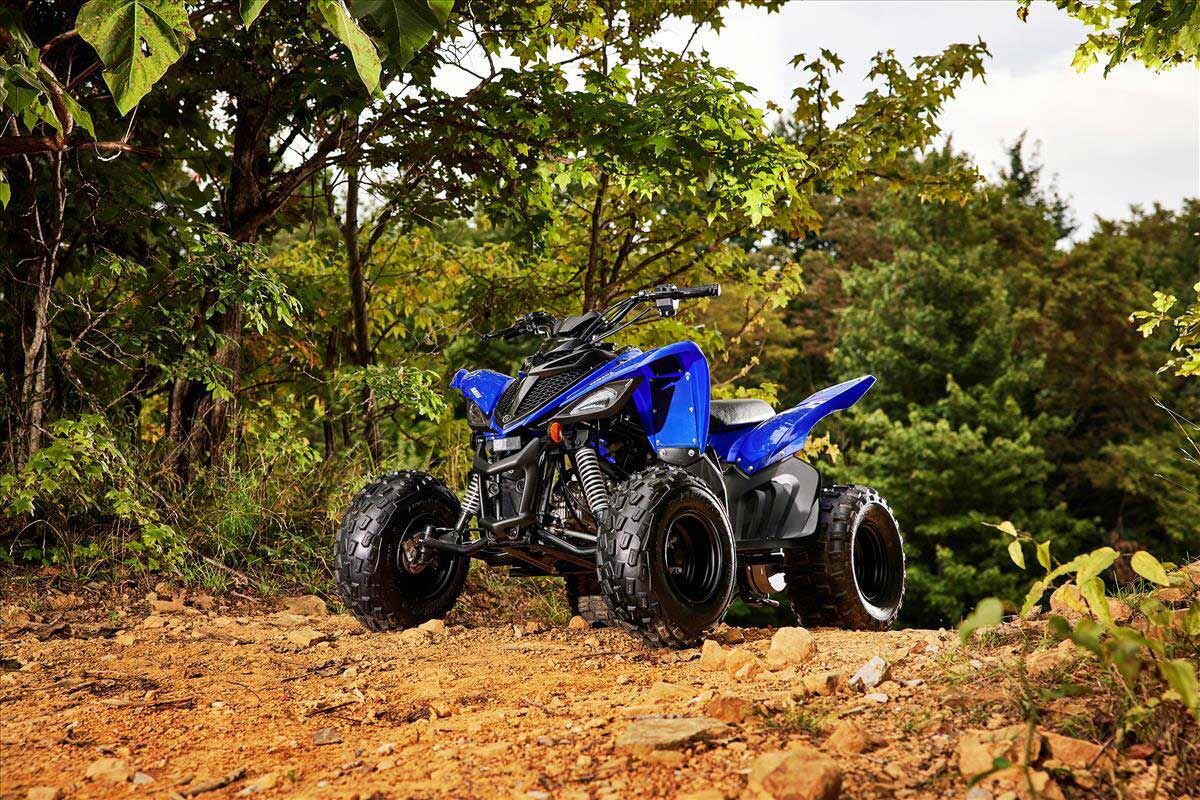 The Raptor 90 inherits its sporty looks from the full-size Raptor 700. (Yamaha/)
On the sporty side of Yamaha's kid-focused offerings, the Raptor 90 is available again for 2022. It uses the same engine and transmission as the Grizzly 90 but trades cargo racks for Raptor 700R-inspired plastics. Its suspension and final drive are shared with the mini-utility as well, however the Raptor 90 rings in at 279 pounds to the Grizzly 90′s 308 due to the Raptor's smaller tires and lack of racks.
Like the Grizzly 90, the Raptor 90 is designed for riders ages 10 with an identical price tag of $3,199. Buyers can pick either Team Yamaha Blue or White for their 2022 Raptor 90.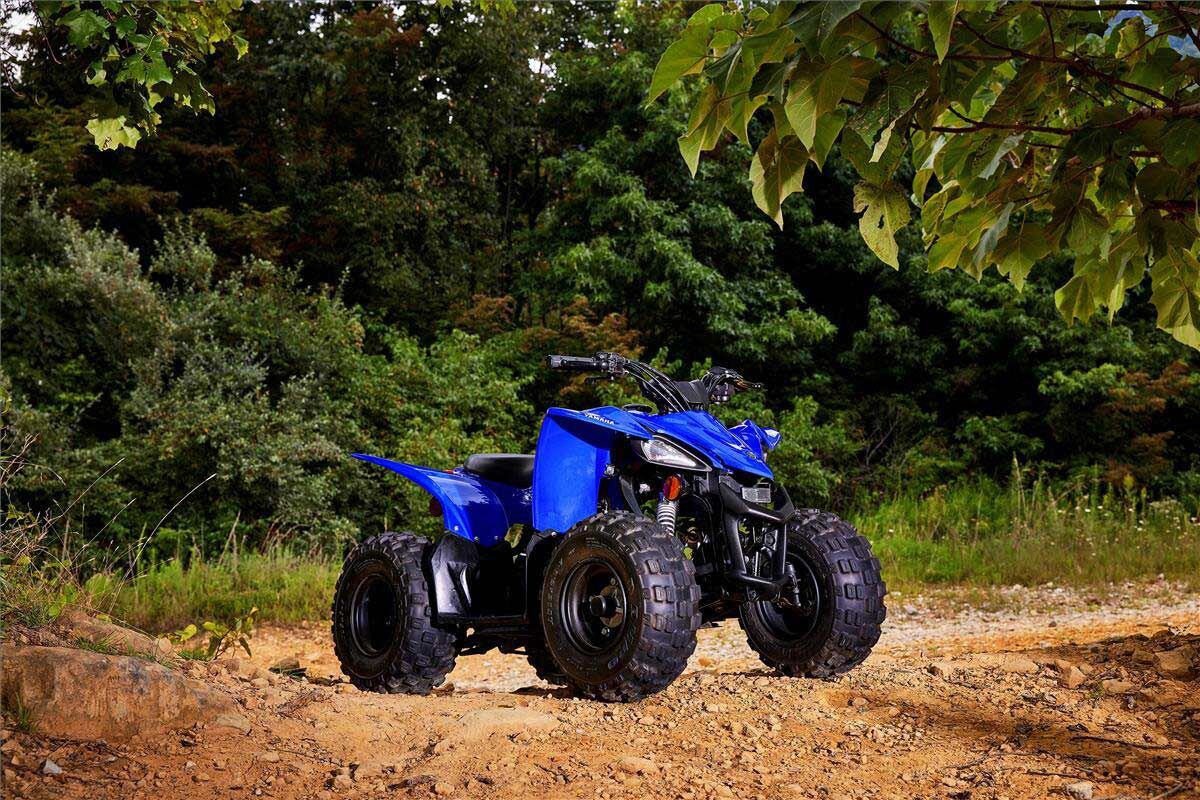 The 2022 Yamaha YFZ50 looks just like its 450-class stablemate. (Yamaha/)
Riders ages 6 and up can enjoy Yamaha's 2022 YFZ50. Designed to look like the ultrasuccessful YFZ450R, the 50-class YFZ packs a 49cc SOHC air-cooled four-stroke engine with two valves that's simple to maintain. It is carbureted and features electric start along with an easy-to-use CVT and chain drive. Suspension travel comes in at 2.4 inches up front and 2.0 inches at the rear, and it weighs just 220 pounds. The YFZ is all but guaranteed to put a huge smile on your little one's face.
Parents do tend to care about safety, however, and Yamaha has that covered. The YFZ50 features a power cut-off that keeps mom and dad in control. This is a good tool for those who are allowing their children to grow into the YFZ50′s maximum capabilities before they step up to a larger youth ATV like the Raptor 90 or Grizzly 90.
The 2022 Yamaha YFZ50 is available in Team Yamaha Blue or White and retails for $2,199.
Yamaha's line of youth models is a fantastic way to get younger riders into the sport safely and on a reasonable budget. More information on each model can be found on Yamaha's website.