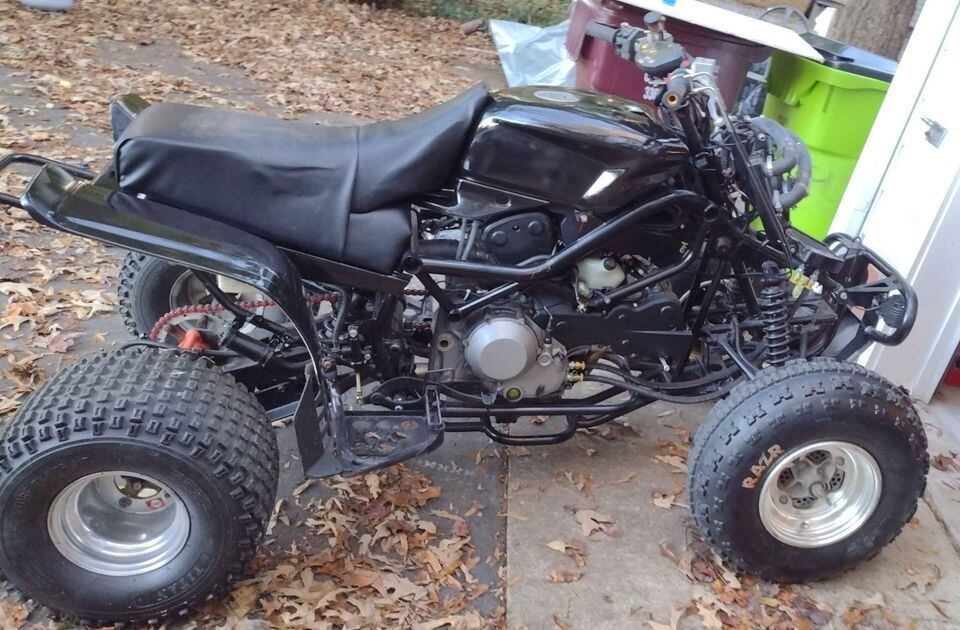 What has 160 hp and wants your bones? This thing. (Facebook/)
We admit it: We spend way too much time clicking through classifieds looking for new and exciting ways to spend our children's inheritance. Our favorite search term? Warrior. Yamaha's four-stroke sport quad that was produced from 1987 to 2004 didn't completely live up to its name. It was fairly tame in comparison to its wild sibling, the Yamaha Banshee. The Warrior isn't collectible and we've never heard anyone claim that it's their favorite trail ATV, but it does present a platform that is the ideal test bed for all manner of backyard engineering. For that reason, you never know what you'll find stuffed between the frame rails. Things like the 160 hp V-twin from a Ducati 1098.
That's about 5,000 times the grunt the machine had originally, and since the Warrior weighs in at around 397 pounds, you're looking at a machine with the same power-to-weight ratio of the Bugatti Chiron. Yes, you read that right.
The seller makes it perfectly clear that any rider who doesn't respect this thing will wind up with a first-class ticket to the emergency room:
"If you are not an experienced rider and think that you will jump on this bike and not respect it's sheer power, it will kill you. Which of course is not my problem after you purchase the bike."
At least they're honest. The build looks well done, right down to the factory Ducati electronic dash. If you like what you see and your life insurance is paid up, check out the listing on Facebook Marketplace. A cool $7,500 will make it yours.