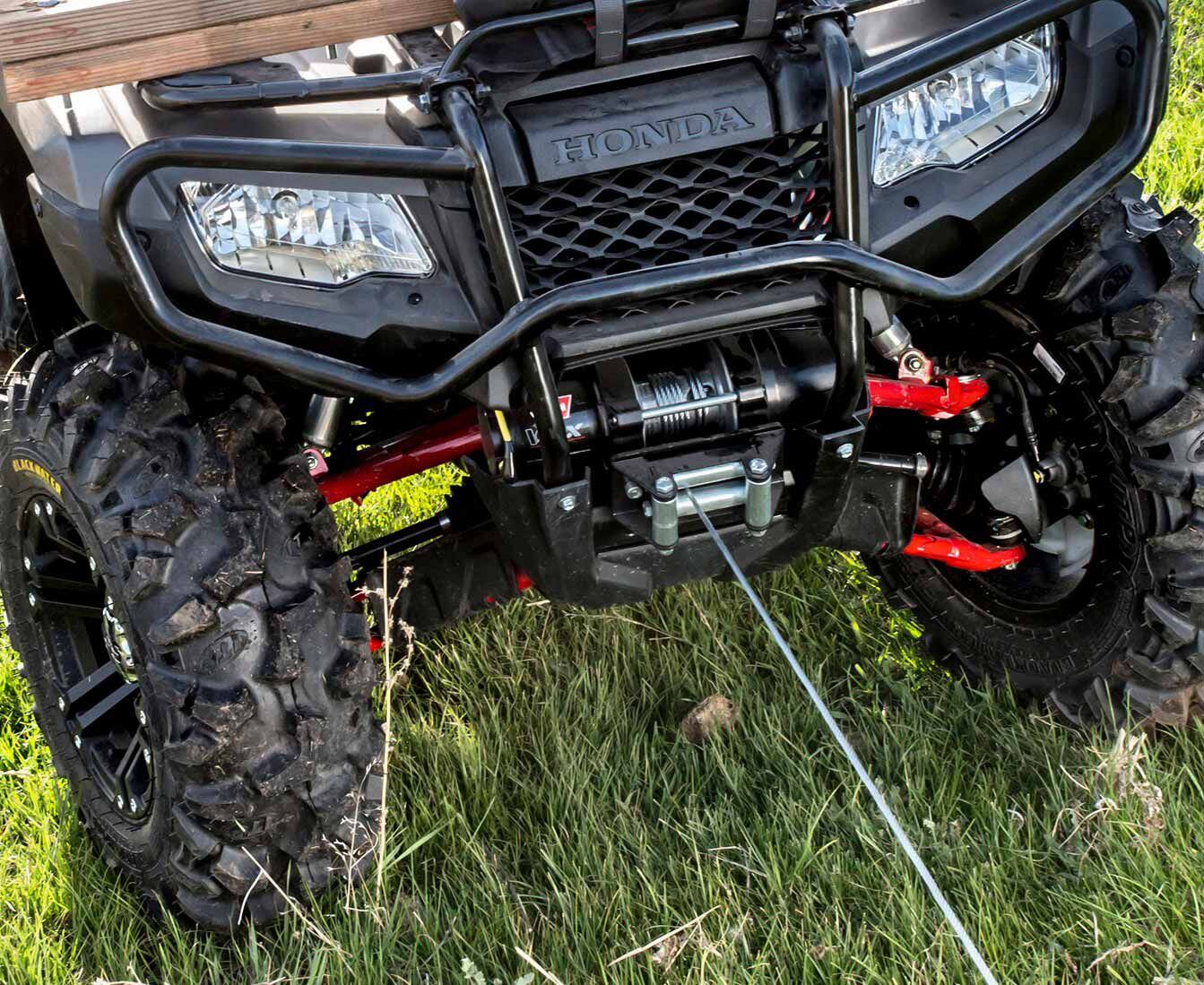 A winch is an incredible tool for recovery when used right. (Ross Ballot/)
A winch is arguably the most important and valuable tool for extracting a stuck vehicle. The uses don't stop there, with seemingly endless applications in work use and the ability to use them to raise and lower a snowplow as well. Choosing a winch is hard enough, but what about the line? Steel cable is ol' reliable, but today's synthetic line is a fantastic alternative. Let's dive into the pros and cons of each.
We reached out to our friends at Warn for some information. The company is the go-to name for winches and our source for the details found here.
Steel Line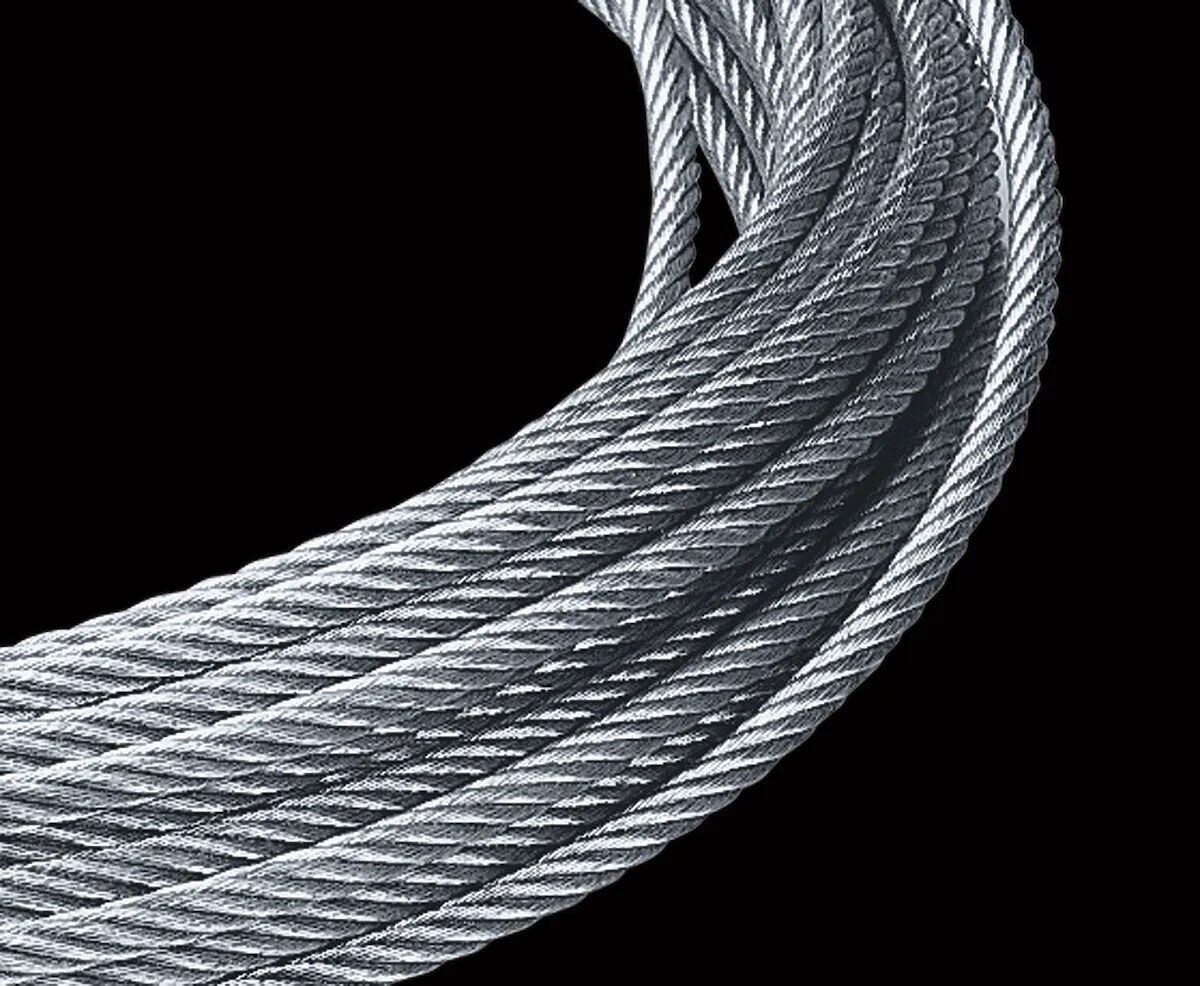 Steel wire is the most widely used winch rope. (Warn/)
Steel rope is the stalwart. It's the friend we all know and have a love-hate relationship with. Its composition is just like its name suggests, using braided-steel lines to form an extremely durable and abrasion-resistant pulling cable. Strength varies widely, but most steel cables are rated to withstand 7,500–10,000 pounds of force. Note that the winch line should always be rated for a higher breaking strength than the winch itself, as snapping a cable can be substantially more dangerous than burning out a winch's electric motor.
Related: Learn To Winch… It's A Cinch
Warn Strategic Communications Manager Andy Lilienthal tells us that steel cable's durability also makes it a great choice for work use. It's resilient to nonstop abuse and can usually handle chores and utility duty with ease. For this reason, it's great for moving trees and rocks as well.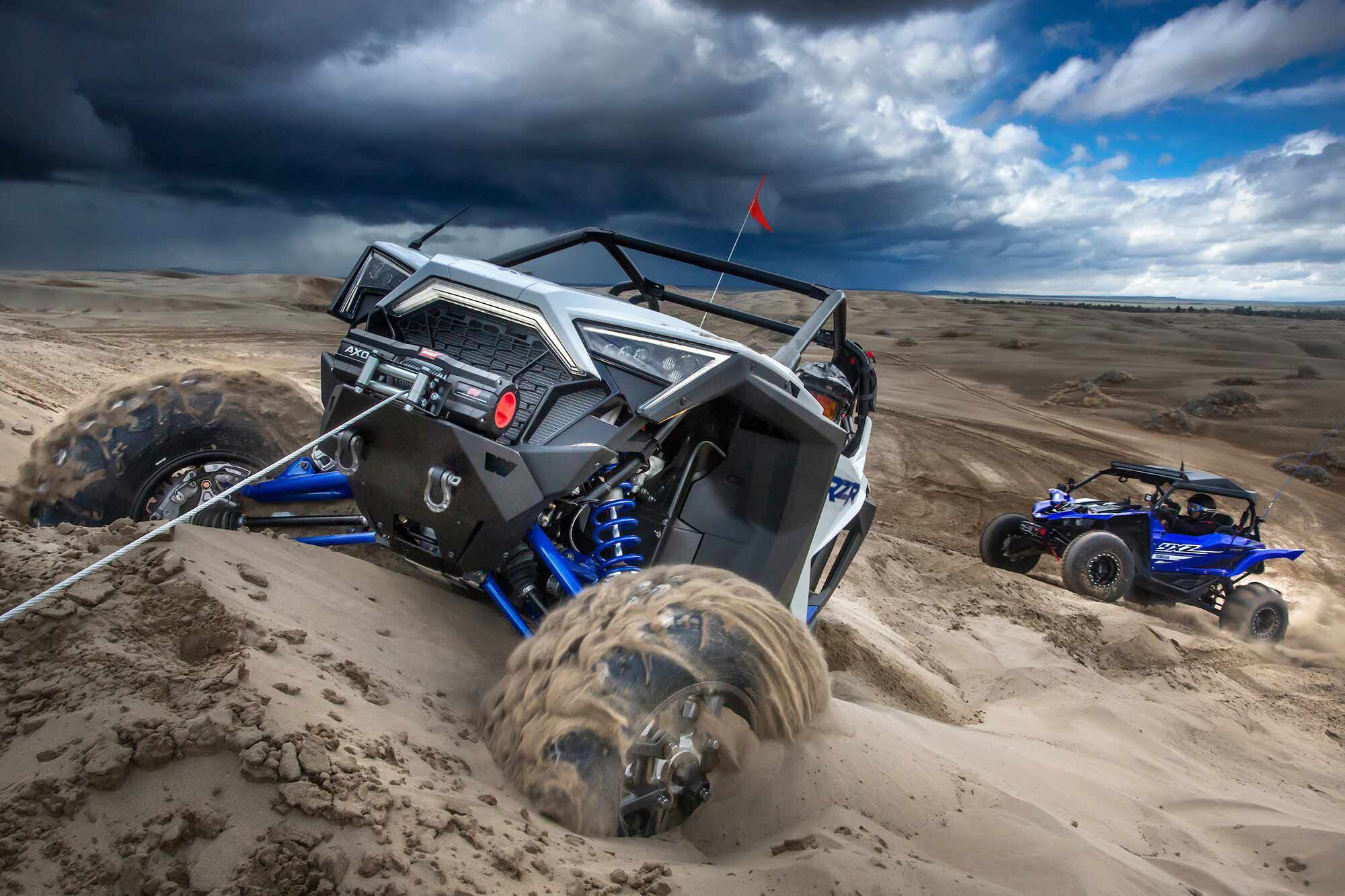 Steel cable is heavy but extremely durable. (Warn/)
When using a winch with steel line, always be sure to prevent binding or twisting. This can compromise the integrity of the line, which only makes it more prone to failure. Additionally, always be sure to wear heavy-duty gloves. Steel line likes to develop extremely sharp metal burrs that can mangle hands. If there are any signs of wear, do not continue using the line. It's important to always keep steel winch line clean as well, as rust easily builds inside the spool when dirt, sand, and moisture get trapped inside after use.
Steel cable pros:
Durability
Abrasion-resistant
Less expensive than synthetic line
Steel cable cons:
Can develop burrs and spikes
Heavier than synthetic line
Requires more maintenance than synthetic line
Extremely dangerous when it snaps
Steel cable bottom line:
A can't-go-wrong option so long as the user is familiar with the possible drawbacks.
Synthetic Line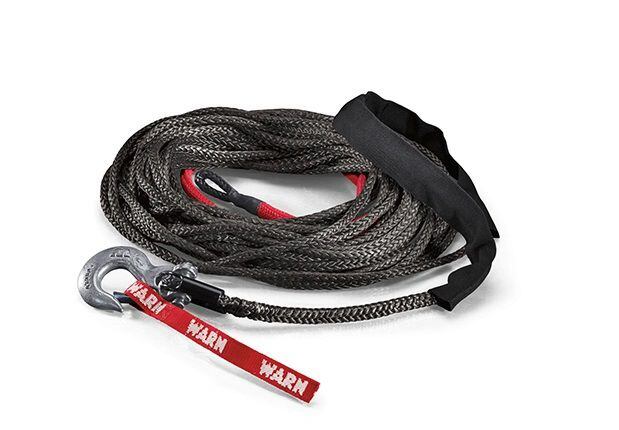 Synthetic cable is light and easy to use, but prone to abrasion. (Warn/)
There have been exponential leaps in the synthetic winch line field over the last decade. It is now a viable option for nearly every use. Synthetic line is composed of an engineered material that varies based on manufacturer. In general they are made from a composition of metal and plastic fibers like polyethylene. Synthetic line is lighter than steel and does not develop burrs or those pesky metal splinters that we all hate. Warn tells us that it also "doesn't store as much potential energy under load" versus traditional steel line. That means that should the line fail, it's less dangerous than its steel counterpart.
Related: How To Install a Winch on a Polaris Ranger XP 1000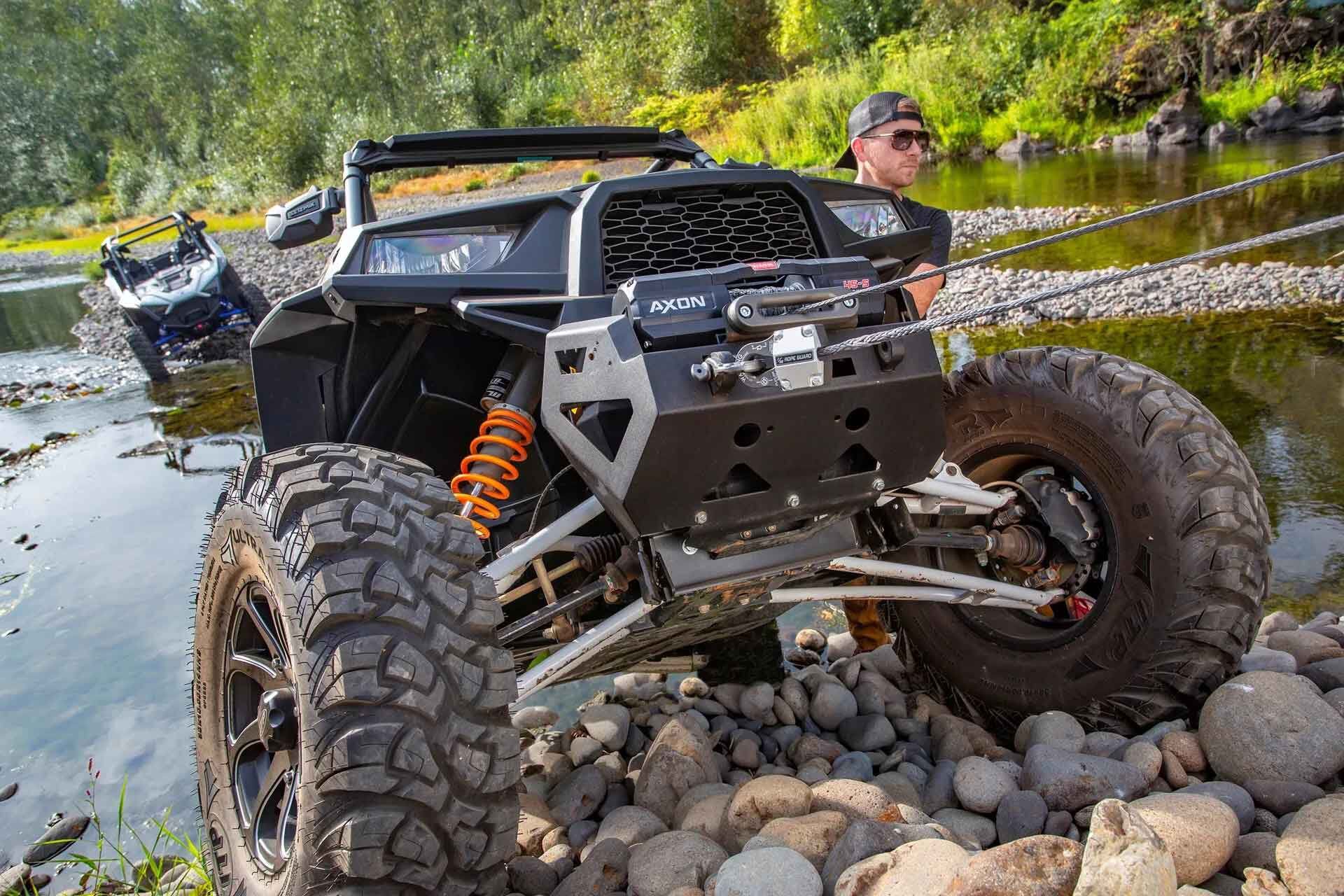 Synthetic is great for trail use, like helping your buddies get unstuck. (Warn/)
Synthetic line is a fantastic option for ATV applications as it helps keep weight down and is much easier to manipulate when working on a recovery. It's a great choice on trail-focused ATVs for use in getting friends unstuck. Warn cautions that abrasion is something that must be kept under close watch. The brand recommends always placing an abrasion sleeve or chafe guard between the rope and any item it may be sliding over during a pull. This is to prevent slicing the rope, which inherently compromises strength.
Related: ATV and UTV Winch 101
Like with steel cable, we do always recommend giving the line a thorough cleaning and inspection after each use. This might mean only looking it over a few times a year, but pinpointing any possible cause for failure could mean the difference between a successful or a failed recovery. Never use a synthetic line that's showing signs of fraying as this is not only likely to jeopardize the recovery, but it can put others in harm's way.
Synthetic line pros:
Lightweight
No burrs or spikes to harm hands
Easy to use
Lower stored energy than steel makes it safer should the line fail
May float
Synthetic line cons:
More expensive than steel cable
More prone to abrasion and fraying than steel cable
Slightly less durable than steel cable
Synthetic line bottom line:
A great alternative to steel, with many pros in its favor, but slightly less resilient than standard steel rope.
Which is right for you? For heavy work use we prefer steel as it's less prone to abrasion and, in our experience, can handle repeated heavy pulls with less issue or cause for concern. For that alone, steel line is the go-to in utility and farm use. On the trail, synthetic is our choice as it's not as needy on the maintenance front, less dangerous should the line fail mid-pull, and less likely to hurt the user's hands. Either way, you can't go wrong; just be sure to care for the winch and line accordingly.