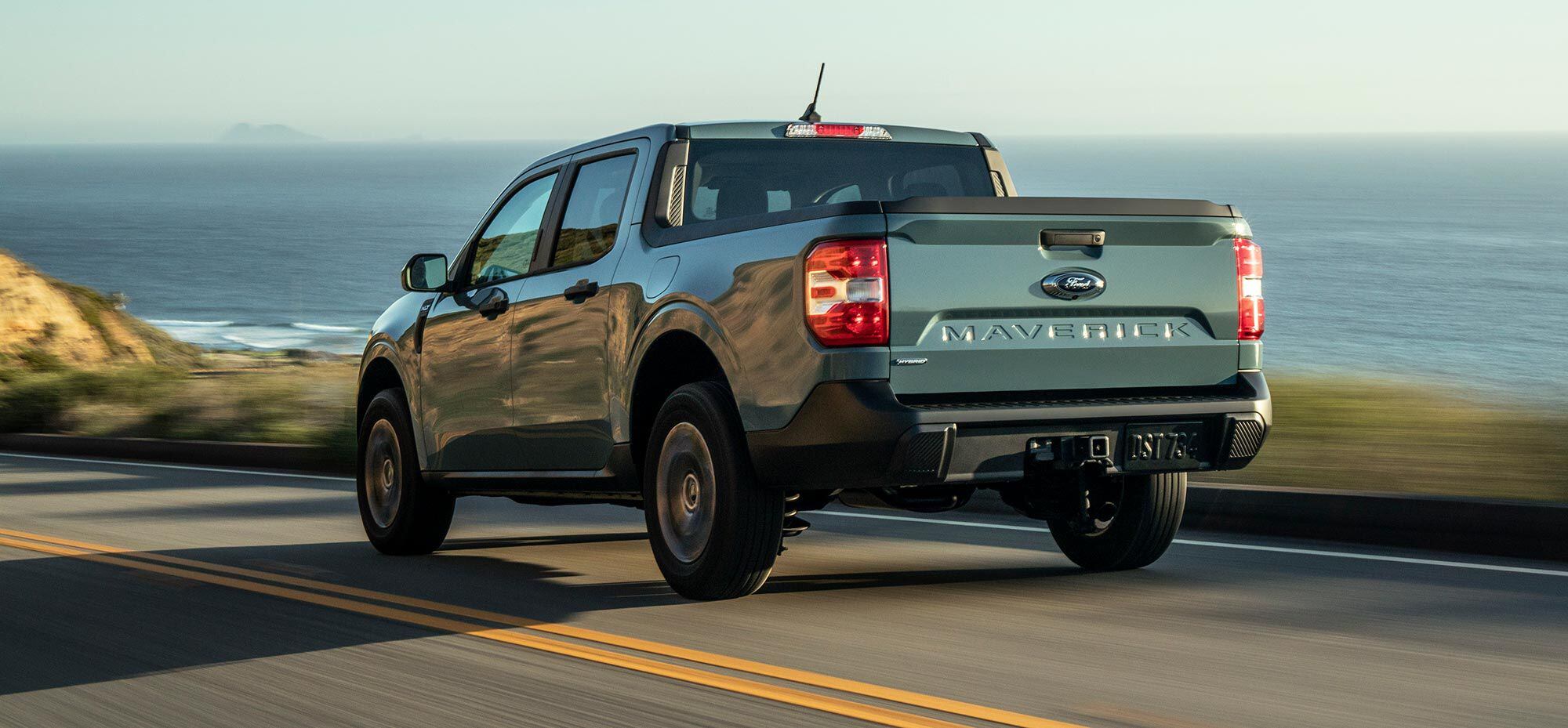 2022 Ford Maverick Hybrid pickup truck. (Ford/)
After the 2011 loss of the Ranger pickup from the Blue Oval fleet, Ford's smallest truck for the next eight years was the venerable half-ton F-150. It's a choice rig for getting work done, but slightly out of place on tight city streets or with budget-oriented consumers. In 2019 Ford brought its European Ranger model to America. With much chagrin, US consumers welcomed back the smaller quarter-ton platform with lukewarm enthusiasm. Its size had grown to mimic the F-150s of a decade prior and the retail price had also grown to inflation-busting levels. Many brand-new F-150s could be had for less money than a Ranger. Fast-forward to 2022 and Ford has finally answered the call for a truly tiny truck.
The 2022 Ford Maverick is something America hasn't seen since the late '90s, assuming you don't count the much larger Honda Ridgeline. It's a pickup-style chassis, complete with utility bed, with no frame. For lack of a better term, it's a car that can haul cargo—or your quad.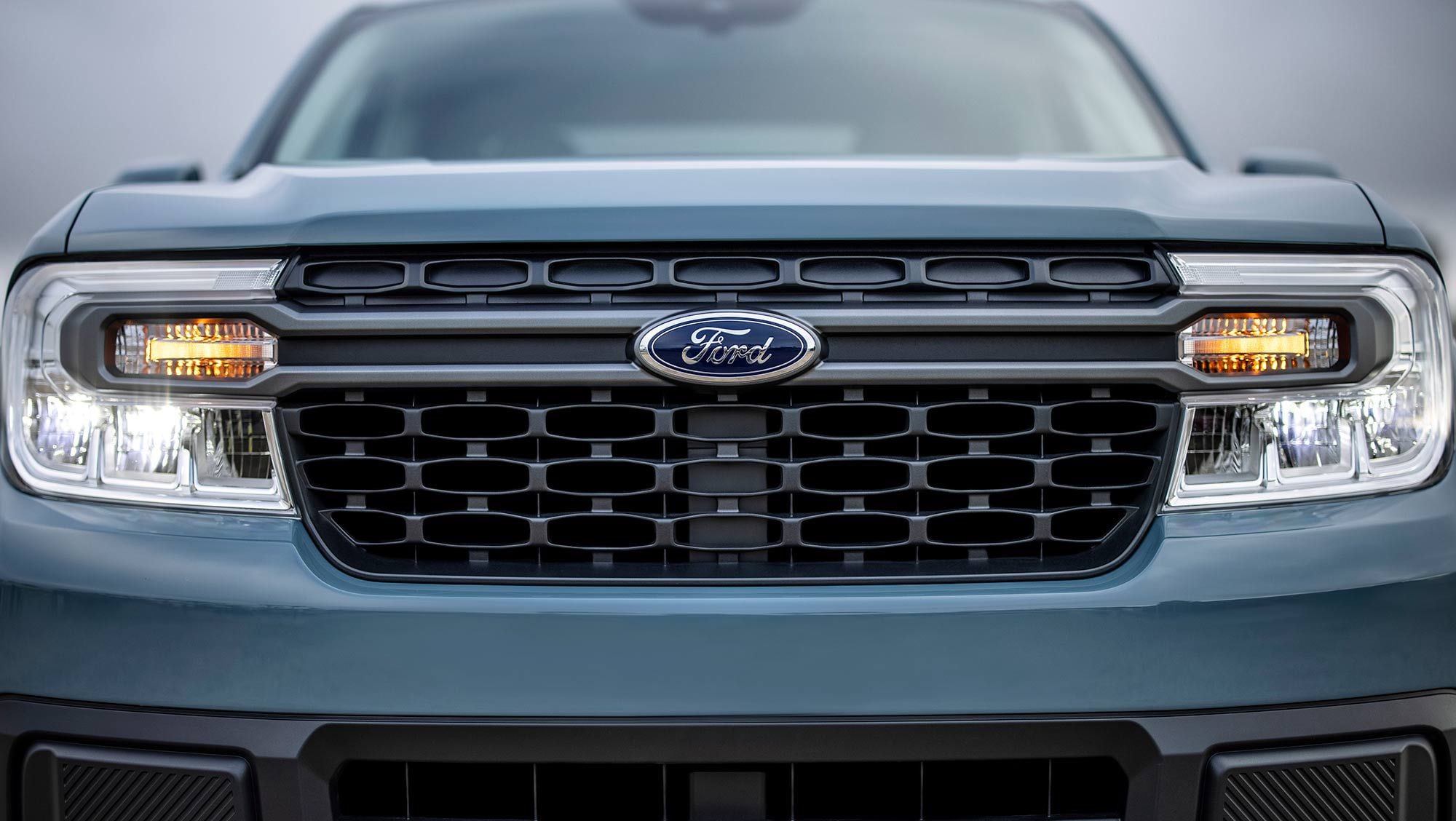 2022 Ford Maverick front grille shown in Hybrid XLT trim with LED lighting. (Ford/)
We're not here to talk about the sophisticated interior, pleasant handling, or optional turbocharged 2.0L EcoBoost engine pumping out 277 pound-feet of torque. We only want to talk about putting your quad in the back of a Maverick. Will it fit? Can it work? Are you going to be embarrassed?
The Ford Maverick comes in one cab configuration: crew cab. That's four doors and a short bed. Ford has dubbed the Maverick's rear cargo area as the Flexbed. Strategically named to remind owners and would-be consumers of how feature rich this little hauler's business end is. Let's take a look at the hard numbers.
Bed length measures 54.5 inches or 4.5 feet long with the tailgate up. Drop the tailgate and you'll get 78.5 inches or 6.5 feet of cargo space. This is just enough space to fit most modern ATVs with the tailgate lowered.
Bed width measures 42.6 inches (3.6 feet) between the rear wheel wells and 53.3 inches (4.4 feet) between the bedrails. Unlike larger truck beds, the wheel wells take up the front half of the bed floor so an ATV's front tires will be resting on them no matter what you do.
Payload capacity is rated at 1,500 pounds total. That includes occupants, riding gear, lunch, and ramps. It'll be very tight but it's not a deal breaker for most ATVs.
Tailgate capacity is rated at 500 pounds when fully lowered. The Achilles' heel of the Maverick when it comes to discussing carrying quads. Seeing as how no adult quad will fit in the Maverick's bed with the tailgate up, that number is a bit low for extended quad-hauling duty. We suspect the gate hinges won't complain at first, but continued abuse will most certainly result in sagging or worse. And that doesn't include loading and unloading work. Set your ramps on the tailgate lip, ride your quad up the ladder, and for a moment you've got the entirety of its weight resting on the tailgate.
Owners will get two tie-down rings bolted to the front of the bed floor. This should allow for easy strapping of the front of any ATV. The rear is a different story. The rearmost end of the bed floor goes without any utility hooks. You'll have to do with steel rings mounted 4.5 feet back from the cab at the end of the utility track rail, most of the way up the bed wall. Again, possible but not ideal.
Towing capacity is rated at 2,000 pounds for the standard hybrid model Maverick. If you opt for the higher output 2.0L EcoBoost gas mill, you'll be able to tow 4,000 pounds. That's UTV territory, folks.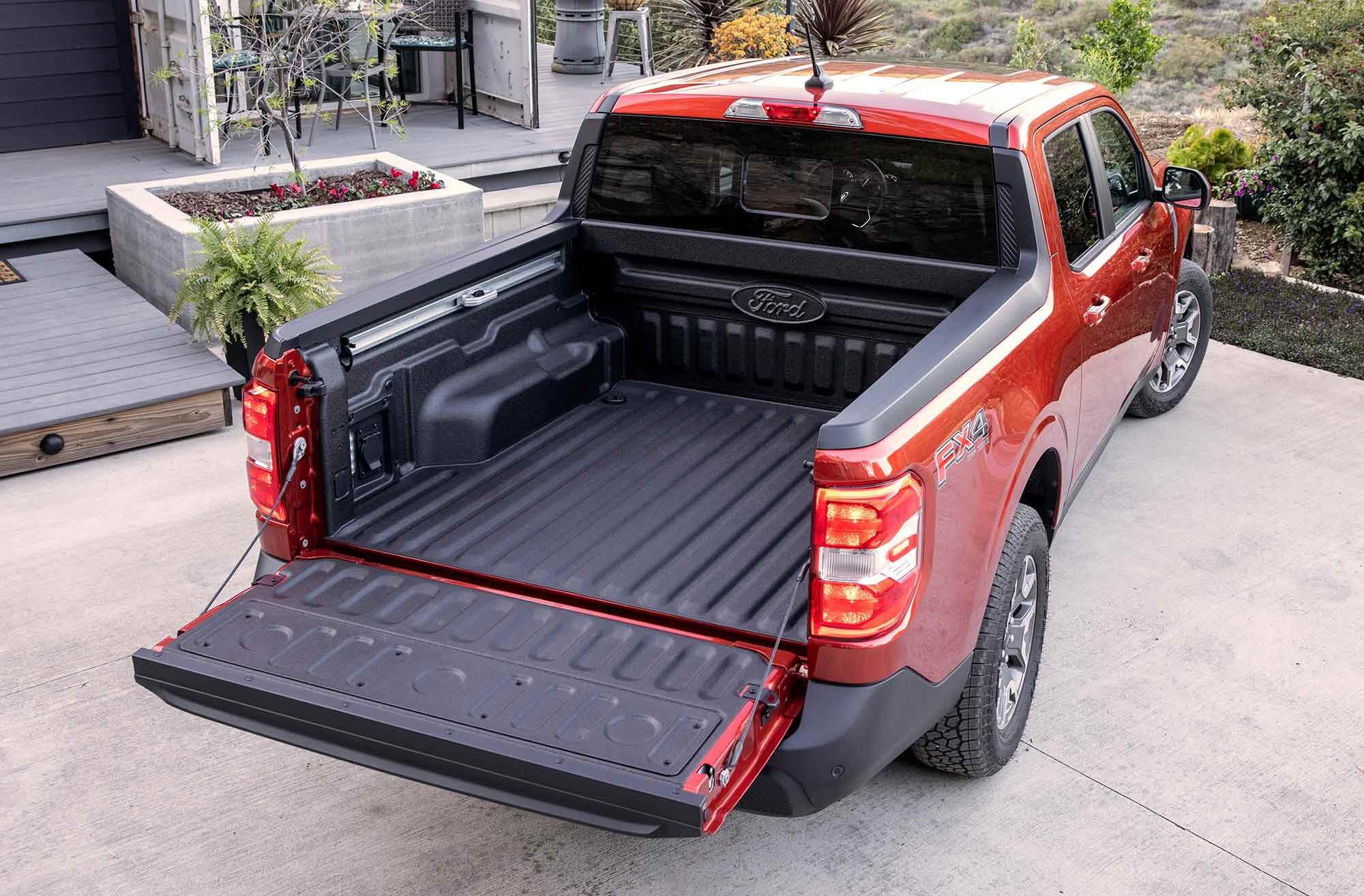 The Ford Maverick's FlexBed offers creative and useful ways to carry your cargo in a pint-sized space. (Ford/)
Let's look at three of the most popular ATVs on the market for 2022 and see how they fit inside the Ford Maverick's rear bed. Can it carry the Polaris Sportsman 570, Yamaha Raptor 700, or Honda FourTrax Rancher?
2022 Polaris Sportsman 570 EPS
Overall Vehicle Length: 83.0 in.
Wheelbase: 50.5 in.
Width: 48.0 in.
Gross Weight (dry): 753 lb.
Summary: It should work. The rear tires will rest on the tailgate and the rear ATV bumper will stick out past the end of the tailgate. The Sportsman is also heavy, which could tax the tailgate over time.
Overall Vehicle Length: 72.6 in.
Wheelbase: 50.4 in.
Width: 45.5 in.
Gross Weight (wet): 422 lb.
Summary: This will easily work with almost any pure-sport-style quad. They're generally both lighter, thinner, and shorter than their utility counterparts. Rear tires will still be resting on the tailgate, but not as proudly.
Overall Vehicle Length: 82.8 in.
Wheelbase: 50.0 in.
Width: 47.4 in.
Gross Weight (wet): 580 lb.
Summary: This will work. With dimensions similar to the Sportsman 570, the rear tires will rest on the tailgate and the rear ATV bumper will stick out past the end of the tailgate. Weight won't play as much of a factor, however.
And, what the heck, let's throw a big heavy-weight mud-slinging quad in for fun.
2022 Can-Am Outlander X MR 1000R
Overall Vehicle Length: 97.0 in
Wheelbase: 59.0 in.
Width: 50.0 in.
Gross Weight (dry): 1,014 lb.
Summary: We're guessing some ingenuity would find a way here but we're not going to recommend it. She's long, she's strong, and she's down to get the tailgate gone. Tow this one. Either available engine in the Ford Maverick will yank this beast to the trail on a small utility trailer.

Standard tow rating comes in at 2,000 pounds. Optional EcoBoost engine trims jump to 4,000 pounds of towing capacity. (Ford/)
If you're a city dweller, a fiscally conservative buyer, or just someone who wants to enjoy 40 mpg, and you enjoy ripping around your local OHV park with a trusty midsize ATV, then give the Ford Maverick a look. While it can't move the heaviest of quads, it may surprise you with how comfortable, useful, and civilized owning a small pickup can truly be.
Want to stay up to date on the latest ATV Rider news and reviews? Sign up for our weekly newsletter!