Carbon fiber motorcycle wheels have arrived. They not only look spectacular in clear coat, but can radically improve your bike's handling response. (Action Composites Hightech/)
Weight multiplied by speed translates into energy. Coming down to earth and to motorcycling means calling this energy "inertia," and inertia is one of the elements which keeps any vehicle stable. But the higher a vehicle's inertia, the greater the effort needed to steer. This is especially true with motorcycles, since they are not simply steered but must be leaned into the new line; the heavier the bike, the harder the wrestling match. Before the World Superbike rule book established a minimum weight for SBK racers, Ducati was able to build 916-based machines that tipped the scales at just a bit more than 300 pounds—and they were almost invincible. But in chasing light weight, many builders have run into terrible technical barriers; check the disastrous torsional-rigidity numbers of some of the early aluminum-framed motorcycles.
Of all a motorcycle's components, wheels most significantly affect a bike's dynamic reactions. Their weight translates into "unsprung mass," thus affecting the suspension's response. But just as crucially, their rotation generates significant gyroscopic inertia, which tends to keep the wheel stable on its rotational axis, adding a second level of opposition to steering inputs. Wheels are where weight savings pay the highest dividends in motorcycling engineering.
Evolution of the Motorcycle Wheel
In the wire-wheel era, replacing steel rims with aluminum hoops was the first attempt to improve the situation, and they were rather elegant. The first generation of cast aluminum wheels didn't save much weight, but they did eliminate having to check spoke tension and wheel "true." Then the first cast magnesium wheels appeared. Magnesium is a critical material, and those who tried first—including the great Swiss specialist Fritz Egli—proceeded very carefully. These wheels may have looked like they'd been borrowed from a barrow, but they were both lighter and stiffer than wire wheels. When Magni and Campagnolo started making cast magnesium wheels, the parts grew more attractive, lighter, and safer.
Roberto Marchesini, Campagnolo's chief technician, constantly improved the design and eventually started his own casting shop where he experimented with forged magnesium wheels. While very expensive, they were also very light and offered excellent structural integrity and reliability. Forged aluminum wheels represent a much more accessible solution, slightly lighter than cast, stronger, and more reliable.
While Marchesini was hard at work trying to get his magnesium wheels forged somewhere in Russia (where the aerospace industry was struggling to survive), carbon fiber was emerging as a material that could offer a new standard of strength-to-weight. It took time and a huge technological effort to overcome carbon's construction problems; much was learned from early attempts to use carbon fiber in racing sailboats and Formula 1 monocoques.
The General Electric Turbofan Connection
The problem came from the multilayer structures delaminating, particularly under vibrational loads. Carbon fiber ensures enormous strength and load capacity in traction, but very poor ability to withstand compressive loads. Yet the engineers learned quickly, and they progressively refined their designs and technologies to take full advantage of carbon fiber's potential.
The racing-car specialists found their way around the main structural problems by accurately orienting the various layers of carbon fiber, and so did the sailboat yards. But the real evolution in structural use came from the aerospace industry, specifically General Electric. Almost 30 years ago, project engineers working on GE's powerful commercial turbofan engines were designing what would be the largest, most powerful, and most efficient commercial turbofan ever, the GE90.
In its first iteration, the GE90-94, the new monster fan was to generate 93,700 pounds of thrust. To achieve that it needed to be big, but also efficient and capable of a very fast throttle response despite the enormous gyroscopic inertia; the engine's overall diameter was 134 inches.
Until then, fan blades had been built from titanium, but the General Electric engineers thought carbon fiber could greatly improve the large turbofan's efficiency. They developed a new carbon-fiber-forming technology that proved immensely successful. The GE90-94 fan blades exceed 50 inches in length, but weigh less than 50 pounds. Above all, they were twice as strong and rigid compared to their titanium counterparts while weighing only one-third of what the titanium parts did.
Related: Check out MV Agusta's Brutale Nurburgring and Its Carbon Fiber Wheels
The GE90 evolved into the GE90-115B, an engine that generated a record 127,900 pounds of thrust during testing and which proved to be one of the most reliable civilian turbofans ever. Its fan blades have a design so elaborate and elegant (not to mention efficient) that one is on display at the Museum of Modern Art in New York. GE's carbon-fiber-forming technology is based on a combination of accurately oriented layers of tightly woven carbon fiber and epoxy matrix which is then stamped (or, if you want, forged) and, finally, heat treated.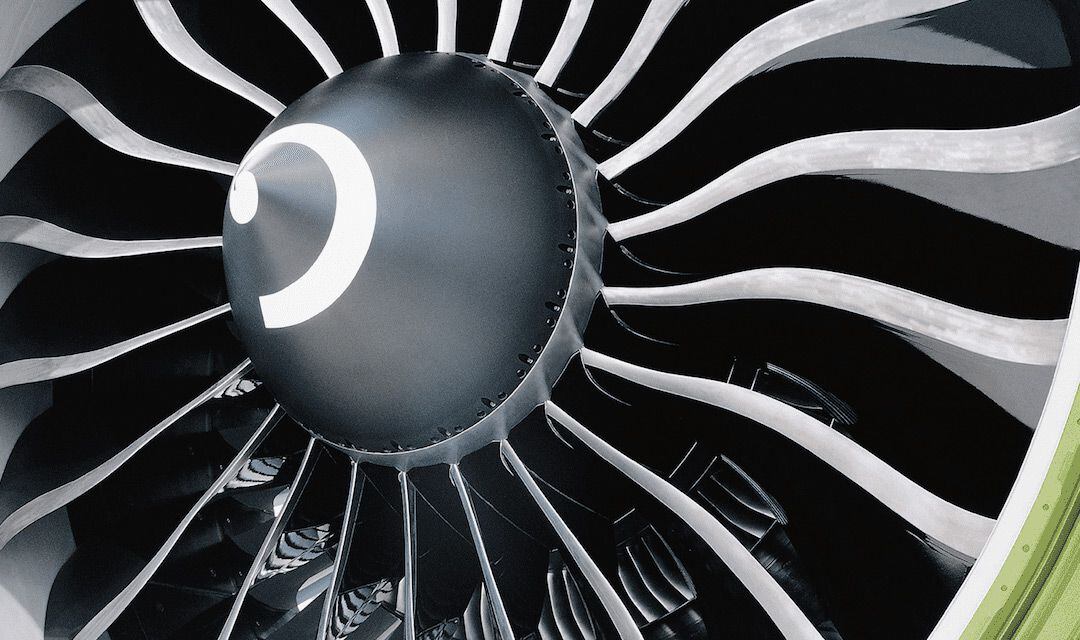 Some of the most impressive carbon fiber fabrication in the world comes courtesy of General Electric and its large turbofan engines. (GE/)
Contrary to expectations, the carbon fiber blades are as thin as their titanium counterparts for an extreme flow efficiency. Their combined light weight and high rigidity ensures flutter-free stability translating to a vibration-free monster.
General Electric further evolved its carbon fiber know-how when creating the new GE9X, an engine that's even larger, and which generates a record peak thrust of 134,300 pounds. Here the fan blades are longer still, and the enormous drum-shaped fan case is fabricated from carbon fiber as well. General Electric has not released much information about its exclusive carbon fiber technology, but it has demonstrated that carbon fiber structures can outperform their metal counterparts when the right procedures are accurately applied.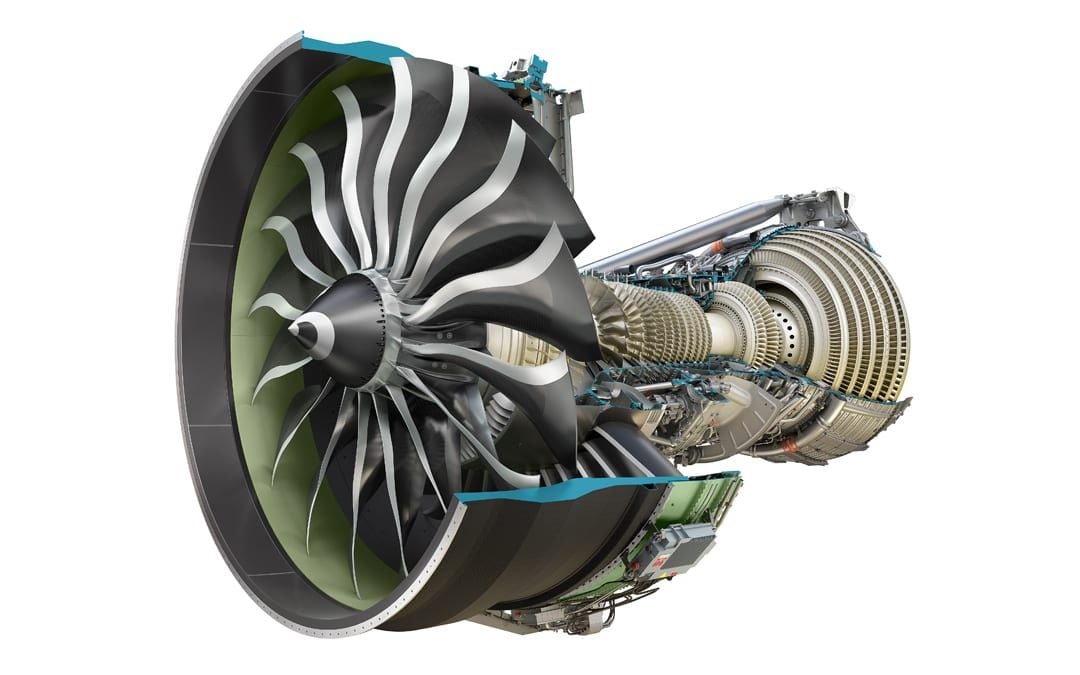 A cutaway of the GE90X, clearly showing the carbon fiber fan. Think a 17-inch racing wheel has a lot of gyroscopic inertia? This thing is more than 10 feet in diameter. (GE /)
BST Tech
In the domain of motorcycle components, South Africa's BST (Blackstone Tek) was the first to develop carbon fiber wheels that gained approval from the major certification institutes. The company was founded by Gary Turner, a racer who was impressed by the positive influence early carbon wheels had on one of his testbikes. Gary conceived arational process to obtain immensely strong and reliable wheels featuring hollow spokes, and offering an excellent weight-to-structural-rigidity ratio. The process allows a solid, unitary, hollow design which reduces both spoke and rim weight without compromising strength.
Specially shaped silicone inserts are laid in the mold's metal spokes cavities, then wrapped in carbon fiber. The complete wheel is baked for between four and five hours in one of BST's two pressurized autoclave ovens at 257 degrees Fahrenheit and 87 psi. The silicone expands under this heat and pressure to fill and shape the spokes; when the silicone cools it shrinks back to less than its original size, allowing the insert to be easily extracted.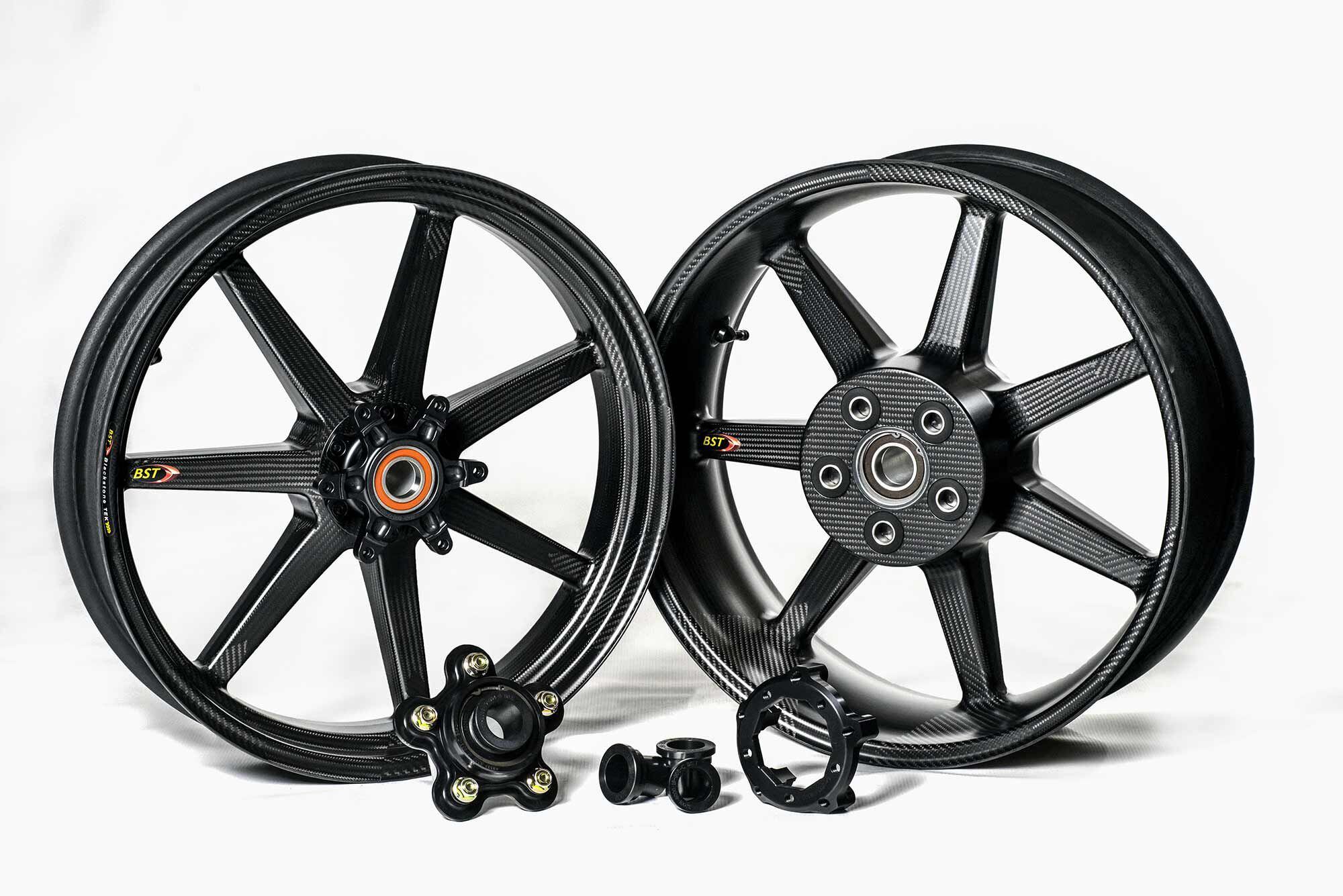 BST's Black Mamba wheels showcase a classic design interpreted in a lightweight material. (BST/)
All of BST is organized as a high-tech factory that uses aerospace materials to manufacture a whole range of carbon fiber motorcycle wheels in six different styles and in sizes from 12 inches to 23 inches. BST is a major player on the carbon-wheel market, and its production process has proved extremely consistent in terms of reliability and finishing quality. BST has now extended its production to automotive wheels and has opened a factory in Germany in order to more easily access the high-tech European components.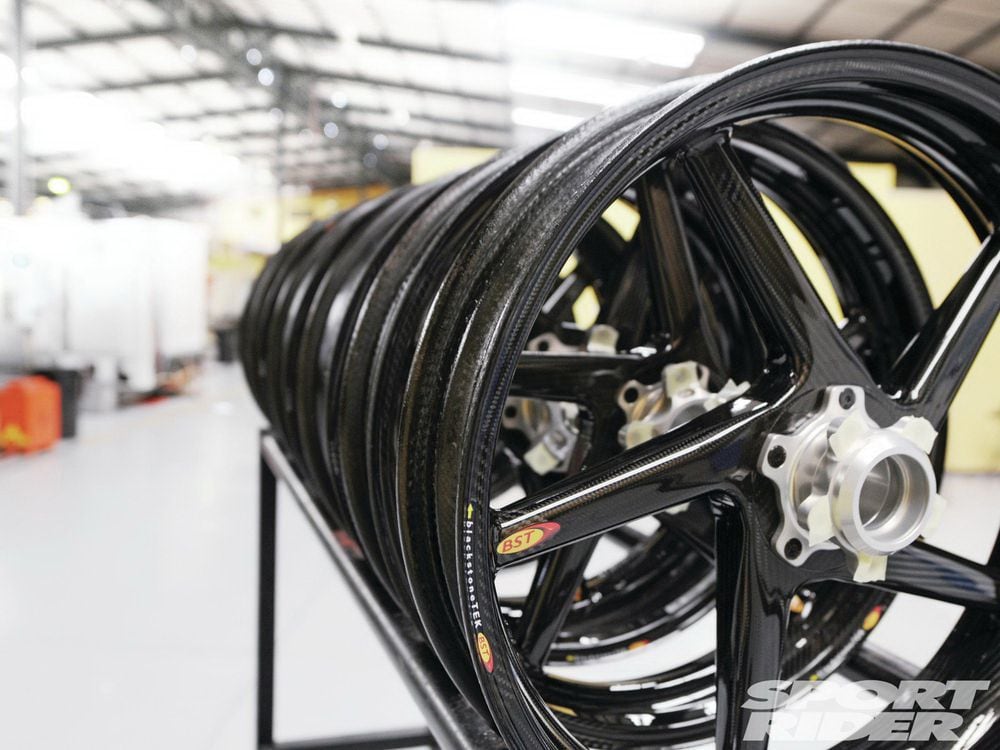 With facilities in both South Africa and Germany, BST is truly an international player in carbon-fiber-wheel development. Most recently, you've seen its work adorning MV Agusta's new Brutale 1000 Nurburgring. (BST/)
Rotobox
Rotobox is a Slovenian company that entered the carbon fiber components market years ago, focusing on motorcycle wheels with positive results. Now its research and experimentation has led to a meaningful carbon fiber manufacturing advance, a process the company calls "forging," similar to what is done with light alloy wheels.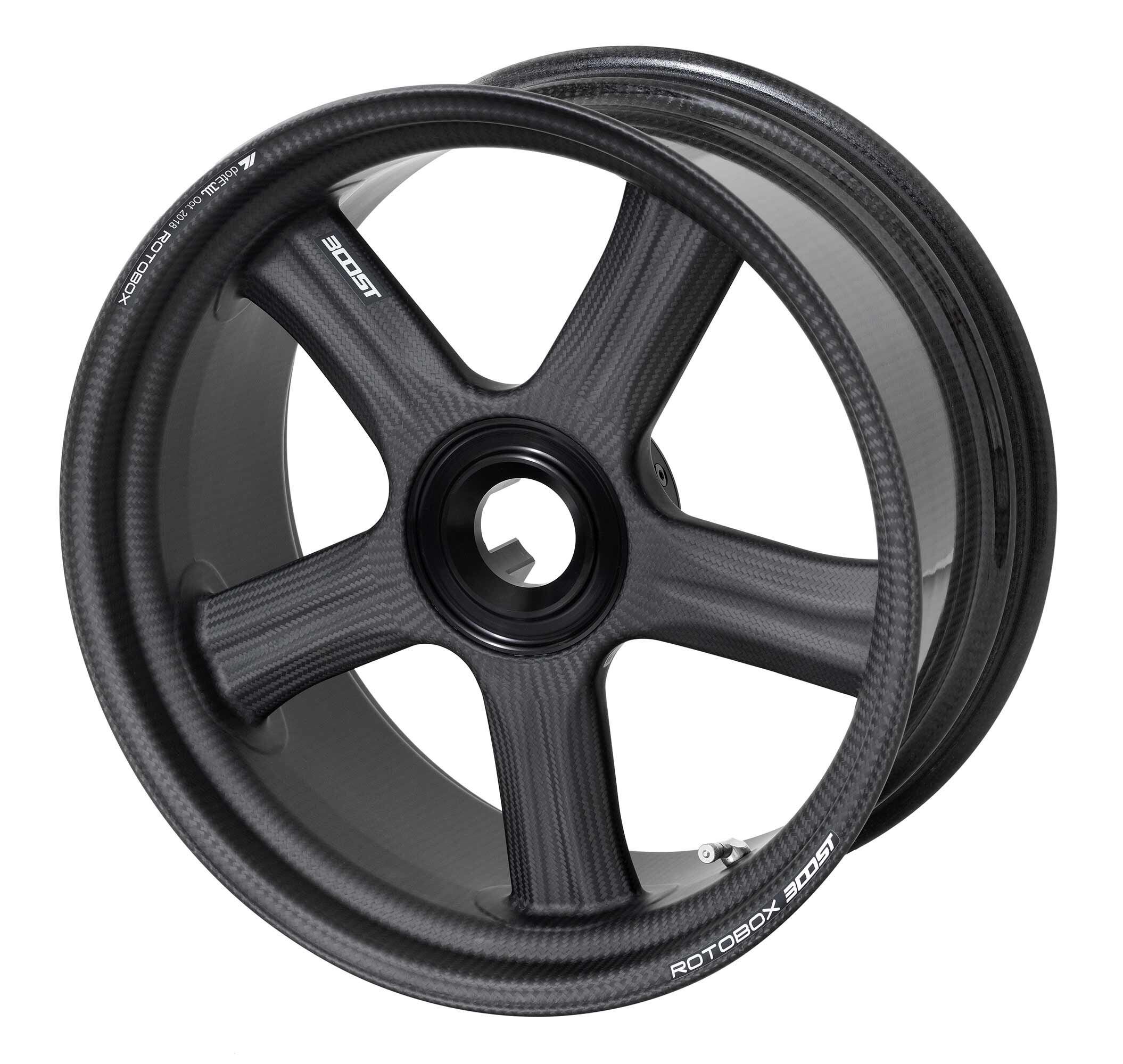 Rotobox has plenty of experience producing carbon fiber wheels. This large-spoke design is for Ducati's Diavel. (Rotobox/)
The process involves the use of multiple layers of military-standard carbon fiber laid into the mold, which is then impregnated with epoxy resin. High pressure is then applied on every square inch of the mold to obtain a perfectly "forged" carbon fiber structure of high-density material. Finally, the complete wheel is baked in a pressurized autoclave oven to achieve high structural integrity and stability. The process allows a meaningful reduction in both rim and spoke thickness. The "forging" process also ensures a constant quality control of the final product.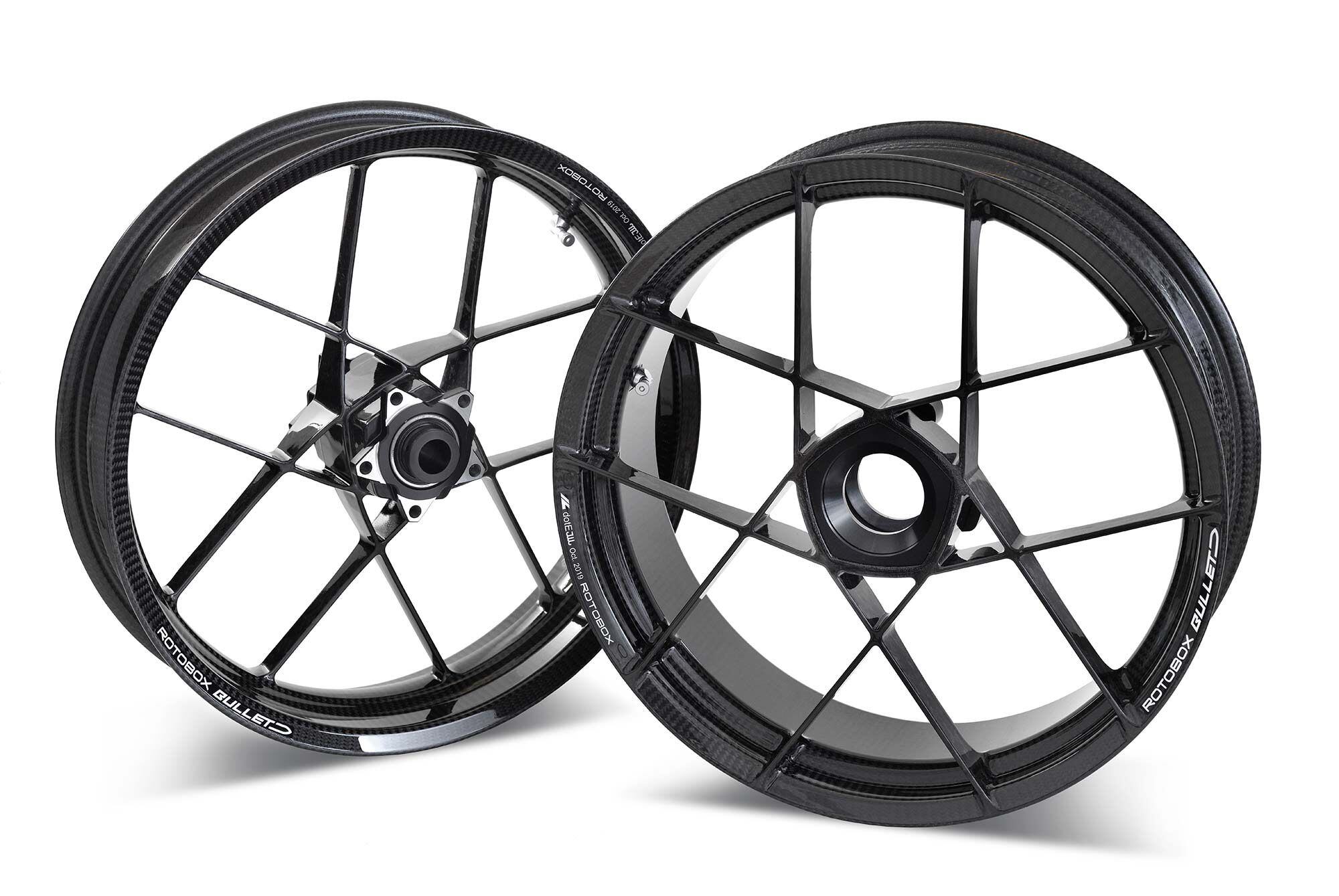 More radical in appearance are Rotobox's Bullet wheels, with their thin spokes and unusual spoke layout. (Rotobox/)
The current Rotobox Bullet wheels feature a design much neater than that of the company's previous generation. To ensure that the wheel can absorb impacts at high speed, a 2.5mm spiraled stainless steel wire is integrated into each edge of the rim. Stainless steel elements are also included in the star-shaped hub to provide solid mounting points for disc-brake rotors and the final drive sprocket.
Action Composites Hightech/ThyssenKrupp Carbon Components
Just this August there was big news from Austria Action Composites Hightech: The firm had acquired nothing less than Germany's ThyssenKrupp Carbon Components, the branch of the giant steel company created to compete in the strategically critical carbon fiber domain. Austria Action Composites Hightech is already a leading European company in carbon fiber components; acquiring ThyssenKrupp's carbon fiber branch further expands its technological leadership, especially with the process ThyssenKrupp has developed for motorcycle wheels.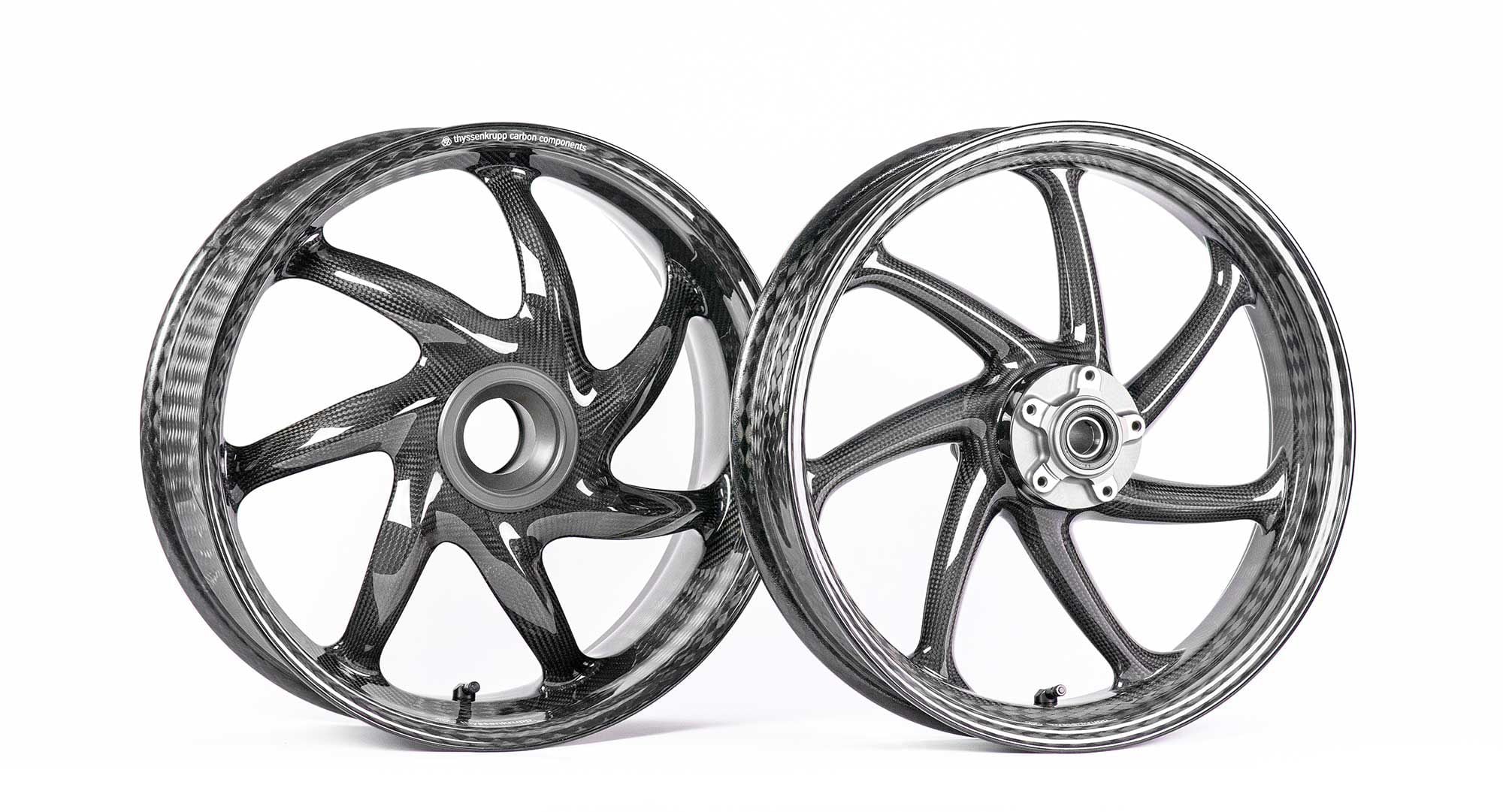 Action Composites Hightech wheels show a beautiful, flowing, organic shape made possible by their unique, "braided" construction. (Action Composites Hightech/)
Forget about tightly superimposing multiple layers of carbon fiber "tissue," impregnating the whole thing with resin, and then heat treating it to generate a structure: ThyssenKrupp has developed a totally exclusive process of braiding individual fibers to create light, durable structures. The whole wheel is elegantly shaped in a solid monolith, rim and spokes together.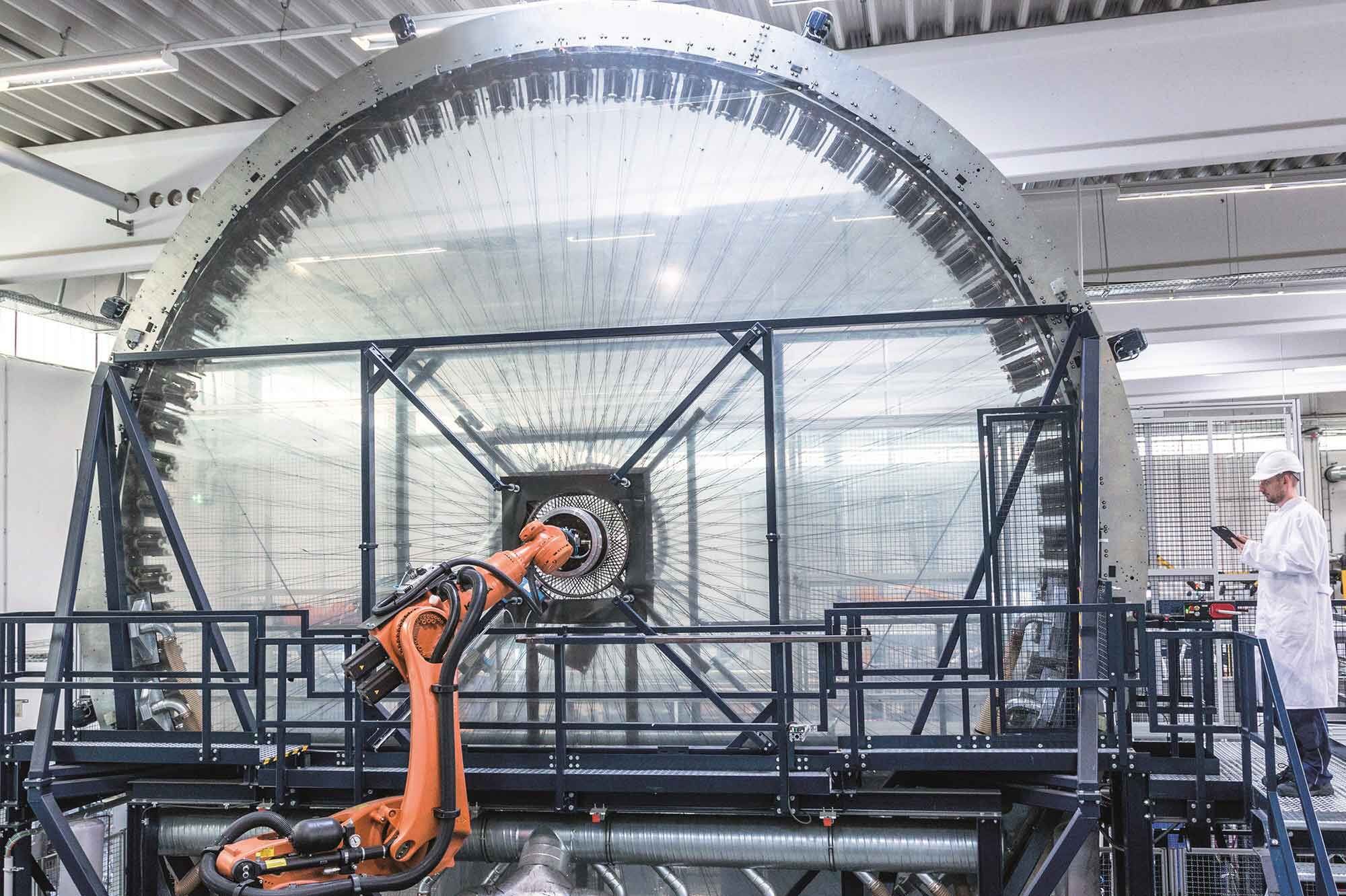 Maybe even more impressive than the wheels themselves is the lay-up machine Action Composites Hightech uses to "weave" them. (Action Composites Hightech/)
At the base of the process is a huge ring about 15 feet in diameter. Hundreds of carbon fiber spools are aligned around the circumference. All these single fibers converge in the center of the ring, where they are precisely braided to create a specific wheel model. The whole process is automated and computer controlled in every phase, and provides constant quality, rigorous dimensional standards, and a perfect finish. Every single fiber receives a very thin layer of epoxy resin prior to being braided in place. A special foam is injected into the spokes to further increase rigidity and kill vibration. The final result is a new generation of motorcycle wheels that are claimed to be lighter and stronger than any other. They are fully homologated for road use by all major certification institutes.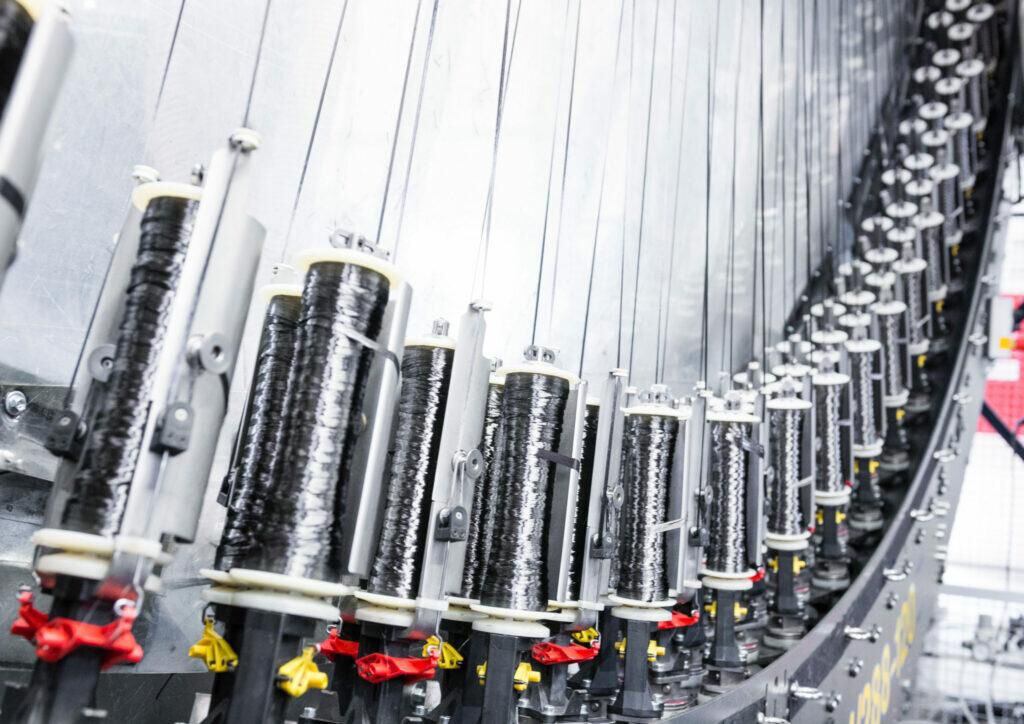 Hundreds of spools, each holding a single carbon fiber strand, feed the Action Composites Hightech wheel jig. Each strand is individually wet with resin during wheel construction. (Action Composites Hightech/)
The Action Composites Hightech motorcycle wheels come in three sizes: 17 x 3.50 front, and 17 x 5.50 and 17 x 6.00 rear. The front wheels weigh only 4.2 pounds and are homologated for up to 400 pounds of static load; the rear wheels weigh 6.4 pounds and are homologated for up to 672 pounds of static load. The production technology is not only impressive, getting the best out of carbon fiber in a geometrically complex structure, but it also allows mass production with a high degree of precision.