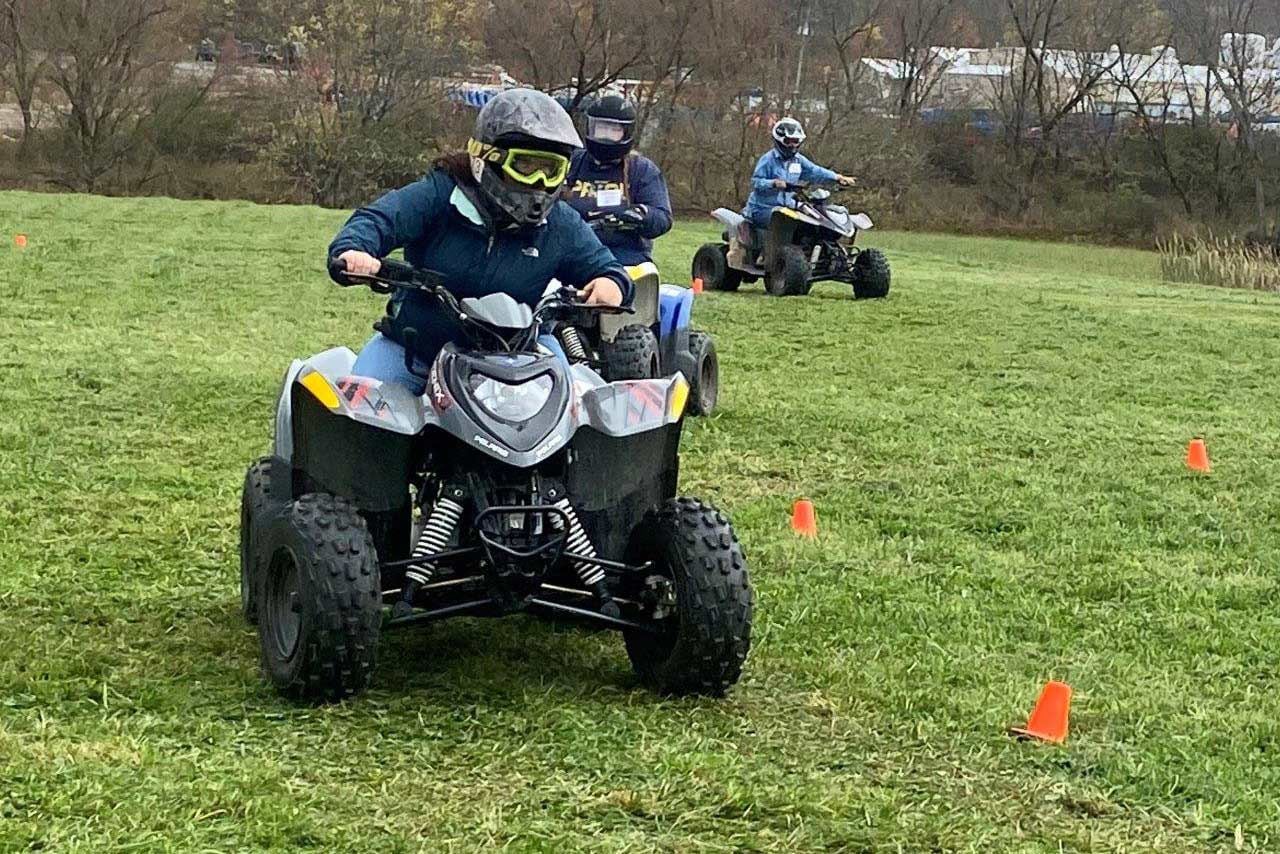 Kids receiving hands-on ATV training at school through West Virginia University Extension Services. (WVU Today/)
In an effort to curb ATV-related injuries, West Virginia University Extension Services is taking a proactive approach by taking its ATV safety program to middle schools. According to an annual report by the Consumer Product Safety Commission, West Virginia is currently ranked No. 2 for ATV-related injuries and deaths. A major part of the problem is the lack of safety gear. According to the WVU Today website, 95 percent of ATV crash victims in the state were not wearing a helmet.
ATV accidents often involve passengers on an ATV designed for one rider, further hampering the operator's ability to maintain control of the ATV. "One in three ATV crashes involves a passenger. First and foremost, if the ATV is not designed for two people, then only one person should be riding the vehicle—no exceptions. Passengers [on ATVs designed for two] also should take the necessary safety precautions, including wearing a helmet," said David Snively, ATV instructor and director at WVU Jackson's Mill.
Snively points out that a large percentage of injuries and fatalities happen to riders under 16 years of age, often riding an adult-sized ATV, unsupervised, and without proper safety gear—despite warnings on the ATV that prohibit such uses. And let's be honest, this isn't just a problem in West Virginia. It happens in every state. We've all seen kids who are too small to reach the foot brake riding double on an adult-sized ATV—with zero safety gear and no parental supervision. It has to stop, and we applaud WVU for stepping up by taking ATV safety training to schools.
"We are fortunate to have a great partnership through a gift and in-kind donations from the Polaris Foundation. This has enabled WVU Extension Service to expand ATV safety education and training throughout the state. More than 12 educators, including county agents, have recently received training and are delivering ATV programming at schools, camps, and other activities. The program also increased the number of West Virginia ATV Safety Institute RiderCourse instructors who are teaching hands-on programs statewide," said Haley Rosson, ATV instructor and assistant professor at WVU Davis College. Through the program, kids are introduced to ATVs appropriate to their age, proper safety equipment to wear, and how to identify the parts of an ATV. They are also taught hands-on riding skills such as stopping and how to avoid collisions, riding over obstacles, and traversing off-camber hills.
For more information on WVU Extension Services ATV Safety training, check out this link.
We also encourage all ATV users, new and experienced, to visit the ATV Safety Institute website to enroll in an ATV safety course near you.