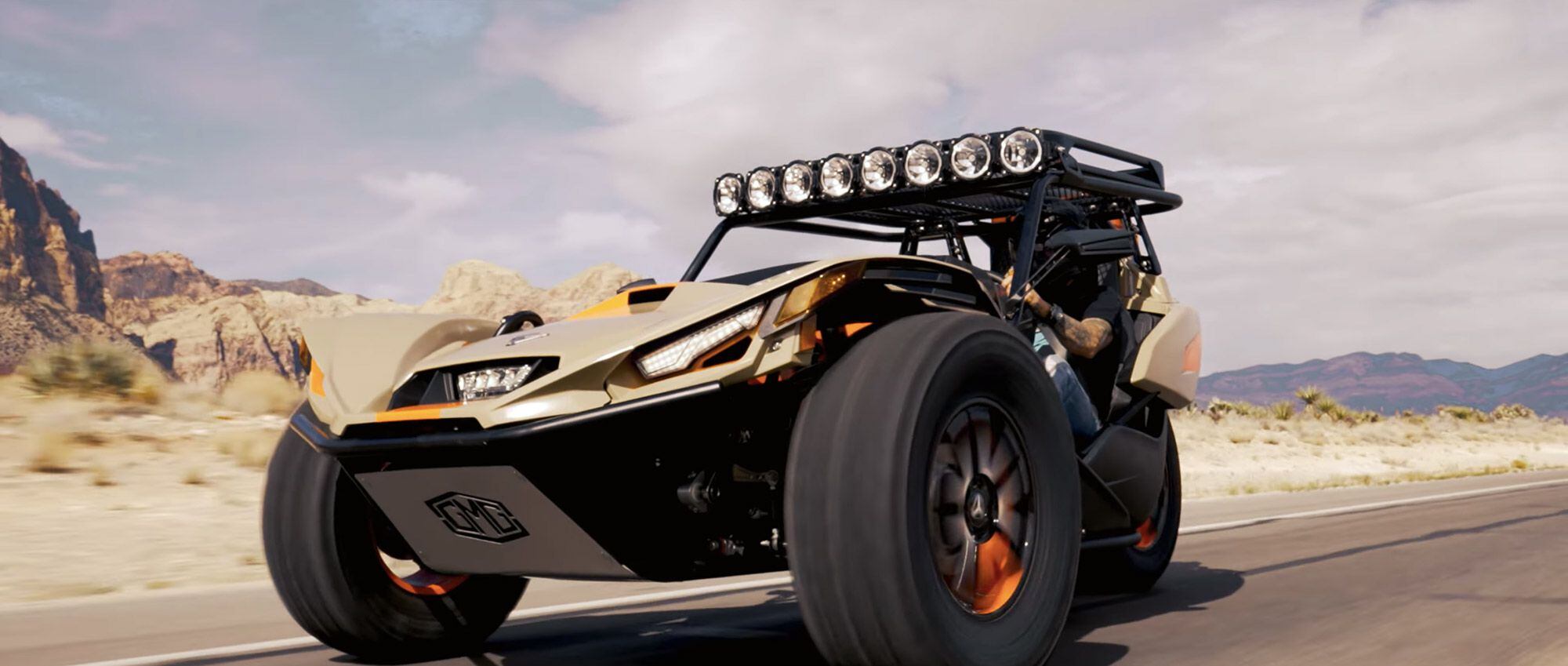 Gas Monkey Garage went all-in on this off-road Slingshot build for the SEMA show. (Polaris Slingshot/)
Gas Monkey Garage is known for its long list of absolutely wild builds. Its bread and butter is the kind of project that nobody else would dream of taking on—from cost to complexity to expertise, there's a lot to shy away from. But its latest SEMA build might top the lot.
The Slingshot team at Polaris challenged Richard Rawlings and his band of miscreants to build a one-off Slingshot the likes of which the world has never seen, and they more than delivered. Although most Slingshot customs are fully dedicated to carving up paved roads with wild paint jobs and stereos, Rawlings and company made their Slingshot look more like a RZR desert racer.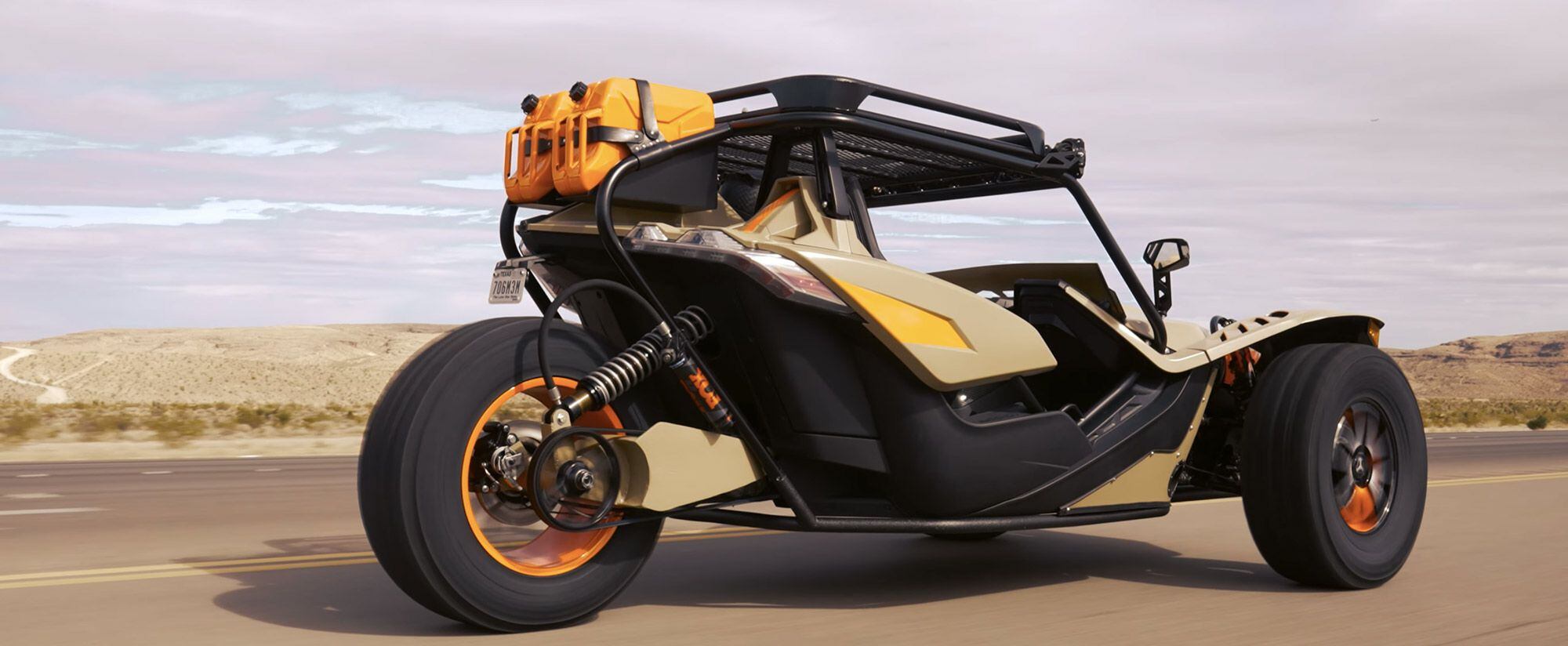 That tan swingarm is a one-off piece the crew put together out of quarter-inch sheet steel to get the suspension characteristics they wanted. (Polaris Slingshot/)
The three-wheeler they unveiled in Vegas earlier this month includes 35-inch Nitto tires, Fox suspension, and enough chassis mods that the thing is nigh unrecognizable next to a stock unit. To knock the build out, Rawlings handed the reins to a 22-year-old fabricator named Chase.
Chase and his crew started at the front by shaving much of the stock plastic bodywork and adding a custom tube bumper to increase ground clearance. Then, they built fully custom upper and lower sway bars and tie-rods, before cutting holes in the hood to build taller mounts for the massive Fox shocks.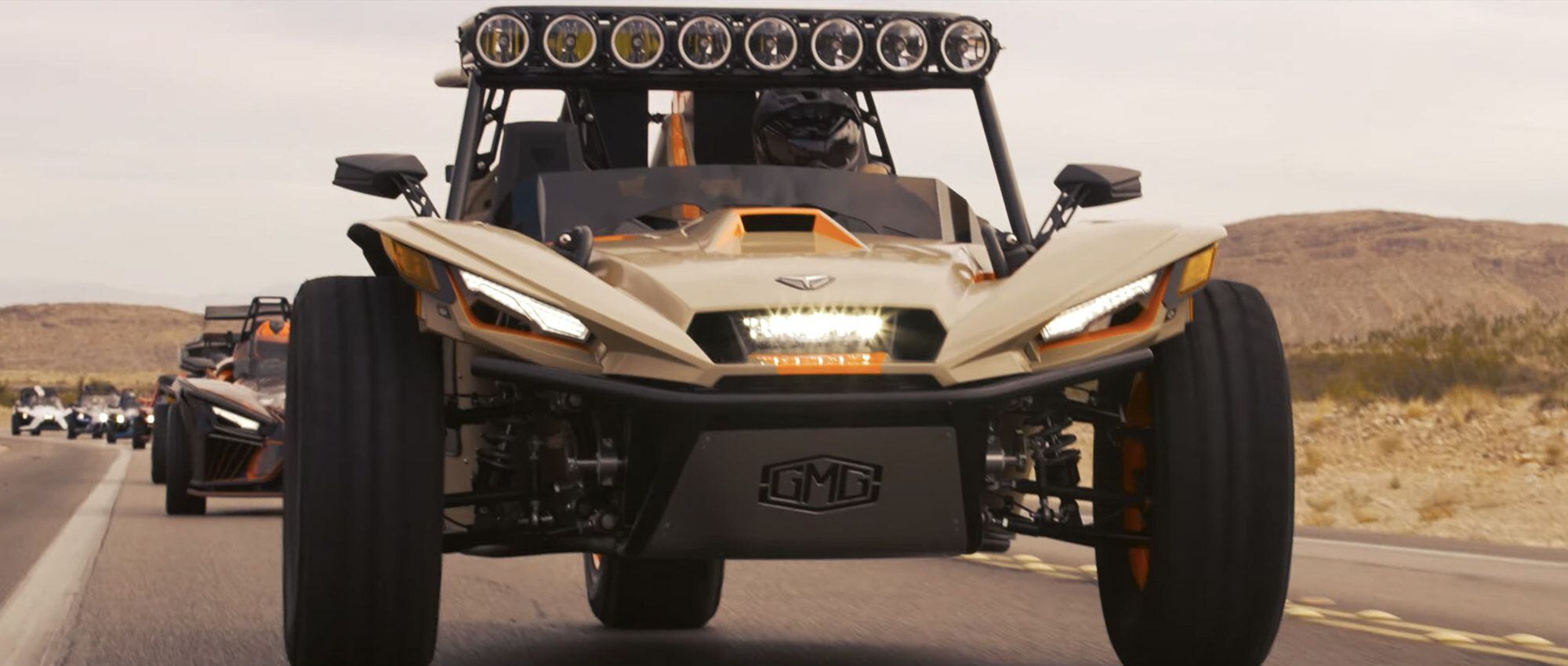 Just about every stock piece south of the headlights got ditched in favor of a custom tube bumper and ground clearance. (Polaris Slingshot/)
They surrounded the cockpit with a fully welded roll cage that extends down underneath the rig to become rock sliders, and hogged out the fenders to accept the 35-inch Nitto tires. On top, there's a full tube luggage rack decked out with classic round Baja lights.
But the coolest part of the build is the Slingshot's swingarm. The unique three-wheeler setup posed a huge challenge for Gas Monkey, as the stock piece just wouldn't allow the off-road suspension to work properly. So Chase and crew designed and built a one-off swingarm from quarter-inch plate steel scratch. That's an impressive feat coming from anyone, let alone a kid who only just escaped high school.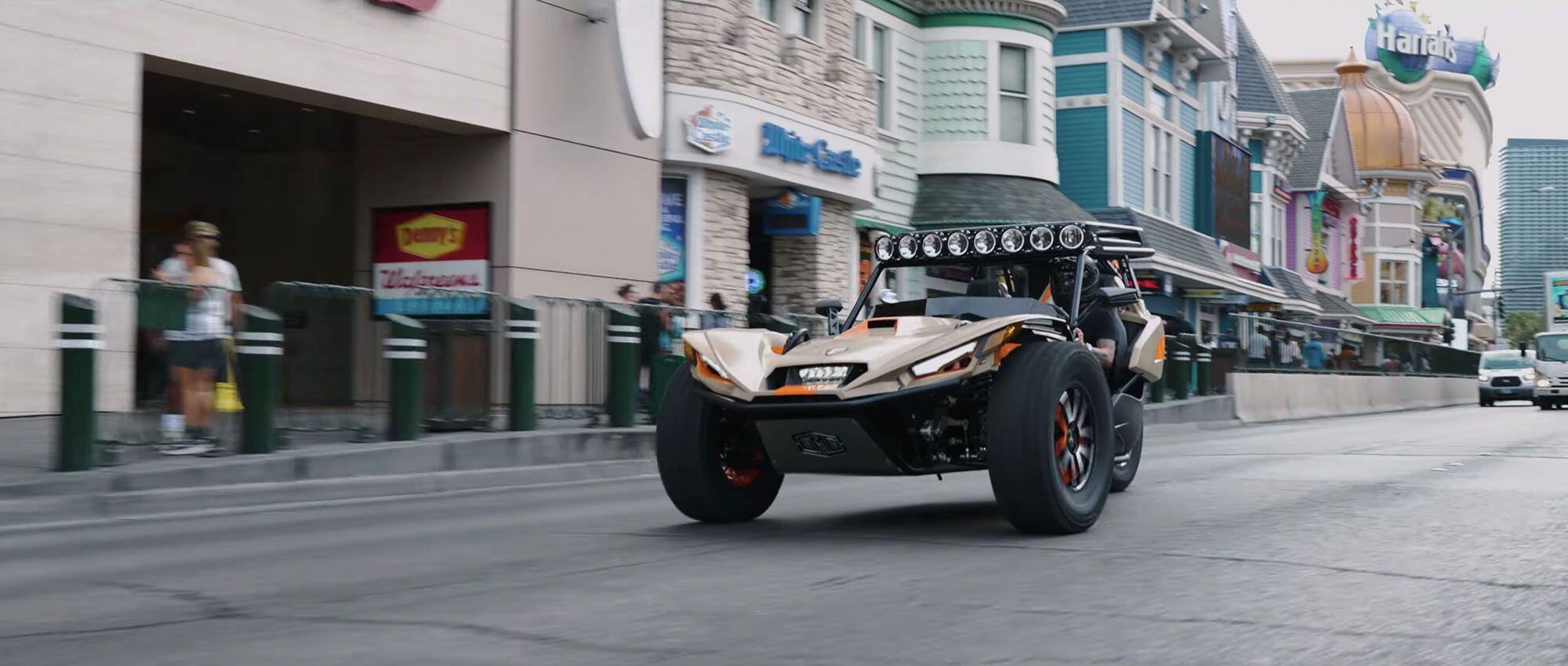 Of all the wild rides cruising the Vegas strip, the Gas Monkey Slingshot is a standout. (Polaris Slingshot/)
Now, as if all of that craziness wasn't enough, Rawlings' crew made the build happen in 58 days from start to finish. Polaris had given them 90 days, but then DUB Magazine came knocking, offering a cover story if they could finish the build in 60 days. Where most would have folded up and gone home, Gas Monkey cracked down, and the results are incredible.
Want to stay up to date on the latest UTV Driver news and reviews? Sign up for our newsletter!