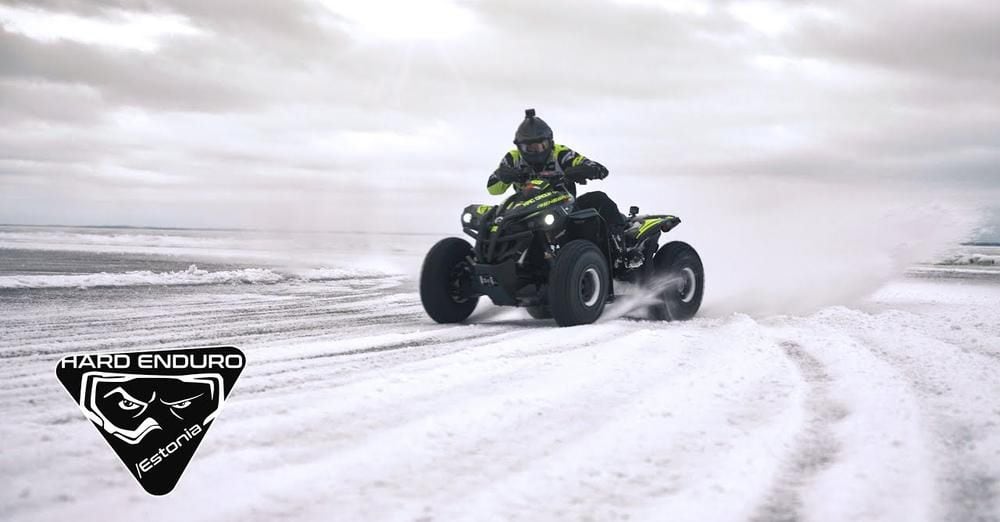 Keijo Kraav on the No. 88 Can-Am Renegade. (Vallo Järv/)
On January 26, the first race of the Estonian Ice Racing Cup 2022 series took place on a massive frozen lake. Steel-studded tires tore into the mile-long course as sport quads and big-bore 4×4 ATVs drifted and shredded through multiple turns. On the straights, racers exceeded 80 mph. This year's winner was reigning Estonian champion Keijo Kraav (No. 88), who is featured throughout the video.
Our good friend, Vallo Järv, was there to capture all of the spectacular action on video. Järv shot and edited the extreme footage from a number of video cameras, GoPros, and drones. The finished edit is overwhelming. We can't stop watching it! Järv has created a YouTube channel to promote ATV racing in Estonia.
"Hard Enduro: Estonia is an enduro-focused YouTube channel, a hobby project trying to direct more attention to the Estonian hard enduro and ATV racing scene," Järv said. "We are making videos of the best events held in Estonia like Piksepini Cup and HardEST Enduro. Last year we also went to a couple of the world's biggest hard enduro races."
The Republic of Estonia is a country in Northern Europe. It is bordered by the Gulf of Finland, the Baltic Sea, and Russia. It has a main land, several larger islands, and more than 2,200 other islands and islets on the eastern coast of the Baltic Sea.
We look forward to more excellent racing videos from Järv, and who knows, we might even pay the Estonian enduro racing scene a visit in the future. If you would like to see more Hard Enduro videos of extreme racing in Estonia, subscribe to Vallo Järv's YouTube channel and check him out on social media @heestonia.
Want to stay up to date on the latest ATV Rider news and reviews? Sign up for our weekly newsletter!