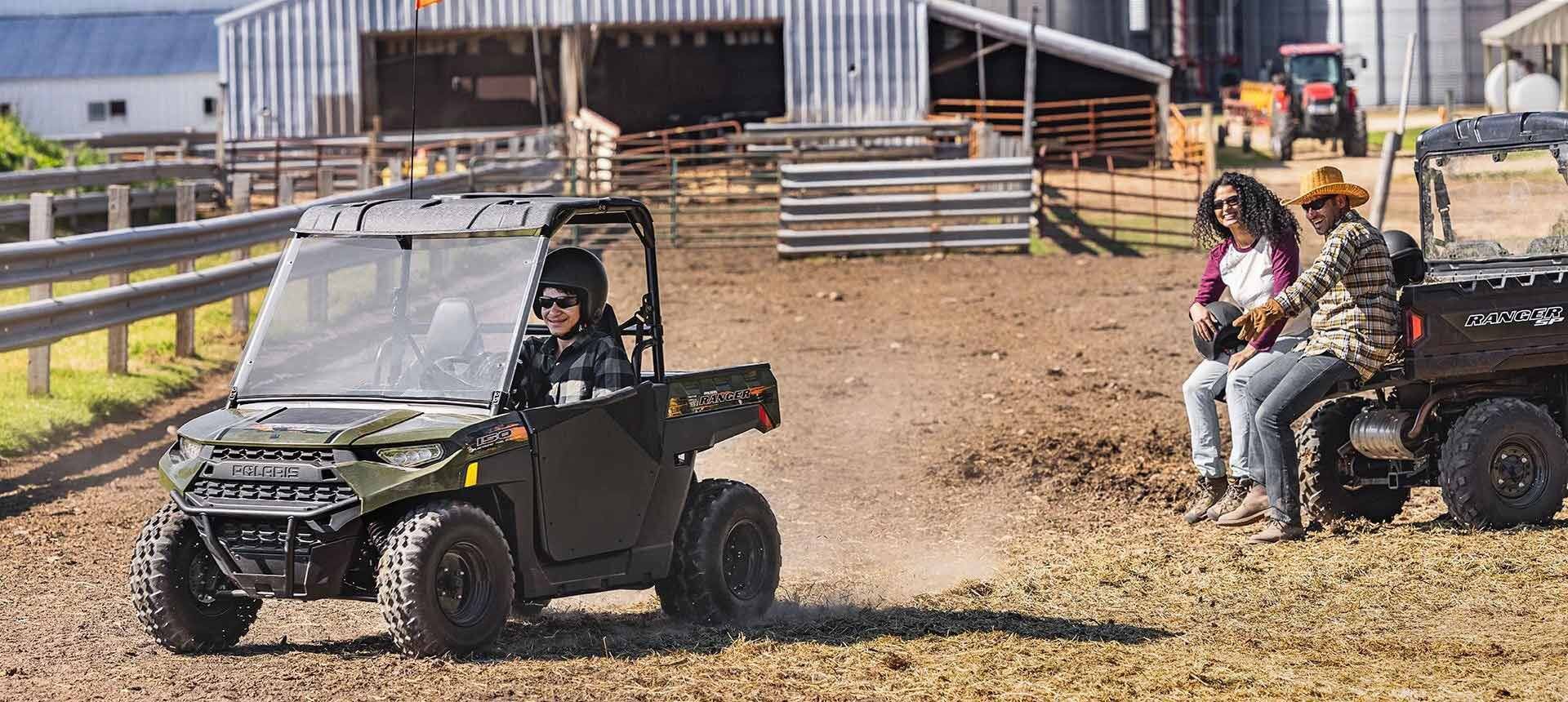 There aren't a ton of quality options for getting your kids into UTVs safely, but we've rounded up five that we think fit the bill nicely. (Polaris/)
Getting youngsters involved in the UTV hobby is tricky, as rigs that are fun for the rest of us are generally way too much for a kid or teenager to handle safely. There are plenty of options out there that are small enough for kids to use, but a lot of them are just barely glorified go-karts at double the price. Worse yet, they often lack basic safety features to keep your kids out of trouble.
Thankfully, there are a few manufacturers who are doing it right, and we've rounded them up here to help make your buying decisions a little easier. This is by no means a comprehensive list of all youth side-by-sides on the market, instead it's a list of rigs we see as the cream of the crop for young drivers.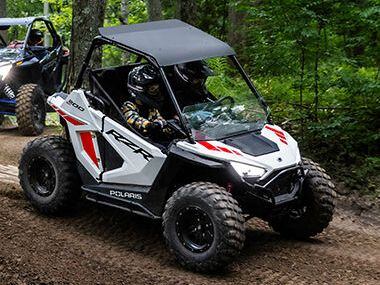 The 2022 Polaris RZR 200 EFI replaces the outgoing RZR 170 EFI, packing updated, grown-up looks and a sophisticated suite of parental controls. (Polaris/)
2022 Polaris RZR 200 EFI: $6,299
Polaris has always had a strong presence in the youth and kids side-by-side game, offering both a mini RZR and a mini Ranger for junior riders. This year, it's making an even stronger statement with the 2022 Polaris RZR 200 EFI, which replaces the ancient RZR 170.
Right off the bat, it looks the part, with styling that apes its big brother, the Polaris RZR Pro XP. Under the unreasonably cool bodywork lives a 180cc air/oil-cooled single that, as the name implies, boasts electronic fuel injection. Polaris isn't saying how much power it makes, but it's only got to push around 735 pounds, so the littlest RZR should feel more than potent enough.
Finally, it has a suite of electronics aimed exclusively at increasing safety, including the supertrick Helmet Aware, which uses microchips implanted in the Polaris-provided helmets to make sure driver and passenger are wearing the proper safety gear. Parents and guardians can also limit top speed and monitor the machine's speed in real time with Ride Control, which is part of Polaris' Ride Command. The RZR 200 can also be geofenced so young riders cannot stray further than guardians deem safe. All in all, it's a really cool package, and it comes in at $6,299.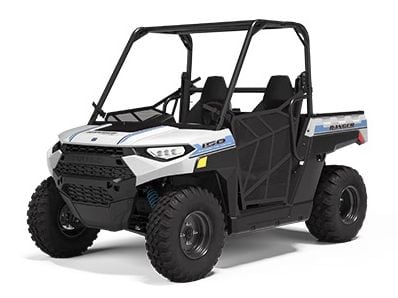 The 2022 Polaris Ranger 150 EFI is a great option for kids whose ambition is to take over the family farm, or who have a small herd of 4H livestock to tend. (Polaris/)
2022 Polaris Ranger 150 EFI: $5,899
If your kids are more into farm work and FFA than becoming the next Ken Block, Polaris has that angle covered too, offering a 150cc version of its Ranger utility rig. Like the littlest RZR, it packs an impressive suite of safety features and capability for such a little package.
The engine is 30cc smaller than it is in the little RZR, but still benefits from electronic fuel injection. Like the RZR, it's got a PVT automatic with reverse, and is two-wheel drive. Although its looks ape its big brothers, the Ranger 150 EFI is only rated to carry 50 pounds in its otherwise capacious bed.
The RZR 200′s suite of safety controls applies here too, with Helmet Aware, Ride Control, geofencing, and speed limiting all in place. It also comes with a training DVD to get everyone up to speed before taking off.
It comes in a few hundred bucks under the RZR 200, at $5,899.
The Honda Pioneer 520 was all-new for 2021, and it makes a great rig if you need one that can safely shuttle young drivers around and then turn around and pull farm duty. (Honda/)
2022 Honda Pioneer 520: $9,599
The Pioneer 520 is not strictly a youth rig, but it's aimed at riders 16 and up, which means it applies here. If your young drivers are approaching adulthood, this might be the ticket, as it is equally at home in the hands of young drivers or adults. It's effectively twice the cost of the Polarises, but it represents a logical step up from either of them, and it will be useful for many years after your kids grow up.
It's also a much more mechanically sophisticated vehicle, despite its simple, utilitarian spec sheet and hardworking intentions. It has a traditional automatic transmission with a paddle-shifted manual mode, which gives you an opportunity to introduce kids to working through gears on their own while reading terrain. It also has differential lockers and four-wheel drive, which some of the other cars here lack.
If you cannot afford to buy something that is as narrowly focused as a pure youth UTV, or cannot afford more than one, but want to introduce youngsters to the hobby, the Pioneer might be your huckleberry.
The HiSun Strike 250 is a great option if your budget isn't Polaris sized, yet you still want a long list of standard features and parental controls. (HiSun/)
2022 HiSun Strike 250: $5,199
HiSun often has the misfortune of being lumped in under the "off-brand" category, thanks to being relative unknowns who sell inexpensive UTVs made in (gasp!) China. We'd say that's not an entirely fair rap, especially if you are in the market for rigs for your kids.
It can't be argued that the HiSun Strike 250 has a pretty RZR 200 EFI-esque look about it, and HiSun even goes so far as to compare the Strike's standard features and base price to those of the now-dead RZR 170. It even claims to have built-in parental controls, though the website doesn't elaborate beyond that.
HiSun does boast half doors, a windshield, a polycarbonate roof, and a 2,500-pound winch right out of the box, which Polaris cannot match. We'll reserve judgment on the quality of the included accessories for now, but you get a lot of standard kit for your money. Like the RZRs, the HiSun is chain-driven two-wheel drive with no locker.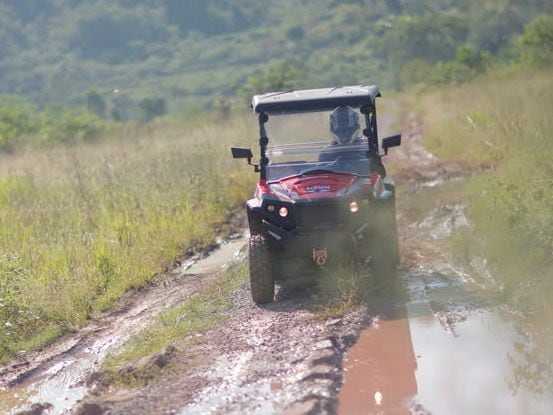 Like its brandmate the Strike 250, the HiSun Sector 250 does a decent Polaris impression for less money and with more standard kit. (HiSun/)
2022 HiSun Sector 250: $5,399
HiSun's second youth offering, weirdly enough, is a utility rig that looks a lot like, you guessed it, a Polaris Ranger 150 EFI. HiSun is doubling down on going after Polaris' spec sheet here, offering an impressive list of standard features that you have to pay extra for if you get the Ranger.
It has the same drivetrain as the Strike 250, but a much bigger body, and a Ranger-aping cargo bed. Unlike the Ranger, the Strike is rated to carry 110 pounds in the box, which is 60 pounds more than the Polaris is rated for. If you're looking to tow, you're still out of luck though. HiSun doesn't say whether the Sector gets the same parental controls as the Strike.
Like the Strike, the Sector gets a windshield, roof, half doors, rearview mirrors, and a winch as standard. Somewhat strangely, HiSun claims the Sector weighs 657 pounds—the exact same as the Strike. We'll believe that when we've verified it ourselves.