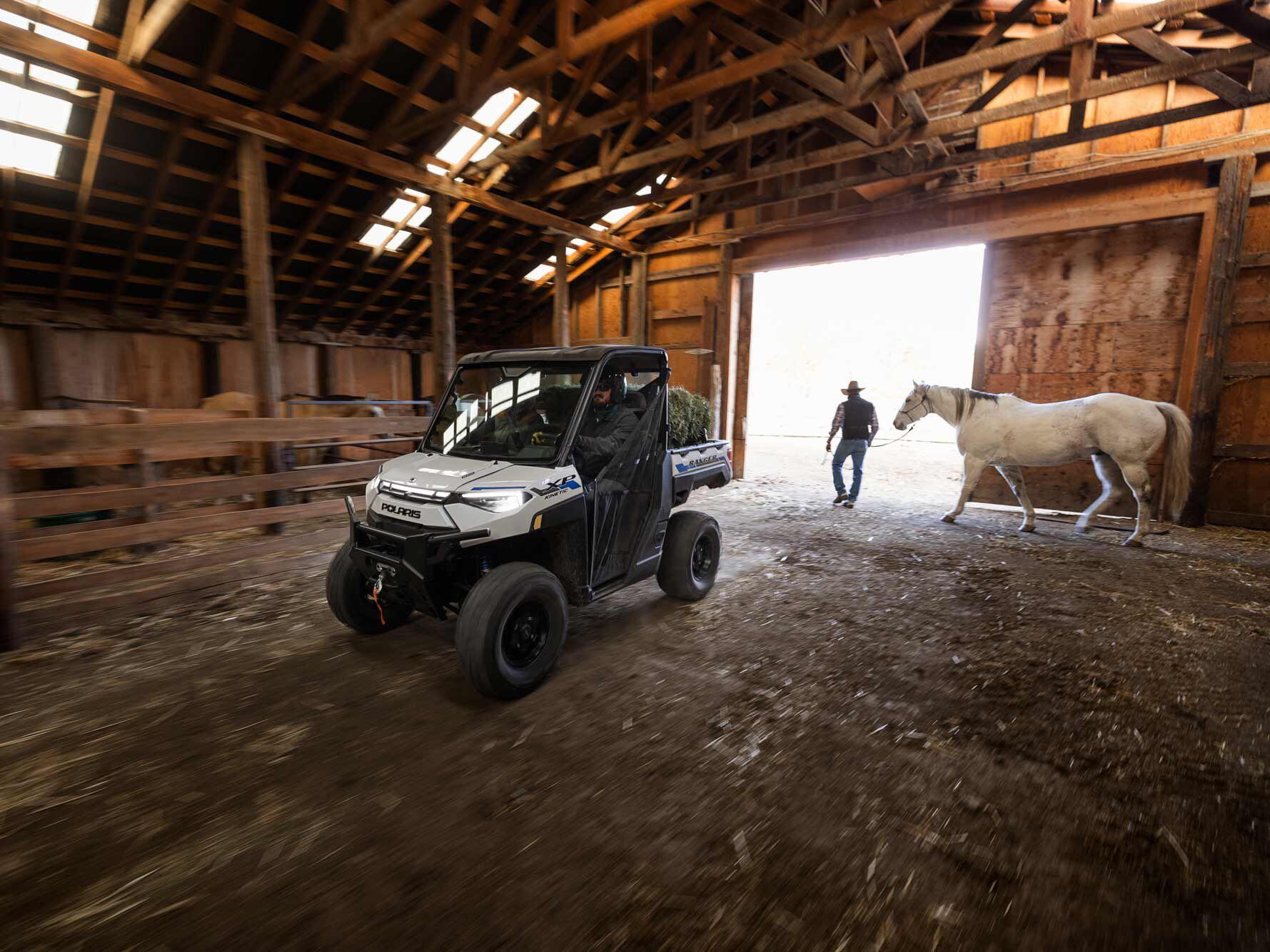 With a virtually silent electric powertrain, the Ranger Kinetic excels at work around sensitive animals and neighbors. (Polaris/)
Polaris has been teasing its entry into the premium electric UTV market for months now, unleashing video after video of a Ranger with an electric drivetrain. Today, the company finally pulled the cover off the 2023 Polaris Ranger XP Kinetic, a fully electric version of the stalwart utility rig.
At first glance, the wait was worth it. In partnership with Zero Motorcycles, Polaris is entering the battery-powered market with a rig that makes 140 pound-feet of torque from zero rpm, backed with 110 hp. It'll come in two trims, Premium and Ultimate, with a 14.9 kWh battery or a 29.8 kWh battery, respectively. The 14.9 kWh is good for a claimed range of 45 miles, while the 29.8 kWh unit should get you 80 miles.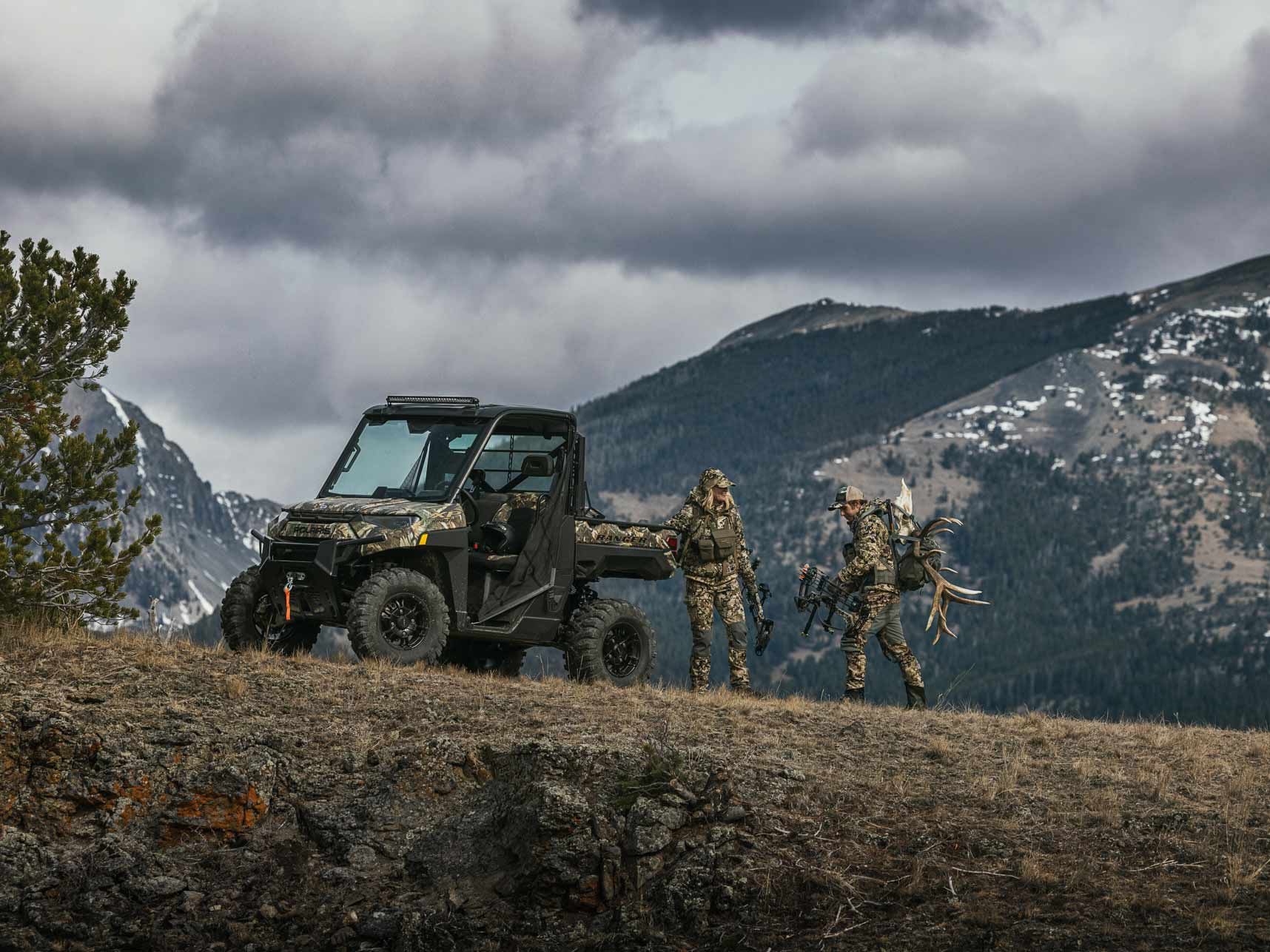 With up to 80 miles of range, reaching far-flung hunting spots without spooking deer or elk should be much easier. (Polaris/)
For reference, our longest single-day drive on our New Mexico excursion was about 50 miles, so if you're planning an adventure, stepping up to the Ultimate trim wouldn't be a bad idea. When you do run out of juice, the Ranger can be charged via either 120V or 240V service with its combined Level 1/Level 2 charge cord.
The Premium trim has a 3kW on-board charger, while the Ultimate uses a 6kW unit. With the stock setup and on 240V power, the Ultimate should go from zero percent battery to fully charged in about five hours. Polaris sells upgrades to 6kW charging for the Premium and 9kW for the Ultimate, as well as a 240V charging solution in partnership with Qmerit. Those options should make charging a good bit quicker.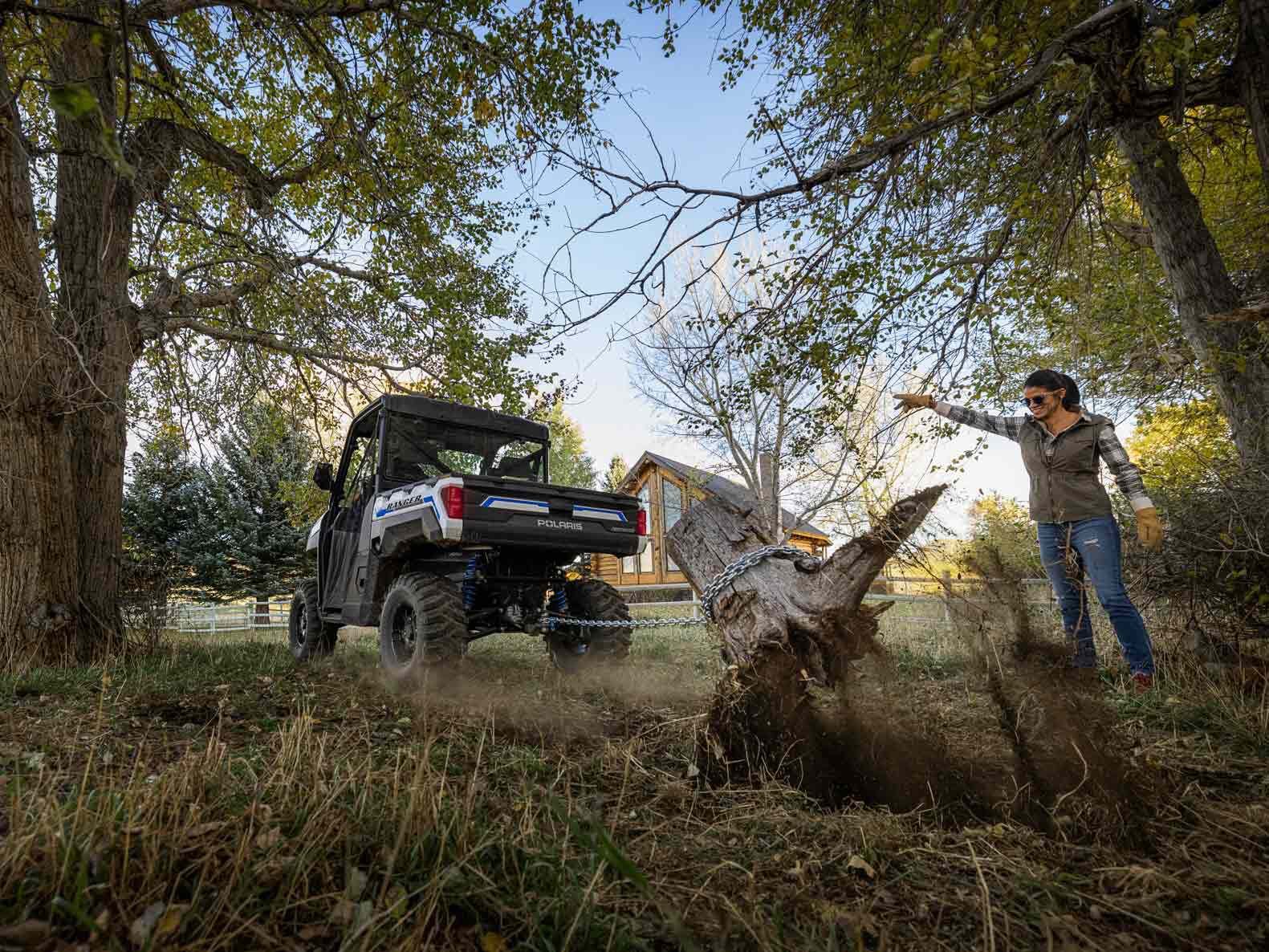 Like its gas siblings, the Ranger has three drive modes that modulate power delivery for any job. (Polaris/)
With a full charge, the Ranger Kinetic should have no trouble keeping up with farm or trail work. Like its gasoline-powered sister, it has three drive modes that modulate power delivery for work, everyday driving, and performance duty. Thanks to its stout power ratings, the Ranger Kinetic is rated to tow the same 2,500 pounds as its gasoline siblings, but gets bed capacity bumped by 250 pounds to 1,250. That's a stout tow rating, but we have seen the electric Ranger drag a much larger load than its rating lets on.
In a rig that delivers all its power from zero rpm, it's crucial to have some help doling it out. Eco+ mode gives you the most control in slow, delicate driving. In Standard, the rig behaves itself, but delivers power a bit more aggressively for when you don't need as much finesse. Finally, Sport mode lets you have all the beans at once, for whatever purpose you want.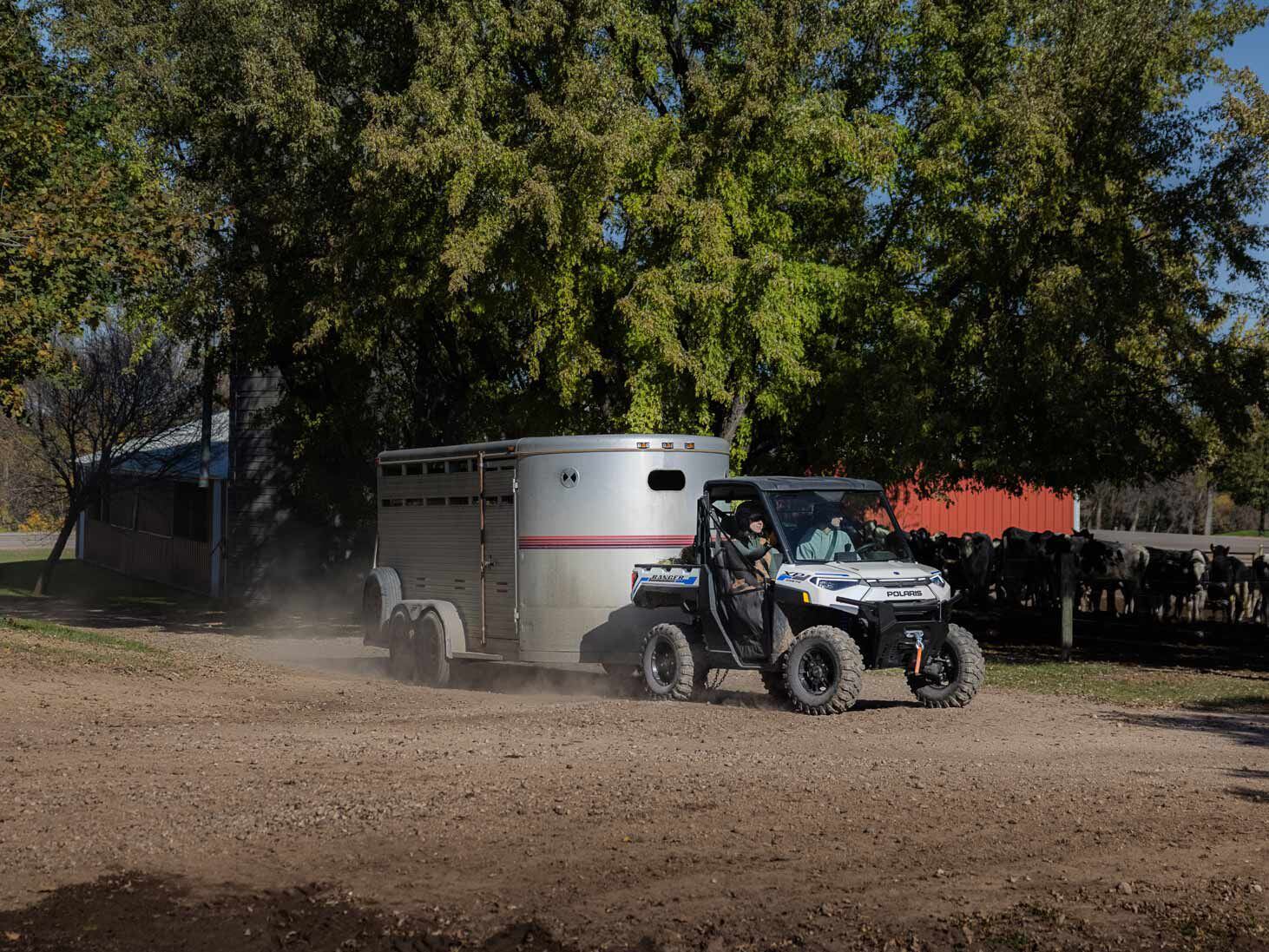 With a 2,500-pound tow capacity, the Ranger Kinetic should be a deft hand around the farm. (Polaris/)
Specific to the Kinetic, there is no longer a dedicated reverse gear on the shifter. Instead, you get high, low, neutral, and park, with a rocker switch to toggle between forward and reverse.
Inside, the Kinetic models will be available with Polaris' Ride Command system, powered by a 7-inch in-dash display. On the Kinetic, Ride Command will display estimated remaining range and battery health, as well as give you control over certain maintenance tasks.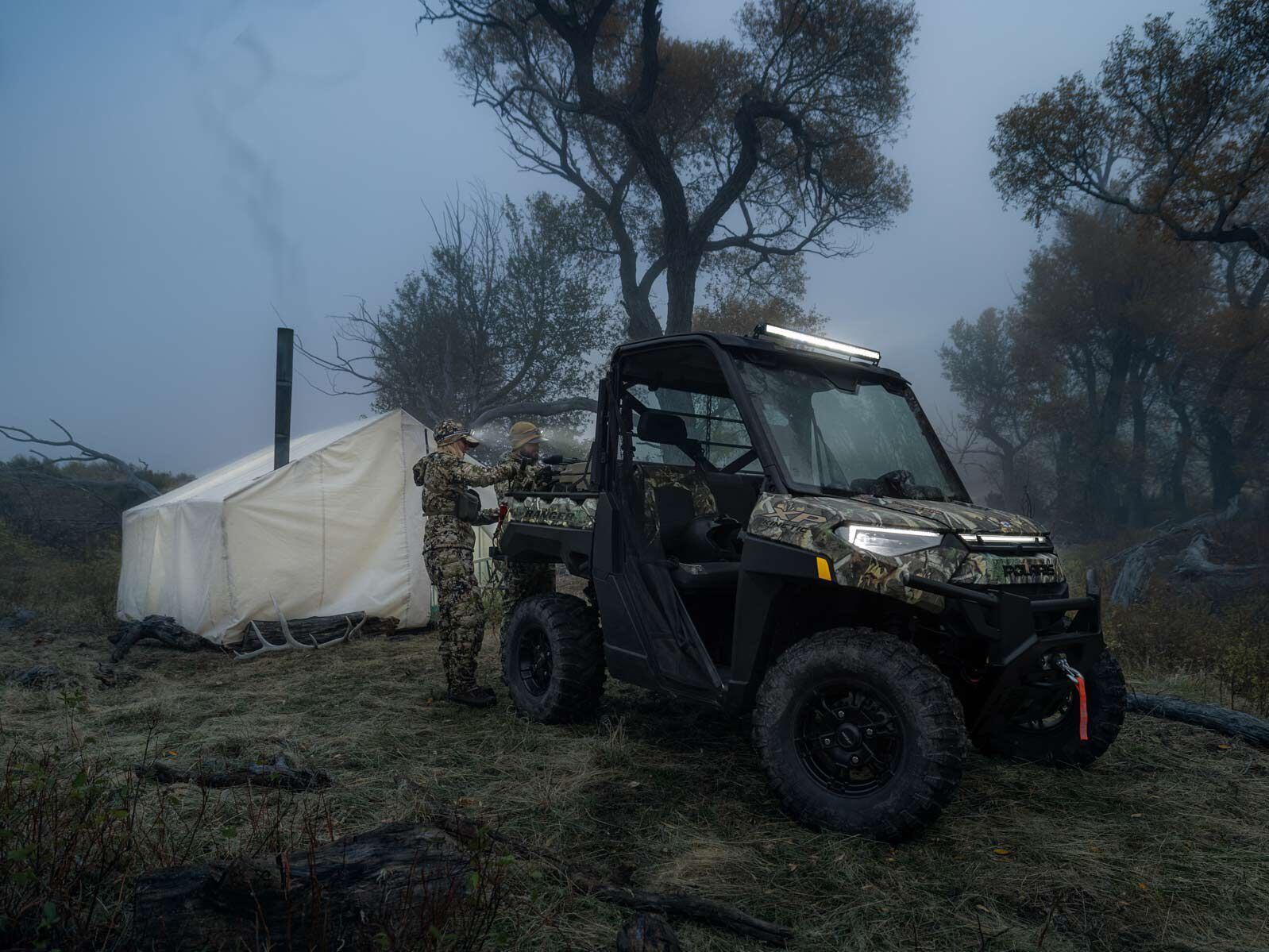 Polaris says 95 percent of the available accessories for the regular Ranger will work with the Ranger Kinetic. (Polaris/)
The 2023 Polaris Ranger Kinetic Premium starts at $24,999 before accessories, while the Ultimate starts at $29,999. Polaris will start taking deposits on the Ranger Kinetic December 1, with deliveries expected this summer, and every unit comes with a one-year factory warranty, three-year electric powertrain warranty, and a five-year battery warranty. Keep it locked here for updates as they come.