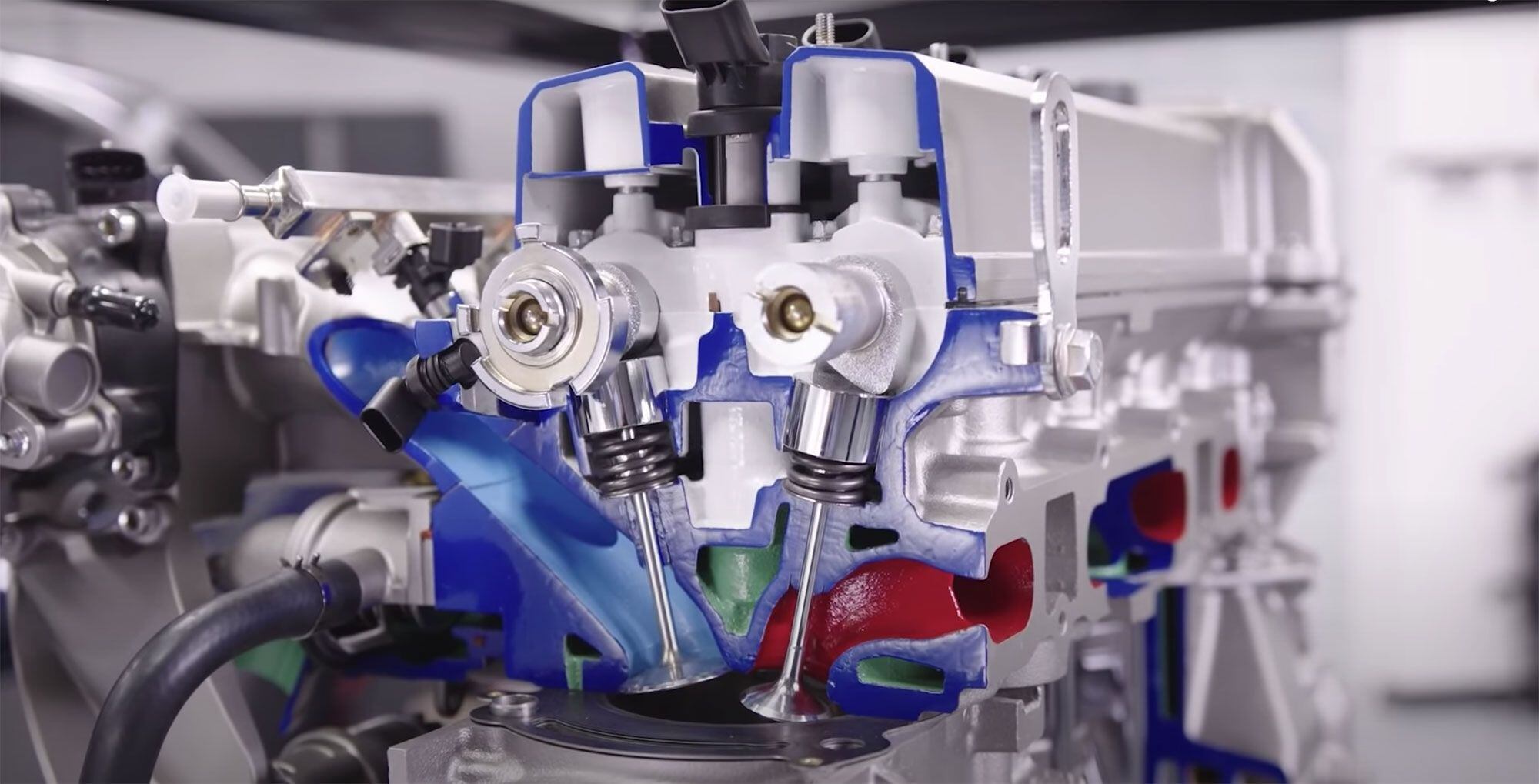 Don't call it a Slingshot engine. (Polaris/)
Polaris has dished up some information on the 2.0-liter inline four-cylinder engine in the 2022 RZR Pro R. While the powerplant shares its architecture with the unit in the Slingshot three-wheeler, RZR engineers went through the thing from top to bottom to make it rev higher, produce more power, and stand up to the abuse of life in a side-by-side.
That starts with a 62mm, contour-bore throttle body designed to improve slow-speed response without restricting power. And, as we've mentioned, there's plenty of that. The engine makes 225 hp at an astronomical 8,250 rpm, just shy of the 2.0-liter's 8,500-rpm redline. It gets there thanks in part to an all-new, more aggressive cam grind. Interestingly, the engine's 152.8 pound-feet of torque comes on at a much lower 7,500 rpm.
Related: Polaris Teases Next-Generation RZR Pro R Frame and CVT
Part of the bump in power comes thanks to a new intake manifold, which breathes easier than the unit found on the Slingshot. Likewise, a lightened crankshaft, higher-compression pistons, and lightweight flywheel help the engine spin quicker than before.
Engineers made a few changes to help the four-cylinder stand up to the kind of abuse it will see on the trail, starting with a high-flow water pump and lower temperature thermostat. It also wears an alternator belt cover to protect the system from mud, dust, and other debris. Finally, the engine's lubrication system received an overhaul, with a unique sump and oil drainback system, and the cam chain gets dual oilers to reduce wear.
Related: Polaris Teases RZR Pro R Suspension Upgrades
Check out the video below for the full skinny on the new engine.
Want to stay up to date on the latest UTV Driver news and reviews? Sign up for our weekly newsletter!