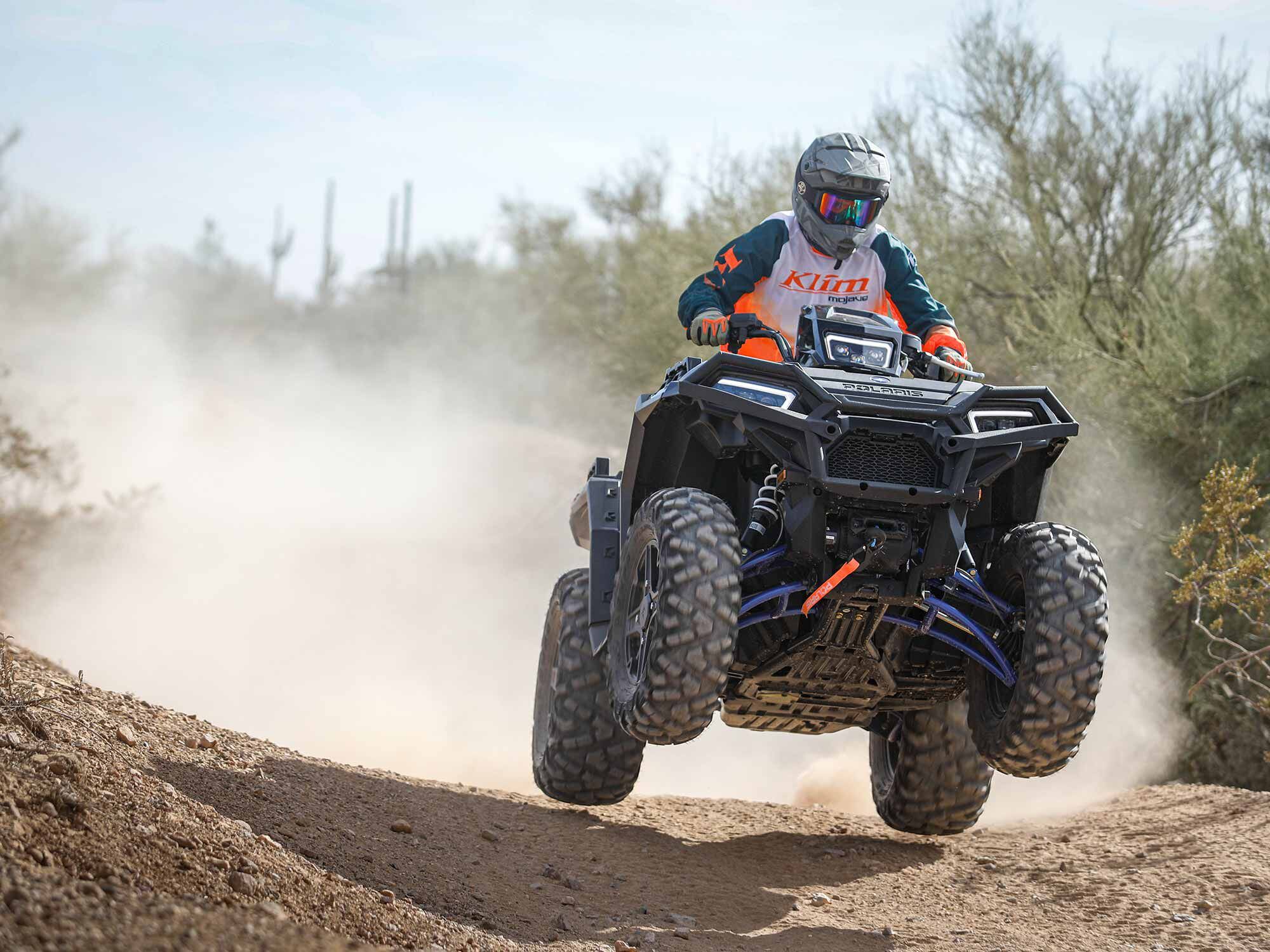 This heavyweight will fly. (Justin Coffey/)
Several weeks ago, we took a look at the 2022 Polaris Sportsman XP 1000 Ride Command Edition and fell in love with Ride Command, Polaris' proprietary GPS and comm system. Since then, we've had plenty of time to test the system on the trail. We're confident there's not a better factory GPS than Ride Command. With well over 1 million trail miles already logged, Ride Command makes navigating to hard-to-find trail destinations super simple. It can be paired with a smartphone for amazing satellite detail of the trail ahead on the 7-inch, glove-touch display, and we were amazed to find that all of our regular routes and ATV testing trails, even the out-of-the-way places, were already mapped out in Ride Command. But more exciting than that, the system introduced us to trails in our favorite ride areas that we didn't even know existed. Ride Command is an amazing feature that we highly recommend. If you haven't read about it yet, go back to our First Look to get a full rundown of what it can do. This review is going to focus on how the 2022 Polaris Sportsman XP 1000 Ride Command Edition rides and handles.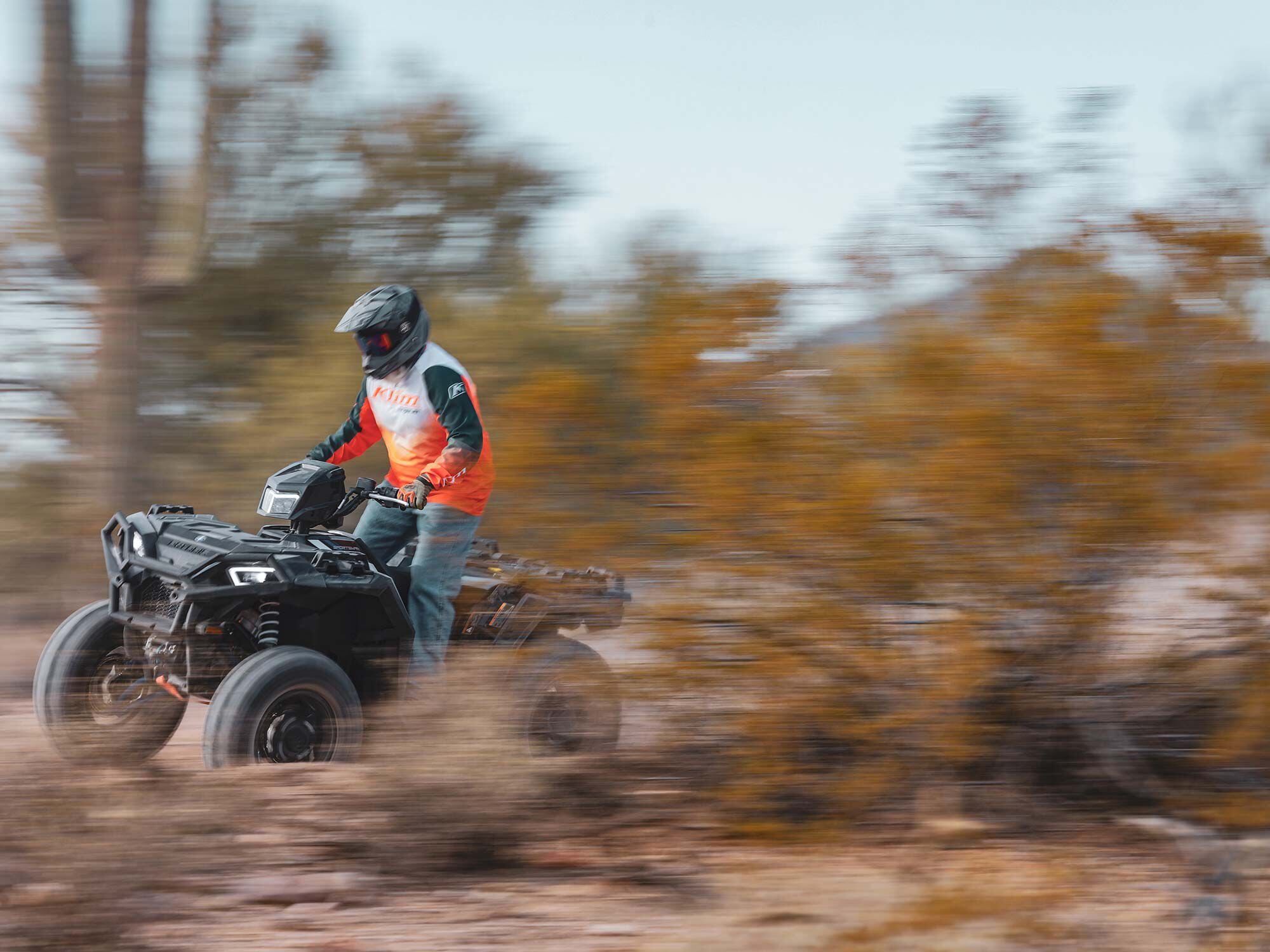 If you like speed, the 2022 Polaris Sportsman XP 1000 doesn't disappoint. (Justin Coffey/)
More Power Than You Will Ever Need
One stab of the throttle is all it took for us to wonder: "Who in their right mind needs this much power?" If you were to ask Polaris that question, it would tell you that its customers want the biggest and baddest ATV available—which Polaris duly delivered. With all-wheel drive engaged and ride mode set to Performance (other modes are Work and Standard), the aggressive Duro tires trench their way to warp speed. Polaris claims the 952cc parallel twin produces a scarcely believable 90 hp, and after putting several miles on our press unit, we have no reason to doubt it.
I can only think of two types of riders who might require this much power; the guy who spends most of his ATV time in knee-deep mud, and 4×4 ATV racer Mike Penland, who has racked up numerous GNCC utility class championships and multiple wins at the famed SCORE Baja 1000. You will never, I repeat, never, overdrive this ATV.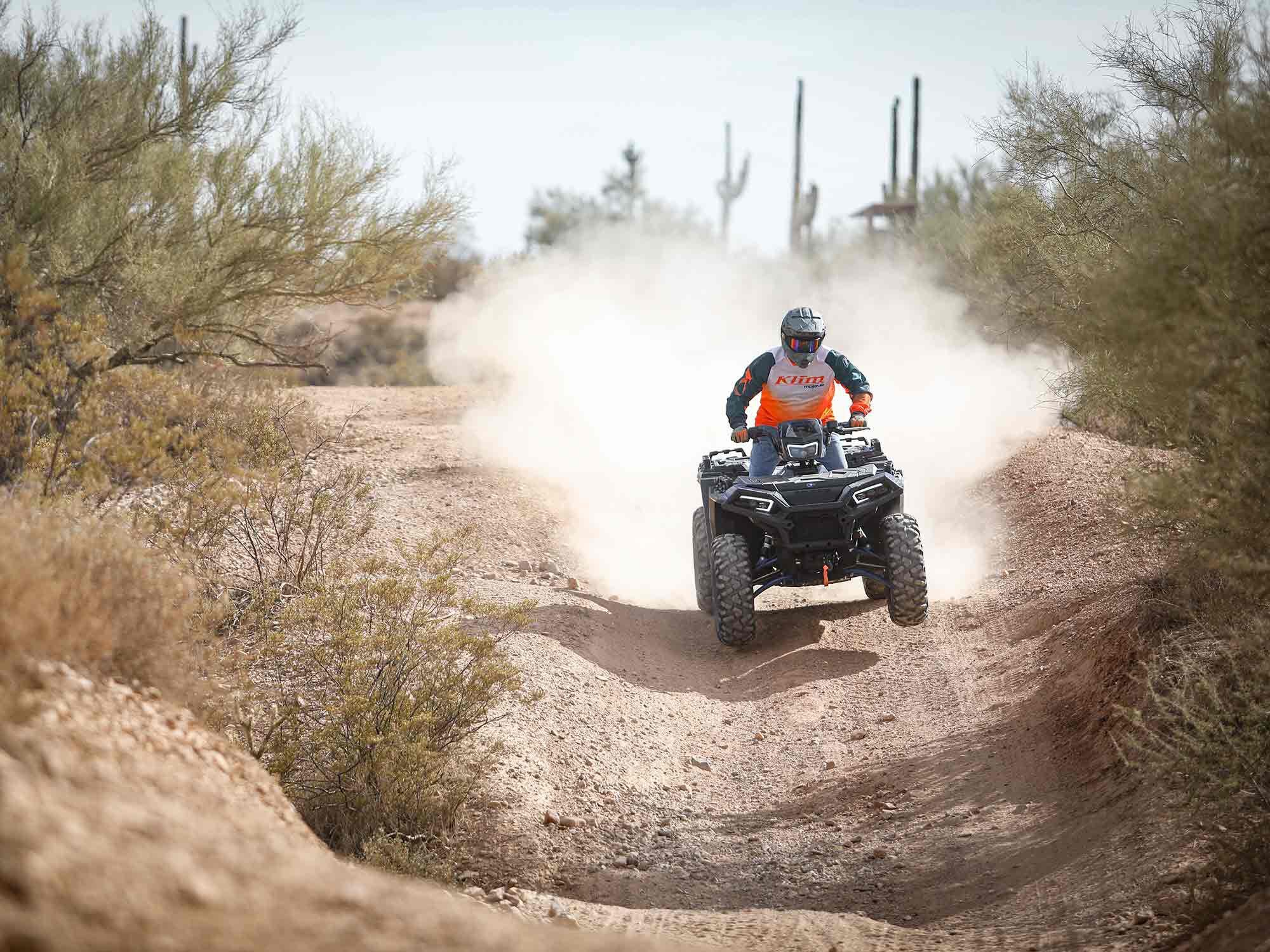 It's a big ATV, but sport-tuned suspension and electric power steering give it a light feel that is all-day comfortable. (Justin Coffey/)
Suspension and Steering
Polaris claims an "estimated dry weight" of 879 pounds for the Sportsman XP 1000 Ride Command Edition. With all fluids and a full tank of gas (5.25 gallons), it topped our ATV Rider ProForm vehicle scale at 945 pounds. It's a heavy machine, but you wouldn't know it to ride the Sportsman XP 1000.
First of all, multi-select electric power steering (EPS) takes most of the physical effort out of turning the handlebars, even at a standstill. You can select between three levels of power steering assistance—Low, Medium, or High. I prefer a little feedback from the trail, so the High assistance mode left me feeling somewhat disconnected. Medium was the sweet spot, as it gave me that connection with the trail while still damping blows from bumps and rocks.
Then there's the suspension. Our test model came to us on the softest of five preload settings. For casual trail riding, the soft setting doesn't get much better. The combination of a soft seat, narrow ergos, effortless steering, and plush suspension makes the Sportsman XP 1000 ideal and comfortable for all-day excursions and multiday adventures.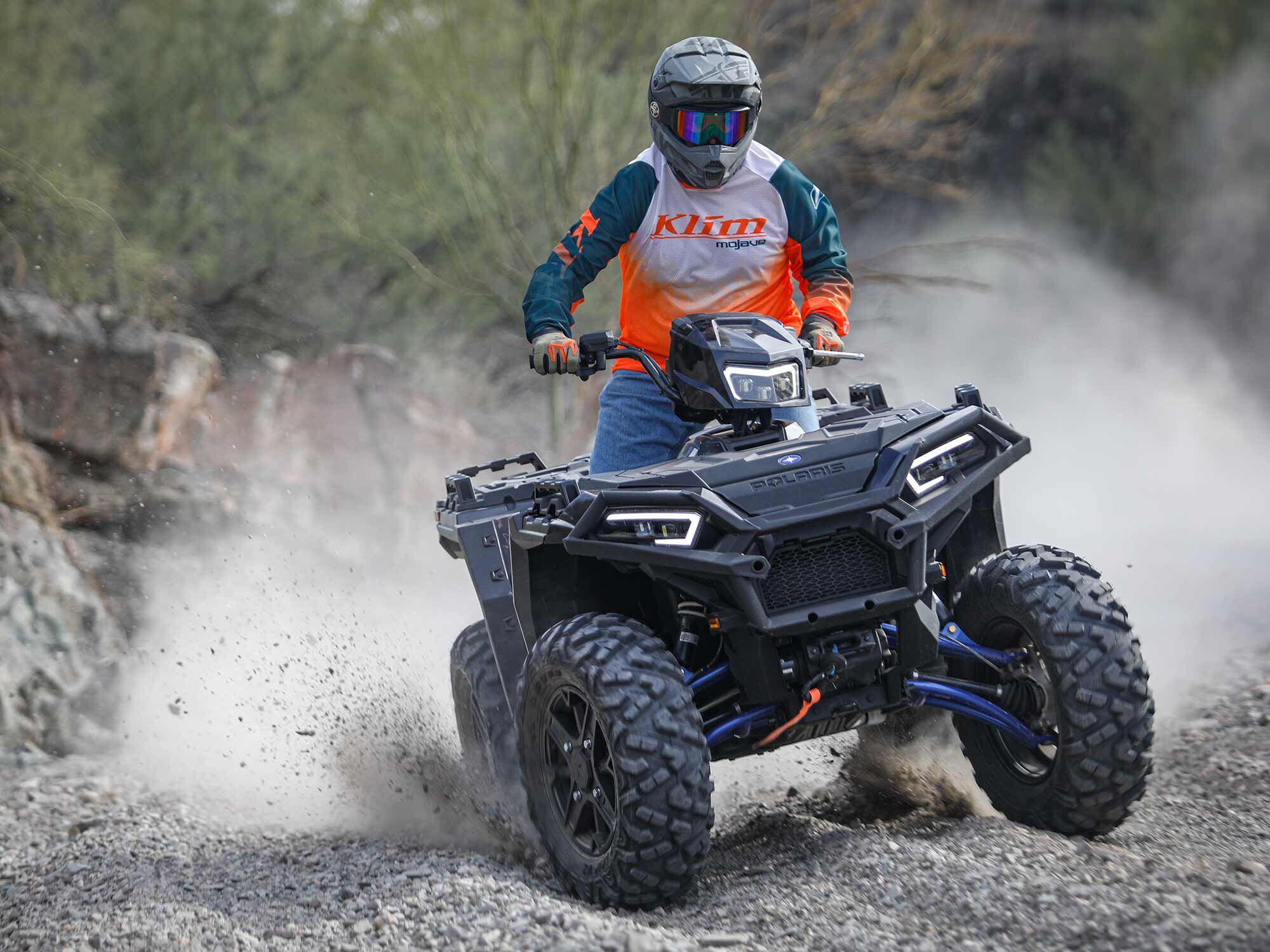 At speed, the Sportsman XP 1000 projects a fair amount of body roll in the corners. We tackled it by firming up suspension preload. (Justin Coffey/)
If you're a more aggressive rider, you'll want to stiffen up the shocks. At speed, the Sportsman XP 1000 produces considerable body roll in the corners. It's not so bad with the suspension dialed up two or three notches, but with this much weight and horsepower, we have to wonder if the electronic Dynamix Active Suspension technology (currently being used on Polaris RZR side-by-sides) might cross over to the Sportsman XP 1000 in the future. It would certainly help lessen the body roll while retaining the plush ride.
The Sportsman XP 1000 is equipped with arched high-clearance A-arms to enhance the claimed 12 inches of ground clearance. You get the full 12 inches of clearance under most of the machine, but right up under the belly skid plate we measured just 10.5 inches. For the most part that is plenty, but we did smack a few big boulders with the skid plate during our testing.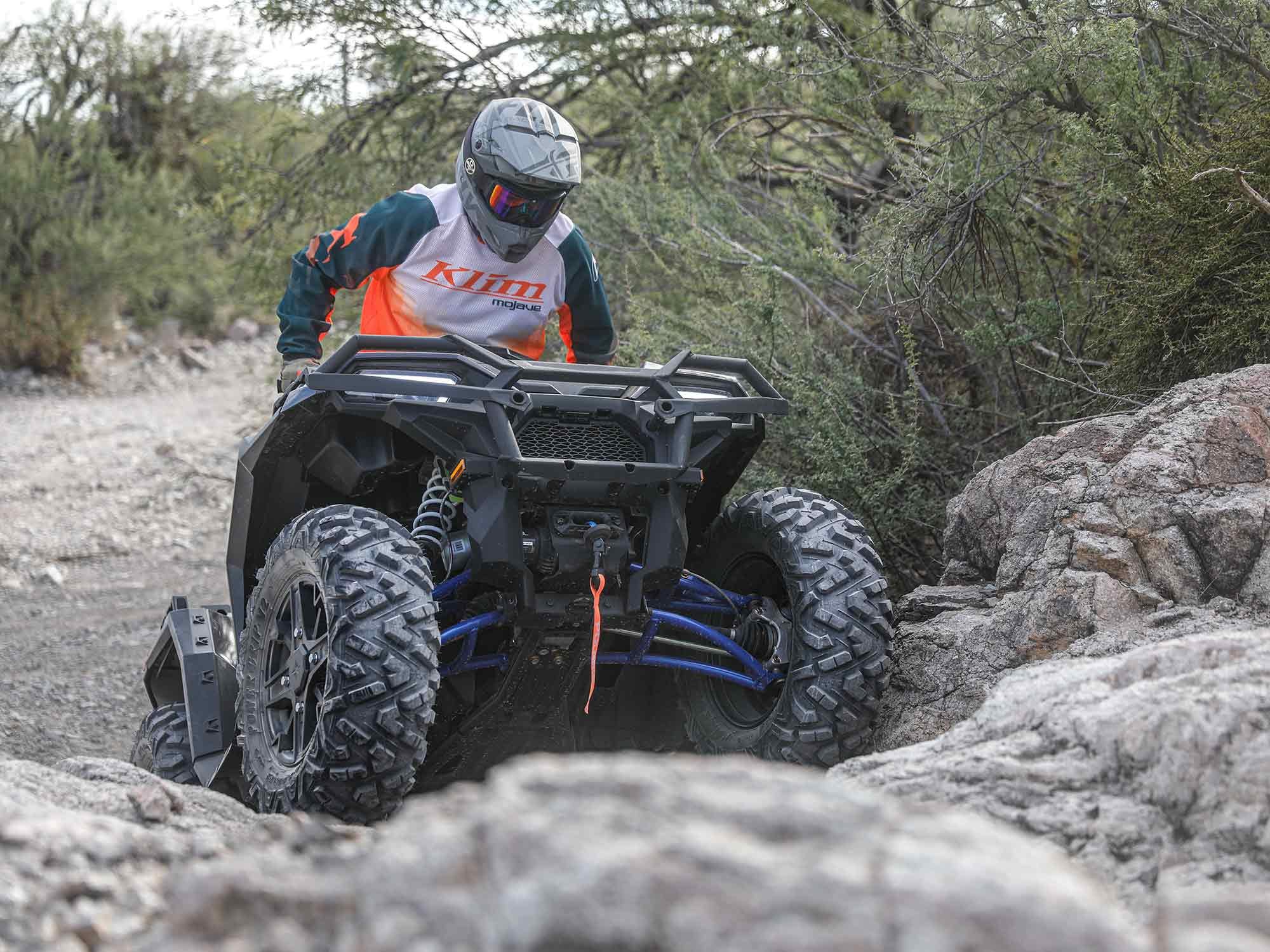 The 2022 Polaris Sportsman XP 1000 is best served on the rocks. (Justin Coffey/)
On the Rocks
It doesn't matter what terrain you're on, as the Sportsman XP 1000 does it all really well, but it really shines as a rock crawler. In low range with all-wheel drive engaged, the Sportsman XP 1000 will shoot straight up a vertical rock face without hesitation. Its 27-inch Duro Power Grip V2 tires offer maximum traction with plenty of sidewall protection. The Sportsman's 53-inch wheelbase is long enough to get the front wheels up and over most obstacles without forcing an extreme and unnerving approach angle. From there, it's an easy climb.
I've always been a fan of manually lockable front differentials, which Polaris does not offer. To me, auto-locking differentials usually amount to nothing more than a glorified limited slip. The exception is the Polaris On-Demand AWD system. I'd still prefer a lockable front differential just for the fact that I know both front wheels are engaged, but Polaris On-Demand AWD has never been a disappointment. It works as it should and always gets me to the top of the trail without any surprises.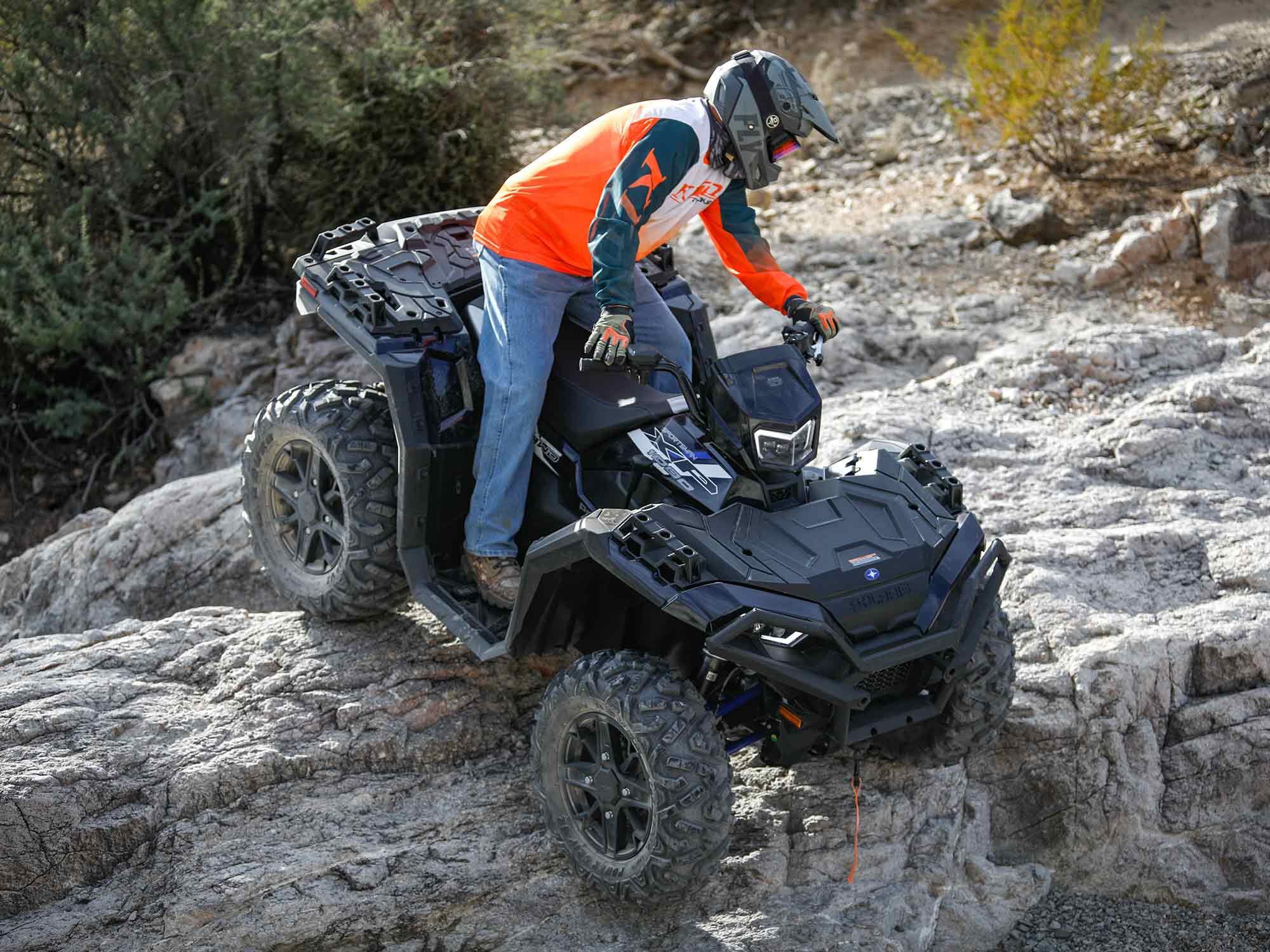 Engine-braking is spot-on, making light work of rugged downhills. (Justin Coffey/)
Brakes and Engine-Braking
The Sportsman XP 1000 comes with hydraulic disc brakes at all four corners. A single left-hand brake lever provides measured braking at all four wheels or a foot lever stops just the rear wheels. Measured braking takes some getting used to but, considering the girth of this ATV, the brakes are more than adequate.
Engine-braking is excellent, whether descending a steep hill or just using the engine to slow the Sportsman on a flat trail. At first, completely disengaging the throttle from a moderate pace felt as if it might put me over the handlebars. I quickly learned to roll off of the throttle when I needed to stop.
When dropping off of rocks or steep ledges, the engine-braking system is as good as it gets. It slows the descent to a crawl, allowing plenty of time to make direction changes and balance adjustments.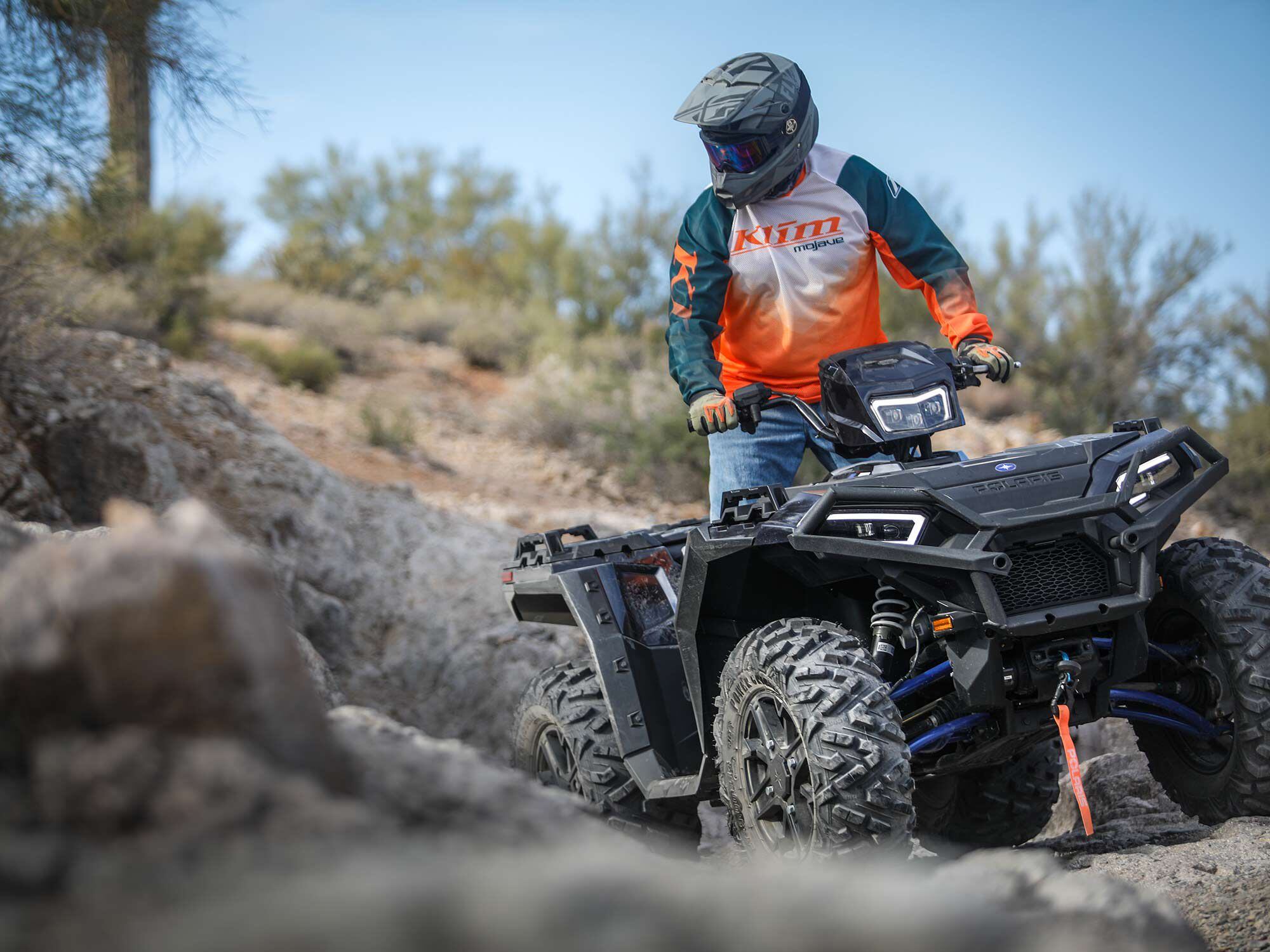 The Polaris Sportsman XP 1000 is a serious terrain dominator that is not suitable for beginners. (Justin Coffey/)
Final impressions
If you're a beginner rider shopping for your first ATV, this is not it. But there's good news. You can get the 2022 Polaris Sportsman 570 Ride Command Edition that has all of the same bells and whistles as the Sportsman XP 1000 Ride Command Edition. It's a much tamer ride that most anyone can enjoy, and it will save you $3,600 at the dealership.
But if you're an experienced ATV veteran who must have the most powerful and technologically advanced ATV to date—you have arrived. Every inch of the Polaris Sportsman XP 1000 Ride Command Edition is bathed in excess. Sand, trails, rocks, and mud—it does it all. The only limiting factor is you.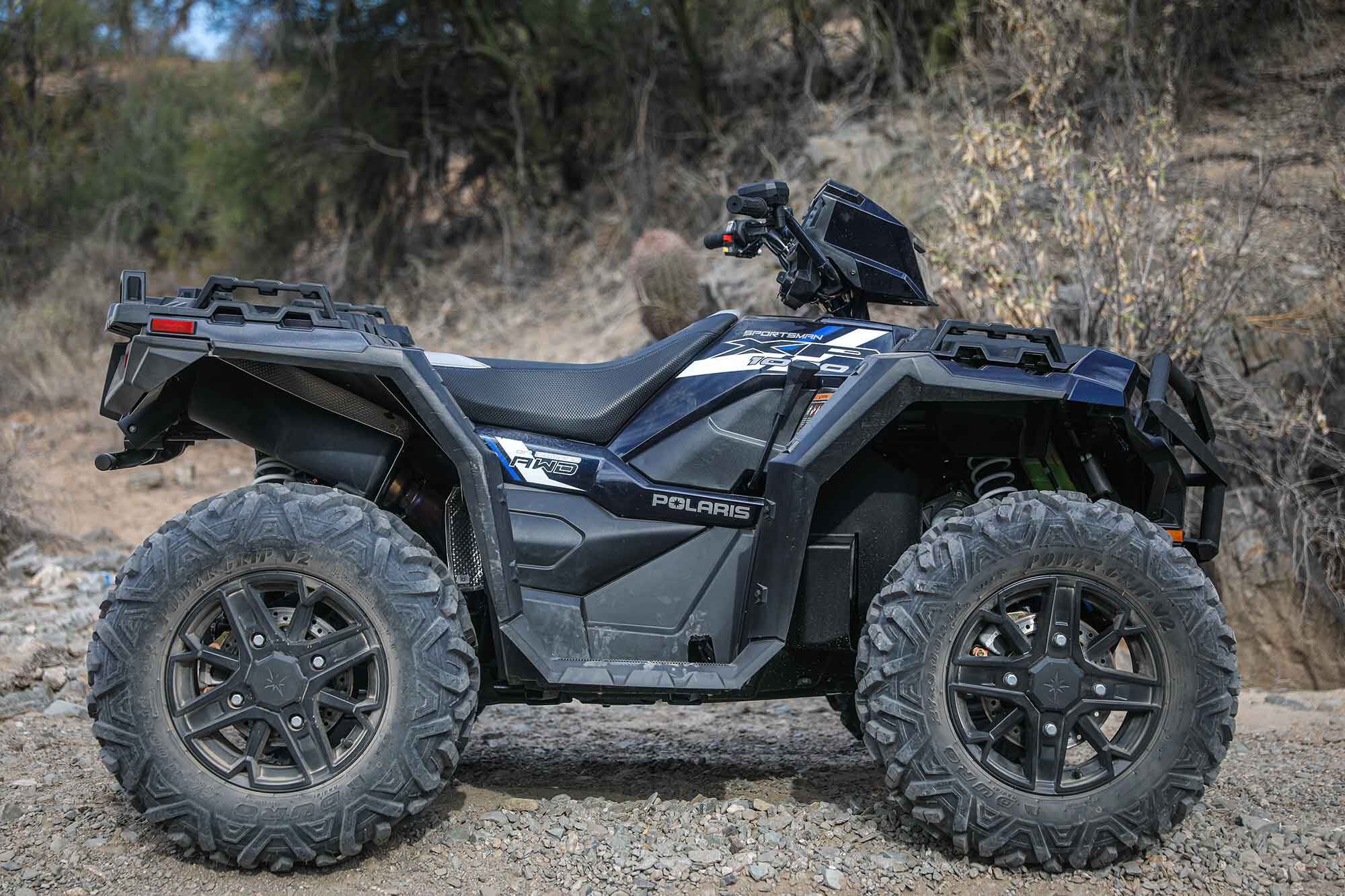 2022 Polaris Sportsman XP 1000 Ride Command Edition. (Justin Coffey/)
2022 Polaris Sportsman XP 1000 Ride Command Edition Specs
| | |
| --- | --- |
| MSRP: | $15,599 |
| Engine: | ProStar SOHC, liquid-cooled parallel twin-cylinder |
| Displacement: | 952cc |
| Bore x Stroke: | N/A |
| Compression Ratio: | N/A |
| Transmission: | Automatic PVT w/ high/low range, reverse; parking |
| Claimed Horsepower: | 90 hp |
| Claimed Torque: | N/A |
| Fuel System: | EFI |
| Drivetrain: | One Touch On-Demand AWD/2WD |
| Front Suspension: | Arched dual A-arms w/ 5-way preload adjustable shocks; 9 in. travel |
| Rear Suspension: | Arched dual A-arms, rolled IRS w/ 5-way preload adjustable shocks; 10.25 in. travel |
| Front Brakes: | Dual hydraulic disc w/ single hand lever providing measured braking at all four wheels |
| Rear Brakes: | Dual hydraulic disc w/ rear foot brake lever |
| Wheels, Front/Rear: | Aluminum; 14 in. |
| Tires, Front/Rear: | Duro Power Grip V2; 27×9-14 / 27×11-14 |
| Length: | 83.25 in. |
| Width: | 47.6 in. |
| Height: | 50.75 in. |
| Wheelbase: | 53.0 in. |
| Front/Rear Rack Capacity: | 120 lb./240 lb. |
| Towing Capacity: | 1,500 lb. |
| Seat Height: | 37.0 in. |
| Ground Clearance: | 12.0 in. |
| Steering: | Multi-select EPS |
| Turning Radius: | N/A |
| Claimed Dry Weight: | 879 lb. |
| Fuel Capacity: | 5.25 gal. |
| Warranty: | 6-month transferable factory warranty; longer terms available for purchase |
| Minimum Operator Age: | 16 |
| Availability: | Now |
| Contact: | atv.polaris.com |