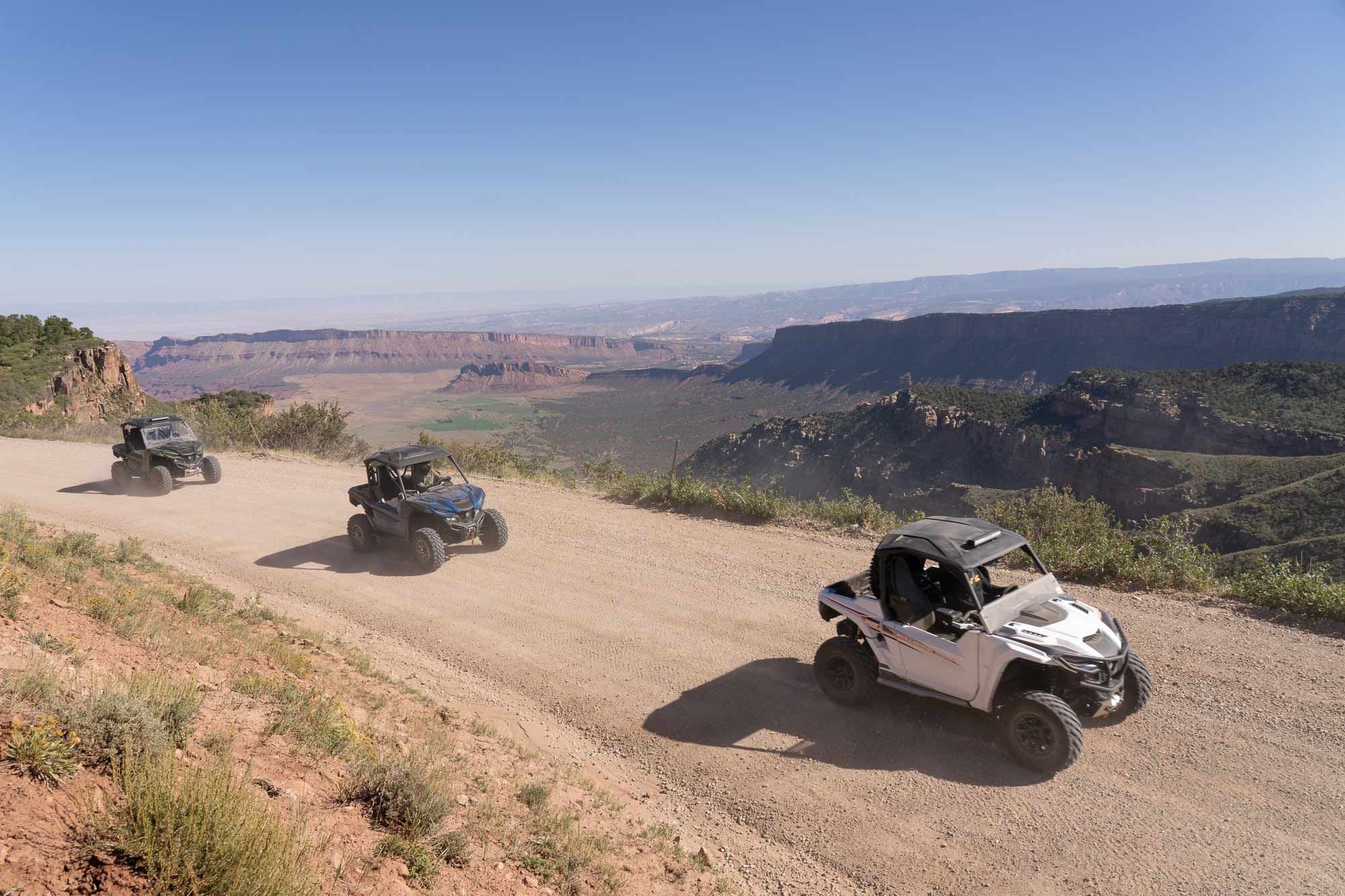 Dazzling vistas in every direction overwhelm the senses while exploring eastern Utah. (Yamaha Outdoors/)
The acreage on the eastern Utah-Western Colorado state line is a true wonder, reaching down from Interstate 70 to encompass the La Sal mountain range. On any given day you're likely to experience all four seasons and a number of different biomes as you change elevation at a sinus-popping pace.
We were invited to join Yamaha in this harsh landscape to go on an expedition with its new AdventuRMAX vehicles for a two-day adventure that started in the low desert floors of Gateway, Colorado. Our home base was the spectacular Gateway Canyons Resort & Spa, an oasis built in the desert by the entrepreneur who founded the Discovery Network.
Related: 2021 Yamaha Wolverine RMAX2 1000 XT-R RTI Score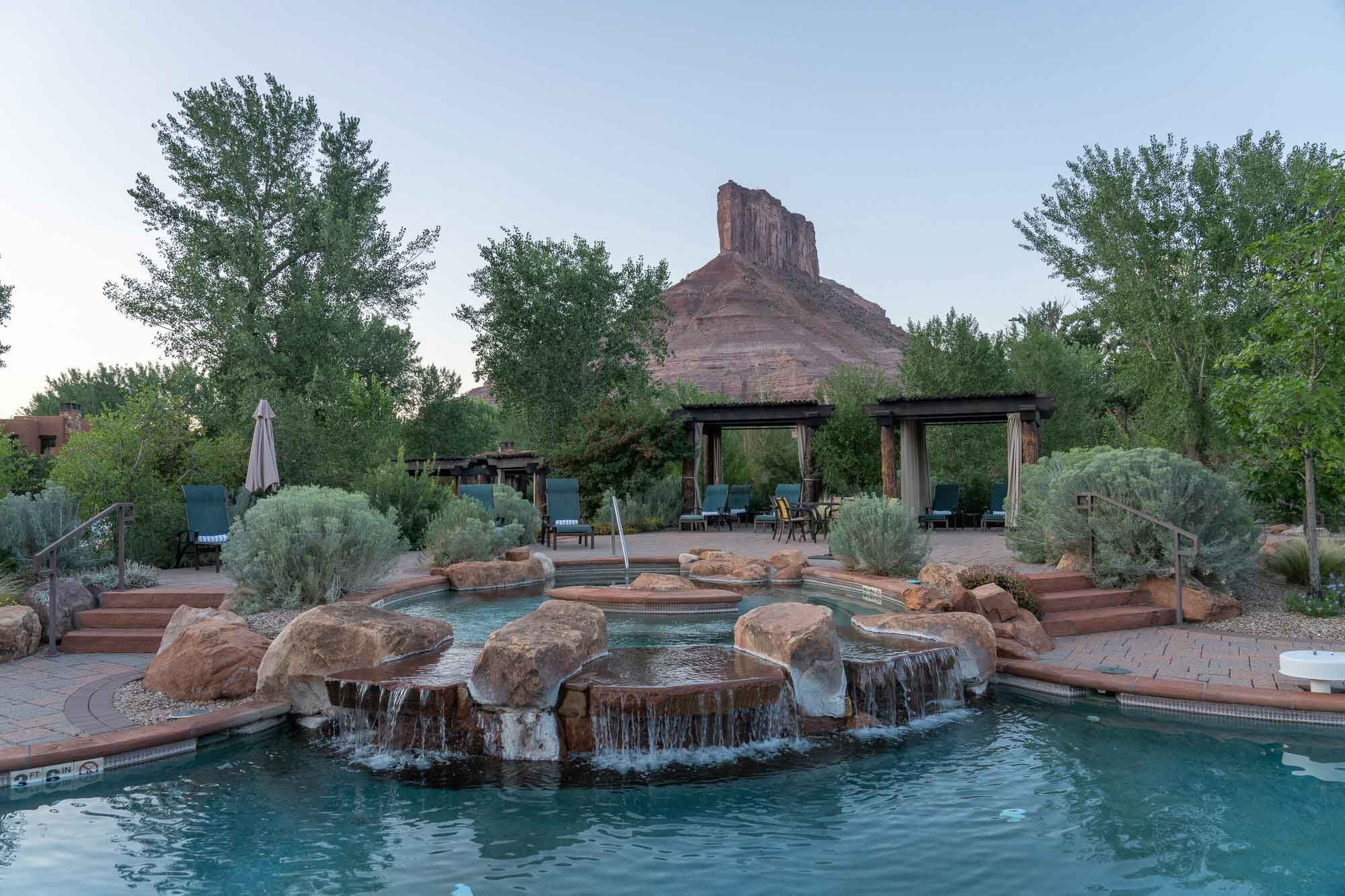 One of Gateway Canyons Resort & Spa's many relaxing spaces. (Yamaha Outdoors/)
Gateway Canyons Resort offers guests a full list of activities including an automotive museum and side-by-side off-road tours. Amenities include a full spa, several pools, premium ground-level rooms with private in-ground hot tubs, and on-property restaurants.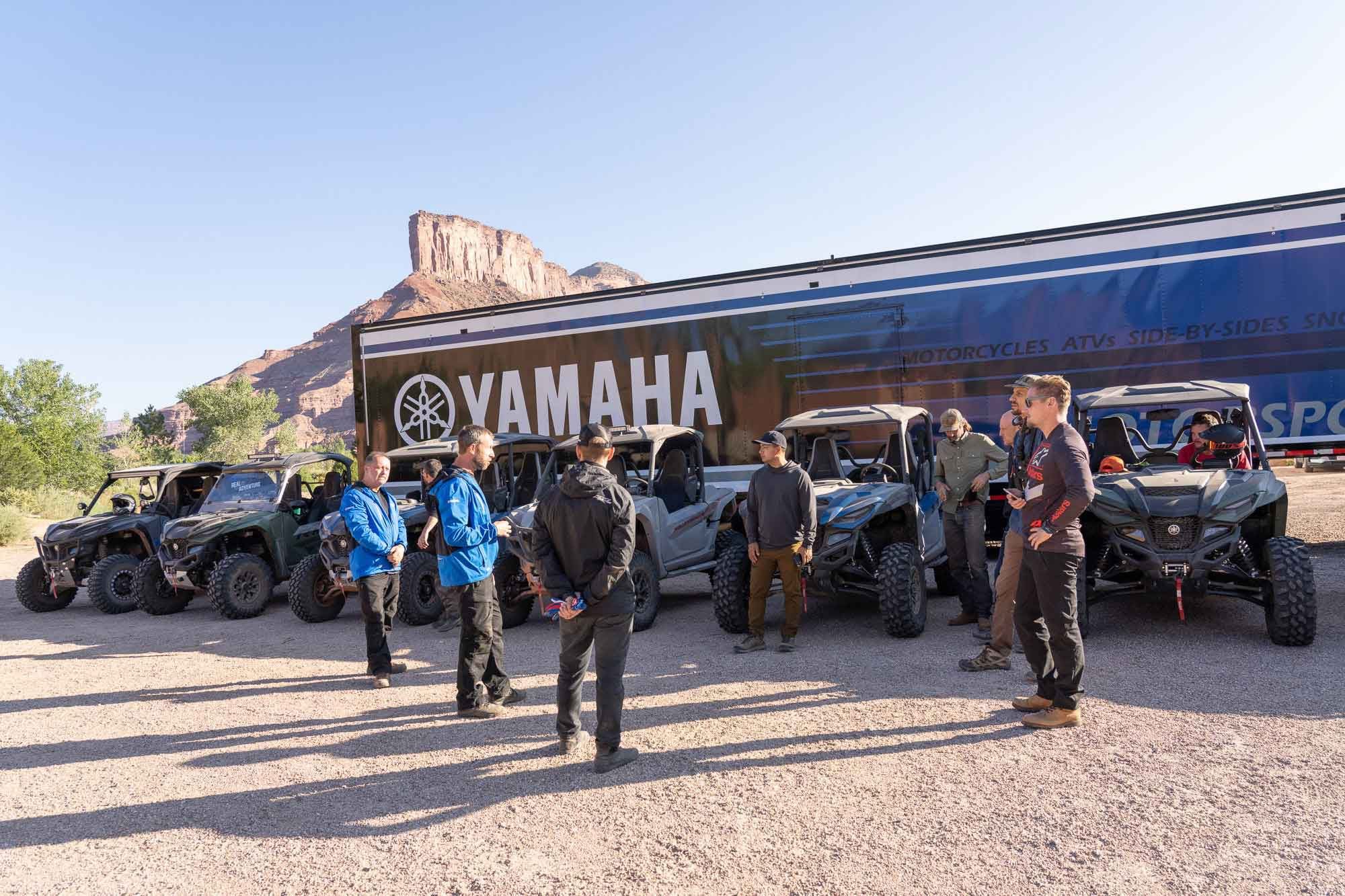 Preparing for the day's ride with team Yamaha. (Yamaha Outdoors/)
Our first day wasn't taken up by meetings or demonstrations. Unlike a typical press event, Yamaha had one line on the agenda: Realize Your Adventure. As soon as the sun rose, we were picking out a vehicle for the day's ride; we chose a 2021 Yamaha Wolverine RMAX2 base model in Alpine White (MSRP: $20,299). Over the next day, we'd become closely acquainted with this base-trim model.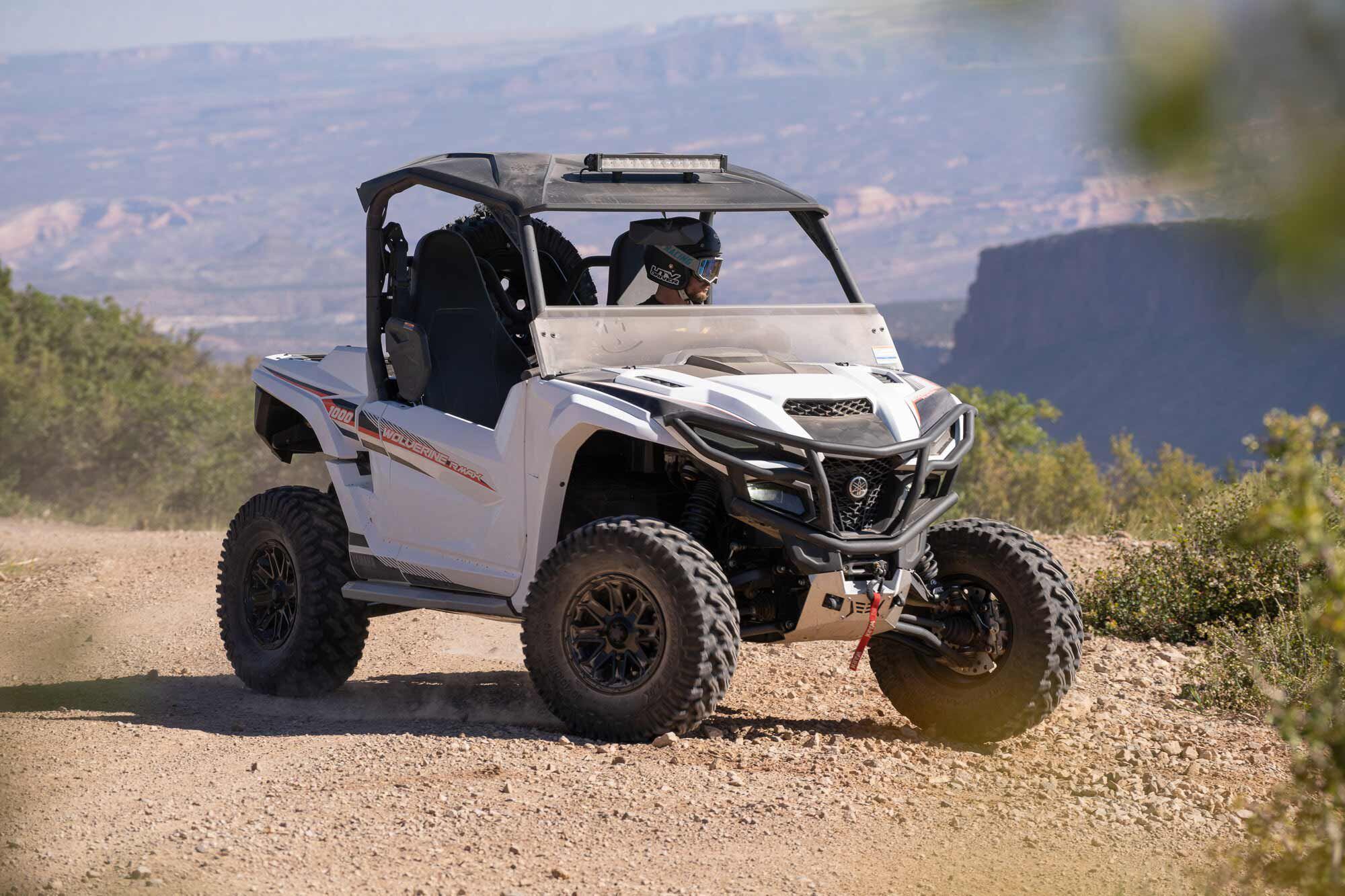 Striking a pose in the Utah desert with the base model 2021 Yamaha Wolverine RMAX2 1000. (Yamaha Outdoors/)
The RMAX is no slouch; it was bred to shred. (Yamaha Outdoors/)
Yamaha had outfitted the 2021 Wolverine RMAX2 1000 base model with a long roster of factory accessories: A front aluminum skid plate ($179.99) and aluminum rock rail covers ($320.99) were paired with an upgraded front brush guard ($329.99) to help protect the body from cactus spines and the random free-range cow; the cockpit got Yamaha's polycarbonate half windshield ($229.99) to keep the wind and dust off over hours of riding.
Inside the cab, the base model saw more upgrades: Factory Warn winch controls ($299.99) commanded the Axon 4,500-pound Warn winch ($799.99) up front; Yamaha also added the factory RMAX drive-mode knob ($299.99), one of UTV Driver's favorite RMAX features and a knob that comes standard on the XT-R and Limited editions. There was also an RMAX rearview mirror ($108.99) and the required mounting bracket ($19.99), which is sold separately. Lastly, Yamaha had fitted our RMAX with the Magellan Yamaha AdventurePro touchscreen GPS unit ($1,099.99) to track the route and help find the way.
Up top, the RMAX's standard high-density plastic roof was crowned with Yamaha's 60-watt 15-inch LED light bar ($449.99), which comes with everything you need to get it wired up and illuminated. We're told it puts out a ton of light from its 12 5-watt CREE LED emitters, but we don't have specific measurements. In our previous trail testing, the LED bar doesn't disappoint; folks will generally ask you to turn it off when you don't need it. Yamaha representatives were quick to note that it wires directly to the battery, so turning the key off won't kill the power, a feature engineered specifically to allow light to be cast while the RMAX isn't running.
Out back, the base model RMAX's has a hydraulic-assisted utility bed, just like its costlier counterparts. On this tester, Yamaha added a factory spare tire carrier ($289.99), with a 30-inch GBC full-size spare tire. We immediately grew to loathe that thing, which sits right in the path of the rearview mirror and blocks the view of the trail behind you. That is, until a bead blew hours from civilization, slashing a tire on a razor-sharp rock shelf; now it's our favorite accessory in the factory catalog.
Related: 2021 Yamaha Wolverine RMAX 1000 – Top 5 Reasons to Buy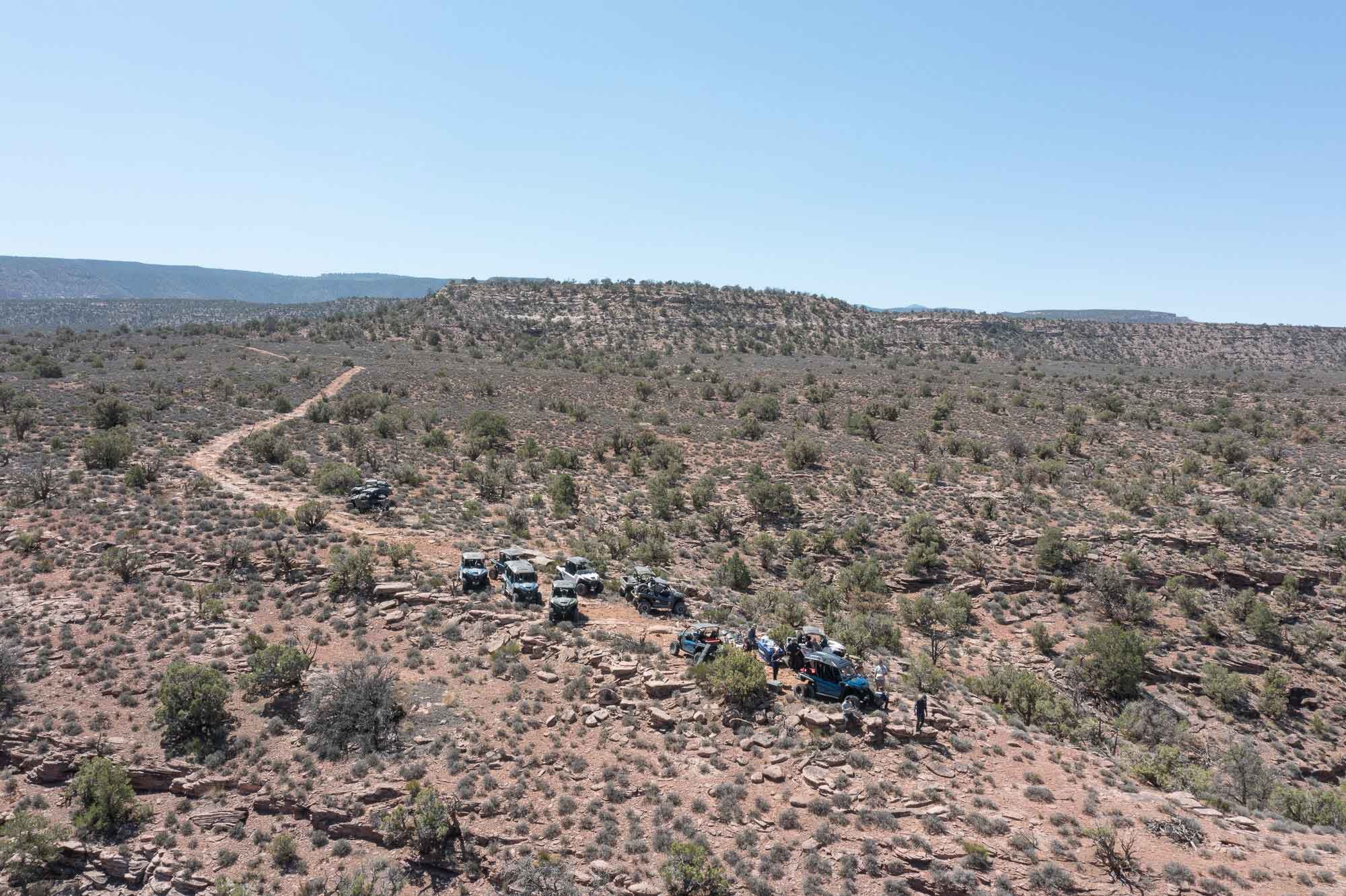 Our lunch spot on day 1 overlooked the Dolores River that feeds the mighty Colorado. (Yamaha Outdoors/)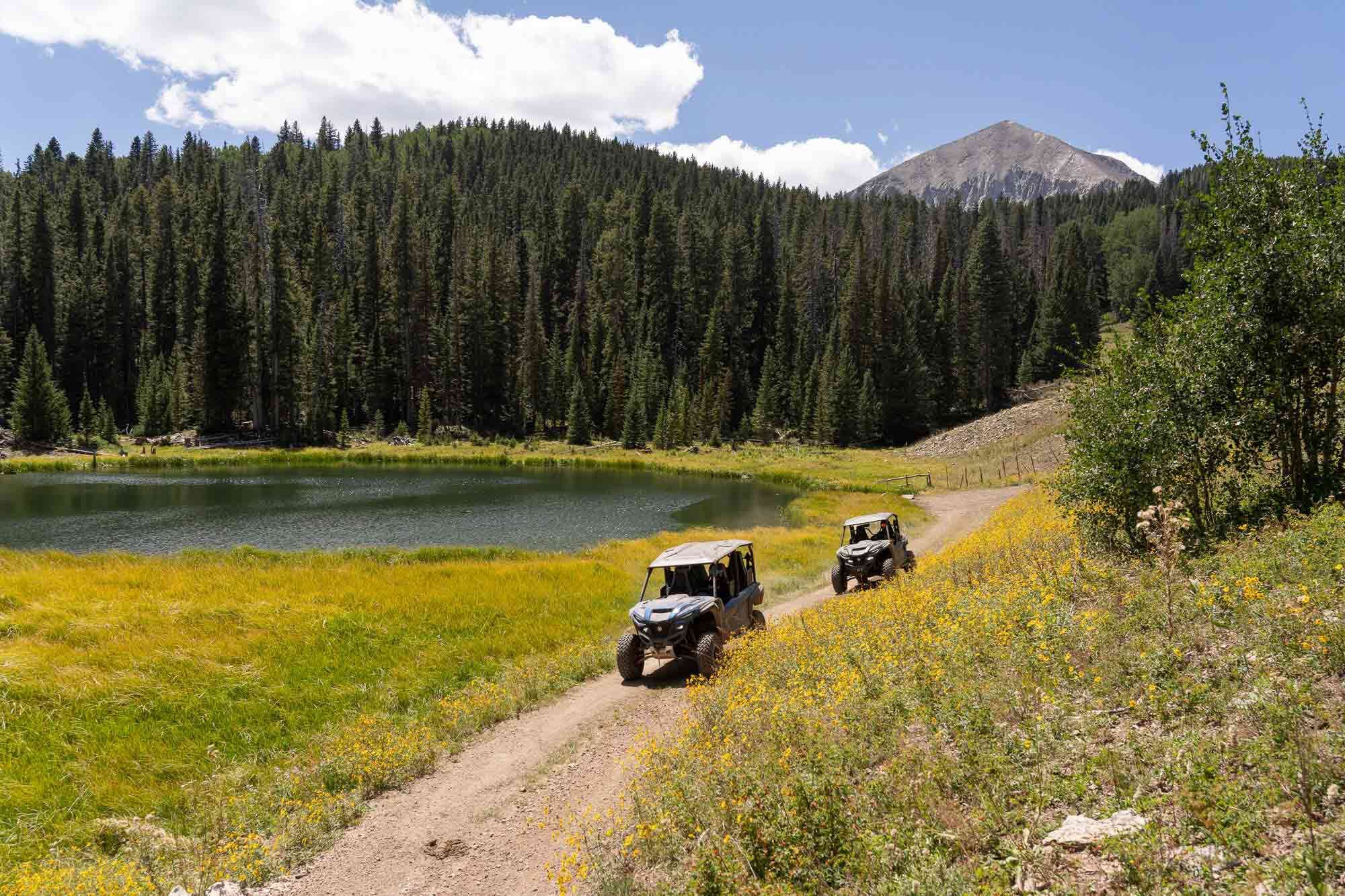 Day 2 saw us stopping at an alpine lake that had been stocked with baby trout. (Yamaha Outdoors/)
We would conquer more than 110 miles of desert trail on that first day and another 80-plus miles of high-elevation alpine riding the second. The RMAX 1000 never faltered despite the nosebleed-inducing altitude. No matter what the trail threw at us, the Wolverine's long-travel Fox suspension and 999cc parallel-twin engine were up to the challenge.
After the last day's ride was over, our key takeaway was RMAX's high comfort level. Every component has been engineered to multitask, allowing this Yamaha to go from working as a fast trail weapon one moment to working hard on your property as a utility vehicle the next. Whatever you ask of the RMAX, comfort and refinement are at the core of its development. After two grueling days of riding, we realized how much the machine helps fight driver fatigue; the soft touch panels, ergonomic steering wheel, and stout bolstered seats all help you ride from sunrise to sunset. Which is handy, because that's exactly what you'll want to do with a Yamaha Wolverine RMAX2 1000 at your disposal.