SXSBlog.com brings home an all new 2022 Polaris RZR Pro R. (SXSBlog.com YouTube/)
The SXSBlog.com crew's manifestation of a brand-new 2022 Polaris RZR Pro R came true this month, and their excitement is palpable. Having been one of the few lucky enough to find one available, they jumped on it and surprised the entire team with a blindfold introduction to their new apex predator. She's loud, long, and oh so beefy. We're so  jealous we can't stand it.
Their specific machine is a 2022 Polaris RZR Pro R 4 Ultimate Launch Edition. It's the subtle Lifted Lime color that gives it away. While it's clear this trim wouldn't have been their first choice, it'll do for now. The four-seater chassis is longer, slower, and less nimble than their typical rig, and not as adept at the style of riding they typically like to do. We share that sentiment.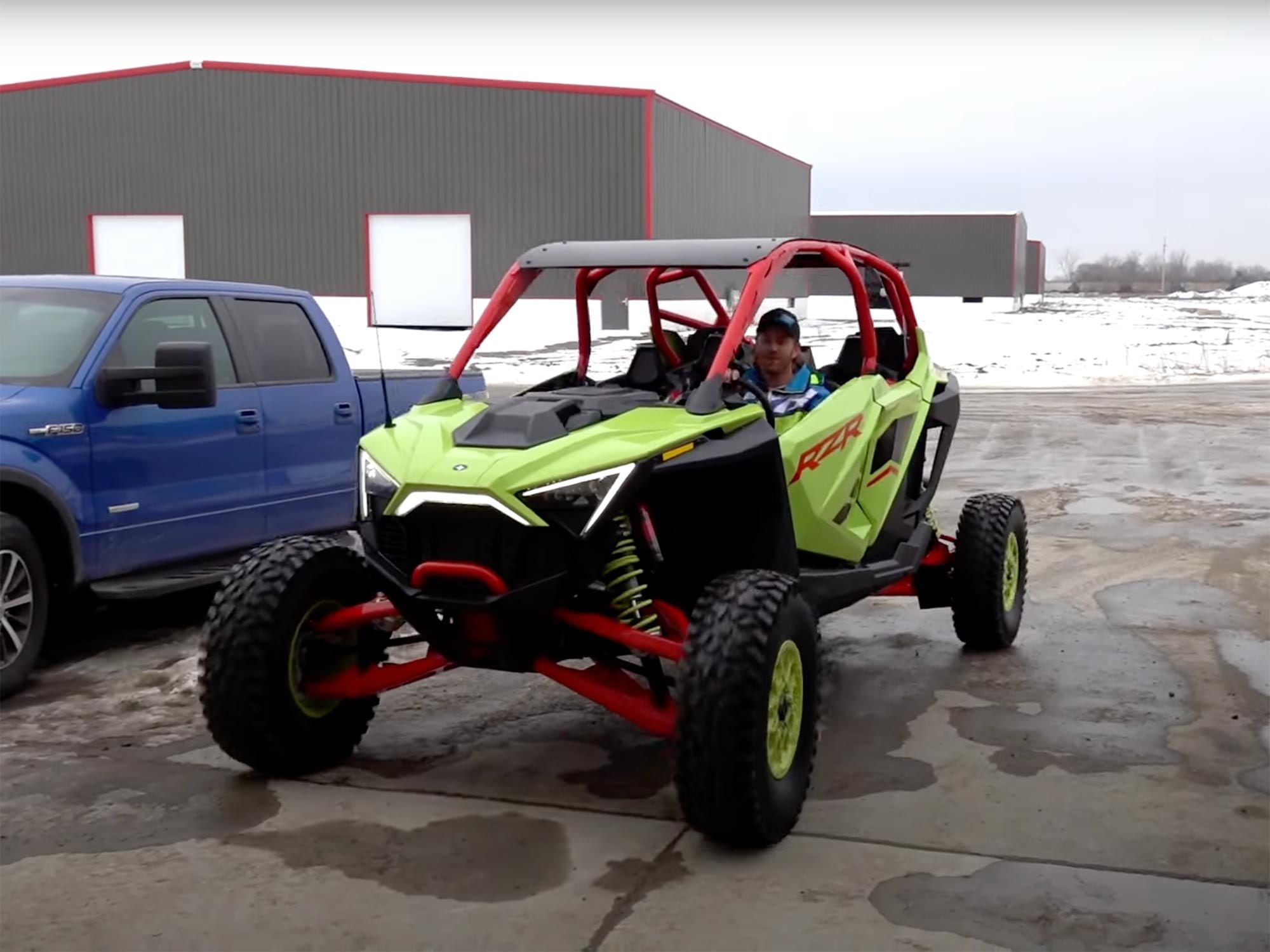 It's a Launch Edition four-seat model outfitted in the Lifted Lime color scheme. (SXSBlog.com YouTube/)
It's fun to watch the thrill of a revolutionary new rig spread across the faces of everyone as the realization kicks in. Thoughts of crazy trips, fast rides, and gnarly aftermarket builds have to be a dream come true.
They immediately usher the new Pro R into the shop where a team of highly trained experts go about disassembling anything they can to get to the first-of-its-kind RZR powerplant. In the process you get a good look at how stout the suspension is, how massive the clutches are, and the ease at which maintenance can be done on the new machine.
After reassembling their new toy, it's time for test rides. The SXSBlog crew rips over to their test track and proceeds to huck every jump they can find. Click through below to join in on the celebration and watch these kids enter this candy store.
Want to stay up to date on the latest UTV Driver news and reviews? Sign up for our weekly newsletter!