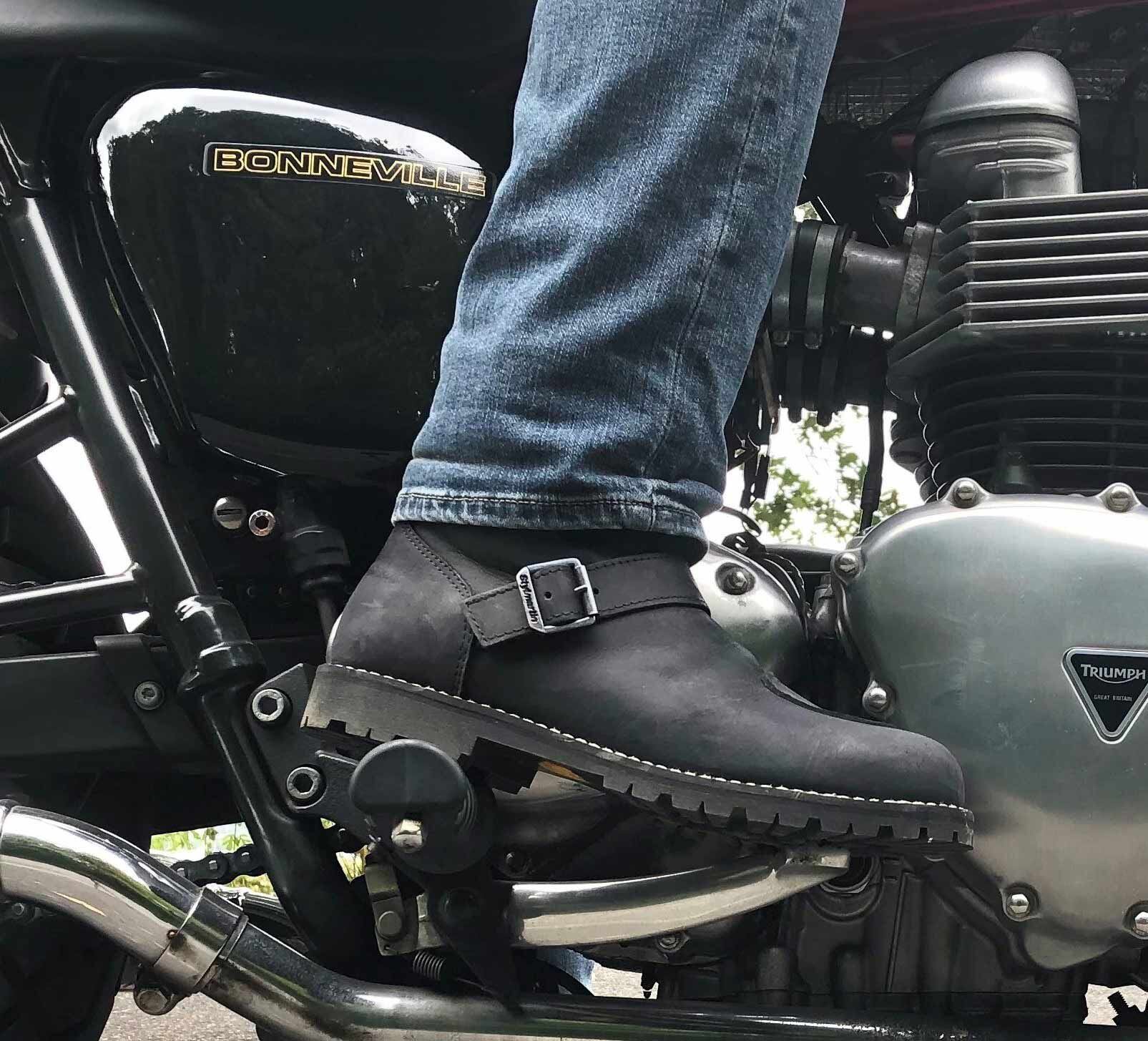 Waterproof and CE rated, the Legend Mids offer a more streamlined profile than typical engineer kicks. (Andrew Cherney/)
Classic engineer boots have been around for about as long as there have been steam railway engines—and motorcycles. From the outset, motorcyclists became fans of the design, with its clean lines, easy entry, full coverage, and durability in nearly any condition. Having gone through plenty of engineer-style boots over the years though, I also got hip to some of their limitations; sometimes the shaft was too tall, or the toe too chunky to slide under a gearshift lever, and overall fit usually came down on the loose side. So when the Legend Mids came out, I was curious to see how Italian gear purveyors Stylmartin took on the classic American design.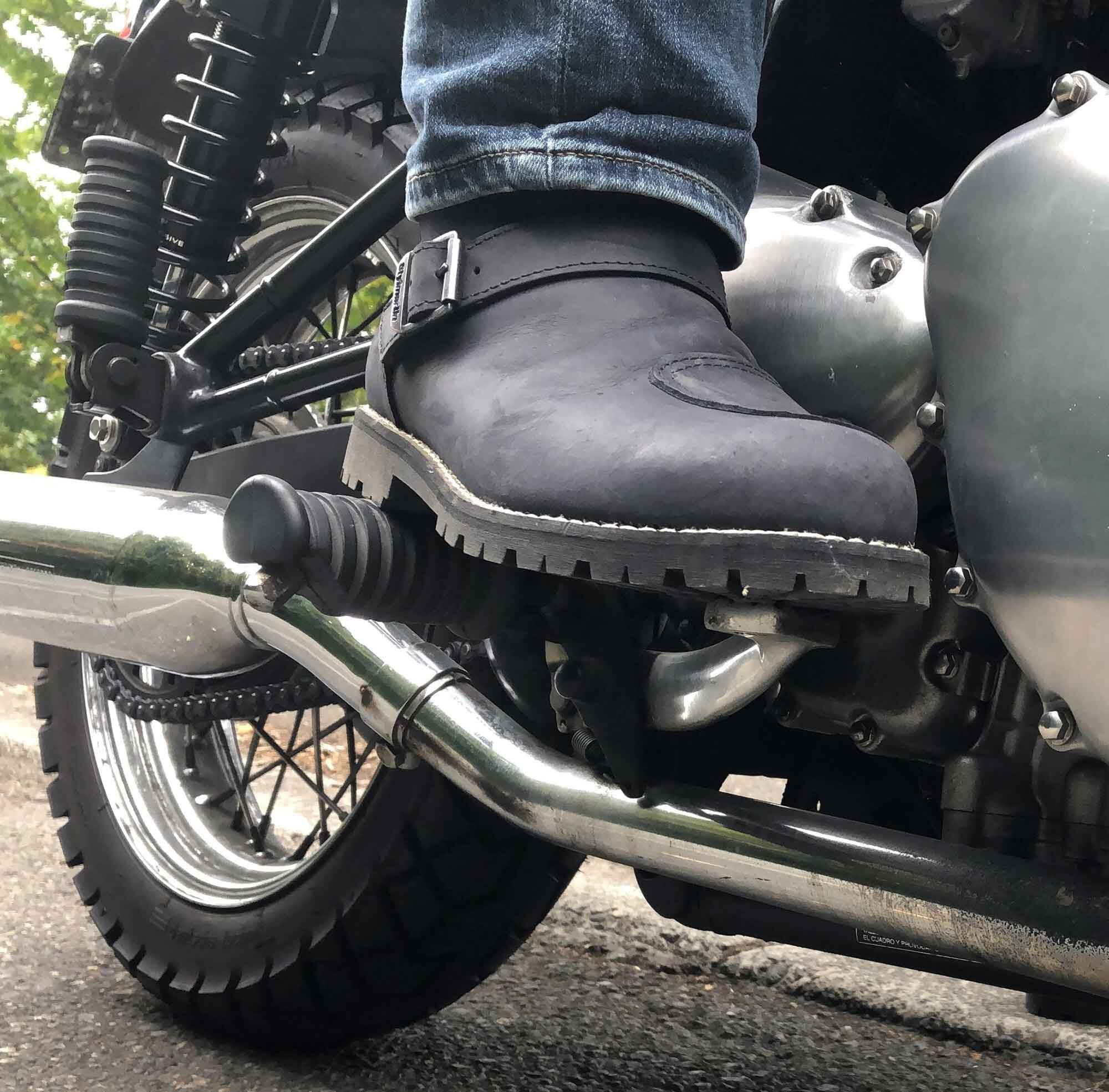 Classic engineer/moto boot cues include a heavy-duty sole and metal buckle at the ankle. (Andrew Cherney/)
The look is still recognizably rugged, but the Legend Mids refine the original silhouette, giving it a much shorter shaft height and a slightly more organic shape at the forefoot that's narrower than most boots in this category. Key to the Legend's understated look is a robust full-grain leather outer that has a slightly dusty-looking matte finish; the hide is tanned with natural processes and then treated with a water-repellent sealant. Hiding under the main skin is a membrane that's both breathable and waterproof, and sandwiched in between those two is malleolus protection at both the inner and outer ankle.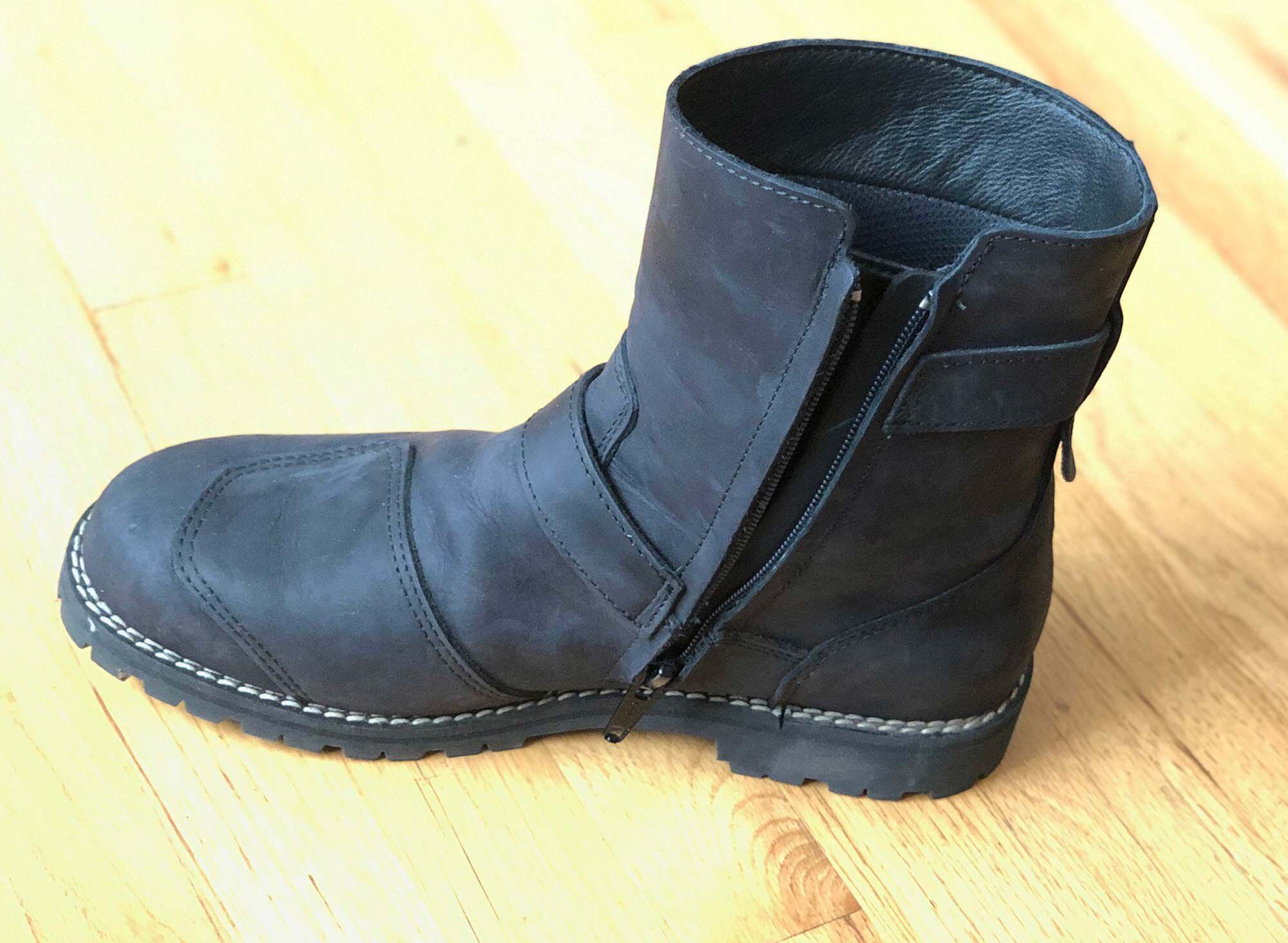 Inboard zippers make for easy entrance; the backing expansion gusset seals out dirt and moisture. (Andrew Cherney/)
There are two straps around the boot to help keep it on your foot; one that runs over the instep and another up at the top of the shaft above your ankle, both adjustable via twin distressed metal buckles. Sliding into the boot is easy thanks to an inner ankle zipper that opens it up to your foot; expansion gussets behind the zippers serve to keep dirt and moisture out. The Vibram slip-resistant sole makes for an effective contact patch too, with nice deep lugs for a solid grip, and it's also fully replaceable.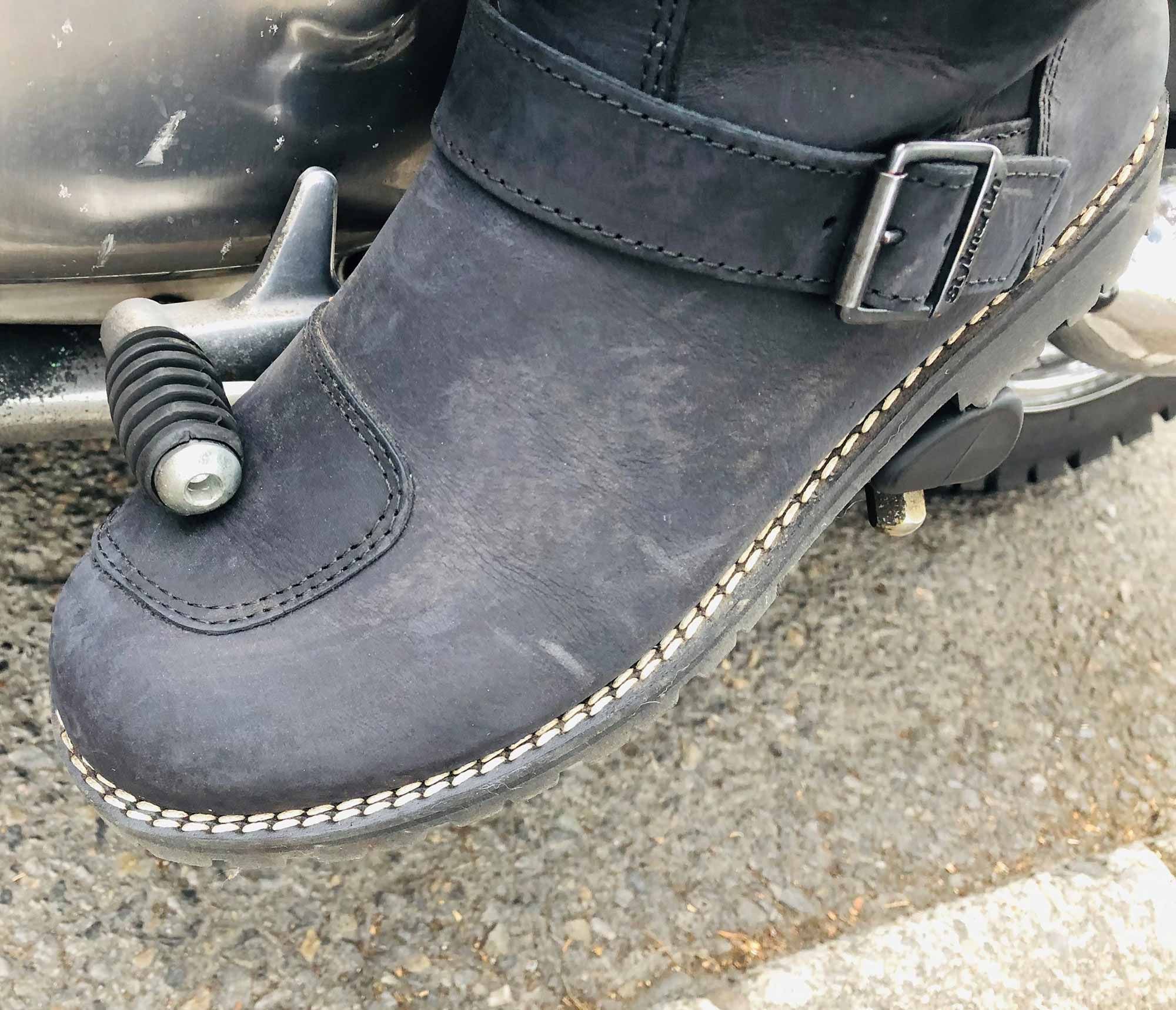 The low-profile toe box slides easily under a shift lever, even with added leather toe patch up top. (Andrew Cherney/)
On my foot, the Legends fit true; the size 42 (Euro) I ordered translated perfectly to my size 9 (US) paw. Adjust the buckle, pull up the inner zipper, and the boot snugs to your foot; the rear portion of the top strap gives you another thing to grab if you need more leverage to get them on, though I would have liked a loop up top for easier purchase. As for their feel on the bike, the Legend's low-profile toe box makes gearshifts a cinch, even with a layer of leather reinforcement up top. Another plus is the Legend's grip; I've worn them on as well as off the bike, and the deep treads have delivered great traction both in greasy slop and dry pavement, with no issues. On the same note, I was pleasantly surprised by how breathable the waterproof lining was on longer walks.
The polyurethane internal malleolus protectors—essentially small discs located over the inner and outer ankle—don't feel all that substantial under the leather, but it turns out the Legends are CE certified, so they've met European safety standards. That's more than I can say for a lot of my other gear. I'm less impressed with the supplied footpad, which is breathable and generally comfortable, but just not as supportive as I'd like for my pancaked soles; fortunately they're easily swapped out, which I'll be doing shortly. No offense, Stylmartin.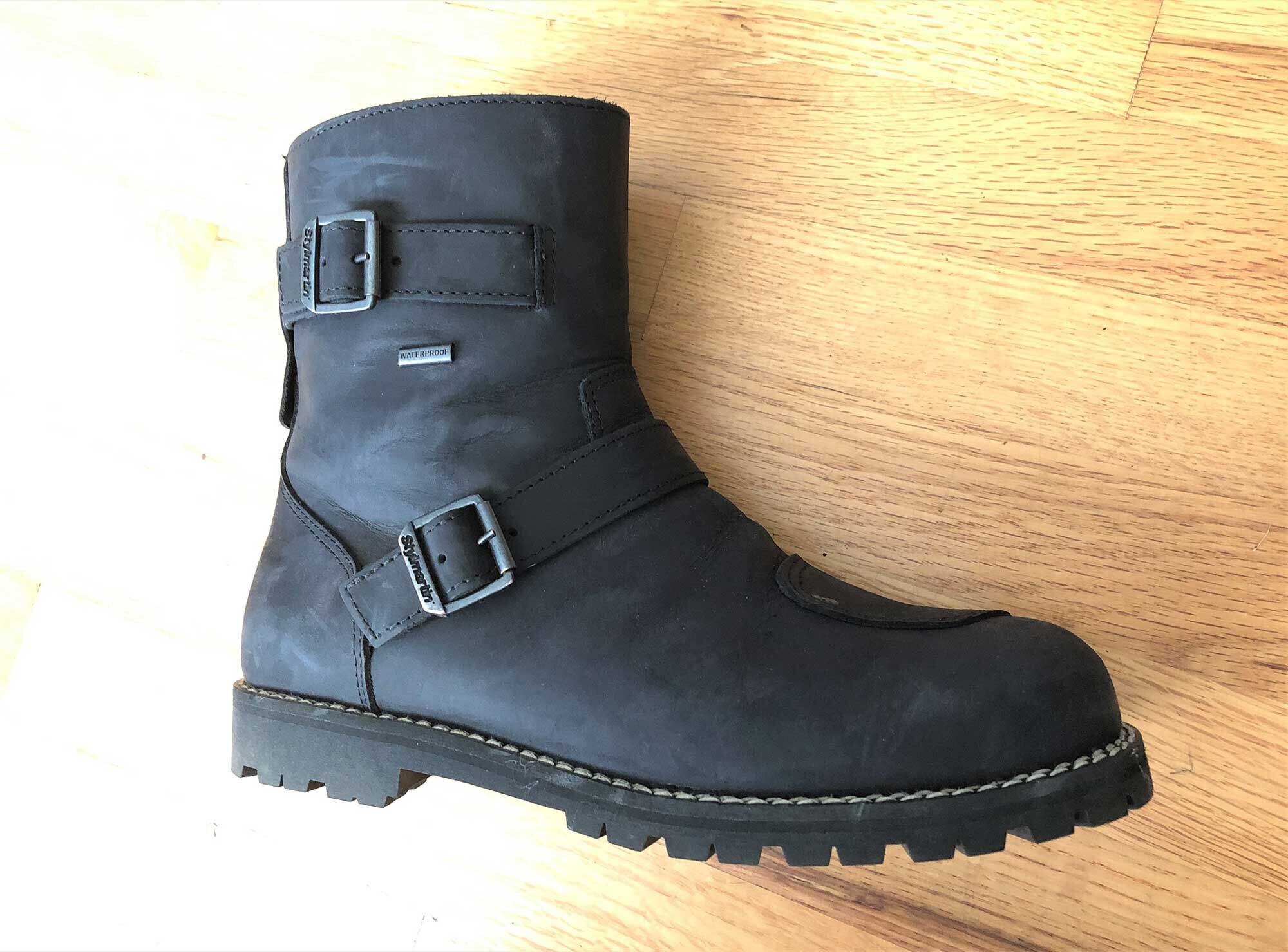 Two leather straps offer external adjustments via metal buckles. (Andrew Cherney/)
The Legend Mids could be fairly considered a three-season boot—though there's no inner insulation, and their shorter height makes them vulnerable to extreme conditions—and the inner membrane did manage to fend off the Pacific Northwest wind and rain pretty well the several times I put them through the wringer. The $269 price tag might give some folks pause—especially when you realize Stylmartin's identical-but-full-length Legend Evo Black model is only $20 more—but if you want a less bulky, classically styled boot with a solid feature set and excellent build quality, the Mids are a solid contender.
For more info see stylmartinusa.com.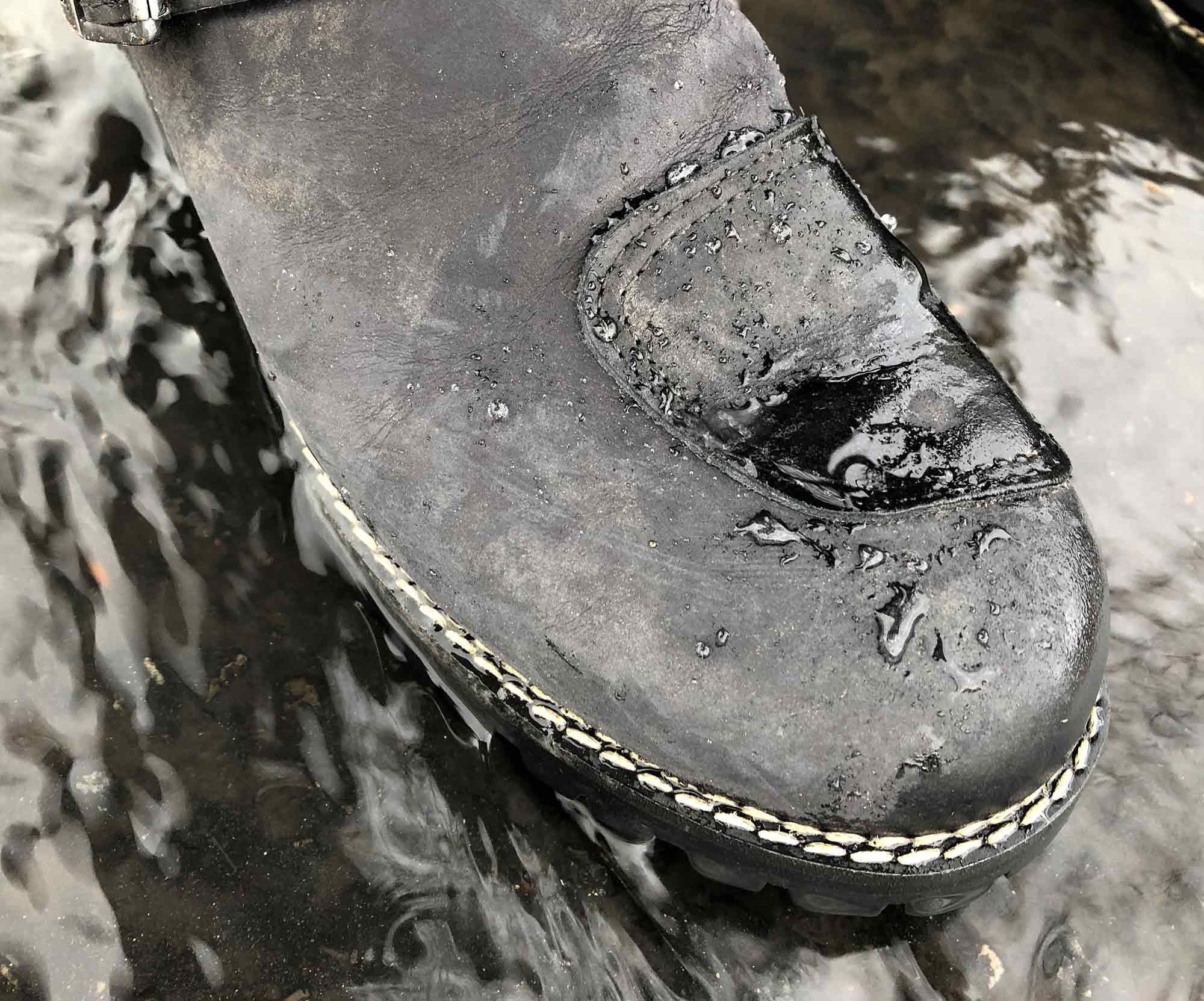 Although outer leather is said to be only water-repellent, we found it fairly effective at keeping liquid at bay in showery conditions. (Andrew Cherney/)