Preorders are open for the Stark Varg electric motocross bike. Should you put down a deposit? (Stark/)
You have to hand it to a startup that describes its new electric motocross bike as "the most advanced and versatile motocross bike on the planet." Stark Future claims its new MXer, the Varg (Swedish for "wolf"), is available with peak engine performance of 80 hp. Then a company press release coyly asks if it's the "world's fastest motocrosser?" while pointing out it makes 30 percent more power than a typical internal-combustion-engined 450cc MXer, and by the way, for $12,900 you can preorder one for delivery beginning in March of 2023; buyers who elect for the 60 hp version pay $1K less. Stark Future also claims the Varg has as much as six hours of riding range; more on that later.
So what should you make of this ambitious startup company and its yet-to-be-produced motorcycle? Due diligence should always be applied to new e-vehicle companies, and we've begun that process for you.
Stark Future was founded by Swedish entrepreneur Anton Wass, one of the initial employees and later an owner of the Pierce Group, an online motorcycle clothing and accessories retailer that grew to be the largest motorcycle-related online retailer in Europe; they tallied 150 million euros in sales in 2020. Wass started Stark Future with other Swedish investors about two years ago, allegedly with a substantial personal investment. He was joined about six months later by CTO Paul Soucy, a mechanical engineer who had previously designed motorcycles and bicycles. While Stark was founded in Sweden, Soucy and the small product team are in Barcelona, Spain, a place where you can find both engineers with motorcycle experience and weather to test motorcycles year-round. According to one of the founders of Alta, several Alta engineers have been involved in the project.
The Stark website gives substantial details about the Varg design, as well as videos of prototypes being ridden. The bike is similar to the late and lamented Alta Motors Redshift MX. Both machines use a transverse high-speed electric motor above the output shaft, with a substantial gear reduction between motor and shaft. Neither has a clutch or more than one gear. Both have a liquid-cooled motor and inverter. Both have a substantial fin-cooled battery pack in a lightweight cast case holding about 6kWh of cells, sitting about where an engine would be a conventional motocrosser. Of course, many numerous details differ, but that's the basic design.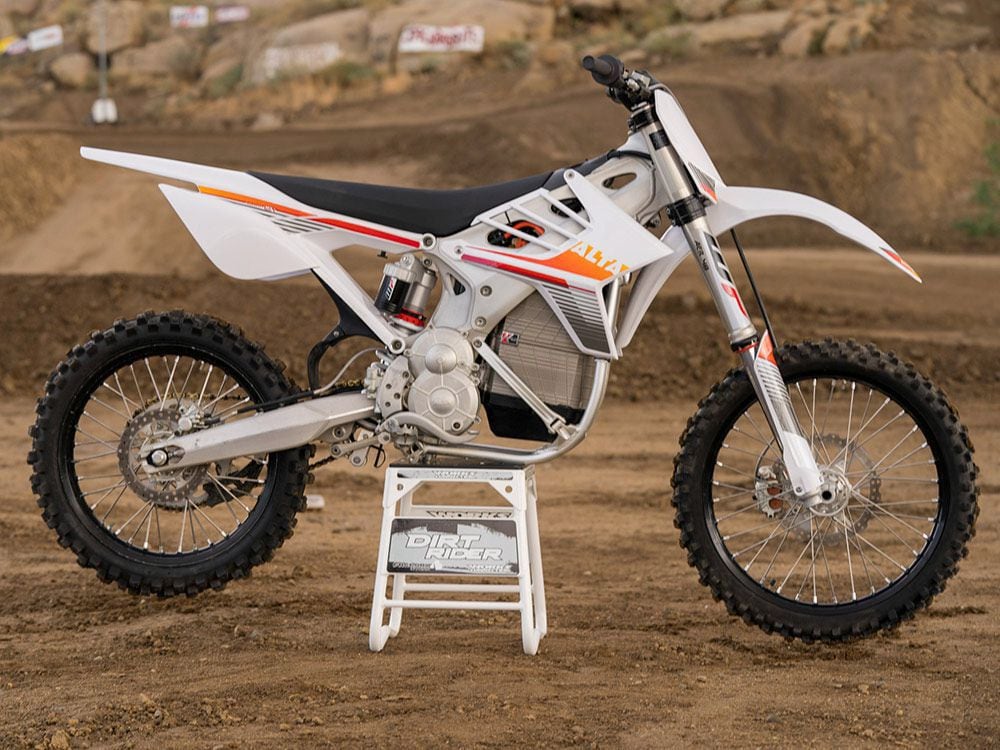 Stark's Varg seems similar to Alta's Redshift MX—until you look closely. Alta ceased operations October 2018. (Alta/)
Alta had a multipiece aluminum frame that bolted together; Stark apparently uses the battery pack, the motor housing, and a carbon fiber structure to form the main frame, with an aluminum subframe to support the seat structure. (Alta used a monocoque injected-molded plastic subframe and fender.) Stark claims to have benchmarked competitive motocross bikes to determine the frame stiffness characteristics for the Varg; this gives me déjà vu, as our team at Buell did the same thing in 2007 with the Honda CRF450 while developing the stillborn Buell MX bike.
Stark claims that its 80 hp motor is carbon fiber sleeved, similar to the motor being used by Tesla on the terrifyingly quick Model S Plaid. A carbon fiber wrap helps hold everything together structurally on a fast-spinning rotor carrying permanent magnets, and the higher rpm thus possibly allows higher power. Tesla spins its big motor to 20,000 rpm; this smaller one might spin faster yet. The motor can be seen in one of Stark's videos and looks to be about 150mm in diameter. The company claims it weighs 9 kilograms (19.8 pounds), which would make it one of the lightest production motors on a kW/kg basis, at about 6.7 kW/kg. That's lighter than many high-performance motors being developed for aviation, but the difference is likely in the power rating; the 80 hp (59.7 kW) is probably only available for a very short period, perhaps only seconds, whereas aviation motors are usually rated for more sustained power.
Stark does comment that the 80 hp isn't really needed; it's more so the motor spends more time at high-efficiency regions of operation, as e-motors are generally more efficient at less than peak power.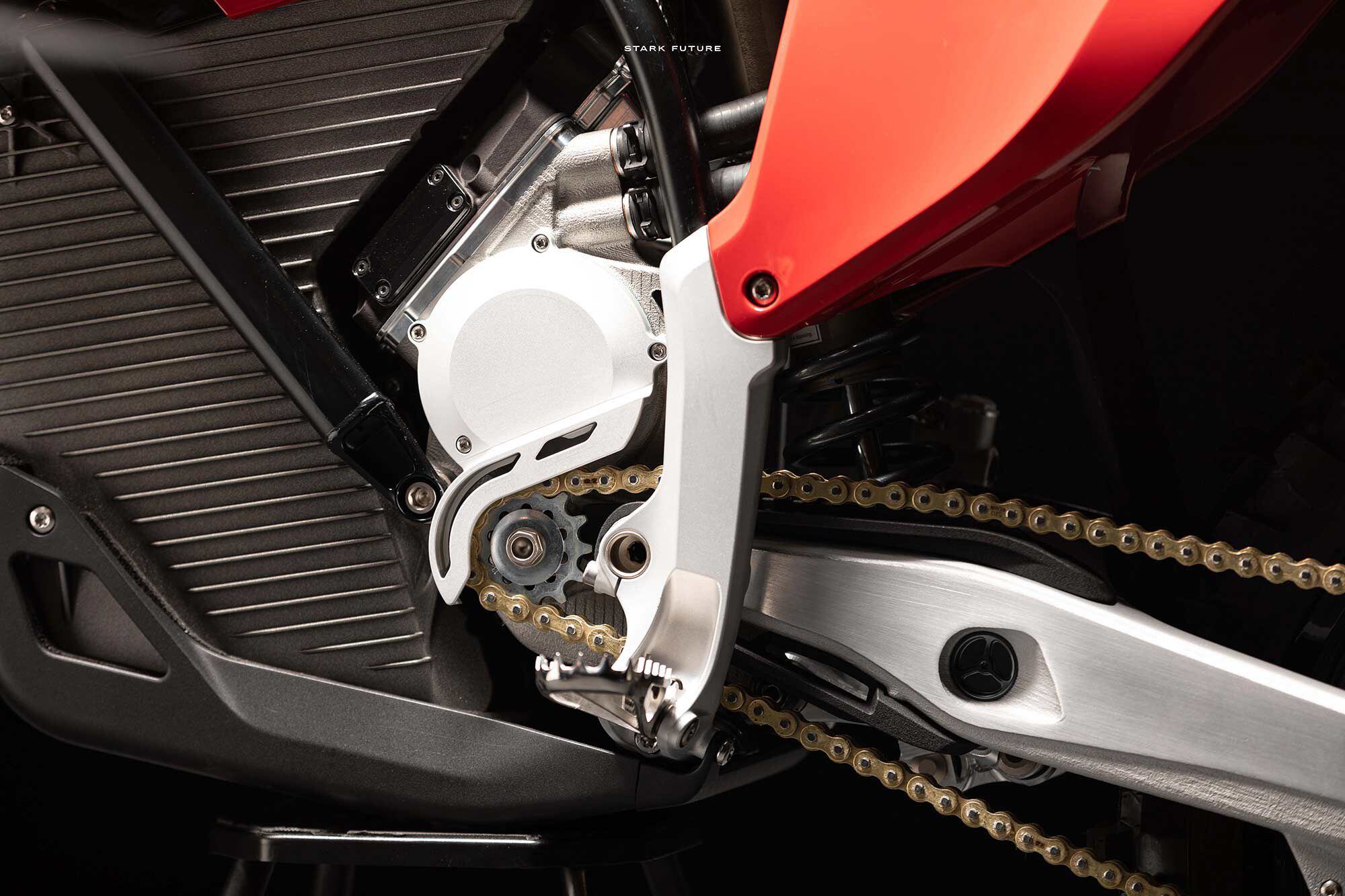 Stark claims 80 hp from it's most powerful motor option on the Varg. (Stark/)
Could Stark have actually achieved 80 hp in this package size? Most definitely yes, as truly exotic electric motors used in F1 and other extreme applications are yet more power dense. The only real question is whether it could have done that in a motor Stark could afford to put in a $13K motorcycle; if so, it's a notable achievement. It also may require some compromises on the battery cell choice. Getting 60 kilowatts from a 6kWh pack is a battery discharge rate of 10C, and that requires cells that are more power- than energy-optimized. Power-optimized cells will have less energy per cell, and make for a heavier pack. Fortunately there's been solid progress on cell energy density since the Alta Redshift, so Stark's claims of 6kWh, a 68-pound pack weight, and 80 hp may all be allowed by more advanced cells than were available to Alta.
One thing seemingly missing when reviewing Stark employees listed on LinkedIn are electrical engineers and controller software specialists. Stark claims to have designed its own extremely compact inverter (motor controller), but I suspect that was done by a consultant unless there are unlisted employees.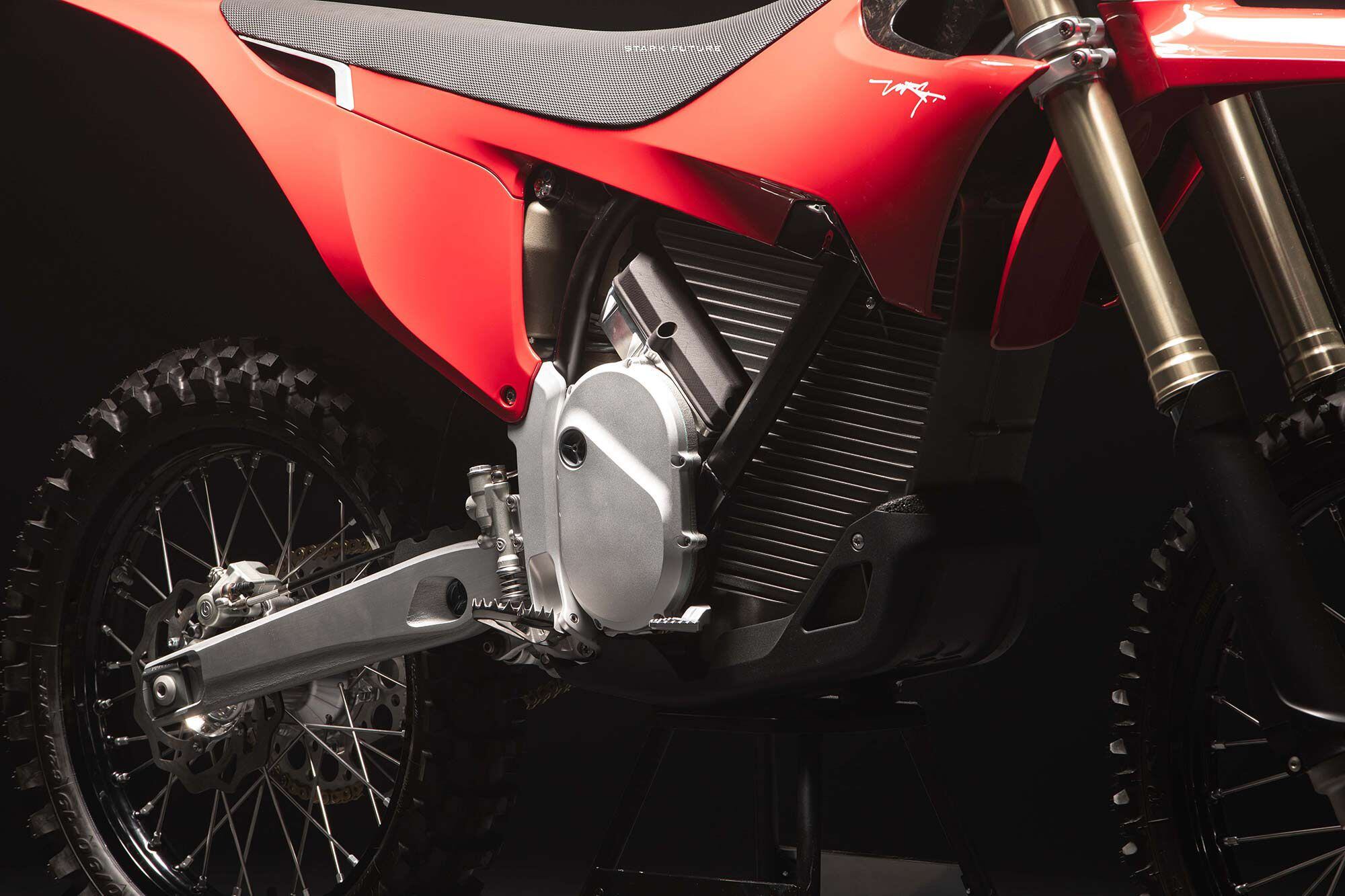 The Varg's fin-cooled 6kWh battery pack is said to last long enough for a 40-minute moto or six hours on the trail. (Stark/)
Silicon-carbide power transistors are now commonly available, and these are about twice as efficient as the conventional silicon transistors Alta used in its inverter. That enables it to be much smaller, as size limits on inverters are very much set by heat-transfer requirements, even if the inverter is liquid-cooled like this one. At perhaps 98 percent efficiency, that still means you have to get rid of about 1.2kW of waste heat at peak power; that's more heat than your toaster oven generates at full power, so getting rid of it is an issue!
One thing suggesting the Stark is very real indeed is that the bike is fitted with Kayaba suspension, one of the standards for current motocrossers. Kayaba and Showa both make truly excellent suspension at reasonable prices, but neither Japanese company is particularly eager to work with startup companies, as they have been burned by some of these in the past.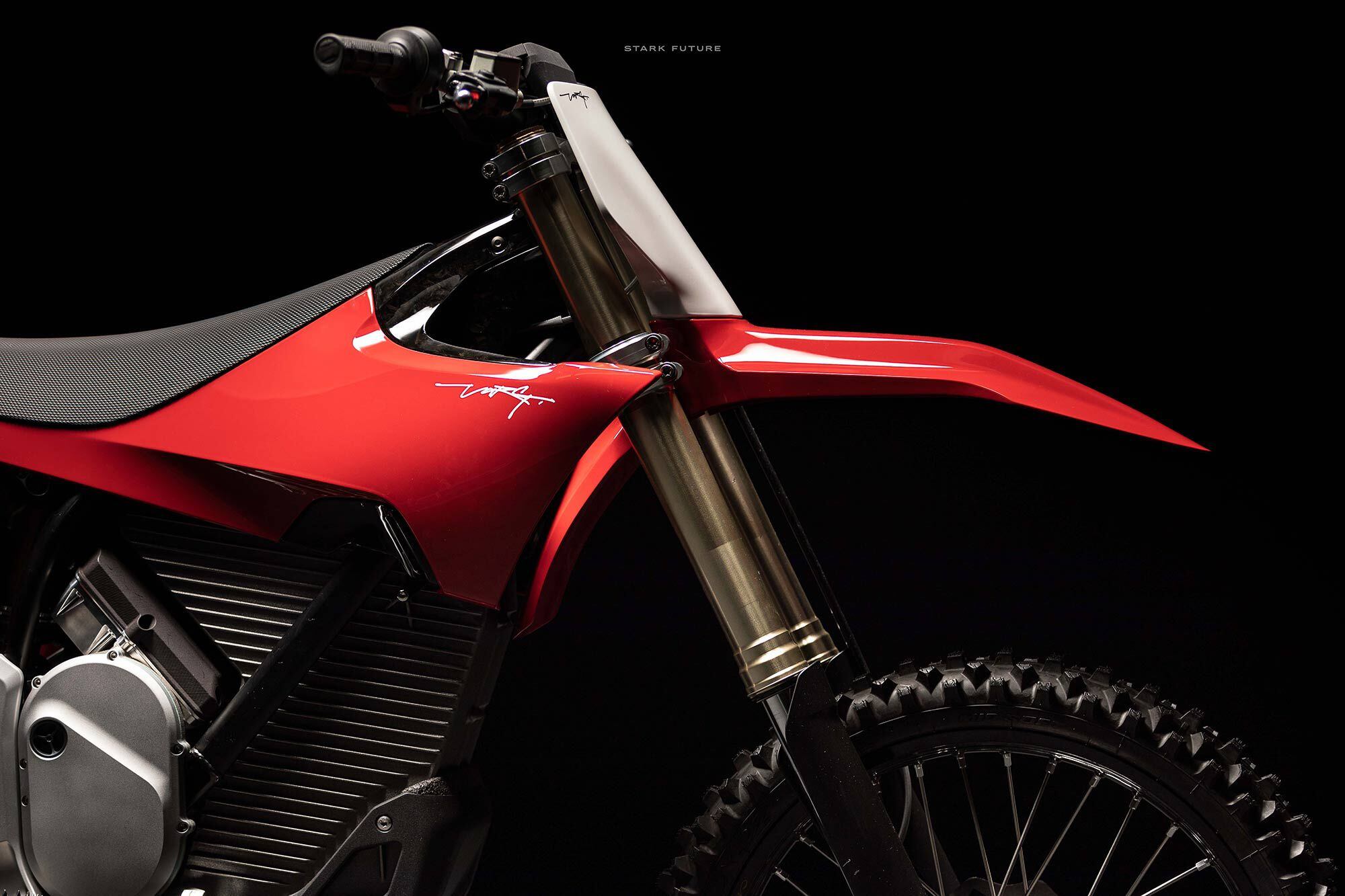 Showa suspension components on the Vark point to a legitimate machine. (Stark/)
It was years after Zero was founded before Showa accepted it as a customer. That a Japanese suspension company is willing to work with Stark suggests that its own due diligence with Stark led to solid conclusions about its capitalization and chances for success.
Stark describes the range of the Varg as enough for one MXGP, which is about 40 high-output minutes, or up to six hours of very light-duty trail riding. Neither claim is that unreasonable, but light-duty in this case probably means small throttle openings and average speeds of 15–20 mph, and for the MXGP probably depends on the course and the rider.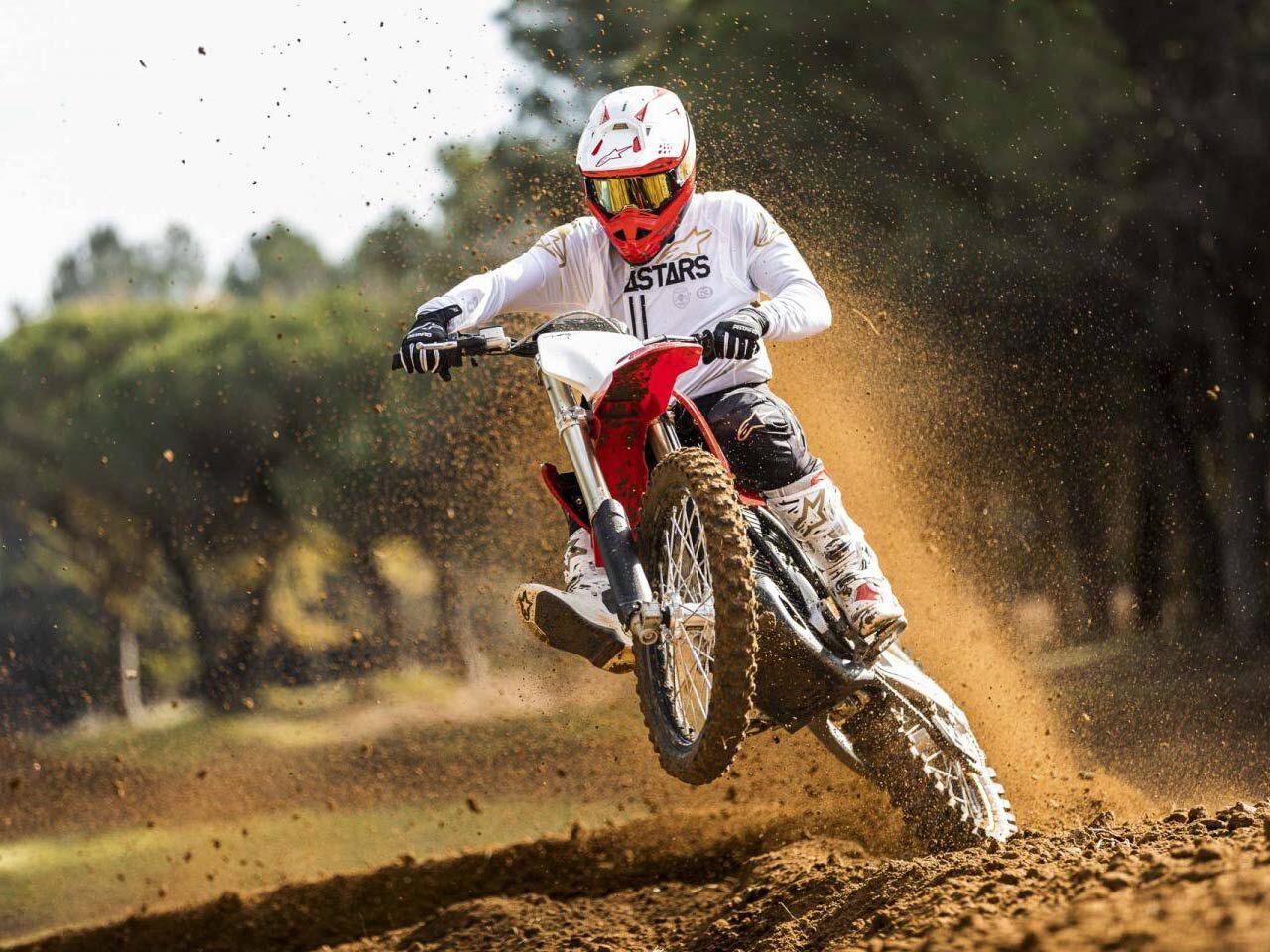 If Stark can produce enough units at a profit, the Varg is positioned to be a viable player in the motocross segment. (Stark/)
With a pro on a fast course, 40 minutes might be optimistic. The 6kWh is probably good for 25–30 miles at the machine's top speed, or four times that much at a much lower speed. And, as always with e-vehicles, range is very, very dependent on speed.
So is the Stark Varg the real thing? It seems to have all the pieces to be a better and faster Alta Redshift, and perhaps be the e-motocrosser that succeeds. But as in the development of any new motorcycle, the devil is in the details, and there will be tremendous effort in tuning the software that translates between throttle and motor response; in making sure every detail works correctly and durably; and then figuring out how to build a thousand or so a year initially for less than they cost to sell. That is the very task that defeated Alta.
Let's put it this way: It's the most promising electric dirt bike to appear since Alta, and we'll be following its development very closely.