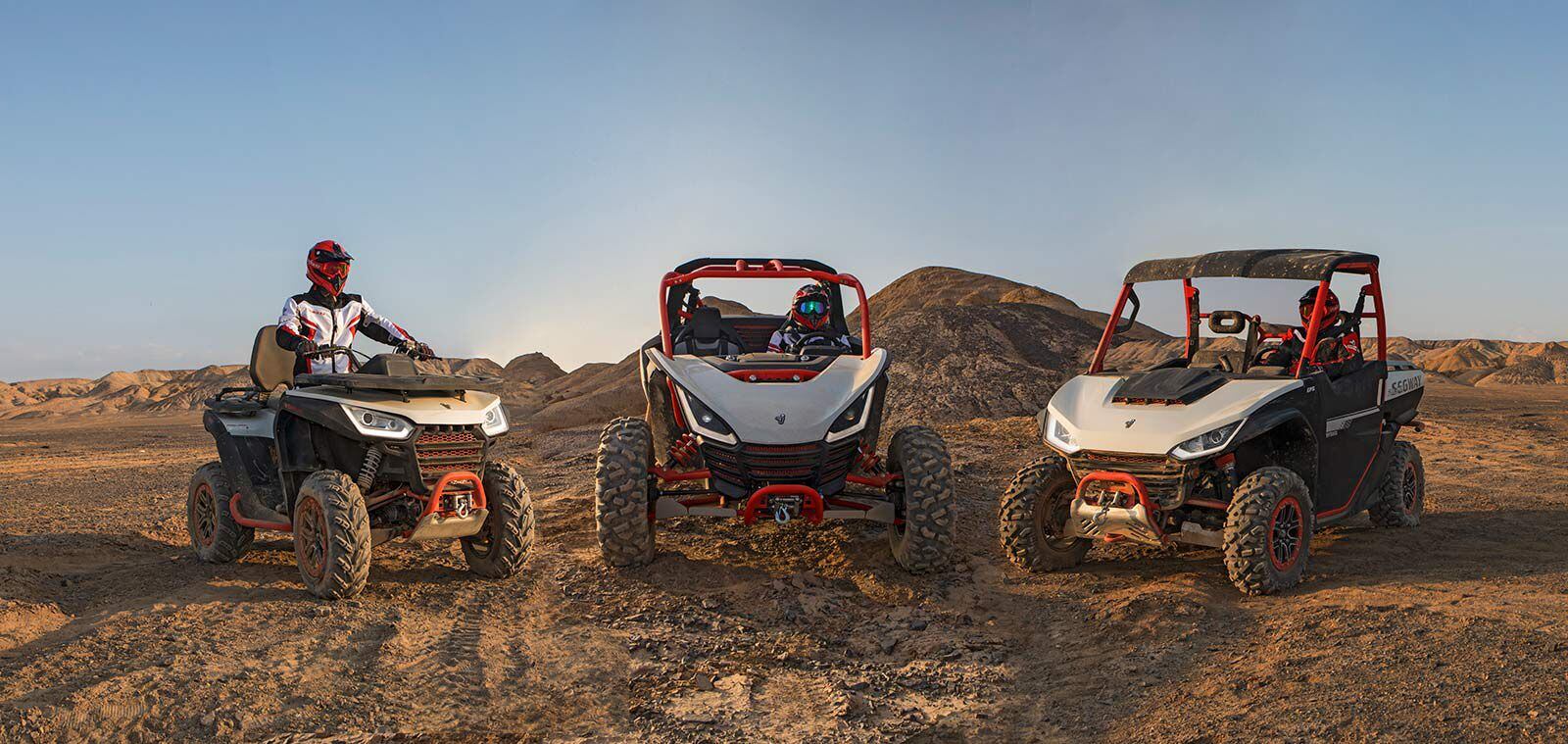 Segway's new Snarler ATV, Villain sport side-by-side, and Fugleman UTV. (Segway/)
Segway Powersports, a division of Segway-Ninebot in the field of short distance transportation and service robots, has announced its intent to become a top player in the powersports industry. Segway Powersports has already established a dealer network in Australia and New Zealand to promote and sell its new line of ATVs, UTVs, and sport side-by-sides. Most recently, Segway ATVs and UTVs became available in Canada. Now, the company is turning its sights on growing a dealership network in the US.
Admittedly, we were skeptical that a company that produces those weird, upright personal electric transportation scooter things could understand the expectations of powersports enthusiasts, but a little research changed all that. Segway is already rethinking some of the features that are currently found on competing manufacturers ATV, UTV, and side-by-side offerings, and bringing technology to the sport that we haven't seen on ATVs or UTVs before. So let's dig in.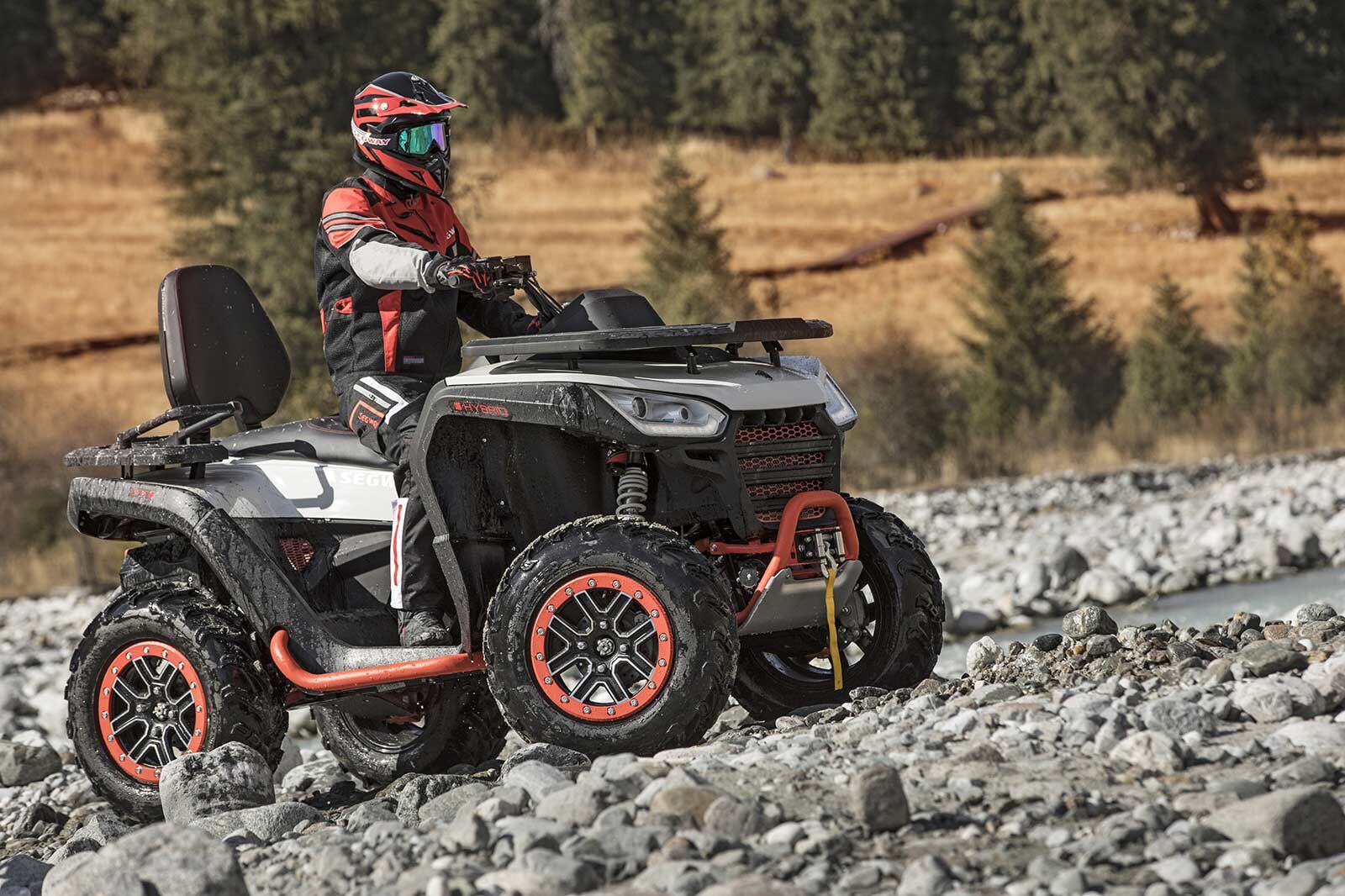 Segway claims the high-tech Snarler ATV is capable of conquering every type of terrain. (Segway/)
Segway Snarler AT6 S and AT6 L ATVs
The AT6 S (short) is a single-rider ATV with a 51.2-inch wheelbase and dry weight of 792 pounds. The AT6 L (long) is a two-rider ATV with a 57.1-inch wheelbase and dry weight of 847 pounds. Both variations are just over 49 inches wide and offer 10.6 inches of ground clearance. All four corners get dual A-arm suspension with 7.1 inches of wheel travel up front and 8.3 inches at the rear.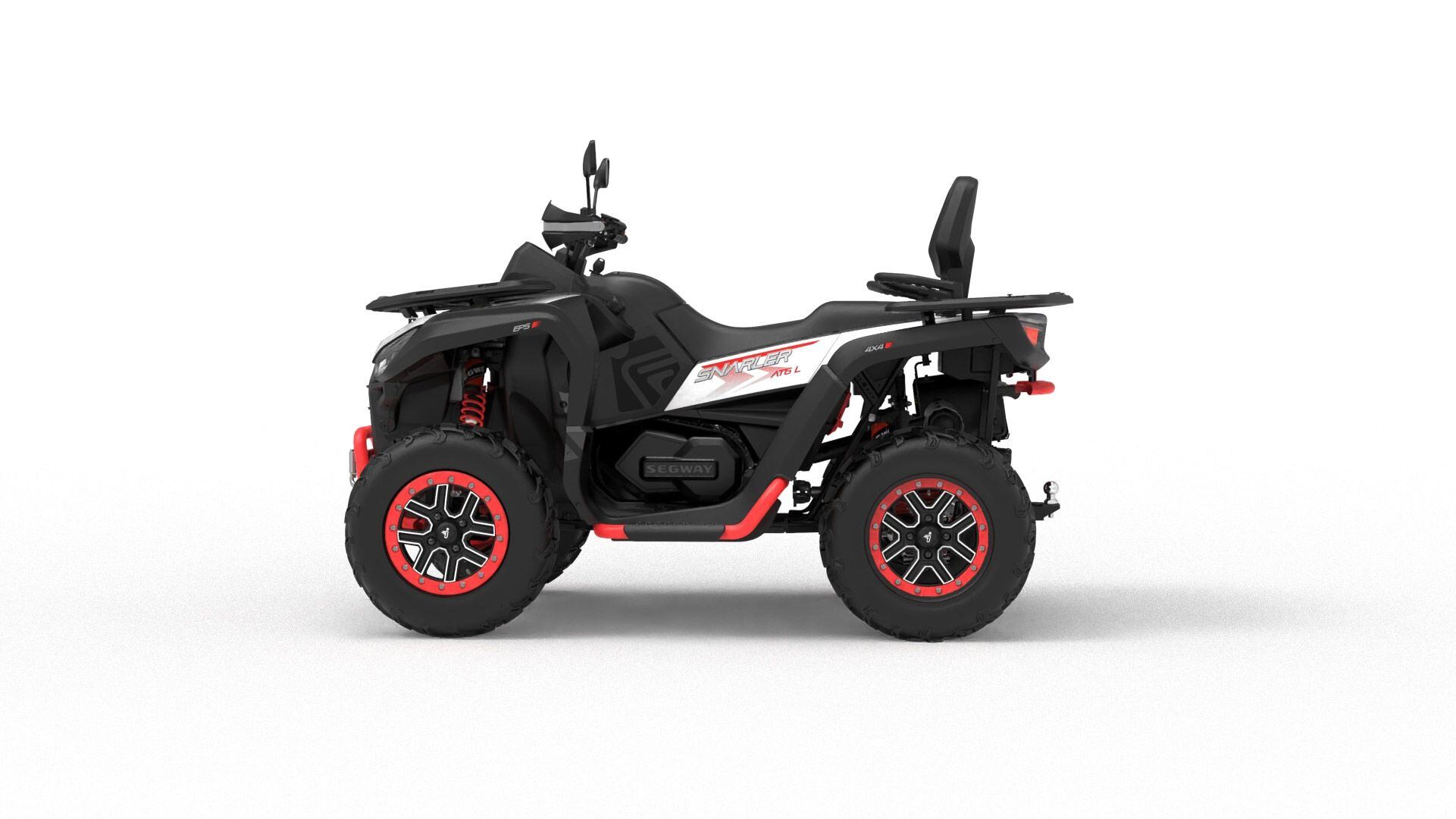 The Snarler is available in single-seat and two-up configurations. (Segway/)
Consumers have their choice of three different trim levels—Naked, EPS, or Full Spec. Naked includes 25-inch tires mounted on 12-inch steel wheels. Shocks are oil damped, and a front bumper and steel racks are standard. The EPS model has upgraded racks with plastic covers, a 2,500-pound winch and a handlebar guard. EPS models are also equipped with Electric Power Steering (EPS) that can be switched on the fly between three different modes—Standard, Comfort, or Sport. The Full Spec model gets all of that plus fully adjustable gas-charged reservoir shocks, 26-inch tires mounted on 14-inch aluminum beadlock wheels, and LED lighting.
Power comes from a 570cc single-cylinder four-stroke engine that produces a claimed 44 hp and 35.4 pound-feet of torque—right on par for this class of ATV. Electronic fuel injection feeds the engine from a 6.1-gallon fuel tank. Cooling is handled by a liquid and oil heat exchange cooling system. A CVT-style transmission features a transfer case with on-demand 2WD/4WD and 4WD with switchable front differential lock. The drivetrain also has selectable high and low ranges.
The chassis is manufactured using chromium-molybdenum steel, otherwise known as chromoly, which is much stronger than mild steel. A front bumper and rock sliders that run along the foot wells are also chromoly. If you ever rode BMX bikes, you'll know chromoly as the strongest steel going.
Unique to Segway is the Smart Commanding System (SCS), which can be linked to a cellphone. When engaged as a security measure, the system will not allow the vehicle to start unless the phone is near it. The system can also be used to adjust speed limit settings for inexperienced riders. If the vehicle is in a serious collision or rollover, SCS will automatically text an emergency contact with the vehicle's location. You can track your riding path with SCS, and it records real-time data such as mileage, torque numbers, horsepower, EPS mode information, and more.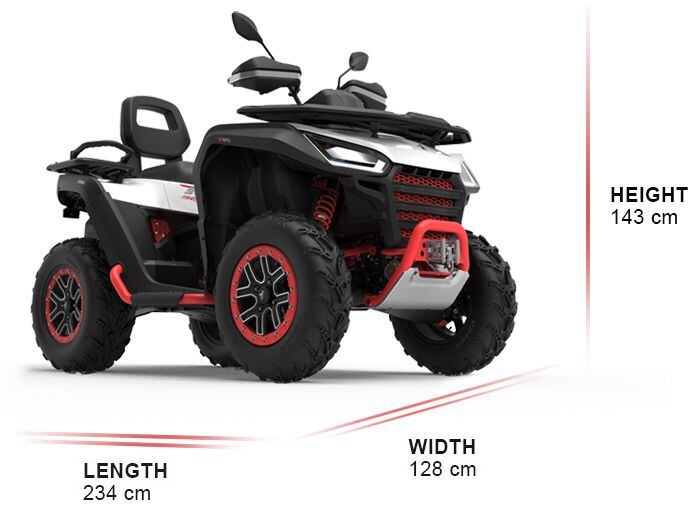 The chassis is constructed of chromium-molybdenum steel and includes a front bumper and rock sliders on all models. (Segway/)
Pricing begins at $9,790 for the AT6 S, and $10,190 for the AT6 L.
Snarler AT6 Hybrid—A Power Upgrade
The Snarler AT6 Hybrid engine combines Segway's Permanent Magnet Synchronous Motor (PMSM) with the 570cc single-cylinder engine. The traditional gas engine and electric motor combination have independent cooling systems. Together, the combo makes up to 86 hp and 70.8 pound-feet of torque, as claimed by Segway. Segway also claims that the mating of electric and gasoline technology extends travel range significantly. From what we can tell, the AT6 Hybrid will only be available in the two-seat long version of the ATV. With the addition of the Hybrid engine, overall dry weight increases to 1,012 pounds. US pricing is not yet available for the Segway AT6 Hybrid model.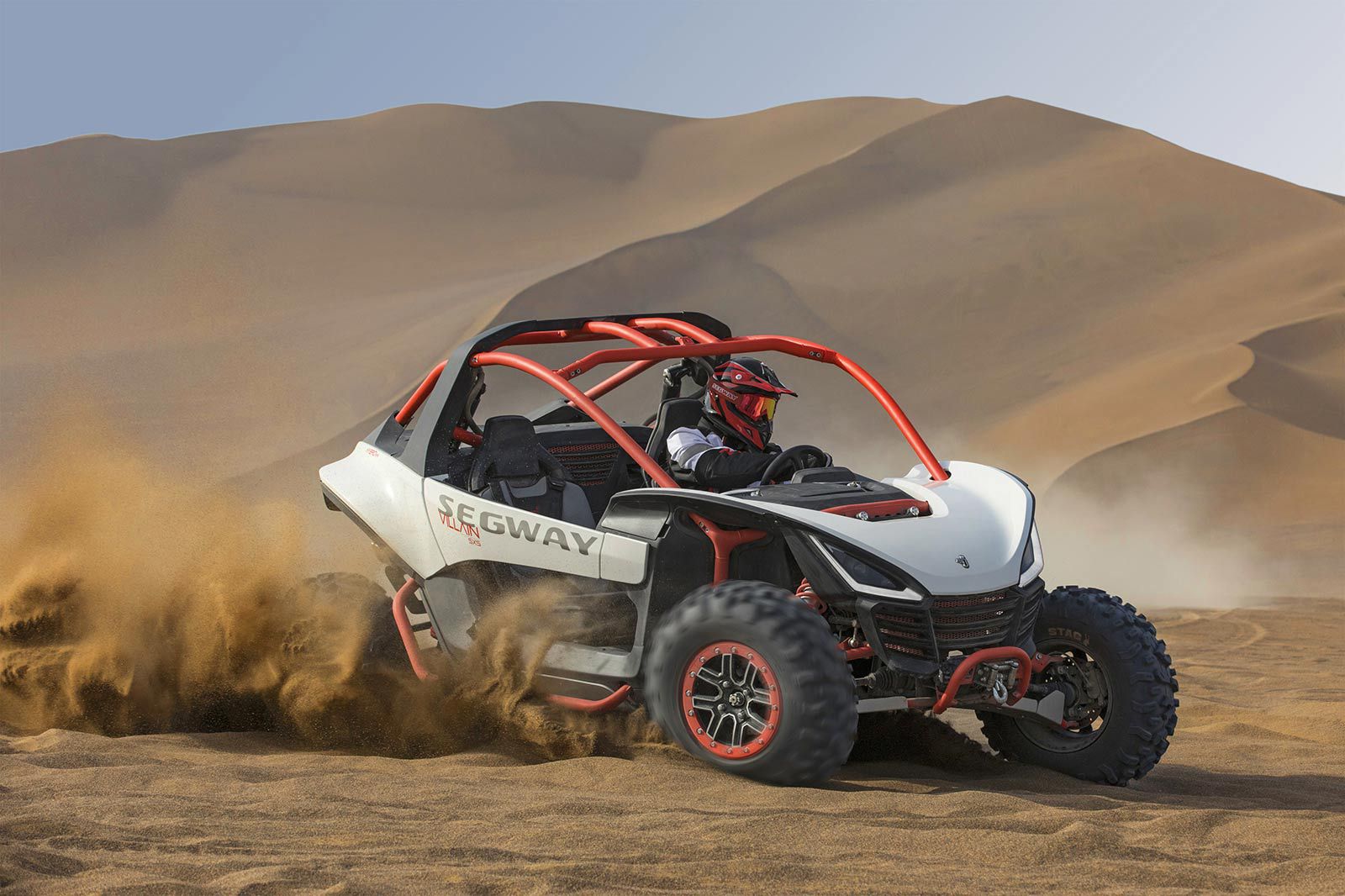 Segway's new Villain sport side-by-side looks to be a formidable dune cruiser. (Segway/)
Villain SX10 and SX10 Hybrid Sport Side-By-Sides
Like the Snarler ATV, the Villain sport side-by-side comes with the choice of a standard gasoline engine or a hybrid powerplant. The gas engine is a 1,000cc four-stroke parallel twin that produces a claimed 107 hp and more than 72 pound-feet of torque. The Hybrid engine, which adds a separately cooled electric motor to the same parallel-twin gas engine, gets a massive power boost to 181 hp and more than 184 pound-feet of torque.
The CVT transmission includes high and low ranges of operation. Drive modes include 2WD, 4WD, and 4WD with front differential lock.
The 64-inch-wide chassis is also made of chromoly tubing and includes rock sliders and a front bumper. Front suspension utilizes a dual A-arm setup with 15.7 inches of wheel travel. At the rear, trailing arms provide more than 16.9 inches of travel. A 72-inch-wide version of the Villain has 16.3 inches of wheel travel up front and almost 18 inches at the rear.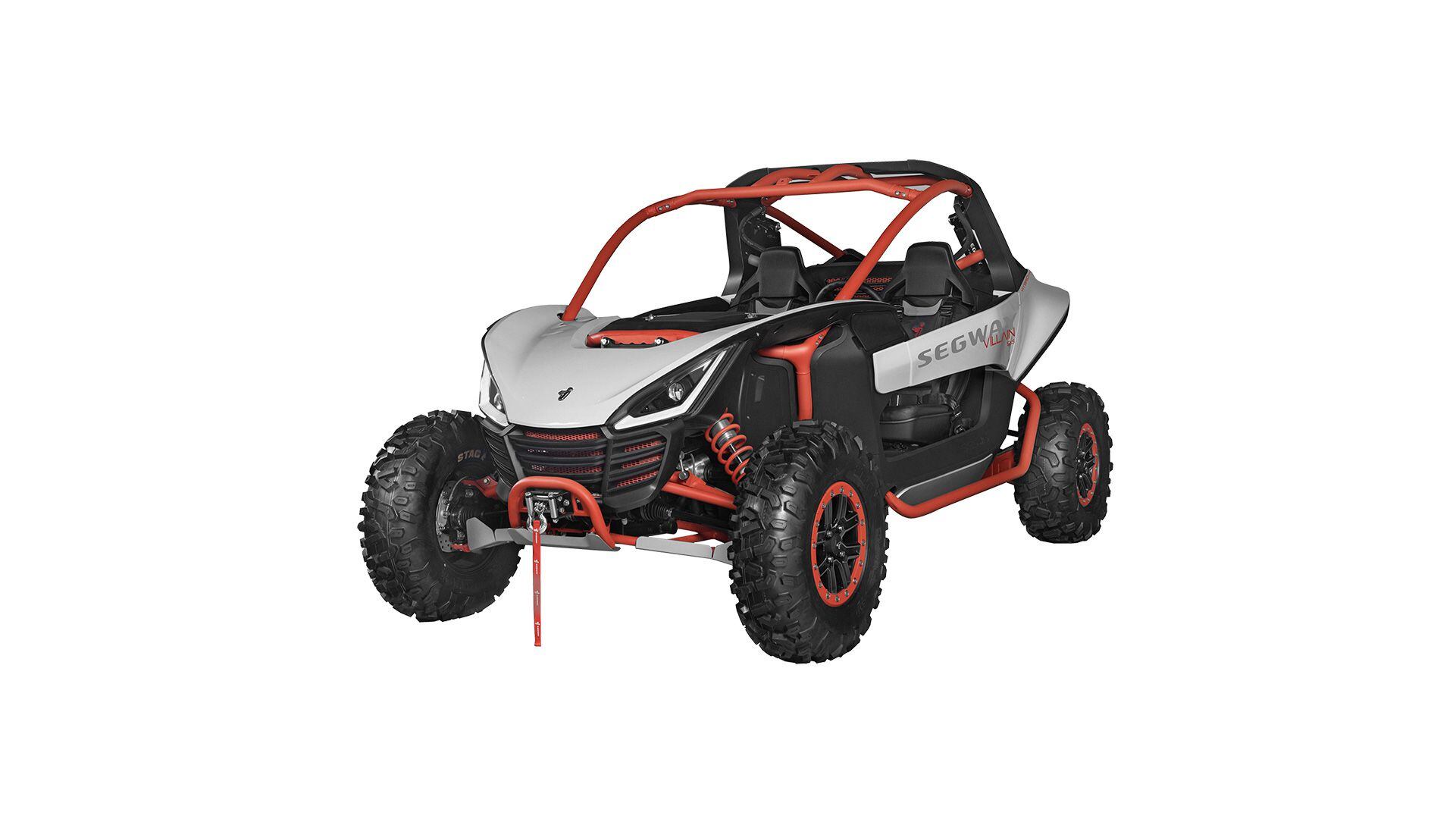 Segway says the Villain will be available in 64- and 72-inch widths. (Segway/)
The shocks come with high- and low-speed compression adjustments as well as rebound and preload adjustments. Shocks are equipped with remote reservoirs to provide additional cooling to internal shock components.  Aluminum beadlock wheels and skid plate protection are also standard.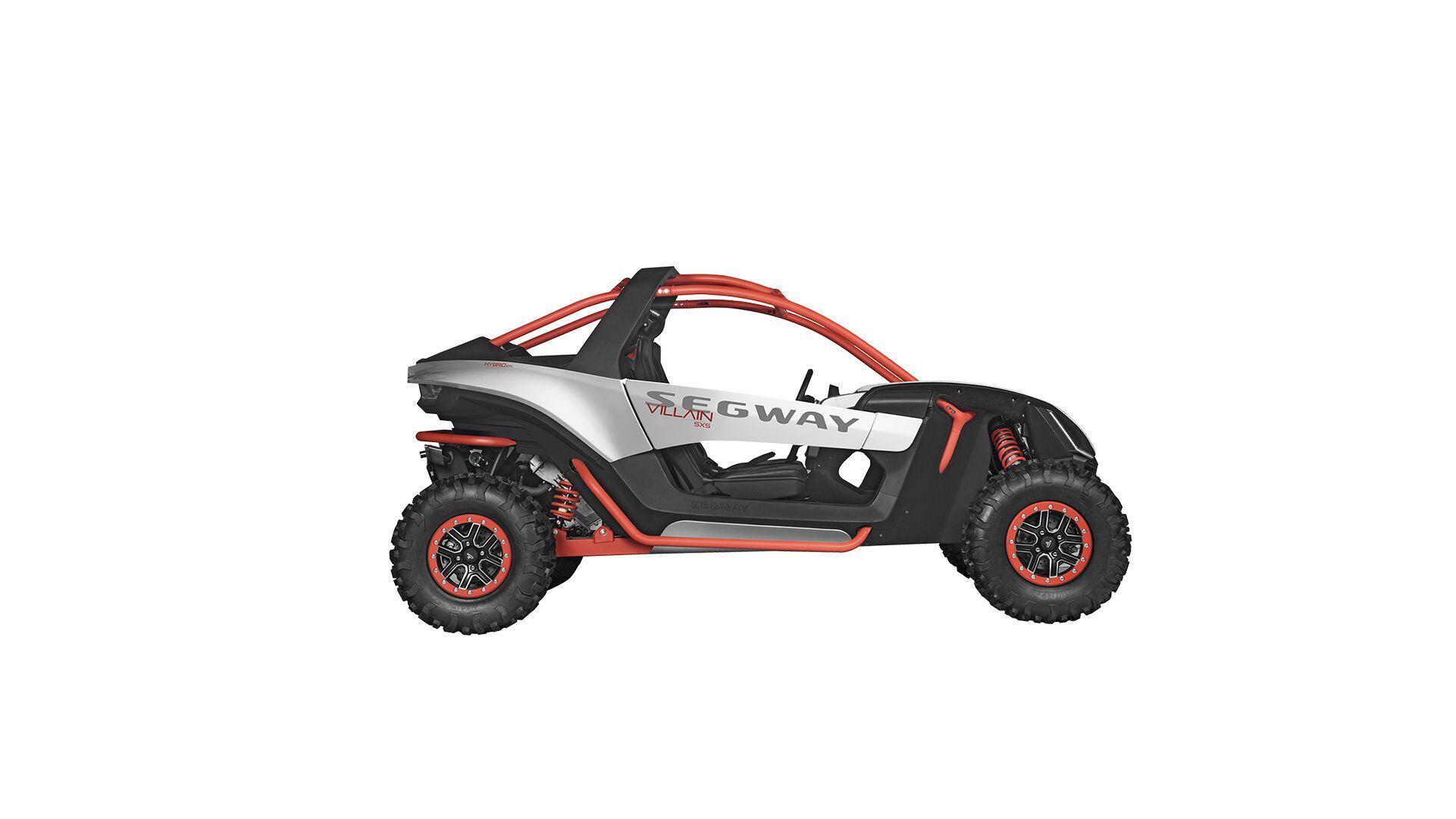 The chassis is made of chromium-molybdenum tubing and includes rock sliders and a front bumper. (Segway/)
For now, the Villain is only available as a two-seater. The wheelbase measures 102.5 inches and ground clearance is a respectable 14.2 inches. Electric power steering has three selectable assist modes—Standard, Comfort, and Sport. An impressive LED dash and console control center is navigation capable and will work with external cameras. It also utilizes the same Smart Commanding System that we mentioned on the Snarler ATV. Pricing is not yet available for any Segway AT6 Hybrid model.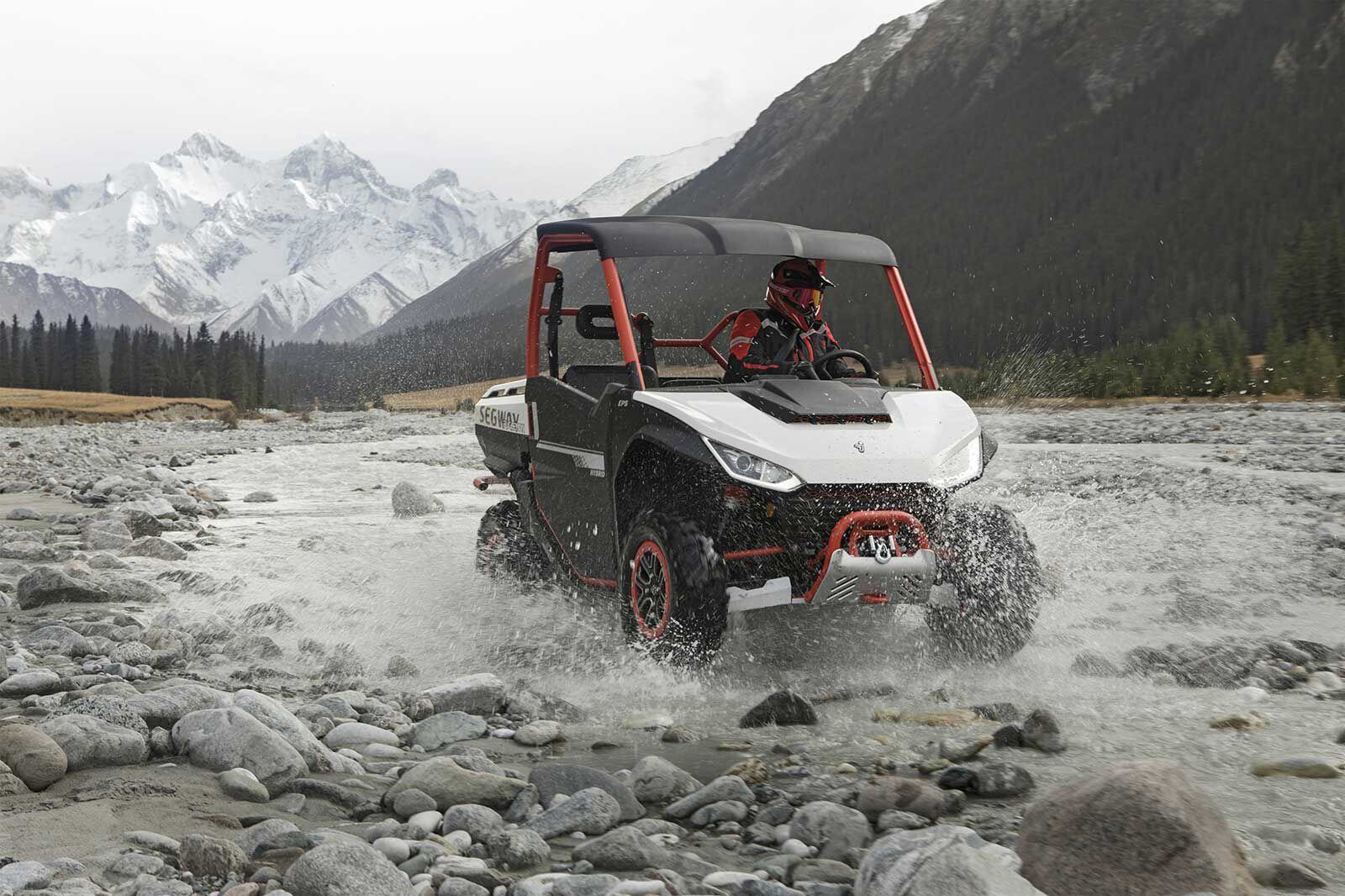 The Segway Fugleman is offered in gas or hybrid power choice. (Segway/)
Fugleman UT6 Hybrid and UT10 UTVs
Segway took a different approach with the Fugleman line of recreational/utility UTVs. The Fugleman UT10 receives the same 1,000cc parallel-twin gas engine as the non-hybrid Villain. It's rated at 107 hp and 72 pound-feet of torque. The UT6 Hybrid is mated with the same 570cc gas and Permanent Magnet Synchronous Motor combination found in the Snarler AT6 Hybrid ATV with 86 hp and 70.8 pound-feet of torque. It's clear that Segway's focus for the Fugleman UT6 Hybrid is longer range with focus on utility.
The 11 inches of wheel travel and 13.8 inches of ground clearance are great for work and play. (Segway/)
The CVT transmission provides high and low range operation. 2WD and 4WD with automatic front differential lock are selectable from the driver's seat. The rear differential can be unlocked to resist turf damage when operating the UTV on grass.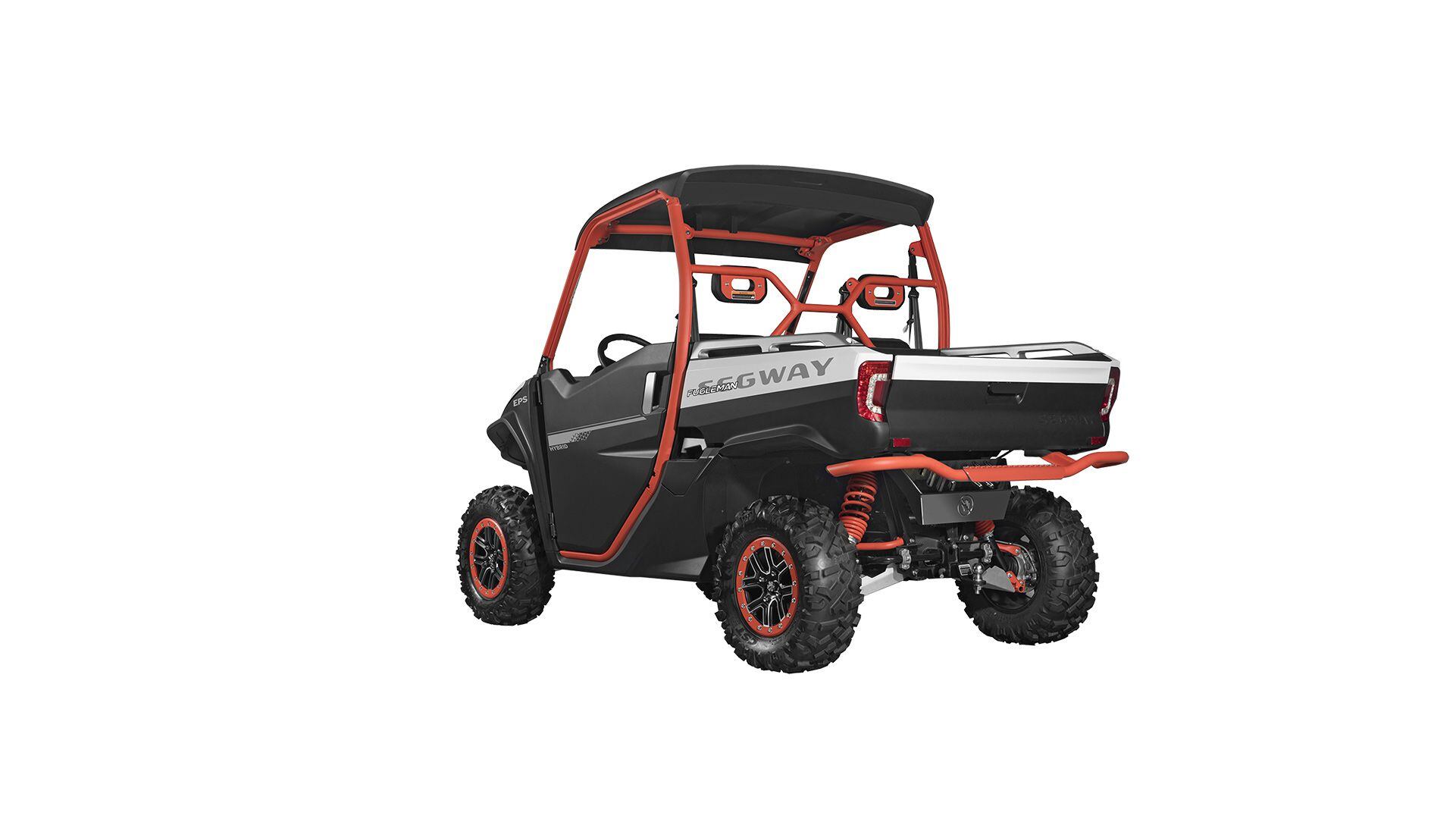 The Fugleman can tow up to 1,700 pounds with its 2-inch standard hitch receiver. (Segway/)
The Fugleman has dual A-arm suspension at all four corners with adjustable shocks that provide 11 inches of suspension travel front and rear. Chromium-molybdenum tubing is used for added strength throughout the entire frame/chassis. A set of 27-inch all-terrain tires are mounted on your choice of 14-inch steel wheels or upgraded aluminum beadlock wheels.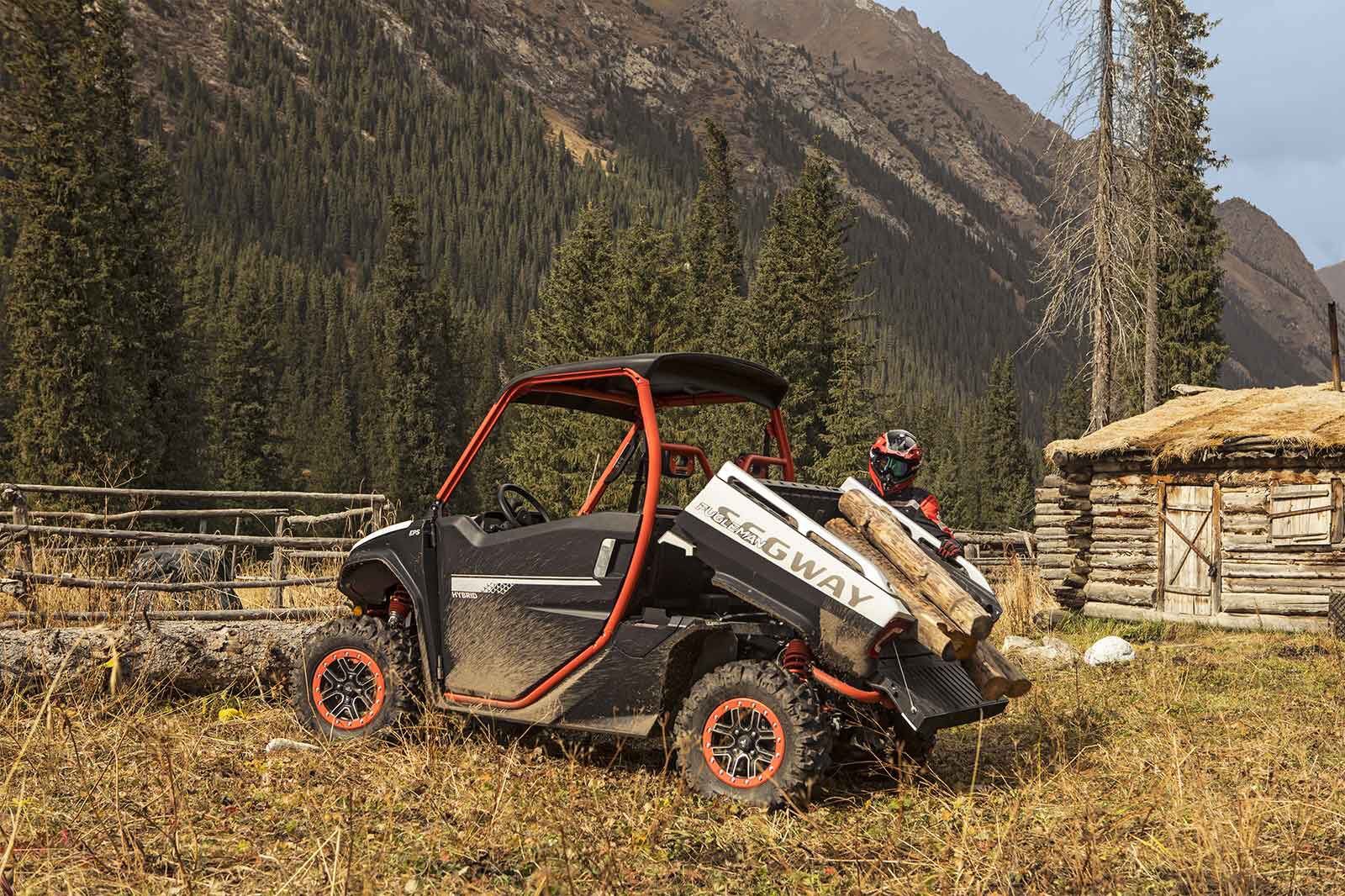 Cargo box capacity is on the light side at just 308 pounds. (Segway/)
The Fugleman has a hydraulic assist dump bed that is rated for 308 pounds. It can tow up to 1,700 pounds with its 2-inch standard receiver. And the 13.8 inches of ground clearance is plenty for hunting and heavy chores.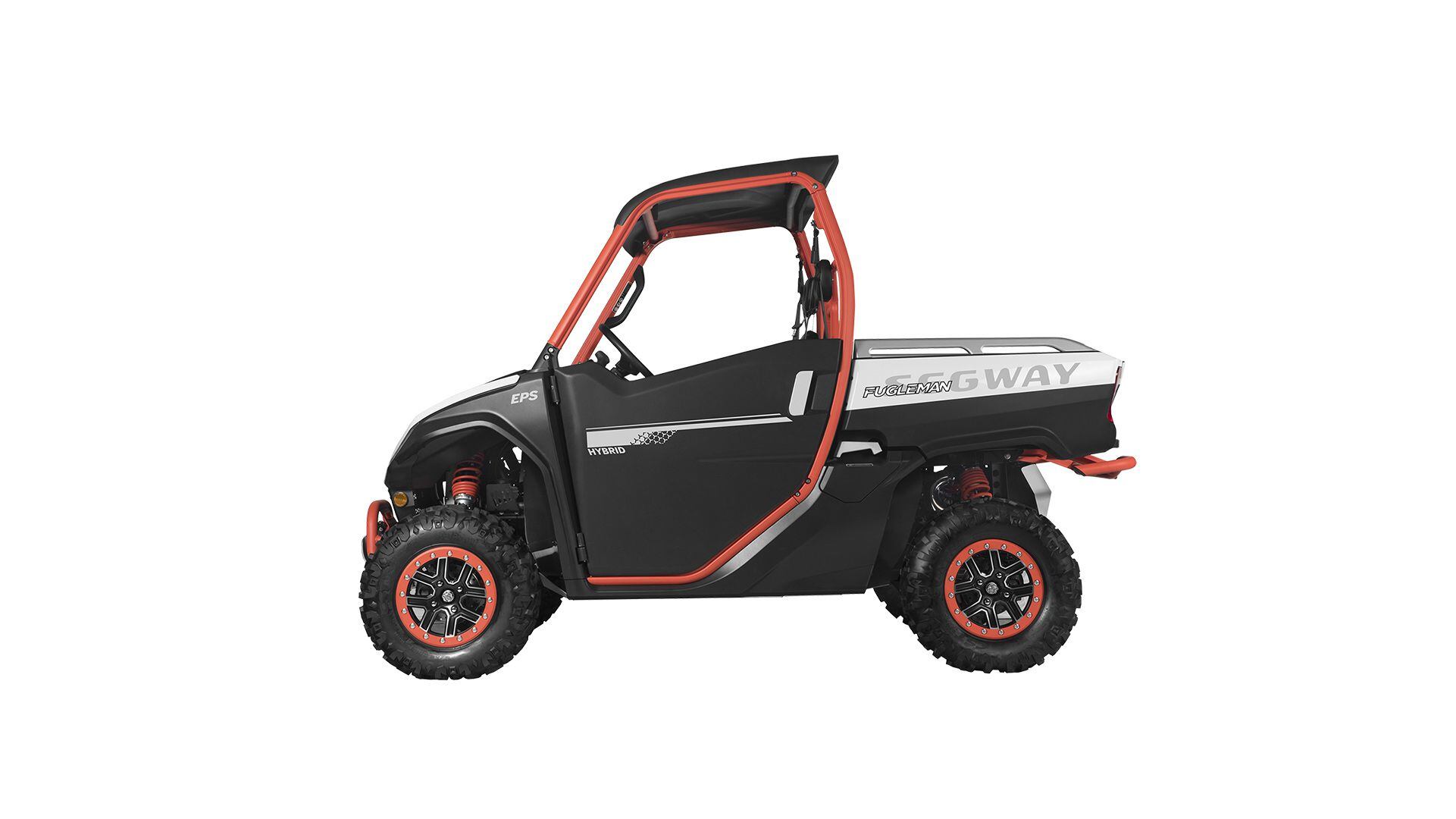 The Fugleman comes standard with large doors and a roof. (Segway/)
It's a workhorse, but it still receives a lot of the same bells and whistles that are unique to all Segway machines. That includes the Smart Commanding System that delivers multiple online applications including vehicle remote security, safety monitoring, and emergency notifications via 4G and Bluetooth. Three-mode power steering is also standard on the Fugleman. US pricing on Fugleman models is not yet available.
For more information on all Segway Powersports products, visit Segway online here.