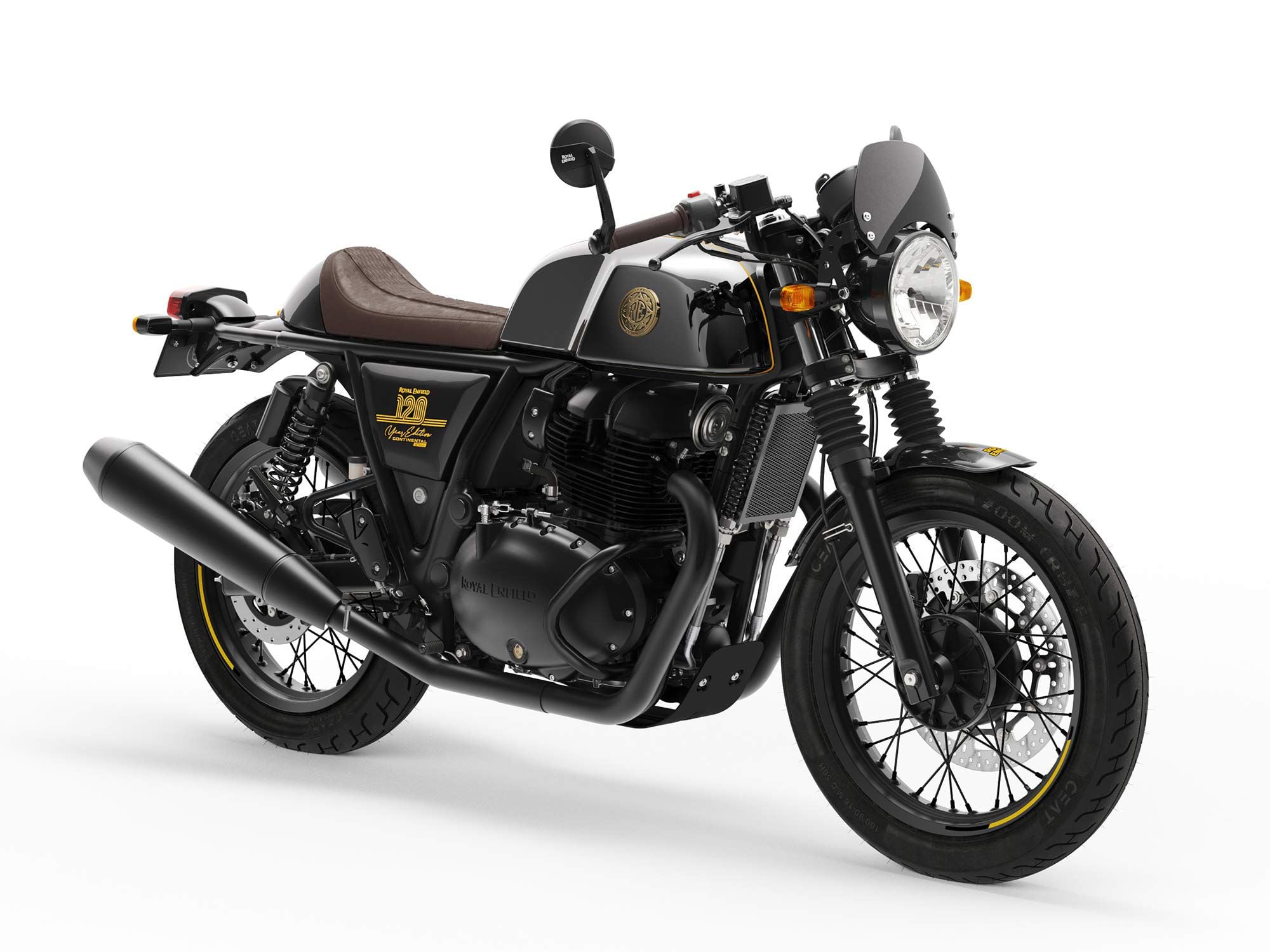 Royal Enfield's new 120th Anniversary Edition Continental GT 650 will wear a black chrome tank developed in-house by the company. (Royal Enfield/)
The number of motorcycle manufacturers still in continuous production after more than 100 years can be counted on one hand, so it's understandable if any major anniversary past that rarified century mark would be celebrated to the fullest.
That's just what Royal Enfield is doing via two new 120th anniversary models just unveiled at the EICMA 2021 show. The brand rolled out exclusive versions of the INT650 and Continental GT 650, both of which will be available in very limited numbers of only 480 units. The bikes feature black chrome tanks enhanced with classic hand-painted pinstripes, and are decked out with handcrafted, specially numbered badges and exclusive graphics, but they are mechanically unchanged from the base models.
Related: 2021 Royal Enfield Meteor 350 First Ride Review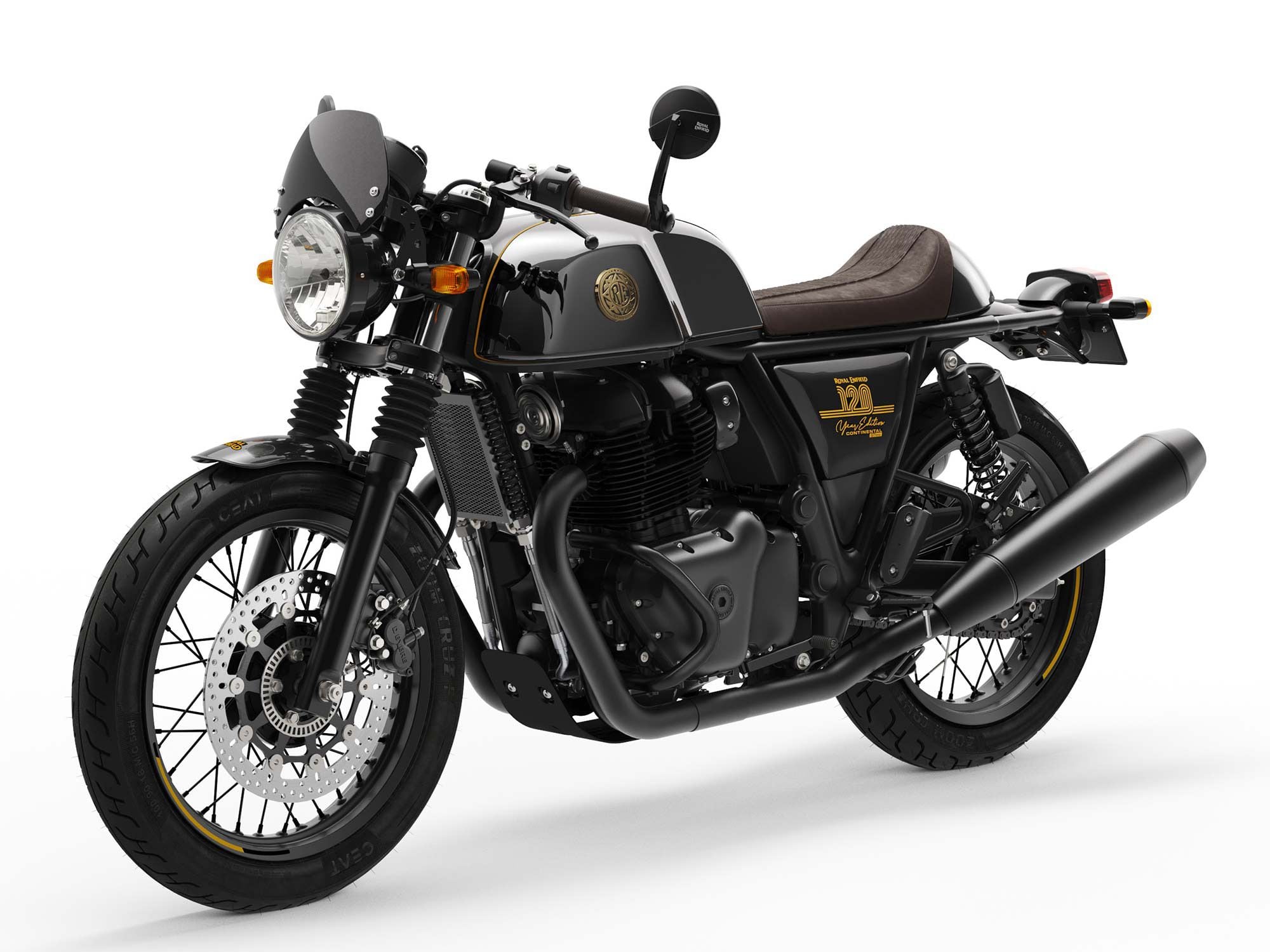 Both the Continental GT 650 and Interceptor 650 will also feature blacked-out components, a first for Royal Enfield. (Royal Enfield/)
For Enfield, the celebration started back in 1901, when the company launched its first motorcycle at the Stanley Cycle Show in London. One hundred twenty years of continuous production is a towering achievement for any company, and the legendary Royal Enfield Interceptor and Continental GT—whether the 1960s versions or the recent, hugely popular 650 variants—were obvious references for the limited-edition livery.
The 120th Year Anniversary Editions are based on the current INT650 and Continental GT 650 machines, but got a lot of creative input from the company's teams across the UK and India. The bikes' striking black-chrome tank scheme, for example, was developed in-house using Enfield's chroming technology at the firm's original factory in Chennai, India, and both bikes also feature completely blacked-out components, the first time that sort of look has been seen on a Royal Enfield. It's a savvy choice that imbues the unassuming classic stance of the stockers with a more custom, streetwise attitude.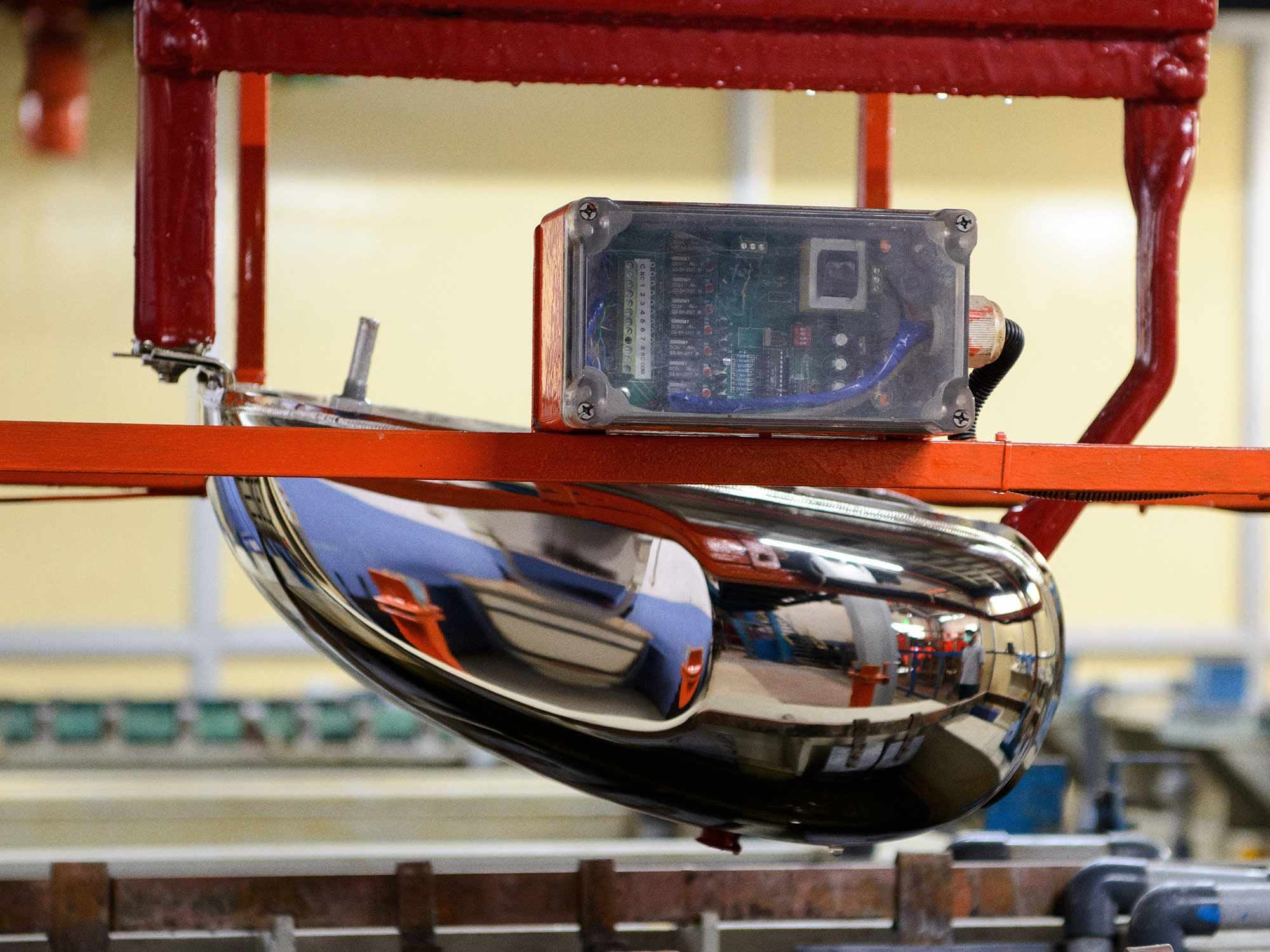 The tank is made with an alternate, sustainable trivalent eco-friendly process, and is accented by blacked-out components—a first for Royal Enfield. (Royal Enfield/)
Unique chrome finishes are certainly impressive details, but to take it up another notch, the tanks are also embellished with hand-painted pinstripes and, as a crowning touch, topped with die-cast brass tank badges crafted by artisans specializing in brass detailing for revered temples in India.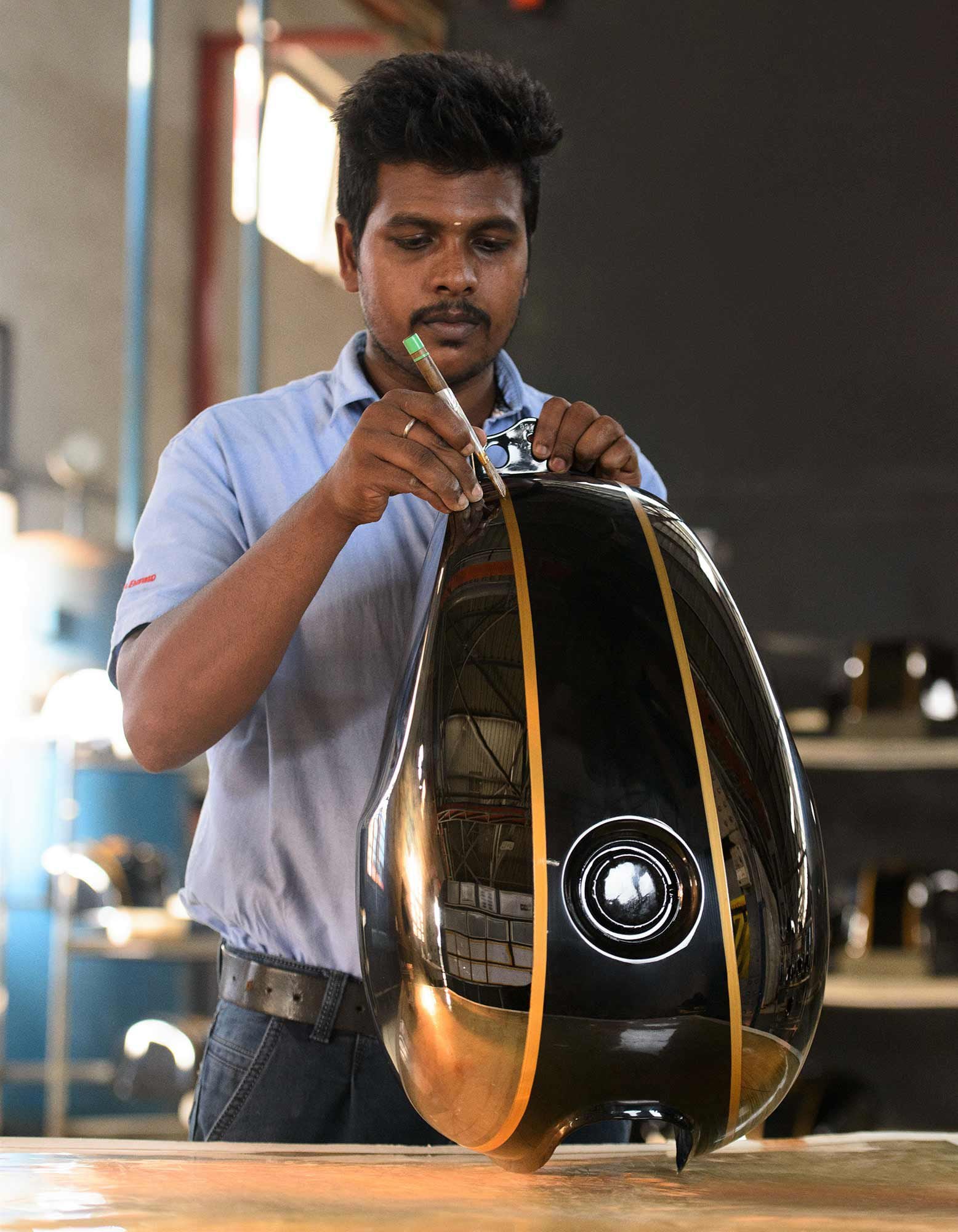 The tanks also feature classic Royal Enfield hand-painted pinstripes. (Royal Enfield/)
To make each machine even more exclusive, the tank badge will feature the unique serial number of each motorcycle, and each bike will also get a side-panel decal indicating Royal Enfield's 120 years. The bikes also get tricked out with a range of accessories from the Enfield catalog, such as fly screens, engine guards, heel guards, touring and bar-end mirrors, and all in black, to keep with the overall theme.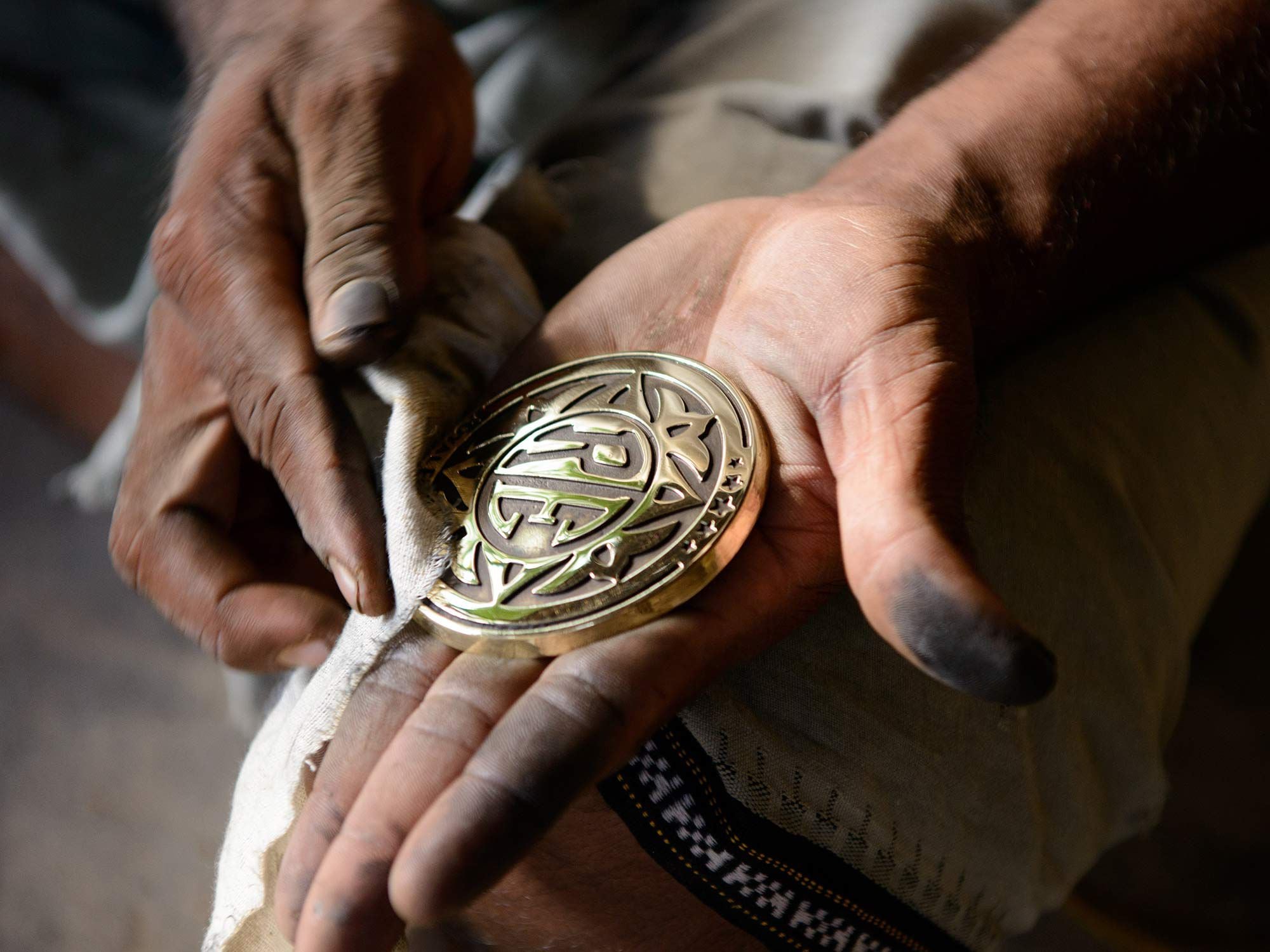 Brass tank badges are a collaboration with the Sirpi Senthil family, multigenerational artisans from a temple town in India. (Royal Enfield/)
As mentioned earlier, these bikes will have a limited run of just 480 units worldwide—which means 120 bikes for each of the four regions Enfield has designated. For North America, just 60 Continental GT 650s and 60 INT650 units will be allocated; Enfield says pricing and availability will be announced shortly.
The bikes are equipped with Enfield accessories like fly screens and bar-end mirrors, and get special 120th anniversary graphics. (Royal enfield/)