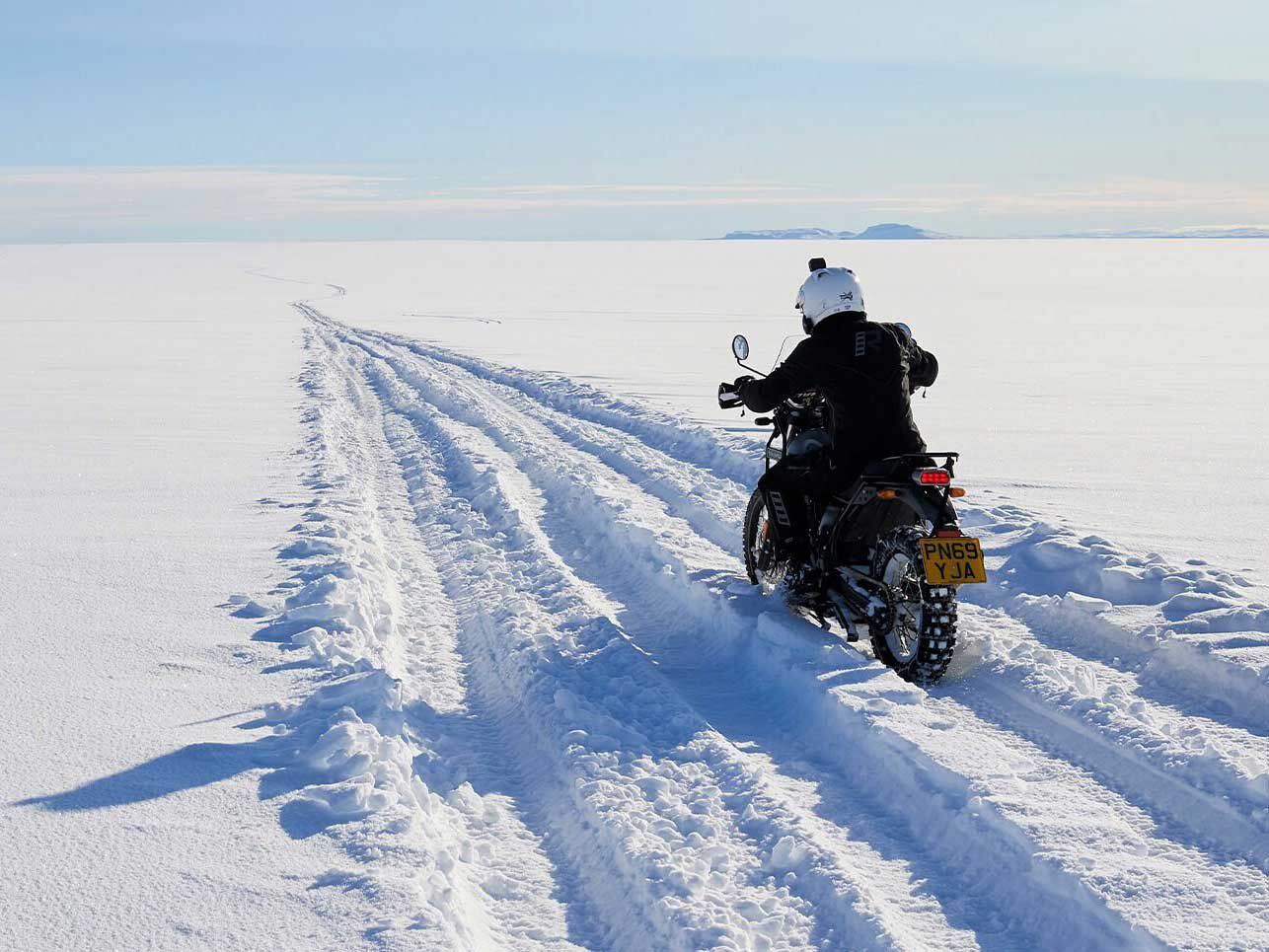 Journey to the bottom of the world? The Royal Enfield team headed south to cross Antarctica earlier this month. (Royal Enfield/)
A circumnavigation of the globe, a breach of the Darien Gap, a successful crossing of the Sahara—there's no shortage of hardcore achievements an adventure motorcycle can notch up to validate its hardcore off-road bona fides. But Royal Enfield has taken the idea about as far as possible for its Himalayan adventure bike with a recent and successful rip across Antarctica to plant its flag at the South Pole.
Two Himalayan models were chosen for modification for the expedition, the first of its kind to the South Pole. (Royal Enfield/)
The Royal Enfield team, including riders Santhosh Vijay Kumar and Dean Coxson, set out from Novo (aka Novolazarevskaya research station) in Antarctica on modified Himalayans, covering an overland distance of 3,200 kilometers (1,988 miles) over the next nine days. The expedition encountered extreme conditions, naturally, from bone-chilling temperatures between -22 degrees to -13 degrees Fahrenheit and wind speeds of 37 mph, while slowly grinding toward the Ross Ice Shelf.
An unexpected blizzard forced the expedition team to alter their course more than once, but despite slight detours, the bikes and support crew reached the South Pole on December 16, 2021.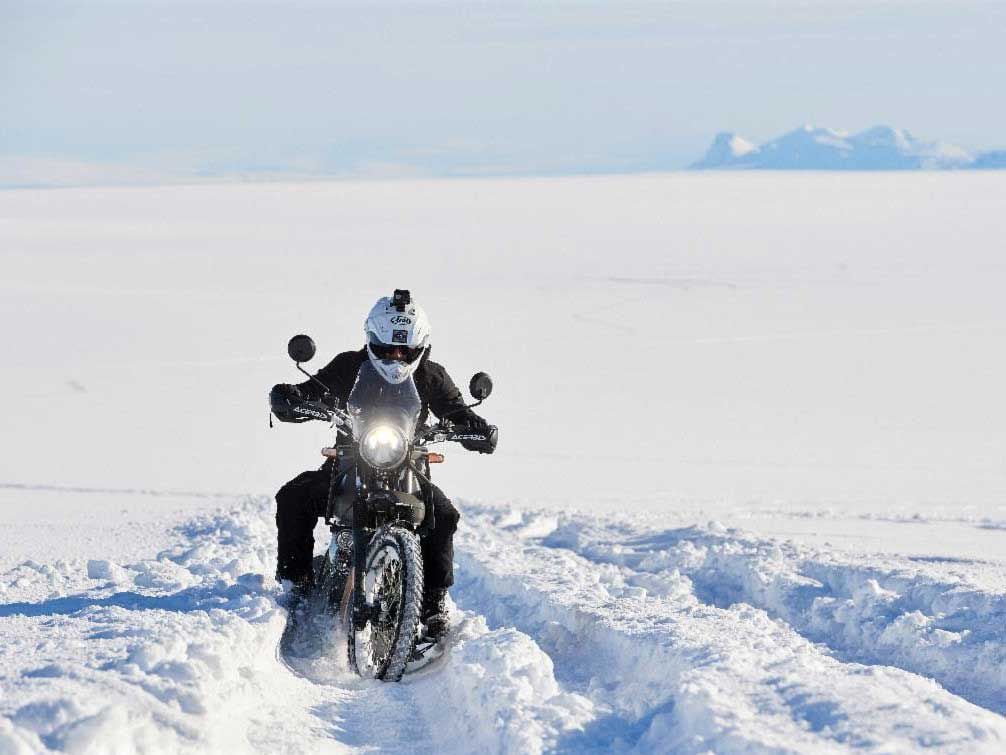 Even with studded tubeless tires running extremely low tire pressure, riding in snow is brutal. (Royal Enfield/)
Of course a trek across the snowy and roadless expanse of Antarctica would require modifications for any vehicle. The Himalayans were modified in-house to prep them for navigating the snow and ice and to merely be able to function in the severe conditions. The bikes were also ridden on a compacted snow track from the Ross Ice Shelf to the South Pole to reduce drag, limit emissions, and better align with Enfield's environmentally conscious #LeaveEveryPlaceBetter initiative.
The bikes are still in Antarctica, and the team is currently heading toward Union Glacier in the west, planning to fly out from there to Chile at journey's end.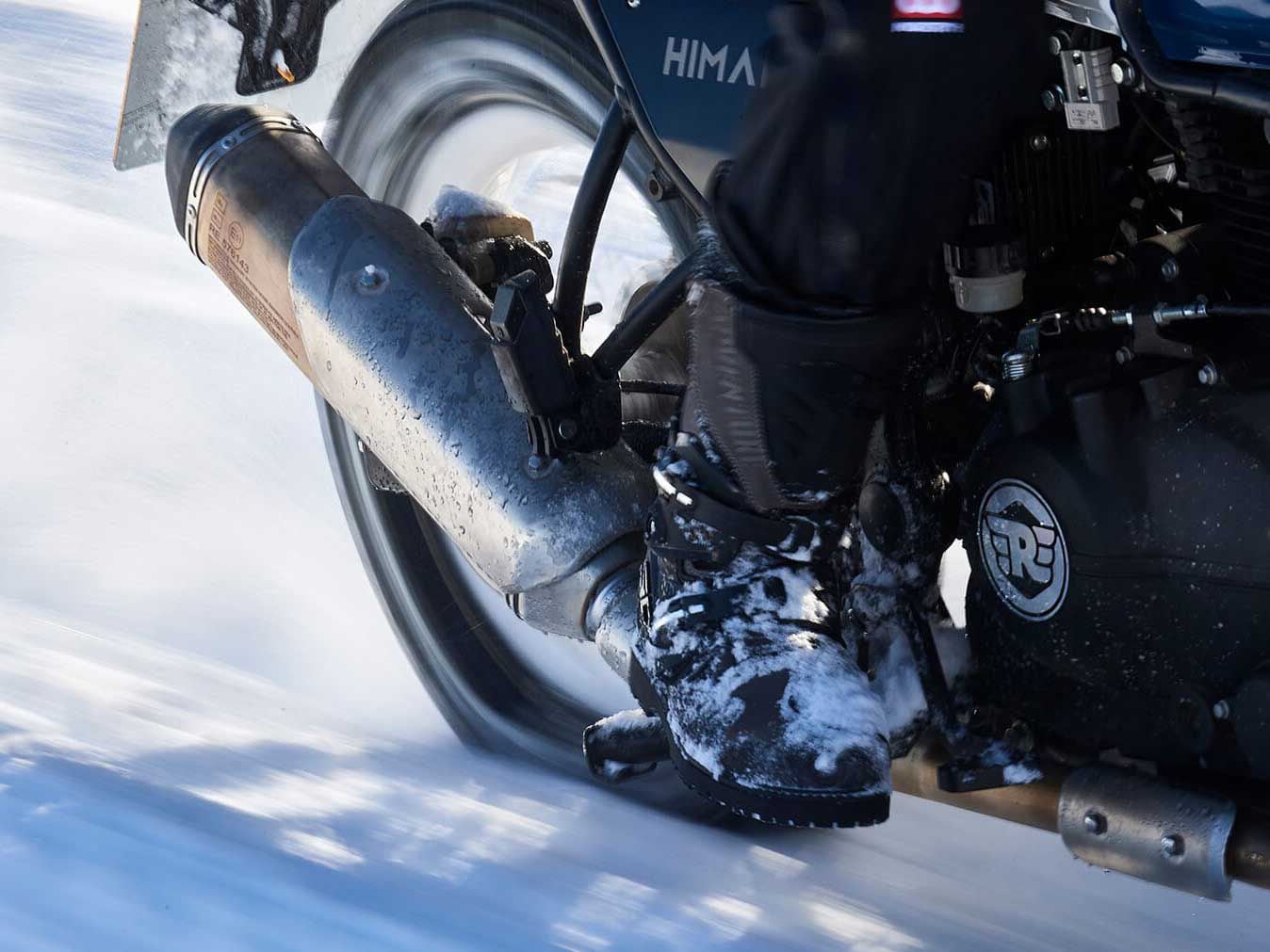 Other mods for the journey were minimal, such as smaller countershaft sprockets to boost low-end response and stronger alternators to accommodate heated gear. (Royal Enfield/)
Related Article: A 3,500-Mile Royal Enfield Himalayan Summer