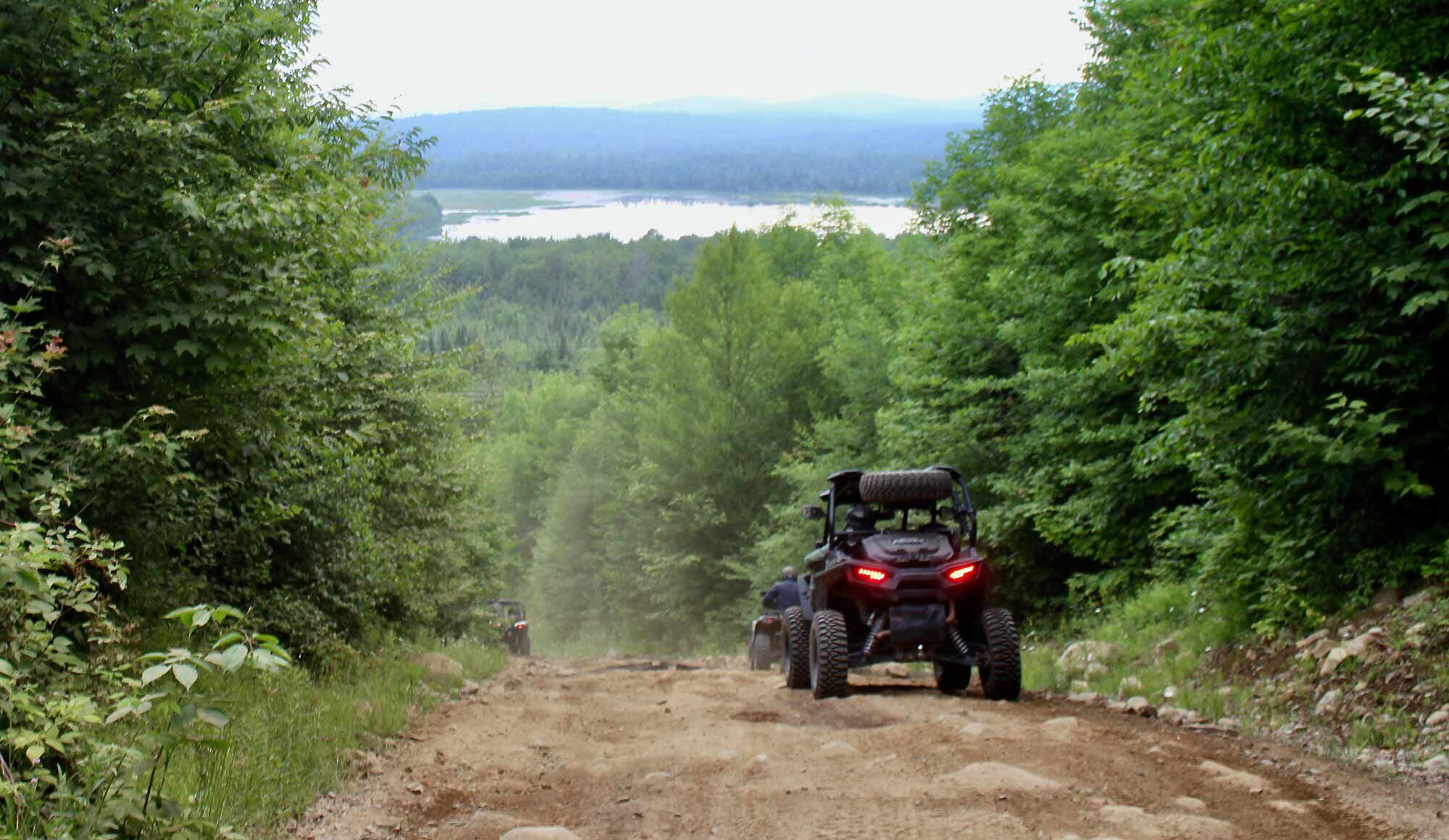 ATV and UTV heaven. More miles of trails than you can imagine and gorgeous scenery to go with it. (Ross Ballot/)
Up in the wilds of New Hampshire's North Country, ATV and UTV culture is flourishing. Jericho Mountain State Park has become a four-wheeling haven, a must-ride for those in the sport who live in the region. But the allure of the White Mountains isn't just for the trails themselves, but for the all-encompassing experience. If you eat, sleep, breathe, and live for ATV and UTV adventures, northern New Hampshire is the place for you.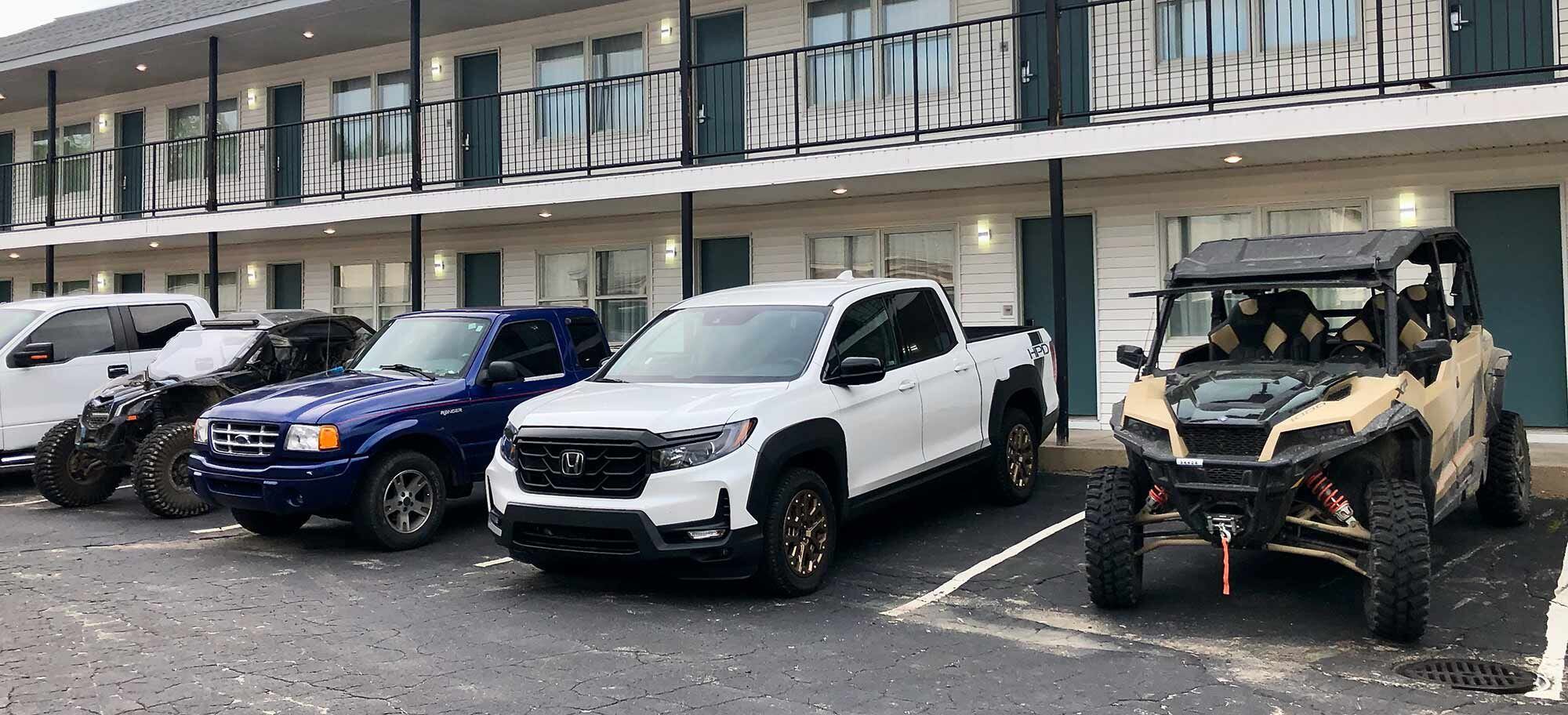 The motels and hotels are living, breathing examples of off-road and on-road life coming together. (Ross Ballot/)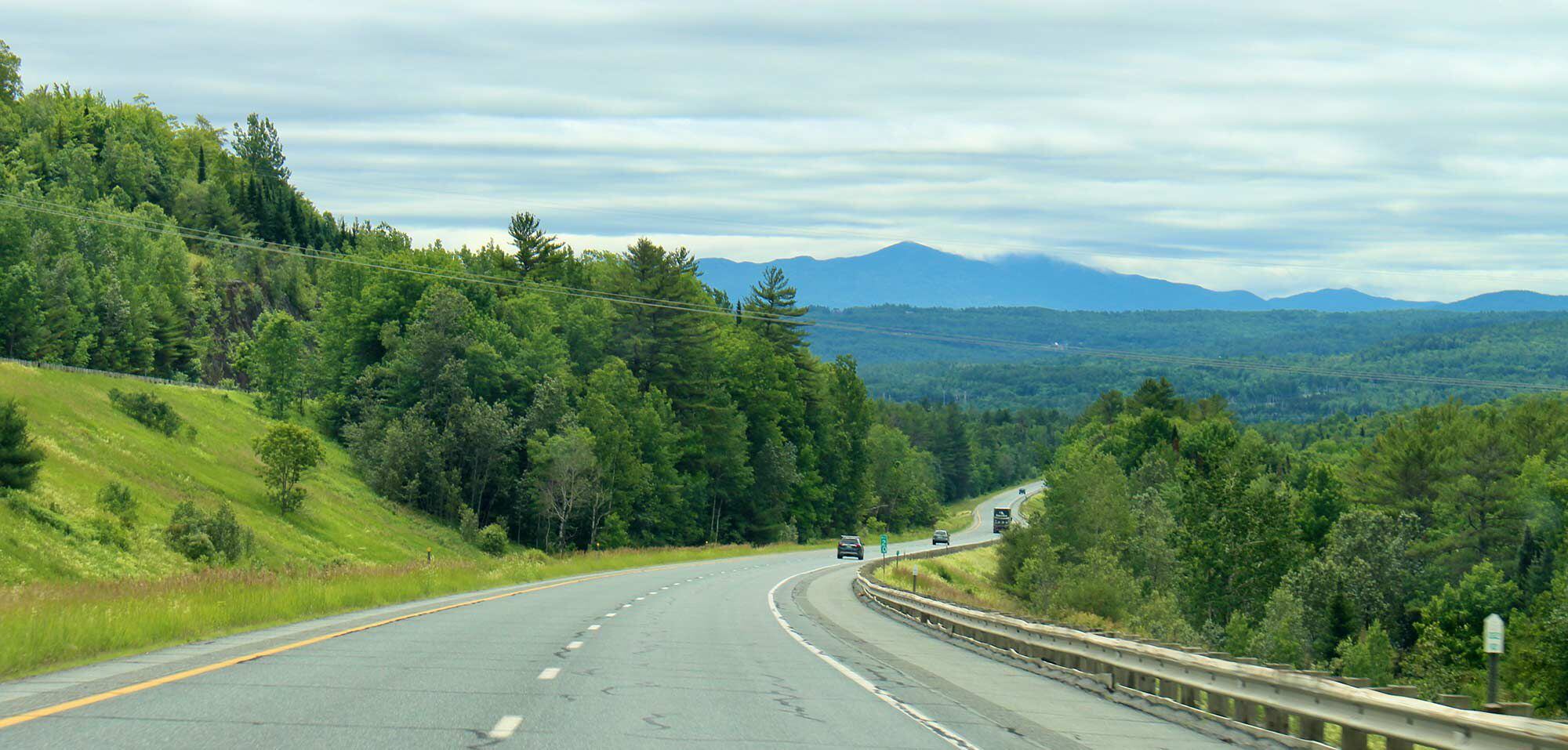 The drive up is like looking into the eye of the storm of beauty that is the North Country. (Ross Ballot/)
The tiny town of Gorham is home base for most visiting enthusiasts. The population barely crested 2,600 people in the most recent census. On a popular riding weekend early in the summer, it easily feels like the number of people in Gorham has doubled, if not tripled. Hotels, motels, restaurants, gas stations, convenience stores, and of course powersports facilities are all swarmed with off-road machines and the people who have come to the area to enjoy them.
Related: Exploring New Hampshire With the Can-Am Outlander 650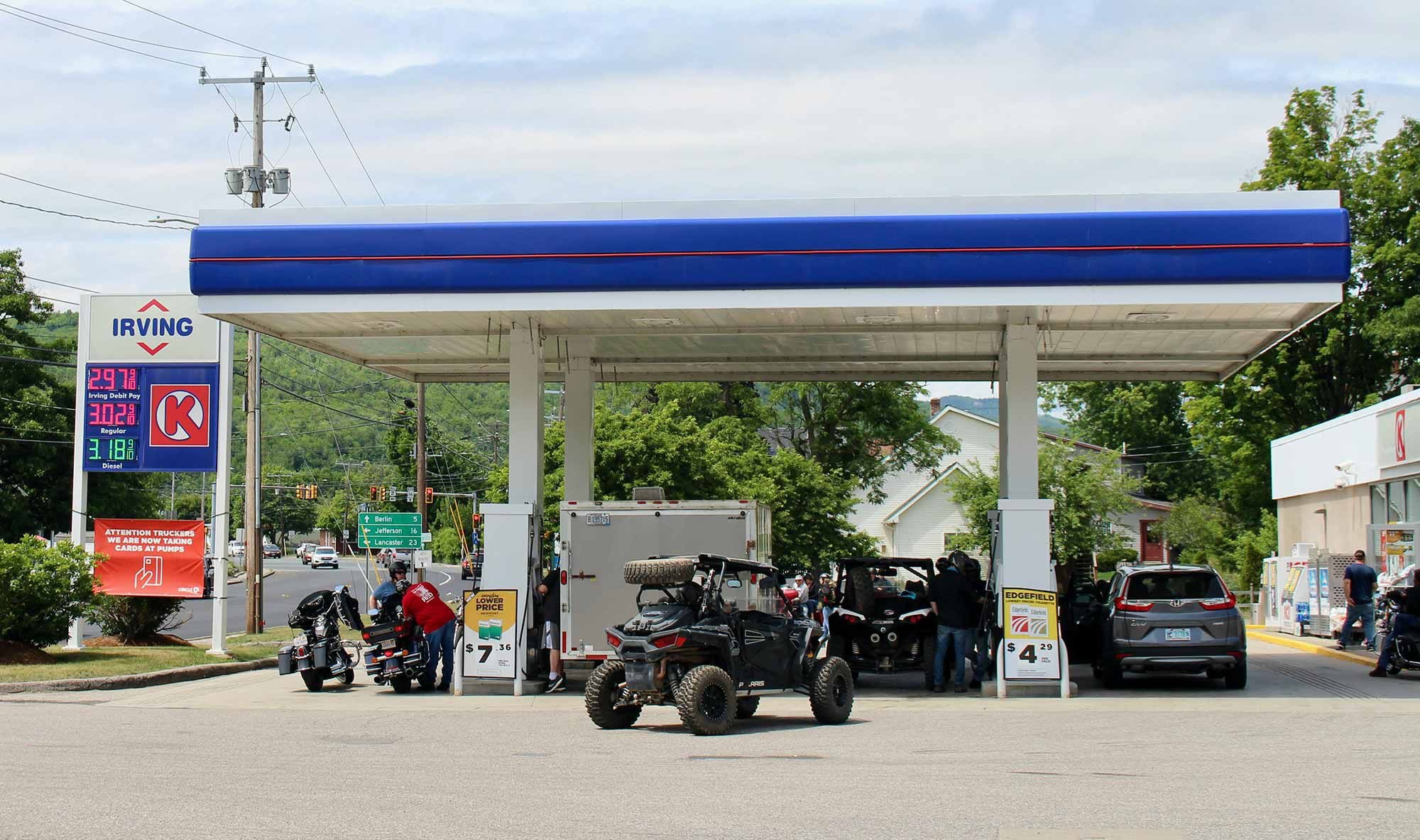 Act like a road vehicle, play like an off-road vehicle. ATVs and UTVs are part of every aspect of life here. (Ross Ballot/)
Jericho Mountain State Park is the area's main attraction, spanning 7,400 acres and offering nearly 100 miles of trails. It's an amusement park of obstacles, terrain, and scenery. The White Mountains backdrop every trail. The tall trees and blue skies give the area a distinct Appalachian-meets-Canadian feel. It's remote, and cell service fares accordingly. Highlights include the wind turbines in Jericho, countless lakes and ponds, and the assortment of oddities on the trail, like traversing old railroad bridges. Wildlife, especially moose, are hiding in the dark cover of the woods.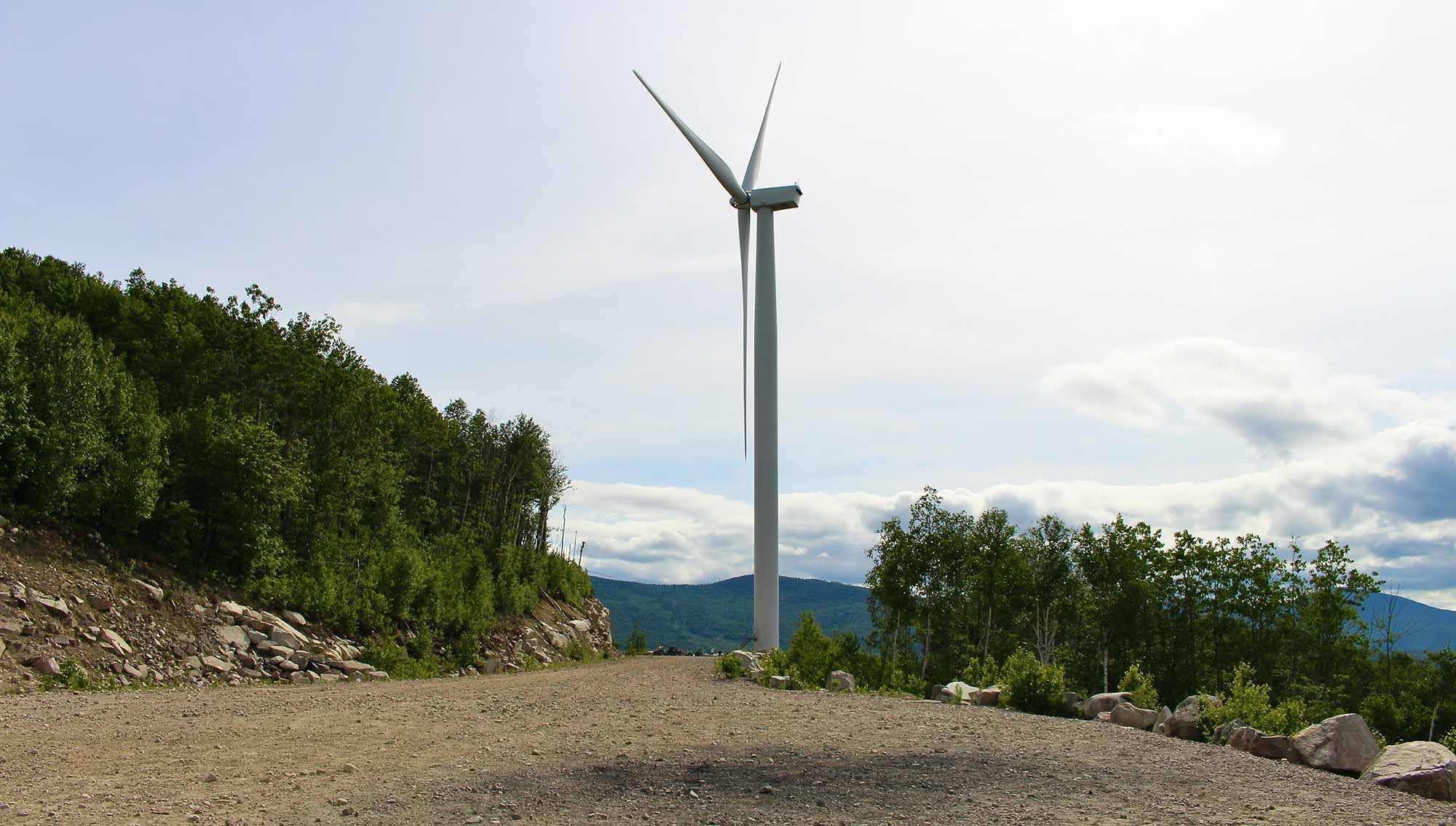 Jericho's massive windmills are always an appealing stop. The sheer size of them is astounding, as is the noise they make. (Ross Ballot/)
All together, the region has around 1,000 miles of interconnected trails. Gorham is the southernmost point, and it's outside northern Pittsburg that cell phones begin warning of international rates. Our favorite loop has us starting in Gorham, eating lunch in Colebrook, riding through Pittsburg to round out the trail system, and then heading back down to Gorham in time for dinner.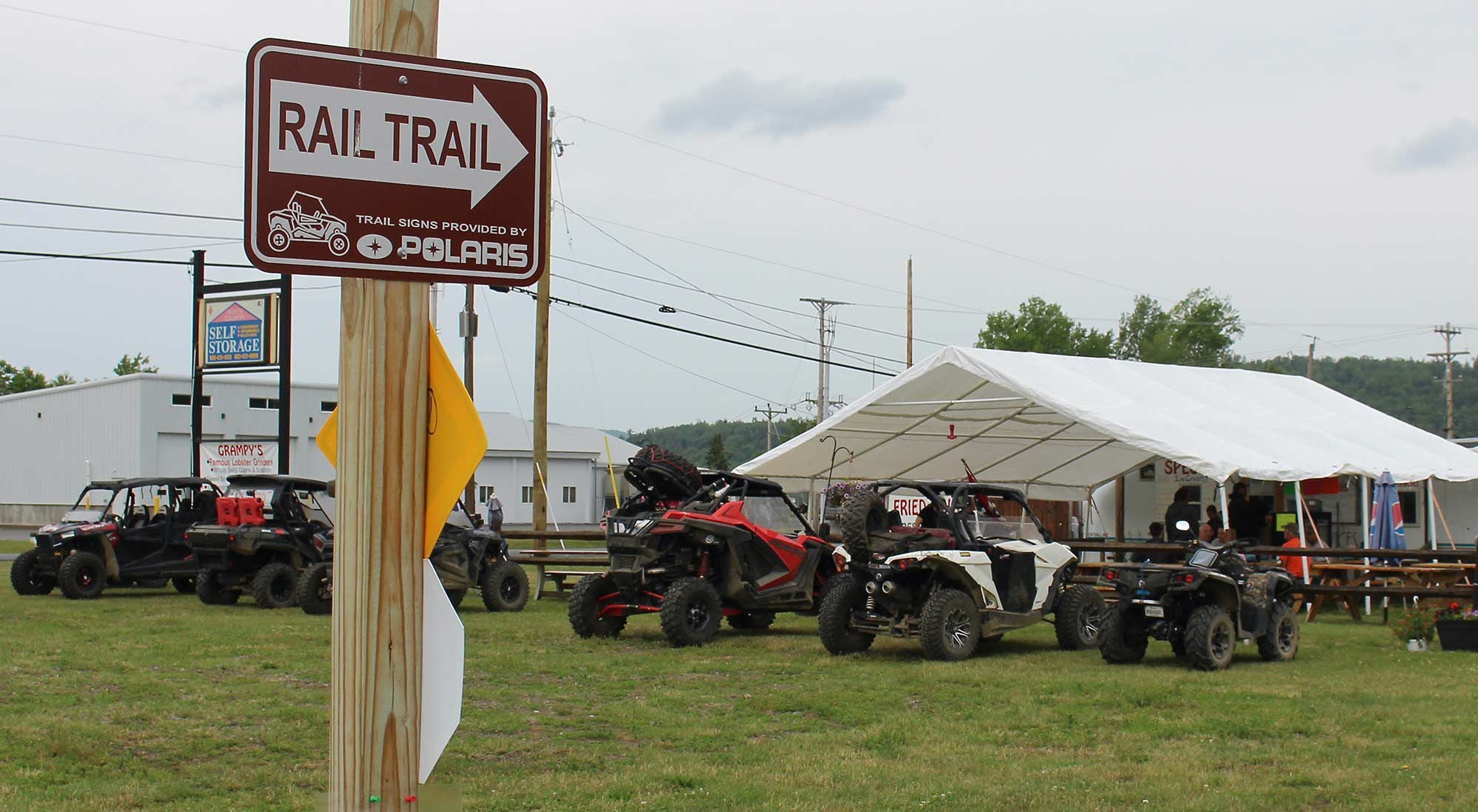 Lunch in Colebrook. Ride off the trail, grab a bite, get back on the trail. (Ross Ballot/)
So far north, the riding conditions can vary wildly. On one morning we hit the trail in long-sleeve shirts and by lunch break wished our machines had air conditioning. The next, we were sweating by the time tires touched dirt and were shivering by day's end. And that's to say nothing of nearby Mount Washington. During the annual ATV-and-UTV-friendly event, many riders go through multiple seasons' worth of clothing changes in a few hours' time. For a long day on the trails, be sure to check the weather not only for where you're starting, but for where you're headed as well. We mistakenly didn't do so, and on a 150-mile round-trip ride ended up in torrential downpours for the majority of the day near the Canadian border, while the town in which we were staying was bone dry. Even in the rain, the trails are a blast.
Related: Ten Best ATV Resorts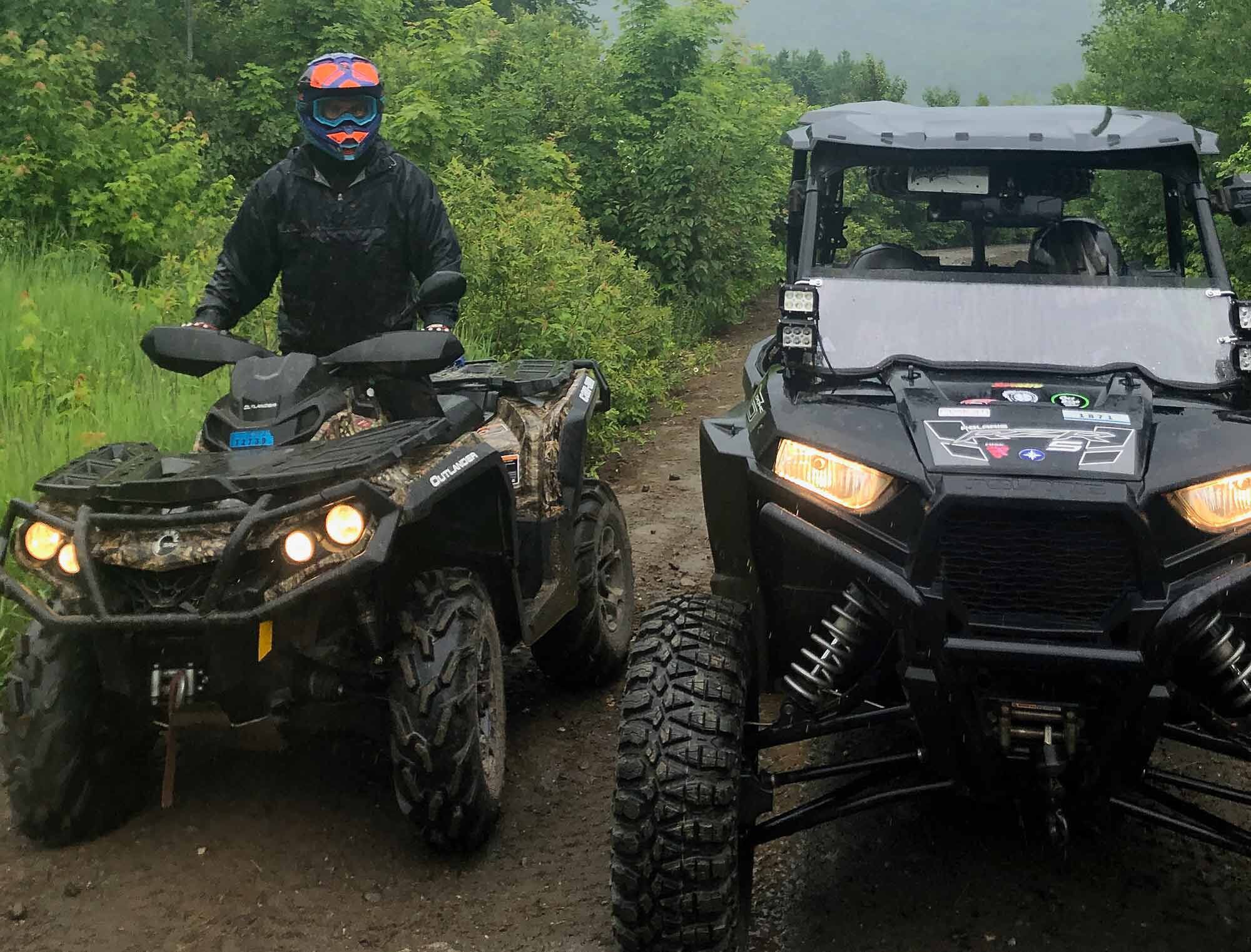 Rain doesn't spoil the fun. Dress accordingly. (Ross Ballot/)
Along the way, there's a mix of terrain for everyone. The trails are predominately dirt and a mix of mud and scattered rock, but an occasional rock face or overflowed-river-turned-mud-bog provide extra variety. Connecting the dots includes twisty, rising, falling, winding trails. An occasional straightaway simply means connecting two points but offers reprieve from more trying sections. It's supremely easy to get lost, and riding the region requires a trail GPS or local guide for all but those most familiar with the region. Ask us how we know.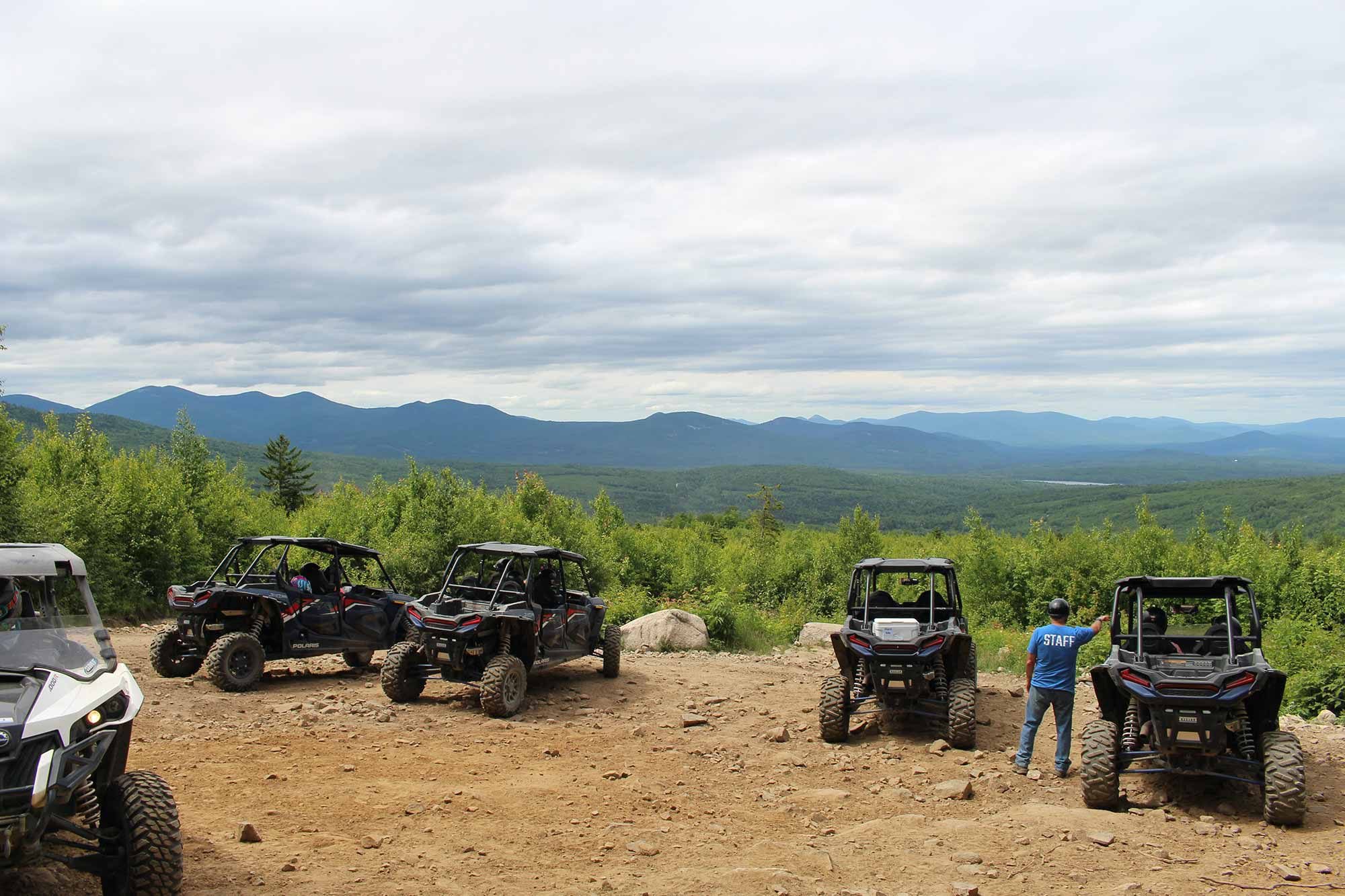 Northern New Hampshire is a massive expanse of trails ready for your enjoyment. Try not to get lost. (Ross Ballot/)
There are easy trails and fire roads for beginners. Medium difficulty routes for those hobbyists looking for fun but not to push their luck. And difficult, experience-testing trails featuring rock climbs, deep mud, and persistent difficult terrain for the advanced riders. It's a place where novices and experts alike can enjoy every moment spent off tarmac. Or on, as riding on the roads is a perpetual novelty for those of us not fortunate enough to have access to such with our local riding.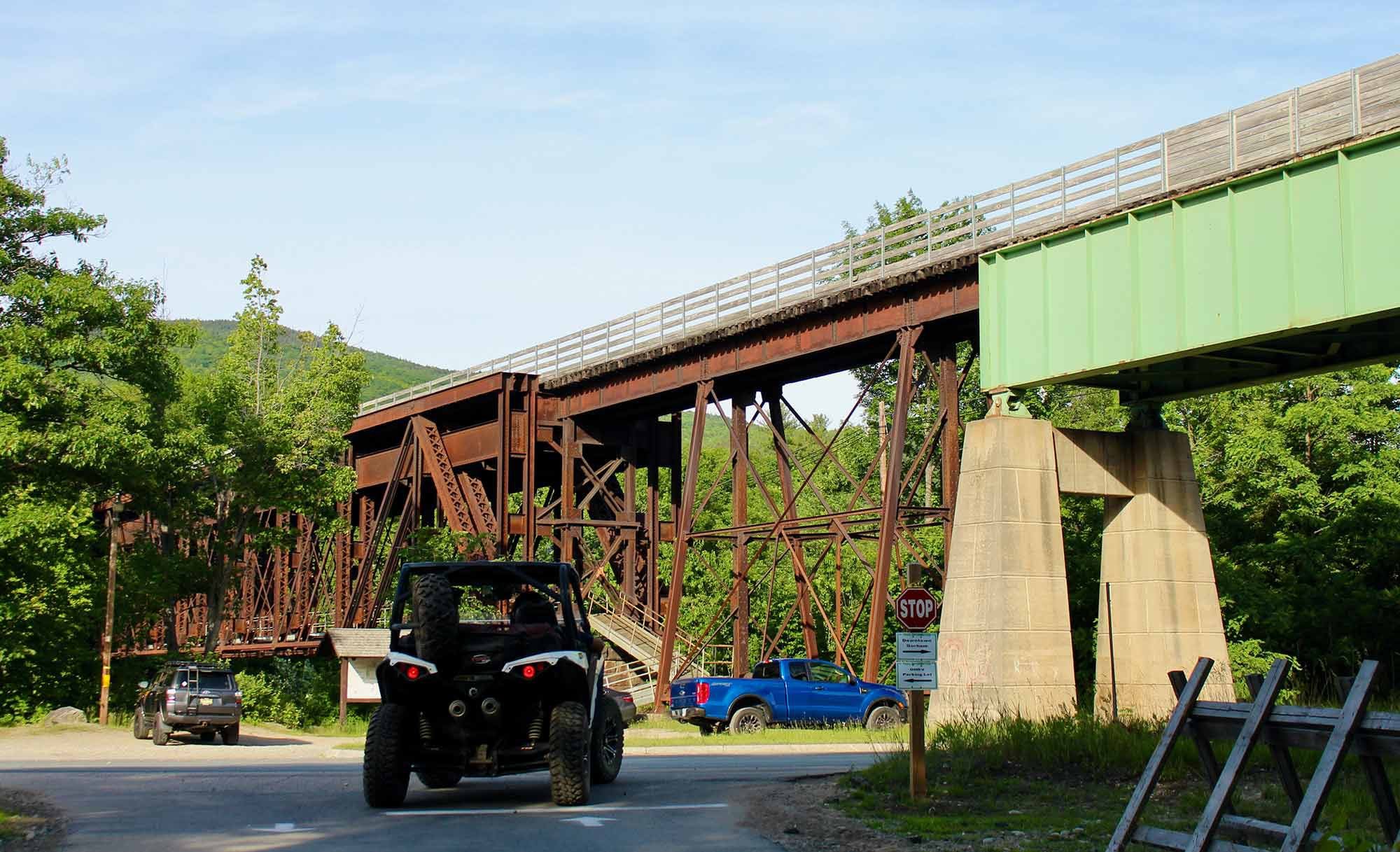 Re-entering public tarmac roads is forever a novelty, especially after crossing retired railroad bridges like those seen here. (Ross Ballot/)
Our only spot of warning for younger or less experienced riders is the inevitability of crossing larger, faster-moving vehicles on the trail. It's not as concerning when they're behind you, but can be a hazard when approaching from the opposite direction. Blind corners are best approached with caution.
Related: Jericho ATV Festival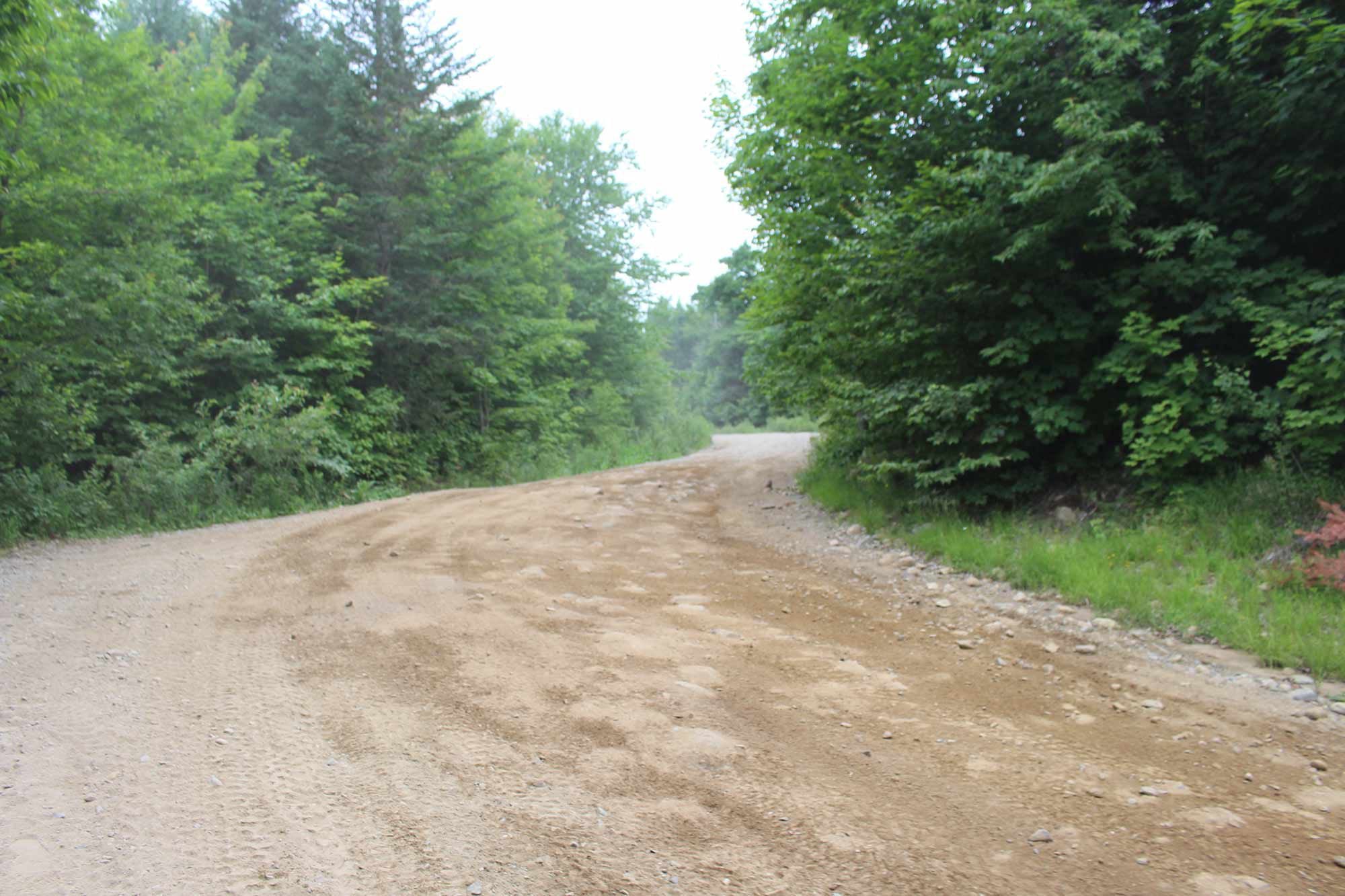 Most trails have speed limits. Please obey them. (Ross Ballot/)
New Hampshire's North Country boasts the kind of excitement and beauty that has you already thinking about going back before you've even left. Bring your friends, family, anyone privy to all things ATV and UTV. And while you're there, take the time to hike, mountain bike, go fishing, or even drive your Jeep on the same trails on which you enjoyed your OHV. The region is one of the few to embrace ATV/UTV culture entirely, and It's an anomaly in the Northeast. We recently wrote: "This isn't off-roading mecca, but it's close." To clarify: It's more fun. It's a wilderness there for your taming, your enjoyment. In a region pockmarked with population density and areas of tiny, private riding and little else, New Hampshire shines.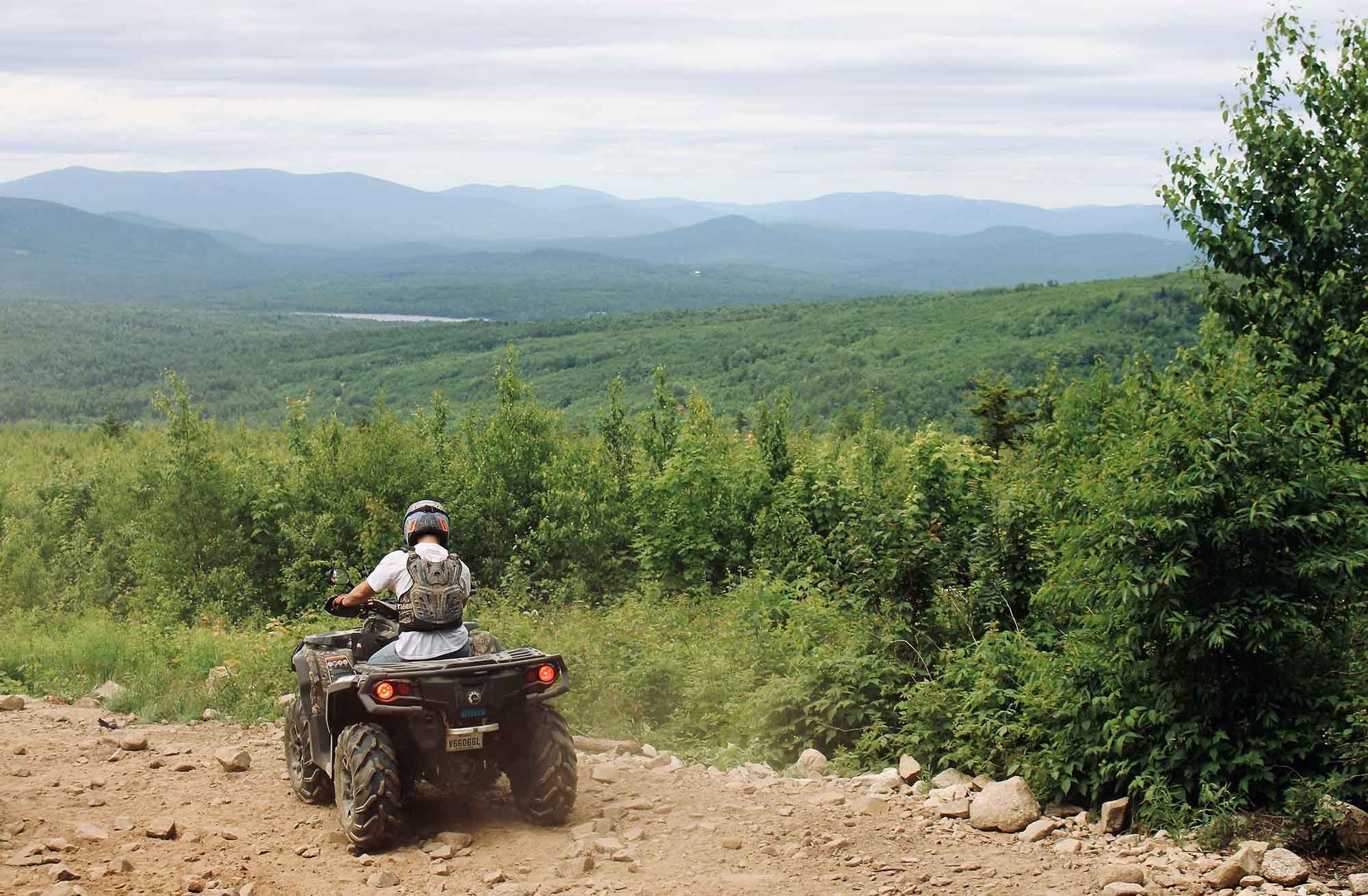 Ride the wilds. (Ross Ballot/)