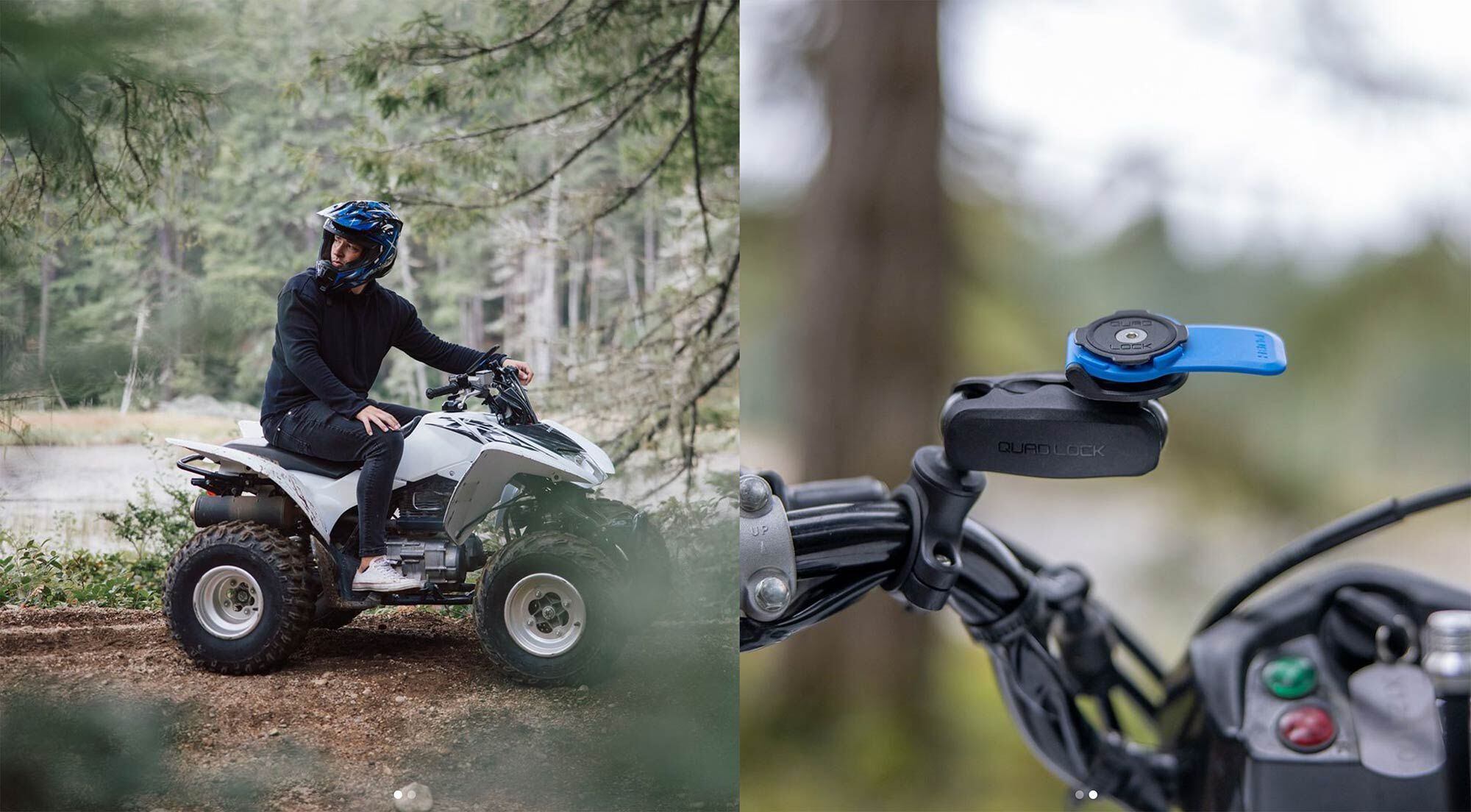 Keep your phone within eyeshot thanks to Quad Lock mounts. (Quad Lock via Instagram/)
Quad Lock made a name for itself with impressive motorcycle mounts, but the company is now expanding its offerings and providing a truly custom solution for any need you might have. The new system is called Quad Lock 360, and it provides a series of bases, arms, and mounting heads that can all be swapped and pieced together.
The current options include a pair of mounting heads, one with wireless charging and one without. For the bases there are two bar clamps, one adhesive mount, and a pair of hard-mount options. For the collection of arms in the middle, you can go buck wild. There are multiple arms with single or double pivot joints, vibration-damping pads, extensions, and spacers. You can mix, match, or add as many of these arms as you need to fit your application. So in theory you could bolt a base to the left of your steering wheel and run arms and spacers to mount your phone all the way on the right side of your steering wheel. The whole system looks well designed and thought out, and we love having more options to mount our phone, or potentially other gear, into our rigs. (GoPro collaboration, anyone?)
One of the most important pieces to make sure you grab is the vibration damper. It turns out that high-frequency vibrations, like those from an engine at high rpm, can damage cellphone cameras. This is probably a bigger issue on a motorcycle than a UTV, but we feel it's smarter to take the "better safe than sorry" route on this one.
Obviously, there are lots of impressive GPS and entertainment systems available as factory options in UTVs, like Polaris Ride Command, but for users with base-model machines or older rigs, this new Quad Lock system is a quick and easy way to get a map or some tunes into their cockpit.
The standard lever head mount and cheapest base together come to $33. The vibration damper adds $20 on top of that, and finally you need a way to attach your phone to the mount. The most affordable choice is a $15 pad that attaches to your phone case with 3M adhesive, bringing the whole setup to nearly $70. That's right in line with competing products from companies like Ram Mounts, but if you're used to $15 Amazon-special car mounts, prepare for sticker shock.
If you think this whole Quad Lock 360 sounds right for you, head over to its website and you can play with the interactive build tool to design your own custom mount.