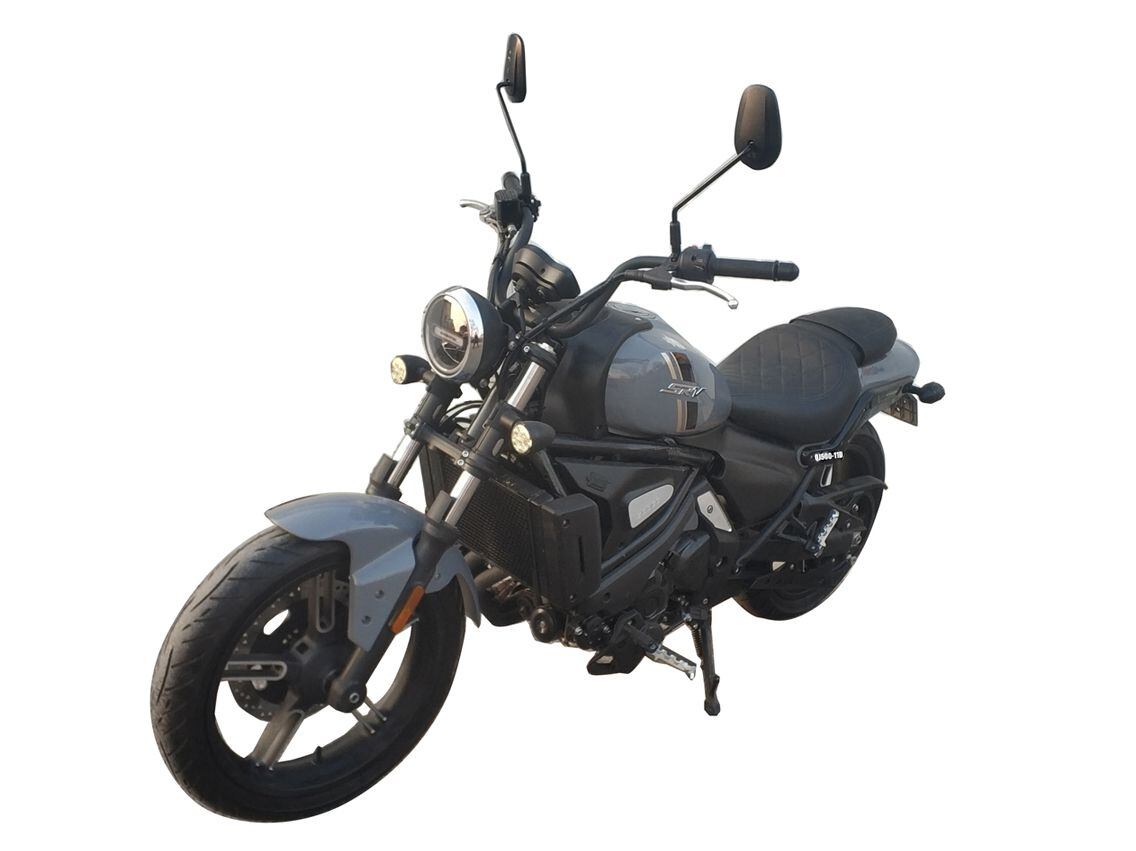 QJMotor's latest model is the SRV500 Custom, a parallel-twin-powered bike based on the existing SRV500 Street Cruiser. (QJMotor/)
QJMotor was only launched as a brand a couple of years ago but its model range has been growing so fast it's hard to keep up. Now further machines have been revealed in type-approval applications and QJMotor appears to have global aspirations for the future. While QJMotor is a new name, it's owned by one of China's motorcycle giants; Qianjiang has sold bikes for decades and since 2005 it has owned Benelli. Qianjiang also has partnerships with Harley-Davidson—it's due to manufacture the long-awaited "baby" Harley 338R—and most recently with MV Agusta, for whom it will make the new Lucky Explorer 5.5.
While the QJMotor name is currently only used on Chinese-market machines, there are strong clues that will change. In 2021, QJMotor displayed its model range at the massive EICMA show in Milan, and for 2022 it's a name that's set to appear on the Moto3 grid, with rebranded KTMs campaigned by the Avintia team.
Related: Benelli 600RR Photos Leaked
The Custom adopts more traditional cruiser styling cues, with a round headlight and teardrop tank. This second version rolls on fatter wheels than the first bike. (QJMotor/)
The first of the new models is the SRV500 Custom, which comes as a follow-up to QJMotor's first traditional cruiser model, last year's SRV300. Where the 300 used a completely new DOHC V-twin engine and looks like a shrunken Harley Sportster, the new SRV500 is a development of QJ's existing SRV500 Street Cruiser. The Street Cruiser has a Ducati Diavel-style stance, with a short, low tail and a sportbike-style tank that extends forward either side of the fork, which is adorned with a sloping, aerodynamic headlight unit. The new SRV500, in contrast, takes a much more conventional route, with a high-mounted circular headlight and a teardrop-shaped tank along with a Harley-style tail unit.
The engine is the same old 500cc parallel twin that's familiar from the Benelli TRK 502, making 48 hp and mounted in a tubular steel frame. While Chinese bikes have a reputation for being heavier than expected, the SRV500′s curb weight, 437 pounds, seems about right for a machine of this size and class. Two versions have been type-approved, differing only in their wheels. One has 16-inch rims front and rear, with a fat, high-profile 130/90-16 front tire that's nearly as wide as its 150/80-16 rear. The second version looks much the same but has an 18-inch front with a narrower 120-section tire, allied to a 17-inch rear fitted with a 160/60ZR-17.
This 400cc naked is also new for 2022, though it's almost identical to the existing SRK350, albeit with a more powerful engine. (QJMotor/)
Next comes a new 400cc adaption of the company's existing SRK350 naked sportbike. In base form, the approval document shows this to look nearly identical to the existing machine, but it's fitted with a 400cc parallel-twin engine making an impressive 44 hp instead of the old 354cc, 28 hp unit. That's a vast increase, though other versions of the previous engine were rated at a more comparable 36 hp.
Although QJMotor has recently filed patents for another 400cc parallel-twin engine that's very similar to the Kawasaki Ninja 400 motor, this doesn't look like that design, instead bearing much more of a relationship to the firm's existing 354cc lump.
Related: New QJMotor 600cc and 700cc Models Revealed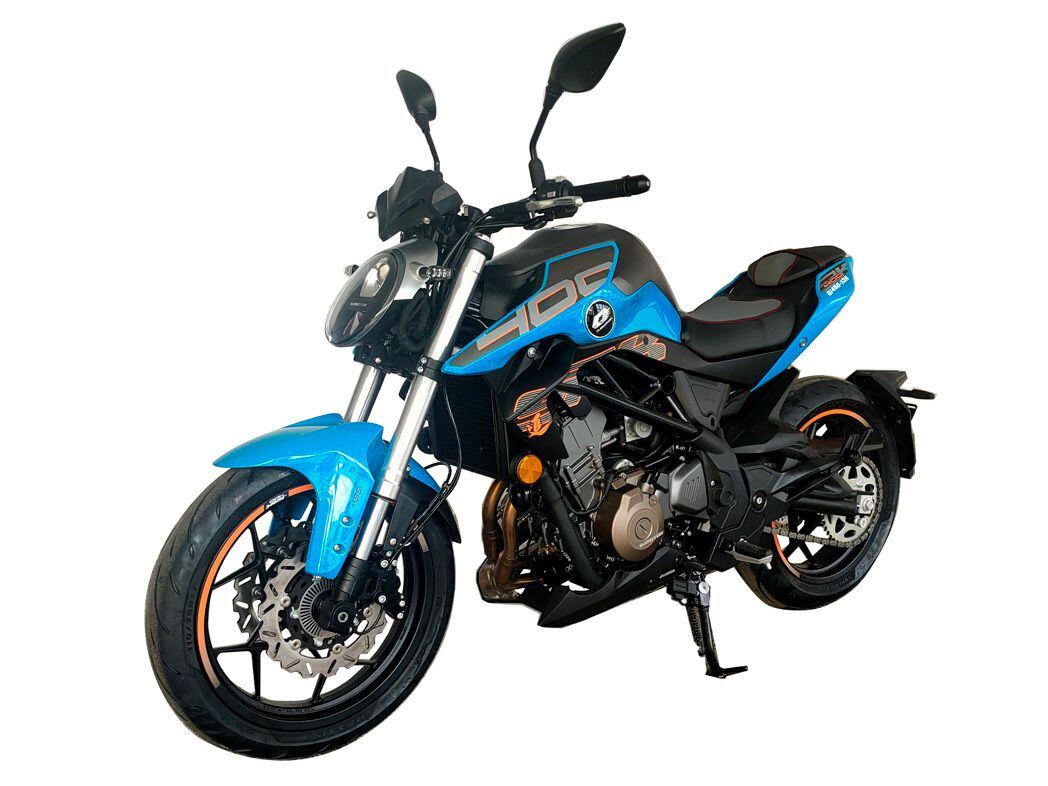 Another released image shows a different design featuring a slanted, oval headlight (but otherwise similar to the SRK400). Is a baby Brutale coming next? (QJMotor/)
As well as the simply up-engined SRK400, the type approval shows a second design with a new, slanted, oval headlight. This is in line with a similar look that was recently revealed on the naked four-cylinder SRK600, which is based on Benelli's TNT 600. Interestingly, the new light gives the bike a look that's reminiscent of MV Agusta's Brutale—something that might be seen as either coincidence or copying if it wasn't for Qianjiang's acknowledged relationship with MV. The new MV Agusta Lucky Explorer 5.5 is effectively a Qianjiang SRT500 adventure bike (itself a restyled Benelli TRK 502) with an upsized 550cc engine and more attractive, Italian-styled bodywork. If MV wanted to offer an entry-level, beginner-friendly Brutale, it's easy to imagine using the SRK400 as its basis.