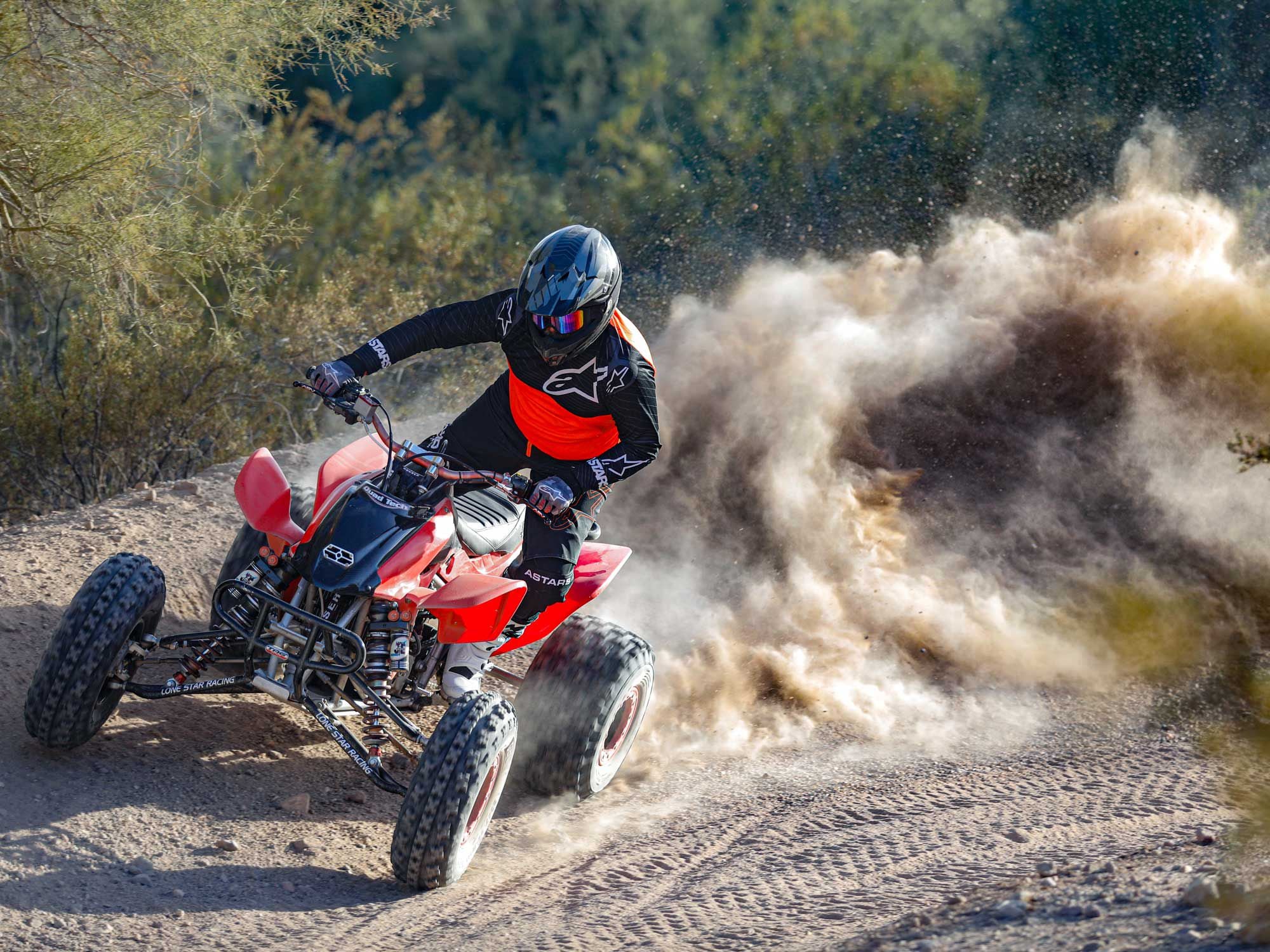 Riding gear isn't cheap, but neither are hospital bills. (Justin Coffey/)
Common sense dictates that you should don a certain level of protective gear before you ever throw a leg over the seat of your quad. For the casual trail rider that amounts to a helmet, eye protection, a long-sleeve jersey, gloves, durable pants, and boots that cover the ankles. But for those of us with an aggressive streak, and specifically sport quad riders, extra protection is warranted.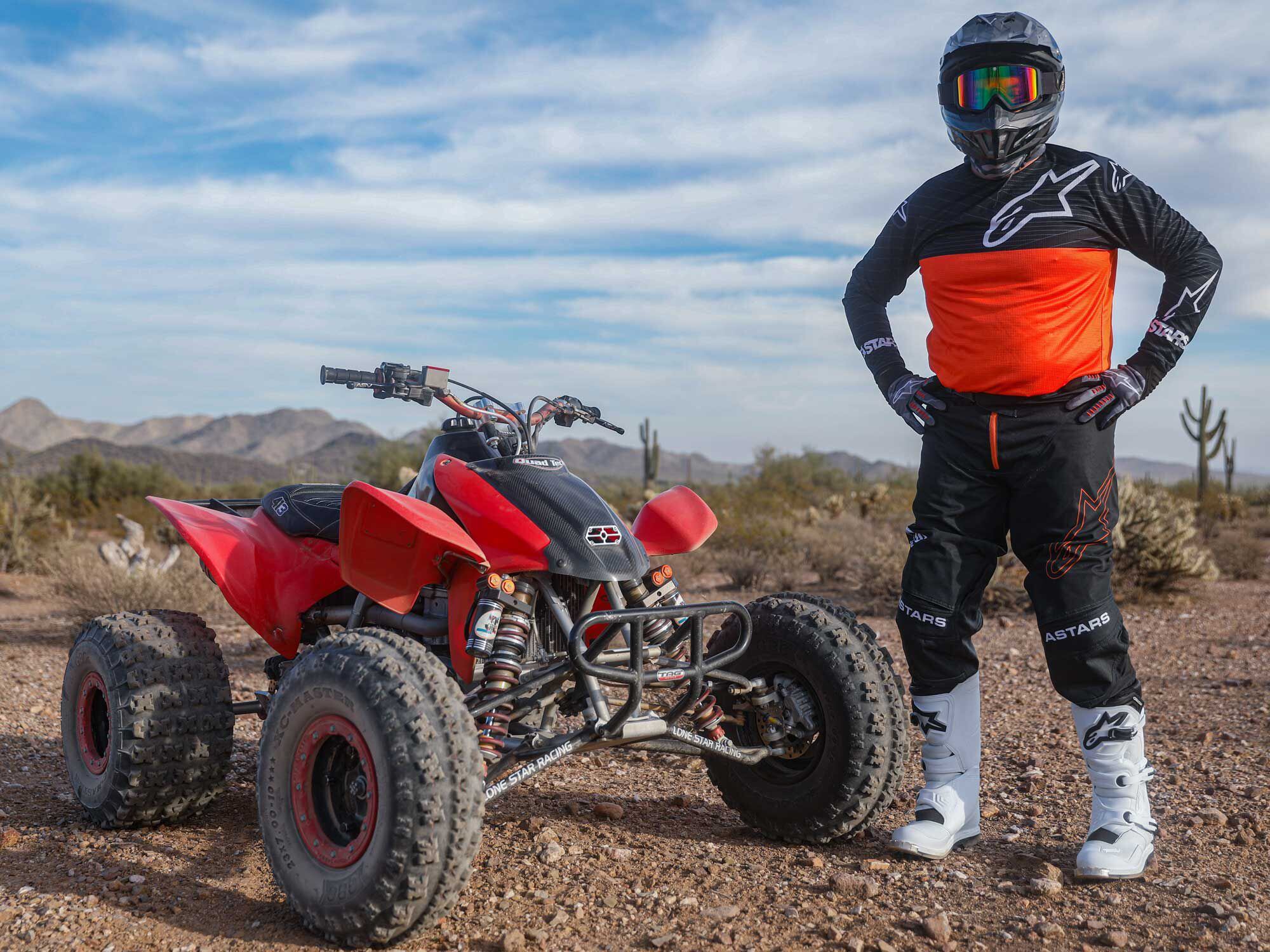 If you ride a sport quad, proper moto-style riding gear is a must. (Justin Coffey/)
Choosing the right helmet is easy enough, but try them on before you purchase. Some helmets are designed for a round shape while others favor an oval-shaped head. It's important that the helmet fits your head snugly, but not so tight that it rubs the skin raw and gives you a headache. Put the helmet on and twist it from side to side. It should not spin freely and your skin should move with it. You shouldn't have any open space between the helmet padding and your skull. Never buy a helmet based solely on looks. A $100 helmet that fits properly will always protect you better than a $700 helmet that isn't fitted correctly. Our friends at Rocky Mountain ATV/MC have this informative video that shows you how to make sure your new helmet fits your head correctly.
Another thing you'll want to look at is safety certifications, which are stamped on the back of the helmet. These consist of DOT FMVSS 218, ECE 22.05, or Snell M2020. You'll want a helmet that has at least one of these certifications, usually the DOT certification issued by the Department of Transportation. It's not uncommon for some helmets, and usually more expensive ones, to include two or three certification stamps meaning the helmet went through more rigorous testing. Revzilla's Helmet Safety Ratings 101 course thoroughly explains the meaning behind each certification stamp.
For ATV use, sunglasses do not provide adequate eye protection. You'll want a pair of motocross-style goggles or a helmet with a built-in visor. Both of these will protect your eyes from tree branches, overgrown vegetation, dust, and the debris being kicked up by your buddy riding ahead of you.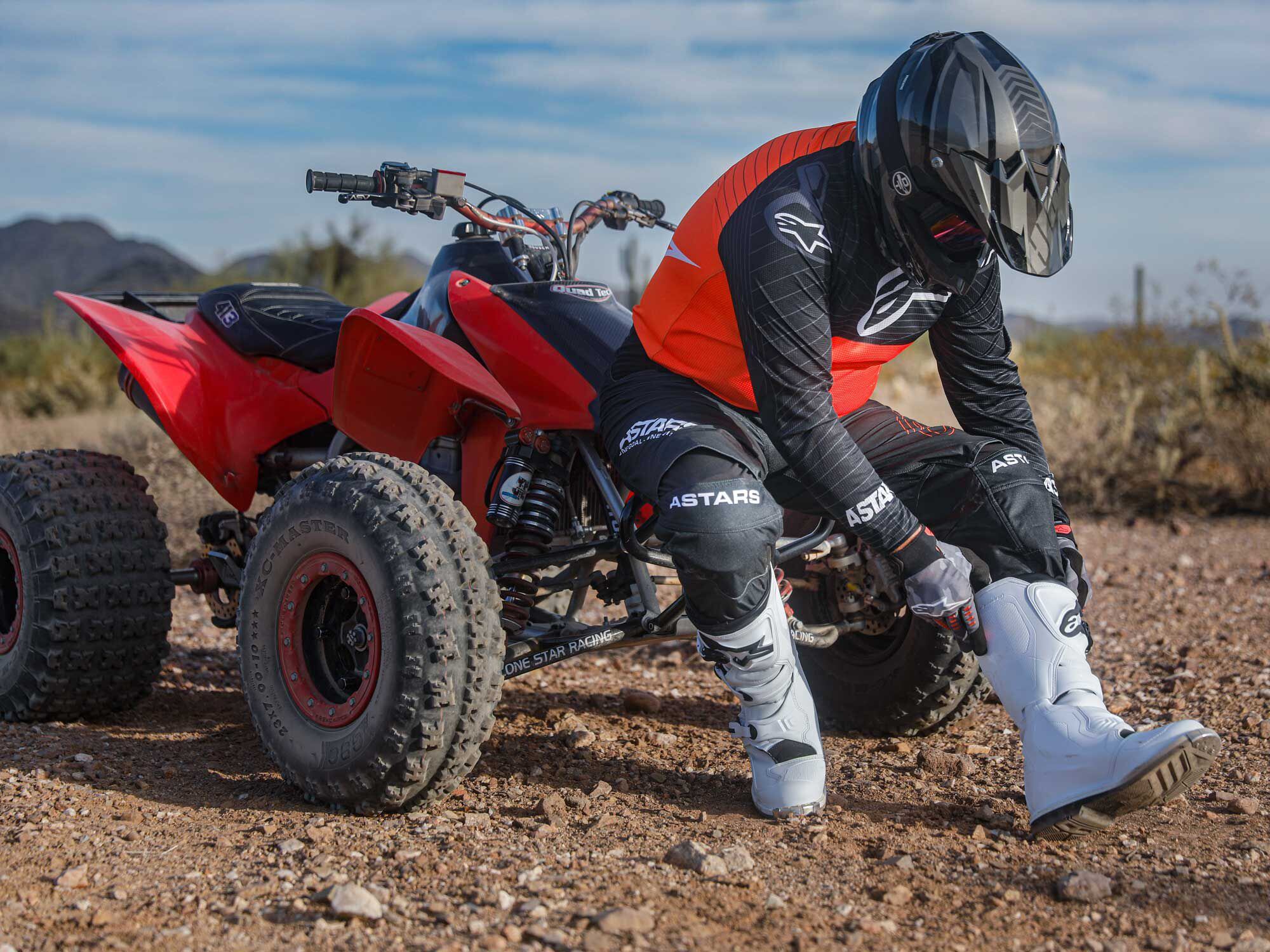 Riding jerseys and pants are flexible so they don't impede movement, and padded in all the right places. (Justin Coffey/)
A long-sleeve shirt and jeans offer a fair amount of protection, but a moto jersey and riding pants are designed to flex with you as you move around on your ATV. Most moto jerseys are made with material that wicks away sweat and keeps you dry and comfortable. Riding pants are constructed of durable materials that resist tearing when contacted by tree branches or, worst case scenario, the ground.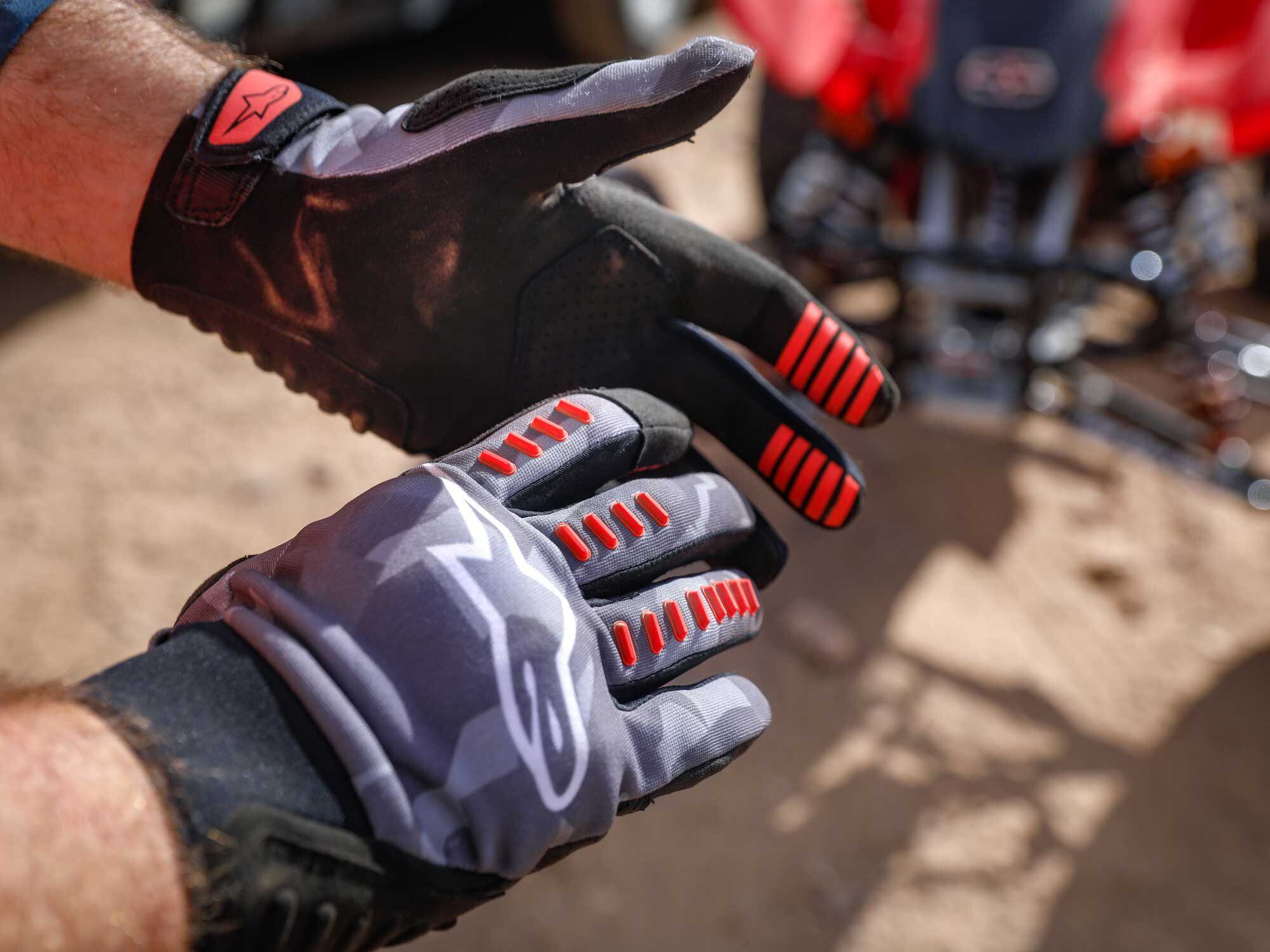 These Alpinestars riding gloves have padding sewn in above the knuckles. (Justin Coffey/)
Riding gloves come in many different varieties but, like a helmet, you'll want to make sure they fit snug. Loose gloves will bunch up in the palm of your hand and hamper a good grip on the handlebars. Improper fit will also cause blistering, but not nearly as bad as going without gloves. Many gloves come with Velcro fasteners around the wrists. Never tighten them to the point that they cut off blood circulation, which will cause your hands to go numb.
These Alpinestars riding gloves feature an added layer of hard protection across the top of the knuckles to protect against rocks, branches, and drifting too close to the jumping cactus that we have out here in the Southwest.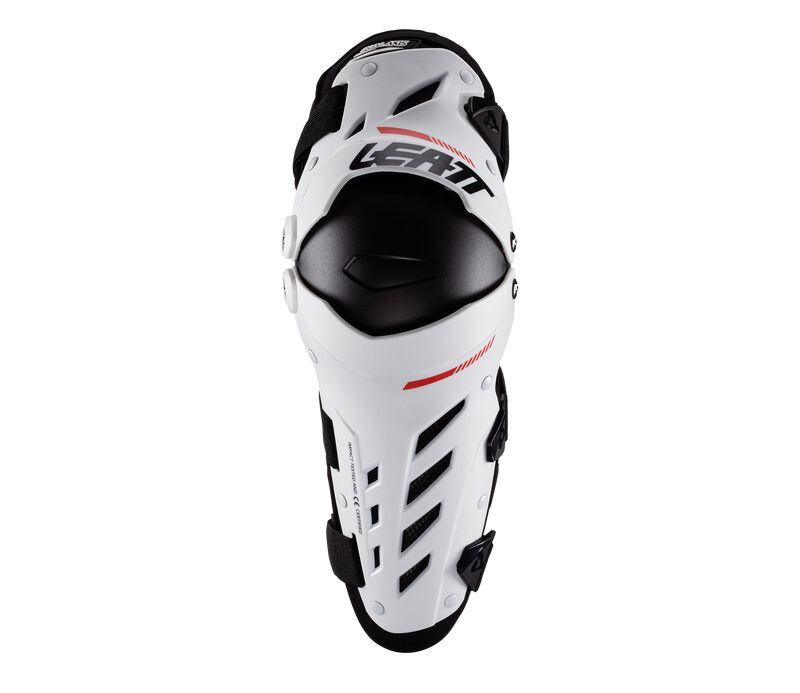 Make sure elbow and knee pads flex with your joints and fit without cutting off circulation. (Alpinestars/)
Elbow and knee pads can be found with an inexpensive price tag, but you get what you pay for. The cheapest elbow pads tend to slide down the forearm to the wrist, hampering throttle control and the ability to hold on to the handlebar grips. Make sure you find a pair of elbow pads that remain at the elbows without cutting off circulation.
The same goes for knee and shin guards. Cheaper knee guards usually come with thin Velcro straps that wrap around the back of the leg just below the knee. Those straps can be uncomfortable and rub the skin raw. Get a set of knee pads like the Leatt Dual Axis knee and shin guards pictured above. These knee guards are hinged to move naturally with the knee. They also have a soft pad of material that rests between the straps and the back of your calf to completely eliminate any discomfort.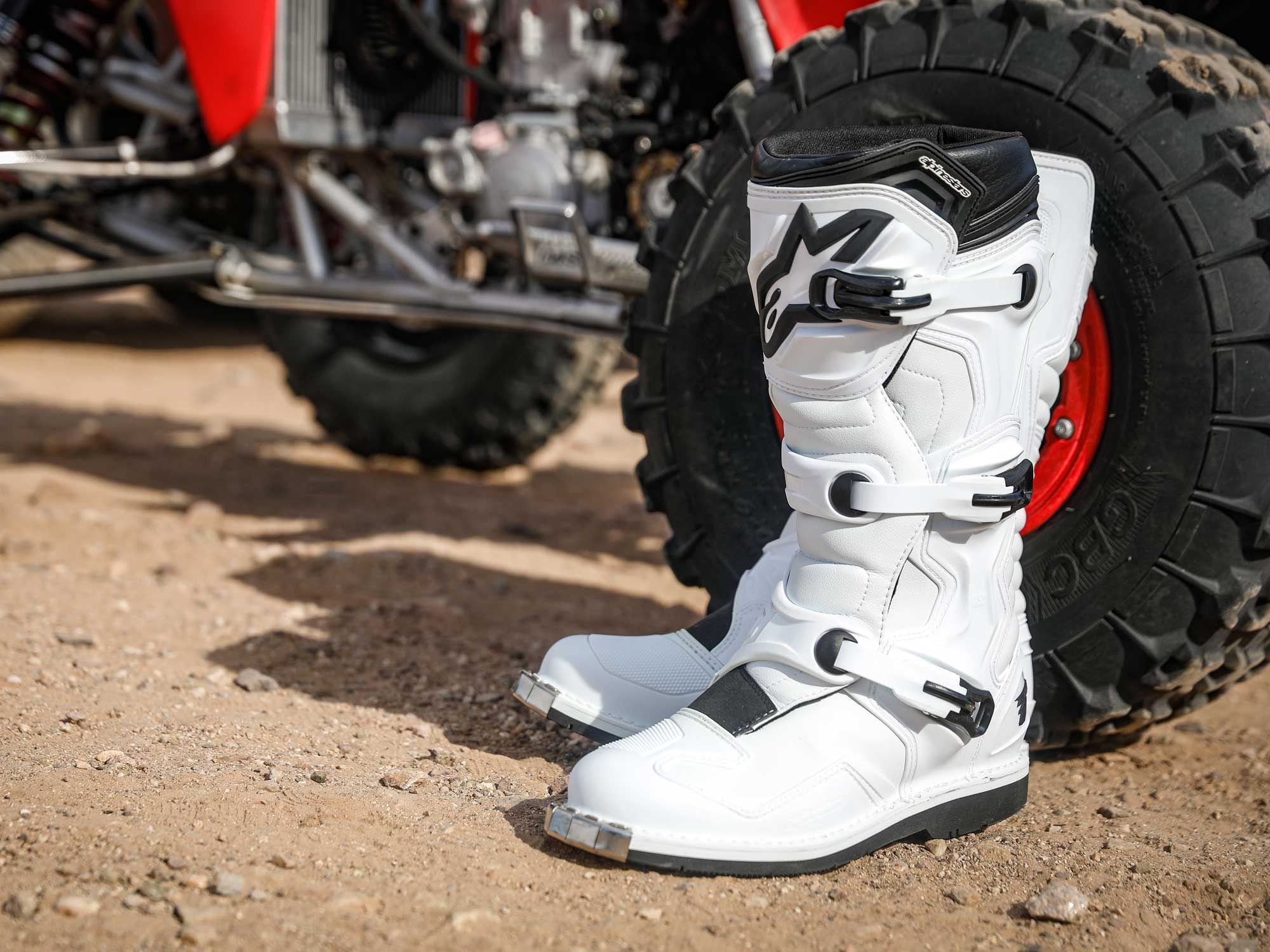 Riding boots are designed to flex without giving up ankle protection. (Justin Coffey/)
The typical work boot offers some protection, but it doesn't hold a candle to a good pair of riding boots. Riding boots are usually waterproof and made of durable leather and hard plastic surfaces to offer the ultimate in foot, ankle, and shin protection. A good pair of boots will also offer hinging or flexible points around the ankle for ease of movement, but without giving up ankle support. Another thing to consider in a boot is a low-profile toe, which makes finding the shift lever so much easier.
One other item you'll want to consider is a chest or roost protector. These are primarily designed for motocross and off-road competition where mud and rocks get thrown up in tight racing conditions. But roost protectors also provide a lot of armored protection in a crash, especially if you land on a hard surface. For off-road riding, we suggest finding a roost protector that includes shoulder and bicep guards.
Riding gear isn't cheap, but what's your body worth to you? It's almost guaranteed that the price you pay now for protection will only be a fraction of what you'll pay at the hospital because you declined to gear up.