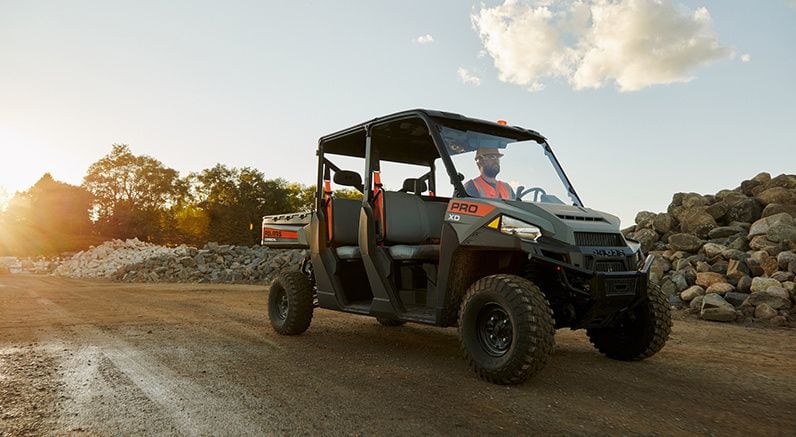 Polaris improves its Pro XD for 2022. (Polaris/)
Polaris' Pro XD models are the unsung heroes of construction sites and commercial operations around the country, but their workaday ethos means they often go overlooked by the enthusiast community. Geared toward heavy-duty use rather than trail time, Polaris' blue-collar Pro XD side-by-sides see a slew of improvements and accessories for 2022.
According to Aaron Stegemann, Polaris vice president of commercial utility vehicles, the Pro XD UTVs are "designed specifically for durability, serviceability, and safety—and we want to ensure the vehicle is always providing the greatest value for our customers."
Related: Polaris Adds Accessories to 2021 Pro XD Lineup
Among the revisions to the Pro XDs are accessory extended-life brake pads. They're designed to better handle heavy payloads and regular towing duty. The pads last up to twice as long as standard pads, according to Polaris, which should in turn reduce maintenance downtime. Additionally, full-size gasoline-powered Pro XD models get a heavy-duty oil filter designed to withstand high temperatures and heavy vibrations. Other notable items are optional side mirrors which can be mounted on the XD's doors or cage.
Most notable is that On-Demand 4WD is now a standard feature on Pro XD models. This system features AWD/2WD/VersaTrac Turf selectable drive modes. We also appreciate the new USB ports that are integrated to the dashboard as well as the easy trickle-charger hookup on board. It's the little things that make the vehicle that much easier to live with, and we know those on the job site will appreciate these changes.
Want to stay up to date on the latest UTV Driver news and reviews? Sign up for our newsletter!