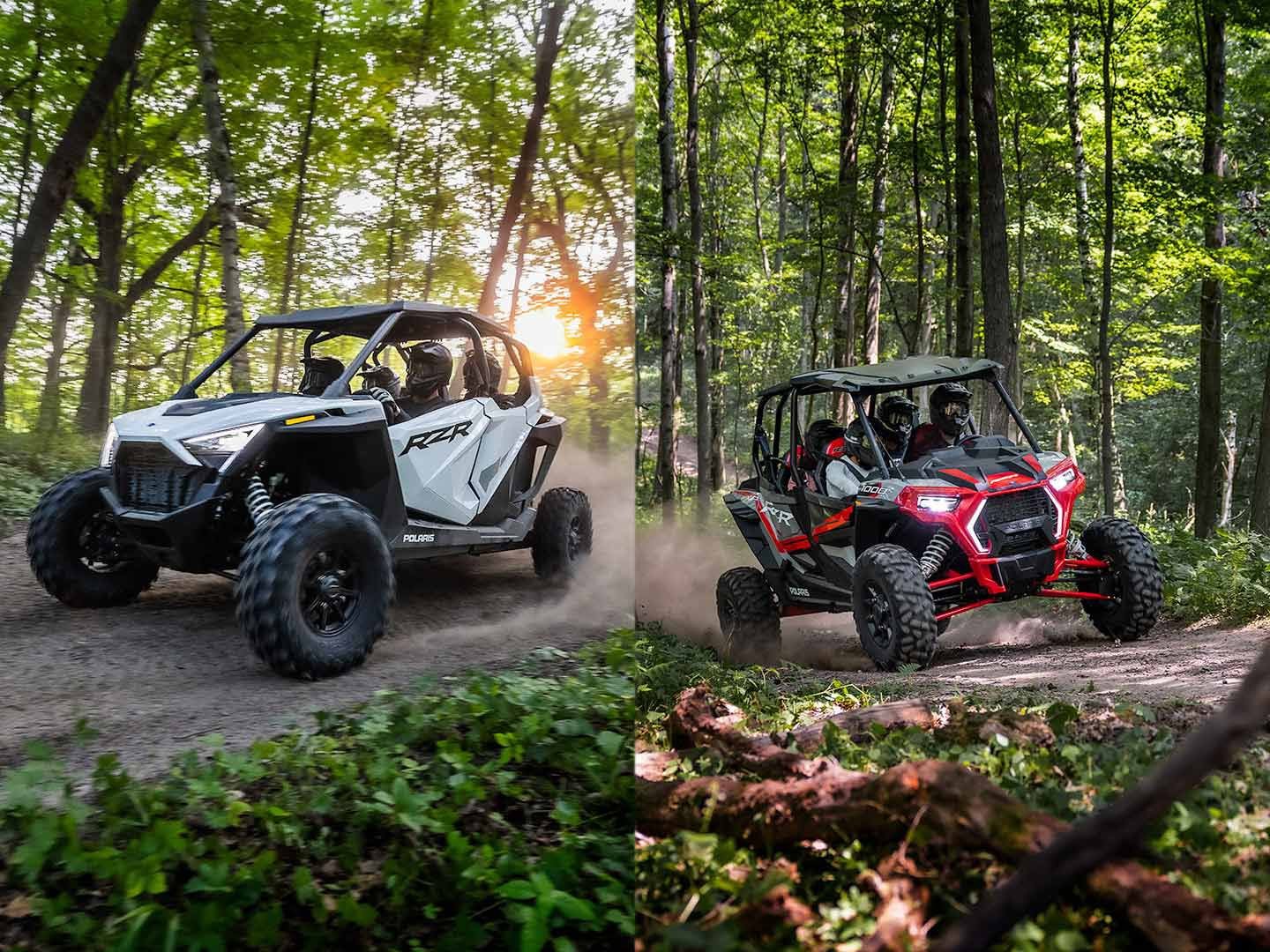 2022 Polaris RZR Pro XP 4 Sport versus 2022 Polaris RZR XP 1000 Premium. (Polaris RZR/)
Polaris has officially launched the 2022 lineup of trail-ready RZR side-by-sides. From the tiny RZR 200 EFI to the king-of-the-roost Pro XP 4 Ultimate, there's a rig for every type of terrain and rider.
For families, Polaris is offering up two different models with five total trim levels. The Polaris RZR XP 4 1000 and the Polaris RZR Pro XP 4. The RZR XP 4 1000 is the cheaper model of the two. Keen eyes will spot an overlap in price between the two models at the $24,999 price point. We're here to dive into this space to help you identify which RZR is right for you.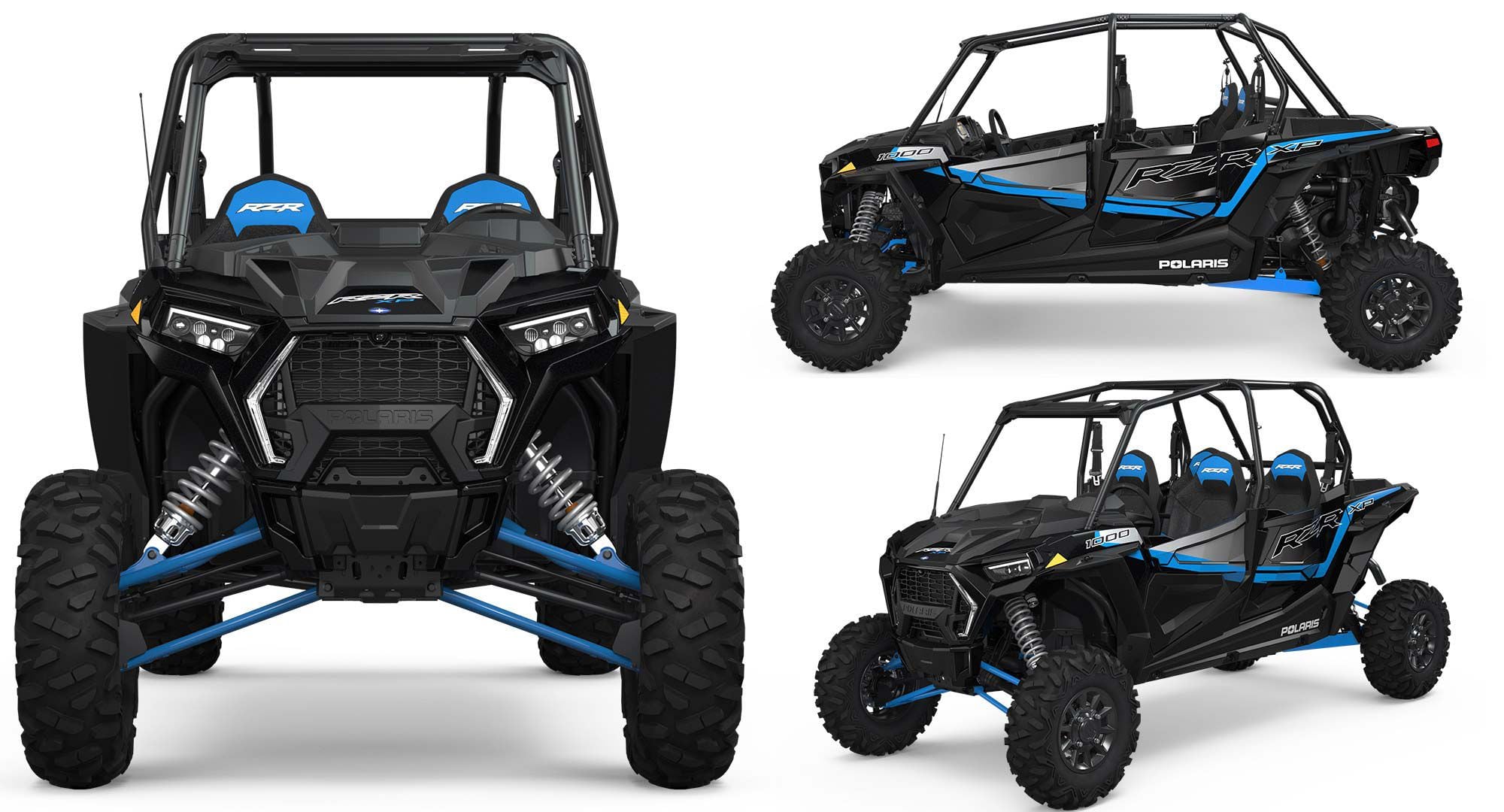 2022 Polaris RZR XP 4 1000 Premium in Black Pearl. (Polaris RZR/)
The RZR XP 4 1000 comes in two trim levels, Sport and Premium. The XP 4 1000 Premium model rings up for $24,999 and includes upgrades like full doors, Ride Command, and MB Quart stereo. It's the crème de la crème in the non-turbocharged RZR lineup.
A 110 hp twin-cylinder engine mates to an on-demand AWD system for powerful trail performance. Weighing in at 1,671 pounds dry, it's also fairly light, which means it's easier to tow. Walker Evans suspension provides 16 inches of travel up front and 18 inches in the rear, resulting in 14 inches of total ground clearance. Each shock is fully adjustable with 16 clicker positions. Aggressive 29-inch-tall tires wrap 14-inch cast-aluminum wheels to give plenty of bite on the trail.
The Premium trim level adds four full doors to help isolate each passenger from the dirty world around them, a four-speaker MB Quart stereo, and the Polaris Ride Command system. Ride Command includes a 7-inch glove-capable touchscreen that helps monitor and control the RZR with a host of navigation and gauge readouts. Furthermore, Ride Command can log your routes, store waypoints, and even track other RZRs in your group equipped with Ride Command.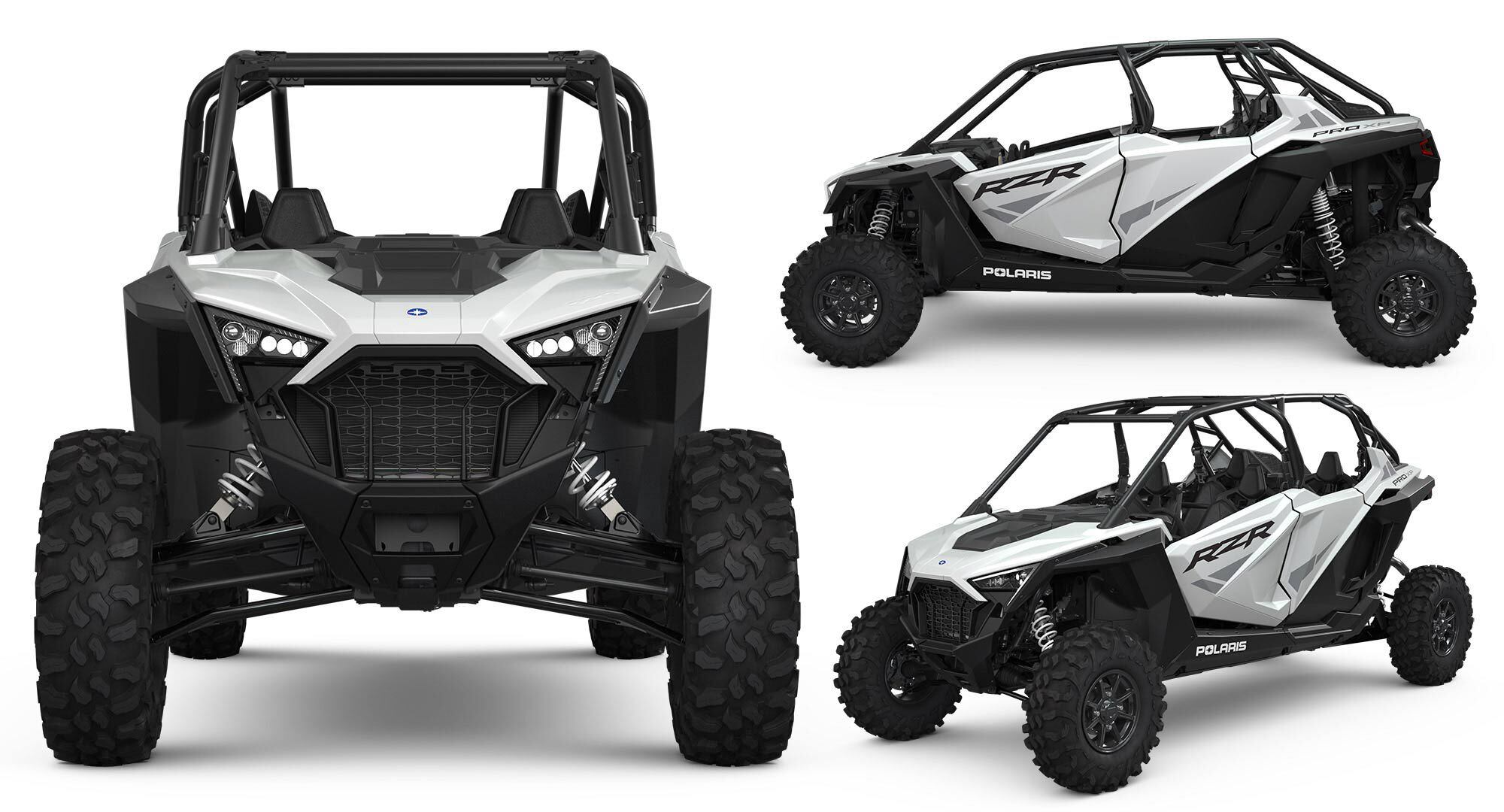 2022 Polaris RZR Pro XP 4 Sport in White Lightning. (Polaris RZR/)
The RZR Pro XP 4 comes in three trim levels: Sport, Premium, and Ultimate. Sport acts as a base model for the four-seater RZR Pro XP lineup. It's the cheapest way to get into the four-seater turbocharged family of RZRs at $24,999. The same price as a RZR XP 4 1000 Premium. The next trim level Pro XP 4 Premium takes a wallet-busting jump up to $31,299.
Diving into the Pro XP 4 Sport, we can see it's a stripped-down version of the more expensive rigs. You'll go without most of the creature comforts found in the Premium and Ultimate trim packages, but still have the same legendary foundation.
At the heart of this beast is the Polaris 181 hp turbocharged twin-cylinder engine. It mates to a beefed-up transmission, stronger front driveline, and Polaris' most robust axles. That lets the Pro XP 4 manage the 30-inch tires with little drama. Those aggressive tires are controlled by upgraded Walker Evans shocks, offering 17 inches of travel up front and 20 inches of travel in the rear. The entire vehicle clocks in as the largest side-by-side Polaris makes, at 155 inches long. It also tips the scales with a 2,015-pound dry weight rating.
Durability and strength are the name of the game for this RZR. You're giving up technology to buy a stronger chassis and drivetrain. You won't have Ride Command, LED accent lighting, a stereo, or Dynamix active suspension.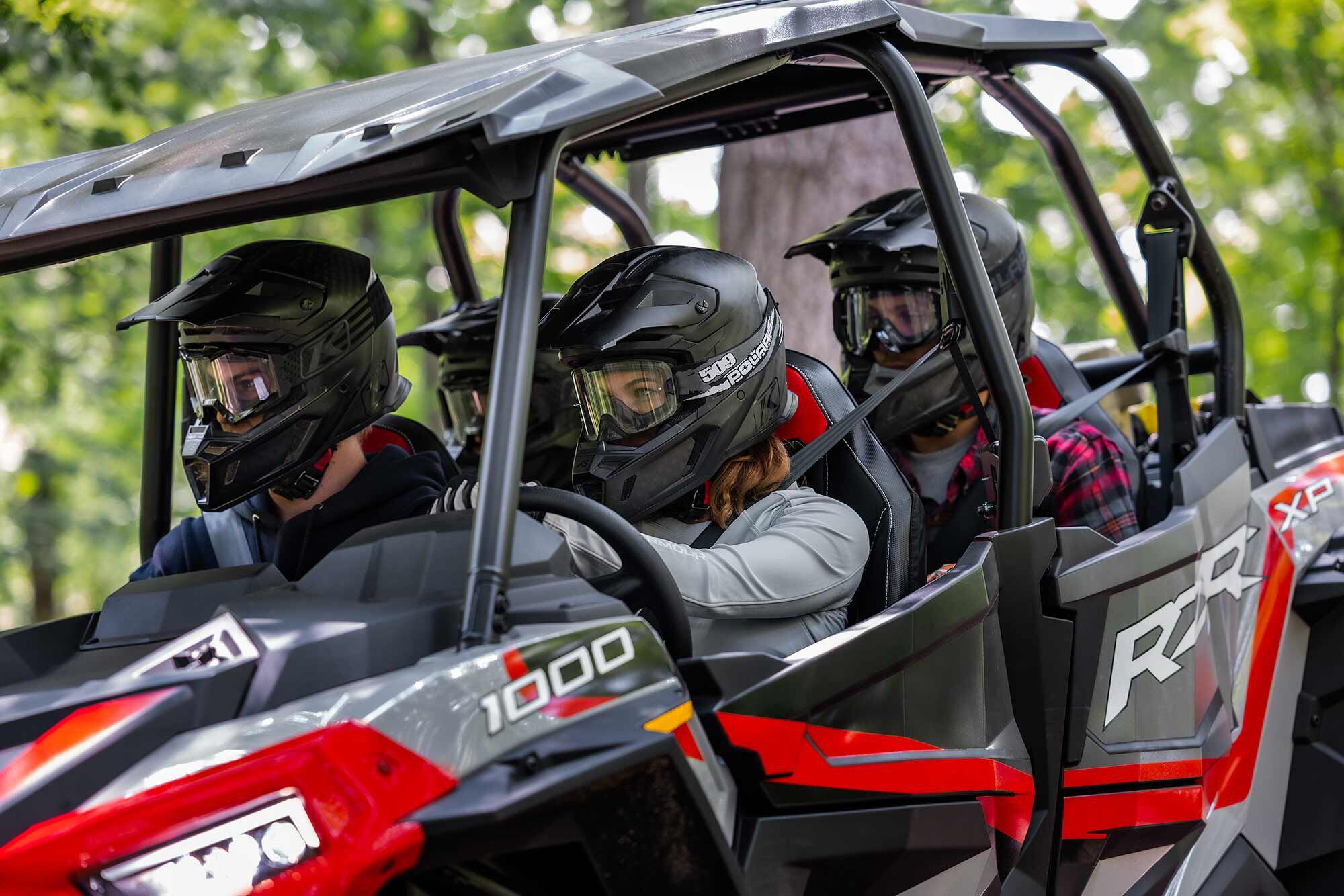 Seating for the entire family makes these RZR options some of the most fun. (Polaris RZR/)
Now that we've dissected each model, the question remains: Which RZR do you choose? The solution lies in how, and where, you plan to use your new RZR four-seater.
If you're the kind of buyer who wants the peace of mind that comes from purchasing a complete rig, without any need to upgrade it later, then the XP 4 1000 Premium might be right for you. If you're tackling primarily groomed trails, you may be able to justify giving up suspension travel, larger tires, and twice the power to house a fully outfitted rig in your garage. The XP 4 1000 model also tends to work slightly better with smaller adults who can more easily hop in and out of the cab.
For those buyers riding in more wide-open spaces, who can benefit from added horsepower and longer suspension travel, stepping up to the Pro XP 4 might be the better choice. Additionally, if you're more of a technical rider who enjoys tackling black trails, the stronger Pro XP platform will undoubtedly serve you better in the long run. Keep in mind you'll have to bolt on your own technology after the fact, however. If you're the type of buyer who wants the strongest four-seater chassis Polaris offers and wants to slowly upgrade it over time, we'd point you in the direction of the 2022 Polaris RZR Pro XP 4 Sport.
Either route you choose, you're buying an extremely capable four-seater side-by-side that's built to tackle some seriously rough terrain. Both RZRs share 64-inch widths, 74-inch heights, and 117-plus inches of wheelbase, so plan your storage and trailer space accordingly.