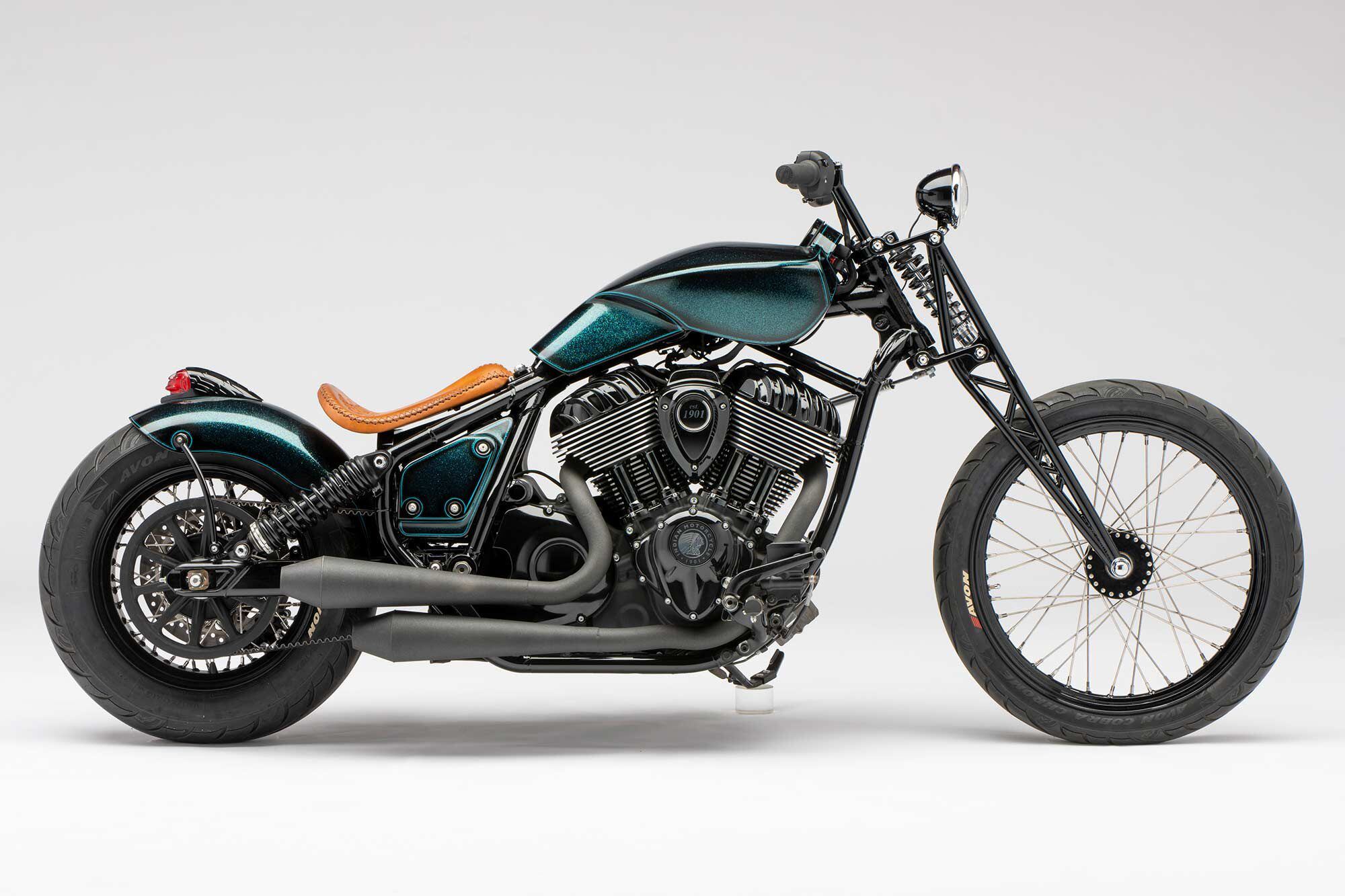 The finished Indian Chief Bobber Dark Horse custom from Keino Sasaki and Paul Cox. (Michael Lichter/)
In what now seems like the height of New York City's custom motorcycle era, Paul Cox and Keino Sasaki worked together in Indian Larry's Brooklyn custom shop. As builders the two had different tastes and styles, but Larry and his shop unified them with a common purpose. After Larry passed, Keino and Paul worked together for several years under the Indian Larry Legacy banner, making V-twin choppers the way Larry's shop always had.
Eventually, as is often the way with creatives, their visions for the future drifted apart and they decided to go their own separate ways. Now, more than a decade later, the pair has reunited to build a custom 2022 Indian Chief Bobber as only Paul and Keino can.
"We spent a lot of years working with Larry and working together for a few years after," Cox says from his shop in NYC. "When we split up, we remained friends, we stayed in touch." Not just in communication, but in location; Paul Cox Industries is only a few blocks from Indian Larry Motorcycles, and about 7 miles from Keino's shop in Redhook.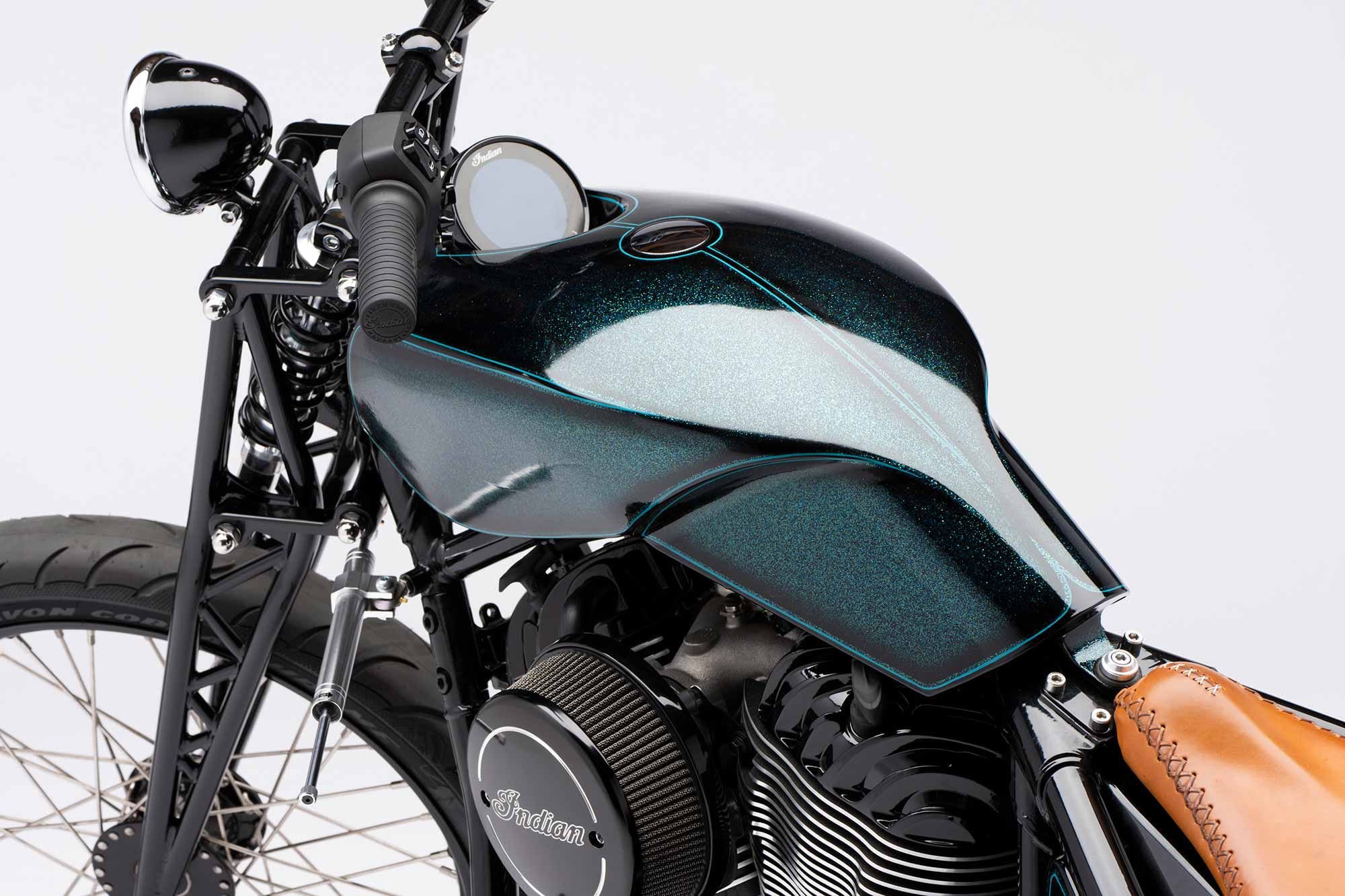 Taking the fuel pump and Indian's Ride Command system into consideration, Keino Sasaki fabricated a new steel gas tank. (Michael Lichter/)
When Indian Motorcycle initially contacted the builders about this project, they got on the phone before making any commitments. Sure enough, a plan began to take shape after just a few minutes of discussion. Within days, the new Chief was brought into Paul's shop and the guys got to work.
They agreed that Keino would attack the gas tank and exhaust pipes while Paul worked on the front end, seat, and eventually the paint job. Since the bike would be built primarily in Paul's shop, most of the smaller-piece fabrication, cable hygiene, and final finish details would be happening there as well.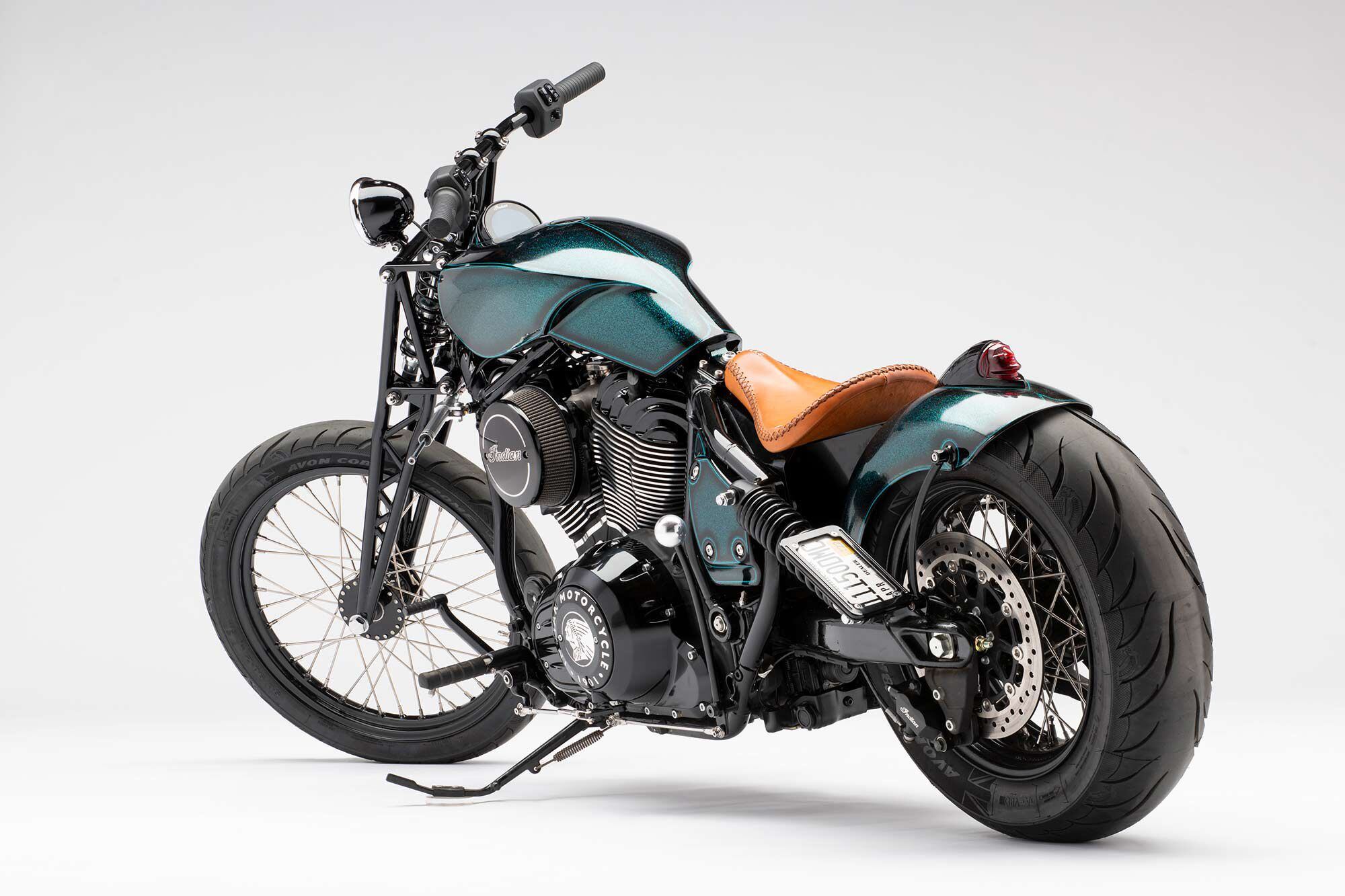 This custom Chief will be on display at Michael Lichter's Motorcycles as Art exhibit at the Sturgis Buffalo Chip starting August 8. (Michael Lichter/)
The gas tank is an identifiable blend of Keino's and Paul's styles and features radical knee dents, aggressive angles, deep metalflake paint, hand-done pinstripes, and, greatest of all, Indian's Ride Command gauge molded into the shape. Paul fabricated his trademark two-shock girder front end to stock length, maintaining a semblance of the original bike's visual line and geometry and incorporating a steering stabilizer on the left side. Like the stock Bobber, spoked wheels were used front and rear, though the front 16-inch was swapped for a much larger 21.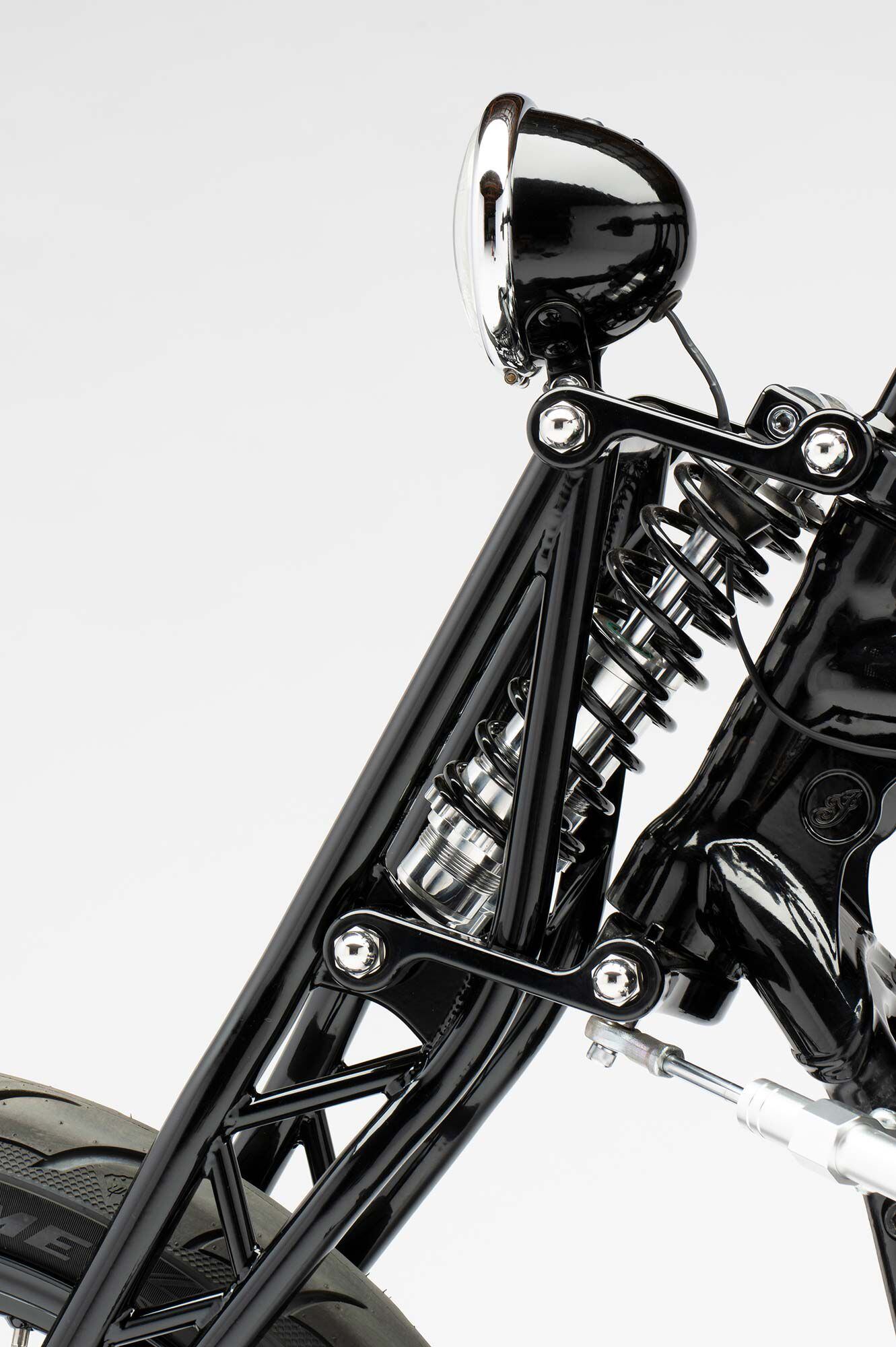 Paul Cox's trademark girder front end, which he calls "Girdraulic." (Michael Lichter/)
To help achieve the chopper aesthetic for which these two are so well known, that new 21-inch front wheel was left without any braking mechanism. This, paired with the custom-made foot clutch and hand shifter off on the left side, means that the Bobber has no levers on those custom drag bars at all, just clean grips.
Keino's scratch-made 2-to-2 megaphone exhaust pipes look almost like an homage to Indian's flat-track heritage. Using his expertise in leather fabrication, Paul whipped up a classic brown solo saddle, tooling Indian Motorcycle's logo into the middle. Finally, turning a classic Indian design feature backward—literally—the Chief's headdress was repurposed as a taillight and brake light on the Led Sled rear fender, which is now low over the wheel and mounted to the swingarm with chopper-ish steel struts.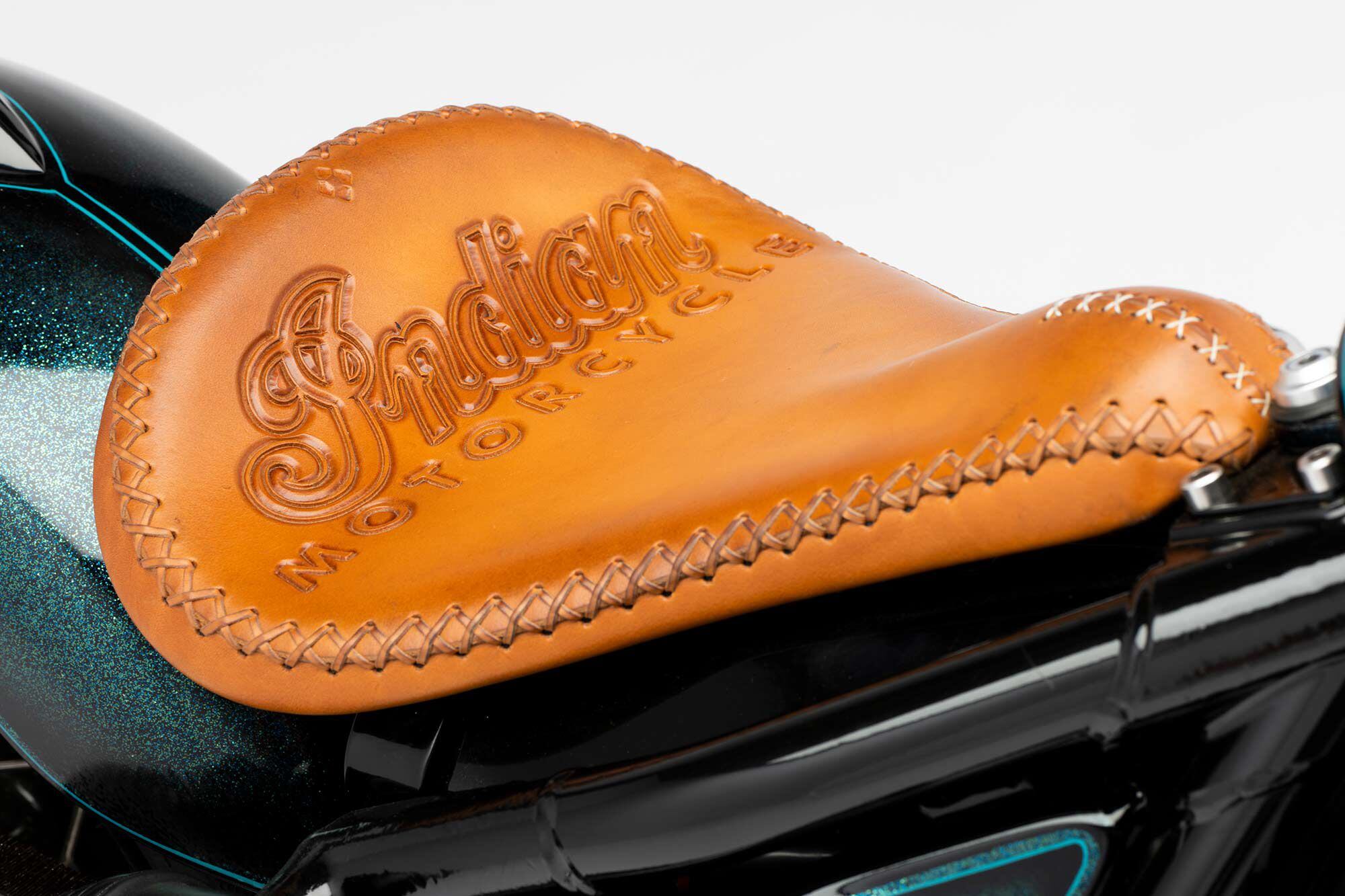 Paul showing off some of his other areas of expertise, which include knife making, leather work, and fine art. (Michael Lichter/)
In the end, Paul and Keino were able to build a bike that represents their past together and what they've achieved independently, all while beautifully highlighting Indian Motorcycle's new platform.
The bike will be on display at Michael Lichter's long-running Motorcycles as Art exhibit, accessible for free within the Sturgis Buffalo Chip for four days only, starting Sunday, August 8.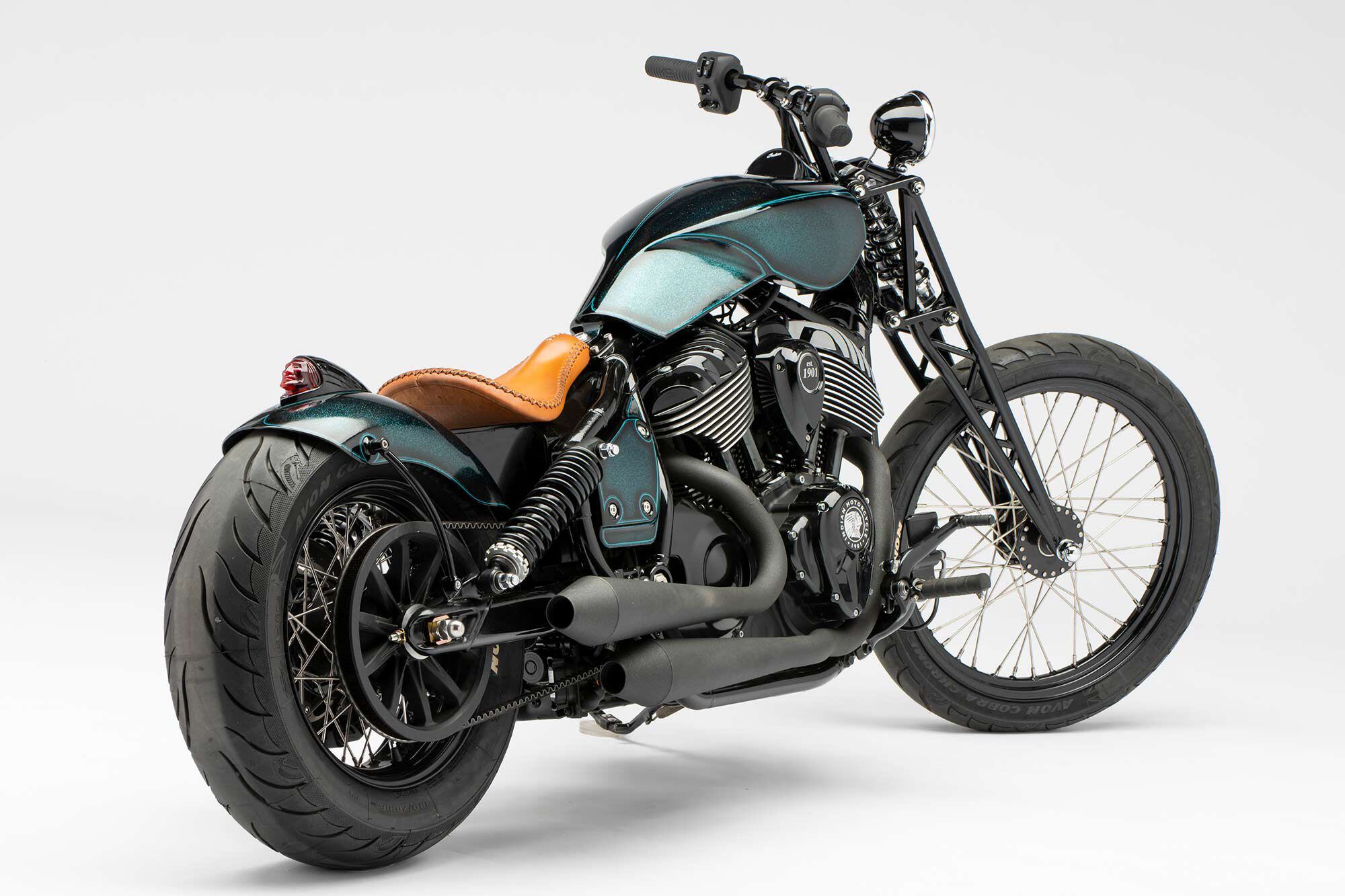 Avon tires were fitted to both the rear wheel and the new custom 21-inch front. (Michael Lichter/)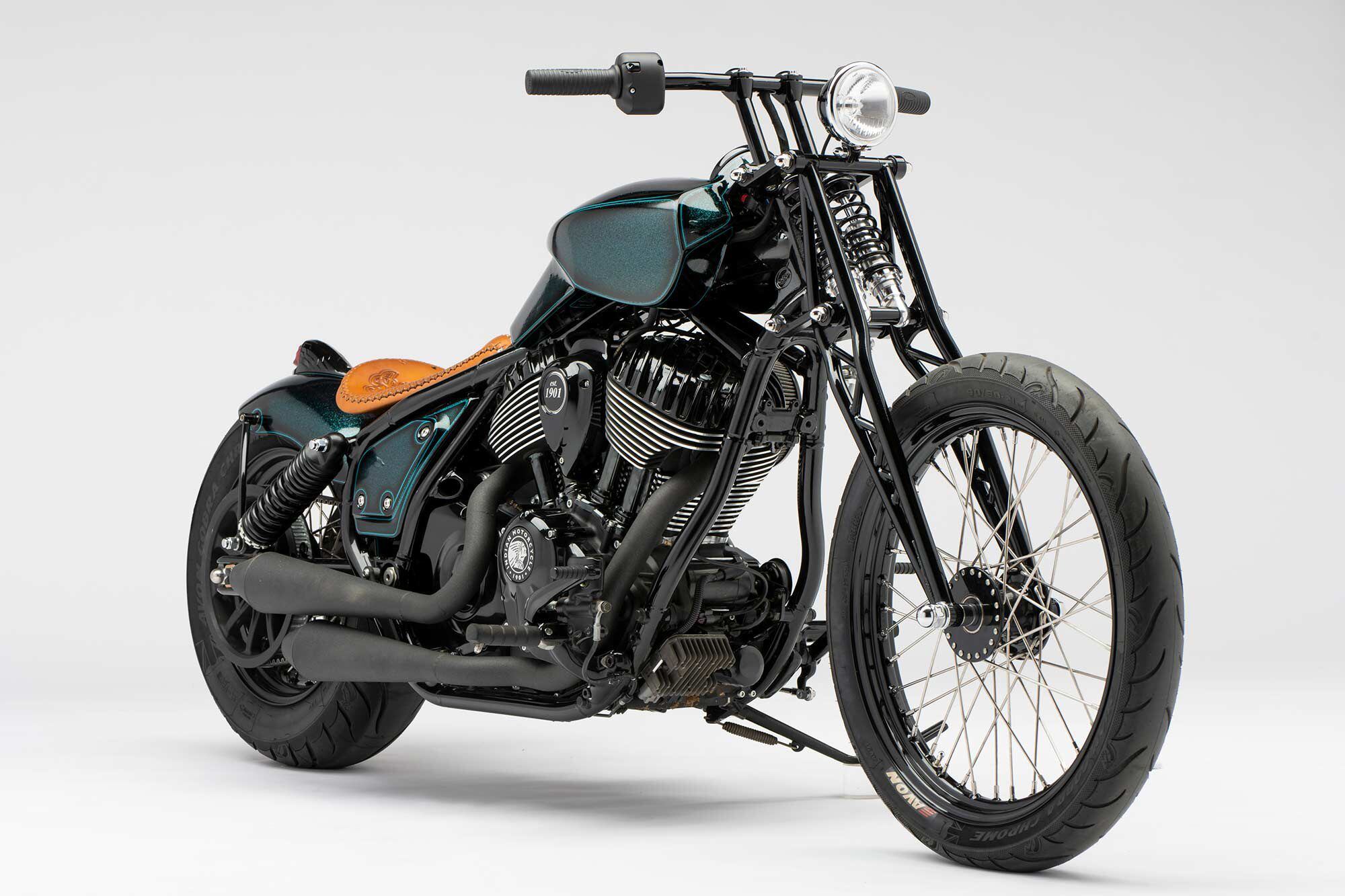 The frame of the Chief remained totally uncut, so the girder, gas tank, and all other bodywork were made to fit without modification. (Michael Lichter/)
With no front brake, a 116ci engine, and a hand shifter, this is going to be one rowdy Chief. (Michael Lichter/)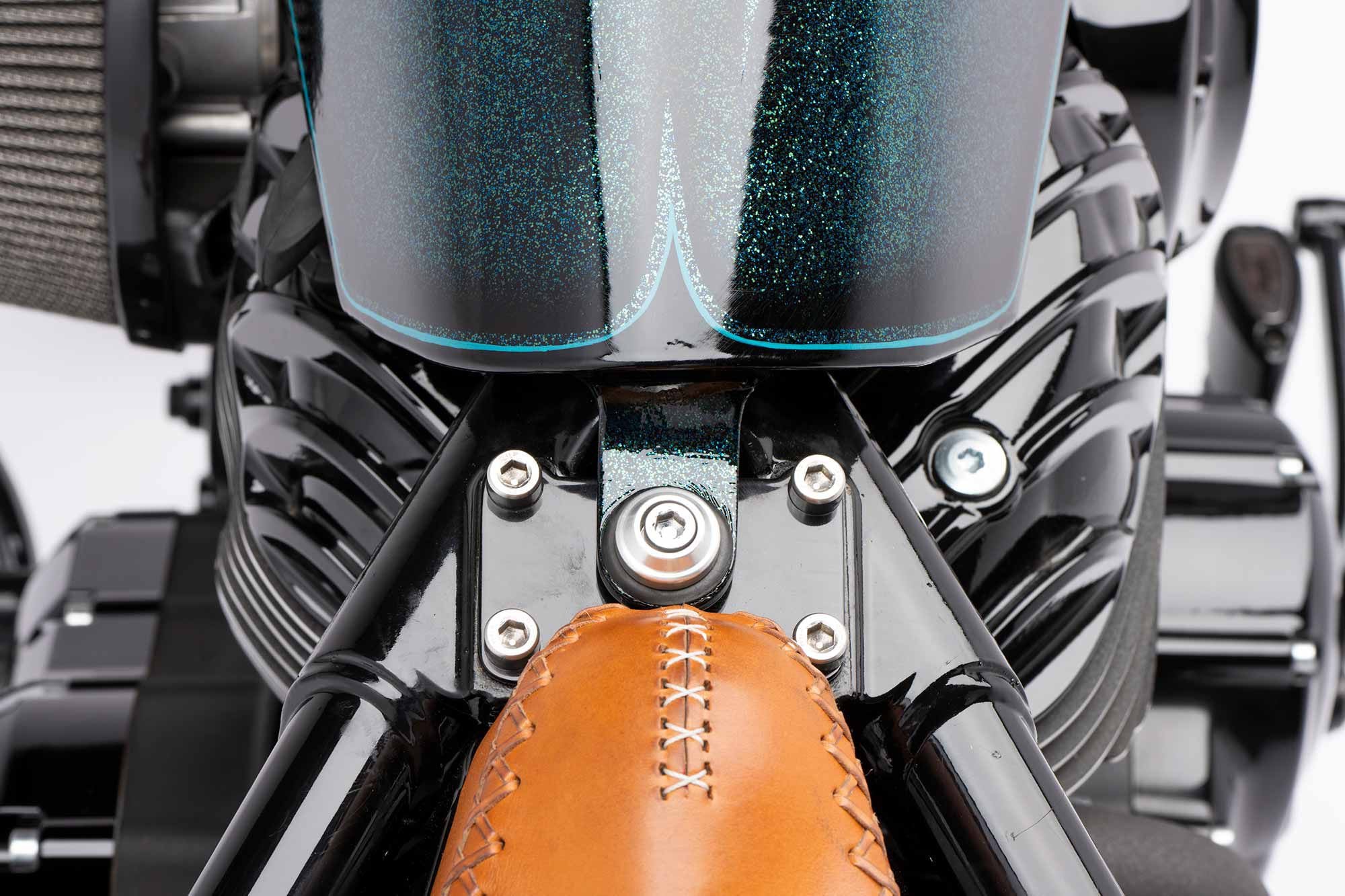 Indian's Chief headdress, typically seen lighting the way on the front fender, now serves as a brake light and taillight. (Michael Lichter/)
It wouldn't be classic chopper style without a foot clutch and hand shifter. (Michael Lichter/)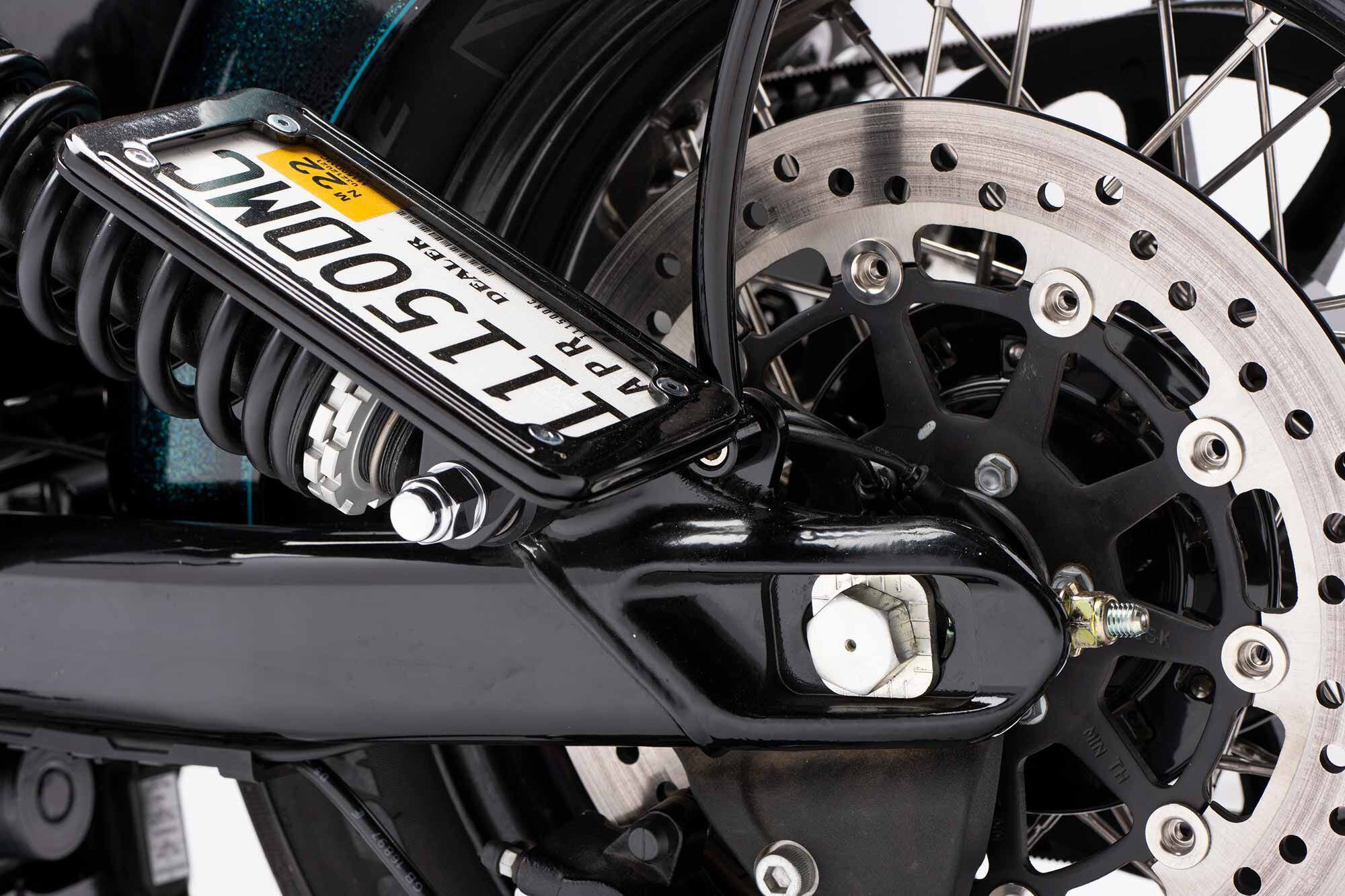 The newly fabricated license plate mount on the swingarm of the Chief Bobber. (Michael Lichter/)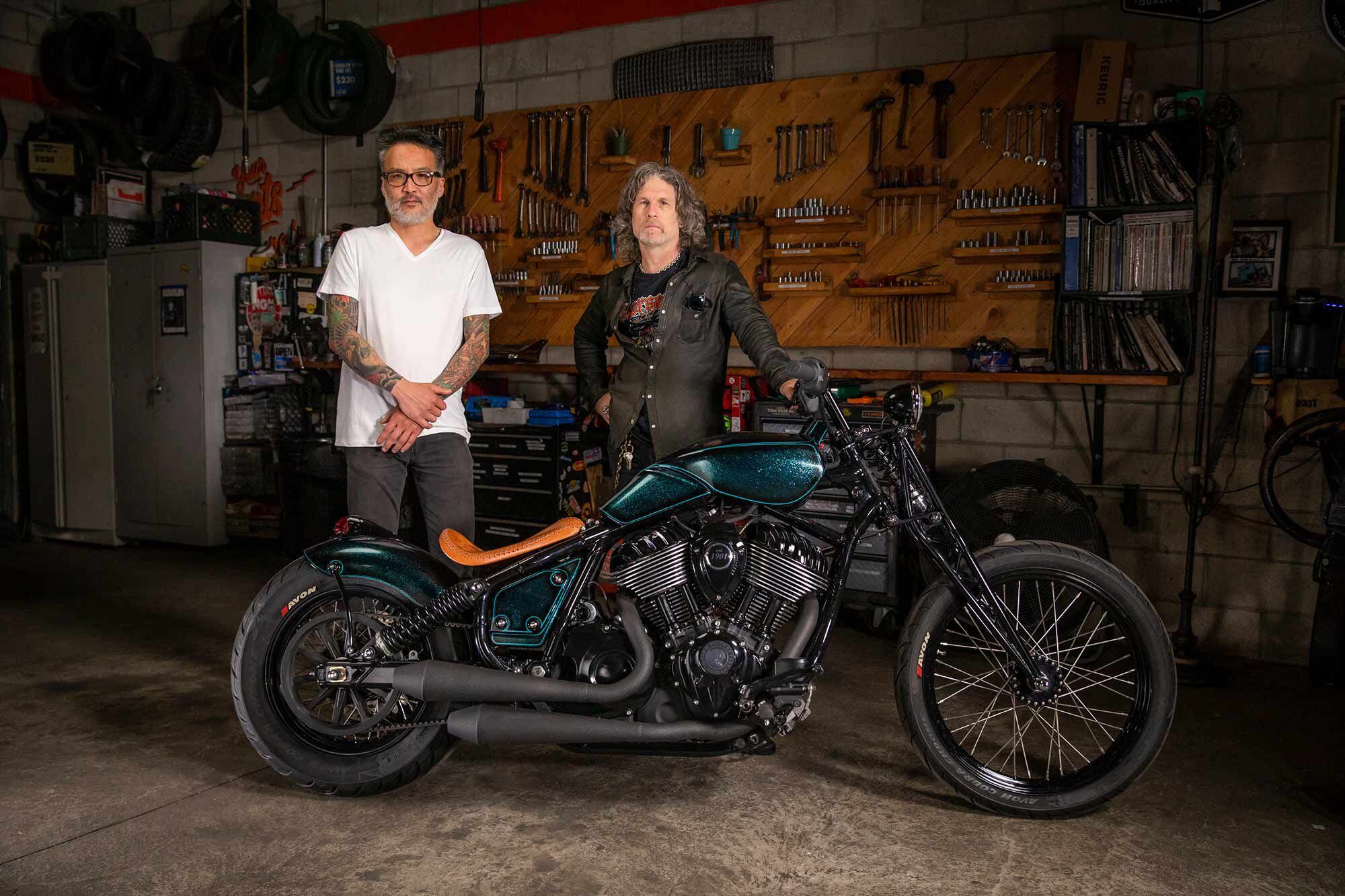 Keino and Paul in front of the creation that reunited them. (Michael Lichter/)