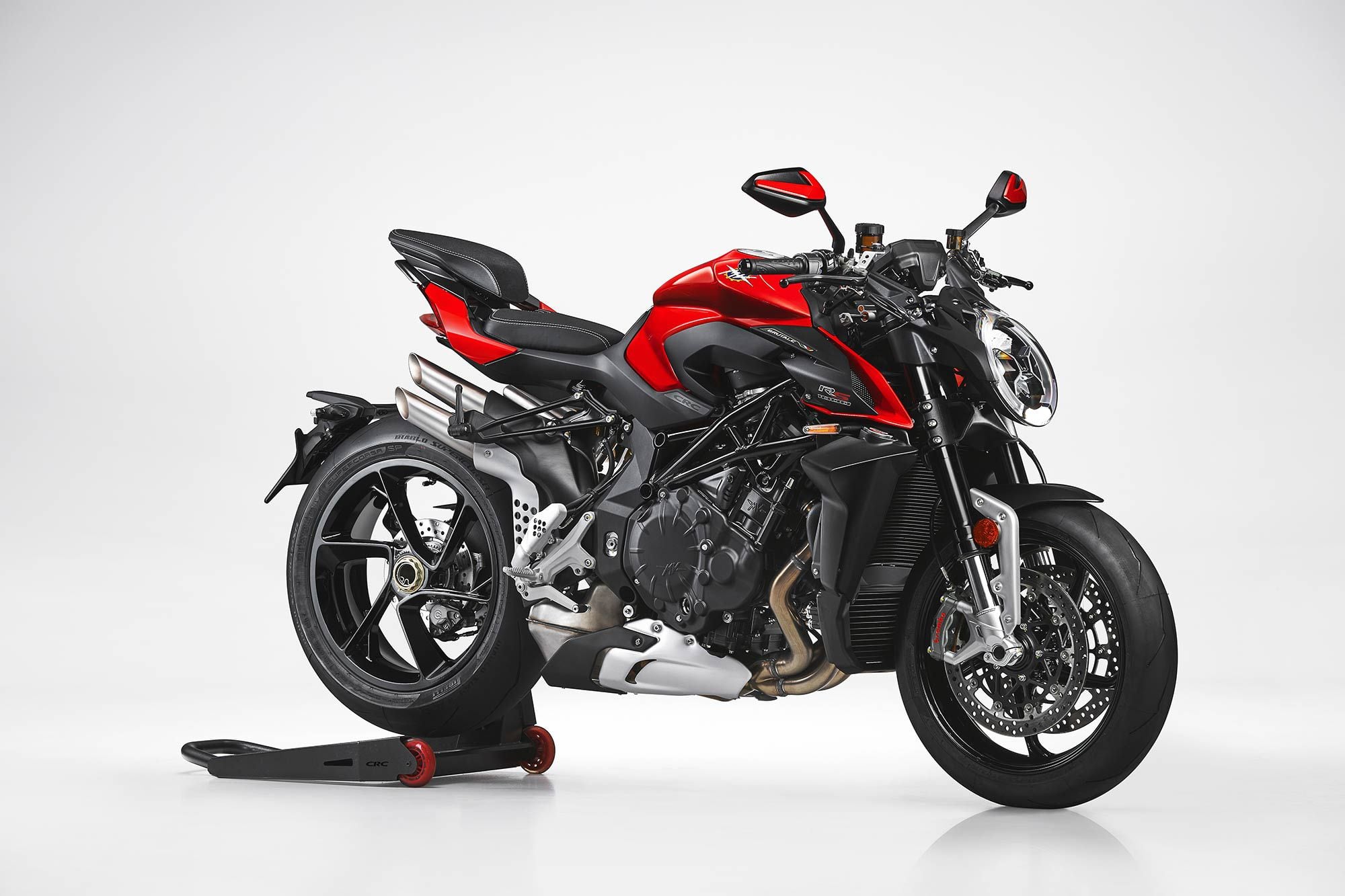 MV Agusta's latest Brutale 1000 RS aims to be a little more approachable and a little more accommodating for long-distance riders. (MV Agusta/)
This year's EICMA Show is back on track, with a plan to open starting November 25 at the Milan Fairground. After two years of COVID-19, the motorcycle industry is looking forward to the event in a big way.
One of the key players is MV Agusta, a company with a head start on things. It has been announcing several models early, including its 2022 Brutale 1000 RS. You'll need to squint hard to see how the new bike differs from the 2021 Brutale 1000 RR that Cycle World tested in October 2020. Color scheme and graphics apart, the biggest visual changes are the seat configuration, the handlebar, the five-spoke cast-aluminum wheels replacing the nine-spoke forged wheels, and finally the choice of front and rear suspension.
Related: MV Agusta's New Brutale 1000 RR First Look
The Brutale 1000 RS was separated at birth from its 1000 RR twin so MV could offer a more accessible, slightly more touring-oriented variant, heavy emphasis on "slightly." Engine-wise it's based on the current jewel of MV Agusta's crown, a powerplant evolved and much improved over the original, badly limping F4 750 four and the rest of MV's glamorous-looking superbikes that were all plagued with reliability problems.
When time came to update the MV Agusta 1000 four to Euro 5 standards, Chief Project Engineer Brian Gillen took the opportunity to fix the engine's chronic problems. The result is an emissions-compliant powerplant delivering 208 substantial horsepower at 13,000 rpm and 86 pound-feet of torque at 11,000 rpm. Cooling and lubrication were the main issues; improving both was absolutely fundamental. That accomplished, Gillen's team worked on frictional losses, improving combustion, and integrating the electronic management systems.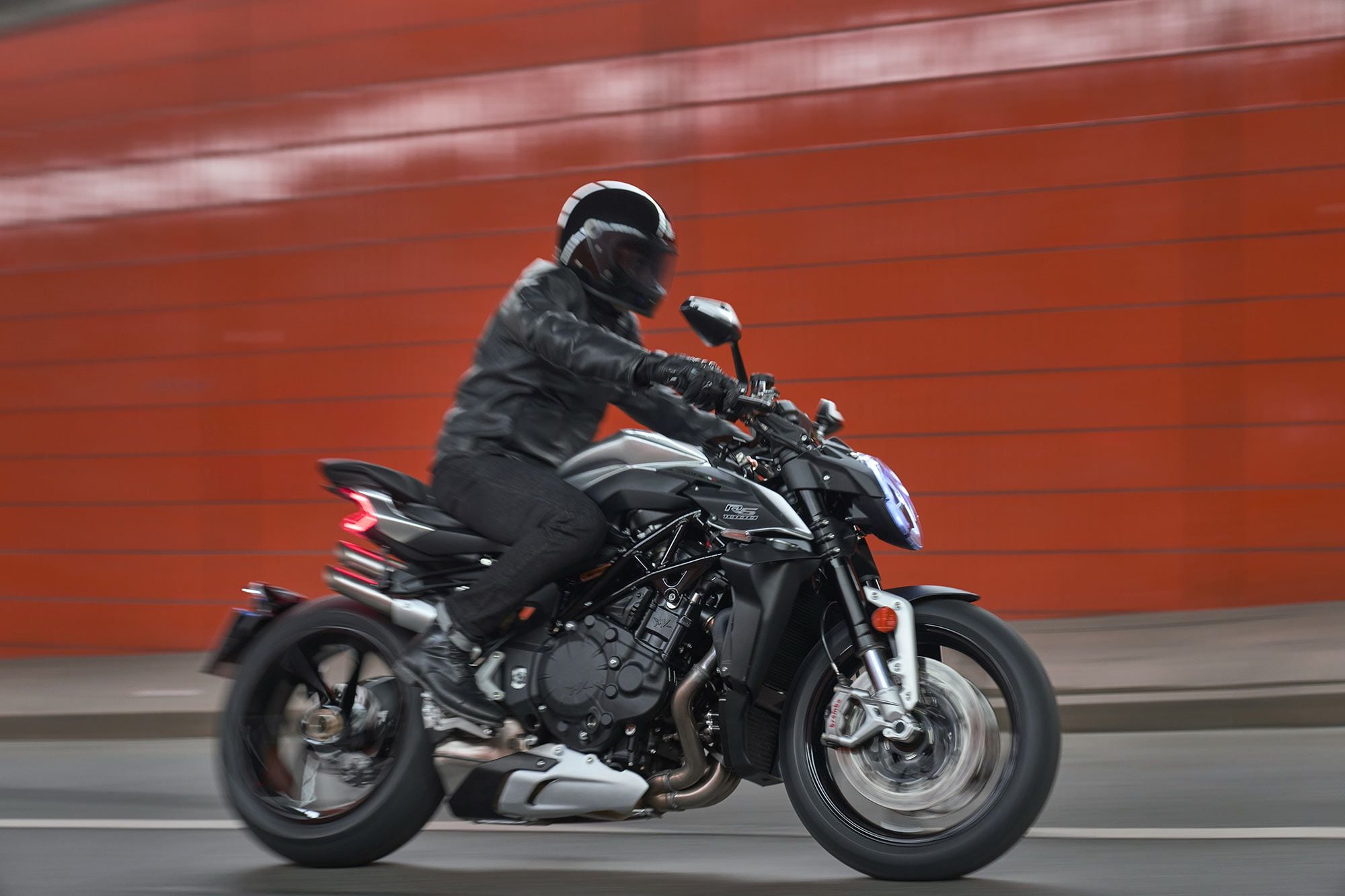 Brutale 1000 RS visual differences include new five-spoke wheels, the handlebar configuration, and the seating. Suspension is Marzocchi up front and Sachs in the back. (MV Agusta/)
MV retained the original Brutale's radial valve distribution and related semi-hemi combustion chambers, though the combustion-chamber profile has been improved by revising the piston tops in the highly oversquare engine (79mm bore by 50.9mm stroke). Now all valves, both inlet and exhaust, are titanium, as are the connecting rods. The Euro 5 upgrade package also includes new higher-pressure injectors, refined cam profiles, and of course a new exhaust system incorporating a more effective catalytic converter.
The new Brutale RS shares its frame with the Brutale 1000 RR as well. The two chassis differ in their suspension components and settings, with the electronically controlled Öhlins units of the 1000 Brutale RR replaced by a 50mm male-slider Marzocchi front fork and a Sachs rear shock on the RS. Both suspension units feature full mechanical adjustability. The braking system uses twin Brembo 320mm rotors and Stylema radial-mount four-piston calipers front and a 220mm Brembo rotor and two-piston caliper at the rear.
The electronics suite is comprehensive, based on the new IMU six-axis inertial platform that controls all dynamic and safety systems, starting from the Continental MK 100 ABS, the lean-angle-sensitive traction control. MVICS 2.1 injection-ignition software is managed by the new and much more powerful Eldor Nemo 2.1 ECU. A 5.5-inch TFT display includes all instrumentation and allows inputs via the rider's personal smartphone.
The MV Agusta Brutale 1000 RS integrates the superb performance potential of the RR version with a more comfortable ride for longer trips. At this stage, we have just one question: Why not an even more dedicated sport-touring model with a smart top fairing, like the latest Ducati SuperSport, perhaps with a retuned engine making, say, 180 hp in a wider, smoother powerband?
Maybe that's what EICMA is for.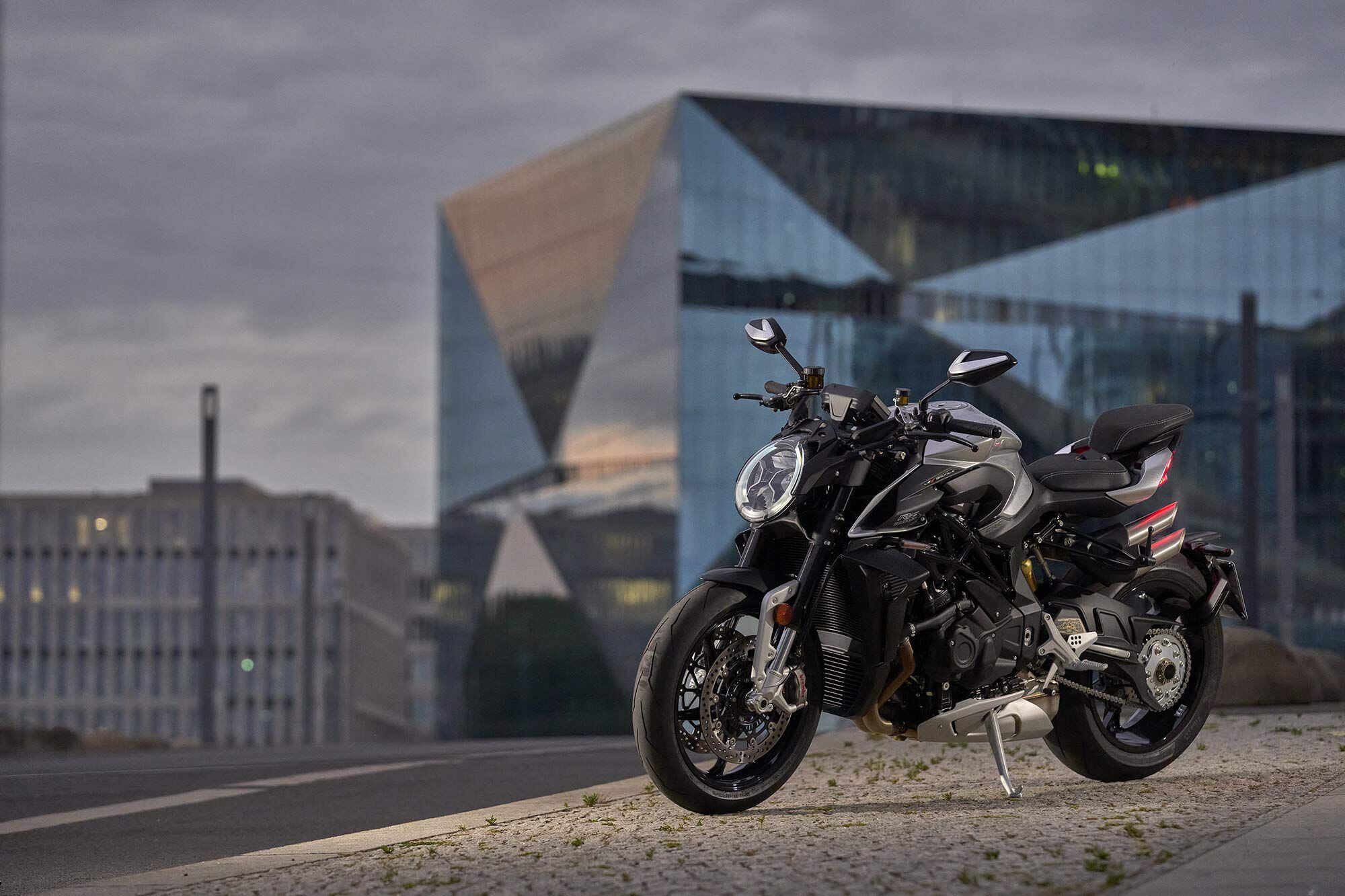 The Brutale is aptly named: Has a family of motorcycles ever looked as deliberate, exotic, aggressive, and densely muscular as the current lineup? (MV Agusta/)