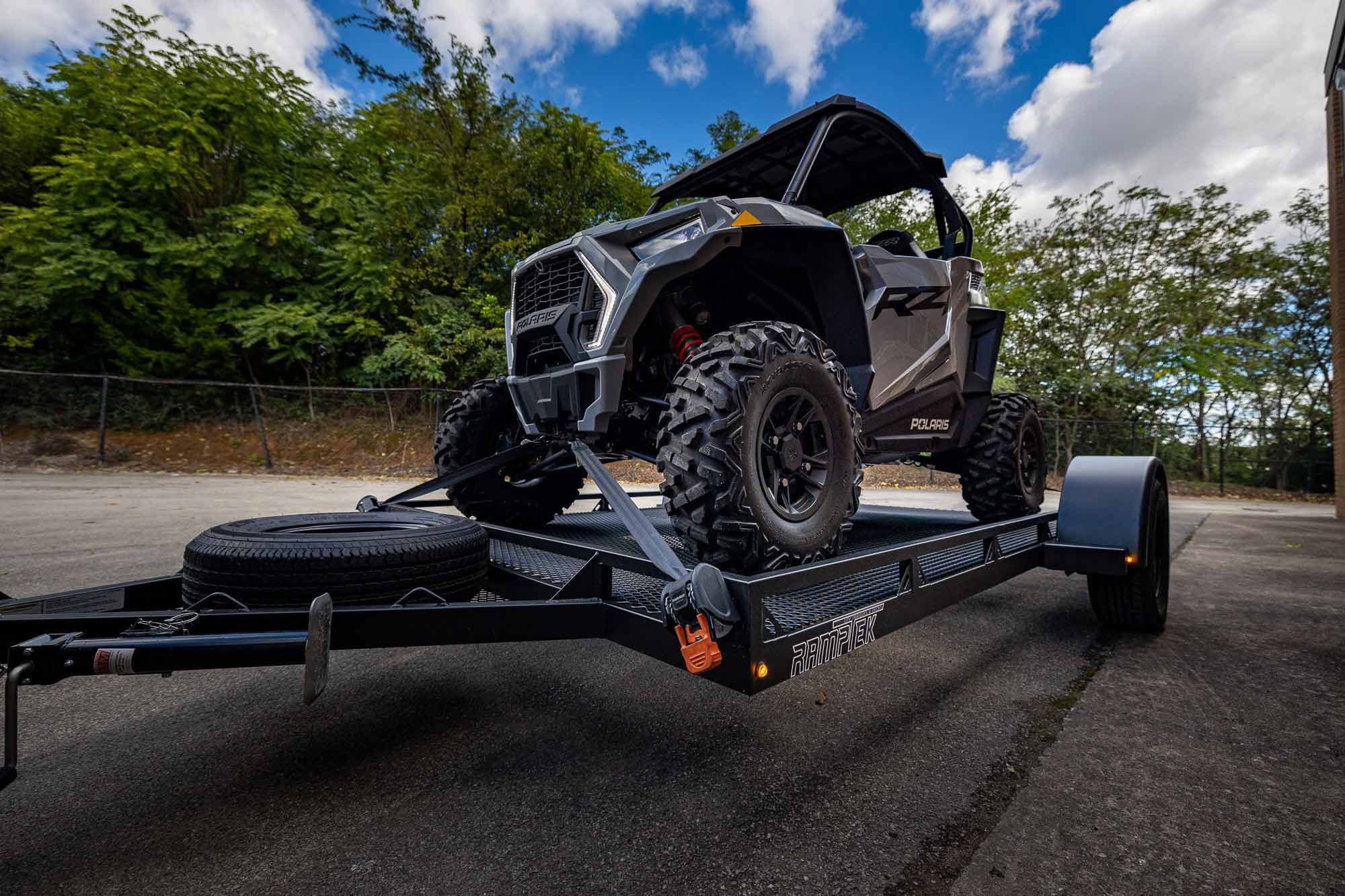 If your rickety utility trailer is ready to give up the ghost, it may be time to give our buddies at Ramptek a holler. You will not regret it. (Kevan Ray/)
Finding a decent trailer for your side-by-side shouldn't be as hard as it is. Still, just head to any dealer, home improvement store, or rental lot and you won't exactly be spoiled for choice. You could get an all-steel car hauler, but that could easily approach the total tow capacity of your truck unladen. U-Haul will happily rent you a dolly, but those are just about useless for a UTV. And there's always the ubiquitous reedy utility trailer, ready to overload the tongue of your truck with weird axle placement before juddering itself to death at the first sign of stress.
We spent far too long wrestling with this conundrum until finally meeting the dudes at Ramptek. This Eagle, Idaho, company's specialty is a line of decks that allow a UTV to roll right up on top of a three-quarter-ton truck. And, happily, it also builds a series of excellent and well-thought-out compact trailers.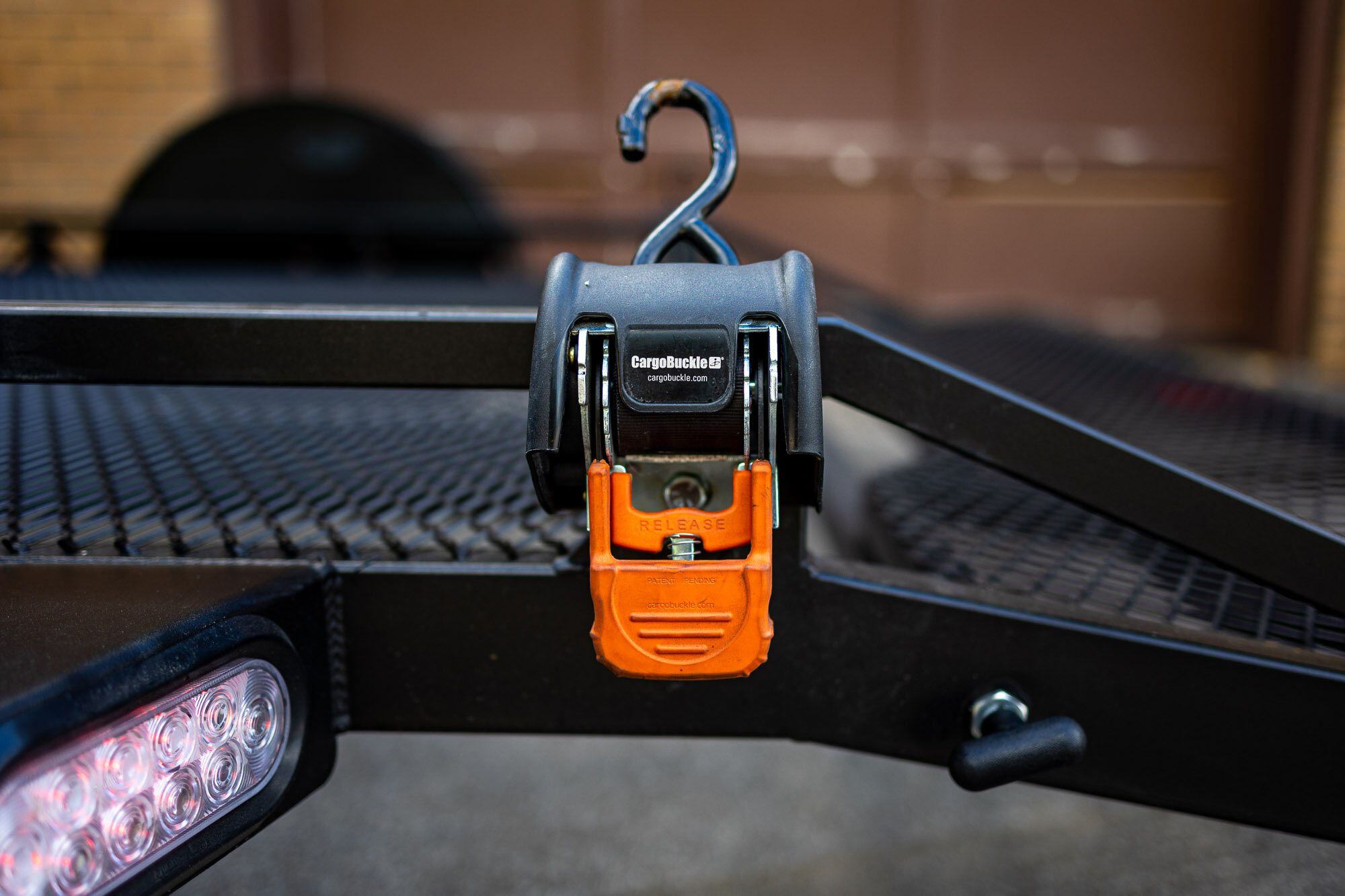 Throw away your frustrating box-store tie-downs; Ramptek integrated a retractable, seatbelt-style ratcheting strap for each corner of your side-by-side. (Kevan Ray/)
Ramptek took pity upon us and kindly cut us a deal on a pair of 77-inch-by-12-foot roll-on UTV trailers. We took delivery a couple of weeks ago and haven't looked back since. The trailer you see here will spend its days at our Knoxville, Tennessee, headquarters. Its twin is headed north to our Virginia branch office.
Related: The Basics of Buying a Trailer for Your New UTV
These trailers are remarkable; they're incredibly simple and easy to use, sturdy as a bridge abutment, lightweight, and beautifully balanced. Like a lot of things that just flat-out work, the Rampteks have a tendency to blend into the background, never calling attention to themselves because, frankly, they don't require special attention. That kind of seamless function takes hundreds of hours of careful design work. The closer you look at these trailers, the more that shows.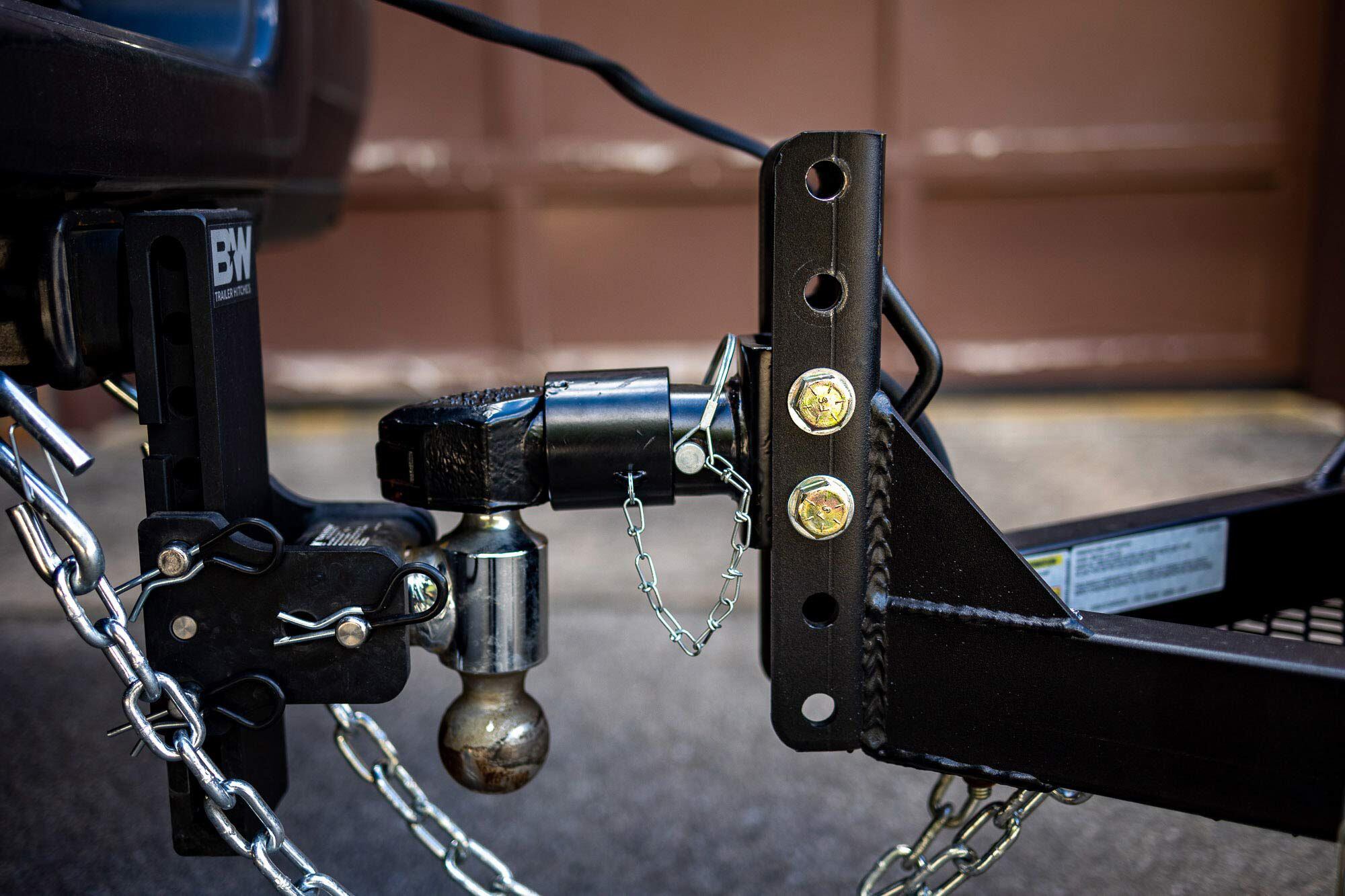 Clever details continue up front, where Ramptek made an adjustable hitch that allows you to run a level trailer even if your truck has a mild lift. (Kevan Ray/)
Their biggest advantage is axle placement. Our 12-footer relies on a single axle, but that axle is mounted well aft of the trailer's centerline, which returns a couple of nice dividends. First, it makes the thing track straight as an arrow, and its behavior is very forgiving when you're backing it into a tight space. Second, it makes balancing your load fore and aft an afterthought.
On a garden-variety utility trailer, with its axle bang on the centerline, dialing in your tongue weight can be an absolute nightmare. Ramptek's simple change solves this problem; drop the tilt ramp, roll your UTV on, strap it down, and you're done. Oh, yeah: Out back, a built-in tilting ramp eliminates the need to drag around a set of flimsy aluminum powersports ramps.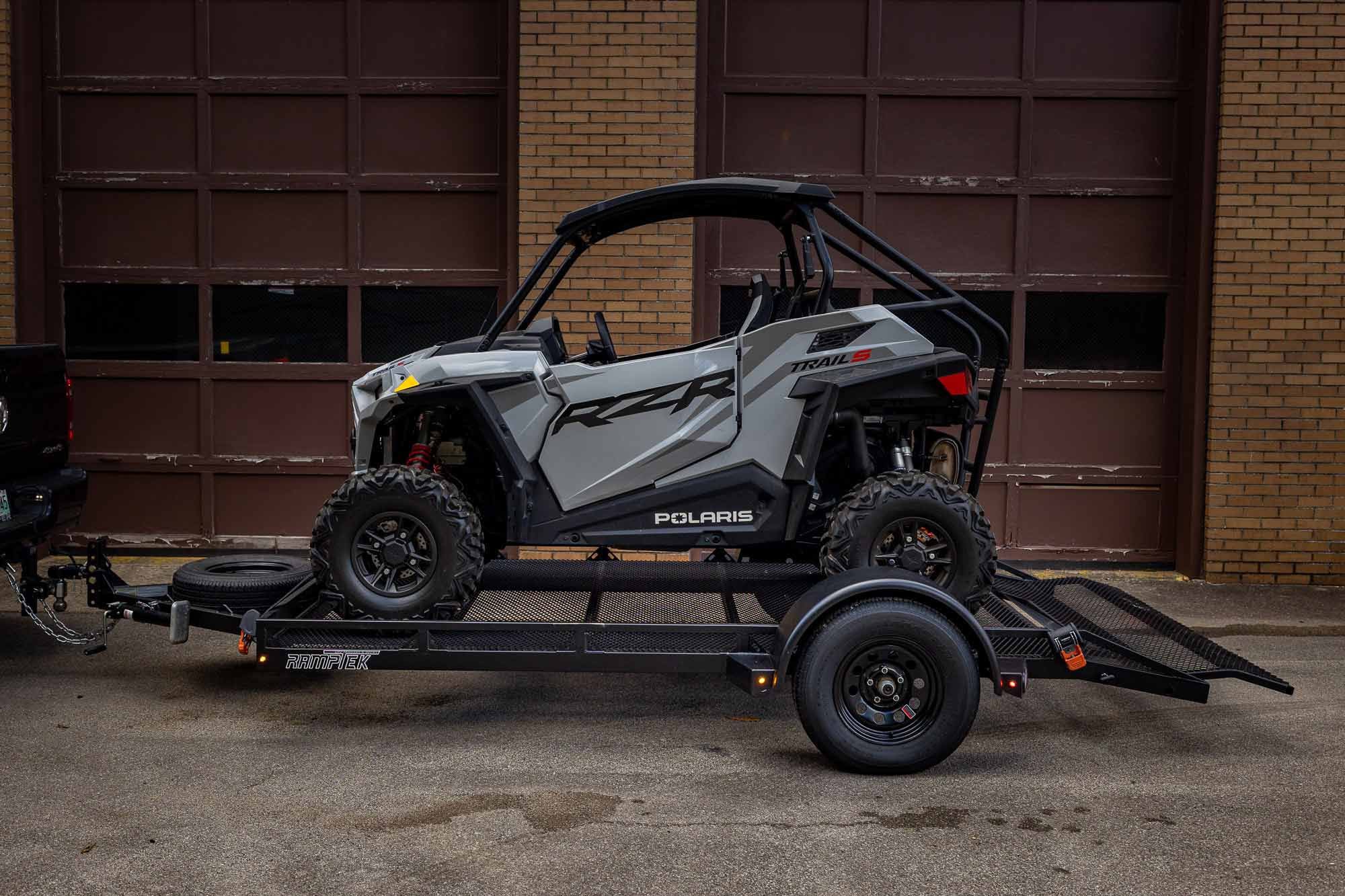 At 77 inches wide by 12 feet long, the Rampteks can accommodate just about any side-by-side out there. (Kevan Ray/)
Ramptek also built in self-retracting ratchet straps and hooks at all four corners, so you'll never need to fight with box-store tie-downs ever again. Just hook the Ramptek straps up to your UTV's tow hooks, tighten them down, proclaim that "she ain't goin' nowhere," and roll.
Gripes with these things are few and far between, but we do have one so far. While the built-in straps are awesome, they apply tension from the sides of your UTV. We've noticed a tendency for loads to rock back and forth slightly on bumpy roads. A set of wheel chocks is on our short list. We also had one LED on the ramp burn out, a minor issue but one worth noting.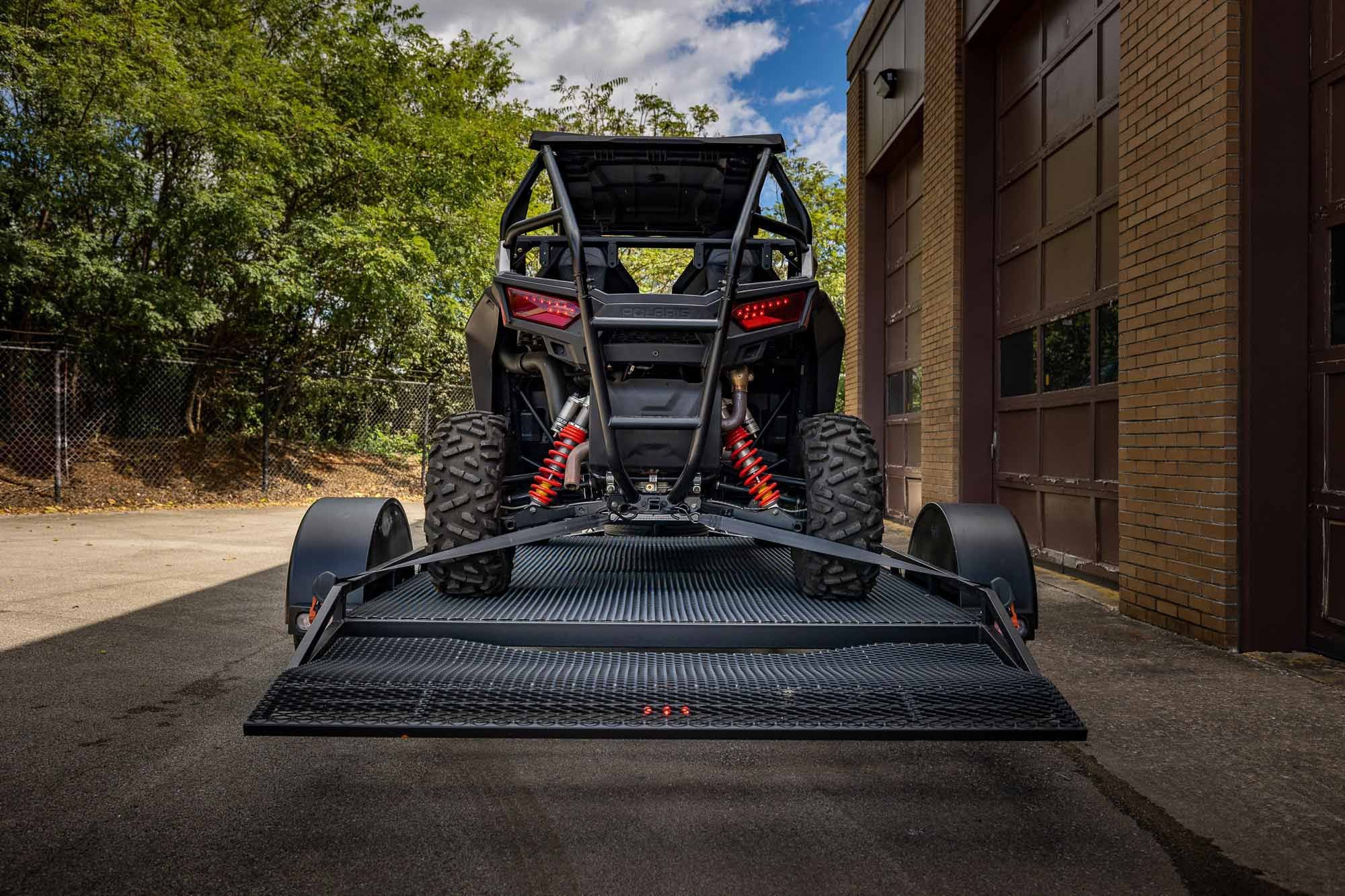 Out back, the trailers feature an integrated, tilting ramp. Just pull the pins, roll onto the trailer, and pin the ramp back in place. (Kevan Ray/)
You'll be seeing a lot of our new trailers, now that we've taken delivery. And since we bought them, we'll have them for the long haul. We'll keep you in the loop concerning the good, the bad, and the ugly along the way. But at this point, we're stoked on them.