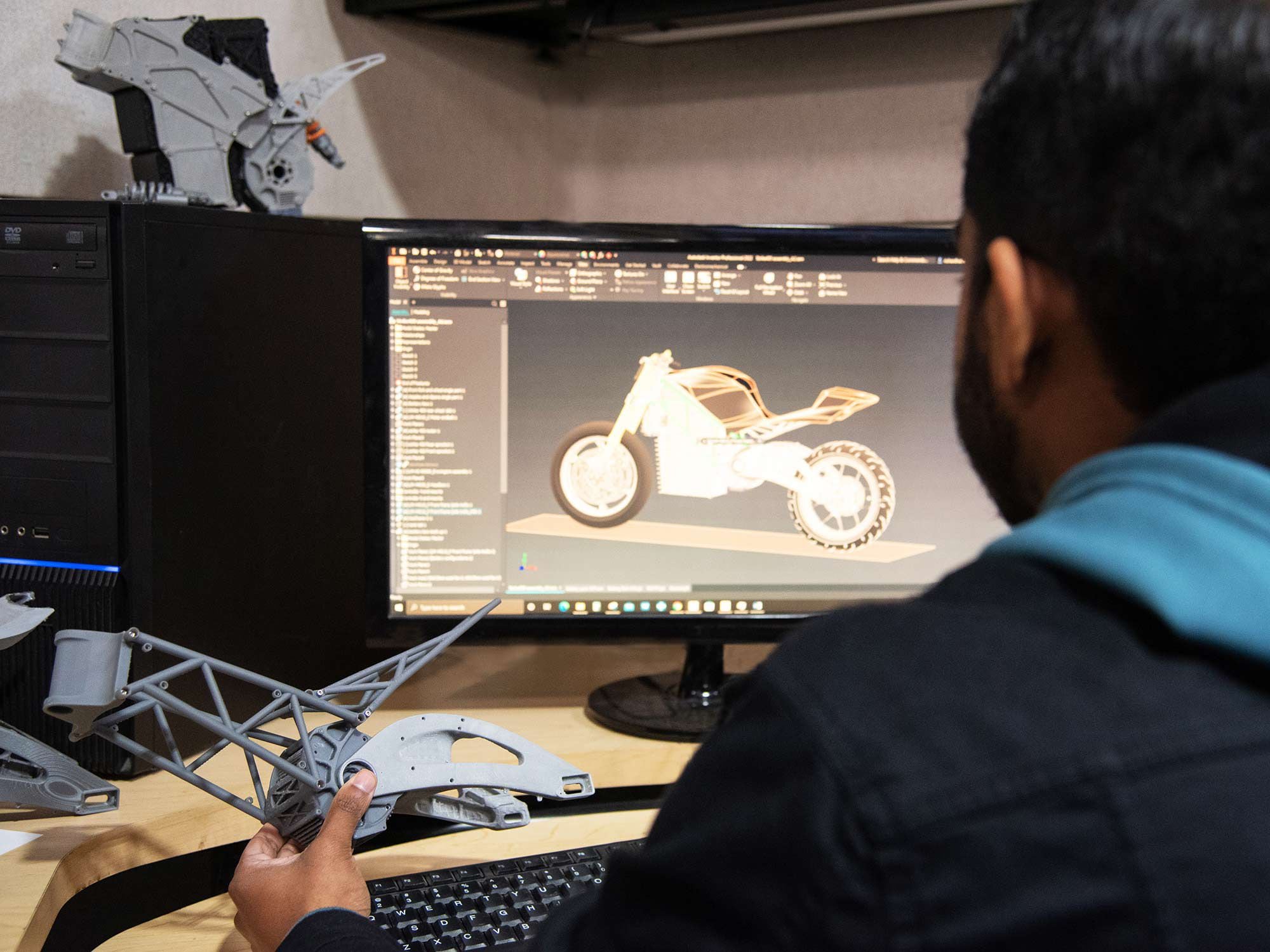 The Lightning Motorcycles team designs its prototype land speed record chaser, the first motorcycle to use niobium technology. (CBMM/)
There's no doubting the intensified, um, roar about electric motorcycle racing recently. The niche picked up some energy at Pikes Peak International Hill Climb, which unfortunately no longer features motorcycle racing due to the passing of Carlin Dunne at the 2019 event. Further popularity of electric moto racing followed on an international stage when the MotoGP-support class, MotoE World Cup, debuted in 2019. This year, the Fédération Internationale de Motocyclisme (FIM) will launch an off-road motorcycle racing series titled the FIM E-Xplorer World Cup.
Electric motorcycles also continue to build traction in land speed racing, strengthened in 2020 by six-time world champion Max Biaggi's record run at Bonneville Motorcycle Speed Trials (254 mph aboard a Voxan Wattman).
Lightning Motorcycles, always a heavy presence at Bonneville, is on the hunt to break the land speed record once again. The Hollister, California-based motorcycle company is betting on new niobium technology to achieve this feat.
Niobium? This unique and lightweight metal is obtained from the mineral pyrochlore, and will help decrease the motorcycle's weight.
Related: Lightning Motorcycle Developing Closed Electric Model
To make this feat possible, Lightning Motorcycles partnered in January with the Brazilian company CBMM, the "world's leading supplier of niobium products and technology."
A yet-to-be-named electric motorcycle prototype is under way that will leverage the metal niobium. Lightning Motorcycle says the initiative intends to innovate and test the metal in various vehicle components, which will improve its performance and, eventually, help the bike exceed the 250-mph mark.
"Light weight and high efficiency are essential for high-performance motorcycles, we have used some applications of niobium to achieve these goals," Lightning Motorcycles CEO and founder Richard Hatfield says.
"We are excited to work with CBMM to further innovate niobium technologies that can be translated into meaningful benefits to not just high-performance electric motorcycles but to all types of vehicles."
CBMM Market Development Manager Mariana Perez de Oliveira says that the agreement is long-term since the prototype will also serve as a concept for future projects, adding "weight is an enemy of the bike."
Lightning Motorcycles is no stranger to breaking land speed records. With Paul Thede, owner and chief engineer of Race Tech and suspension developer at Lightning Motorcycles, at the controls of a SuperBike model, the company set in 2011 a then-new land speed record of 215.960 mph.
The SuperBike became the first electric motorcycle to exceed 200 mph during Bonneville Salt Flats Speed Week. The previous record was 173 mph, also set by Lightning Motorcycles.