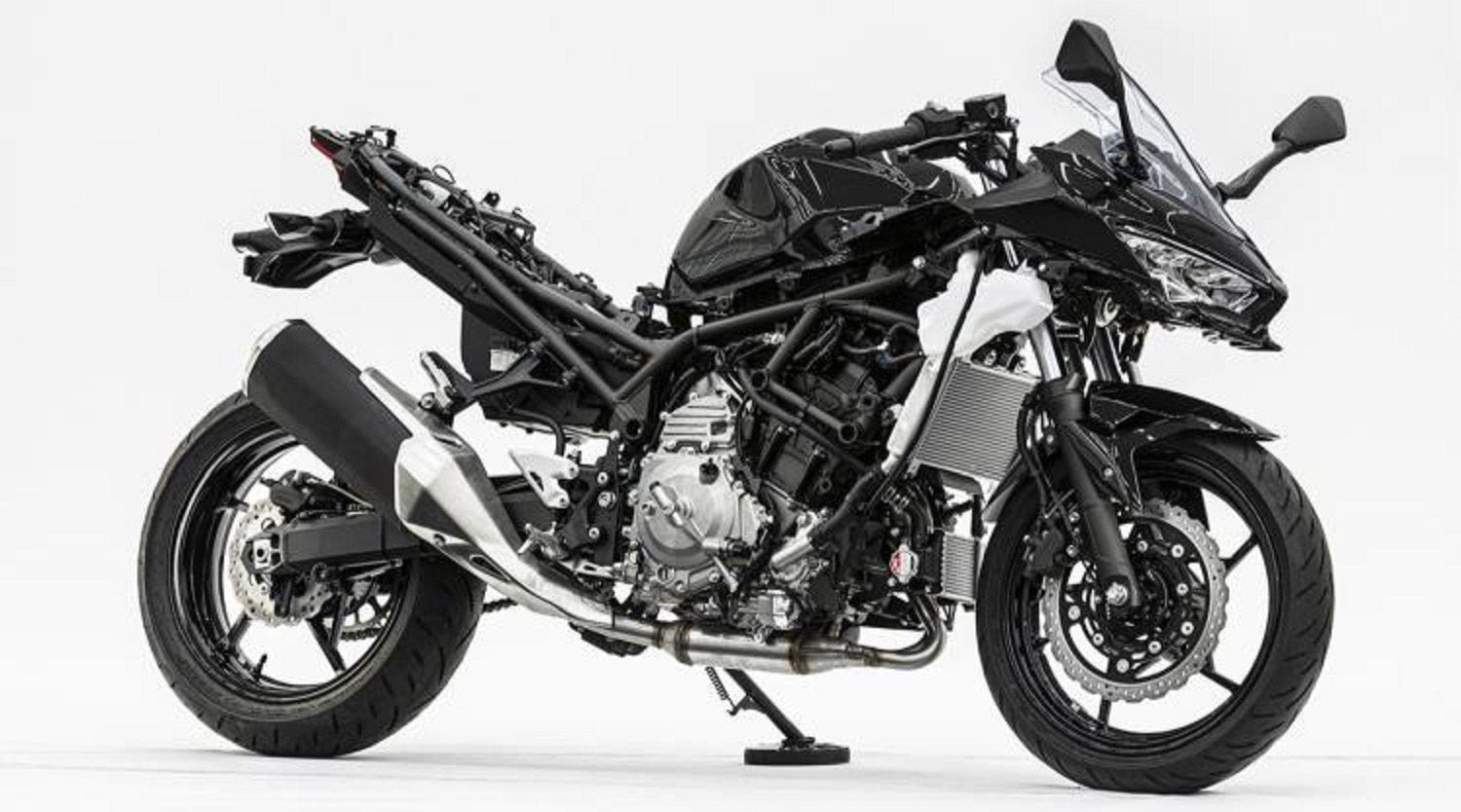 After all those leaked patent applications, Kawasaki has officially uncovered its gas-and-electric-powered hybrid. (Kawasaki/)
Since last year Kawasaki has been dropping teasers and plenty of patent applications about a gasoline-electric hybrid bike project, and now the firm has officially revealed the prototype machine at a presentation in Tokyo.
Hybrid bikes have been tried before. Honda built a hybrid version of its PCX scooter, and Piaggio has sold a hybrid version of the MP3, but the technology hasn't yet made an impression on the motorcycle market like it has in the car world. These days it seems like virtually every four-wheel manufacturer has multiple hybrid models, with the tech becoming so ubiquitous that it's on track to be the norm in the not-too-distant future.
Related: Kawasaki's Hybrid Project Is Taking Shape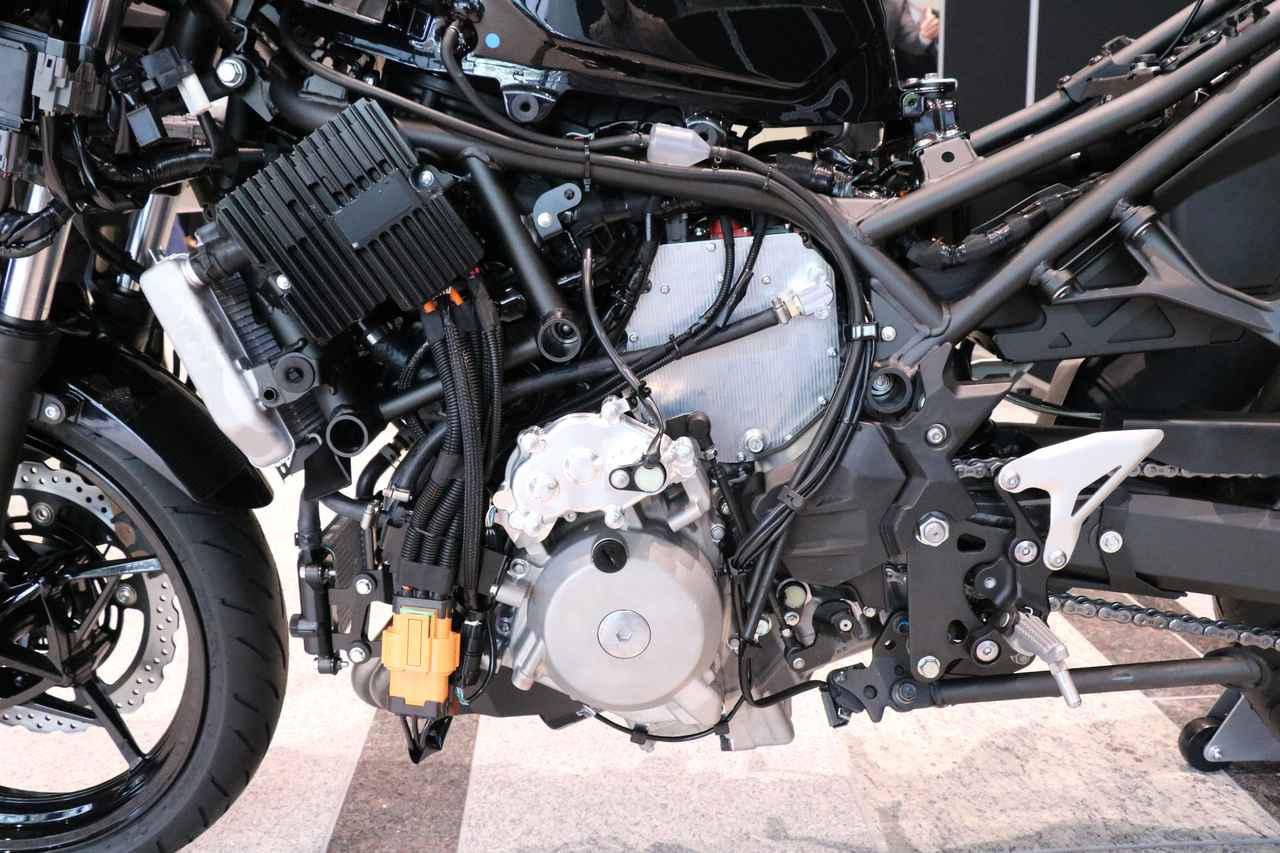 The prototype combines a parallel-twin engine and an electric motor above the transmission bolted to a purpose-built tubular steel frame. (AutoBy/)
The slow adoption by motorcycles is in part due to the diminishing returns that hybrid bikes offer. Motorcycles are already fuel efficient, so offering additional miles per gallon isn't the big selling point that it is for cars. What's more, bikes are extremely compact packages, so adding an entirely separate second powertrain—an electric motor, a drive battery, and all the electronics needed to operate them—while retaining the existing gasoline engine, fuel tank, fuel system, and cooling system doesn't appear to make a lot of sense. Kawasaki, however, is downsizing the old-school, gas-powered part of the bike and adding a relatively small electric drive system to fit it all in, resulting in a machine with conventional levels of performance and range but improved emissions and, perhaps most significantly, the ability to operate in zero-emission mode for short distances.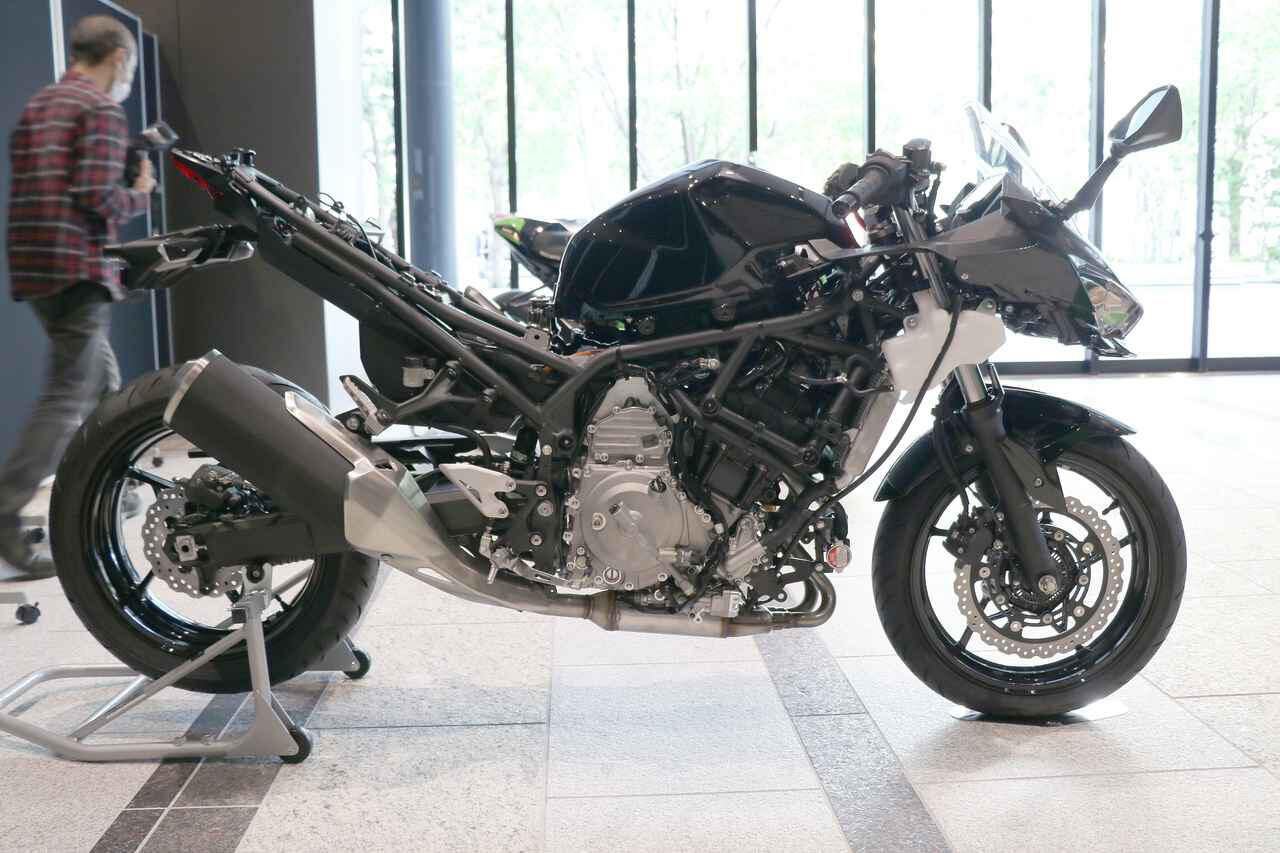 Helping smooth transitions between the various power modes is also an incorporated automated gearshift technology. (AutoBy/)
The firm has explained that the hybrid can work as a gas-powered machine out of town, using regenerative systems to top up the hybrid battery, which here is a relatively small 48V pack located under the seat. In this mode, performance comes from an engine that appears to be the parallel twin from either the Ninja 250 or Ninja 400 (externally, both engines are identical and Kawasaki hasn't confirmed the prototype's specifications). The exhaust pipe is from the Ninja 400, suggesting that this may be the larger of the two engines.
That parallel twin is bolted to a new, purpose-made tubular steel frame, and gains a large electric motor mounted above the transmission. In city mode, the bike turns to pure electric power, switching off and disengaging the combustion engine. With an eye to the fact that some cities are expected to introduce zero-emissions zones in the near future, this process could be automatically done using GPS, so riders can safely enter zero-emissions areas without having to remember when to switch power sources.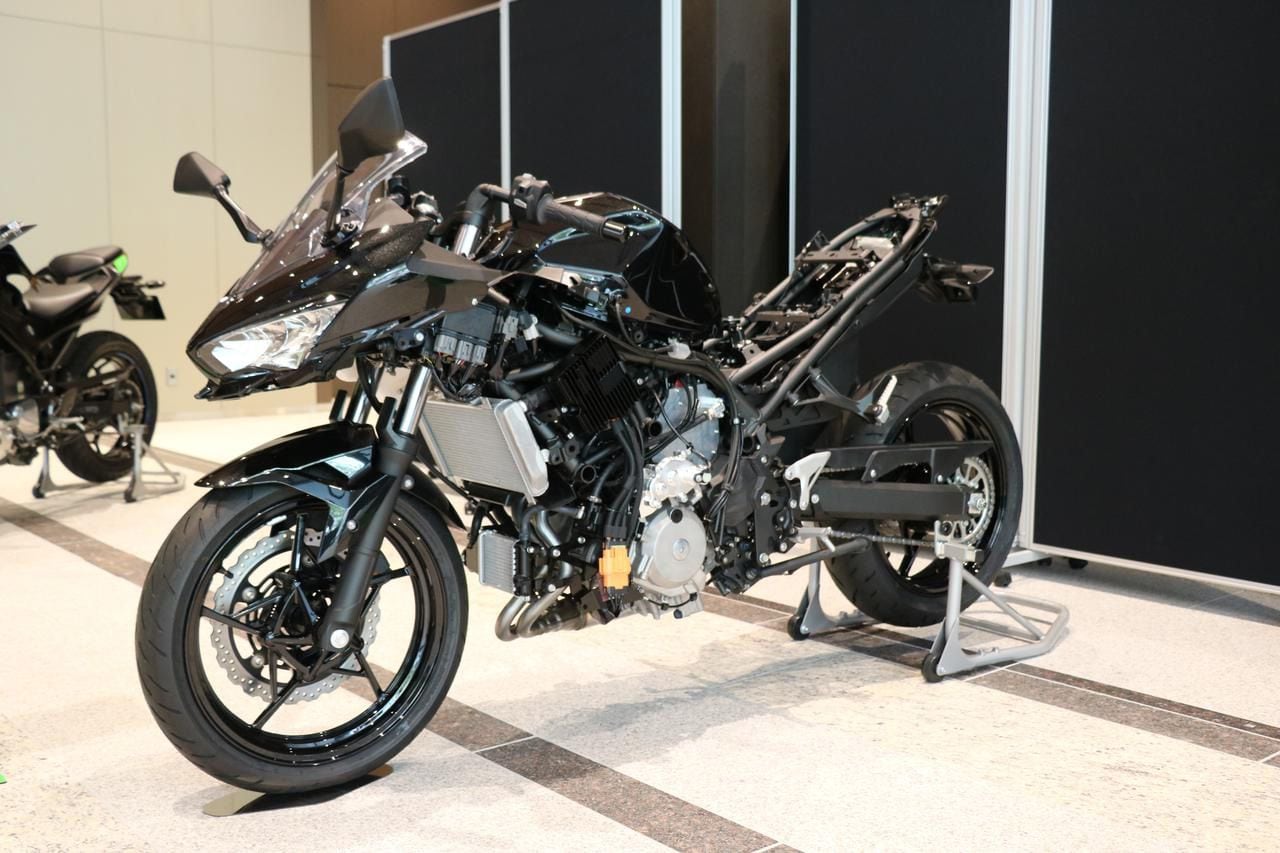 In town, the bike can switch to pure electric power to run cleaner, while the gas engine can offer better performance outside city limits. (AutoBy/)
Outside of town, the hybrid is also able to operate using both the electric motor and the combustion engine to give a level of performance that's higher than either can achieve on its own.
The prototype also adopts another future technology that we've mentioned before, in the form of an automated gearshift. This system, which Kawasaki filed patent applications for earlier this year, includes an automated clutch and a servo-operated shifter, allowing push-button changes. On the hybrid it's likely to make sense as it will be able to help smooth the transition between gas, electric, and hybrid modes, making for a more seamless riding experience.
A smallish hybrid battery pack situated under the seat can be recharged using regenerative systems according to Kawasaki. (AutoBy/)