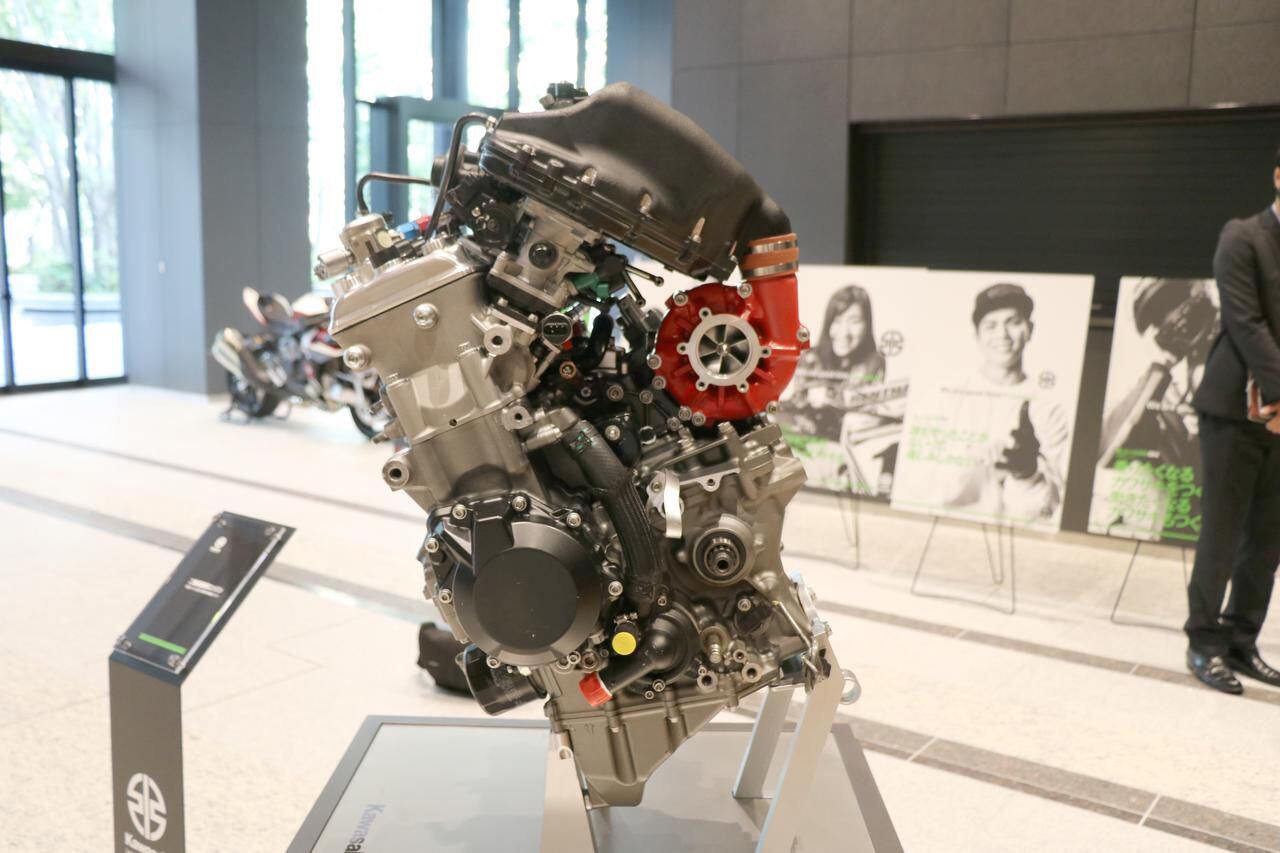 Kawasaki's new prototype dual-injection gas powered engine will eventually lead to a hydrogen-fueled unit. (AutoBy/)
Back in March 2020 we revealed Kawasaki's patents for a new dual-injected version of its supercharged H2 engine and now the firm has officially shown the prototype of that motor. But there's a twist: The project is a step toward the development of a hydrogen-fueled combustion engine that could result in a near zero-emission motorcycle that retains the character and technology of today's gasoline-powered machines.
The prototype engine shown by Kawasaki isn't hydrogen powered, at least not yet. Initially it's a dual-injected design, combining conventional port fuel injection—as used in the stock H2—with high-pressure direct gasoline injection. The latter helps reduce emissions; fuel is injected after the exhaust valve is closed so no unburned gasoline escapes the cylinder, and it also cools the combustion chamber to help prevent knock, allowing higher compression ratios and a leaner air-fuel mixture to be used.
Related: The Electric Motorcycle, Part 1
The design combines conventional port fuel injection with high-pressure direct injection aided by a secondary fuel pump. (AutoBy/)
Conventional port fuel injection has advantages in other areas as well, including reducing the intake charge temperature and allowing the gasoline to clean the intake valve seats as it rushes past. It also gives much more time for the fuel to vaporize and mix properly with the air to ensure good combustion.
Getting that vaporization and mixture with direct injection in the fraction of a second between the fuel being added to the combustion chamber and the spark plug firing is a big ask, and the solution is to use incredibly high fuel pressure. According to last year's patent, the Kawasaki prototype engine has a secondary fuel pump driven by a lobe on the exhaust camshaft that gives the direct injection 1,450 psi of pressure, compared to just 44 psi in the port-injection part of the system.
Direct injection helps reduce emissions, while port fuel injection gives more time for fuel to mix properly. (Kawasaki/)
Although the initial prototype is gasoline-powered, and a gasoline direct-injection system offers notable emissions and performance advantages, Kawasaki is using the prototype as part of a development road toward a hydrogen-fueled combustion engine. When burned, hydrogen becomes H2O (aka water) so it offers a huge emissions advantage over carbon-based fossil fuels. While it's not completely eco-friendly—the presence of nitrogen in the air means there are also NOx emissions from a hydrogen-fueled combustion engine—most of the exhaust would be nothing more than water vapor.
Direct injection is essential to a hydrogen-fueled combustion engine, as hydrogen, in gas form, would displace too much air from the intake charge if it was port injected, hugely reducing performance. By injecting it at high pressure into a cylinder full of air that's already been compressed by a supercharger, Kawasaki's design maximizes the potential power output, which could actually be higher than the equivalent gasoline-fueled version.
Related: Kawasaki Ninja H2 Streetbike! AKA "THE DISRUPTOR"—CW EXCLUSIVE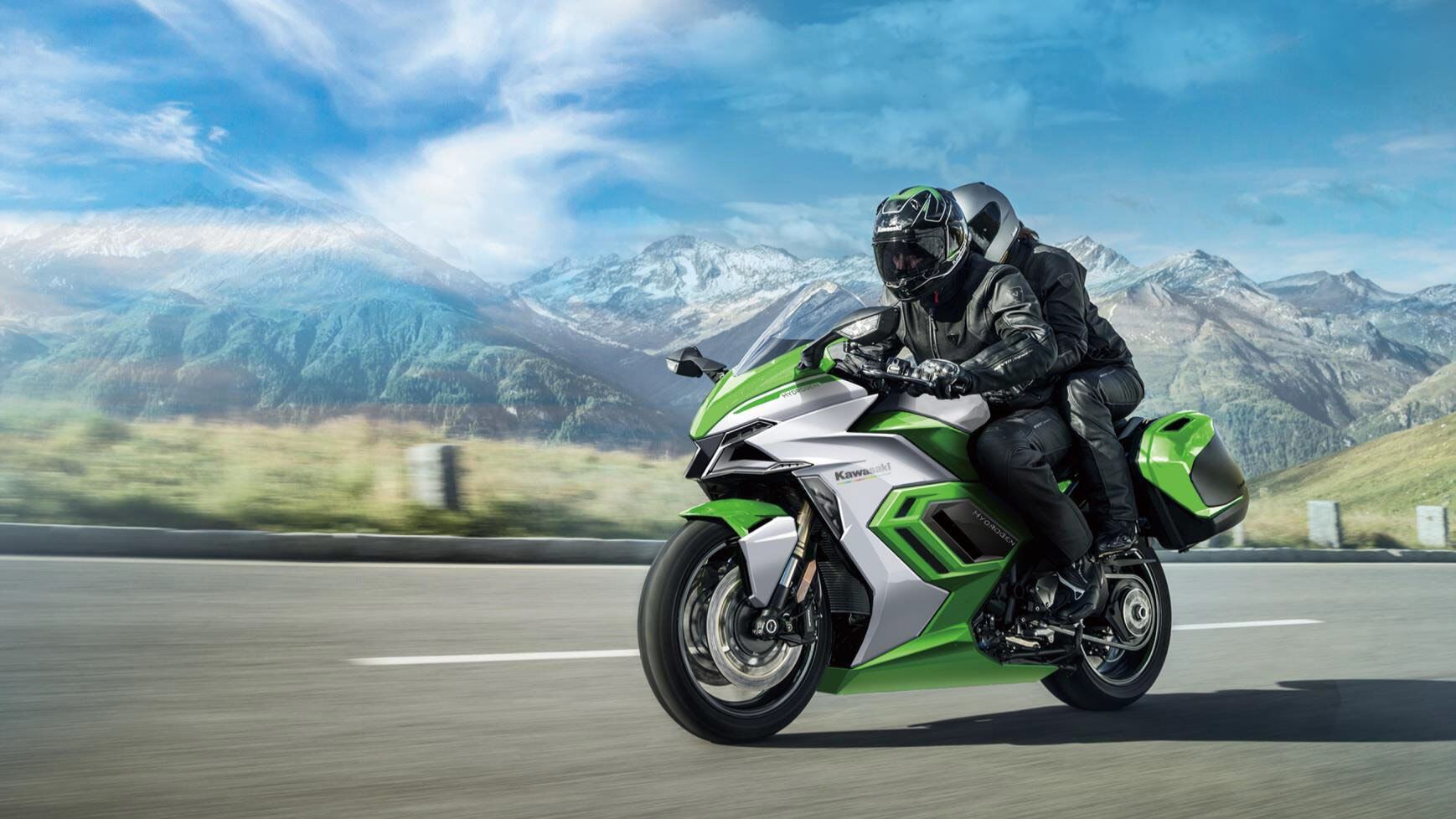 A design sketch from Kawasaki shows what a future hydrogen-powered bike might look like; in this case, pretty close to the H2 SX. (Kawasaki/)
Kawasaki has even released a design sketch of a potential hydrogen-powered bike, looking every inch like a future replacement for the H2 SX sport-tourer. Of course, there are still a lot of hurdles to overcome, not only in the development of the engine but more significantly in the creation of a viable hydrogen supply network, the bike's own hydrogen fuel tank, and the filling methods, but Kawasaki is already working on an entire ecosystem of hydrogen-related products and technologies across its span of products. These include enormous hydrogen-fueled combustion engines for ships, which the company intends to demonstrate by 2025, and even hydrogen-powered jet aircraft that are penciled in for launch sometime around 2035. To facilitate all these projects, Kawasaki is working on technologies around liquefied hydrogen fuel tanks and supply systems.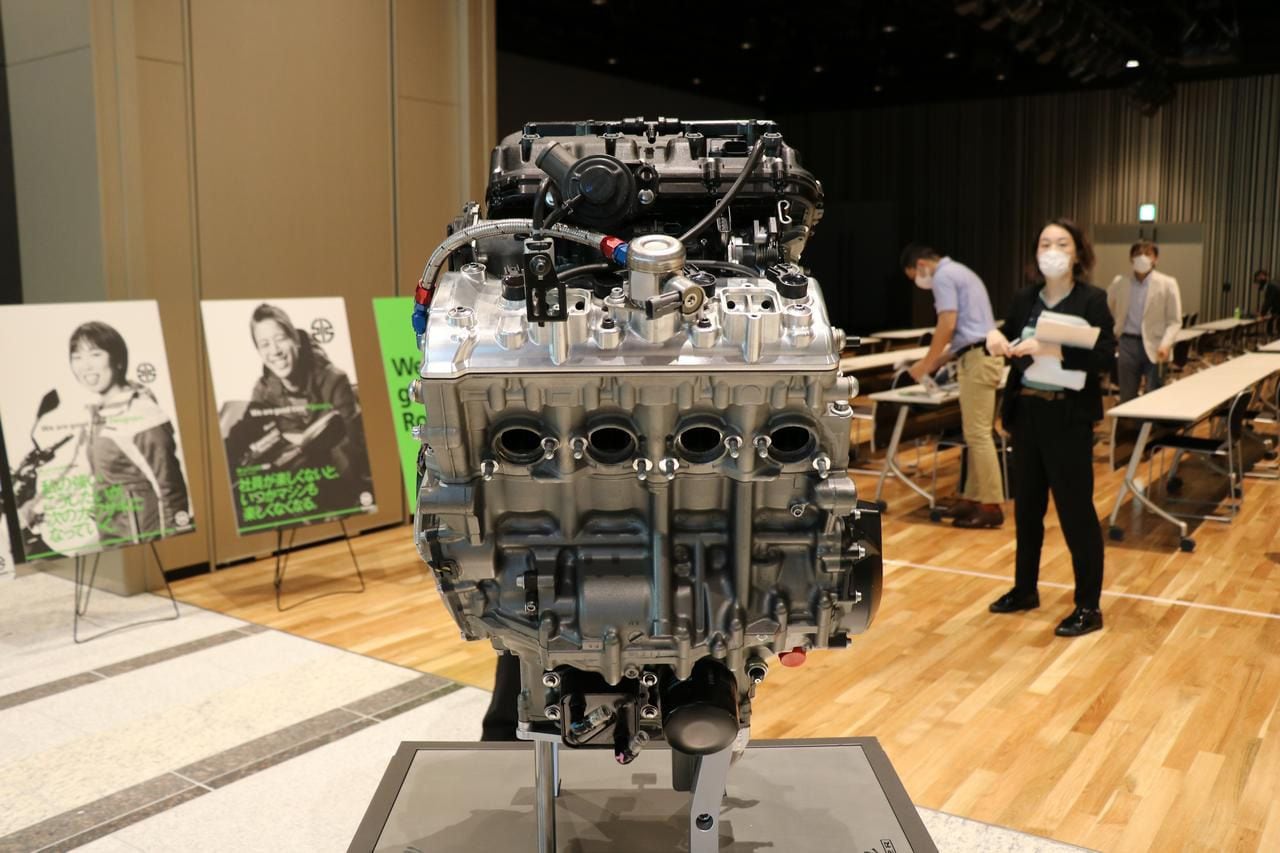 Direct injection is essential to a hydrogen-fueled combustion engine, and combined with a supercharger, could be even more powerful than the gas-powered equivalent. (AutoBy/)