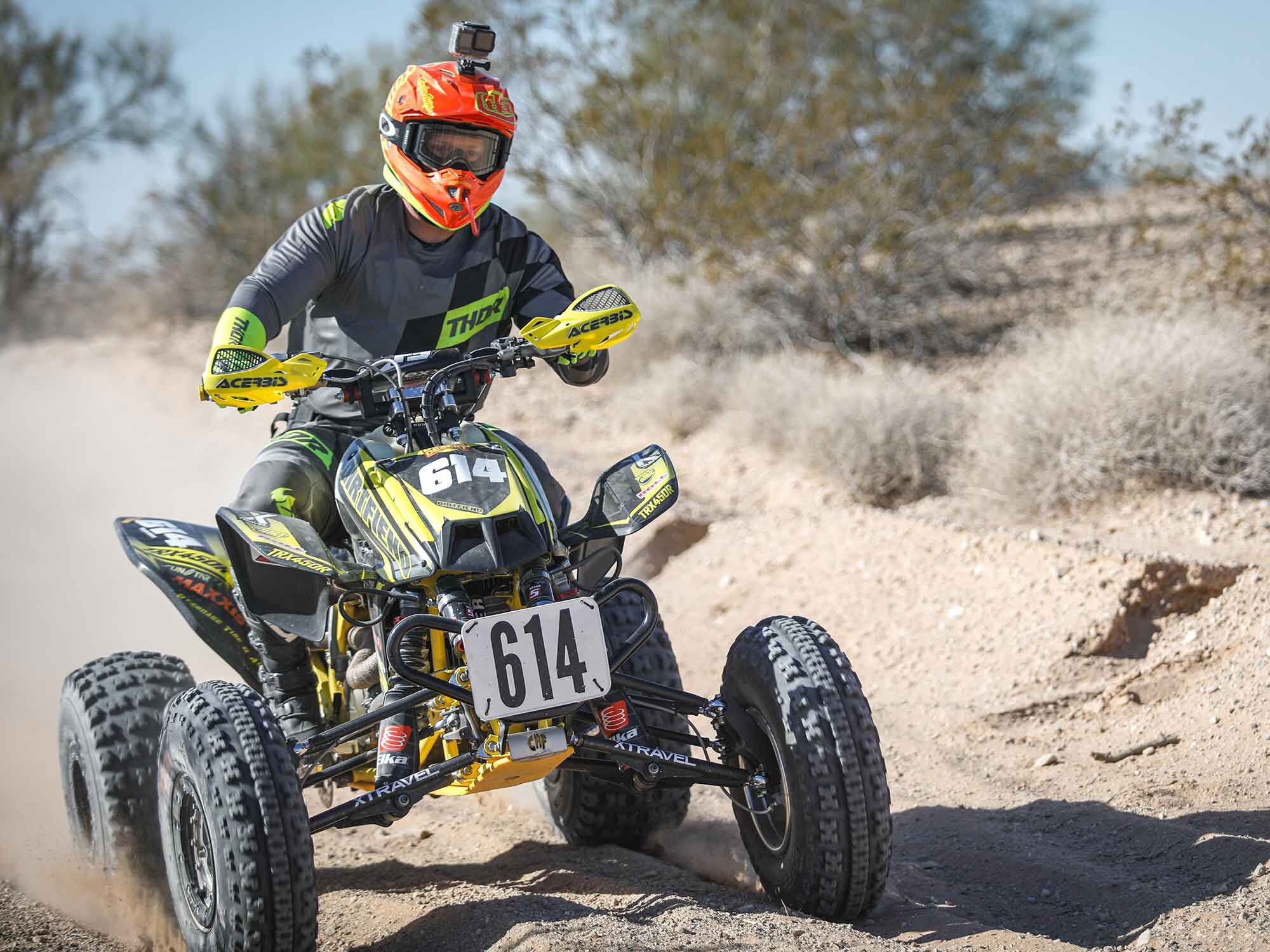 Kyle Standage took the Expert Ironman class win on the No. 614 2005 Honda TRX450R. (Justin Coffey/)
ATV desert racers are arguably the most underrated competitors in the world. They spend weeks, if not months, just preparing their race vehicles and chase/pit crews for the worst that a nearly inhospitable environment can throw at them, and on a racetrack that usually ranges from 100 miles to well over 1,000. The ATVs they ride are armored to the hilt, modified with long-travel suspension, bathed in Loctite, and wired together for longevity. Engines spend hours, if not days, running at peak power in a grueling dash to a far away finish line. The racers also carry enough spare parts and tools on them to completely tear down and rebuild their machines trackside if need be. It's a ton of work, prep, and the ultimate test of man and machine—and usually for nothing more than a two-dollar trophy, but only if they finish. Some call them passionate, while the rest of us view them as insane.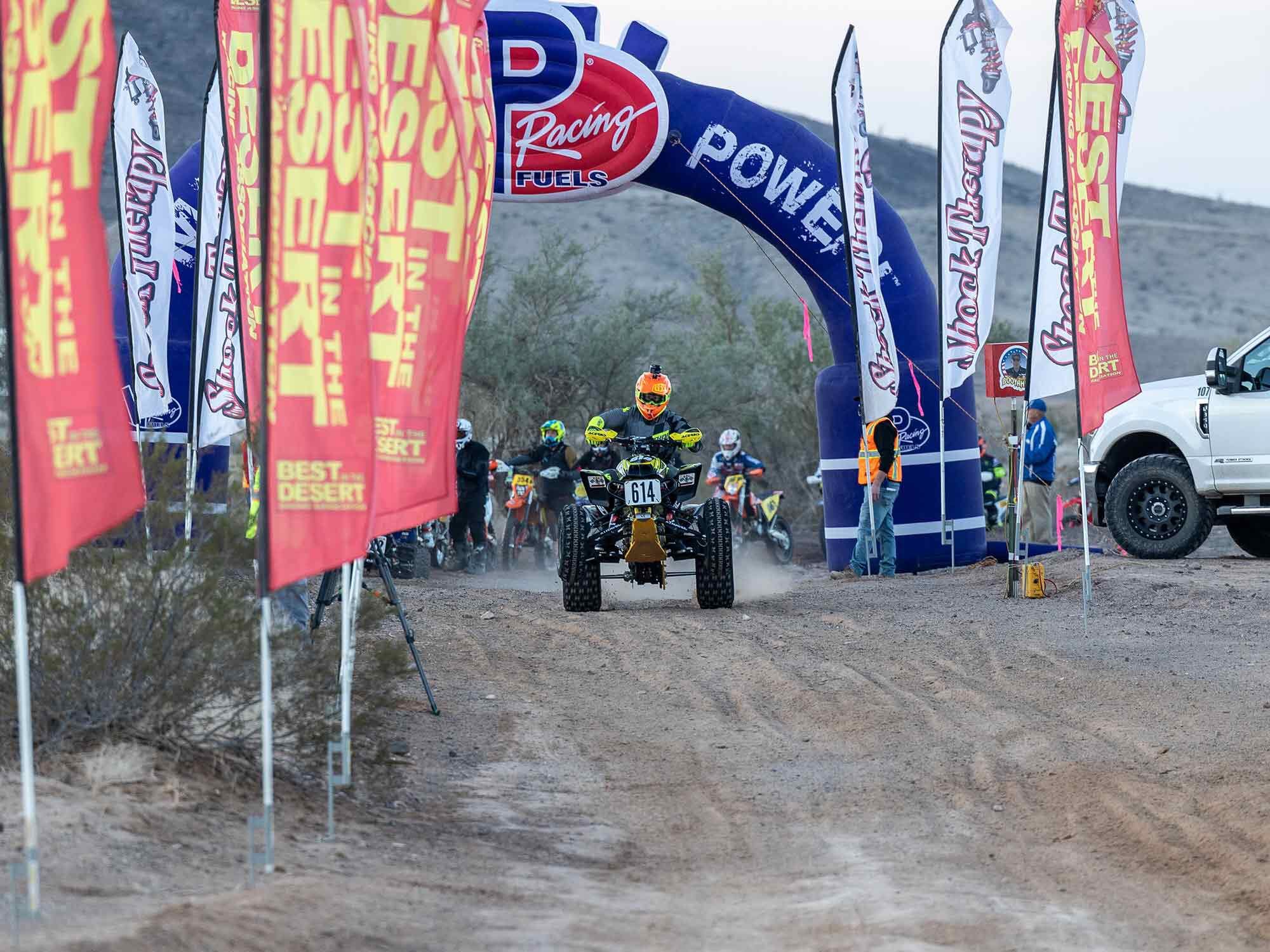 The Expert Ironman class begins the first of 250 miles of grueling Arizona desert. (Jeff Henson/)
Then there are the Ironman ATV desert racers, the individuals who compete in these long distance races solo other than the help they receive from their pit crews. These racers take endurance to the ultimate level as they fight through dust, breakdowns, fatigue, and hallucinations that this type of racing puts soul and body through—alone. Just completing a desert race  is a nearly impossible task for them, but the reward is an unforgettable experience that comes with mammoth-sized bragging rights. The only thing that tops an Ironman finish is a class win.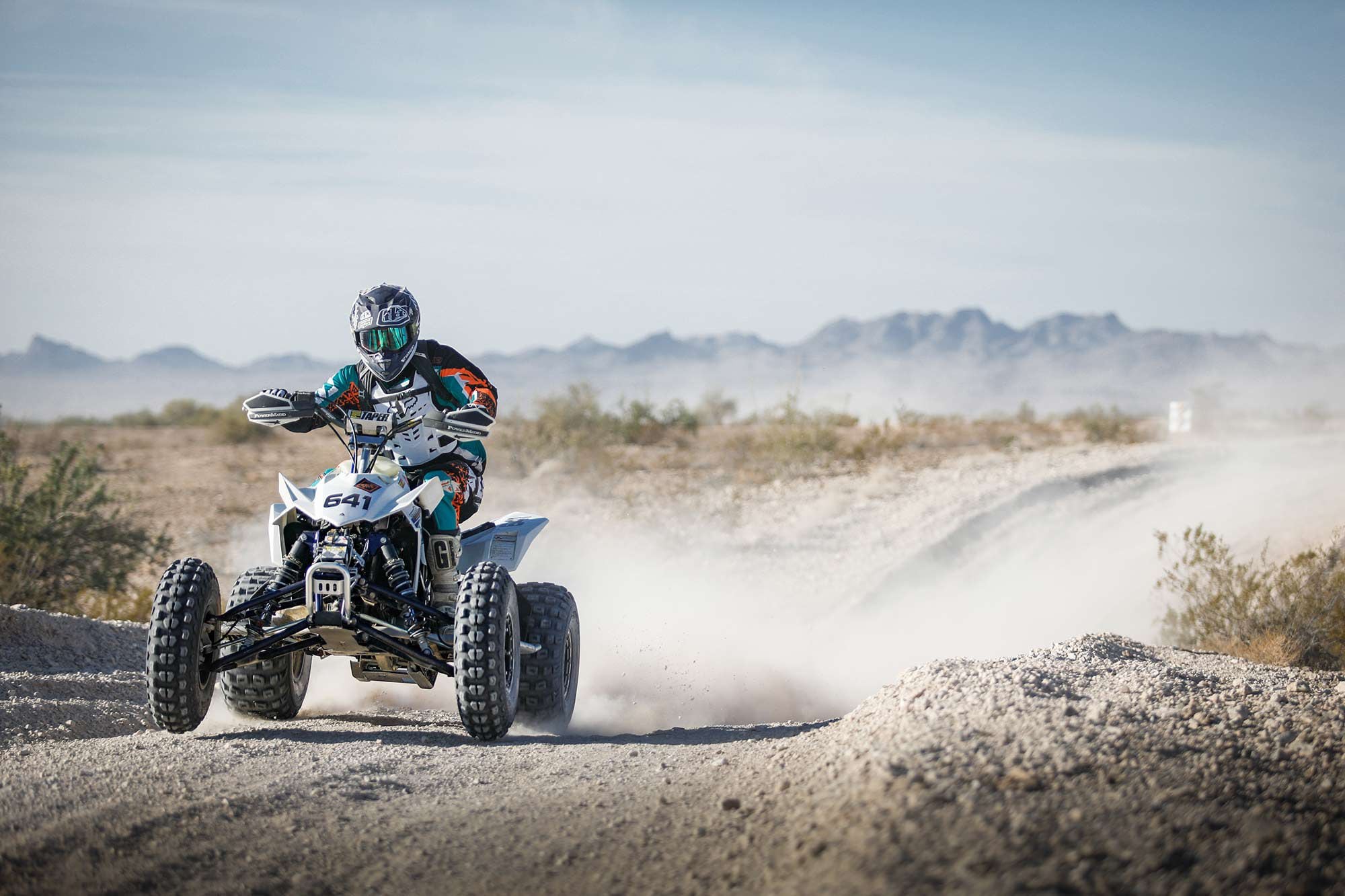 Kyle Ferry pilots his No. 641 Suzuki QuadSport LT-R450 to second place in the Expert Ironman class. (Justin Coffey/)
For 2022, the Best in the Desert Parker 250 racecourse (two 125-mile laps) was run in reverse direction, just to shake things up a bit. Some of the faster sections were replaced with more rugged and punishing trails that ultimately claimed victory over many motorcycle, ATV, and UTV race teams. Four Expert Ironman class ATV racers left the starting line, but only two would make it to the finish.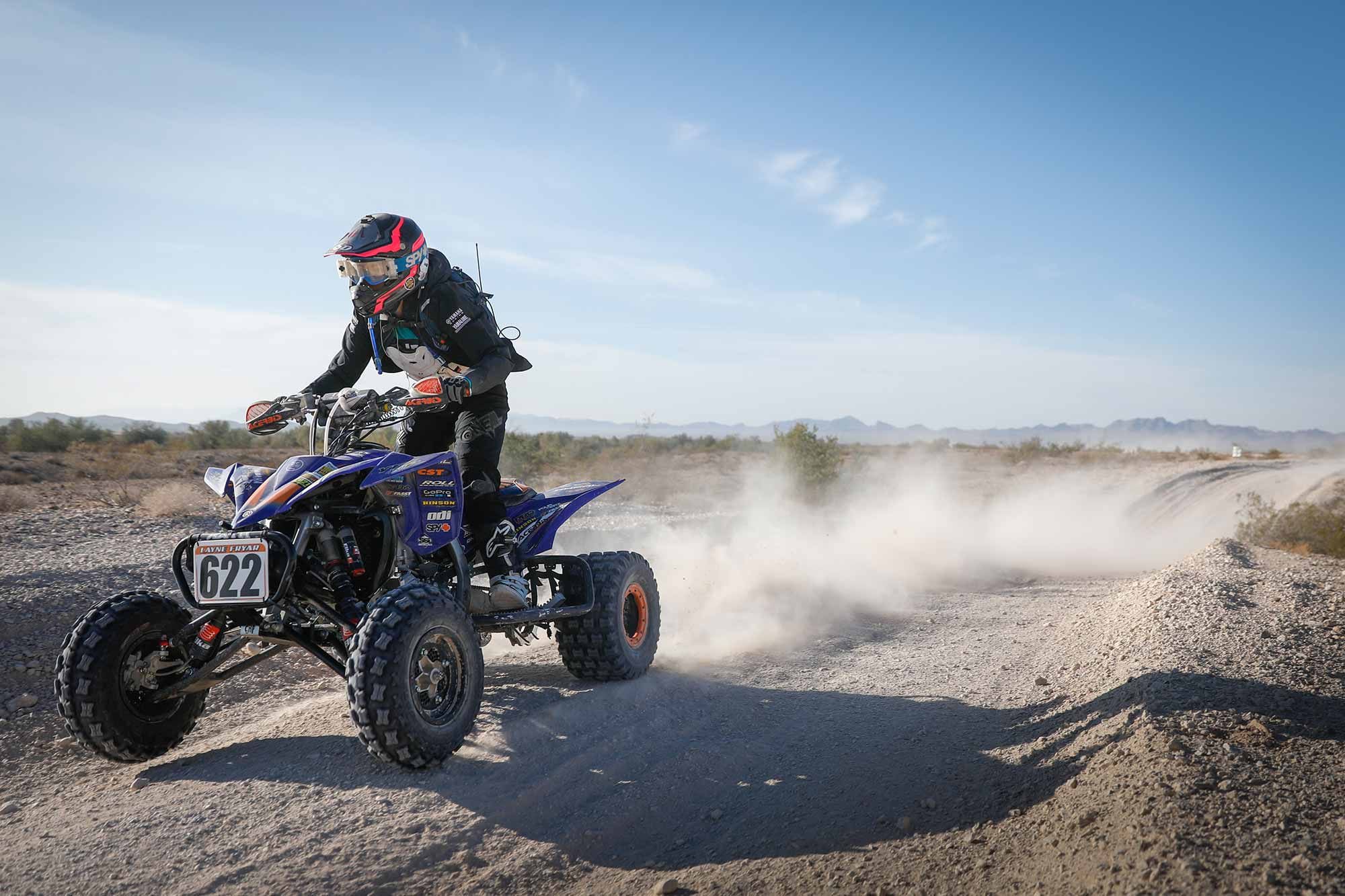 Layne Fryar of Surprise, Arizona, on his No. 622 Yamaha YFZ450R got starter points, but the 17-year-old was unable to reel in a checkered flag. (Justin Coffey/)
The first Ironman ATV racer to capture the checkered flag was Kyle Standage of Lake Havasu, Arizona, on his 2005 Honda TRX450R with a finish time of five hours and 38 minutes. He also managed to finish 27th out of 119 total motorcycles and quads that started the race. Winning the race on a machine that is 17 years old is a testament to Honda reliability, but the race quad is also heavily outfitted with performance and suspension upgrades for long-distance racing. We got a closer look at Standage's Honda before the race, so watch for an interview and detailed look at his desert quad on ATV Rider soon.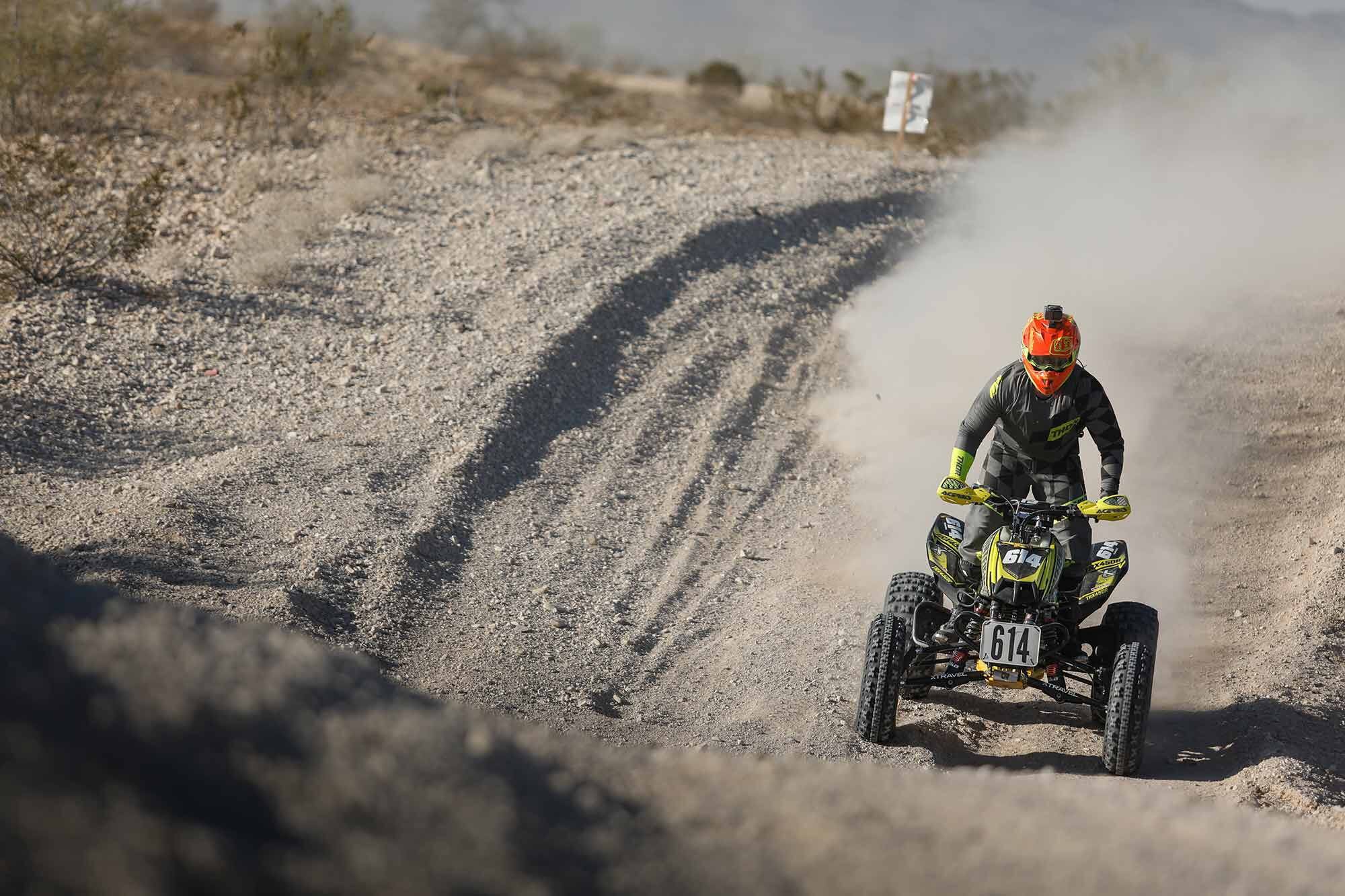 Kyle Standage and his No. 614 2005 Honda TRX450R. (Justin Coffey/)
Kyle Ferry finished the race less than 10 minutes behind Standage with a total time of five hours and 47 minutes. Ferry rides a Suzuki QuadRacer LT-R450 that is also heavily modified for desert racing. He finished 32nd overall in motorcycles and ATVs combined.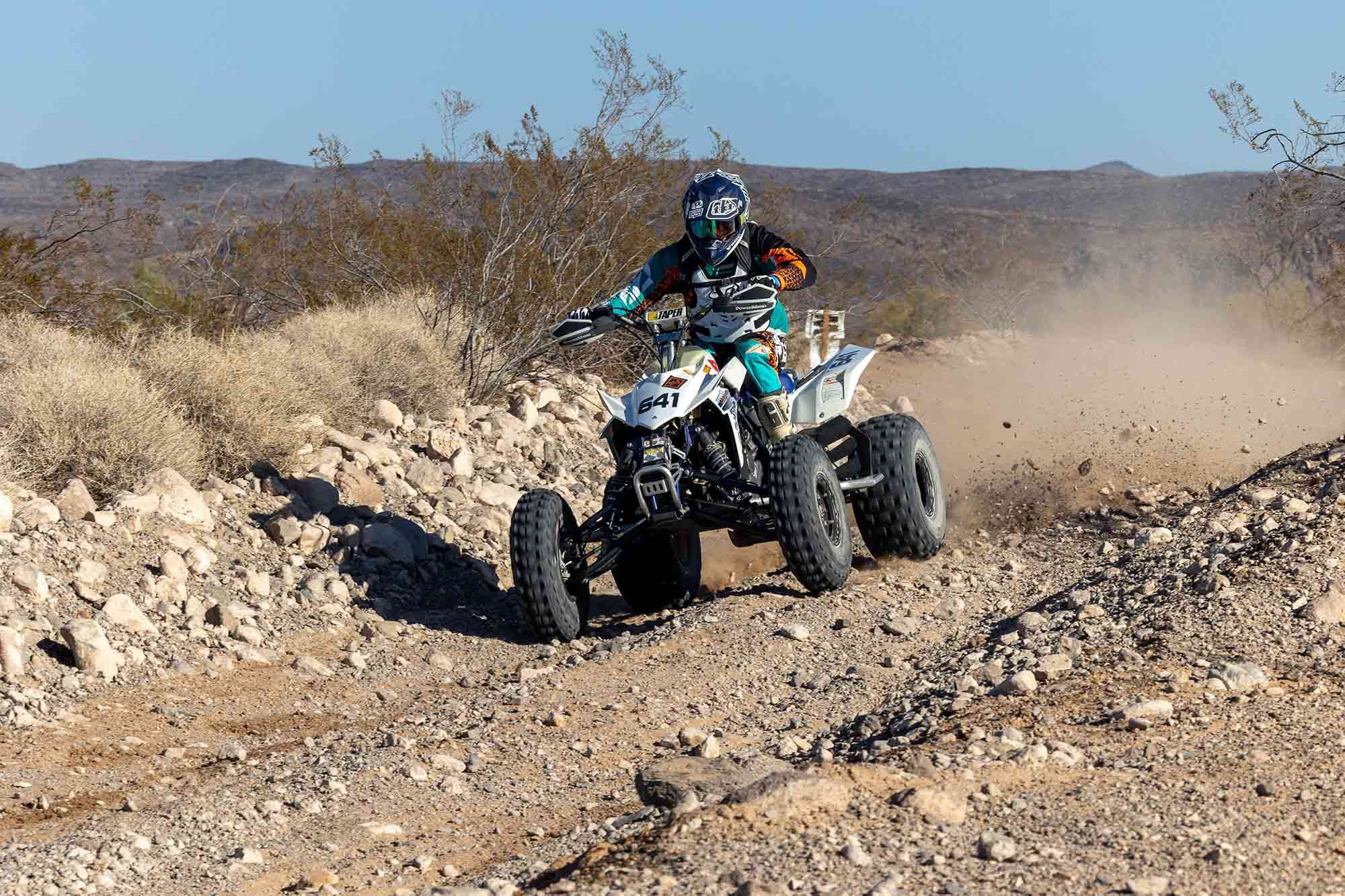 Kyle Ferry on the No. 641 Suzuki QuadSport LT-R450. (Justin Coffey/)
For the iron men competing at the Best in the Desert Parker 250, this race is just a warmup. Longer and tougher tests of endurance will follow, including the 700-plus mile Vegas to Reno race which takes place in scorching August. It's the longest off-road race in North America with a course that stretches across Nevada.
Best of luck to all of the Ironman ATV Expert racers in the rest of the 2022 Best in the Desert racing season from ATV Rider!