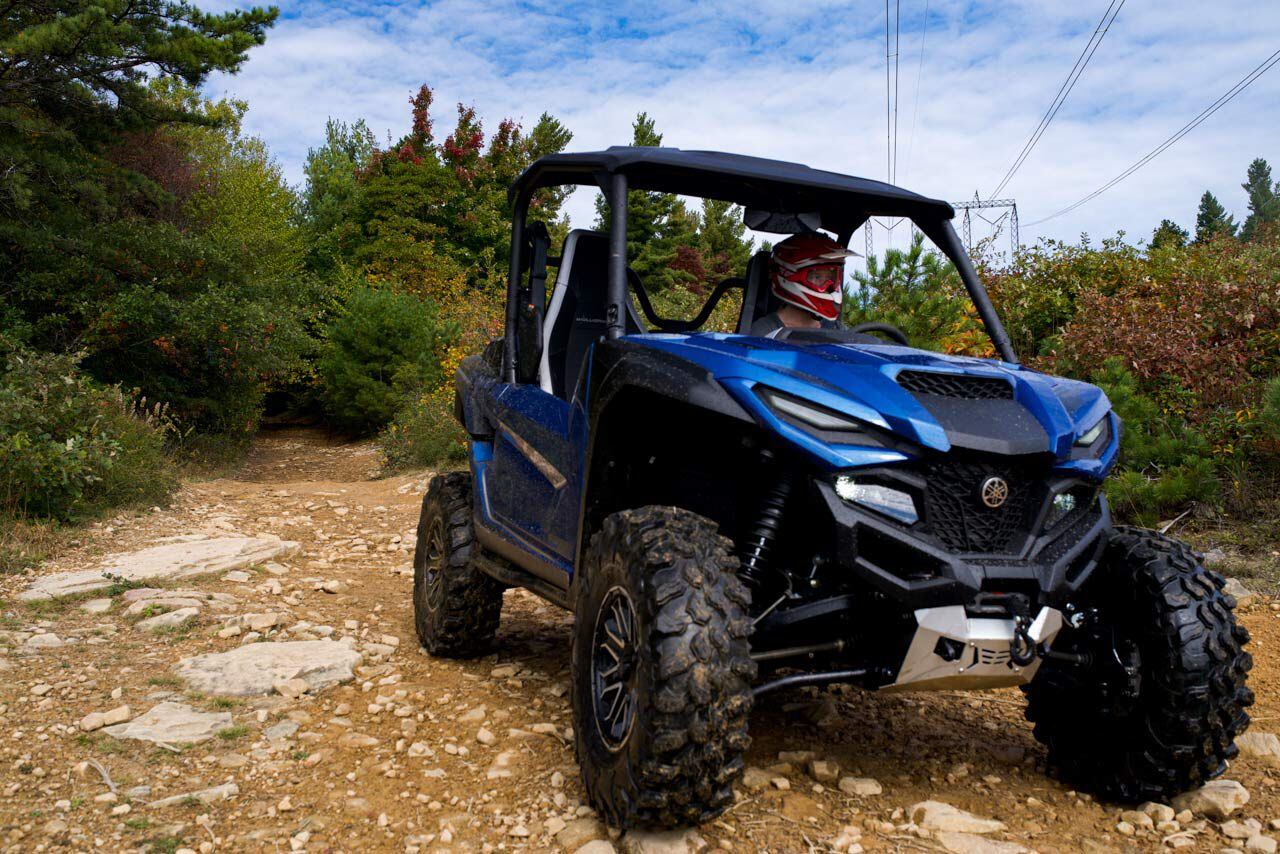 Until a few days ago, my wife, Anna, had spent all her time off-road on motorcycles. Now she's been bitten by the side-by-side bug. (Aaron Richardson/)
My wife, Anna, has ridden motorcycles in the dirt for a decade, and cut her teeth taking a 1986 Yamaha Radian from Virginia to the top of Alaska's Dalton Highway. But she's never been bitten by the four-wheel bug. That all changed when I insisted she take the keys to our 2021 Yamaha Wolverine RMAX2 1000 LE loaner and aim it at Rocky Run ATV Trail outside Harrisonburg, Virginia.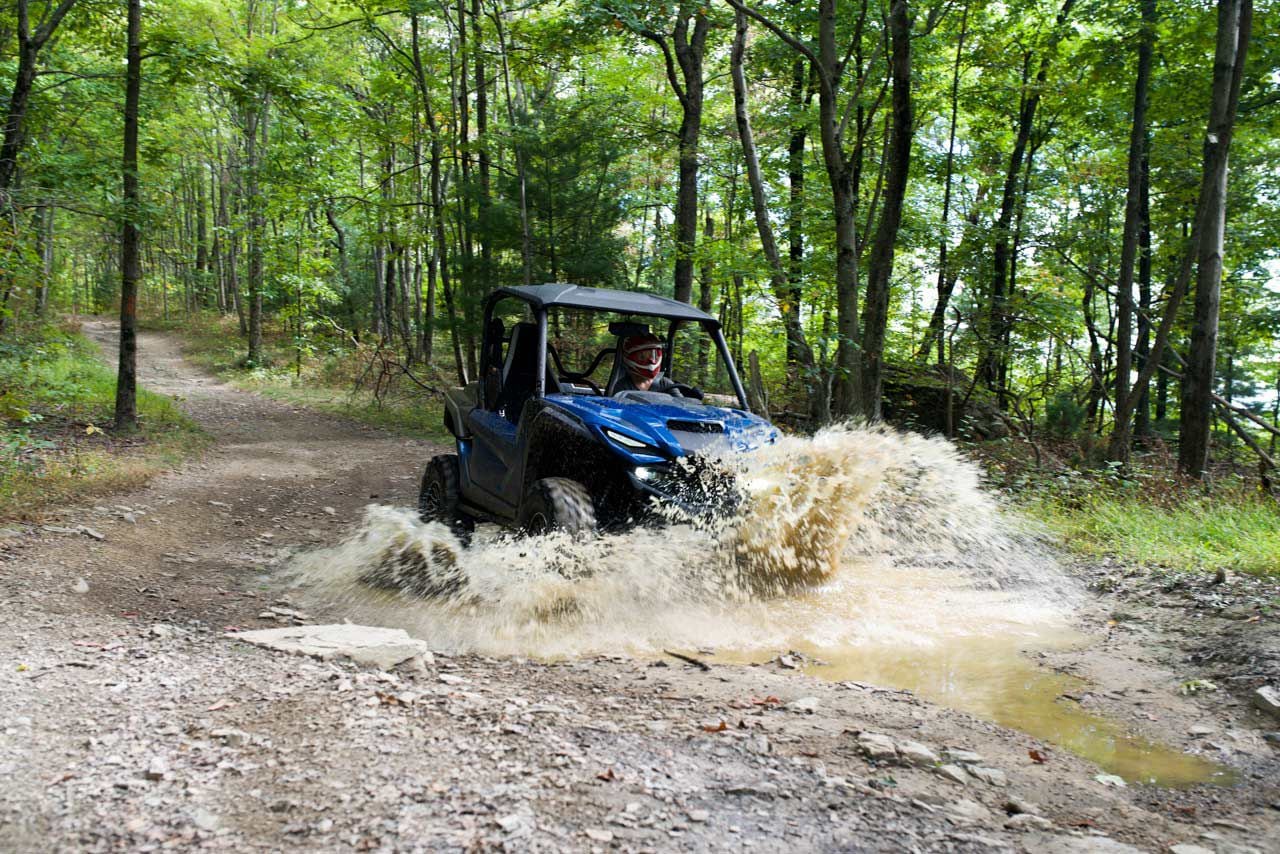 Rocky Run ATV Trail is littered with huge mud puddles, which means you, your gear, and your passenger will get soaked if you so much as look at the throttle. (Aaron Richardson/)
"When you hit the puddles, you'll want to go slower than you think you need to so water doesn't—" I was cut off by a couple dozen gallons of cold, muddy water landing in my lap as Anna matted the gas to pull us out of a deceptively deep hole.
Situated on a ridge outside Harrisonburg, Virginia, Rocky Run is a short, beginner-friendly trail with enough obstacles to keep things entertaining. (Aaron Richardson/)
Rocky Run is short, clocking 10 miles over a couple ridges in the George Washington and Thomas Jefferson national forests. It's no Windrock, but it has a couple of sections that are challenging enough to give beginners pause, and a sea of mudholes big enough that they almost never dry out. It's the perfect place to introduce someone to side-by-sides.
After a brief primer on the RMAX's brilliant D-mode throttle controllers and its transfer case settings, Anna took the wheel and we headed out. Off the bat, she felt comfortable on the trail, and smashed through the first few mudholes with enough throttle to cover us, the RMAX, and almost everything inside with red clay soup.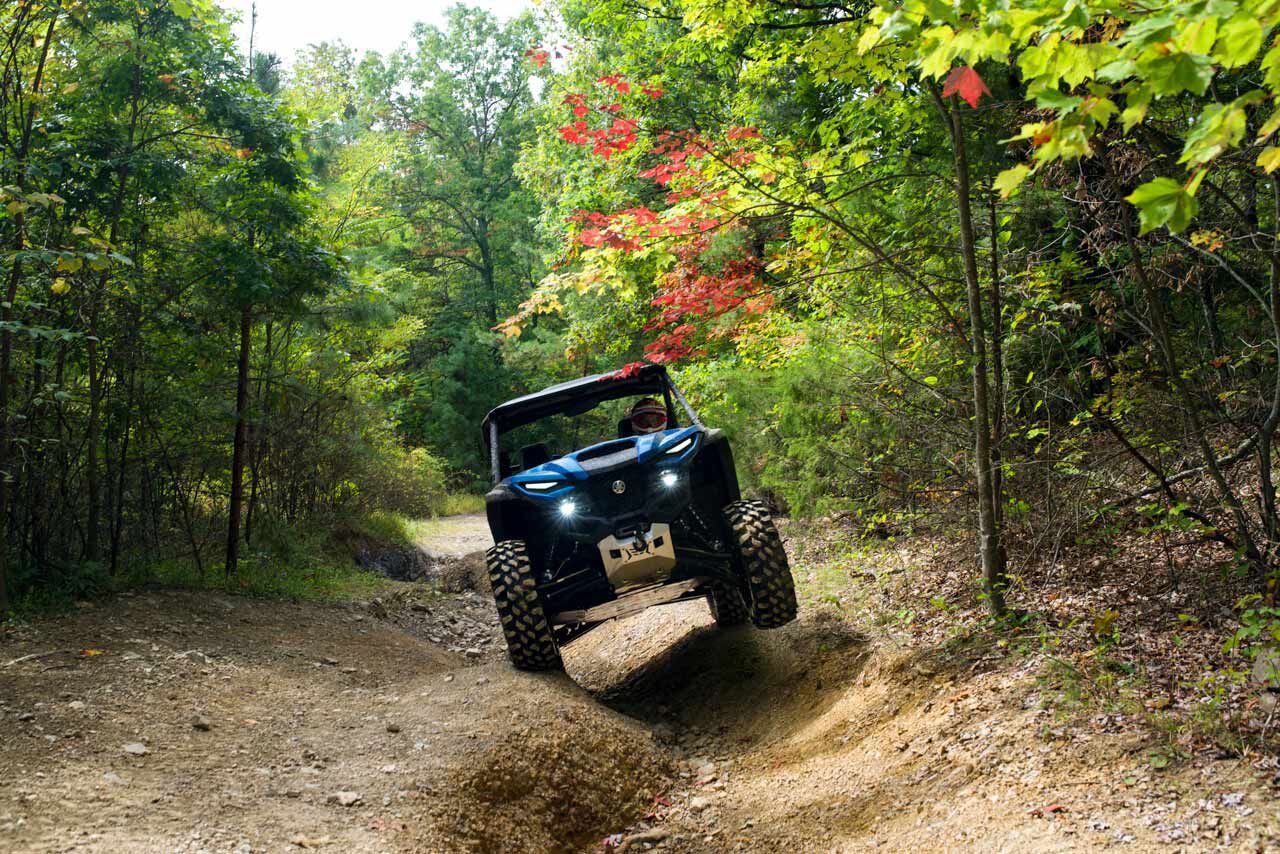 The biggest obstacle on the trail is a huge, serpentine rut. Anna got thrown into the deep end with a massive wheel lift, but kept the throttle steady and pushed through with no drama. (Aaron Richardson/)
Anna has a brilliant laugh when she's really having fun; an infectious, snorting, full-body guffaw that cannot be faked or imitated. After the splashdown, that laugh cut through every other sound hanging in the muggy morning air. Mission accomplished.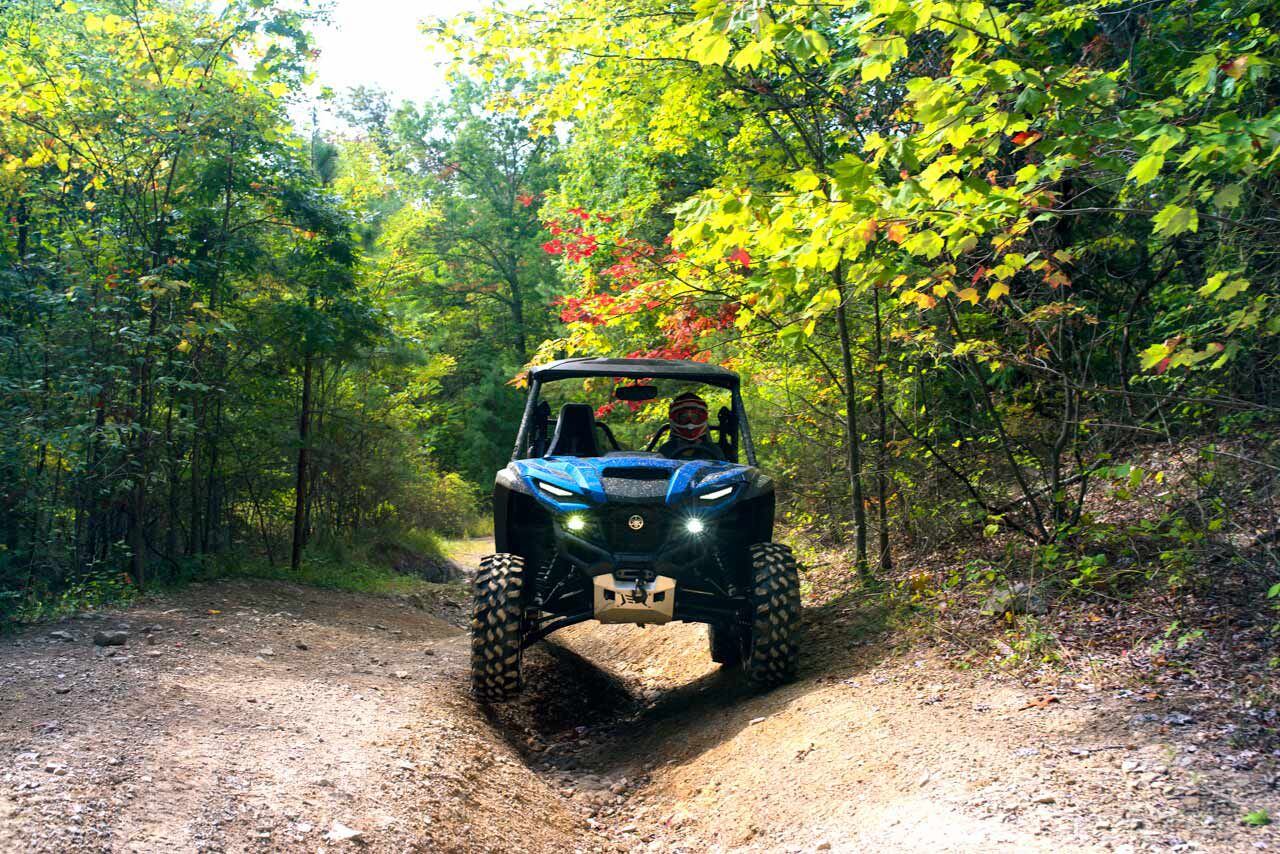 The 2021 Yamaha Wolverine RMAX2 LE achieved the best RTI score we've ever tested, and it's easy to see why. (Aaron Richardson/)
As the trail winds its way over and down the sharp ridges, it's dotted with long, stepped rocky climbs. This is where all those years on dirt bikes and mountain bikes on single-track and gravel roads came in handy. Anna is deft at picking her line through rocks and roots. I didn't bother with too many instructions or pointers because, well, she didn't need them.
But even with all that experience, the RMAX managed to surprise her.
"You see something and think, 'There's no way we're getting over that,' but it just keeps going and you barely feel it," she said at the top of a steep, loose climb with a decent step halfway up.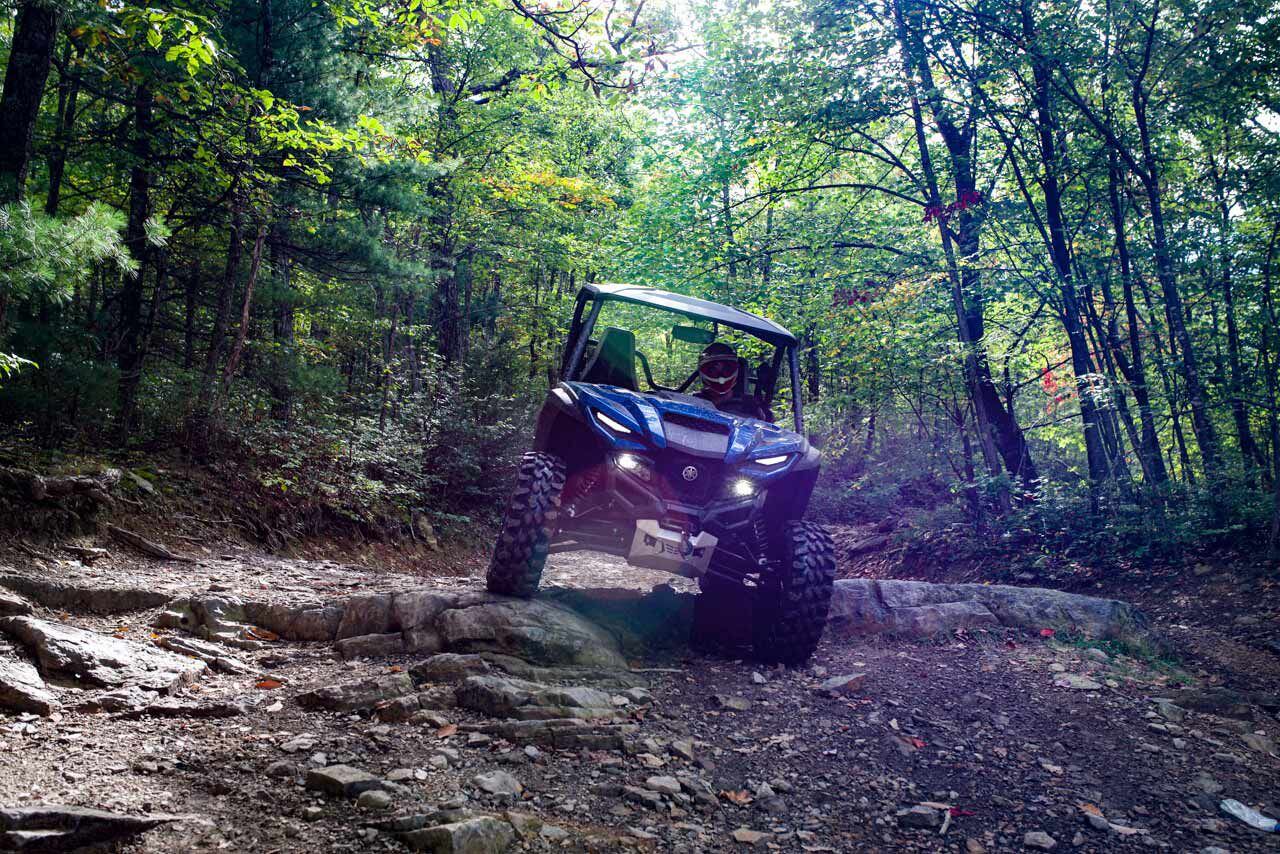 Small rock steps litter Rocky Run's 10-mile course. (Aaron Richardson/)
The biggest challenge on the 10-mile route is a 4-foot-deep rut about 30 yards long that cuts the trail longways. It's too wide and serpentine to straddle, and deep enough that dropping a tire off one edge would land you on your roof. The only way through is straight ahead, albeit slowly.
The RMAX LE has notched the highest RTI score we've ever tested, giving it articulation that shouldn't be possible, even with a four-wheel independent suspension setup. But even with 13 inches of travel and enough articulation to handle big rocks and logs, it wasn't long before the ruts pushed past the suspension's ability to keep up.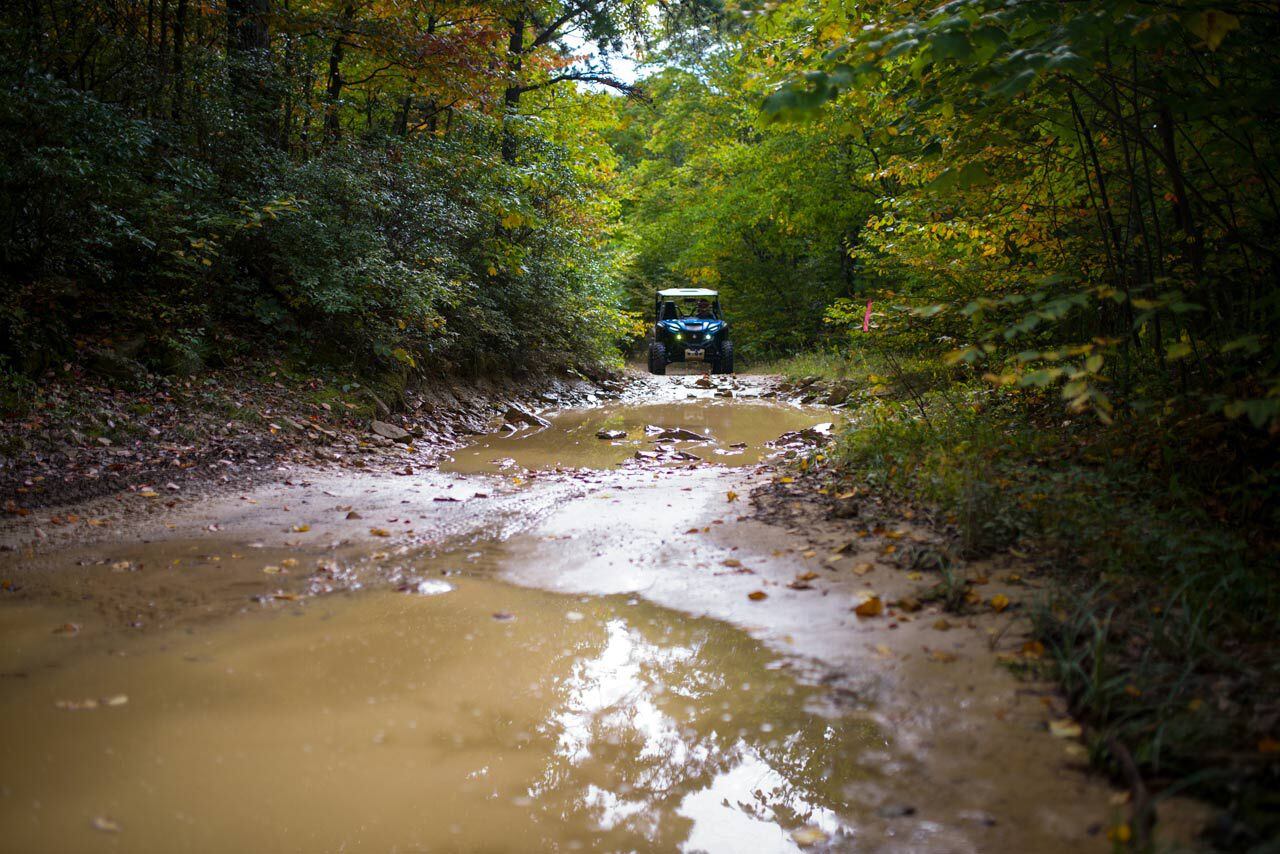 After even a moderately rainy evening, Rocky Run's myriad puddles fill up with cold, clay-saturated water. (Aaron Richardson/)
Wheel lift is a scary enough thing when you know it's coming, know why it's happening, and know that it's going to turn out OK. When you've never experienced it, it feels very much like the Earth is dropping away and you're going over backward.
At the deepest part of the rut, the driver's side front wheel headed slowly but surely to the heavens, the RMAX leaning back at a nasty looking angle. Most people would have bailed. Backed up, picked another line, or just said "enough."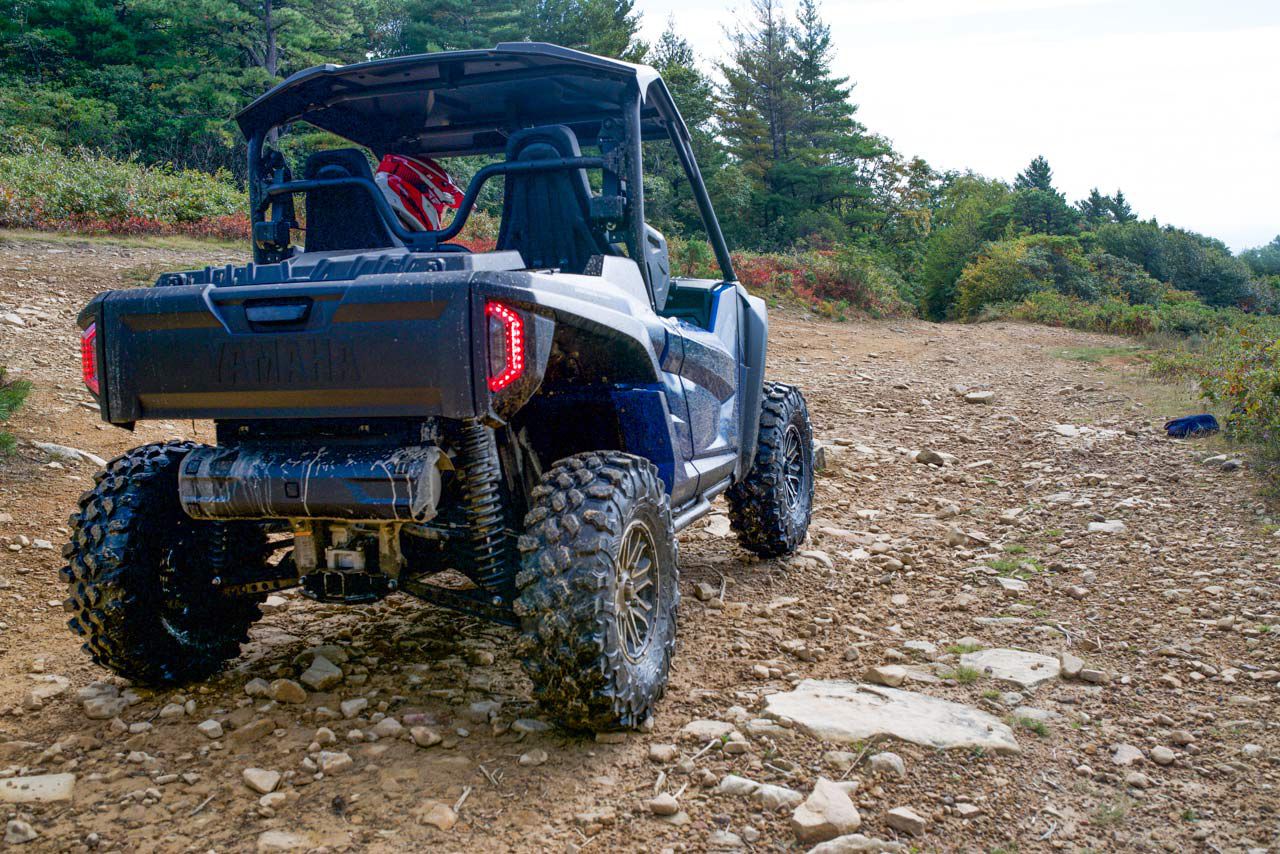 The 2021 Yamaha Wolverine RMAX2 1000 LE is a beautiful machine, but it just looks right when soaked in mud. (Aaron Richardson/)
Not Anna. Instead, she maintained throttle and let the rig roll forward, its front end eventually touching back down with the same speed it climbed. She let out a sigh, and then her trademark guffaw.
Introducing someone to side-by-sides is about way more than just showing off your cool, expensive toys. Spec sheets and long lists of gadgets don't mean anything to most people. What matters is the joy they can unlock. And underneath everything else about this hobby lies that fundamental element: joy. Take someone out in a UTV, and there's a good chance you'll introduce them to a new way to enjoy something they've loved all their lives, and that's an irreplaceable feeling.