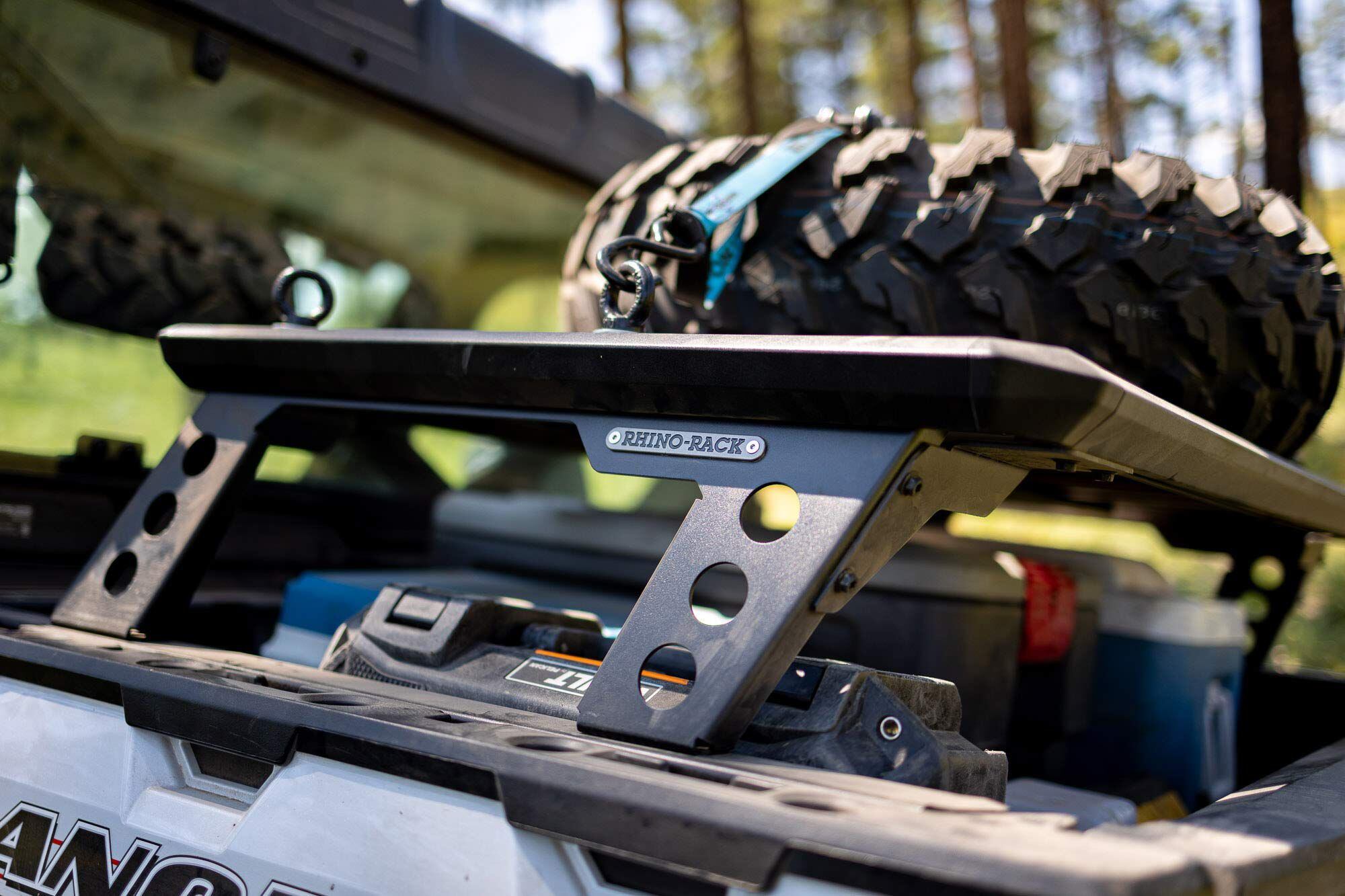 A model-specific premium storage system for your Polaris Ranger: the Rhino-Rack bed rack. (Kevan Ray/)
When you think about the Polaris Ranger you probably think about getting work done. With its large, sturdy bed and hefty cargo capacities, it's set up to spend years punching a clock on your spread.
We recently trekked out to the Gila National Forest, where the Ranger's primary job was keeping us alive. Over the course of five days, we tasked our 2021 Polaris Ranger XP 1000 Trail Boss NorthStar Edition with hauling our food, water, first aid, tools, and camping gear.
Polaris sent us to the Gila with a care package that was made up of a full Rhino-Rack bed rack system. It effectively doubled our rear storage and made the perfect spot to mount the spare tire we were hauling around. There was only one catch: We had to install it ourselves in the middle of nowhere.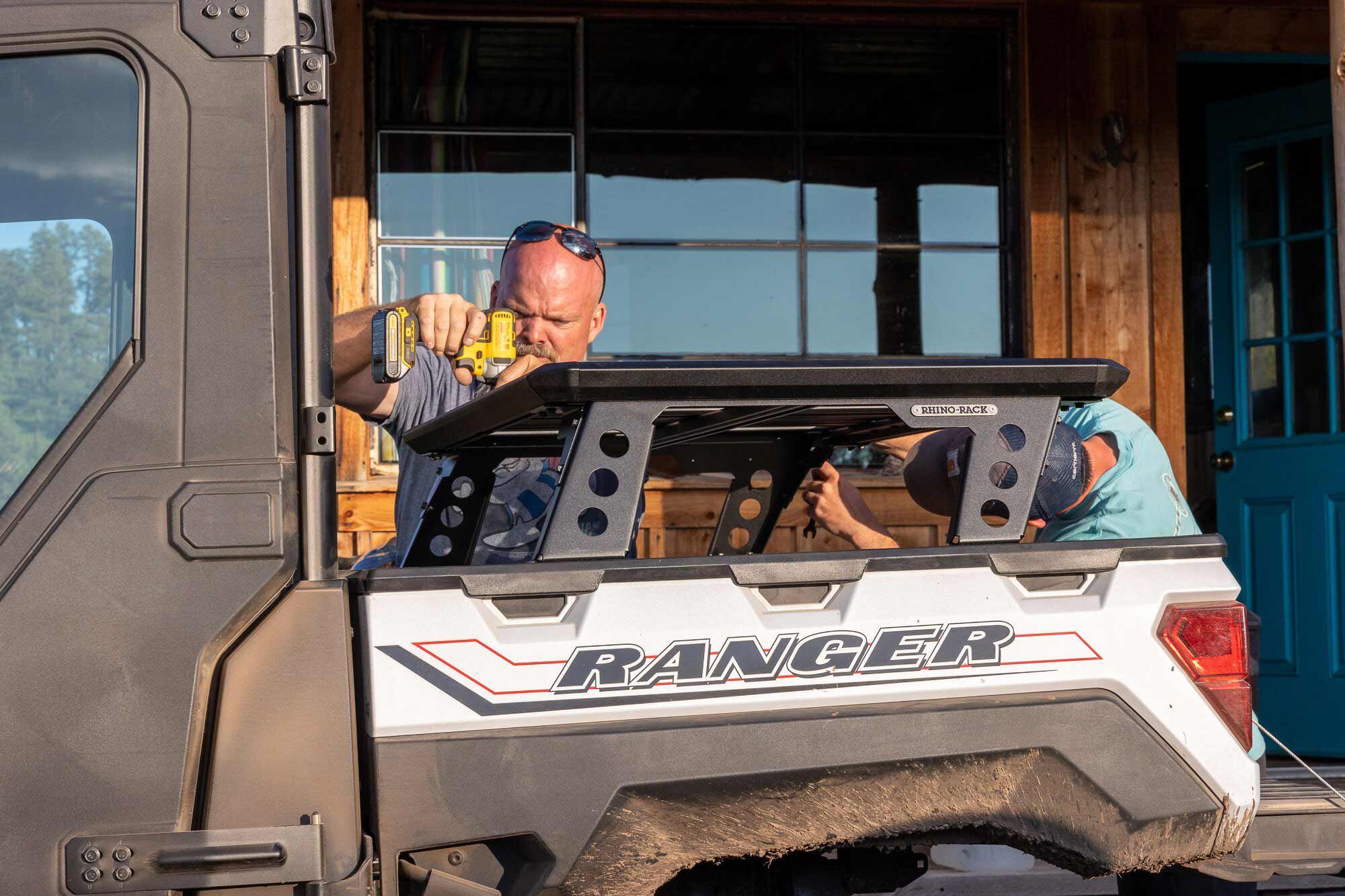 Install with instructions is fairly straightforward. Install without instructions is a game of three-dimensional chess. (Aaron Richardson/)
We took a few days to test the Ranger without the Rhino-Rack. It performed as it should and kept our gear in place, but we suffered from space constraints with a full complement of expedition gear.
Enter the Rhino-Rack. Installing the system requires a handful of tools if you want the job to go quickly. Thinking ahead, we'd brought the necessary kit, but what we failed to understand, and what we couldn't have known, was that no paper instructions are included in any of the Rhino-Rack boxes. Each piece of the puzzle comes with a single sheet of paper that points you to the internet to download the full instructions. Being a day's ride from civilization without cell or Wi-Fi service meant we were going to have to wing it. This would be the true test of how well this system was engineered.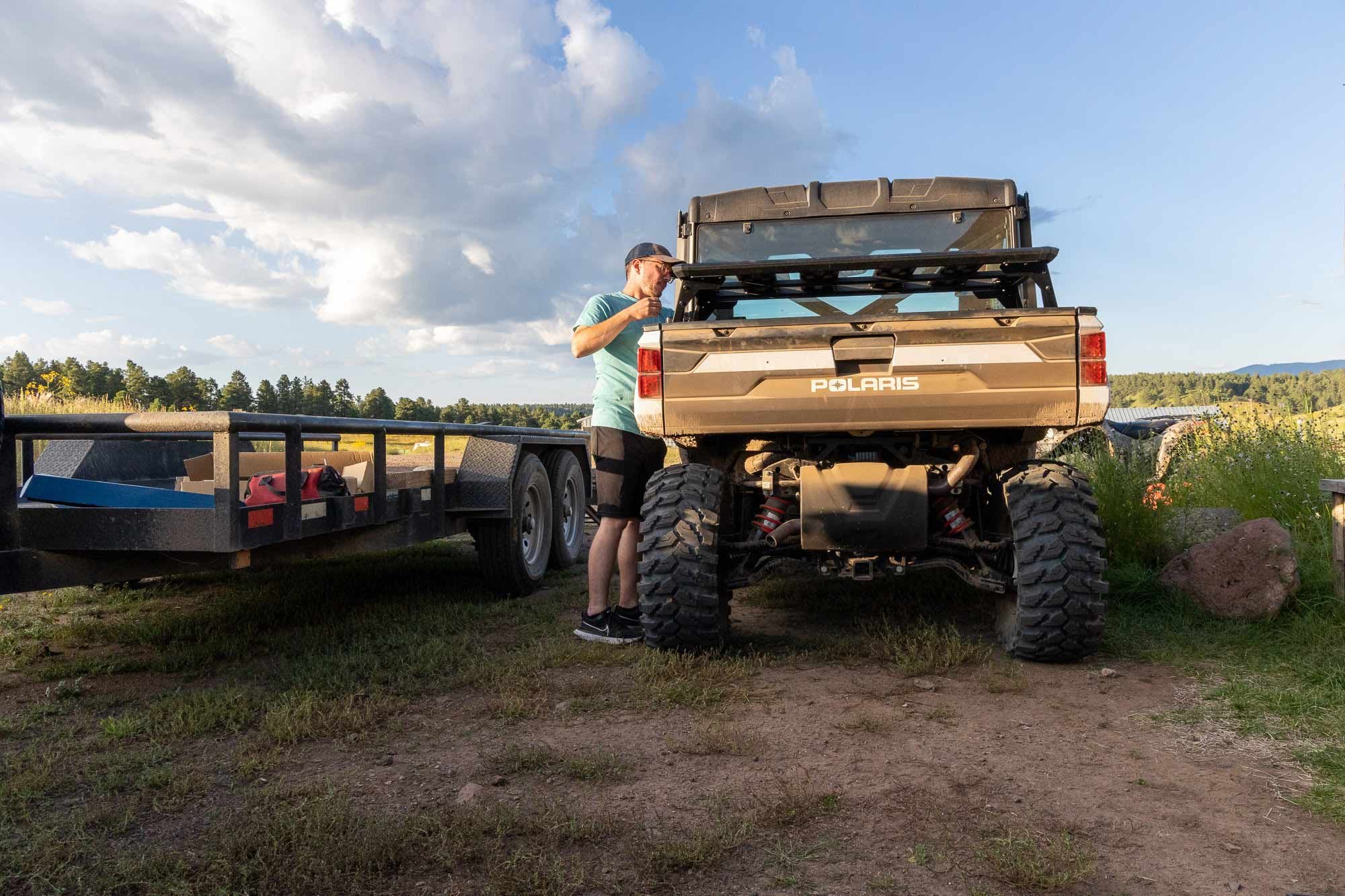 Putting the final touches on our Rhino-Rack bed rack just as the sun starts to set. (Aaron Richardson/)
We got to work like any good DIYer would by splaying the various boxes across the dirt. "Yep, those are parts," we proclaimed. A dazzling array of angled and powdercoated metal lay before us. Multiple bags of fasteners tantalized us with the promise of extra storage capacity, if only we could figure out how it all was supposed to go together.
What happened next was a common scene. Three men, two drills, and a UTV. As if presented with a metal jigsaw puzzle, we danced for hours with various parts until they all snapped together in the perfect order. The result was more glorious than we imagined. Our hours of hard work had paid off. We'd assembled the Rhino Rack without instructions in the middle of a national forest. Reality quickly set in, though, as we realized how smooth-brained we were, and we moved on to making dinner.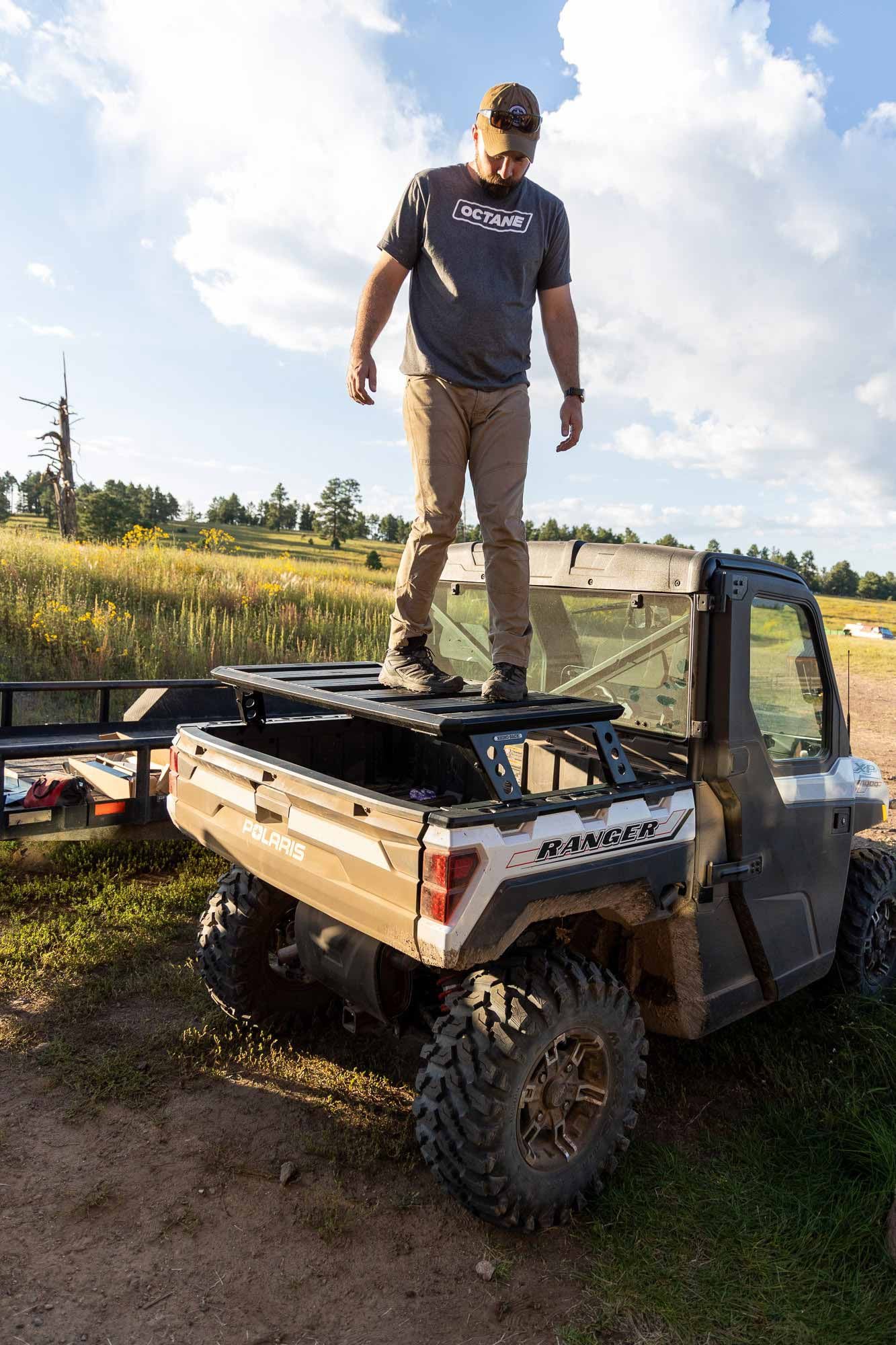 Once complete, the first thing that needed doing was testing Rhino-Rack's claimed 150-pound capacity. It didn't budge. (Kevan Ray/)
The Rhino-Rack has a strong, premium feel. It mounts both to the bedrails and extends down into the bed floor with wide metal legs that bolt into stock tie-down locations. The platform is angled slightly to keep the structure level, taking the Ranger's subtle suspension rake into account. The attention to detail is much appreciated.
The top tray offers six rows of attachment points. Rhino-Rack included its eyelet tie-down kit and spare tire carrier kit with our rack. Both installed in a matter of minutes, giving the spare tire a cozy new home. We had nearly doubled our bed space.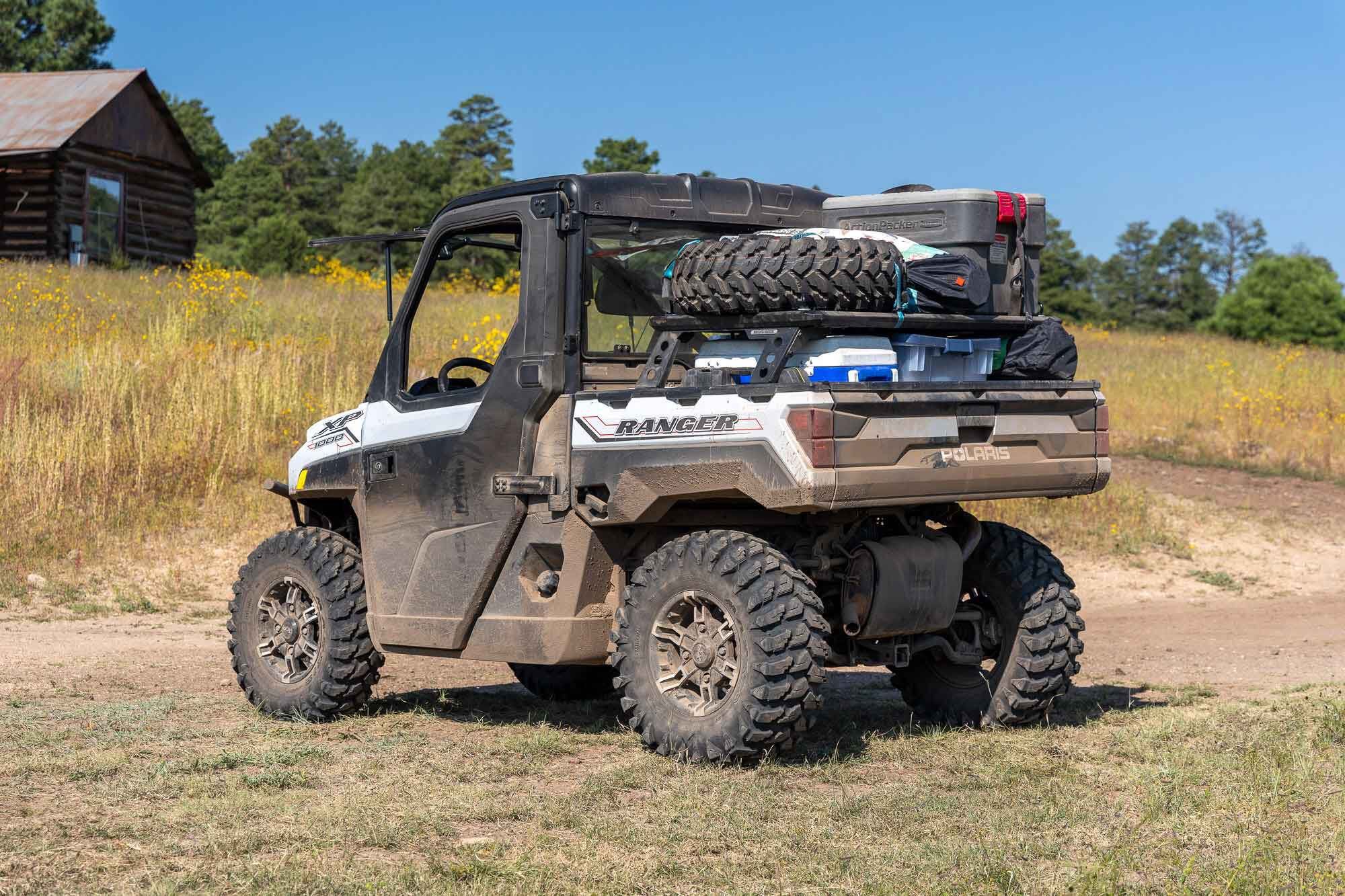 The 2021 Polaris Ranger seen fully loaded down for an overnight trip deep into the wilderness. (Kevan Ray/)
Over the remainder of the week we threw everything we could in the rear of the Ranger. It was now our pack mule, carrying nearly everything for our entire expedition group. It held our cooler, water, spare tire, two totes full of various rescue equipment, tools, dry goods, our camera equipment, and camping gear.
One benefit of the Rhino-Rack is the added security for your load. It acts like a roof so that nothing flies out when you inevitably hit a washout too quickly. There was no need to strap anything on the lower level down when packed snugly.
The top Rhino-Rack tray gives you nearly endless adjustment in how you strap down your gear. It makes it easy to secure a big plastic bin, the spare tire, and several awkward camping tents.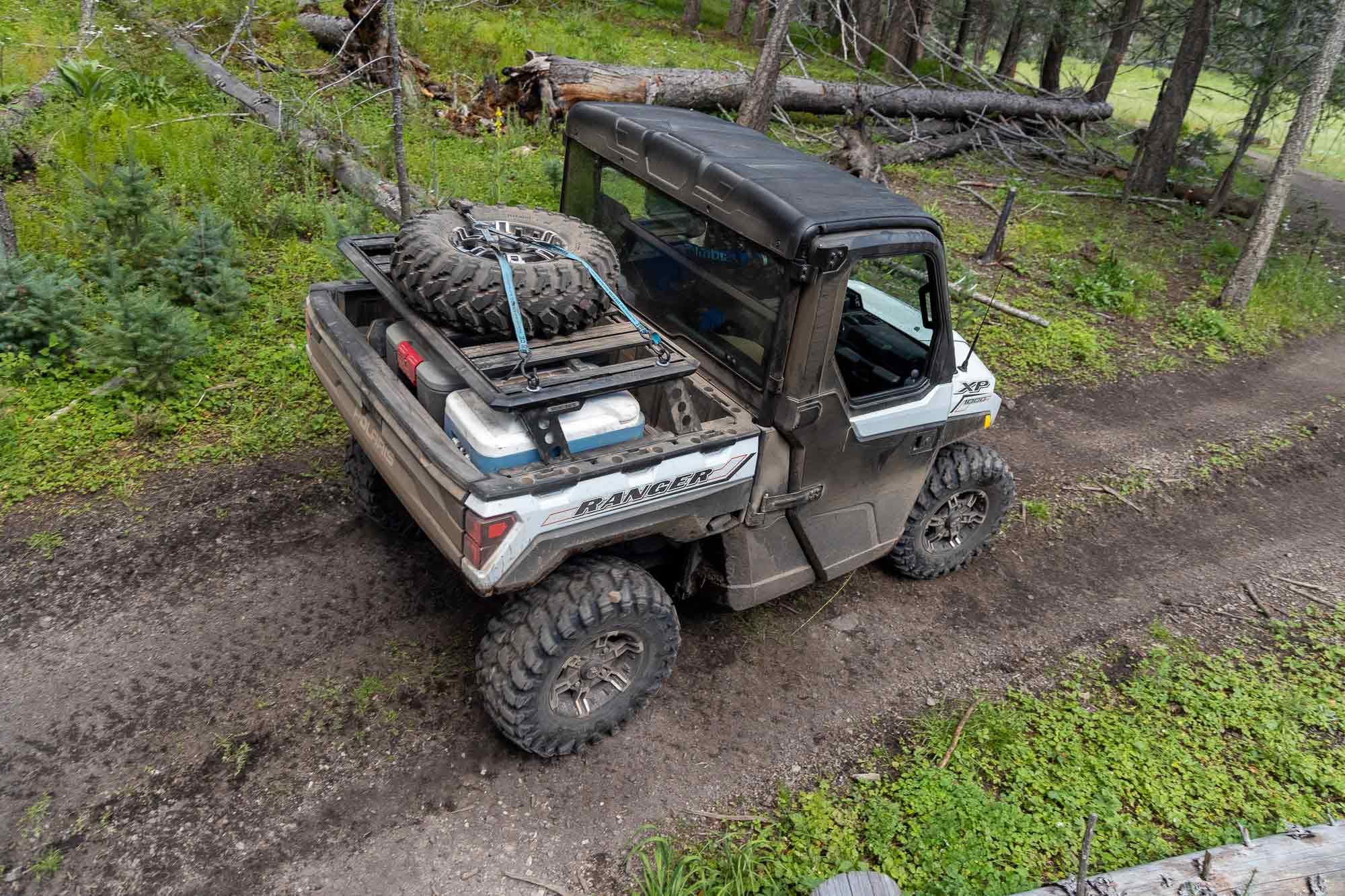 The Rhino-Rack system adds utility to an already capable UTV. (Kevan Ray/)
Polaris offers specific kits depending on whether you own the Polaris Ranger three-seat model or six-seat crew model. To get the bed tray system you'll need to order the three-seat kit, which also comes with a roof rack ($499.99, under part No. 2889236). If you're a Crew model owner, the roof rack won't work for you. You'll also need to purchase the separate longer roof rack ($499.99, under part No. 2889237).
Rear bed rack payload capacity is 150 pounds on the all-aluminum rack. Roof rack payload capacity for the three-seat Ranger model is 75 pounds. Roof rack payload capacity for the six-seat Crew Ranger model is 150 pounds.
Polaris and Rhino-Rack also offer a number of modular accessory mounting systems that quickly connect to the base trays. We tested the $45 spare tire holder and the $52 eyelet tie-downs. Both were high quality and worth their weight in payload. We even used one of the spare tire straps to winch a fallen tree out of the trail.
After a week in the wilderness, we're big fans of the Rhino-Rack. It performed without issue and allowed us to further push the utility of our already capable Polaris Ranger and asked nothing of us in return. Hop over to the Polaris Rhino-Rack website for a full list of rack systems and optional accessories for your Polaris Ranger.