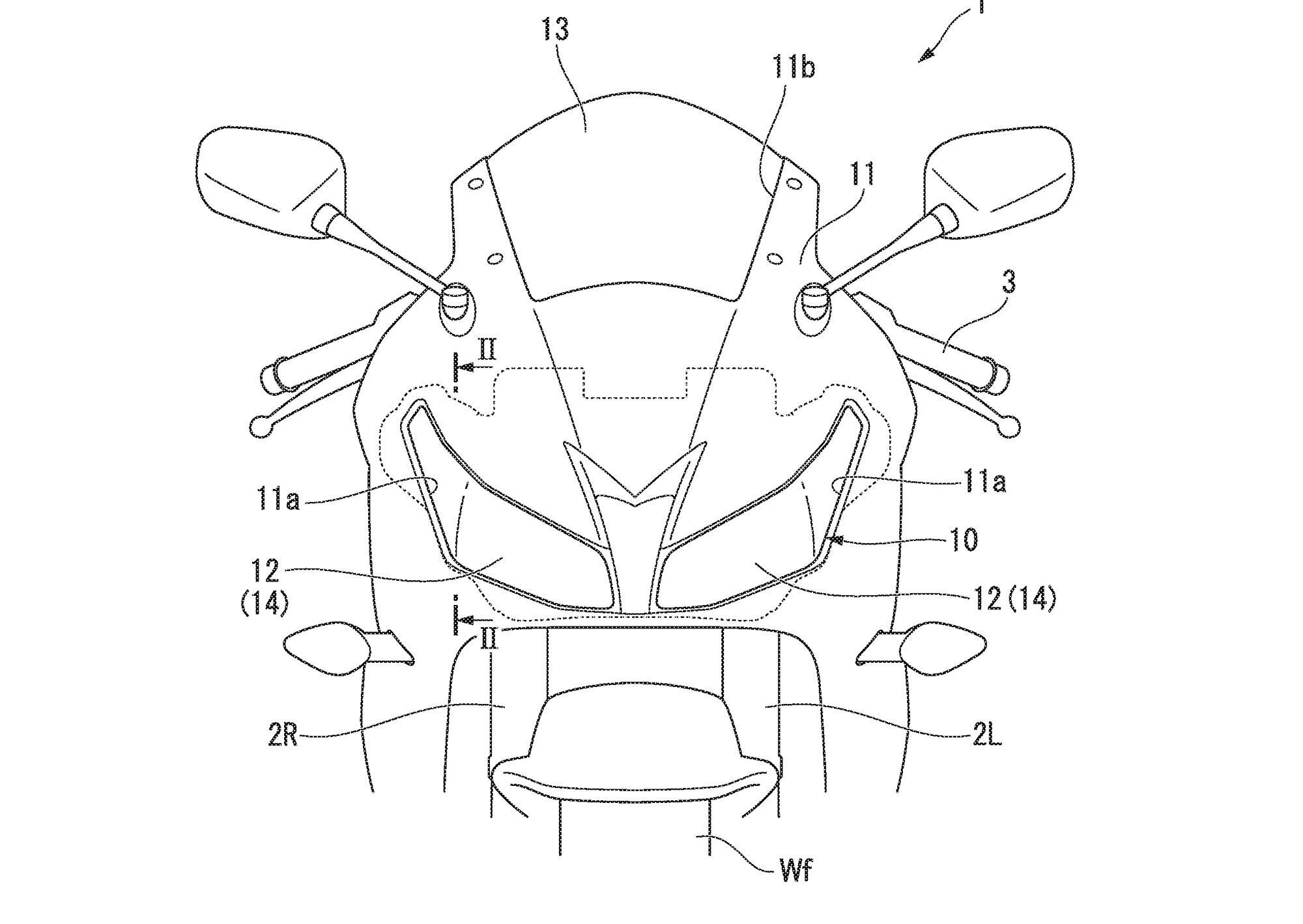 Honda's patent for motorcycle camera sensors shows they're more easily hidden (in the headlights in this case) than radar. (Honda/)
Honda might pride itself as a technology leader in motorcycling but the firm is currently lagging behind rivals in the fast-moving field of external sensors that feed onboard safety systems. But that won't be the situation for long; we've already seen multiple patents showing the firm is developing front and rear radar systems, notably for the Gold Wing and Africa Twin, and now another patent has emerged revealing a potentially cheaper, simpler safety aid that could be used on a wider range of bikes.
Although radars are a proven tech, and a Bosch-developed system is already available on Ducati's Multistrada V4 S, BMW's R 1250 RT and R 1800 B and Transcontinental, and KTM's 1290 Adventure S, they're hard to integrate into a bike's styling. All the models to use the setup so far—and they'll be joined by Kawasaki's H2 SX in 2022—have a very visible radar unit clearly on view.
Related: Honda's Developing a Mind-reading Bike
Honda's radar patents have already put a notable emphasis on aesthetics, making efforts to hide the sensors behind bodywork, but radars aren't the only option for object detection. In the four-wheel world, some firms including Subaru prefer to use stereo cameras rather than radar to measure the distance to objects in front, and the latest patent from Honda shows it has a similar idea for bikes.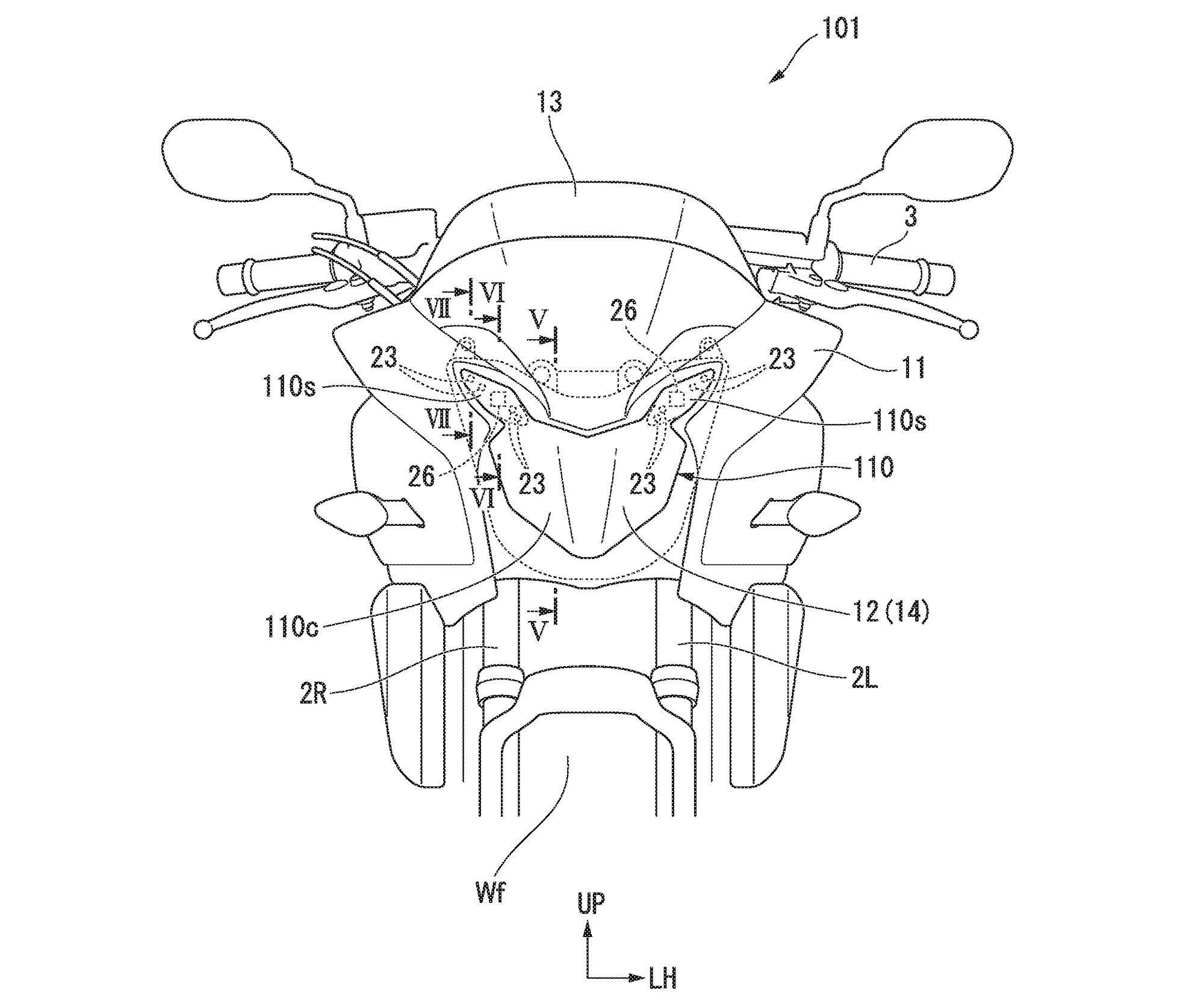 Tiny image sensors are tucked in unobtrusively beside the LED bulbs themselves for minimal aesthetic impact. (honda/)
Honda's patent shows image sensors—it suggests CCD, MOS, or CMOS sensors could be used (all these are types used in digital cameras)—mounted inside the headlights of bikes, right alongside the LEDs of the lights themselves. In the images here, the sensors are labeled "17" and "26" while the LEDs are "15" and "23." An electronic control board is also mounted inside the headlight, along with internal walls to keep the image sensor from being overwhelmed by light from the LEDs. The idea appears to have several benefits, particularly when it comes to packaging sensor technology in the tight confines of a motorcycle's nose without spoiling its appearance.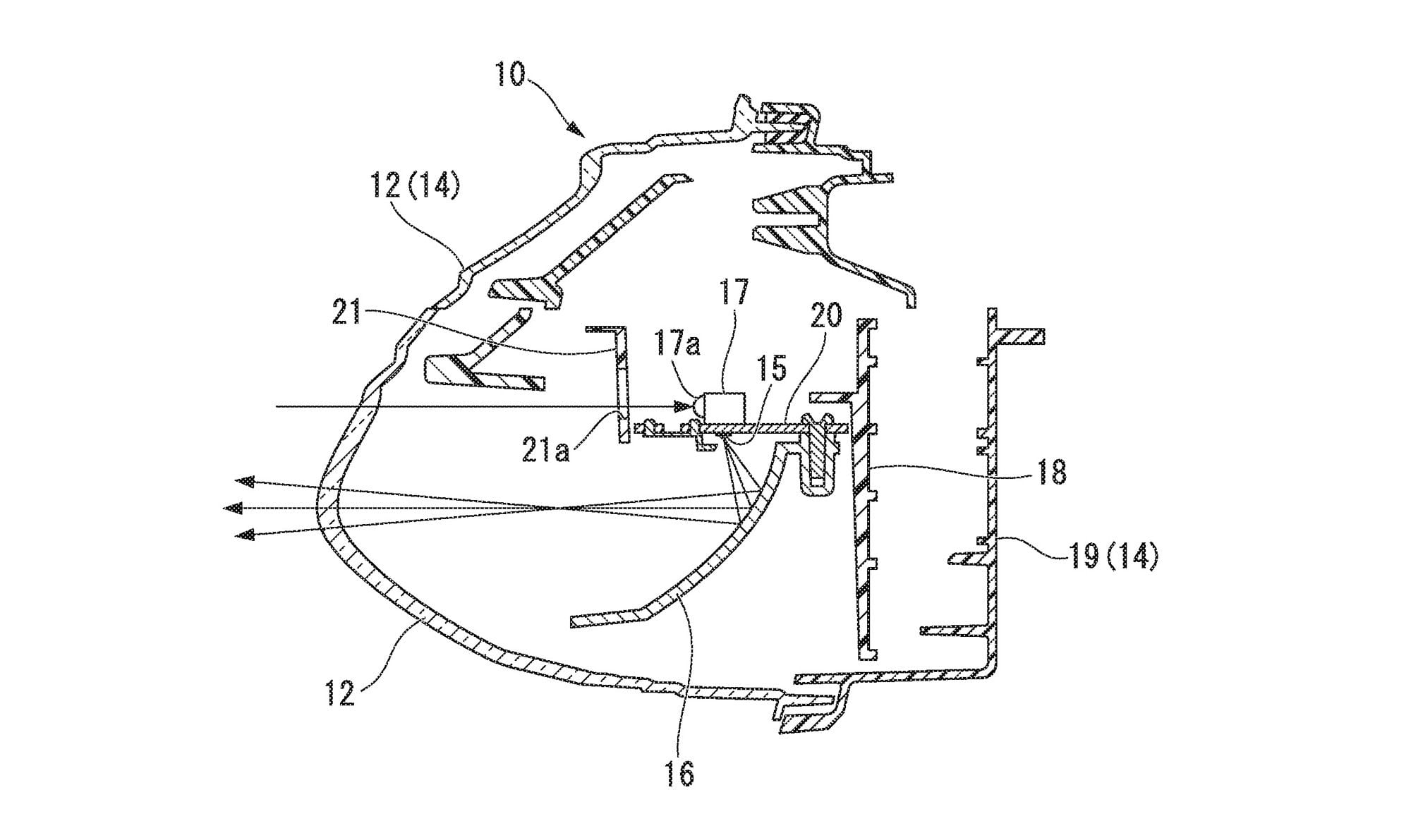 Internal walls prevent the LED light from affecting the sensors, while an onboard processor identifies objects ahead. (Honda/)
With at least two image sensors providing a stereo view, it should be possible to work out how far away objects are, with the heavy lifting done by an onboard object recognition processor that would also be able to identify what is ahead—for instance, telling the difference between a pedestrian and a vehicle.
Although cameras have restrictions that radars don't—particularly if the view ahead is obscured by fog or spray—they also offer advantages. For instance, a camera-based sensor could also be used to recognize speed limit signs, to spot traffic lights (and which color is showing on them), and even to spot brake lights illuminating on vehicles ahead.
Related: BMW Develops Radar Reflectors
What's more, the sort of digital camera sensor suggested in Honda's patent is extremely cheap and small. Many modern smartphones have three, four, or even five cameras, so putting two such sensors into the headlight of a motorcycle can be done without adding any bulk or weight.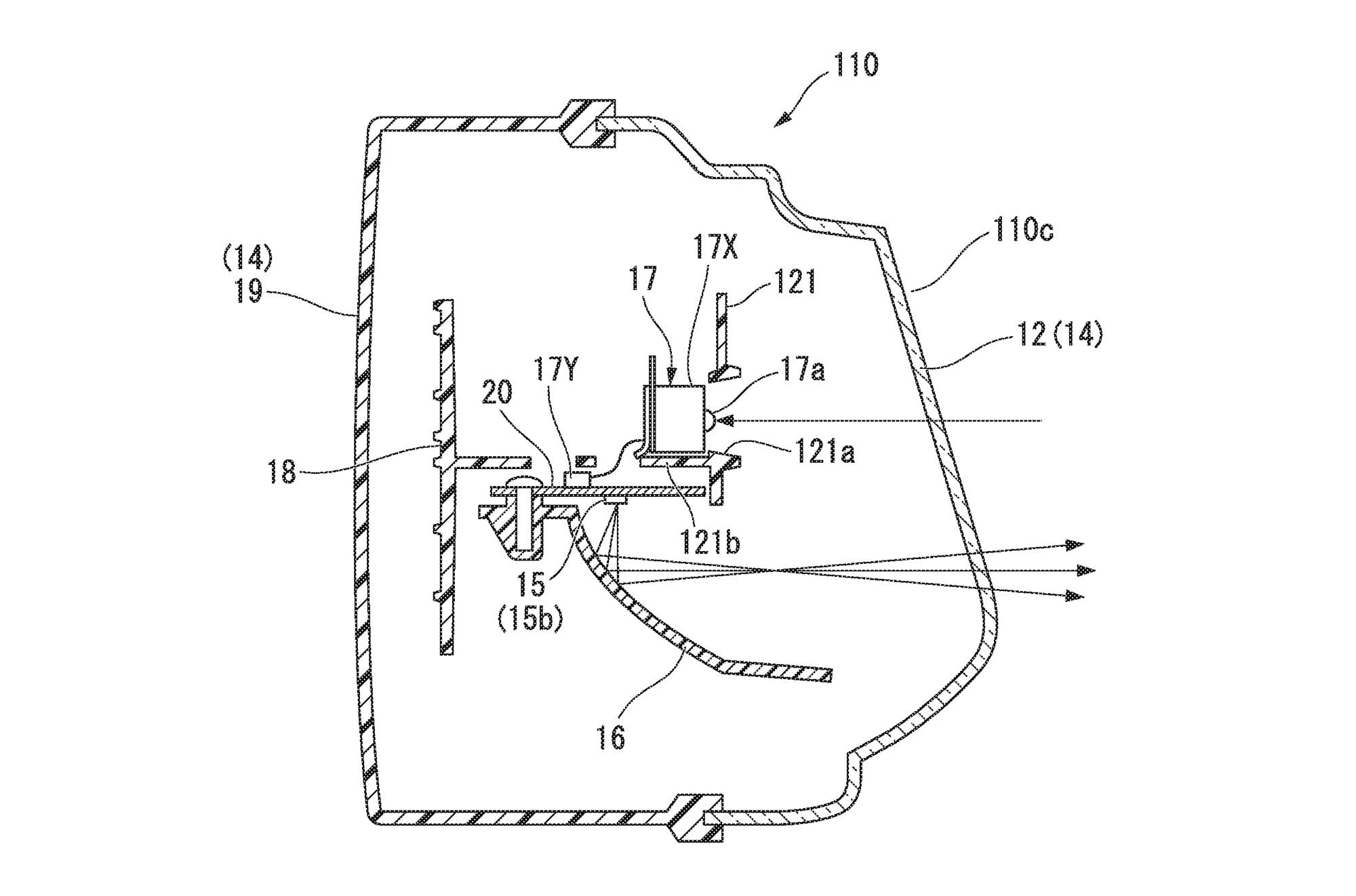 Because of the small footprint and low cost, sensors could be fitted to any style or shape of motorcycle. (Honda/)
Eventually, as already seen on some cars, bikes are likely to use a combination of cameras and radar units to provide a vast range of information for systems like adaptive cruise control and collision avoidance or mitigation or simply early warning.
Honda's patent shows various versions of the idea, one fitted in a fully faired sportbike and another in a naked roadster, however it's clear that there's really no limit to the style of bike the system could be used on.