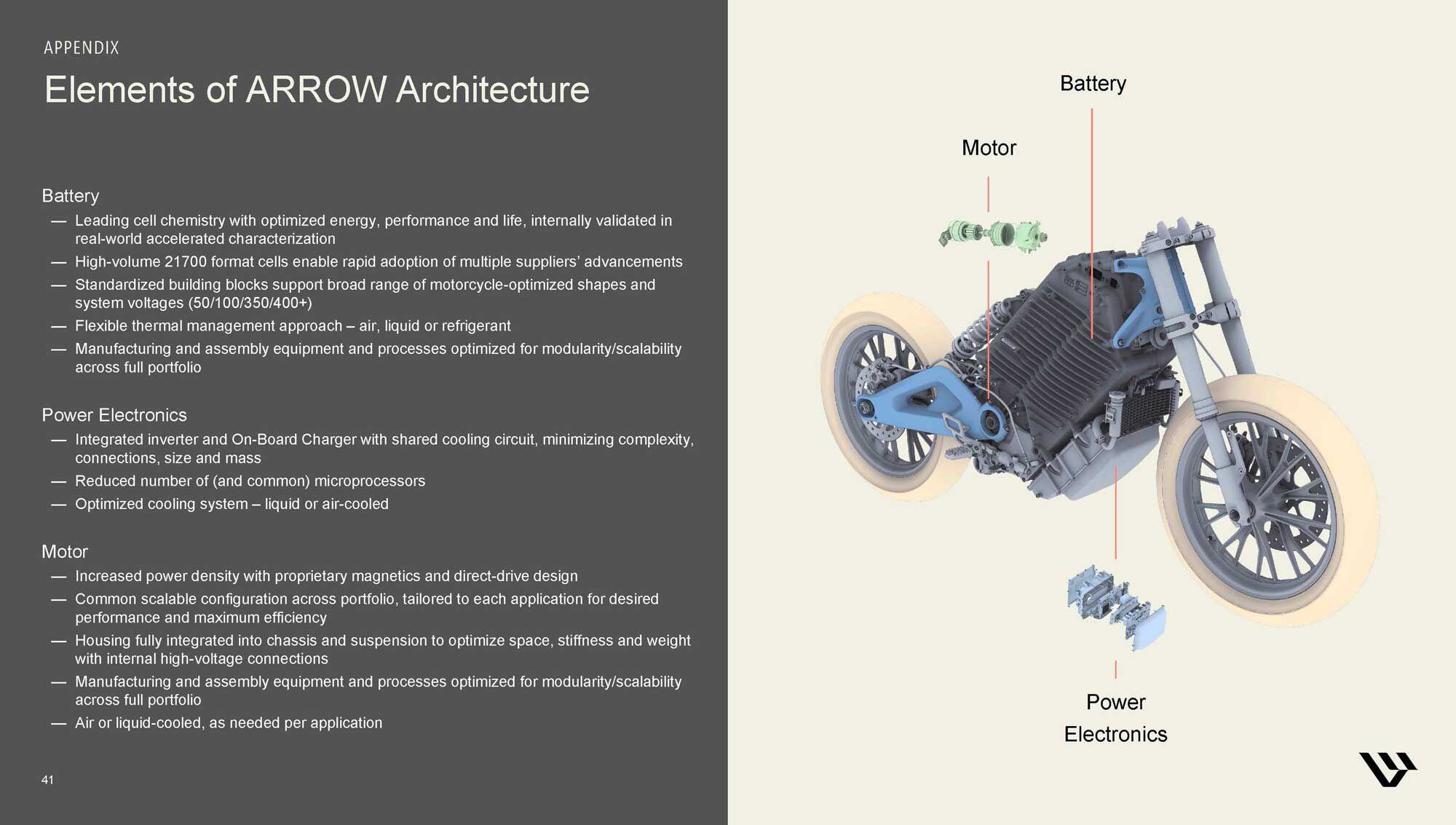 CAD representation of planned LiveWire Arrow middleweight platform with integrated structural battery pack that carries front and rear suspension. (Harley-Davidson/)
Harley-Davidson announced December 13 that it's spinning its LiveWire electric motorcycle division into a separate company. This will be done by having LiveWire acquired by a SPAC, or special purpose acquisition company, a new method of financing and going public with later-stage startups; the practice has become popular because it bypasses many of the regulatory hurdles of an IPO, or initial public offering of stock. In this case, the result will be Harley retaining majority ownership of LiveWire, with LiveWire receiving more than half a billion dollars cash to expand its model range and distribution. In short: Harley-Davidson potentially increased its balance sheet by about $1.5 billion; and new emotorcycles should soon be forthcoming from LiveWire, as rapidly growing emotorcycle sales are necessary to justify this enormous investment. Some of these new models were hinted at in the investor document Harley released to explain the deal.
For those of you who are more interested in motorcycles than financial engineering, please be patient with our very brief overview of some of the financial legerdemain behind this deal. Traditionally, private companies that want to get their hands on more dollars for expansion and growth without taking on massive debt have looked to public offerings. This basically amounts to selling an interest in the company, with the result that the company is no longer solely privately owned, but becomes a public corporation. This means company stock is traded on public exchanges, such as the New York Stock Exchange or the Nasdaq, and that anyone with sufficient capital could buy incremental ownership of the company. Selling equity is less risky than taking on loans; money received in exchange for a 10 or 20 percent interest in your company doesn't have to be repaid no matter what, as a loan does. That applies even if your company's ambitious plans go awry.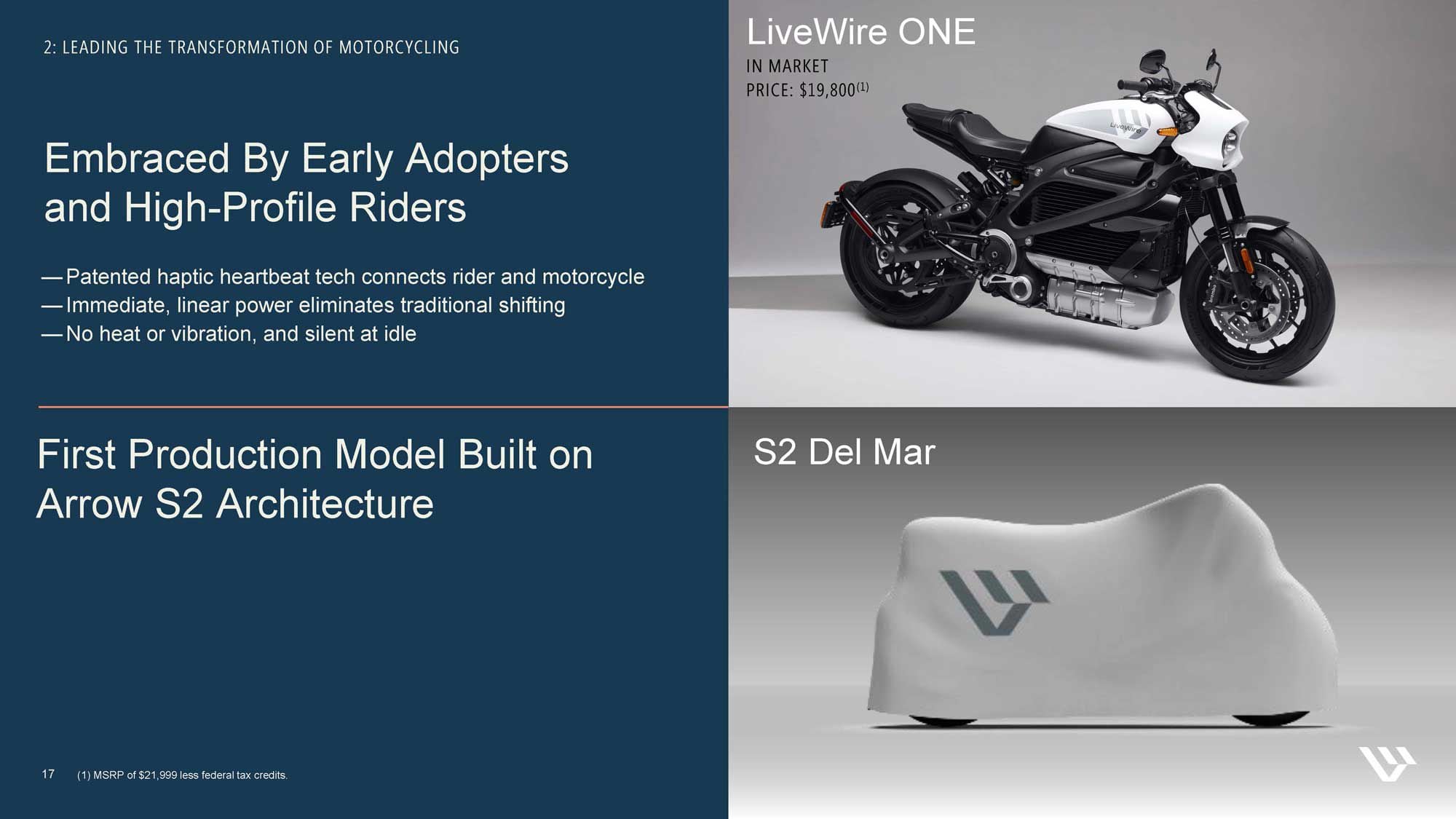 LiveWire One—a reduced-cost rebadged version of the Harley-Davidson LiveWire—was the first step in separating electric motorcycles from the mothership. Arrow S2 architecture will be the basis for a "middleweight" and presumably lower-cost motorcycle called Del Mar. (Harley-Davidson/)
Harley-Davidson itself went through this process in the 1980s, when its management first bought the motorcycle division from corporate owner AMF with borrowed money; made the company private; and then repaid those loans and got money to expand by selling some of their ownership to the public via an IPO in 1986. Over the next 20 years, anyone who had acquired Harley stock at the IPO price did very well indeed, as the only thing that went awry with Harley's plans were that they exceeded most expectations. This exemplary result explains why investors are interested in IPOs.
The issue with IPOs, however, is that they're heavily regulated by the US Securities and Exchange Commission (SEC). To hold an IPO means a company's financial documents must be rigorously reviewed and approved by the SEC, and taking extreme care regarding promises company management makes regarding the future. Misleading investors during an IPO can, quite understandably, land a company in big trouble. Complying with the regulatory hurdles takes time as well as effort; it's difficult to go through the IPO process in less than six months.
Whether it's ingenuity or merely low animal cunning, the US financial sector is always looking for new angles. Recently, the finance types figured out how to use SPACs as an alternative to IPOs. SPACs are essentially legal shell companies, already publicly traded but established to do one thing and one thing only: acquire a single currently private company. Investors who invest in SPACs generally know only the general industry or technology their particular SPAC plans to buy into; the SPAC itself puts most of the investor funds in escrow and is legally required to return them if the SPAC doesn't make a purchase within a given time, often a couple of years.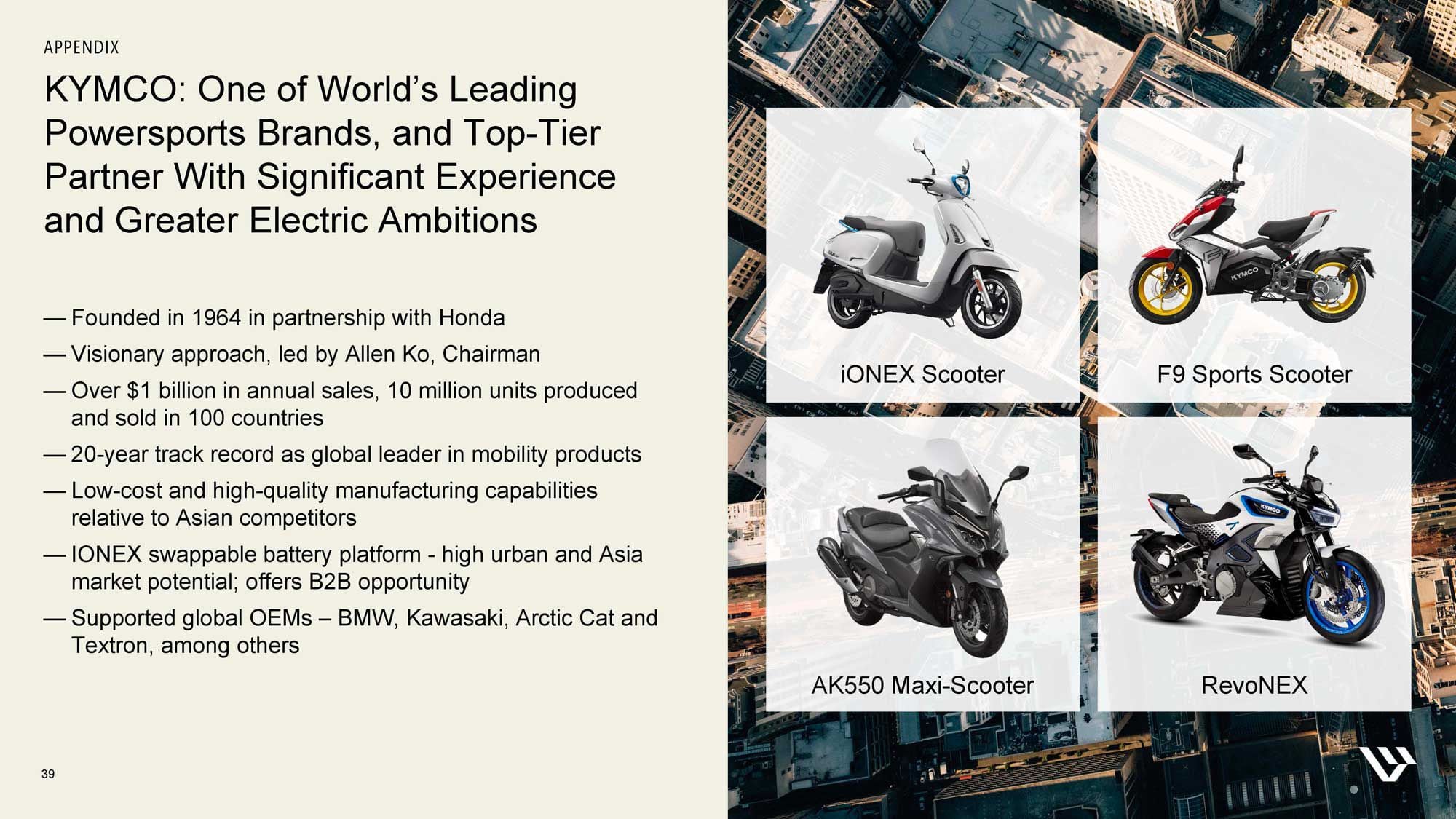 Taiwanese scooter giant Kymco has joined LiveWire in partnership, looking toward shared development and sourcing costs, plus a swappable-battery standard on lightweight electrics. (Harley-Davidson/)
The advantage is that SPACs, having fewer regulatory requirements, can move quickly compared to the IPO process. That may also become one of their disadvantages; the SEC, whose job it is to prevent market manipulation and protect investors, is currently investigating some of the quick SPAC deals that financed electric vehicle startups such as Lordstown Motors and Lucid. This suggests, among other things, that some of the projections of future sales growth or confirmed orders were, shall we say, a tad unrealistic.
The LiveWire deal, in contrast, is straightforward. There are three parties involved: Harley-Davidson; AEA-Bridges Impact Corporation (ABIC, the SPAC that will acquire LiveWire and presumably change its own name to LiveWire afterward); and Kymco. Harley and Kymco will put $100 million each into the new company and will own 74 percent and 4.3 percent of it respectively. ABIC will contribute its $400 million of investor cash, and its shareholders will retain 17.3 percent of the stock. There are still plenty of costs in doing a SPAC acquisition, and the new LiveWire company will be left with $545 million of the $600 million going in. This ratio is similar to a conventional IPO.
Harley's stock increased upon the announcement of the deal, as well it should. Harley retains LiveWire stock nominally worth $1.8 billion or so and gets half a billion dollars of new money into LiveWire to accelerate electric motorcycle development. There's no way that LiveWire, as a motorcycle platform internal to Harley, was increasing Harley's stock value by $1.8 billion!
Harley-Davison's stake in electrics spans kids ebikes with StaCyc and runs all the way to the range-topping LiveWire One. Future plans are ambitious and include heavyweight bikes. (Harley-Davidson/)
LiveWire gets freedom and resources to try new things and gets its own stock options to attract the kind of risk-taking hyper-competent engineers and managers essential to making their plans work. AEA-Bridges shareholders get a big chunk of the new company at presumably a better valuation than they could have gotten buying into an IPO. And Kymco gets an important partner and potential customer as it struggles to convert from being an internal combustion-based scooter and two-wheeler company to being an EV company. It's currently in a fierce battle in the Taiwanese and other Far Eastern scooter markets with fast-growing startup Gogoro, which has already captured 10 percent of the Taiwanese market with sophisticated escooters and established a standard for exchangeable batteries that's been embraced by even Yamaha. Kymco is pushing its own exchangeable battery standard; and if LiveWire ends up producing lightweight emotorcycles with exchangeable batteries, there's little doubt which tech would be used. Meanwhile, Kymco and LiveWire can share tech, suppliers, and development costs on future EV projects.
Among the more interesting things in the LiveWire release is information on current LiveWire sales, projections for the future, and hints at what those future products could be. Not too surprisingly, Harley is claiming only 387 LiveWire motorcycles were sold in the last year. Not too impressive for a company now valued at $2.2 billion. But keep in mind that Rivian, who just delivered the first handful of its e-pickup trucks, is currently valued at more than Ford; Tesla is valued at more than every other automobile company combined. The growth curve LiveWire is projecting is actually more aggressive than Tesla's 50 percent annually, and puts LiveWire at 100,000 emotorcycles by 2026.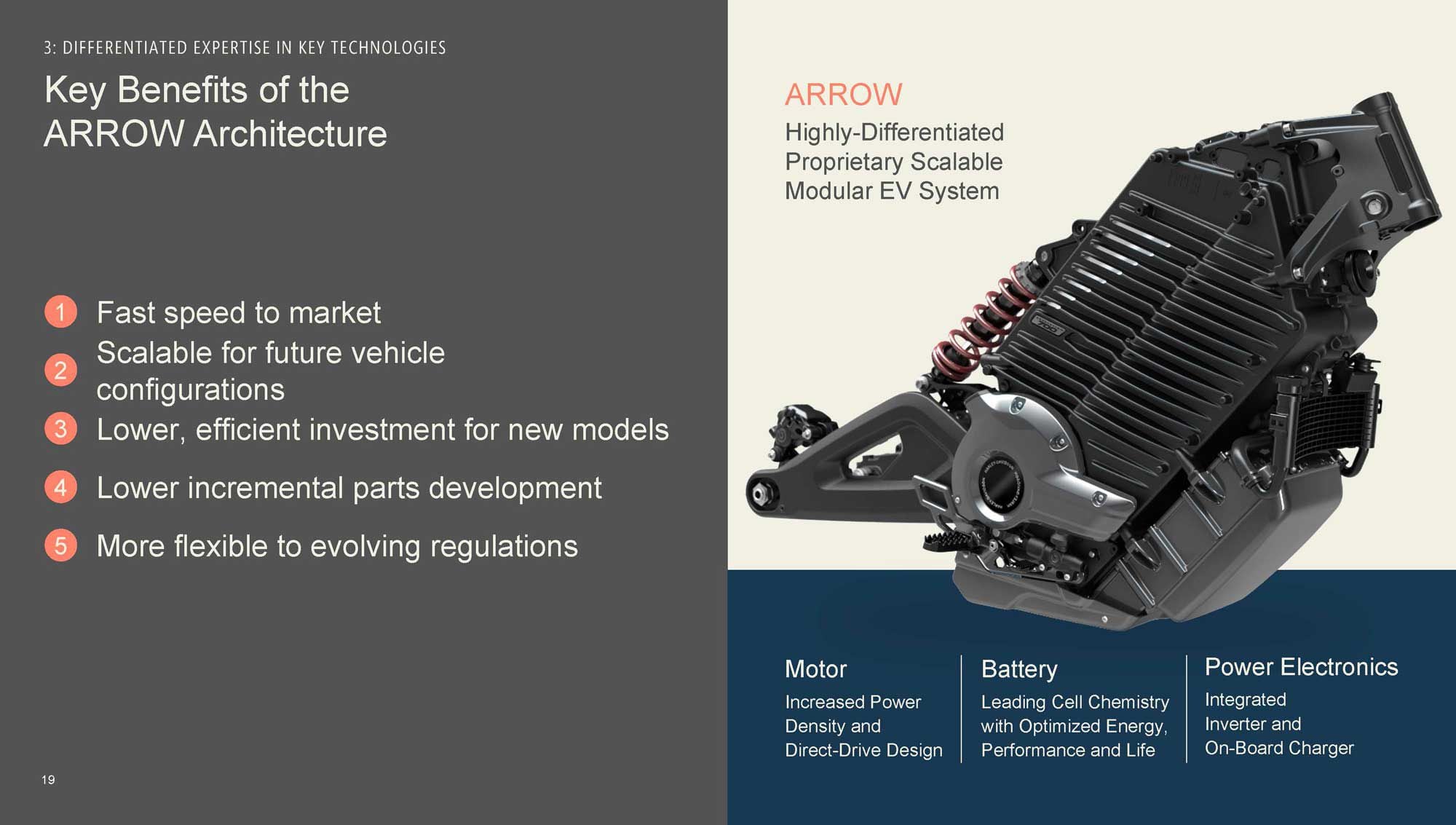 Another look at the Arrow platform. Steering head subframe is easily changeable for new models of different segments, as is the swingarm. Drive system is unlikely to have longitudinal motor mounting as used on LiveWire One, née H-D LiveWire. (Harley-Davidson/)
Harley-Davidson-LiveWire-Arrow-platform.jpg | Another look at the Arrow platform. Steering head subframe is easily changeable for new models of different segments, as is the swingarm. Drive system is unlikely to have longitudinal motor mounting as used on LiveWire One, née H-D LiveWire. | Photo: Harley-Davidson
And what will those emotorcycles be? The first of the new bikes, according to the release, is a middleweight model named Del Mar, based on the Arrow platform. A few tidbits were included, as were a couple of component pictures. The Arrow platform is designed to allow many motorcycles to be designed around it, and consists of a very large structural battery pack that basically bolts on a steering head as a bracket, and presumably the seat subframe as well. The battery inside that big pack consists of 21,700 cylindrical cells, as used in current Tesla models. The pack is physically big enough to hold perhaps 15 to 20 kWh of advanced cells, and the bike itself looks more like a replacement to the LiveWire One than a supplement. The battery was designed to be compatible with either air, liquid, or refrigerant cooling, depending on the application. The last is curious, and seems to imply an on-board air-conditioning system, perhaps for some future enclosed three-wheeler. The motor is claimed to have increased power density compared with that in the LiveWire One, with proprietary magnetics and direct-drive design.
The last is interesting, as the photos show only the non-drive side of the chassis. Is the motor transverse with a planetary gear reduction driving the output sprocket along a common axis? Or is it a longitudinal design driving a drive-shaft directly? I would bet on the former, but we'll have to wait to find out. Meanwhile, LiveWire claims the motor housing is fully integrated into that chassis and suspension to optimize space, stiffness, and weight with internal high-voltage connections, and that it's optimized for cost and can be air- or liquid-cooled as needed for the performance level of the motorcycle it's powering.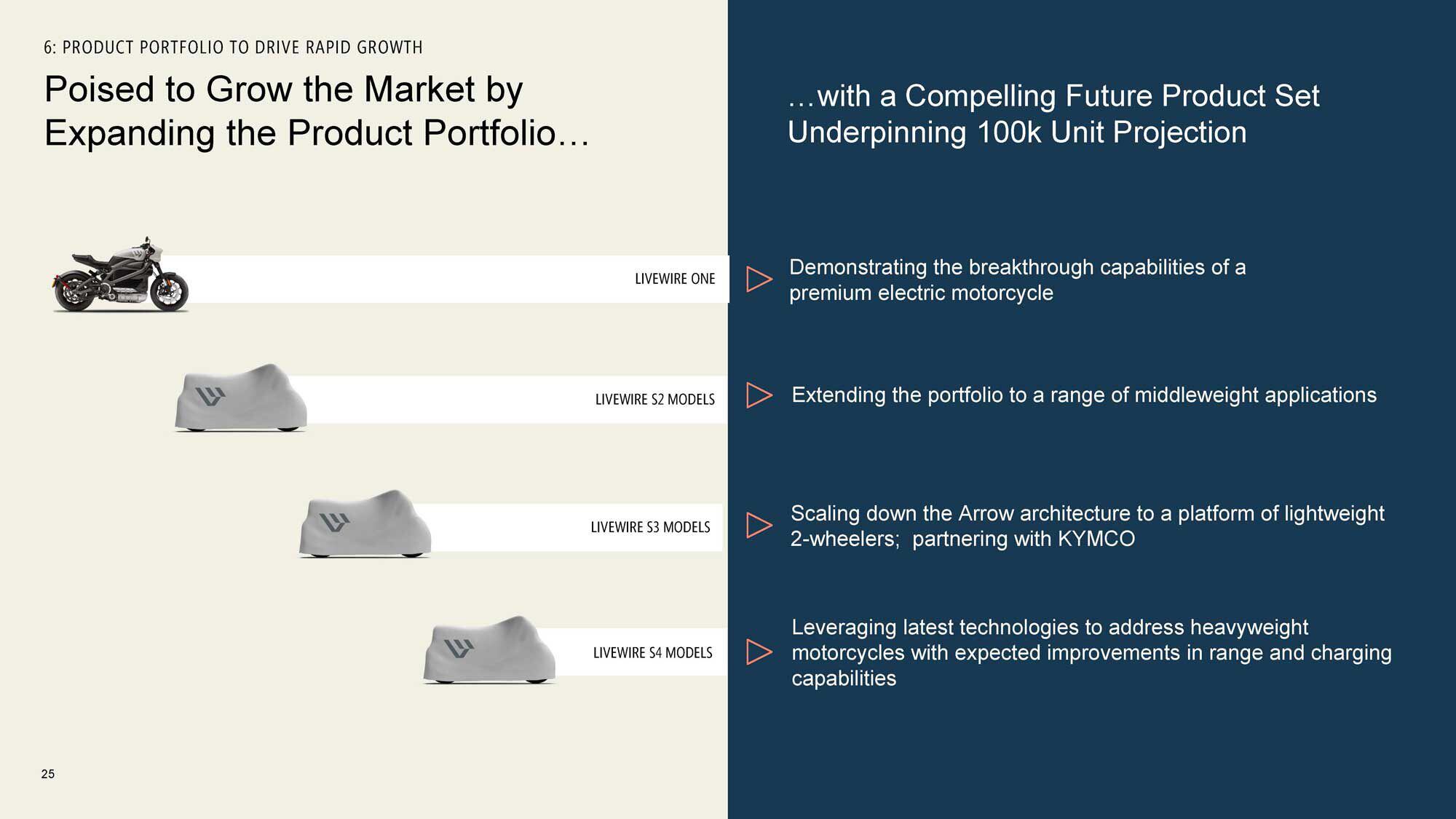 Ambitious growth plans? Projected LiveWire growth curve is more aggressive than Tesla's 50 percent annually and puts LiveWire at 100,000 emotorcycles by 2026. (Harley-Davidson/)
Harley-Davidson-LiveWire-ProductSet.jpg | Ambitious growth plans? Projected LiveWire growth curve is more aggressive than Tesla's 50 percent annually and puts LiveWire at 100,000 emotorcycles by 2026. | PHOTO: Harley-Davidson
The Arrow platform motorcycles should appear soon, perhaps in late 2022, if LiveWire is to meet its sales projections, and at a substantially lower price than that of the LIveWire One. These are the LiveWire S2 motorcycles, while the investor document says the S3 bikes that follow will be scaled-down lightweights based on the Arrow platform, and be done in partnership with Kymco.
Finally, S4 heavyweight models will appear, which we can speculate will be available when battery energy density has roughly doubled, allowing something like a 750-pound e-Road King or electric-Electra Glide with 150 to 200 miles of highway range.
All in all, it's an ambitious plan, considering emotorcycle sales have barely made a dent in the overall market. But the financial markets are eager to throw money at e-vehicle companies right now, hoping for another Tesla. Harley has grabbed the opportunity, and it will be fun to see the motorcycles that emerge from LiveWire in the next few years. They look to be slicker and more affordable than the impressive, but expensive, LiveWire One.