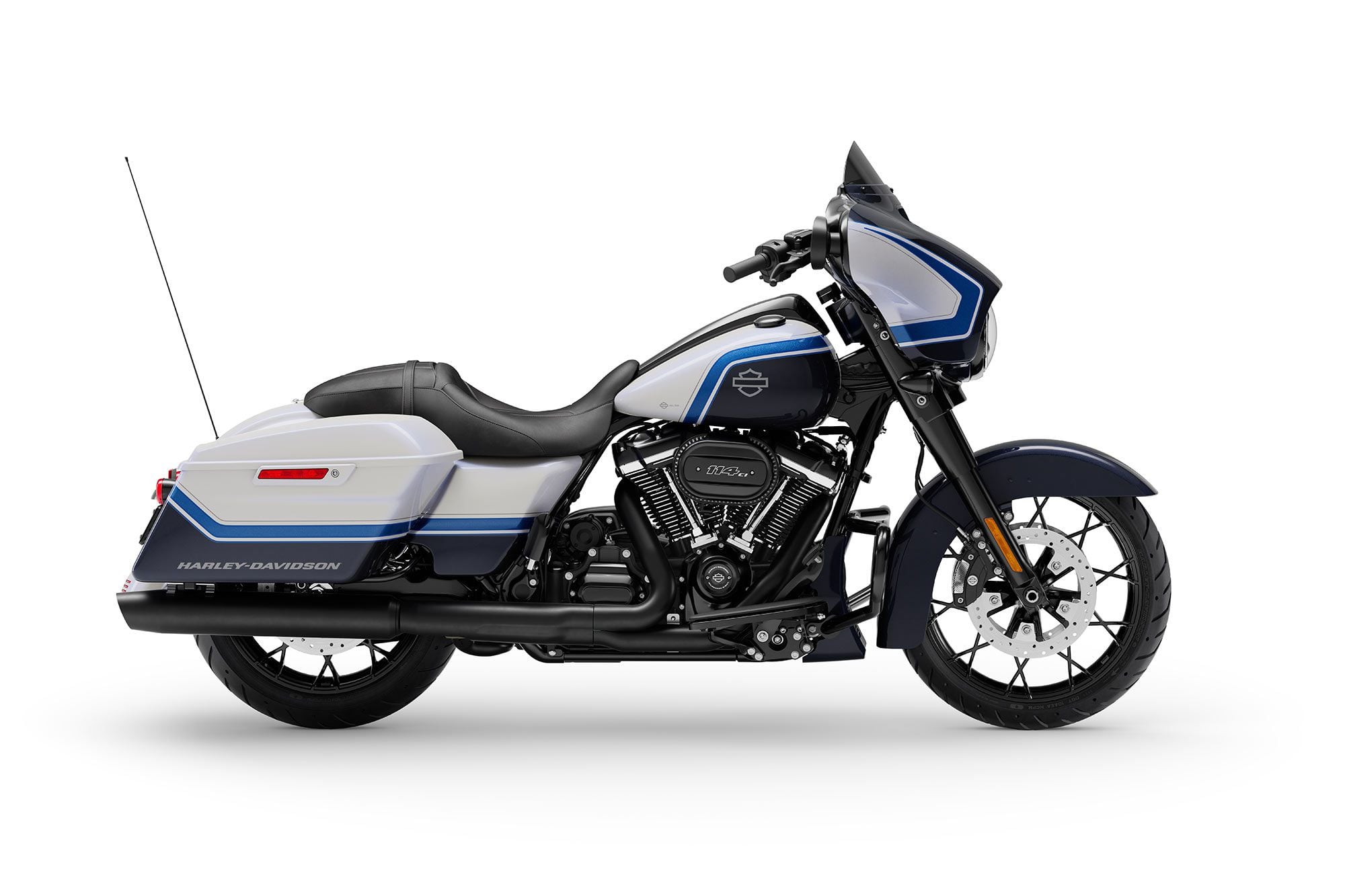 The Street Glide Special in Arctic Blast has an MSRP of $38,899. (Harley-Davidson/)
Anyone who's peeked through the window of American V-twin culture has seen the wild popularity of Harley-Davidson's Street Glide. Born out of H-D's first Grand American Touring machine, the FLH Electra Glide, the SG's batwing fairing is an icon of the segment. Announced today, Harley-Davidson is releasing a new and highly limited edition of the popular bagger—the Street Glide Special in Arctic Blast.
Hand painted by Gunslinger Custom Paint in Golden, Colorado, long known for supplying CVO and limited-edition paint sets for the H-D factory, only 500 Arctic Blast editions will be produced worldwide, each with its unique serial number painted on the gas tank.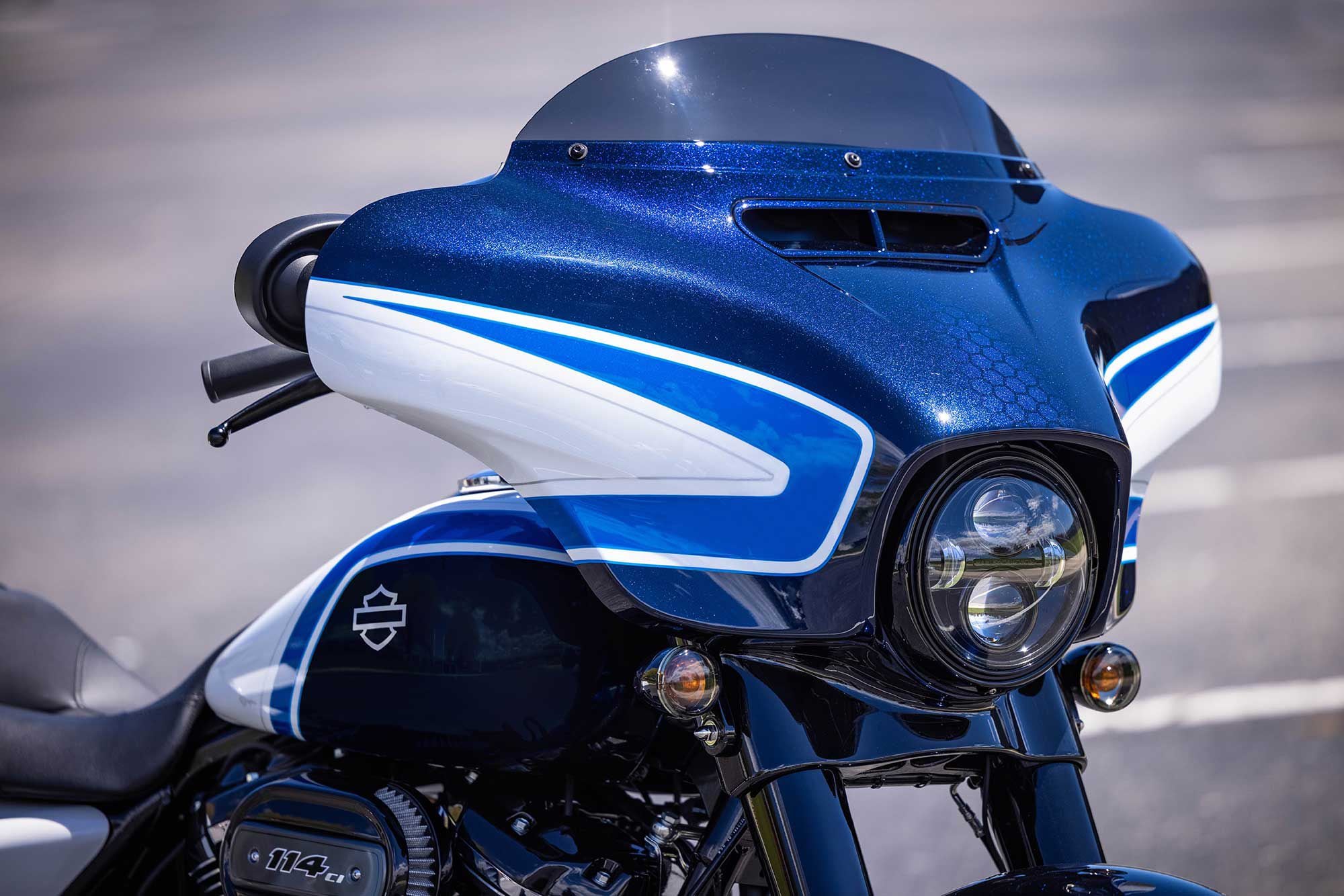 Shiny and sparkly, the Street Glide Special in Arctic Blast has a subtle honeycomb pattern painted into the fairing and front fender. (Harley-Davidson/)
From afar, the Arctic Blast paint is bold, high contrast, and as Harley-Davidson's VP of Styling and Design Brad Richards described it, "intended to communicate the appearance of motion." But once you get up close, more details become apparent like deep metalflaked blue and a ghosted hexagon pattern in the fairing and on the front fender.
Equipped with the larger 114ci Milwaukee-Eight engine, the Street Glide Special is the more powerful SG with a higher level of trim. Base models start at $27,099 with the Arctic Blast set adding $6,895 to a total of $38,899, though it does already include Harley's Reflex Defensive Rider Systems (RDRS), offered as an option on other models for $995. A slim top case with matching paint will also be available from H-D for an added $1,699.95.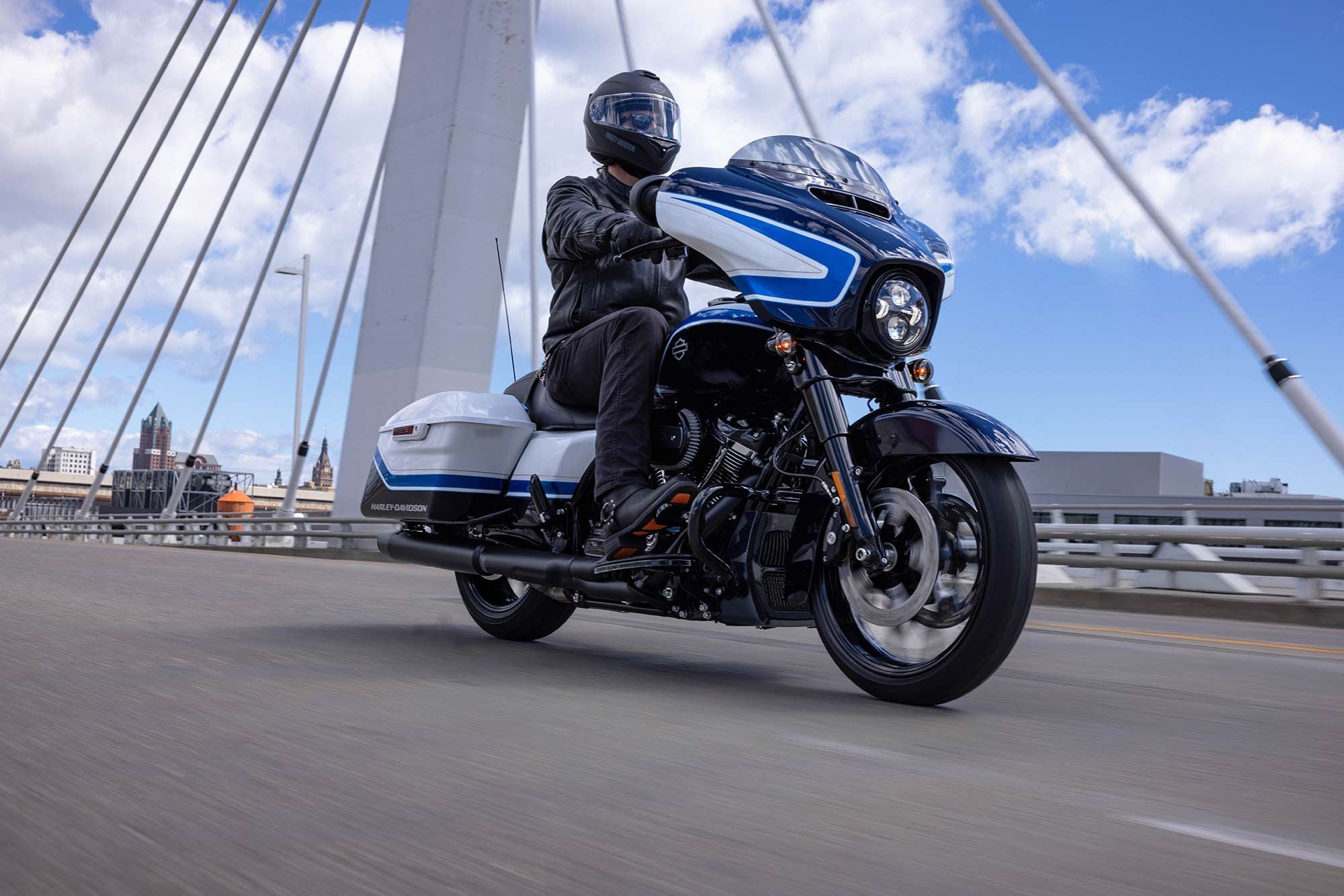 Limited to only 500 serialized units worldwide, contact your local dealer to check on the new 2021 Arctic Blast Street Glide Special's availability. (Harley-Davidson/)
Following the recent announcement of Harley-Davidson's Sportster S, this shows a balanced focus on the new Revolution Max platform and H-D's more traditional models. This was a concern for some as H-D introduced new adventure and sport-focused motorcycles, but with the introduction of the recent Icons Collection and this current announcement, it seems we have nothing to worry about just yet.
I will admit, when I hear the name Arctic Blast I wonder if we're looking at a new flavor of Gatorade or a new scent from Axe Body Spray. Regardless, the superlimited set is stylish and highly exclusive, so we imagine Harley-Davidson will have no issue at all when it comes to moving these 500 units.
Contact your local dealership for availability.
Arctic Blast paint adds an exclusive and custom flair to the already-tricked-out 2021 Street Glide Special model. (Harley-Davidson/)