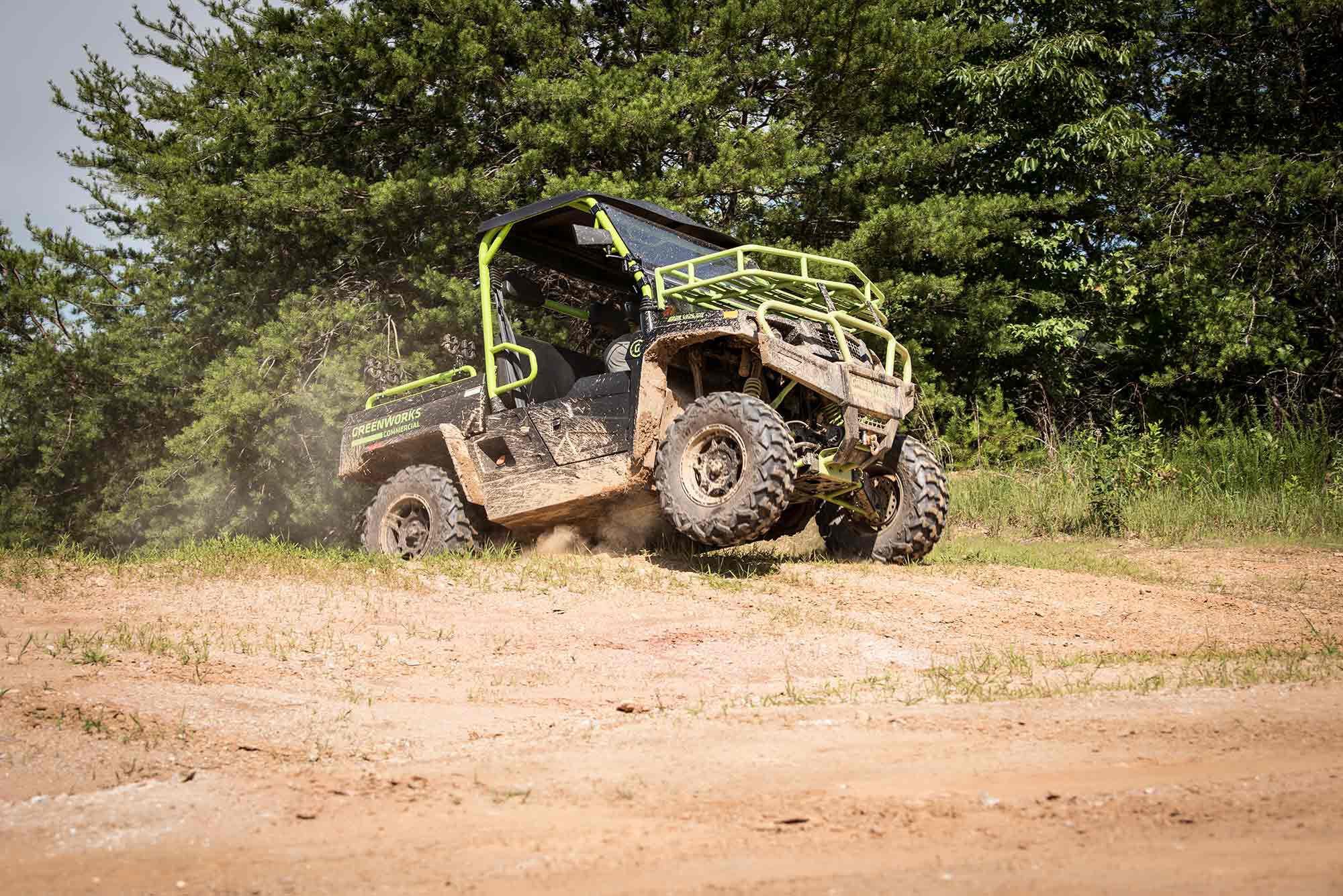 Don't let the battery pack fool you. This is a real UTV. (Greenworks/)
For landscapers, homeowners, ranchers, farmers, and anyone who wants a UTV for efficient travel on a large property, or for hauling loads and towing on a farm, ranch, or homestead, Greenworks' U800 UTV is a powerful tool that gets the job done without the noise, smell, and pollution of a gas-powered engine.
The first-ever commercial grade utility vehicle powered by a lithium-ion battery comes from a company that has long been a player in the electric lawn and garden tool market. Greenworks took the same technology it uses in commercial grade zero-turn mowers and took it to its logical next step for landscapers who have discovered the cost, maintenance, noise, and pollution savings of going electric.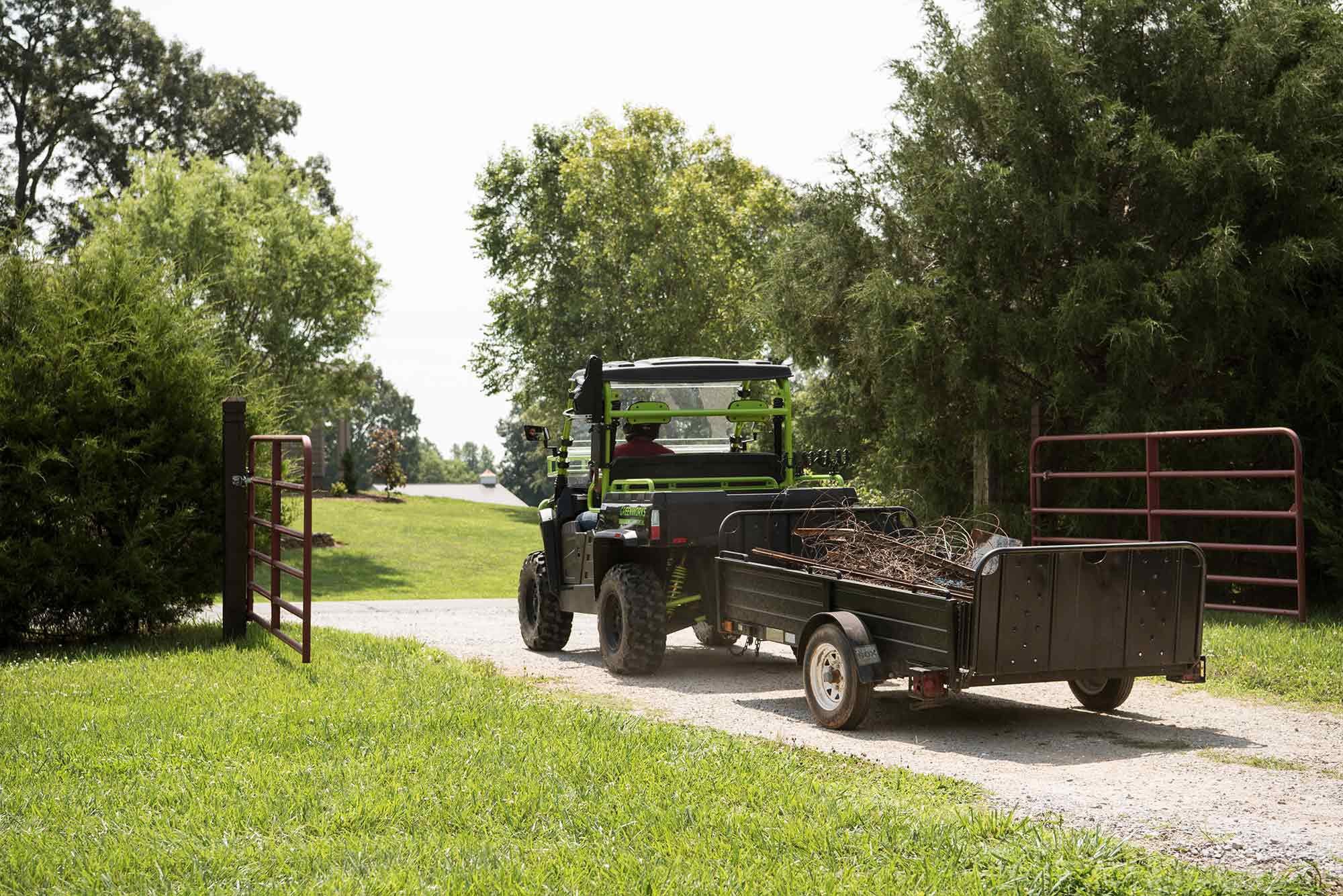 The Greenworks U800 can tow an impressive 1,500 pounds. (Greenworks/)
What It Is
The U800 uses an 82-volt brushless motor powered by a UL-certified 13.8kW lithium-ion battery. The combination is good for a max speed of 29 mph, a towing capacity of 1,500 pounds, and a payload of 550 pounds. With 12 inches of ground clearance, it's designed to navigate difficult, rocky terrain and quickly transport tools or recreational equipment.
The U800 has two-wheel and four-wheel drive modes, with a switch to lock the front differential. When locked, the differential could tear up your lawn, but it gave me superb traction on steep and loose logging roads when I used it to haul firewood behind my house in Vermont.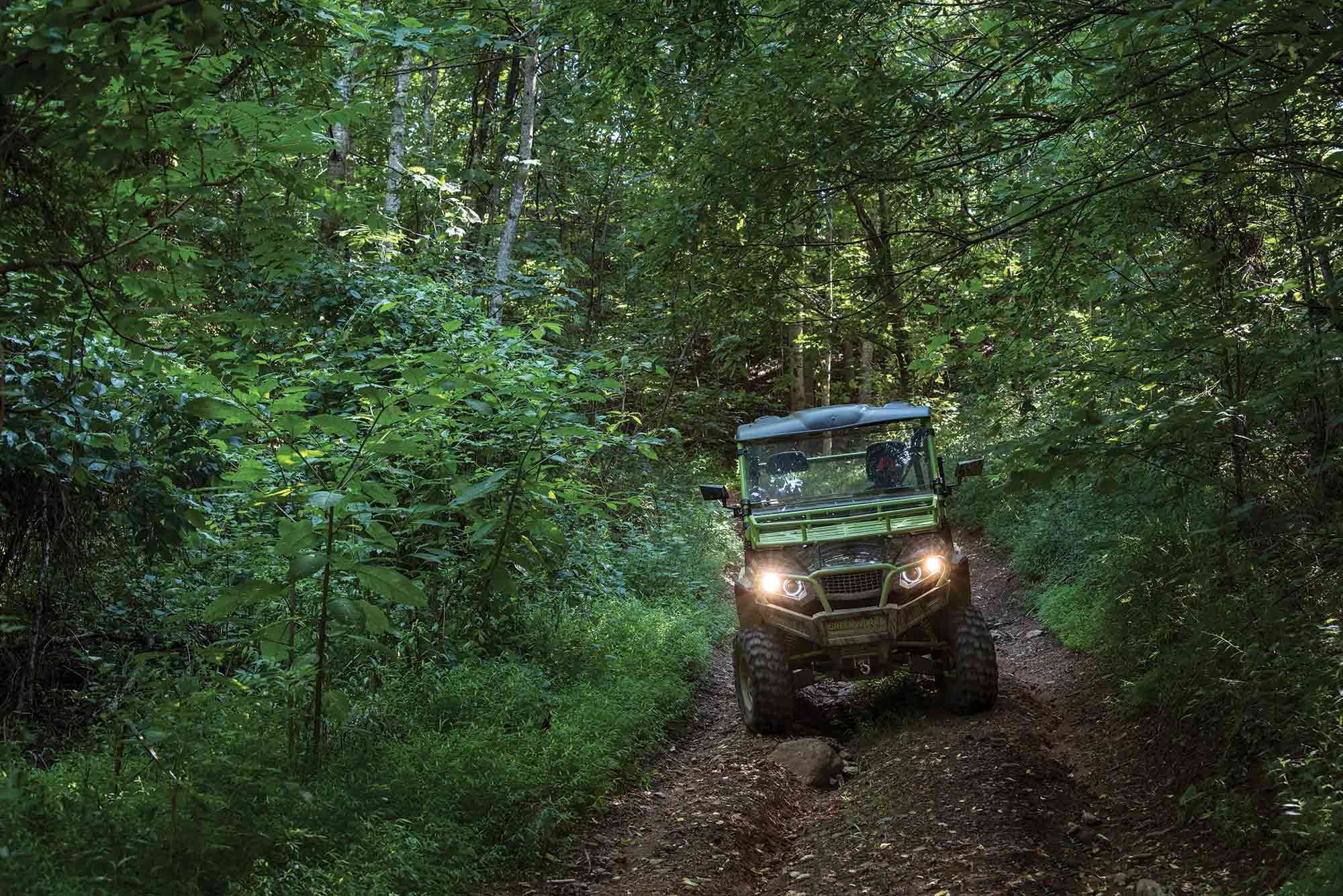 With around 60 miles of range, the U800 can handle a decent day of trail riding. (Greenworks/)
Each wheel has a compression-adjustable piggyback shock that smooths out the ride. A front sway bar minimizes body roll.
The battery rides under the bench seat. Recently, Greenworks added a heater to the battery to enhance performance when temps drop below 45 degrees Fahrenheit. Battery life is fantastic. The U800 can cover 61–75 miles without a recharge. From fully drained, the battery takes around 12 hours to charge from a standard 110V wall outlet with Greenworks' dedicated charger, which attaches to the vehicle via a gas-cap-like port.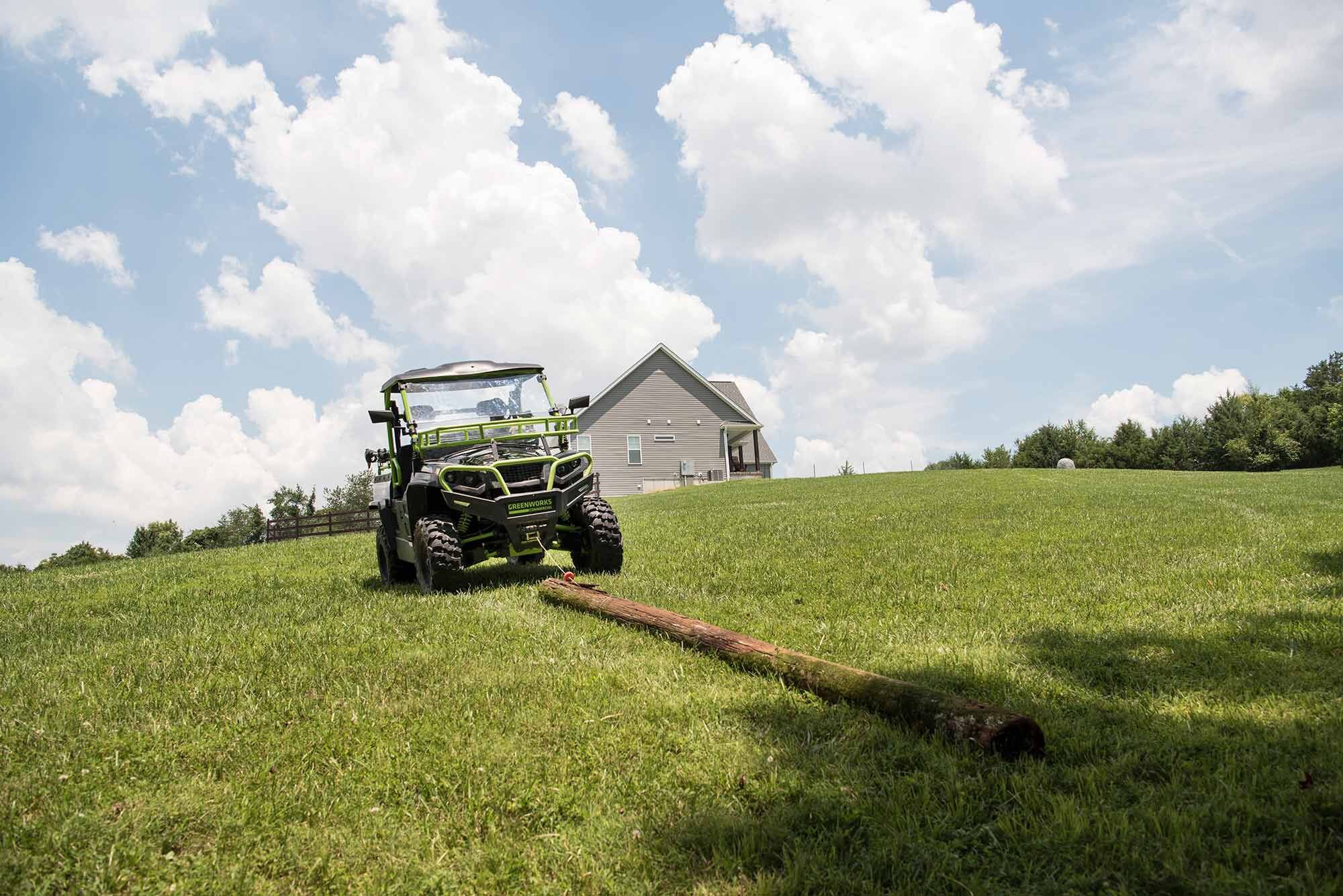 Most users will leave playtime to dedicated gasoline rigs, but the U800 handles work duty just fine. (Greenworks/)
Testing
I mostly used this unit in the woods behind my house in spring, summer, and fall. Much of the time I was hauling firewood up and down steep slopes, then using the dump bed to unload.
The U800 has impressive traction and speed. It's quiet, save the whirring of the engine and some creaks from the suspension. Because the machine is nearly silent, creaks and squeaks that are usually overpowered by the noise of the engine are audible.
H, M, and L drive settings are not high, medium, and low. H is high, and allows the rig to hit top-end. M is maximum efficiency, which is best used on flat or rolling terrain without a load. L is low. I mostly drove in H, though on steep terrain when I wanted to control my speed without always being on the brakes, I switched to L.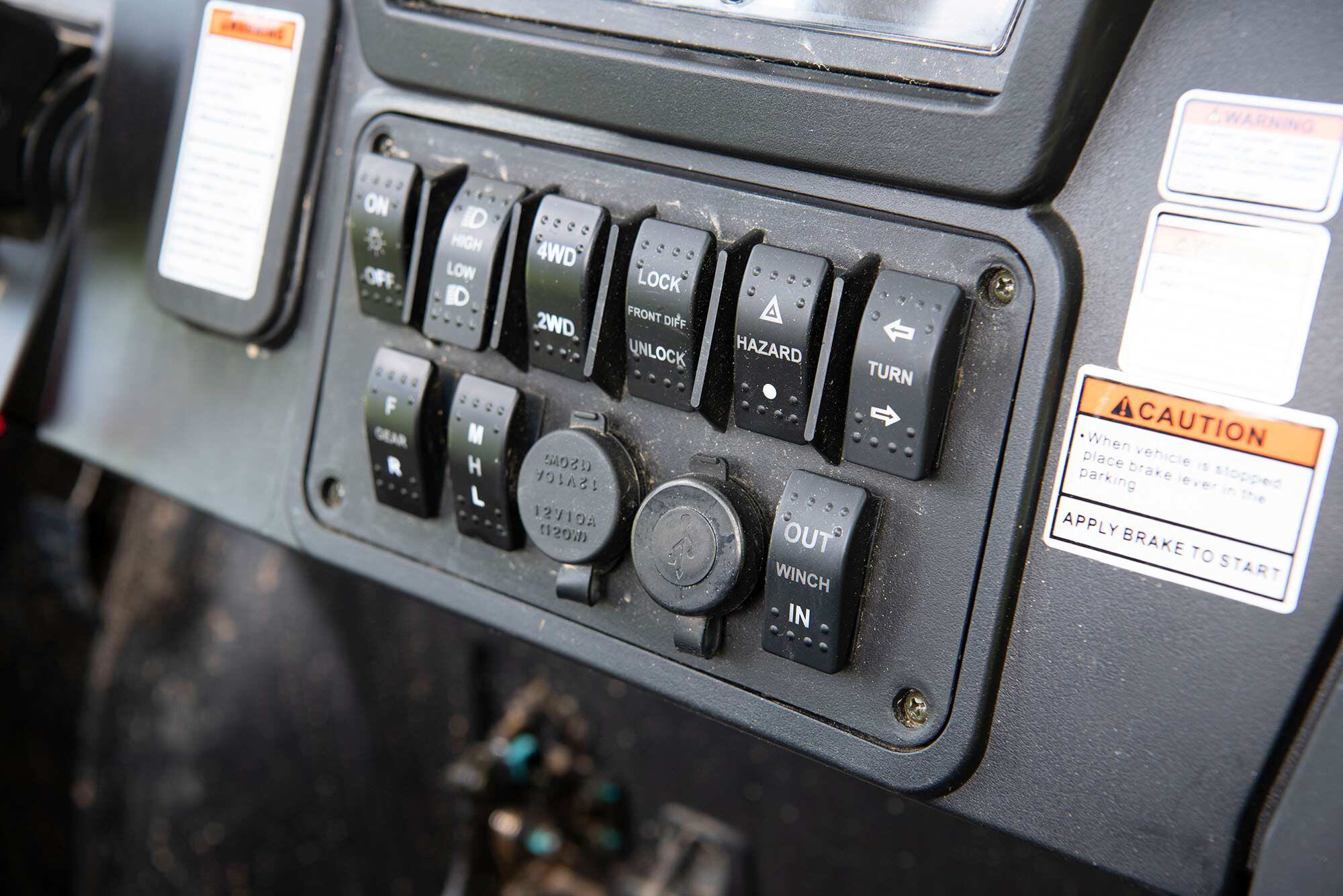 The U800's interior is simple, but functional. (Greenworks/)
Getting the U800 into gear requires the right sequence of turning on the key and releasing the parking brake with a foot on the brake, then releasing the brake to move forward. Execute that sequence in the wrong order, and you'll get an error code, which in this case is a simple reminder to try again.
I fully loaded and sometimes overloaded the 550-pound-rated cargo bed on almost every firewood run, but the machine handled it fine. I would have loaded the 35 x 45 x 12 inch bed even more if Greenworks had provided a headache rack and side rails for this vehicle. The unit comes with round metal rails around the bed, and they can be mounted with extenders, but that's not something Greenworks currently sells.
The U800 is a chore wagon—an exceptional tool for tackling home and garden projects. While it looks like many of the hybrid work-trail vehicles on the market, it's more work-centric. When I took it on a trail, on slopes up to 15 degrees the machine cruised energetically. When I got into steeper terrain and sustained hills, however, it faded, stalled, and at one point gave me a code for overheating, which self-resolved in a matter of seconds. Corey Fisher, Greenworks' engineering manager, said that because the machine runs off a single motor and at low torque, it can't compensate in the steepest terrain, but that's something Greenworks is working to resolve in future units. To be fair, no other tests of this unit had revealed this limitation. Most people won't be tackling extreme terrain in the U800. And I had a great time blasting around fields and rolling hills, following fourth-class roads to hard-to-access swimming holes, and exploring once my work was done.
The unit I tested had rotomolded plastic half doors, and a bench seat with an adjustable steering wheel. A poly roof and a polycarbonate window provided dust, sun, and rain protection. Greenworks now also offers a fully enclosed version to make using this UTV in cold or wet weather a more pleasant experience.
I rarely had to charge the U800, even with a lot of use. Greenworks honed its Battery Management System (BMS) on its zero-turn mowers. The U800 drives smoothly and consistently—when I stepped on the accelerator the unit didn't surge, it sped up in a controlled manner and maintained power in most terrain. And the 82-volt, 13.8kW lithium-Ion battery lasts. Greenworks says it'll power the vehicle for up to 75 miles on a single charge. Even on days of heavy hauling and riding up and down steep hills for three or more hours at a time without a pause, I still had juice.
Eventually, Greenworks hopes to make this unit chargeable with a home EV charger station like you'd use to charge an electric car. But the company's waiting for a common platform to emerge among electric car manufacturers, so it doesn't have to mess with a multitude of adapters.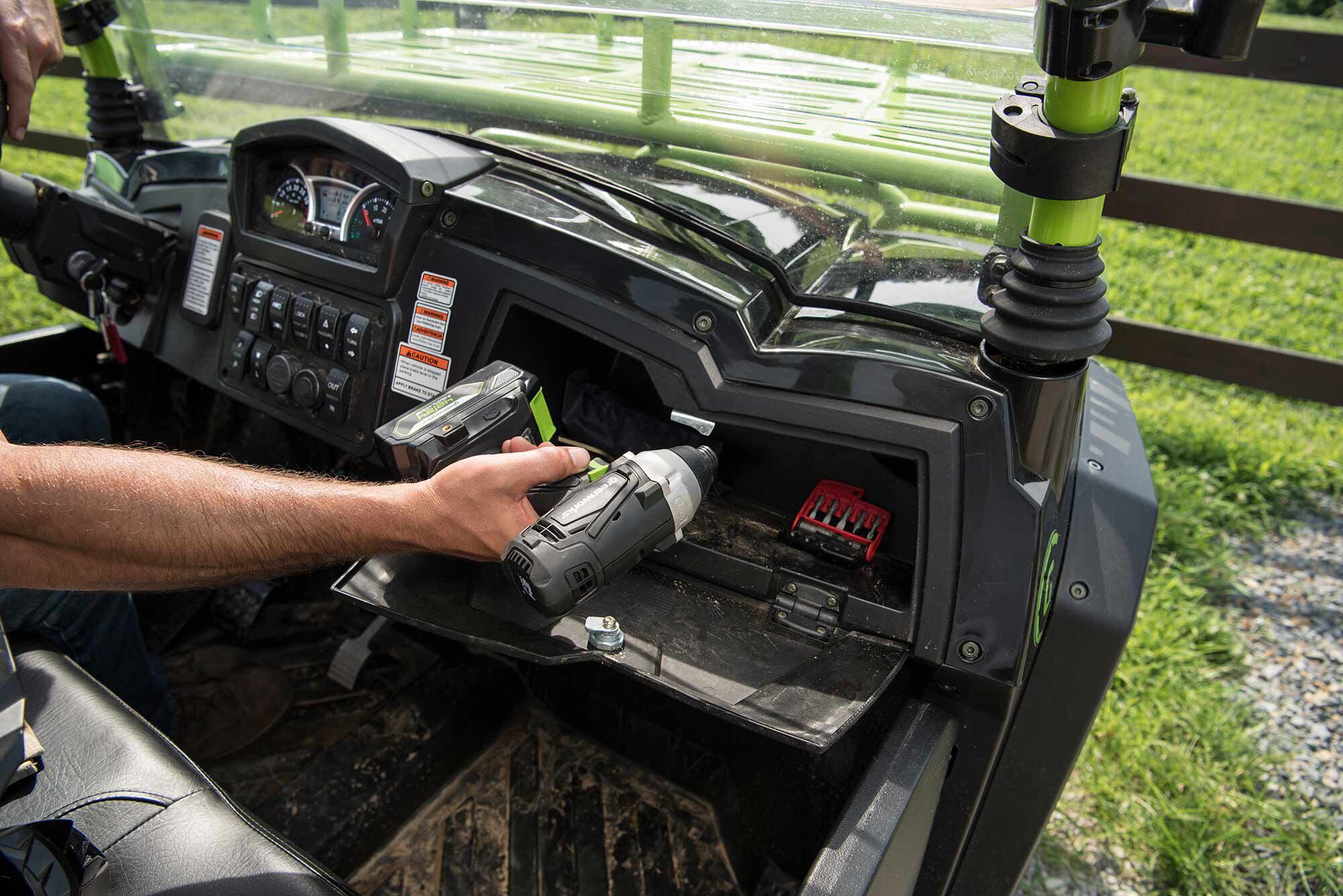 There's an excellent amount of interior storage. (Greenworks/)
The U800, Greenworks' first UTV, was released in 2019, and it immediately won awards and accolades. It's an impressive version 1.0. As Greenworks builds its line and moves toward a version 2.0, to stake a claim to the hybrid work/play UTV space, it'll have to develop a selection of compatible accessories to compete with the trim packages, sound systems, and bling offered by other brands. Stock, the U800 comes with LED headlights, a synthetic cable winch, side view mirrors, a windshield, and doors. Mud tires, a front rack, and camo wrap are add-ons.
My biggest beef with this unit was the outfitting. When I was towing this vehicle to the trailhead, the seat slid into the footwell. A Greenworks tech rep recommended I bungee it on when driving, but that's not something I want to have to do on an expensive machine. Knobs on the vehicle's storage compartments felt chintzy, and I wanted more gear storage options for tie-down straps and tools. The rotomolded doors were functional but didn't have the quality feel I expected from a machine of this price. The tailgate latched solidly but eventually got jammed up with wood chips and was hard to close. The issues are all cosmetic and/or easily resolvable as Greenworks continues to evolve this machine.
My other gripe was the hitch. The hitch on the current U800 is metric, and therefore not compatible with any adapter you can buy in the US except the one from Greenworks. That adapter has a lot of play and left a lot to be desired. Starting with the next production run, this unit will have a standard 2-inch hitch receiver. The hitch is rated to 1,500 pounds, and with the mal-fit adapter in hand, I was able to tow a trailer loaded with a rusted junk car with seemingly little effort.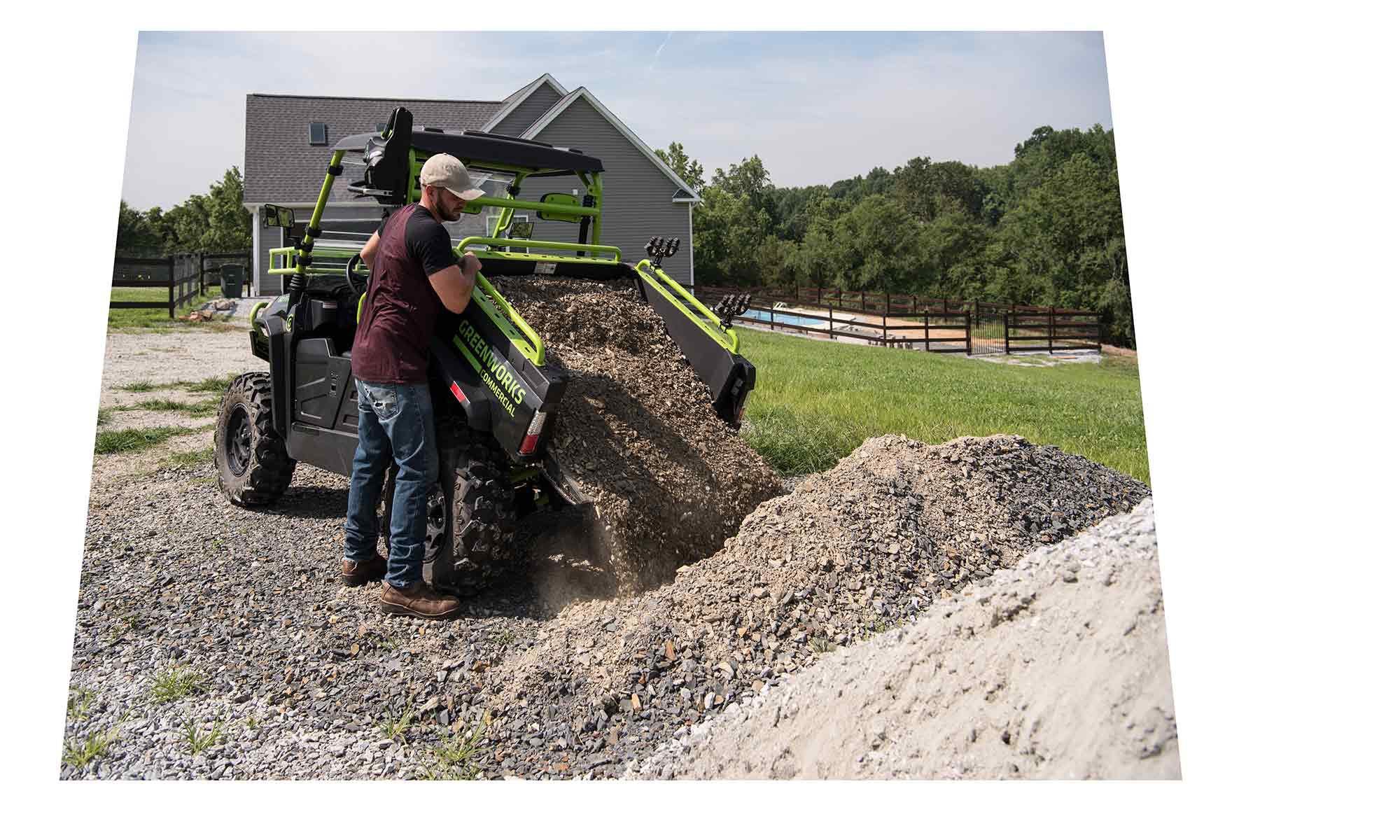 A quiet workhorse. (Greenworks/)
Final Verdict
The lithium-ion battery powered U800 cuts down on noise, eliminates fuel costs and harmful emissions, making this both a powerful and environmentally friendly vehicle. Greenworks' internals are rock solid. Under the hood, the system is simple and easy to repair. Greenworks is an electric-only company, and has been designing batteries and battery systems management for a decade. The U800 and all Greenworks products meet and exceed all relevant safety standards.
I've heard colleagues complain that getting rid of the noise and gas smell takes the excitement out of driving a UTV. I disagree. That Greenworks U800 takes the noise, pollution, and gas engine maintenance and repair out of driving a UTV are the best reasons to buy the U800.
Greenworks U800SB 82v Electric Specs
| | |
| --- | --- |
| MSRP: | $26,999.99 |
| Engine: | 82V brushless electric motor |
| Charge Time: | 12 hours |
| Range: | 61 mi. in H mode; 75 mi. in M mode |
| Transmission: | Direct drive |
| Claimed Horsepower: | N/A |
| Claimed Torque: | N/A |
| Fuel System: | Electric |
| Steering: | N/A |
| Drivetrain: | 2WD/4WD w/ locking front differential |
| Front Suspension: | Dual A-arms, compression-adjustable shock w/ sway bar |
| Rear Suspension: | Dual A-arms, compression-adjustable shock |
| Front Brakes: | Hydraulic disc |
| Rear Brakes: | Hydraulic disc |
| Wheels, Front/Rear: | Cast aluminum; 14 in. |
| Tires, Front/Rear: | 28×9-14 / 28×11-14 |
| Length: | 118.0 in. |
| Width: | 61.0 in. |
| Height: | 75.5 in. |
| Wheelbase: | 76.5 in. |
| Bed Capacity: | 550 lb. |
| Towing Capacity: | 1,500 lb. |
| Max Seating Capacity: | 2 |
| Ground Clearance: | 12.0 in. |
| Turning Radius: | N/A |
| Claimed Wet Weight: | 1,676 lb. |
| Availability: | Now |
| Contact: | greenworkscommercial.com |