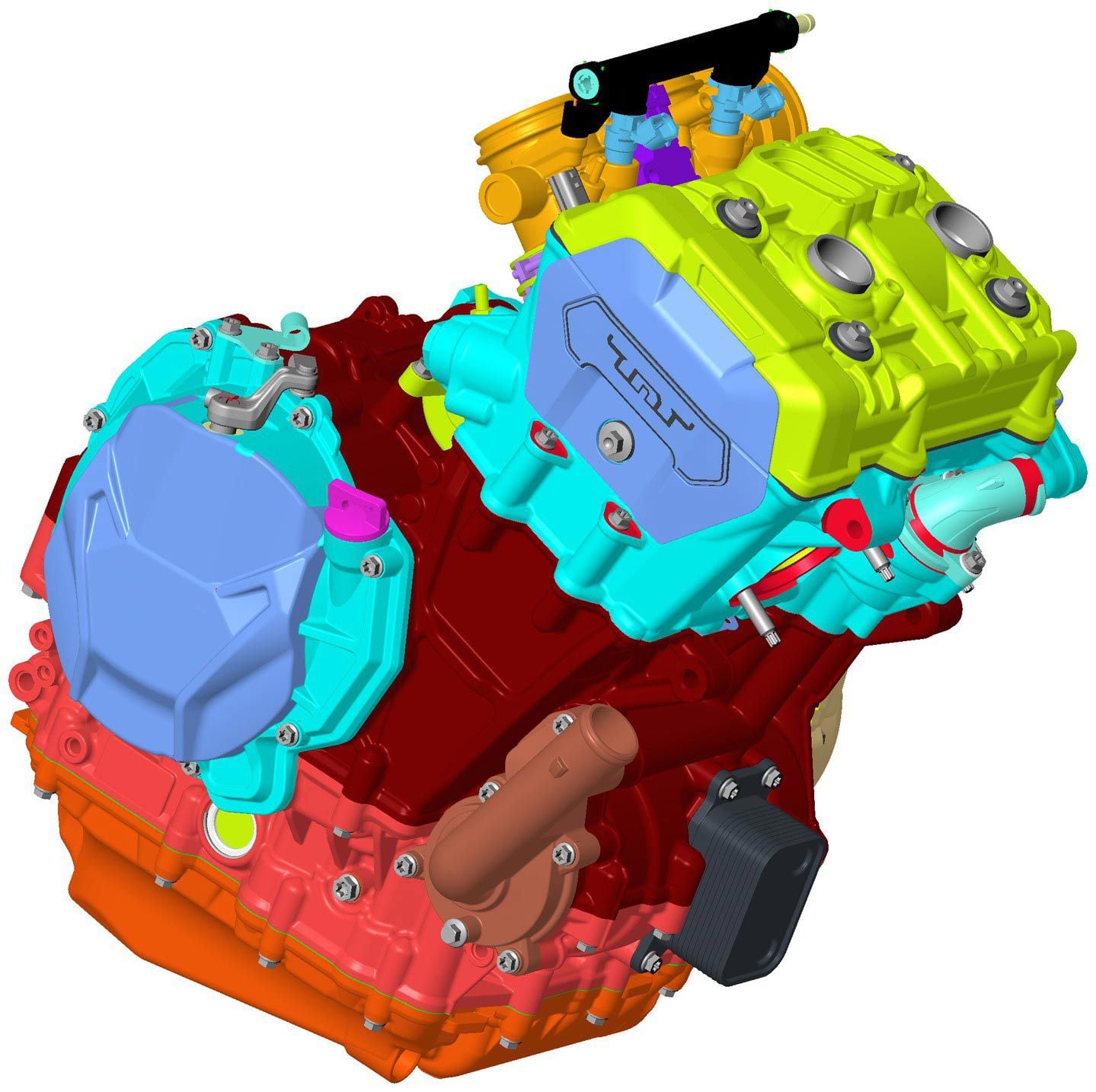 New patents filed by Benelli parent Qianjiang show the development of a new parallel-twin engine. (Benelli/)
Benelli's steady return to prominence took a big step forward late last year with the reveal of the new TRK800 adventure bike, but the company might be on the verge of an even larger leap as it's developing a new 800cc-class parallel-twin engine.
Revealed in these patent images, which protect the external appearance of the engine rather than any technical aspects, the new twin is nearly identical to KTM's LC8c unit, as used in the 790 and 890 Duke and Adventure models, as well as the new Husqvarna Norden 901. Whether the engine is a clone, a copy, or the result of some behind-the-scenes cooperation with KTM isn't clear since there's been no official announcement of its existence, but several things can be seen from the patent document that reveal more about both its design and Benelli's plans for its future.
Related: Benelli Releases 1200GT Tourer And Plans More Bikes
The 800cc powerplant looks externally identical to KTM's LC8c mill, though the different castings hint that it's not likely to be an outright copy. (Benelli/)
The patent was filed by Benelli's Chinese parent company, Qianjiang, and it reveals that the engine is code-named QJ288MW. That code shows it's manufactured by Qianjiang (QJ), has two-cylinders and an 88mm bore—matching the bore of the smaller, 799cc "790″ version of KTM's LC8c. Externally, the engine's layout and design, right down to the bolt patterns around the clutch, water pump, and generator cover, appear to be near identical to the KTM LC8c, but the cylinder, head, and cases have noticeable differences in their castings, so it's not simply a rebadged KTM engine. It's worth noting that KTM's engines are already manufactured in China by CFMoto, which itself uses a 799cc version of the design in its new 800MT adventure bike. Another Chinese firm, Colove, has also shown an LC8c-mimicking twin for use in a future model of its own, the 800X adventure bike.
While the Qianjiang-Benelli design could be simply a copy of the KTM design—China's motorcycle industry hasn't had a shortage of cloned designs in the past—it's worth noting that there is a direct connection between the brand and KTM in 2022. Qianjiang's other motorcycle brand, QJMotor, which uses many of the same platforms as Benelli's models, has been announced as an entry in this year's Moto3 world championship using rebranded KTM RC250GP machinery. Qianjiang also has tie-ins with several other big names, including Harley-Davidson (for which it's due to manufacture a small-capacity twin) and MV Agusta (Qianjiang makes the new Lucky Explorer 5.5). Qianjiang has also recently taken on the manufacture of Marzocchi suspension in China.
Related: Benelli 600RR Photos Leaked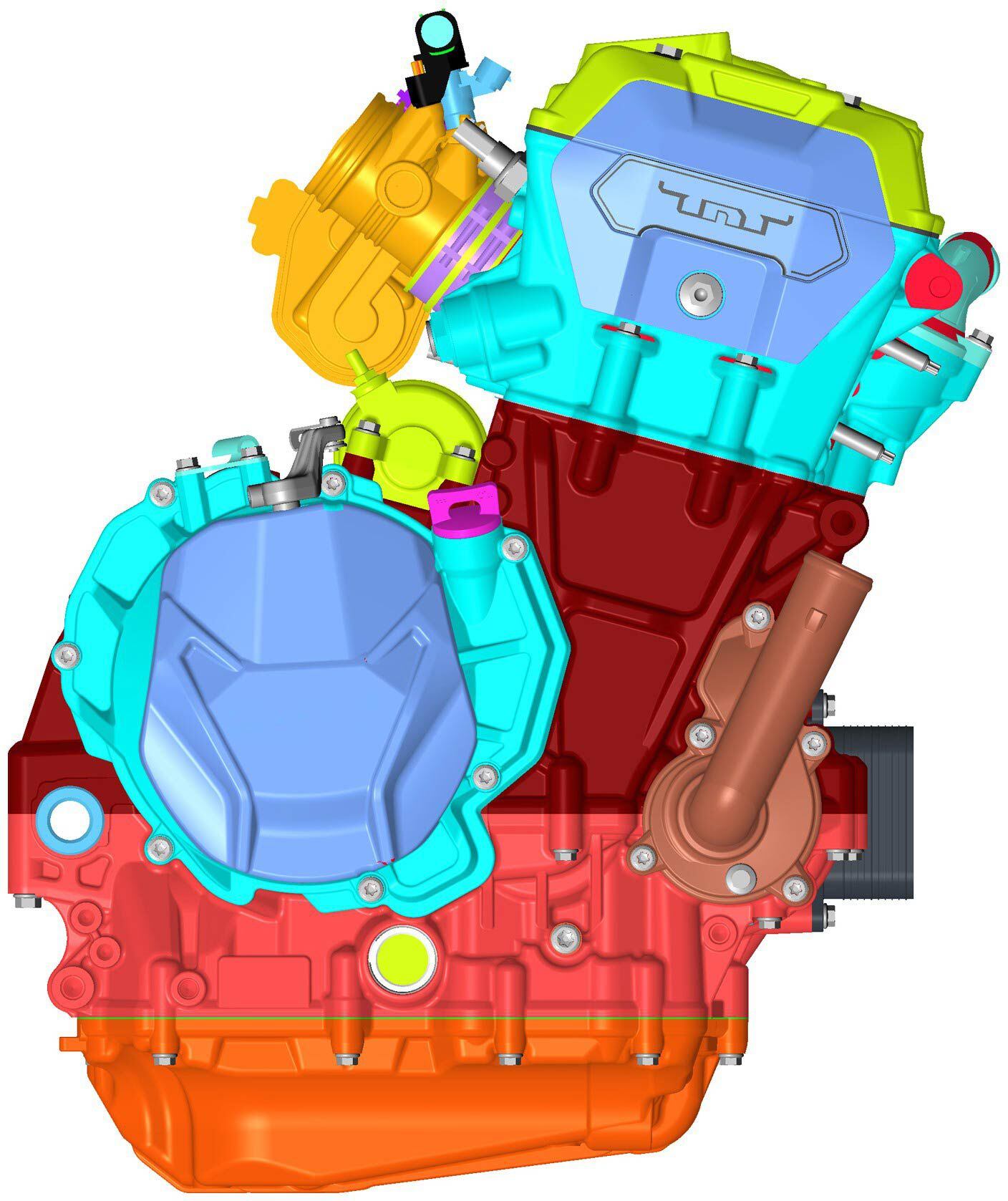 Subtle "TNT" badging at the top suggests the engine may be destined for a planned naked sportbike model. (Benelli/)
Regardless of its roots, it's clear the new engine is destined for a Benelli rather than another of Qianjiang's model ranges. The "TNT" badge, familiar from the old Benelli TNT1130 and the smaller-capacity machines that followed it, is clear to see on the right-hand side of the cylinder head. As it's simply on a bolt-on panel, that badge can clearly be changed to suit other models or brands, but initially it appears that a new TNT (which originally stood for "Tornado Naked Tre" but has since applied to all Benelli's naked sportbikes) is in the works.
Back in September of 2020, Benelli announced plans for a host of new engines, including parallel twins from 700cc to 900cc, and looking back at that announcement the firm displayed an image of a parallel twin that matches the newly patented design in the background. At the same time the firm promised 900cc–1,200cc triples and 650cc and 1,000cc four-cylinder engines. The last of those will be based on MV Agusta's literbike engine, suggesting that a new Benelli superbike is part of the company's long-term plans.