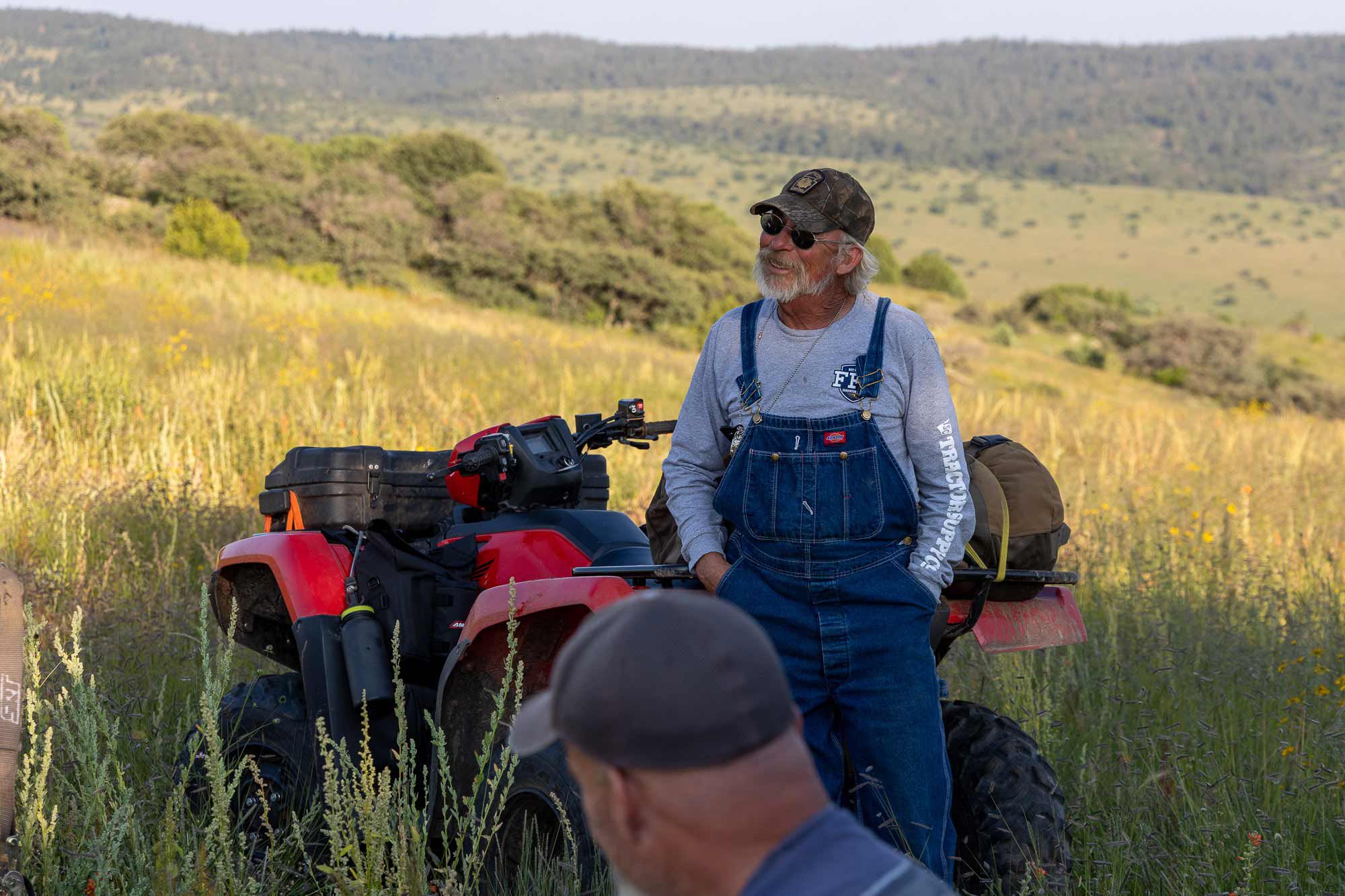 Preston Bates, owner of N Bar Ranch, wears his 30 years of solitude in the Gila National Forest with a quiet pride. (Kevan Ray/)
We were lucky enough to spend a September week at the 160-acre N Bar Ranch, smack in the middle of the rolling grasslands and ponderosa pine groves of New Mexico's Gila National Forest. The N Bar gave us comfortable access to the forest's 3.3 million unspoiled acres, which are crisscrossed with gravel roads and the traces of old wagon tracks that beg to be explored by ATV and UTV. When you're 2 miles above sea level breathing isn't always easy, but the Gila will have you sucking in life like pure oxygen.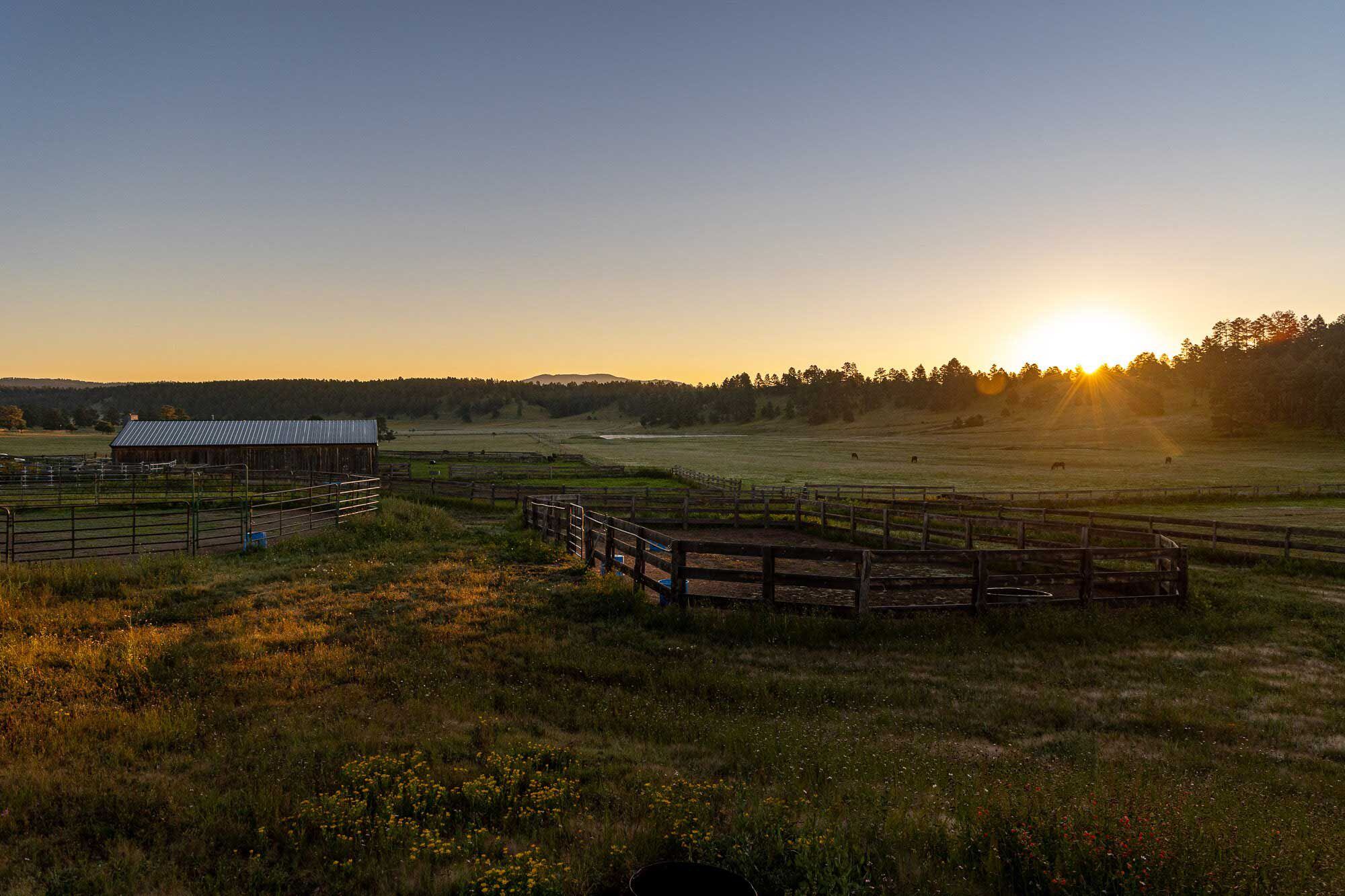 Sunrise over the paddocks and round pens at the N Bar Ranch. (Kevan Ray/)
The smell of wild licorice is the first thing you notice. Its fresh, earthy, spice-cabinet scent intensifies with every step, hanging in your nose like humidity on a July afternoon. Green-gold expanses of side oats and grama grass dip and dive in every direction, blanketing the folds of the ancient hills. The grass is speckled with wildflowers, lava-colored sprigs of Indian paintbrush, sunset orange globe mallow, white geraniums, yellow and purple aster sprinkled like Technicolor freckles across the landscape.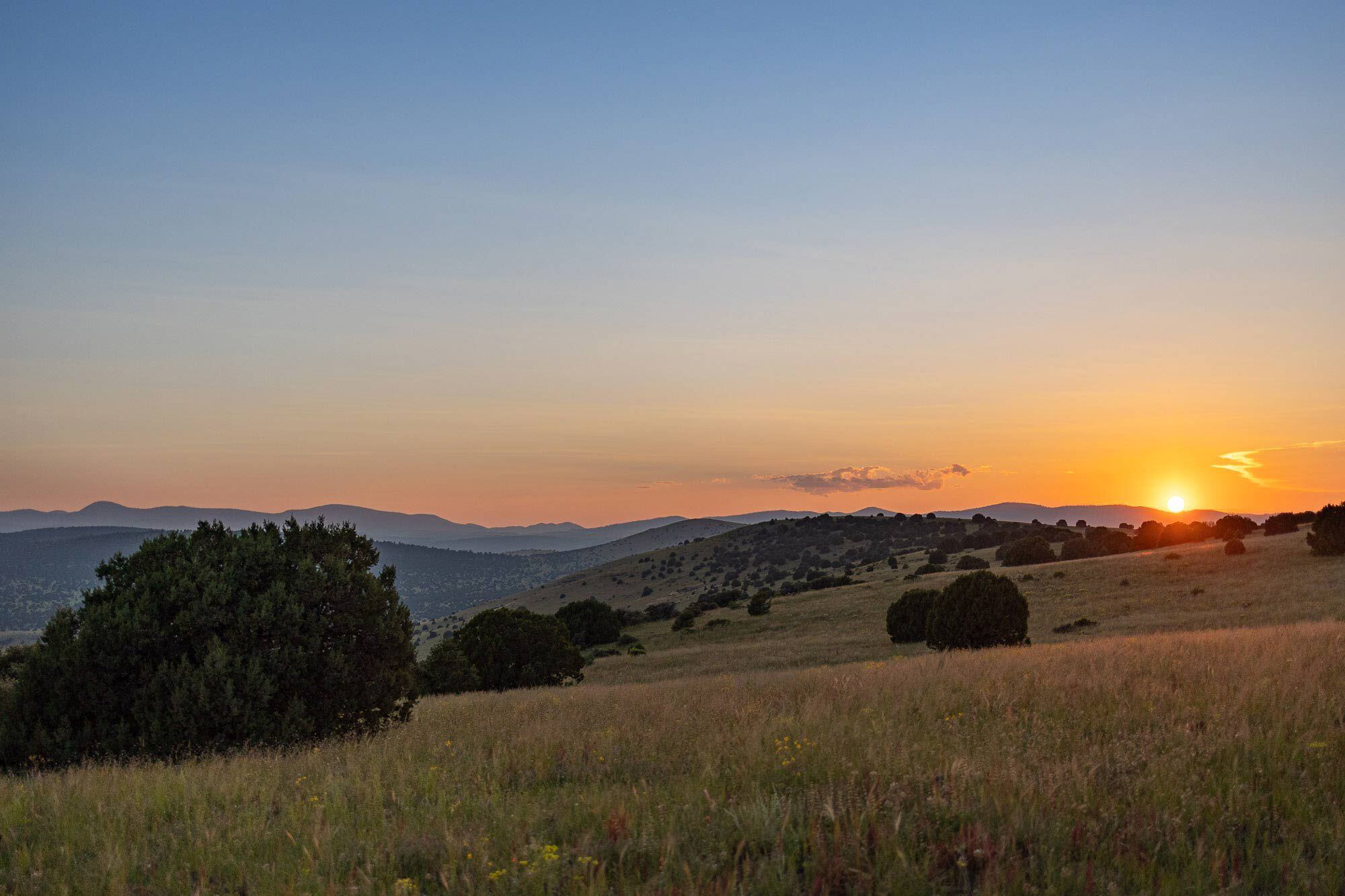 The sun sinks behind the Mogollon Mountains, casting a vibrant gold hue over the grassland below T-Bar Ridge. (Kevan Ray/)
Stands of dark green ponderosa pines march in loose phalanxes up ridges and down to shallow canyons. In the magenta chill of twilight, bull elk bugle for mates over the constant yelping gossip of distant coyotes. And at night, a stone's throw from the ruins of an ancient Native American camp, stars frost across the darkening sky, horizon to horizon in every direction. The Milky Way stands out like an iPhone screen in a dark cinema, and shooting stars cross the sky as often as satellites.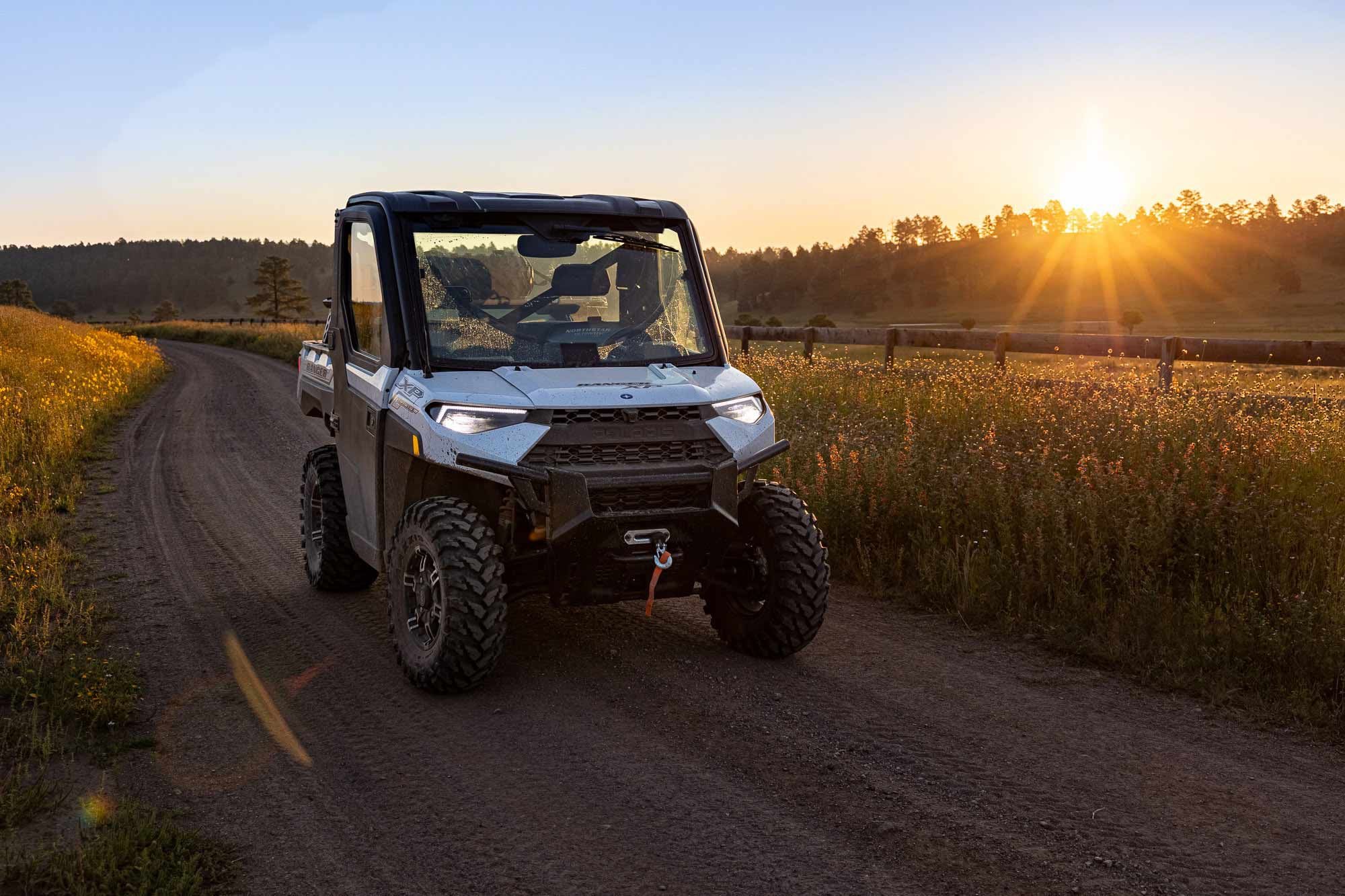 Over a week in the Gila, we covered more than 200 trouble-free miles in the 2021 Polaris Ranger XP 1000 Trail Boss NorthStar Edition. A utility-biased blend of work and recreation, the Trail Boss NorthStar Edition is made for terrain like this. (Kevan Ray/)
We're in the middle of an overnight campout with Preston Bates, the N Bar's 63-year-old proprietor, a hippie cowboy whose path meandered from humid Virginia racehorse farms to the cool expanses of New Mexico's southwestern high country. We spent a 50-mile day following his Honda Foreman over this glorious country, stopping for tidbits of natural history, stories about early 20th century settlers, or the efforts of great Apache war leader Geronimo to keep white people out of his home lands.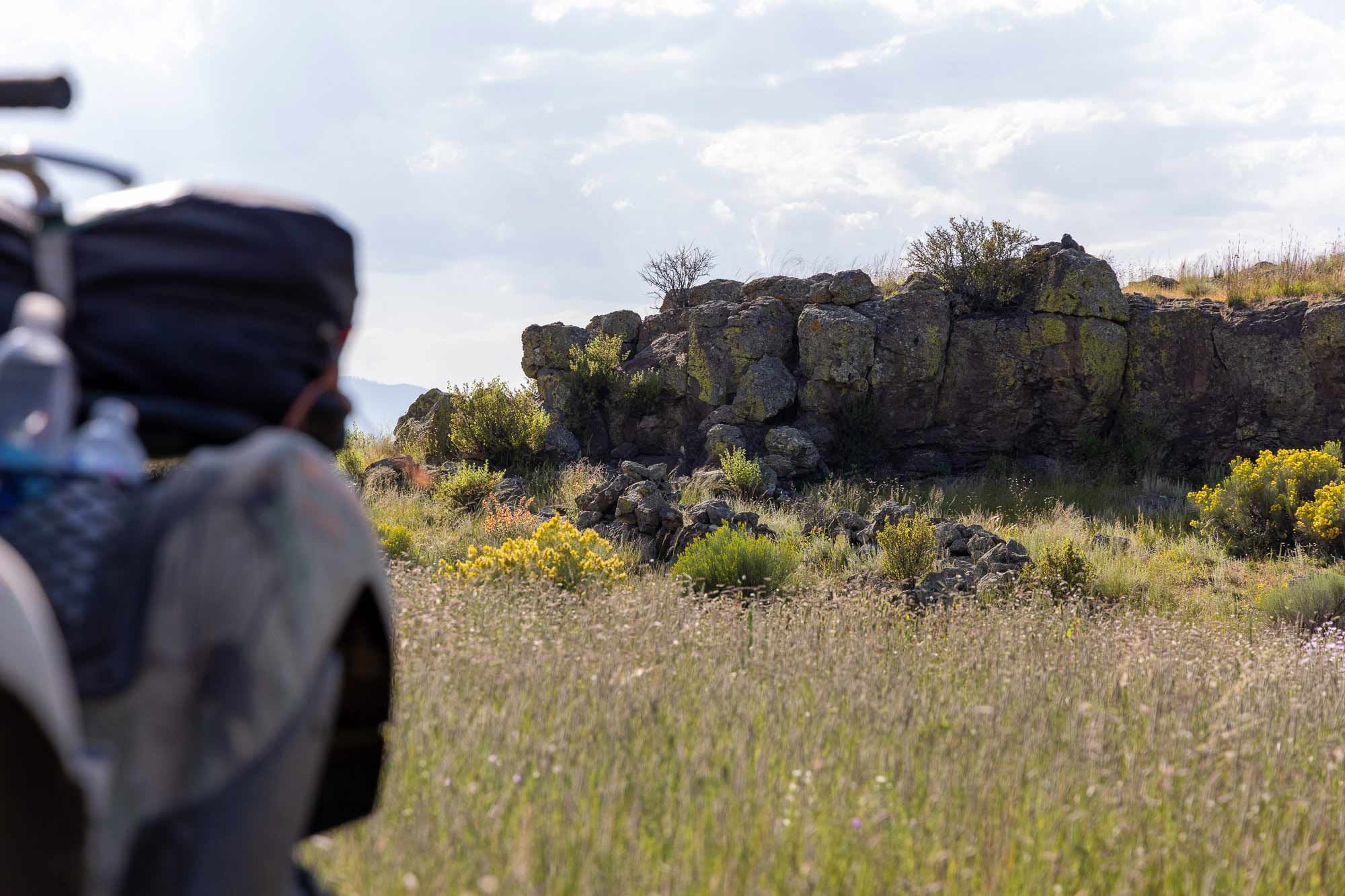 Centuries ago, Native Americans made camp on this spot, a rocky promontory with a creek and 360-degree views of the surrounding landscape. (Kevan Ray/)
For much of the last century, N Bar was a vast cattle operation, raising steers on grazing rights that covered a scarcely believable 80,000 acres of the national forest. Bates bought the place in the early '90s after serving for a couple of years as ranch manager. Between 1993 and 2009, he ran cattle and hosted teams of guests who paid him to test their skills on horseback by helping his hired cowboys manage the roughly 3,000 yearlings.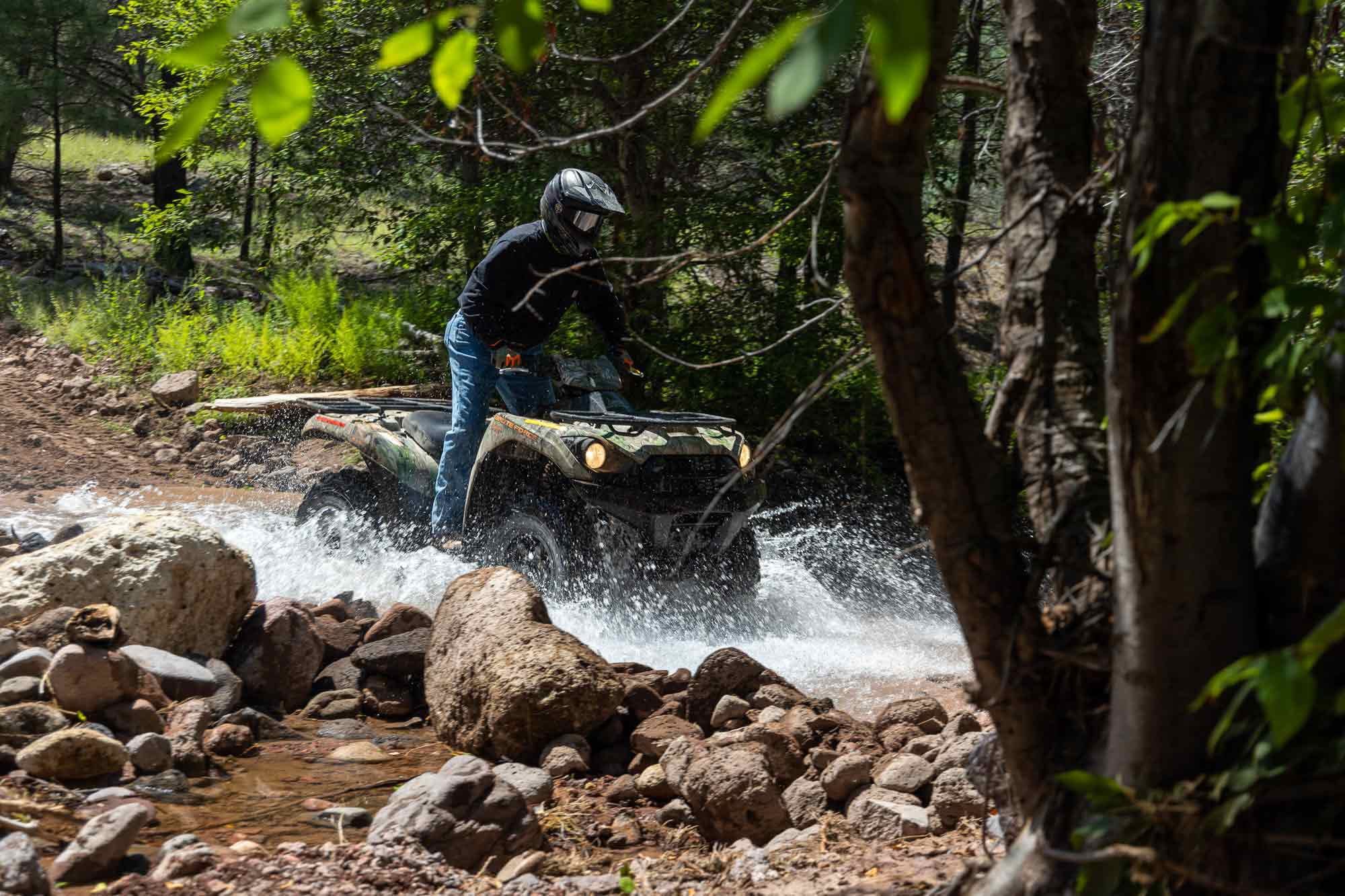 <i>ATV Rider</i> Executive Editor Jeff Henson handles a stream crossing on the 2021 Kawasaki Brute Force 750 he brought for our week in the wilderness. (Kevan Ray/)
Bates hasn't spent much time off the ranch since he arrived in his early 30s, a cowboy looking for a new start. His face carries the deep lines and weathered tan of three-plus decades of hard work and solitude. He's affable and kind, with a Pale Rider gait, quick grin, and Sam Elliott drawl. His love for the land and its creatures is fierce.
"You want my political platform? Save the puddles," he said on our first ride together. "Everything out here, from the titmouse to the elk and coyotes rely on these puddles for drinking water, and then people come out here and splash through and dry them out."
He's also quick to correct misconceptions about how the forest should look. Thick stands of firs and pines, almost 100 trees to an acre, make him nervous. Fires spread quickly and out of control with trees growing that close. Under normal circumstances, natural fires would keep ground cover fairly thin.
"The ponderosas only grow about 30 or 40 to an acre naturally," he explained. "All these areas where you see them thicker than that only grew up in the last 100 years or so once more people started coming out here."
The ranch is set in an oblong valley, split across the middle by a forest service road that pulls double duty as a property boundary. The south fork of Negrito Creek splits the property longways at its lowest point, coursing through yellow-green pastures sheltering a herd of retired horses and a few cattle.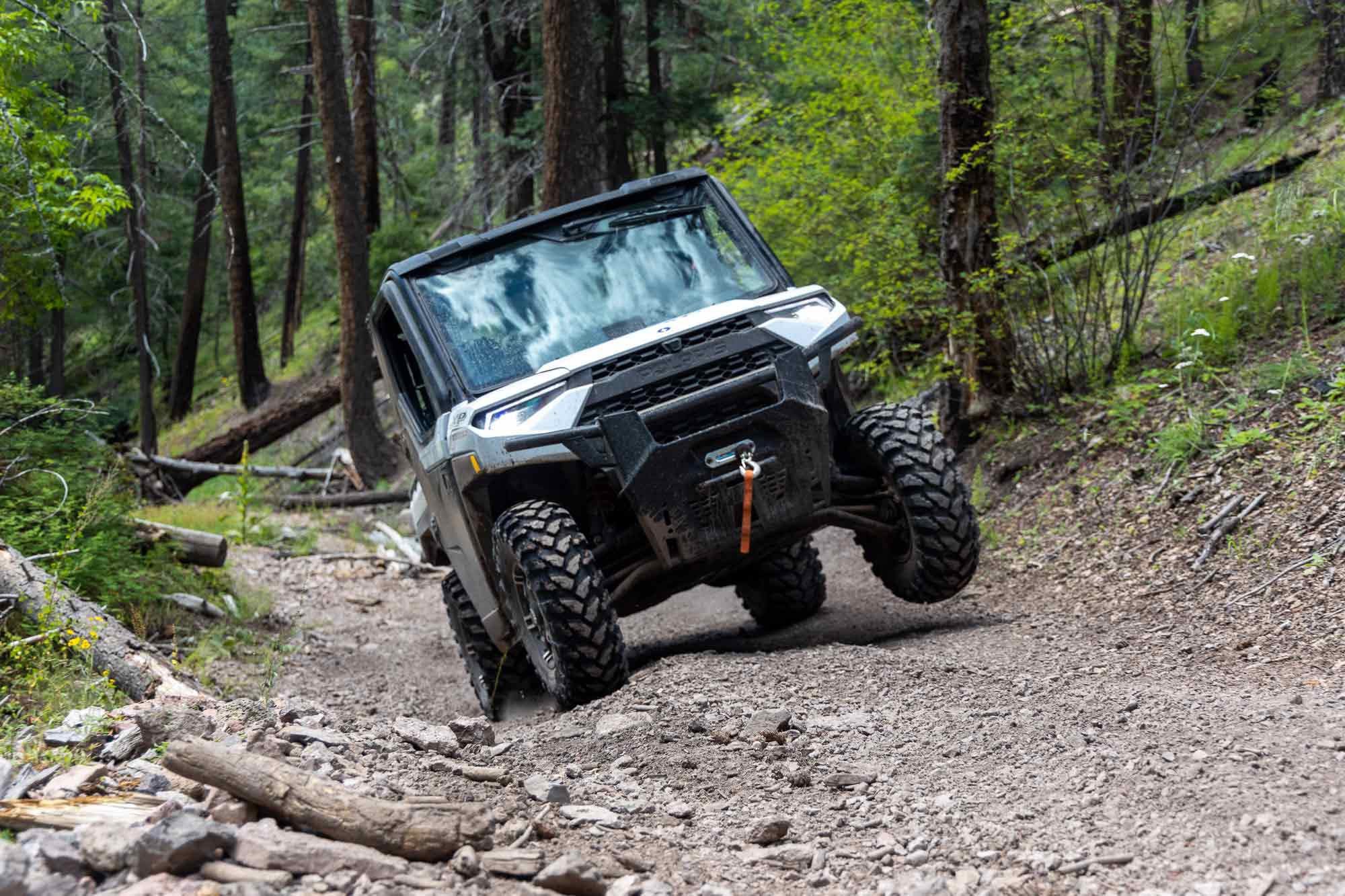 Traveling in the Gila is more about communing with nature than it is technical driving, but that doesn't mean there's no technical driving. The 2021 Polaris Ranger XP1000 Trail Boss NorthStar Edition handled it all like a boss. (Kevan Ray/)
On the property's western edge lies the guest camp, a collection of one-room cabins with just enough electricity for one light. The cabins are served by a cookhouse and a bathhouse, their unpainted exteriors hung with the antlered skulls of bull elk, cows, and mule deer.
Our 700-square-foot cabin was a quarter-mile south of the guest camp. Mercifully, it had running water, a flush toilet, electricity, and a full kitchen. Just off the front porch, kestrels and ravens perched in the low trees, hummingbirds swarmed like bees, and horses brushed away flies in knee-deep grass.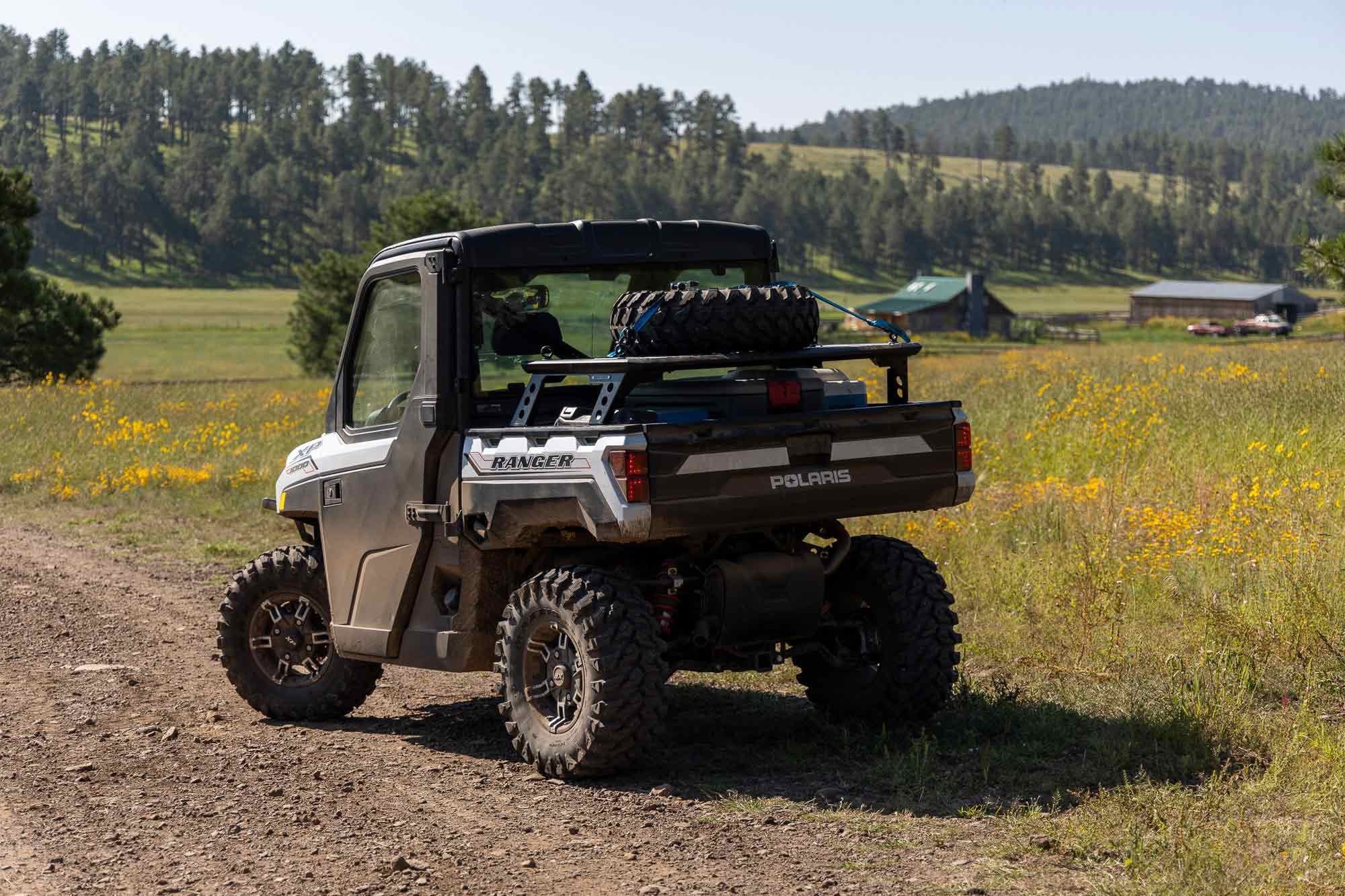 We added a brilliant Rhino-Rack cargo carrier to the Ranger for this trip, and it made the difference for carrying enough camping gear for three people as well as tools, water, and food. (Kevan Ray/)
The original guest ranch operation came to an end in 2009 after wolves ravaged Bates' cattle and reckless mortgage lenders tanked the economy. In the end, he had to sell his grazing rights, some of his land, and most of the cattle.
The wolves, reintroduced to the area in the early 2000s, were the beginning of the end for his grazing operation, according to Bates.
"We were ground zero; they let the wolves out at a tree line next to the ranch. I have a stack of confirmed kills [by wolves] worth about $180,000, but they never paid me," he said. "Between that and the recession, it put me out of business."
The setback didn't dampen his resolve. Bates and his wife Maggie have run the graciously appointed campsite and the cabins, hosted horseback tours, and guided elk hunting trips over the last decade. He knows the country, and he's happy to share his passion for the place with anyone willing to absorb his deep respect for and knowledge of the land.
Now Bates is looking to share the beauty of his adopted home with curious UTV and ATV owners through guided tours of the hundreds of miles of roads and trails surrounding his ranch. To be clear, if you're looking to explore the limits of your machine, look elsewhere. The Gila isn't the place for that.
The Gila is a place for quiet reflection, somewhere you go to reconnect with quiet, solitude, and a sense of wonder. Ripping around the forest at 60 mph with tunes blaring would miss the point of the trip, and dampen what makes the area so special. There's a time and place for speed, but there are myriad places to test your machine's mechanical limits and your skill. The Gila forces you to quiet down and listen.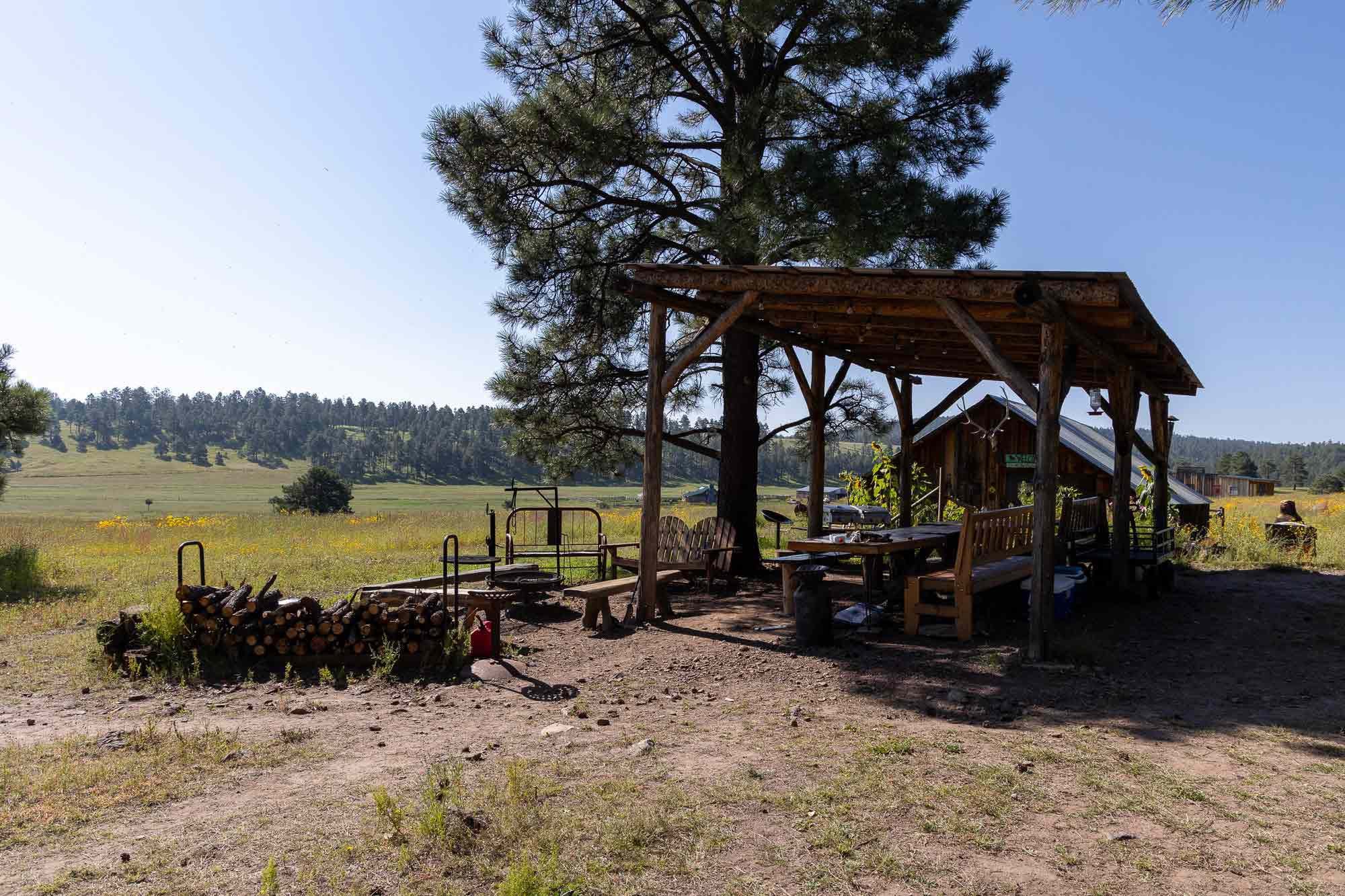 The guest camp on the western edge of the ranch has a half-dozen one-room cabins, a shower house, a cookhouse, and a communal pavilion. Electricity is scarce, and the internet is a distant memory. (Kevan Ray/)
Mr. Bates, whose normal routine includes cleaning cabins, cooking for guests, feeding and turning out his nine horses, filling troughs, and fixing an aged Ford tractor, was kind enough to take three days away from running the ranch to give us a guided tour and explain what lies under the forest's beautiful exterior.
Turn down the right two-track out here, and you can drive for 100 miles before you hit anything that looks like civilization. (Kevan Ray/)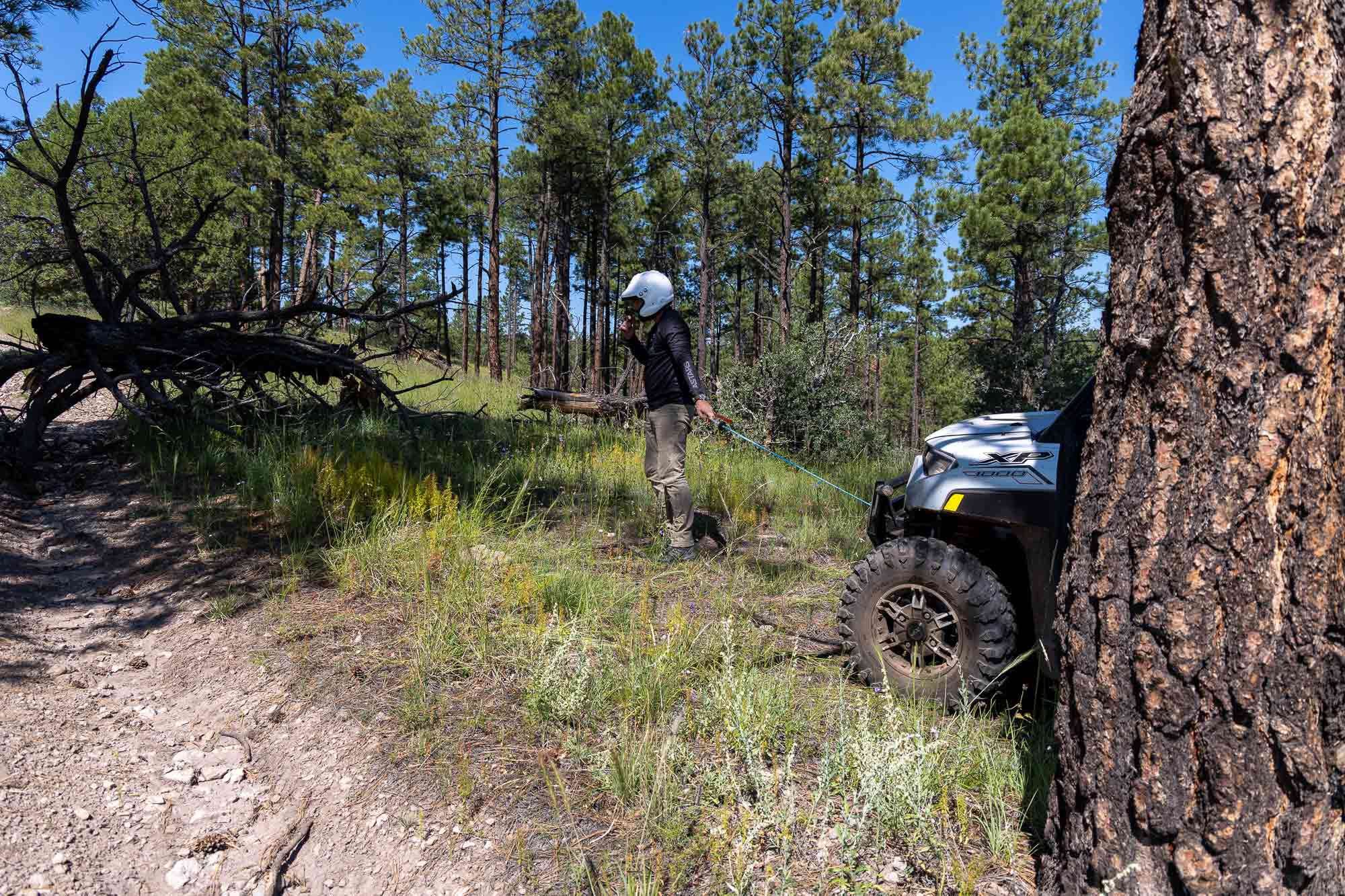 Roads in the Gila don't see a lot of traffic, so when a tree falls across one, it's up to the next person by to handle it. Thanks to the Ranger's 4,500-pound winch, this dead ponderosa pine was little bother. (Kevan Ray/)
Out on the trail you're in an almost entirely deserted environment. Our week there occurred during bow season for elk, yet we never passed more than a couple of other people over the course of an average day. In this place, our 2021 Polaris Ranger Trail Boss NorthStar Edition and 2021 Kawasaki Brute Force 750 shined.
The Ranger happily carried three people's camping gear 30 miles into the wilderness without complaint, while coddling its occupants with a sealed cab and air conditioning. The Brute Force was equal parts fun and capable, happy to crawl along at walking pace or cover ground quickly when we needed to get back to camp.
Across the forest, the road is lined with primitive camping sites carrying no restrictions other than a requirement that you move on after 14 days at one site. With enough gas, you could easily spend two weeks covering ground in the Gila and still not touch it all.
Take the right turn in the Gila and you can drive for a hundred miles without passing another soul or touching pavement. That's the beauty of rigs like the Brute Force 750 and the Ranger XP 1000; they will eat up this country's best miles without complaint, opening up places that you might not otherwise see.
With Polaris' Ride Command, we had a surprisingly complete and accurate map of even the remotest roads and an easy way to keep track of where we had and hadn't been. In such a huge environment it's easy to keep from covering the same ground twice, but Ride Command meant we could always pick the quickest route back to our cabin.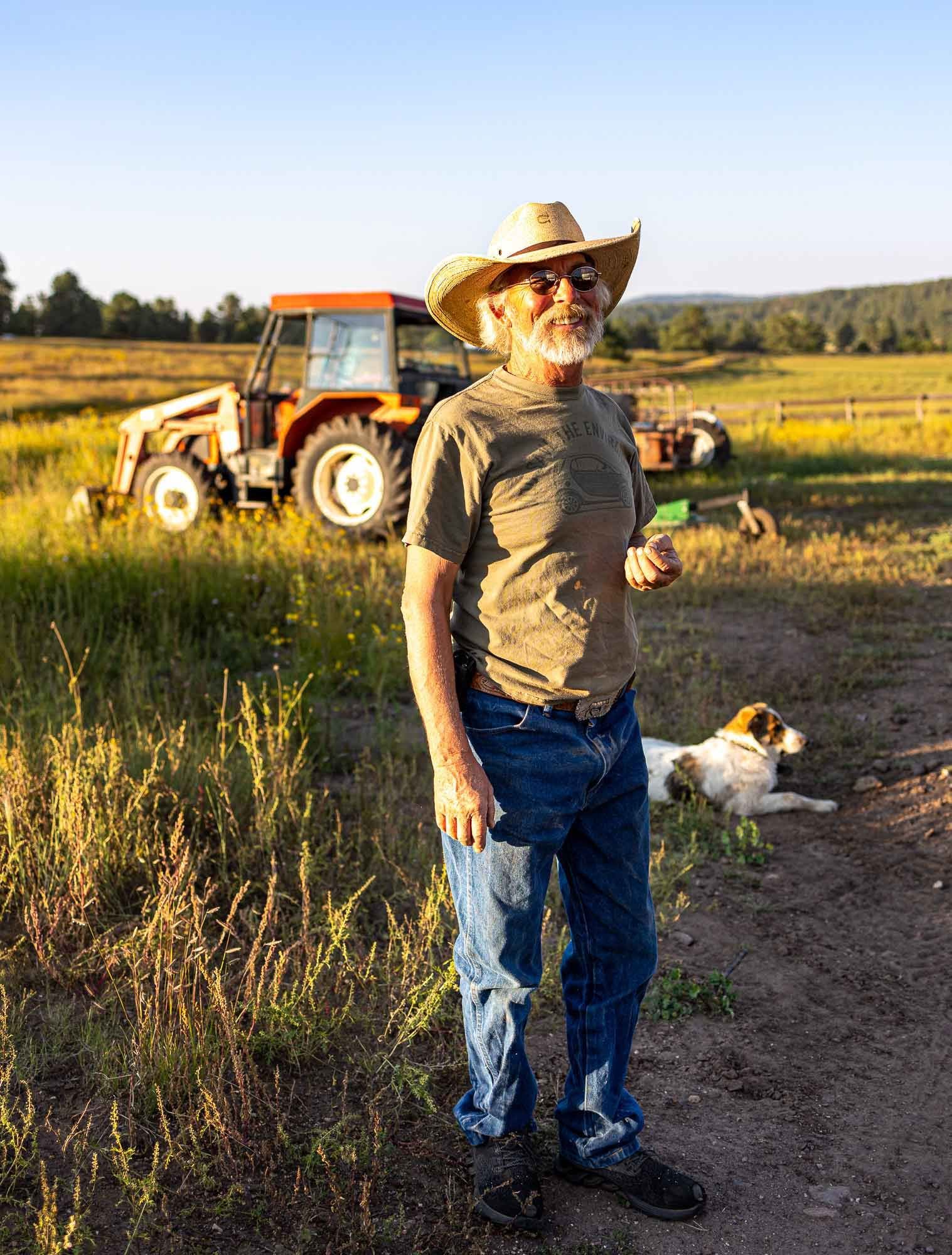 With an easy smile, laid-back demeanor, and encyclopedic knowledge of his home range, Preston Bates is a tour guide nonpareil. (Kevan Ray/)
As good as they were, the Polaris and the Kawasaki were background players on this trip. Bates and his instinctive knowledge of the place were the stars of the show. If you come to the Gila on your own, you get the views, the sense of scope, the eternal indifference of wildlife, and the urge to know more. But hire Preston to show you around and you'll begin to truly know the place, to feel its vitality, and understand its importance.
Our wild places are shrinking. Yet as long as people like Preston Bates are around, and places like N Bar Ranch exist, they're safe. The least the rest of us can do is learn from them.