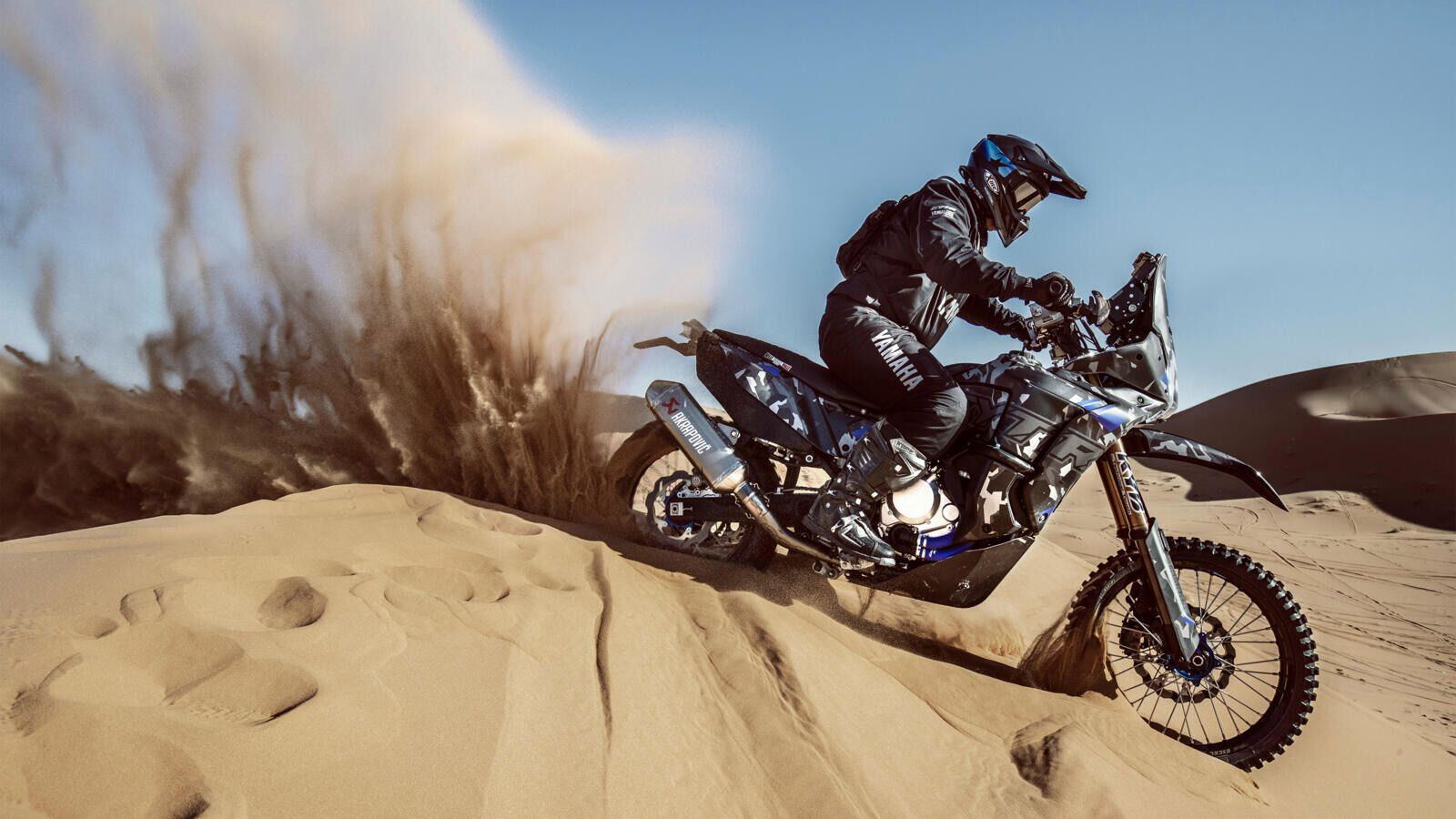 Will we see a Yamaha Ténéré 700 Rally Raid racer in the future? (Yamaha/)
Yamaha's Ténéré 700, along with the KTM 790 Adventure R, took one look at the bulging-at-the-seams, slightly overweight adventure-bike category and kicked it firmly in the nuts. Those quarter-ton-plus adventure-touring bikes were left sweating and panting into their oversized panniers when the Ténéré and the 790 gave us a proper taste of what an off-road-focused twin-cylinder adventure bike can really achieve. Although the Ténéré lacked the continent-crushing comfort of an R 1250 GS and the sheer roosting power of the 1290 KTM, it's found itself a niche with riders who want a little more dirt on their adventure boots but don't fancy the weekly oil changes and numb fingers that come with a competition-focused single-cylinder off-road bike.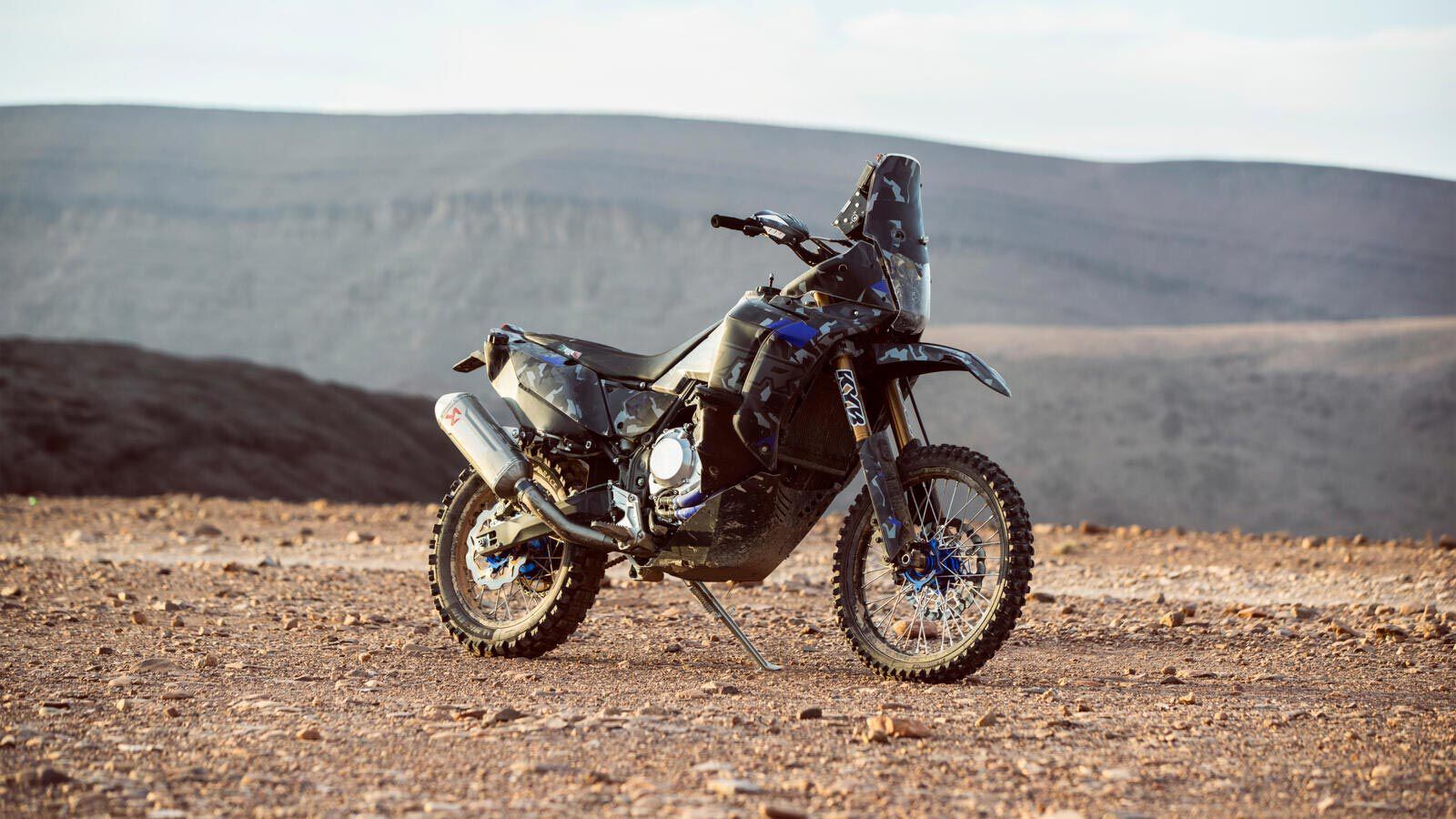 Yamaha's Ténéré 700 Rally Raid Prototype is the T7 of our dreams—one that hopefully will become reality. (Yamaha/)
With that popularity has come a wave of rally-customized Ténérés, with riders upgrading the soft stock suspension, fitting skinny rims to allow a more aggressive tire choices, and freeing up some power and noise via exhaust and airbox mods. Whether this was the plan from Yamaha all along, or whether this new prototype is a reaction to the bike's firm off-road following, remains to be seen. But a GYTR-kitted, factory Rally Raid version of the Ténéré has now been revealed, and it's a properly exciting prospect.
So what is it? If you, like me, have a love for riding big bikes in the dirt, no doubt you'll have already dreamed yourself up a fantasy rally version of the Ténéré. The usual recipe follows the strategy of more suspension travel, less weight, and a bit more power. That seems to be exactly what Yamaha has done. Suspension travel is up from 8.3 inches front and 7.9 inches rear to 10.6 and 10.2 inches, respectively, thanks to a 48mm fork, a new shock, and revised linkage.
Weight has been dropped by switching to a single front disc braking setup and a titanium Akrapovič exhaust system, although the twin front fuel tanks and auxiliary rear tanks shown on the bike will cancel that out and then some once filled. The bike Yamaha has revealed looks to be a specially prepped rally machine, but it's wearing more than a few preproduction parts. The prototype is essentially a rally build on a Ténéré, using a bunch of Yamaha GYTR accessories and some other aftermarket components.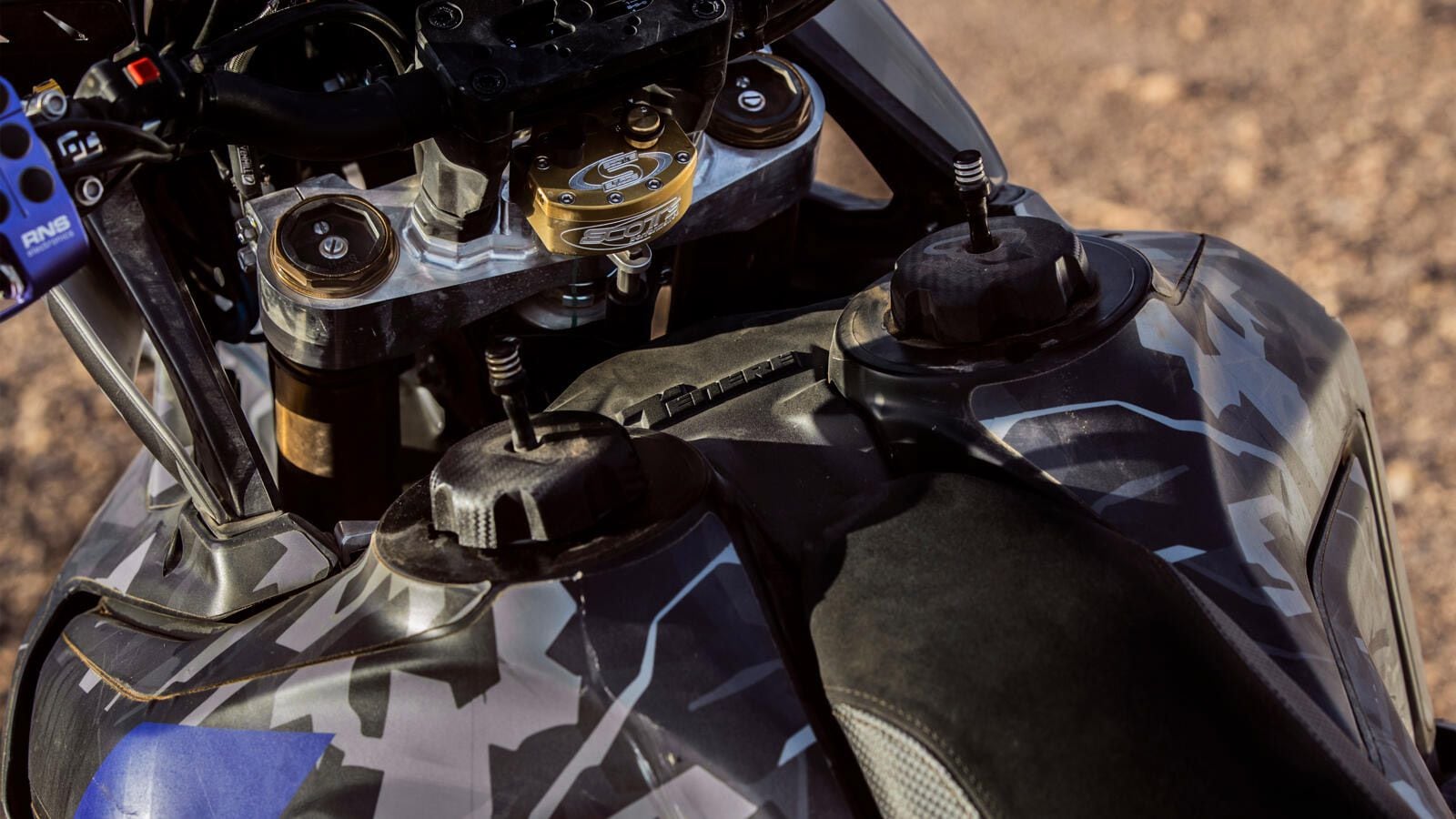 Larger fuel tanks at the front along with rear tanks most likely negate any weight savings from GYTR parts. (Yamaha/)
Now, it would be rude to mention the Ténéré without talking about Pol Tarrés, nephew of trials legend (and seven-time world champion) Jordi Tarrés. Pol's riding on the Ténéré in his viral videos The Seeker and The Seeker 2 is nothing short of phenomenal. By effortlessly riding terrain that would blow us away even if he were on a full-blown dirt bike, Pol has made the Ténéré do what seems impossible. And not just in fancy video parts either; Pol raced the legendary Romaniacs Hard Enduro on the T7 in 2021, finishing 18th out of 200-odd competitors in the Bronze class. Let's not forget that he was on a bike weighing almost double what his competitors were riding.
The question is: What is Yamaha going to do with this prototype, the accessories displayed on it, and the bikes themselves in future racing? Will we get a rally-ready production bike? Will there be a GYTR rally kit from Yamaha? Will Yamaha have a Ténéré-mounted Rally Team with Pol Tarrés and its other development rider, Alessandro Botturi?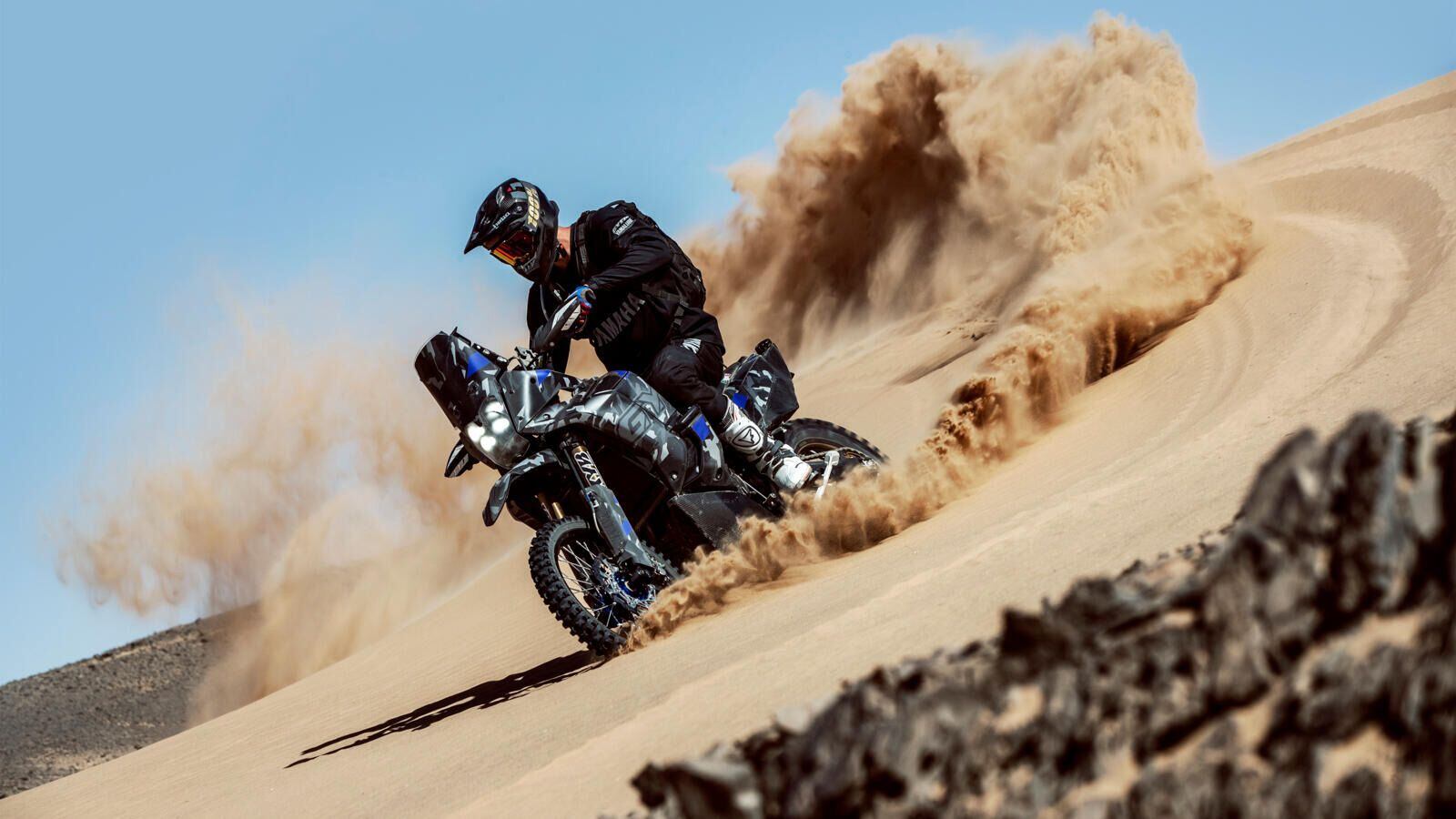 Perhaps we will see Yamaha's Ténéré 700 Rally Raid Prototype in competition soon. (Yamaha/)
The Dakar Rally is still restricted to 450 single-cylinder machines, so the race that helped shape these bikes in the '90s is out of the question unless there's a major revision to rules that were implemented to improve safety. But throughout the year, other rally events without such restrictions are picking up on the hardcore adventure vibe; most now have a class suitable for larger-capacity twins.
In terms of what we can expect as non-factory riders, Yamaha hasn't made any promises. But many of the parts on the Ténéré look production ready, so best guess is that we're due an upgraded rally version of the Ténéré with a bolstered GYTR range of accessories to turn it into the full-spec rally weapon unveiled here. If and when the Tuning Fork does announce an upgraded rally replica, we'll be fighting for a place at the front of the queue to ride it. And not only because a Ténéré with a race pipe is one of the nicest-sounding bikes out there.