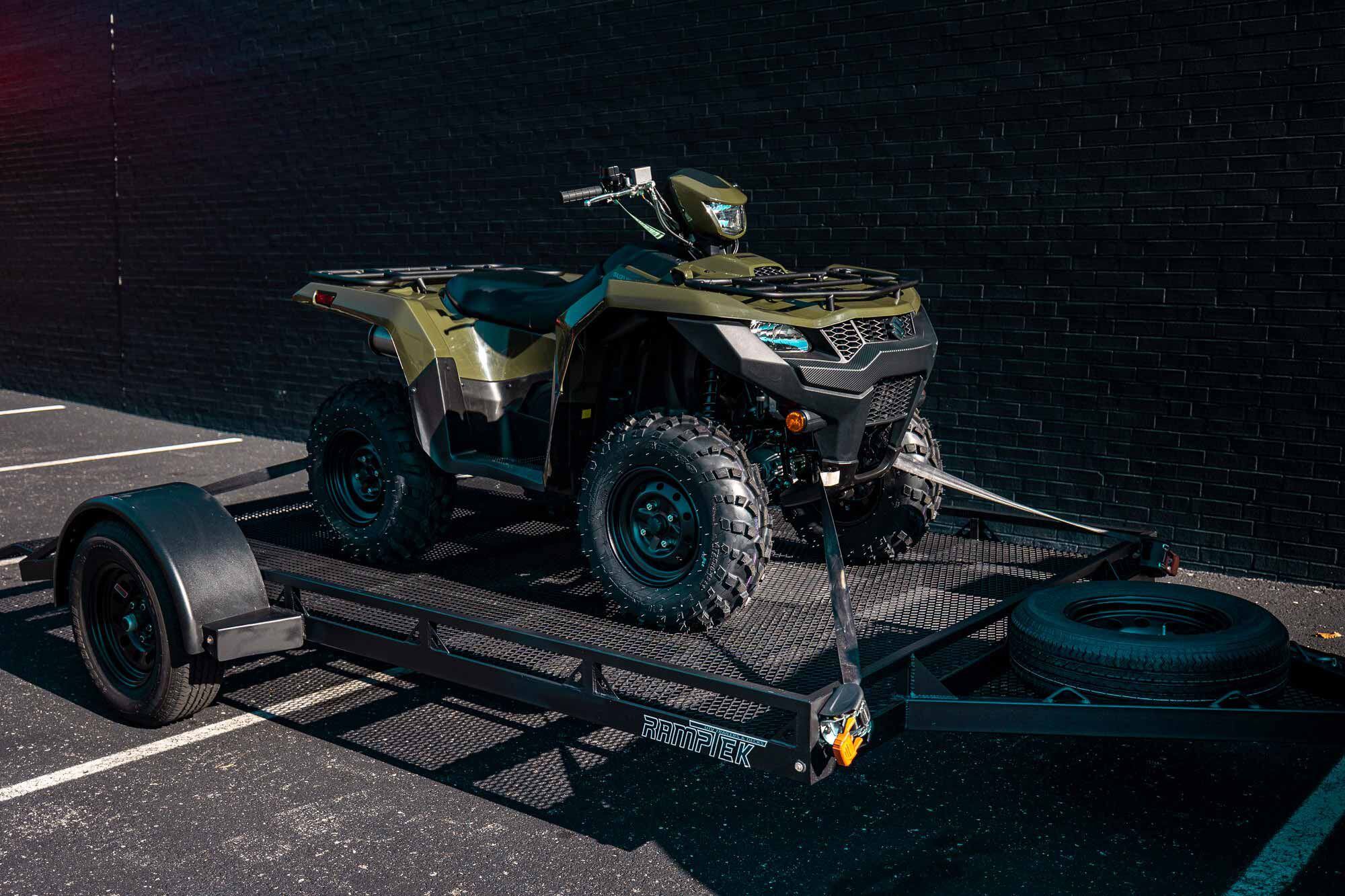 The Ramptek trailer is made specifically for the powersports industry customer who needs to tow their rig to the trail. (Photo by: Kevan Ray/)
Let me introduce you to our newest fleet member, a Ramtek powersports trailer. We've wrestled with steel-deck trailers, rented tractor supply trailers, and borrowed that rich friend's trailer more times than we care to admit. It was just easier than trying to find a sled that was worth forking over our hard-earned coin on.
Enter the Ramptek 12-foot roll-on powersports trailer. It was carefully crafted by hand here in the States to excel at giving you more riding time.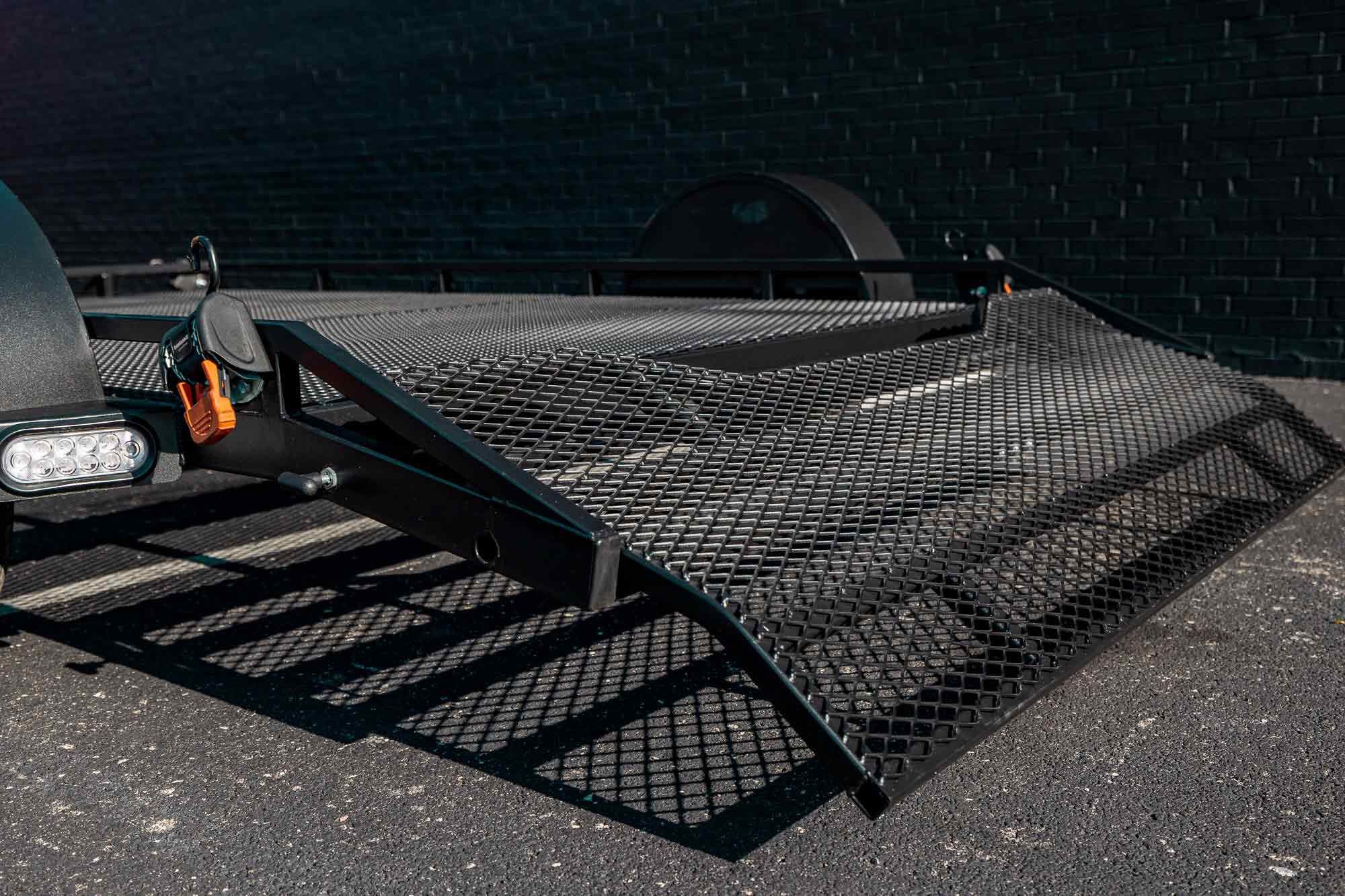 The patented rear ramp makes loading and unloading ultra simple. (Photo by: Kevan Ray/)
The rear dovetail ramp is hinged to make loading and unloading a breeze. Undo the heavy-duty pins and gravity takes care of the rest. Drive your rig on the trailer. Lift the tail ramp back up into place and secure the pins. You're set. There's no special move for unloading a vehicle, just use the exact same process.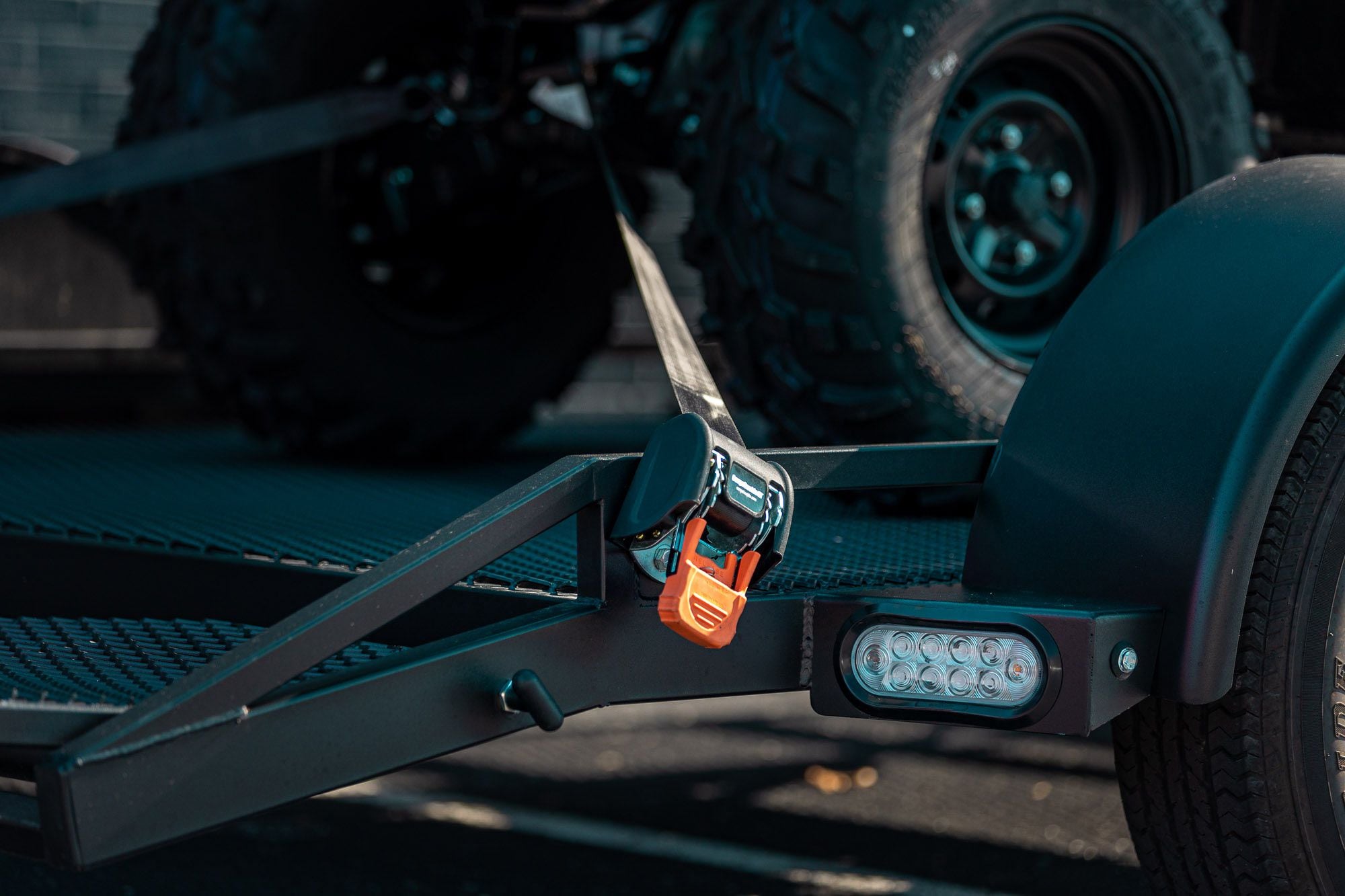 Strapping has never been easier with integrated G3 CargoBuckle straps. (Photo by: Kevan Ray/)
You'll find four G3 CargoBuckle-branded straps permanently bolted to each corner. These little devices make securing your load ultra easy. Each one's rated at 1,167 pounds of static load tension and a break strength of 3,500 pounds. They're enough to hold a big side-by-side in place so capturing your ATV is an afterthought.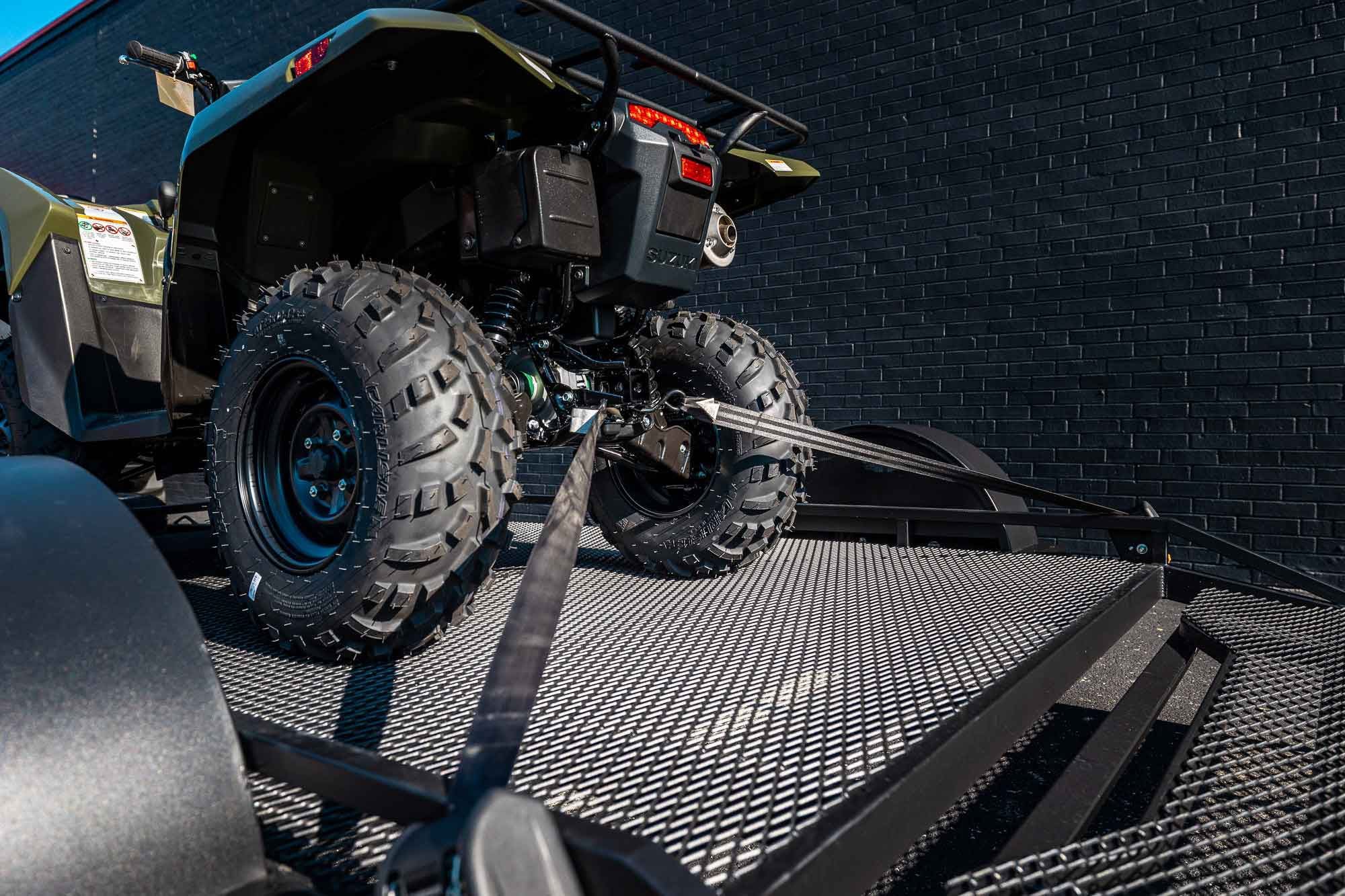 A wide open-style deck means you're not slipping around or fighting to load your ATVs sideways. (Photo by: Kevan Ray/)
A wide, open powdercoated deck means mud and debris can easily fall through, or be pressure-washed off later. The brake lights, turn signals, and marker lights are all LEDs, which not only look slick, they're brighter than a winter afternoon. Strong steel fenders are fully welded to the frame to help keep dirt off your trailer and toy. A full-size spare tire lives up front on the adjustable tongue. Aside from that, there's really not much else going on with the Ramptek trailer. That's exactly why we like it so much. It's simple.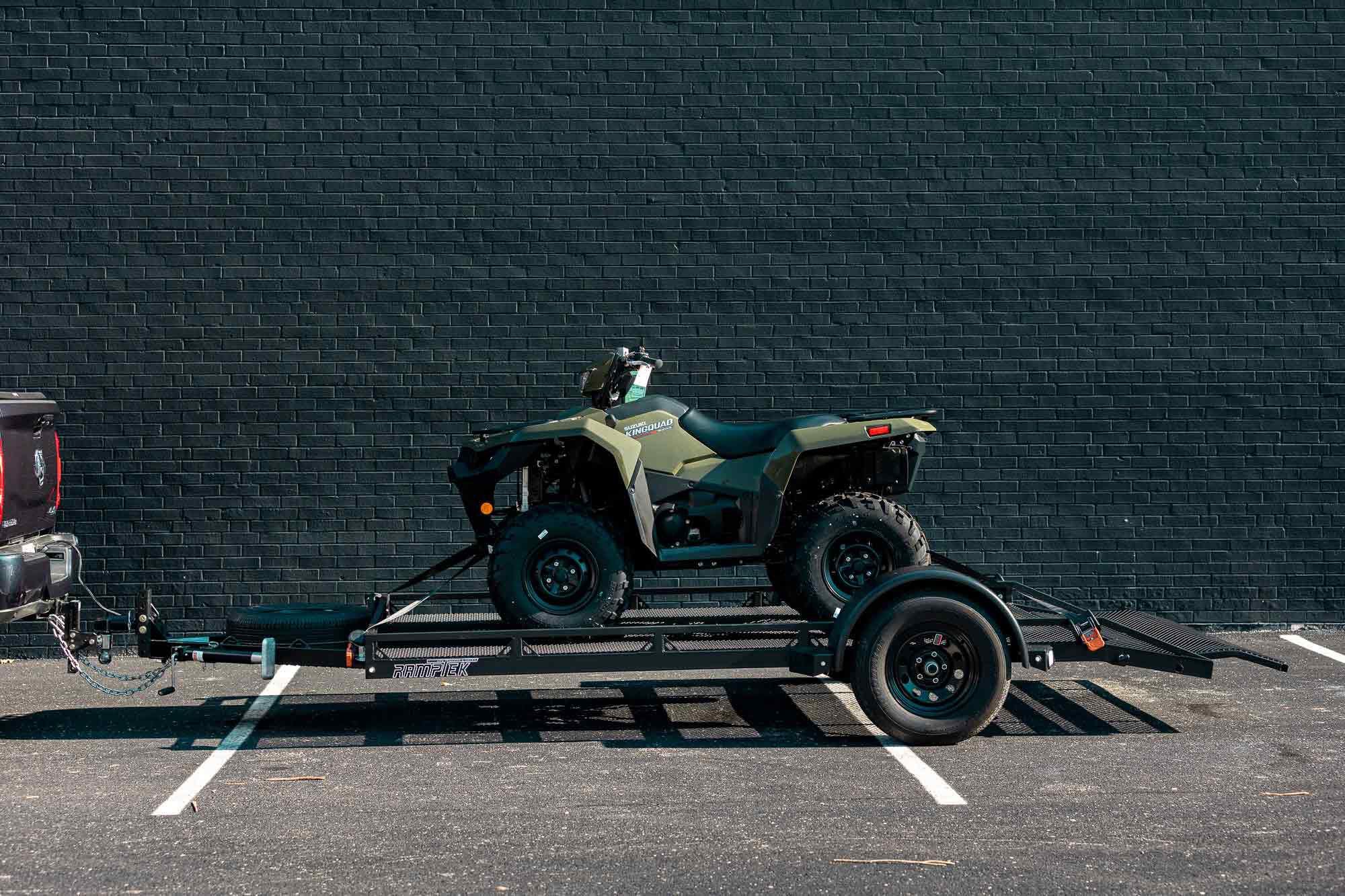 The Ramptek trailer is a premium solution for ATV and UTV owners looking to tow their rigs. (Photo by: Kevan Ray/)
You're getting a trailer engineered specifically to tow your ATV and its bigger brother, the UTV. Every aspect was intended to make getting to and from the trail an afterthought, which means you'll have more time to do what you love. Ramptek sells a few different sizes and shapes of trailers, including truck bed ramps.