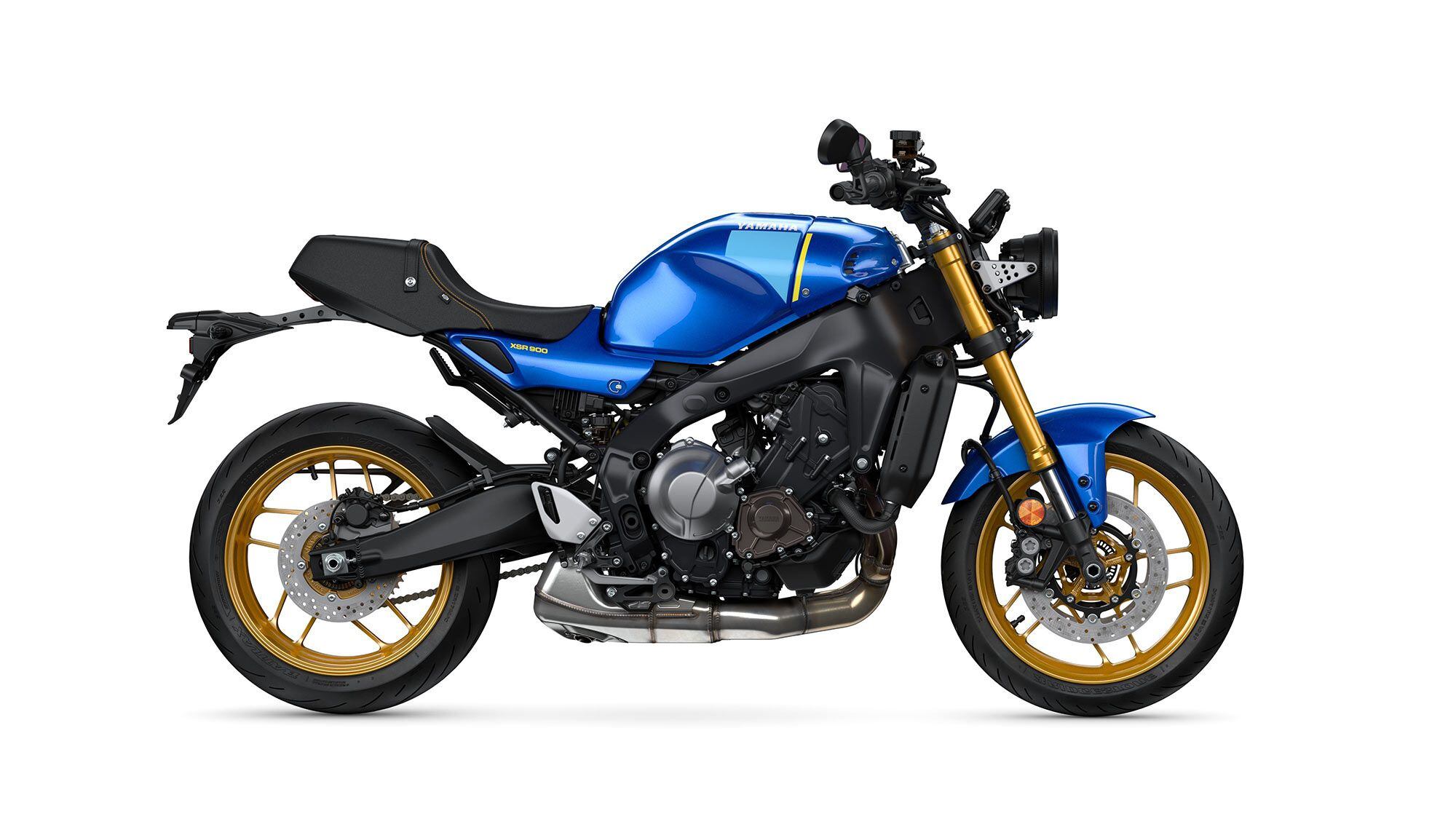 Yamaha has updated the XSR900 with more power, new styling and host of tech upgrades for 2022. (Yamaha Motor Europe/)
When Yamaha announced a major retooling of its MT-09 model earlier this year, giving it a new frame, a bump in displacement, more power, and additional rider aids, it was natural to assume the updates would trickle down to the brand's other similarly powered machines for the new year. And as our sister pub Cycle World reported earlier this week, that's exactly what's happened with the new 2022 XSR900—though for now, it's a Europe-only model.
New look recalls 1980s sportbike styling, while a Legend Blue and gold-accented colorway is a riff on Yamaha's racing past. (Yamaha Motor Europe/)
Like the MT-09, the 2022 XSR900 receives Yamaha's latest iteration of its triple-cylinder engine, now with a 889cc displacement and a stated boost in horsepower, which goes up to a claimed peak of 117 at 10,000 rpm. Torque goes up too, to a claimed 68.6 pound-feet, which is reached 1,500 rpm sooner than the old mill, now 7,000 rpm.
Related: 2021 Yamaha MT-07 First Ride
The MT-09′s new aluminum frame carries over to the new XSR900 as well, though the sport-heritage bike also gets a longer swingarm (which increases wheelbase by more than 2 inches), while a new XSR-specific subframe is topped by a chunky, restyled saddle. The lighter Deltabox chassis combined with new spin-forged wheels also means the 2022 XSR900 drops 4 pounds in weight than its predecessor.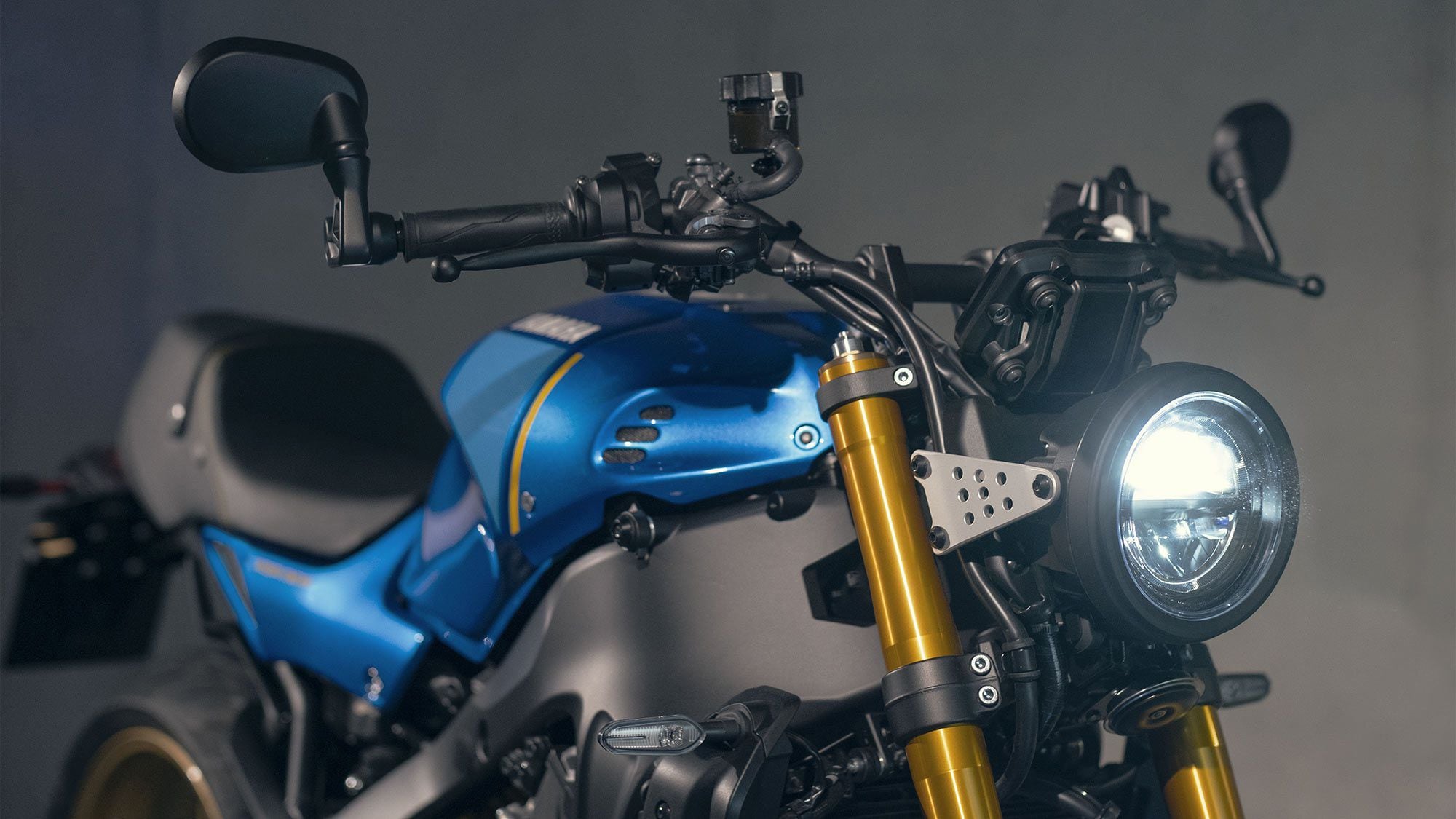 Fully adjustable upside-down KYB fork makes the jump from the new MT-09; headlight is now full LED. (Yamaha Motor Europe/)
More obvious than the mechanical changes are the XSR900′s new looks, which take the new frame's dimensions and build on it to give the bike a slightly more muscular presence. The sport-heritage feel is still there, but key points in the new profile include the flatter, wider tank shape, revised headlight brackets and headlamp (still circular but now a full LED), as well as hidden rear lighting. The cues, says Yamaha, recall its 1980s race efforts, a theme further carried by the eye-catching Legend Blue and gold wheels colorway seen here (the bike's also available in black, however).
Other components on the new MT-09 make the jump to the XSR as well, with a fully adjustable KYB fork and dual disc front brakes linked to radial calipers manipulated by a Brembo radial master cylinder. You'll see much of the same tech too, like the six-axis IMU that enables the use of cornering traction control, cornering ABS, and a pile of other rider-selected settings. Riders can also choose from four modes, and there's a standard quickshifter as well as an assist-and-slipper clutch, and even cruise control.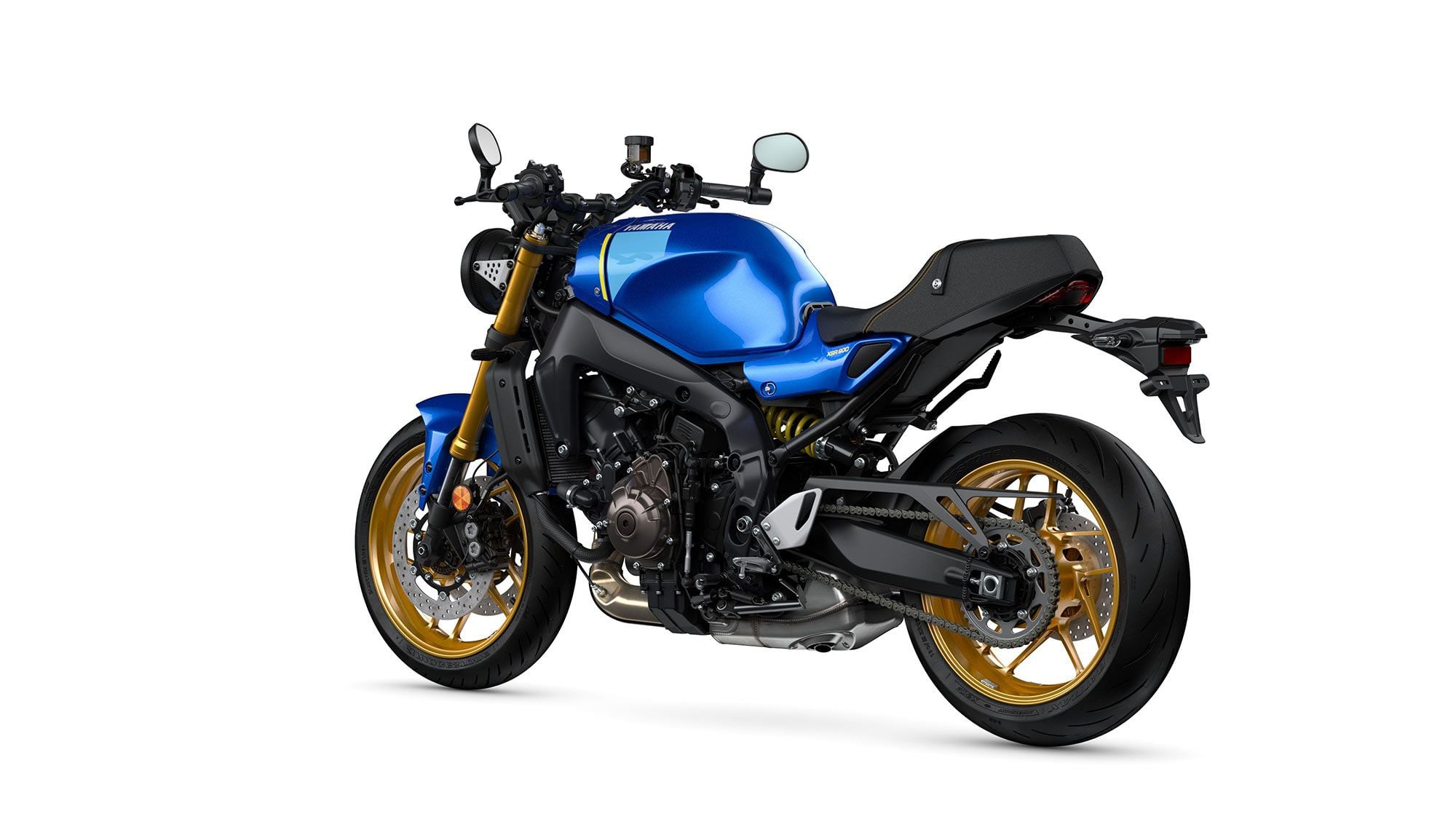 We're not necessarily fans of that new humped seat design, but the hidden rear taillight and bar-end mirrors along with streamlined side panels make for a cleaner look than the previous model. (Yamaha Motor Europe/)
The new XSR900 will be available in Europe this February, though no pricing has been announced just yet. With this release in Europe, there's hope it'll make it over to our shores as well, and perhaps we'll even see an updated XSR700; after all, the MT-07 got its own revisions last year too.
Related: Yamaha XSR900: Review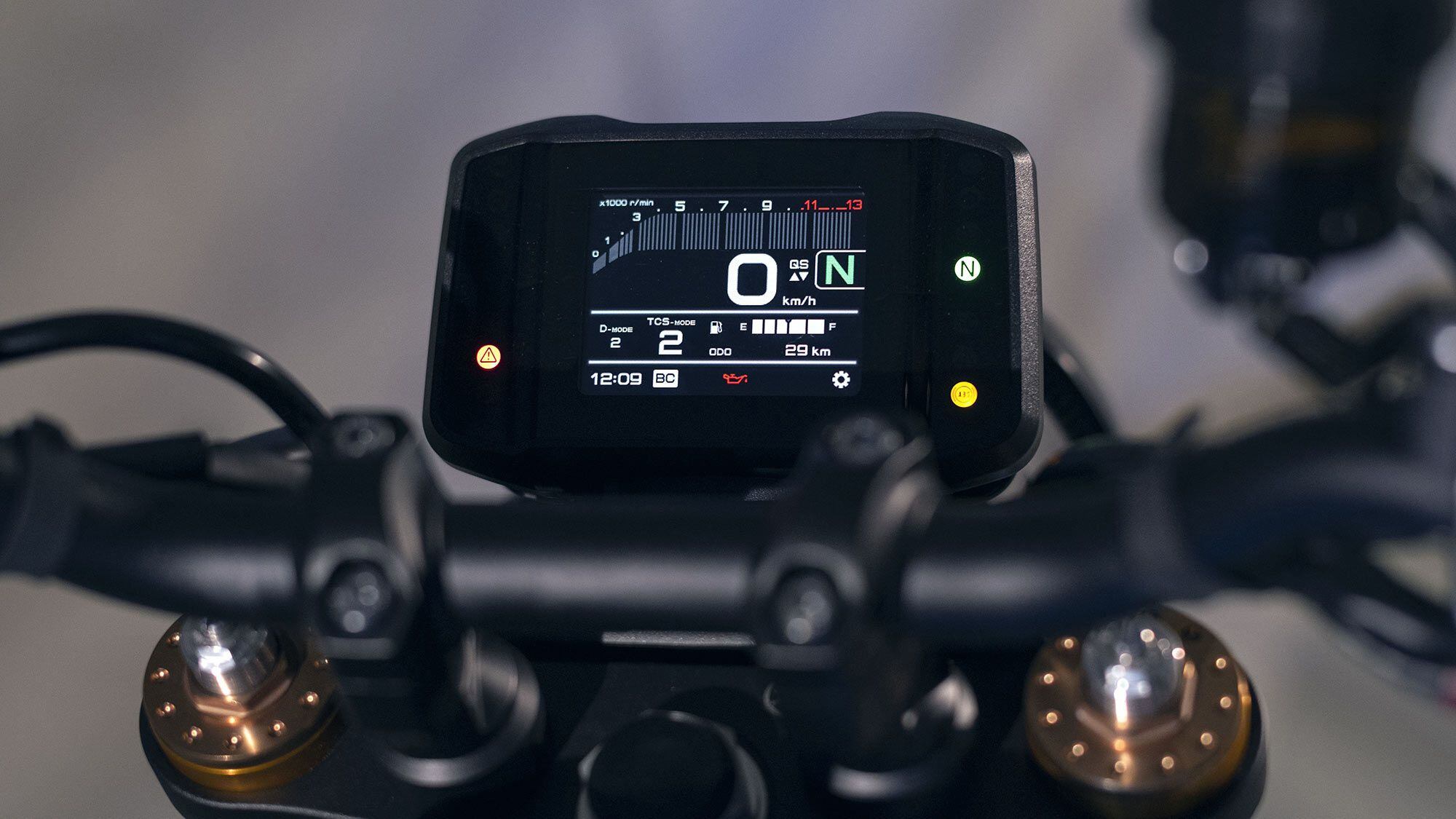 Six-axis IMU controls lean-sensitive traction control and cornering ABS. Rider modes can be selected on the 3.5-inch TFT color display. (Yamaha Motor Europe/)