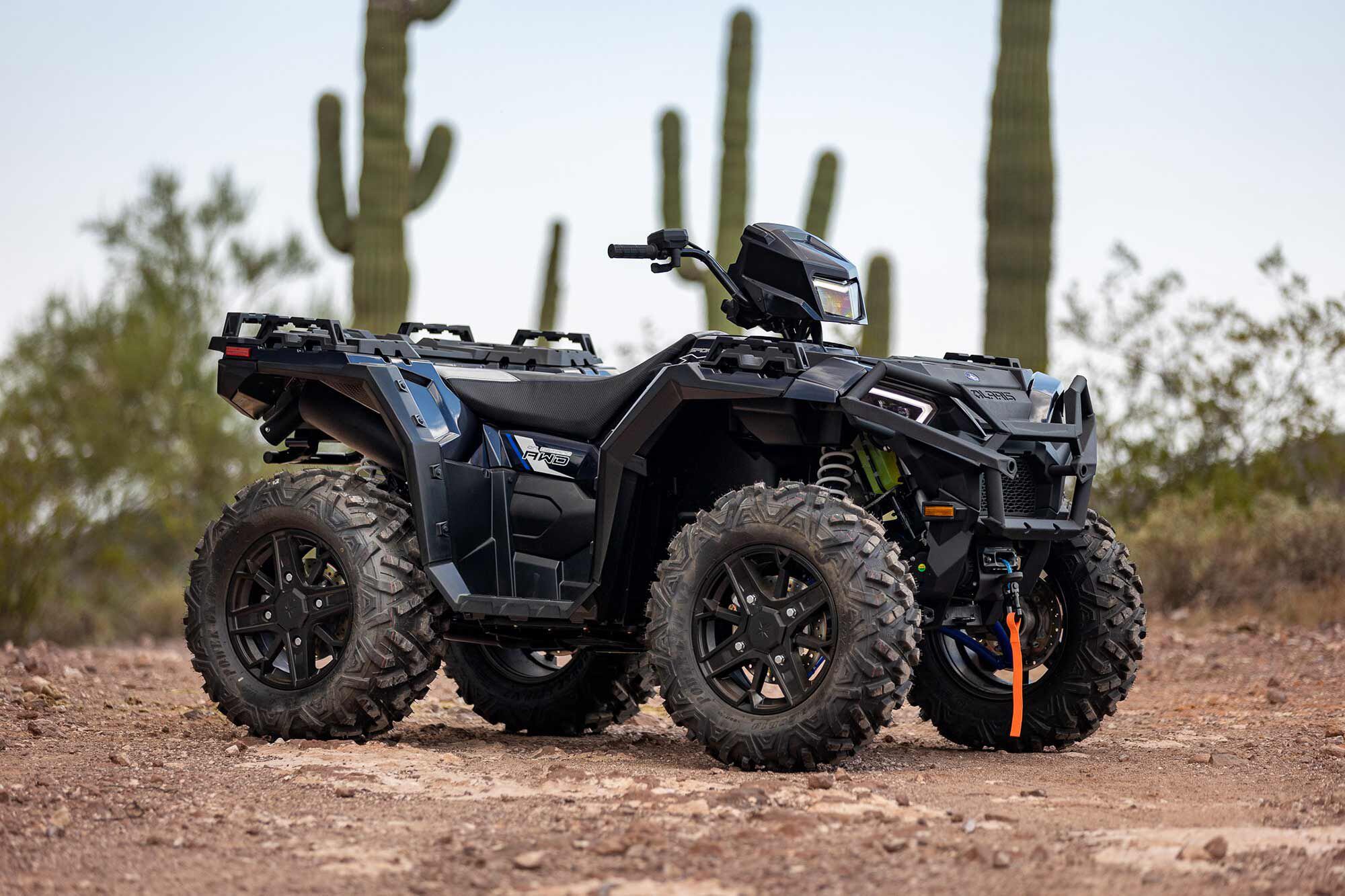 A 3,500-pound winch, aluminum wheels, and rugged Duro Power Grip V2 tires are just a few premium features on this Sportsman. (Kevan Ray/)
In a world where UTVs and side-by-sides have taken center stage, it's refreshing to see some powersports manufacturers continue to add innovation and notable upgrades to their ATV offerings. Case in point, the announcement of the 2022 Polaris Sportsman XP 1000 Ride Command Edition. Adding Ride Command to an ATV opens up almost limitless options for trail exploration and extended adventures. As soon as it was revealed, we were itching to get our moto gloves on this model for some long-distance trail riding. I'm pleased to announce that Polaris delivered one right to our garage door.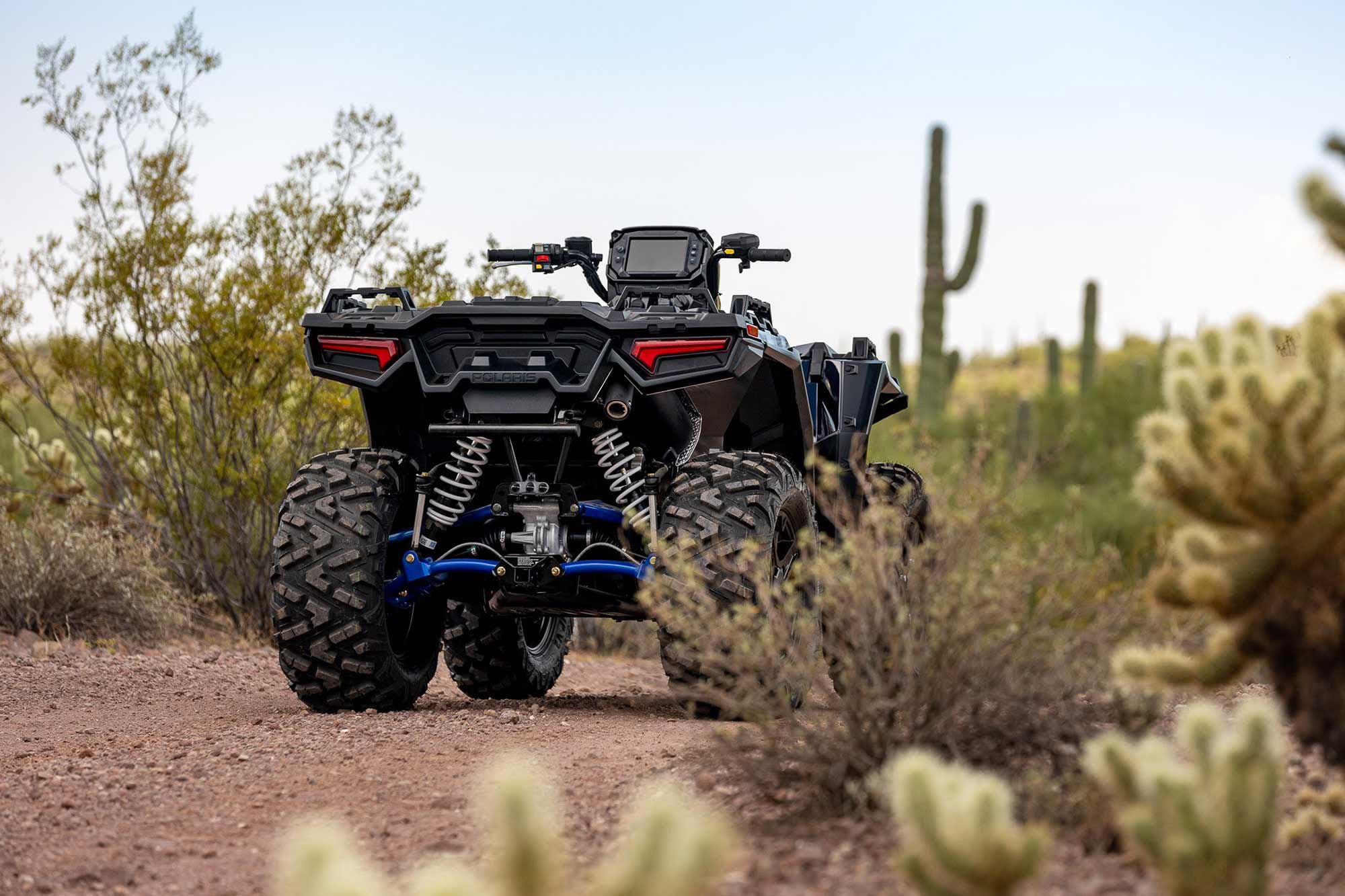 Arched high-clearance A-arms provide additional ground clearance at the front and rear. (Kevan Ray/)
At first glance, the 2022 Polaris Sportsman XP 1000 Ride Command ATV is captivating. The deep Azure Crystal body sparkles in the sunlight with hard-edged virility and premium features pop from every angle. A heavy-duty 3,500-pound synthetic rope winch includes handlebar-mounted controls and an automatic stop feature. Arched high-clearance A-arms brag of high ground clearance front and rear, and fancy black 14-inch aluminum wheels wear aggressive 27-inch Duro Power Grip V2 tires. This ATV was bathed in equal amounts of utilitarian function, sporty looks, and chiseled masculinity.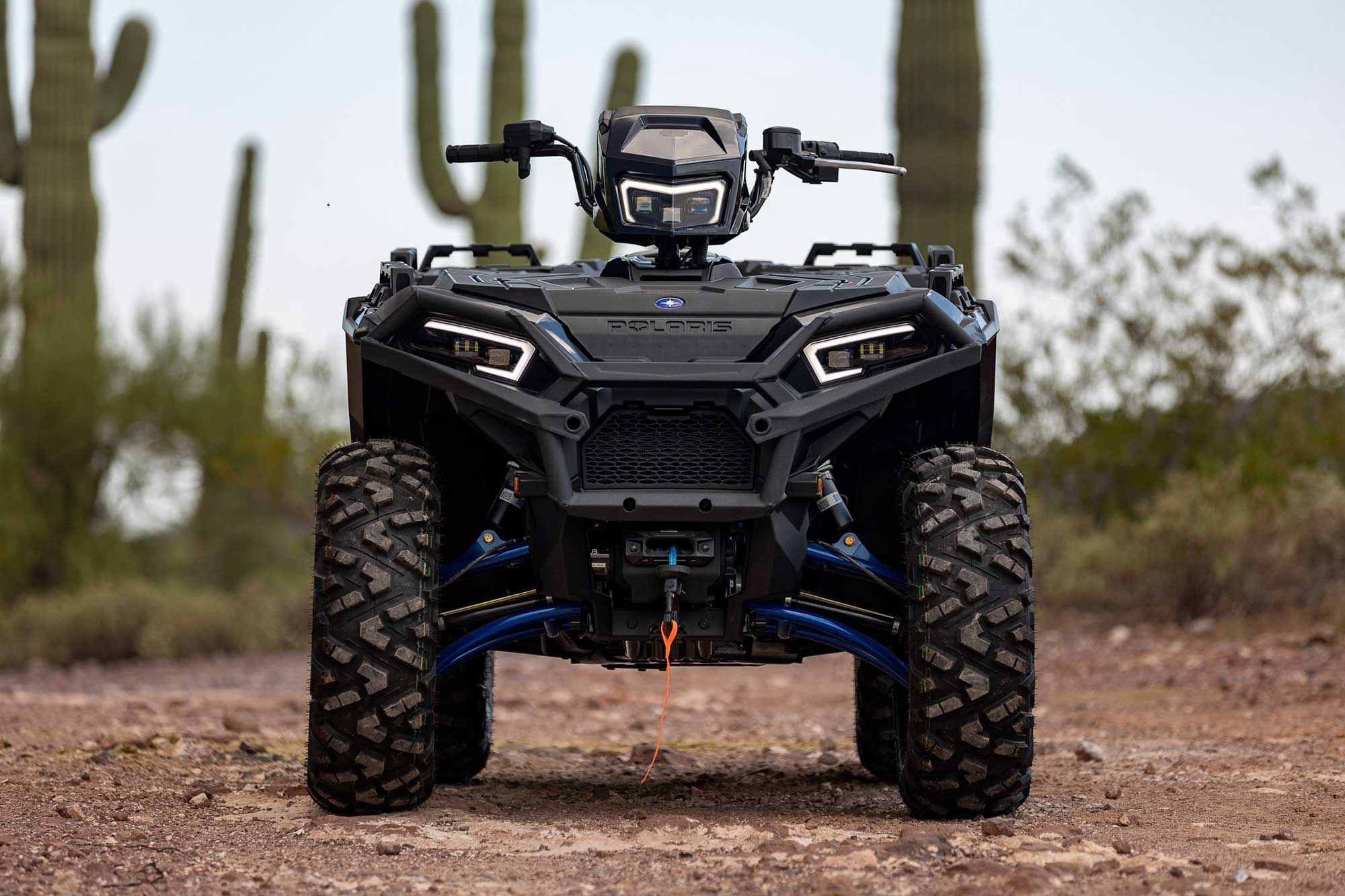 An Ultimate Series front brush guard protects LED headlights. (Kevan Ray/)
A solid Ultimate Series front bumper/brush guard protects the entire front grill and LED headlights. Yes, LED headlights! The directional pod light, accent lighting, and tail/brake lights are also LEDs. At the rear, a short grab bar is well placed for optimal leverage in the unlikely event that this ATV gets stuck.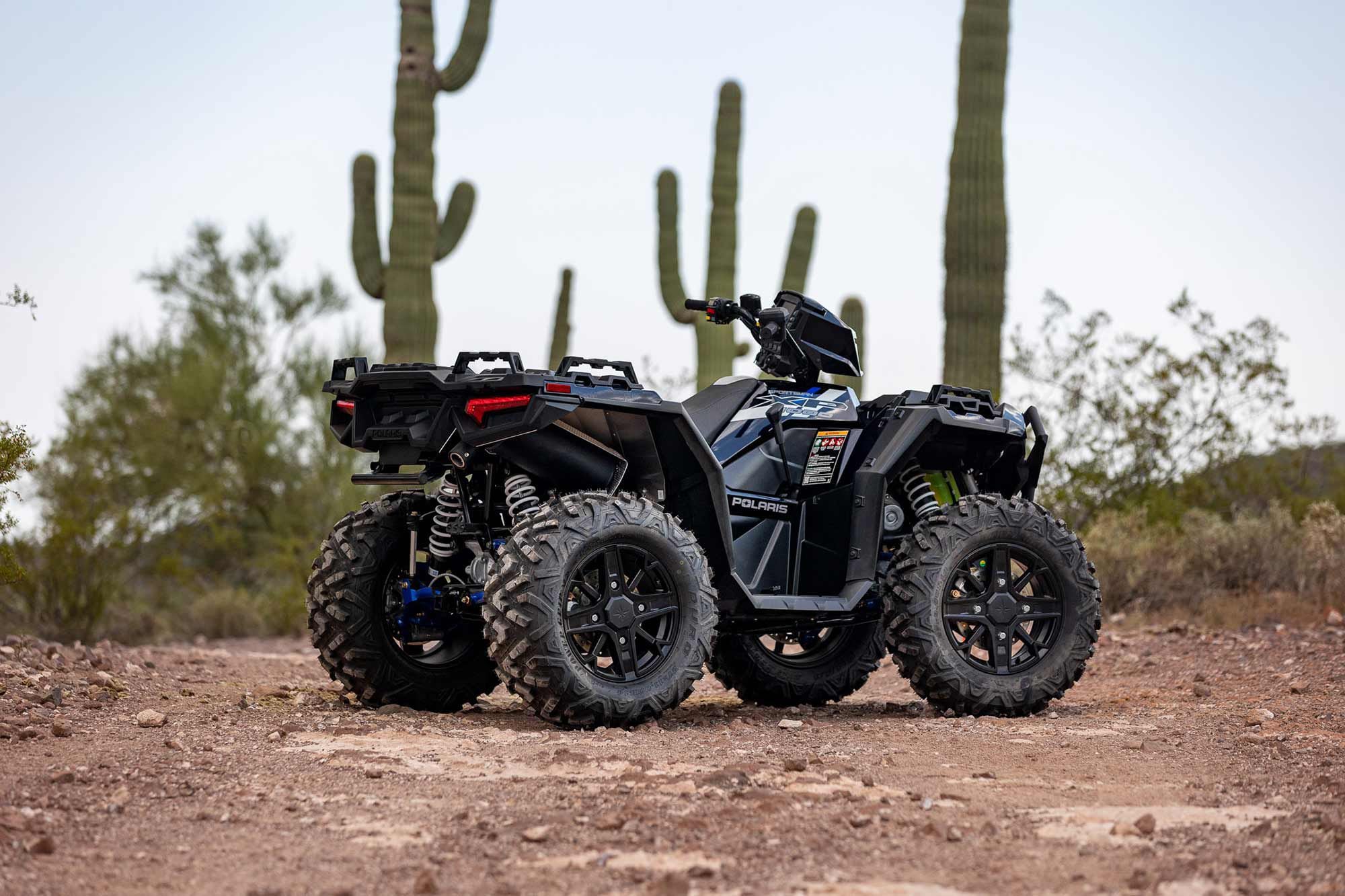 A narrow stance, plush seat, and engine heat shields take rider comfort to a new level. (Kevan Ray/)
The Sportsman 1000 XP packs a 952cc parallel-twin engine, but it's surprisingly narrow between the knees, more so than many competing big-bores. The seat is comfortable and thick with stitched black gripper material along the sides and top, highlighted with silver accents. The seat is long enough that the rear rack doesn't impede the seating position. Handlebars and grip placement feel anatomically correct whether seated or standing, and all levers and controls are placed within easy grasp.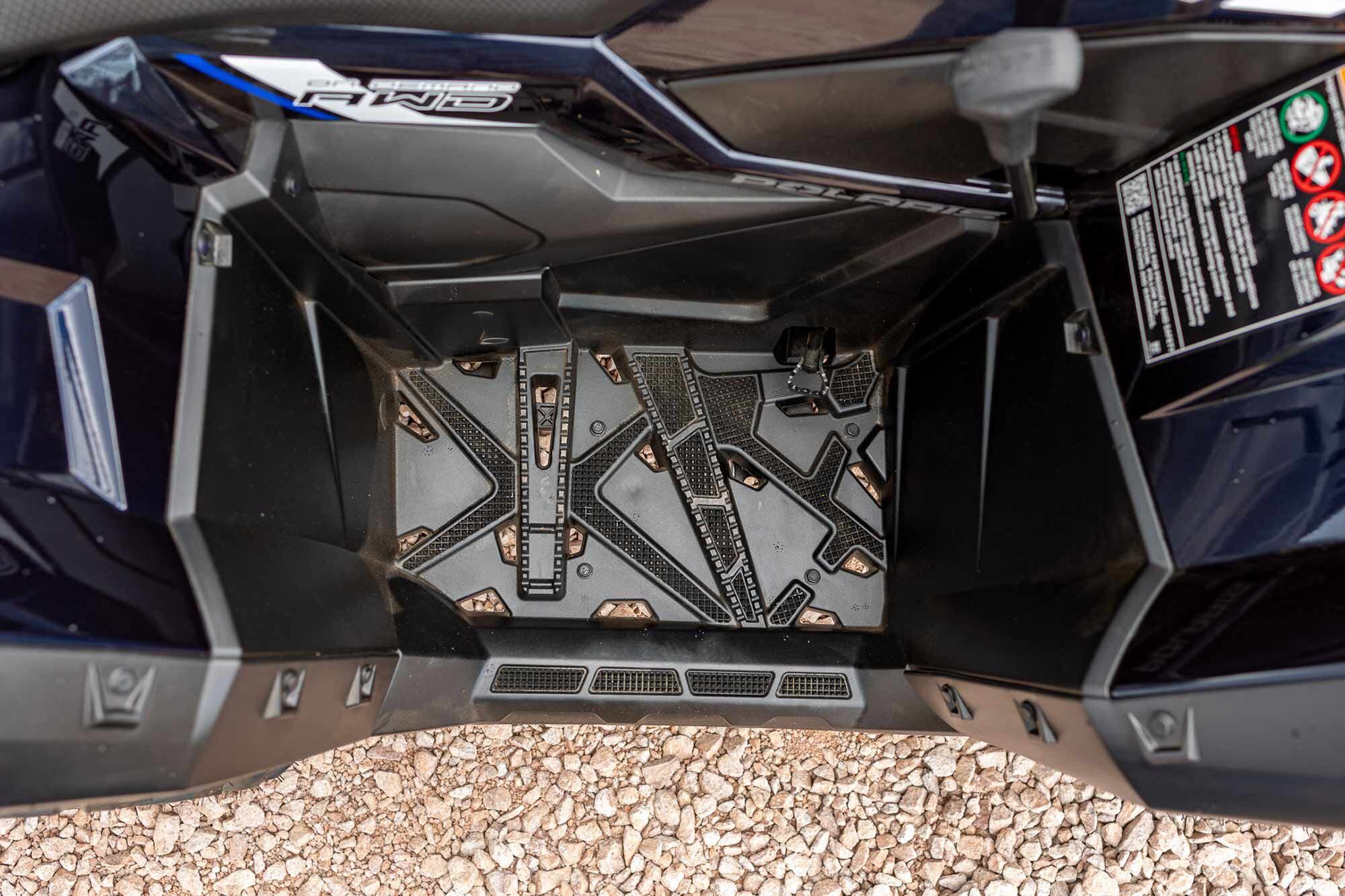 Footwells are extra large with plenty of leg protection. (Kevan Ray/)
Footwells are deep and wide with plenty of room to move around. There's also a lot of grip area for boots, but it's all molded into the plastic floorboard. I have to wonder if the teeth will wear down over time, unlike metal serrated footpegs. Heat shields along the sides of the engine are designed to deflect engine temperature out the back of the ATV and away from your legs and body.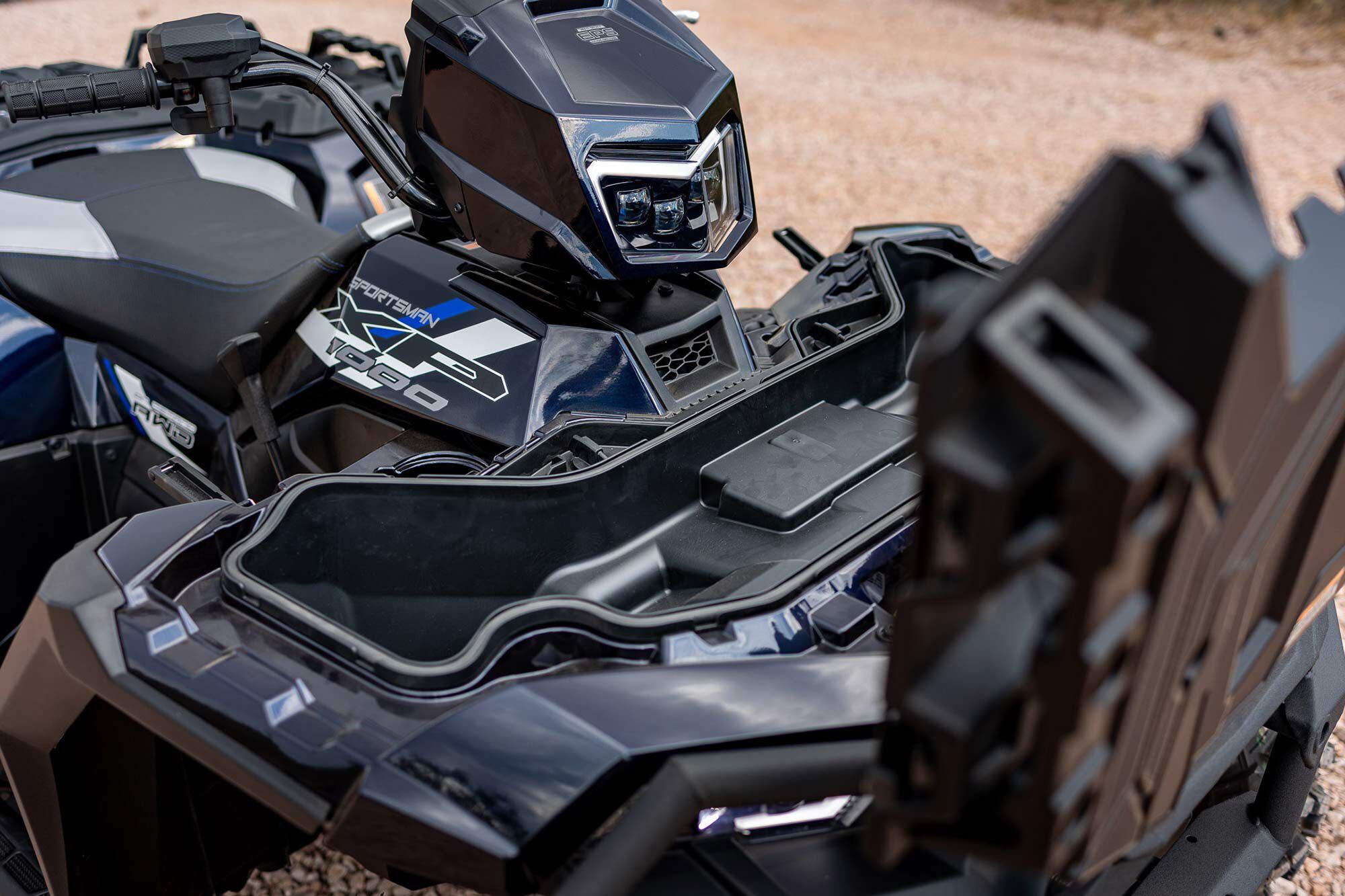 There are 6 gallons of personal storage space under the racks. (Kevan Ray/)
The 1000 XP comes with lots of storage for whatever you bring with you. There are 4 gallons of sealed storage below the front rack and 2 gallons under the rear rack. There's also a drink holder just behind the front rack on the right side. The cargo racks can handle up to 360 pounds combined. Lock & Ride anchor locations are plentiful for Polaris Lock & Ride-compatible accessories, or you can just tie your gear down with straps.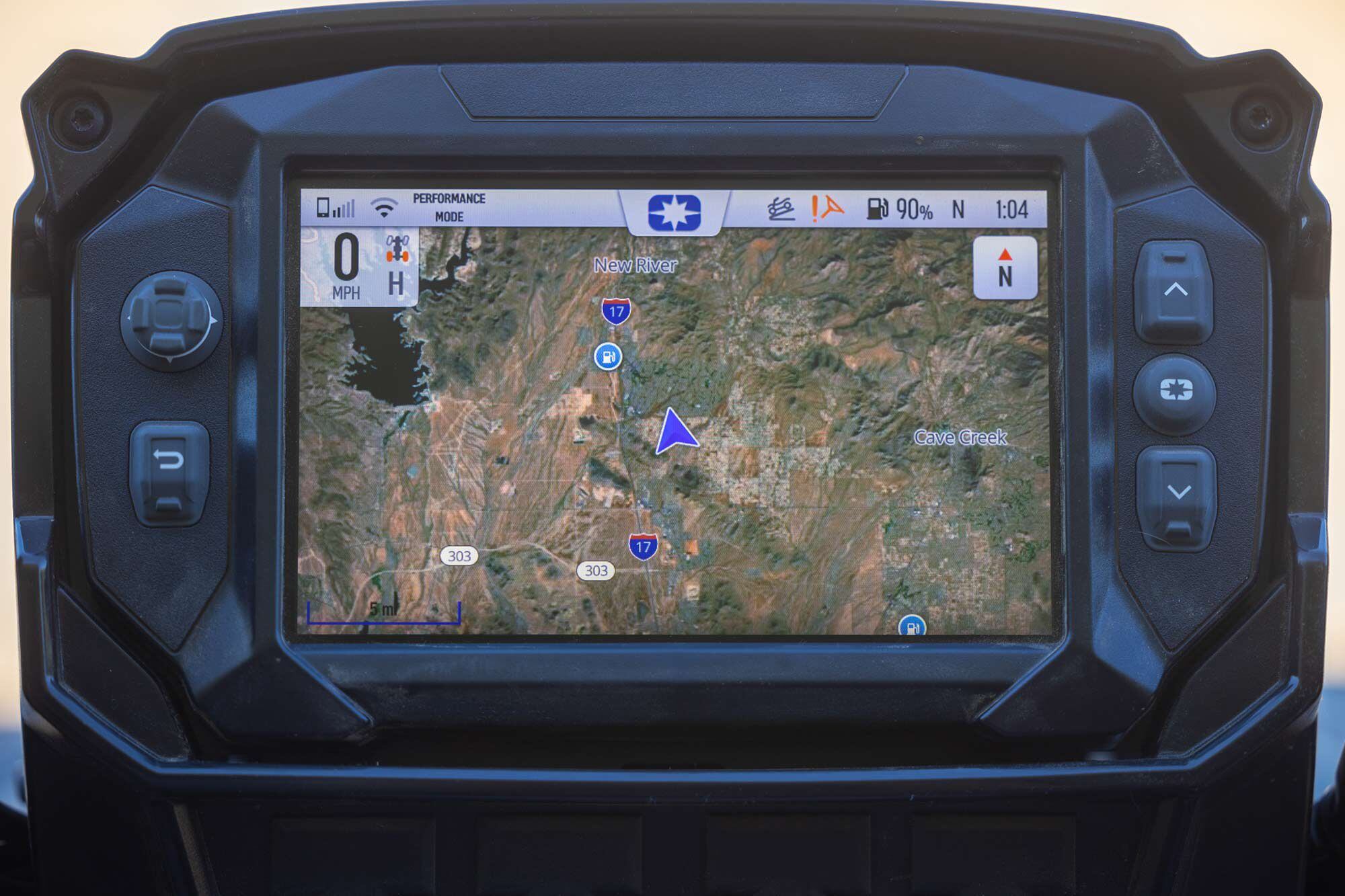 Ride Command 7-inch glove-touch display with full-color satellite GPS screen. (Jeff Henson/)
But the star feature of this ATV has nothing to do with performance, ergonomics, or bling, and everything to do with taking you more places. Enter Ride Command with its impressive full-color 7-inch glove-touch display that can be paired with your smartphone via Bluetooth connection. Ride Command isn't just another find-your-way-back-to-camp GPS system. Not at all. With Ride Command you can access the Route Planning feature to create your own routes with multiple stops and waypoints, and it can do so in full-satellite color detail. More than 1 million miles of trails are already downloaded and available for you to explore, even if offline.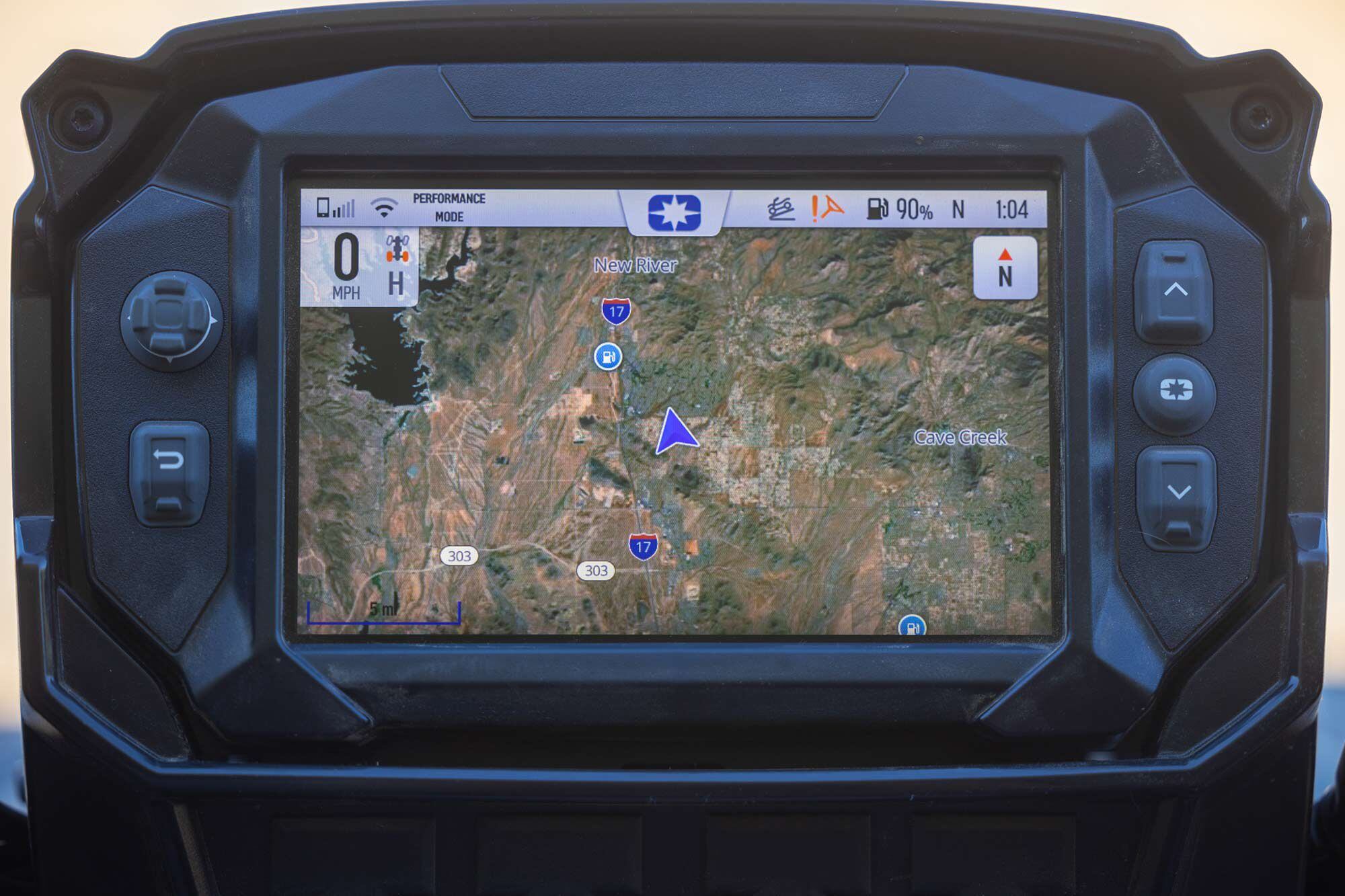 Ride Command 7-inch glove-touch display with full-color satellite GPS screen. (Jeff Henson/)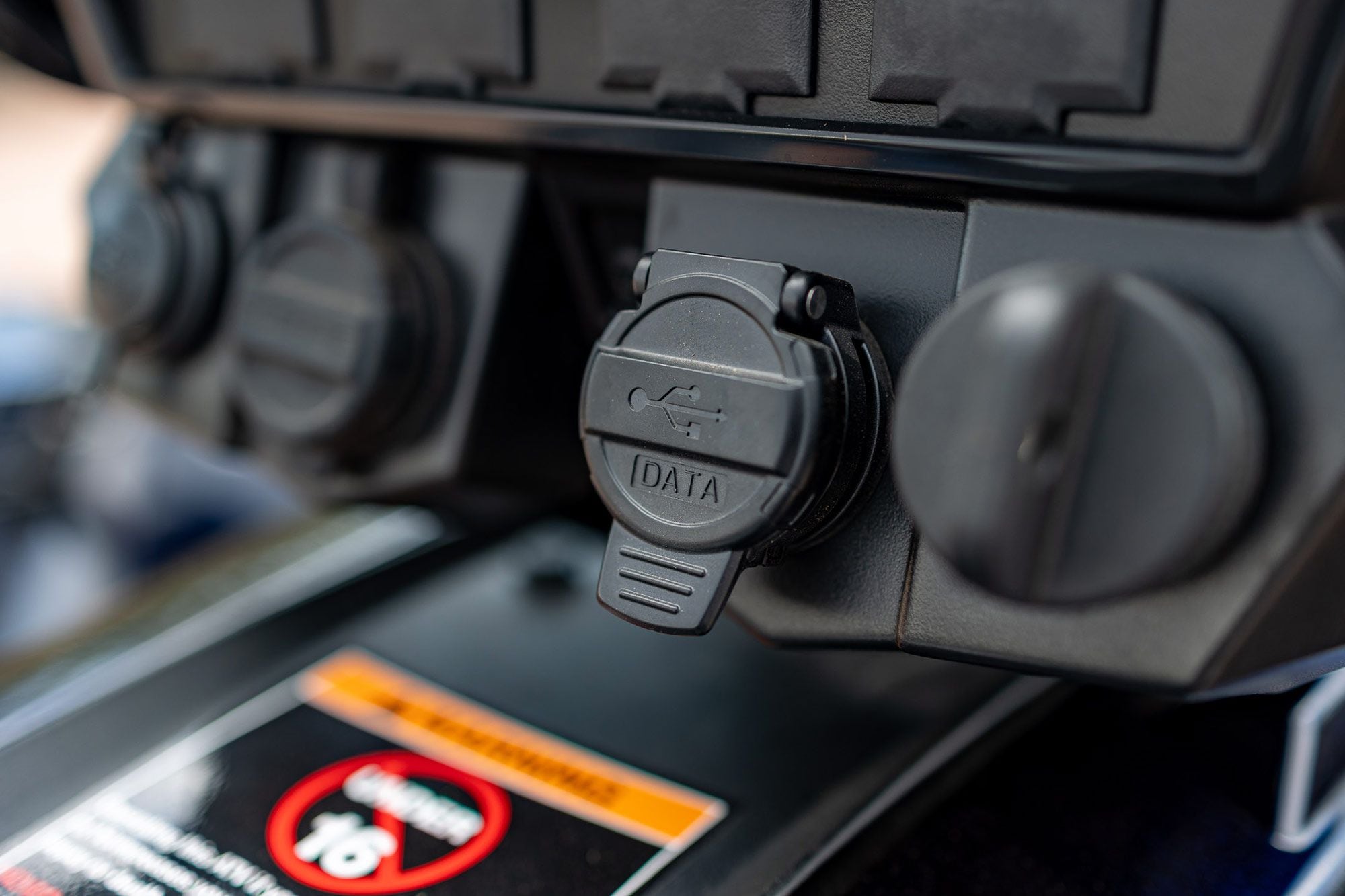 A 12-volt power socket, battery charger connector, and data port can be accessed below the Ride Command display. (Jeff Henson/)
The Group Ride feature keeps track of others in your group that also have Ride Command technology. If they don't have a Ride Command-equipped vehicle, they can download the Ride Command app to their phone. The Group Ride messaging feature lets you send messages to your group while on- or offline, so nobody gets separated or lost. The Follow the Leader feature keeps track of the group leader so everyone can ride at their own pace.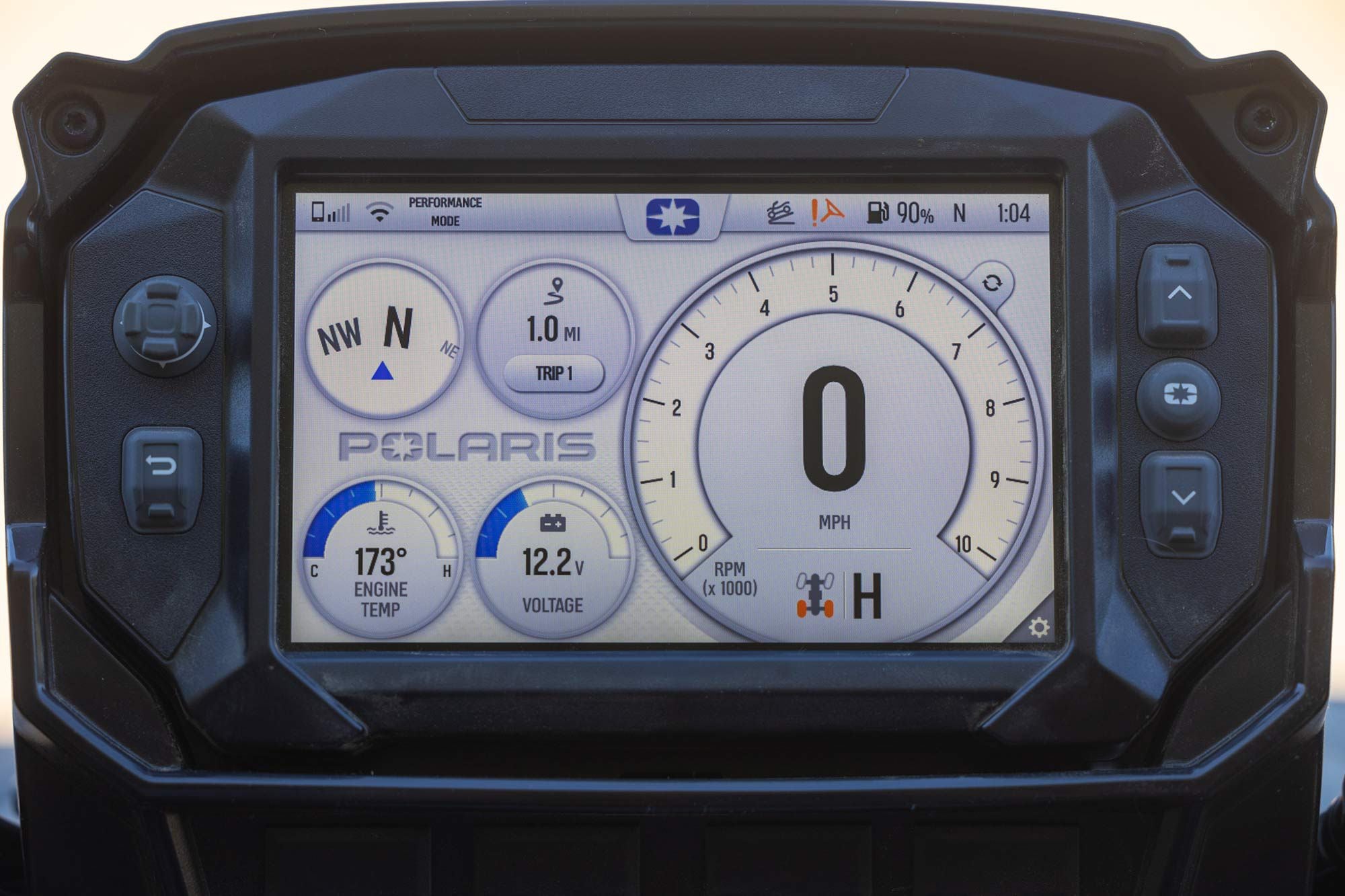 The gauge display can be reconfigured to rider preference. (Jeff Henson/)
The Ride Command display also allows you to configure your dash gauge setup by matter of personal preference. Elevation, compass heading, engine temperature, battery voltage, and tripmeter information can be toggled into view, along with a fixed speedometer and odometer. Other on-screen information includes gear selection, ride modes (Work, Standard, or Performance), and electric power steering performance modes (Low, Medium, or High).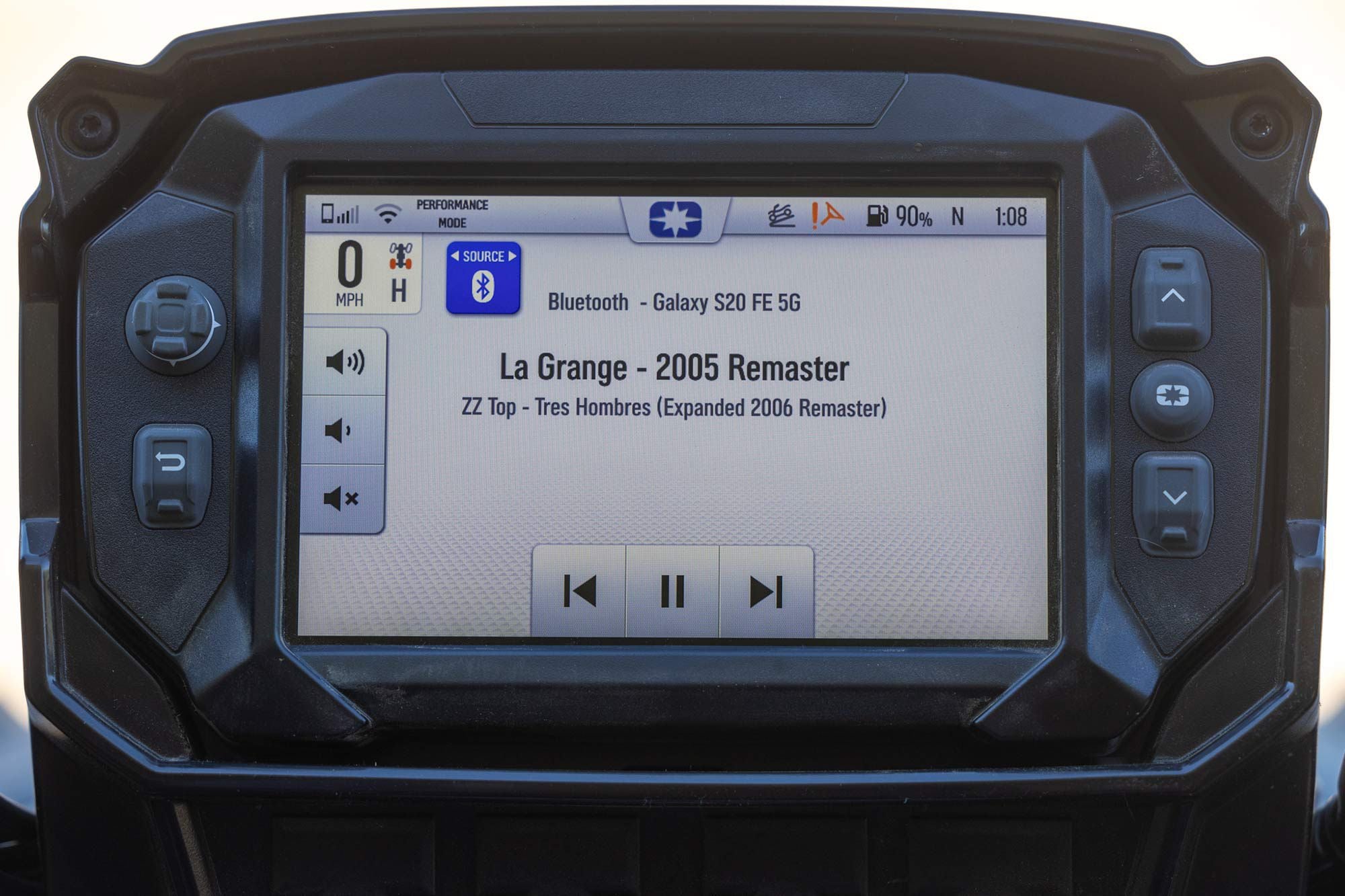 Ride Command is compatible with smartphones and will show calls, display text messages, and stream music. (Jeff Henson/)
Bluetooth connection strength is also displayed when Ride Command is paired with your smartphone. Ride Command will let you know when someone is calling and display text messages. You can also stream music from your phone with automatic volume control as speed increases. Screen brightness can be set manually or automatically for better viewing while the sun is up, and automatically changes to dark mode to be easier on the eyes when riding at night.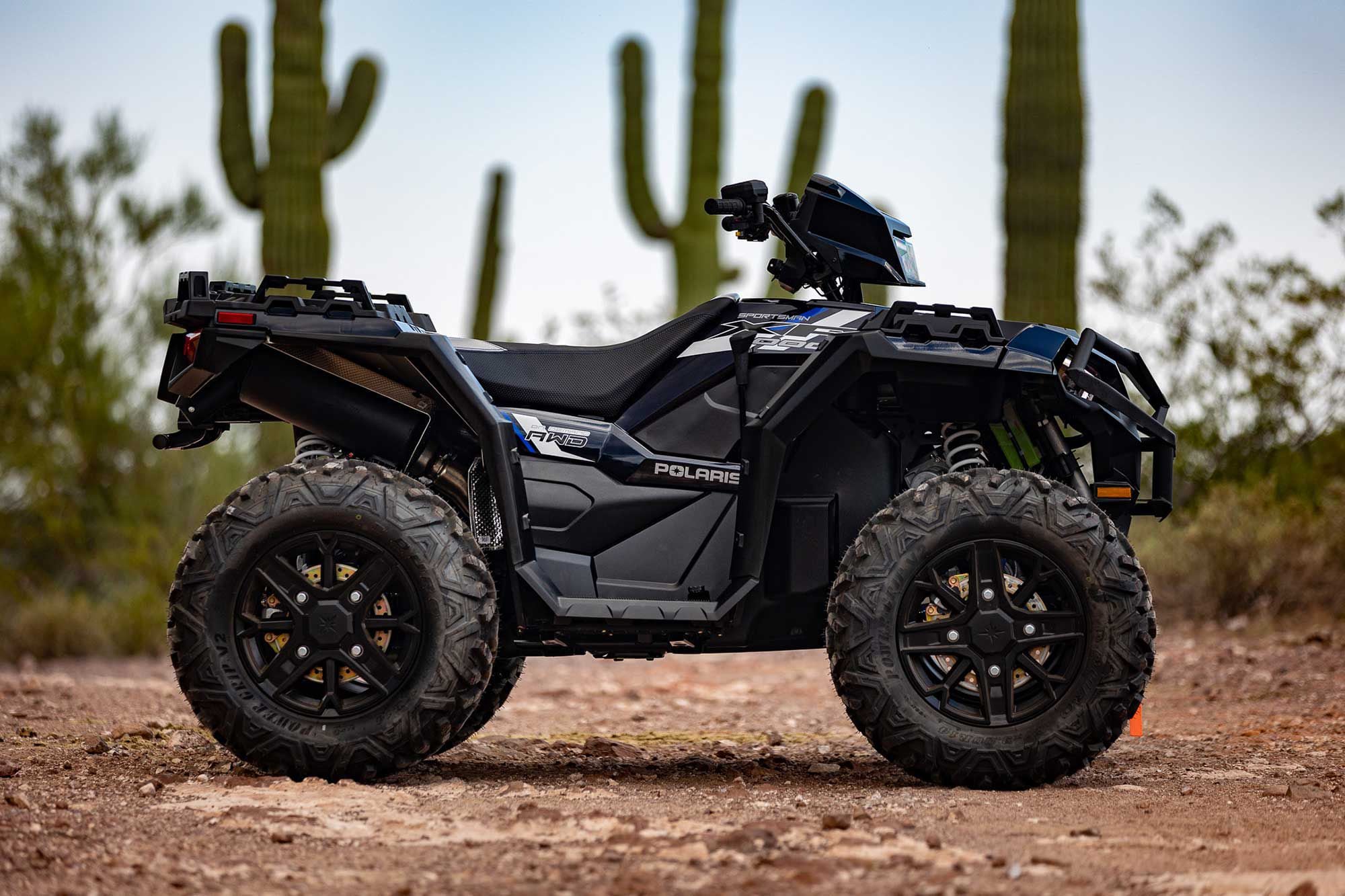 Let's ride! (Kevan Ray/)
Enough with the talk! We're ready to go explore some new trails. Check back soon for our complete ride review of the 2022 Polaris Sportsman XP 1000 Ride Command Edition.
2022 Polaris Sportsman XP 1000 Ride Command Edition Specs
| | |
| --- | --- |
| MSRP: | $14,499 |
| Engine: | ProStar SOHC, liquid-cooled parallel twin-cylinder |
| Displacement: | 952cc |
| Bore x Stroke: | N/A |
| Compression Ratio: | N/A |
| Transmission: | Automatic PVT w/ high/low range, reverse; parking |
| Claimed Horsepower: | 90 hp |
| Claimed Torque: | N/A |
| Fuel System: | EFI |
| Drivetrain: | One Touch On-Demand AWD/2WD |
| Front Suspension: | Arched dual A-arms w/ 5-way preload adjustable shocks; 9 in. travel |
| Rear Suspension: | Arched dual A-arms rolled IRS w/ 5-way preload adjustable shocks; 10.25 in. travel |
| Front Brakes: | Dual hydraulic disc w/ single hand lever providing measured braking at all four wheels |
| Rear Brakes: | Dual hydraulic disc w/ rear foot brake lever |
| Wheels, Front/Rear: | Aluminum; 14 in. |
| Tires, Front/Rear: | Duro Power Grip V2; 27×9-14 / 27×11-14 |
| Length: | 83.25 in. |
| Width: | 47.6 in. |
| Height: | 50.75 in. |
| Wheelbase: | 53.0 in. |
| Front/Rear Rack Capacity: | 120 lb./240 lb. |
| Towing Capacity: | 1,500 lb. |
| Seat Height: | 37.0 in. |
| Ground Clearance: | 12.0 in. |
| Steering: | Multi Select EPS |
| Turning Radius: | N/A |
| Claimed Dry Weight: | 879 lb. |
| Fuel Capacity: | 5.25 gal. |
| Warranty: | 6-month transferable factory warranty; longer terms available for purchase |
| Minimum Operator Age: | 16 |
| Availability: | Now |
| Contact: | atv.polaris.com |