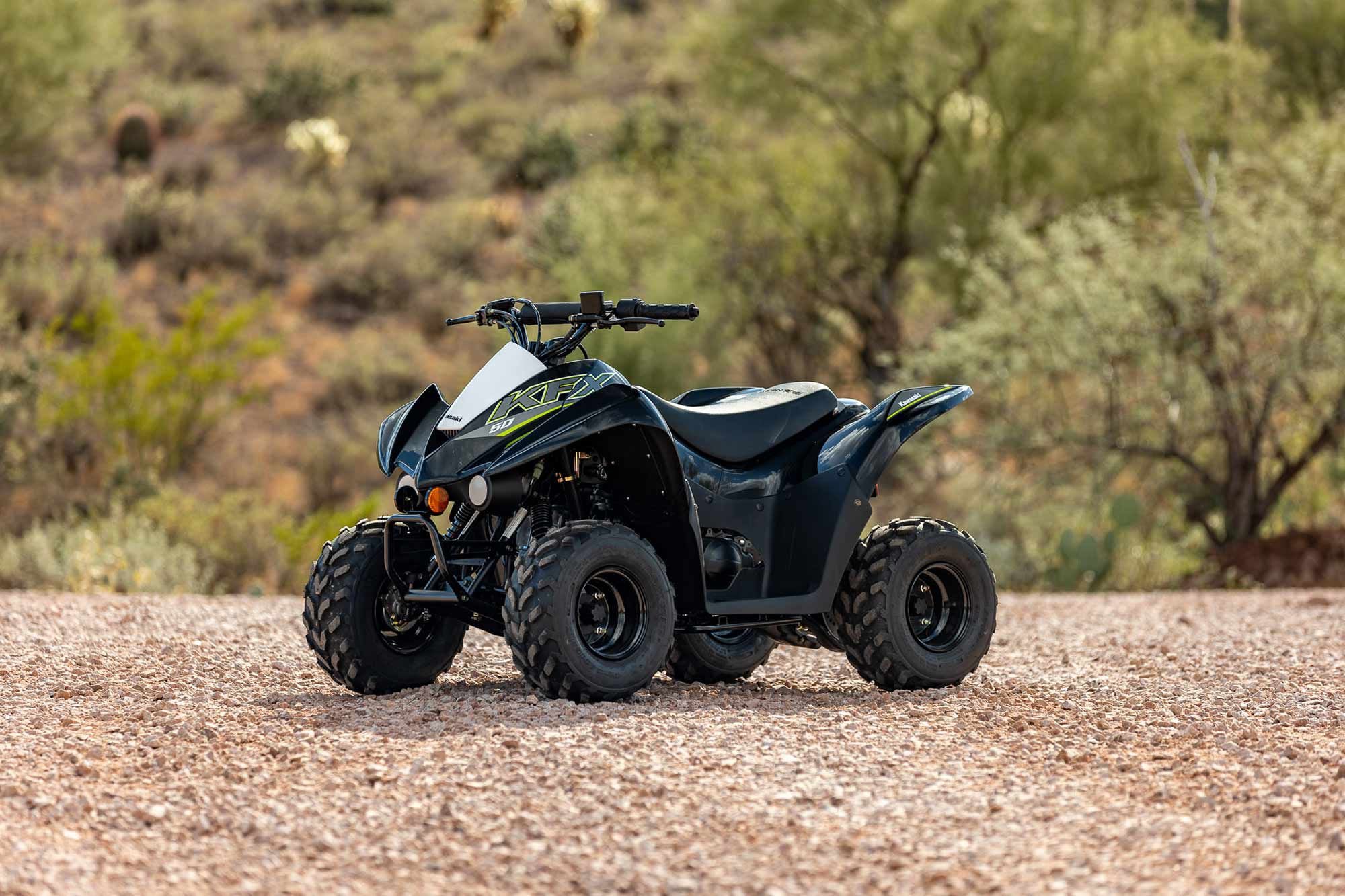 The 2022 Kawasaki KFX50 is designed for riders 6 years old and up. (Kevan Ray/)
Kawasaki makes introducing our future motocross stars to ATVs a snap with the KFX50 sport youth ATV. The KFX50 mixes easy-to-operate features, like automatic transmission and electric start, with traditional sport-quad elements that will help kids transition to more advanced machines as they mature.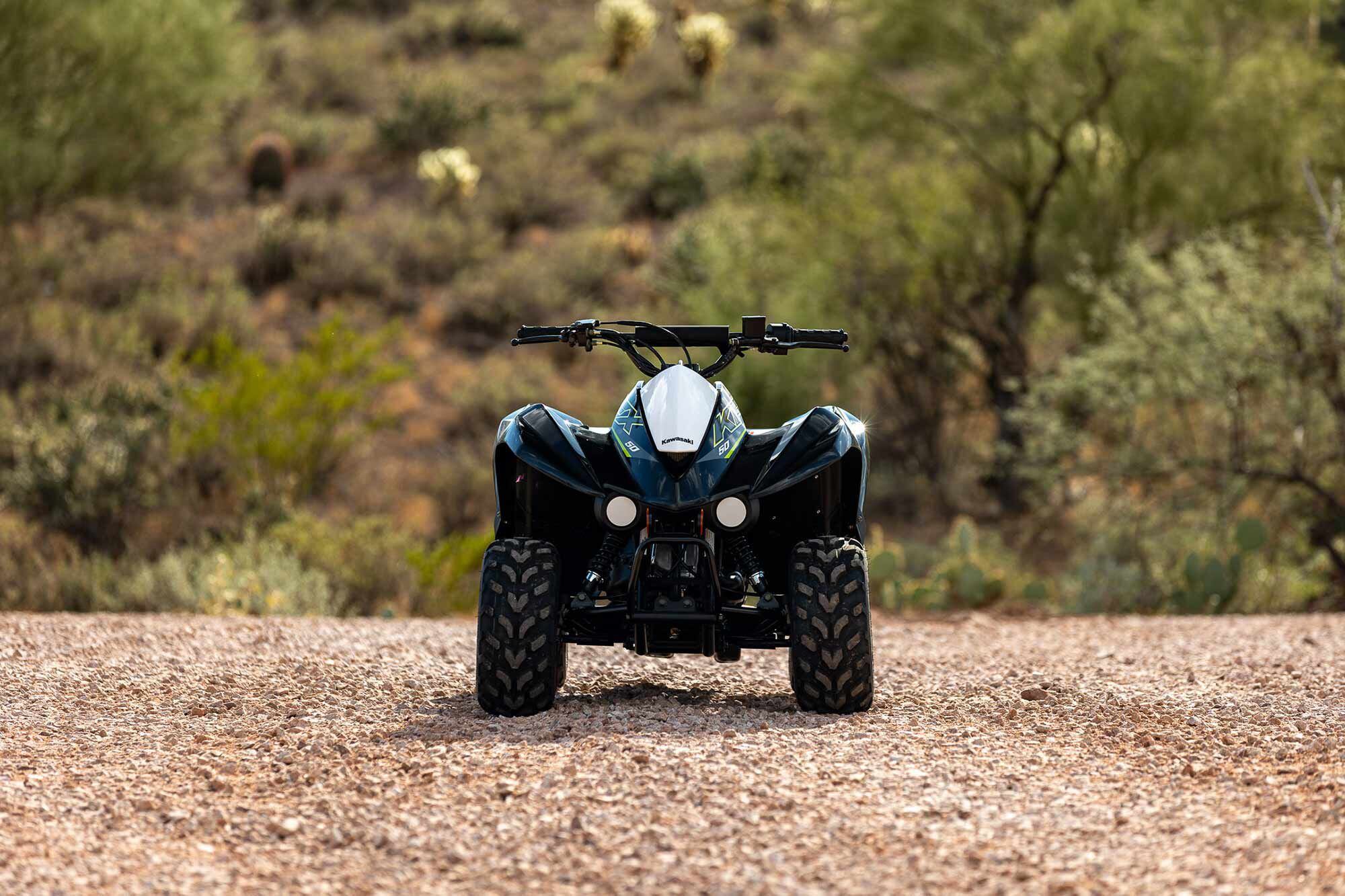 Ergonomics are designed for free movement, and a white hood is ready to accept a competition number plate. (Kevan Ray/)
At first glance, the 2022 Kawasaki KFX50 has sporty curves and lines, very similar to the late KFX450R sport quad. The KFX50 comes with motocross-style plastics designed to keep mud and debris away from the rider. Plastic engine panels also protect small legs from hot engine components. The seat is soft, but designed in a way that small motocrossers can slide back and forth for better balance and control through turns and over obstacles. It goes without saying that the KFX50 is a popular mount for beginner youth racing classes at local and national ATV racing events. A white plastic hood is ready to accept your child's first competition number plate.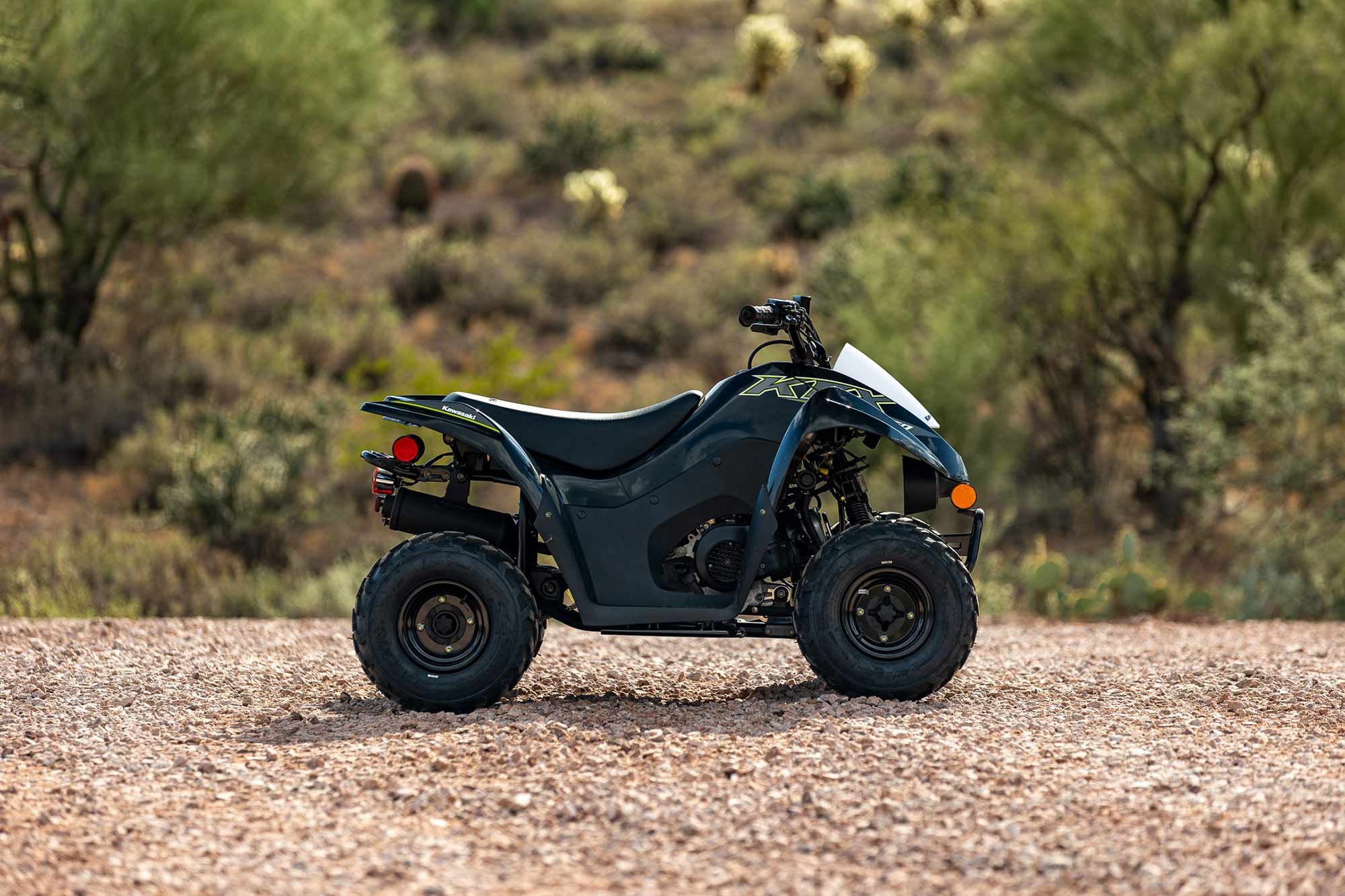 Five-way preload-adjustable shocks and Maxxis tires get the power to the ground. (Kevan Ray/)
The sport-inspired features continue with five-way preload-adjustable shocks. A single A-arm design allows the front wheels to react independently with 2.8 inches of suspension travel. The rear suspension also draws from its sport-quad DNA with a single shock and swingarm design, producing 2.9 inches of travel. Additional sport-tuned features include motocross-style handlebars with a crossbar pad, front sport bumper, a rear grab bar with dune whip flag mount, and Maxxis all-terrain tires mounted on 7-inch rims.
Related: 2019 Youth ATV And UTV Buyer's Guide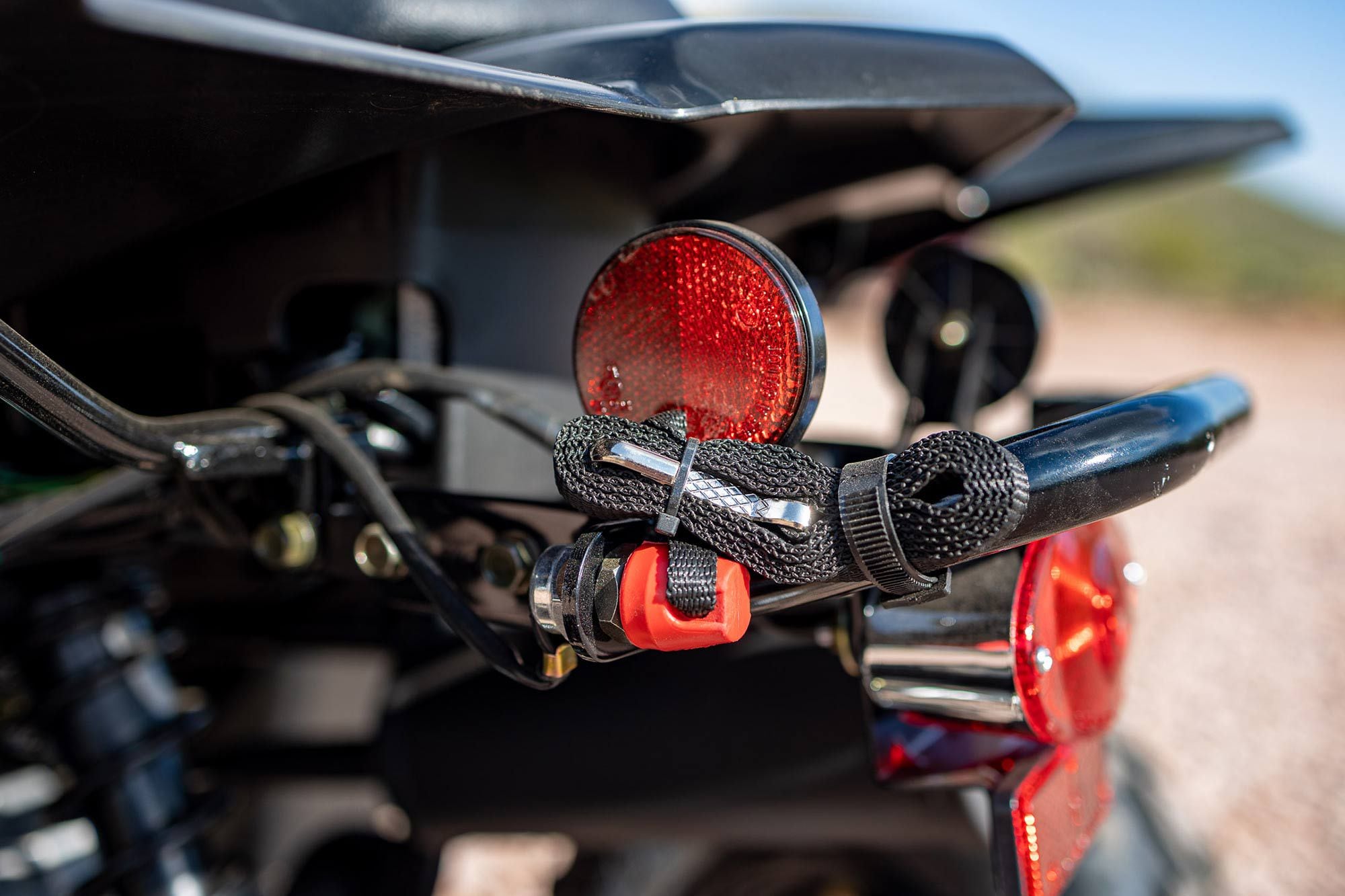 Parental control features include a throttle limiter and this engine kill switch with a 48-inch lanyard. (Kevan Ray/)
Parents will appreciate many of the standard KFX50 training features that eliminate much of the stress of plopping their child on an ATV for the first time. This 49.5cc engine does pack a lot of pep, so Kawasaki included a throttle adjustment screw on the thumb throttle. Speed can be limited down to a crawl. Additionally, an engine kill switch is attached to the rear grab bar and includes a 48-inch lanyard. Mom or dad can follow behind as their child learns about their new ATV with the ability to cut the engine if need be.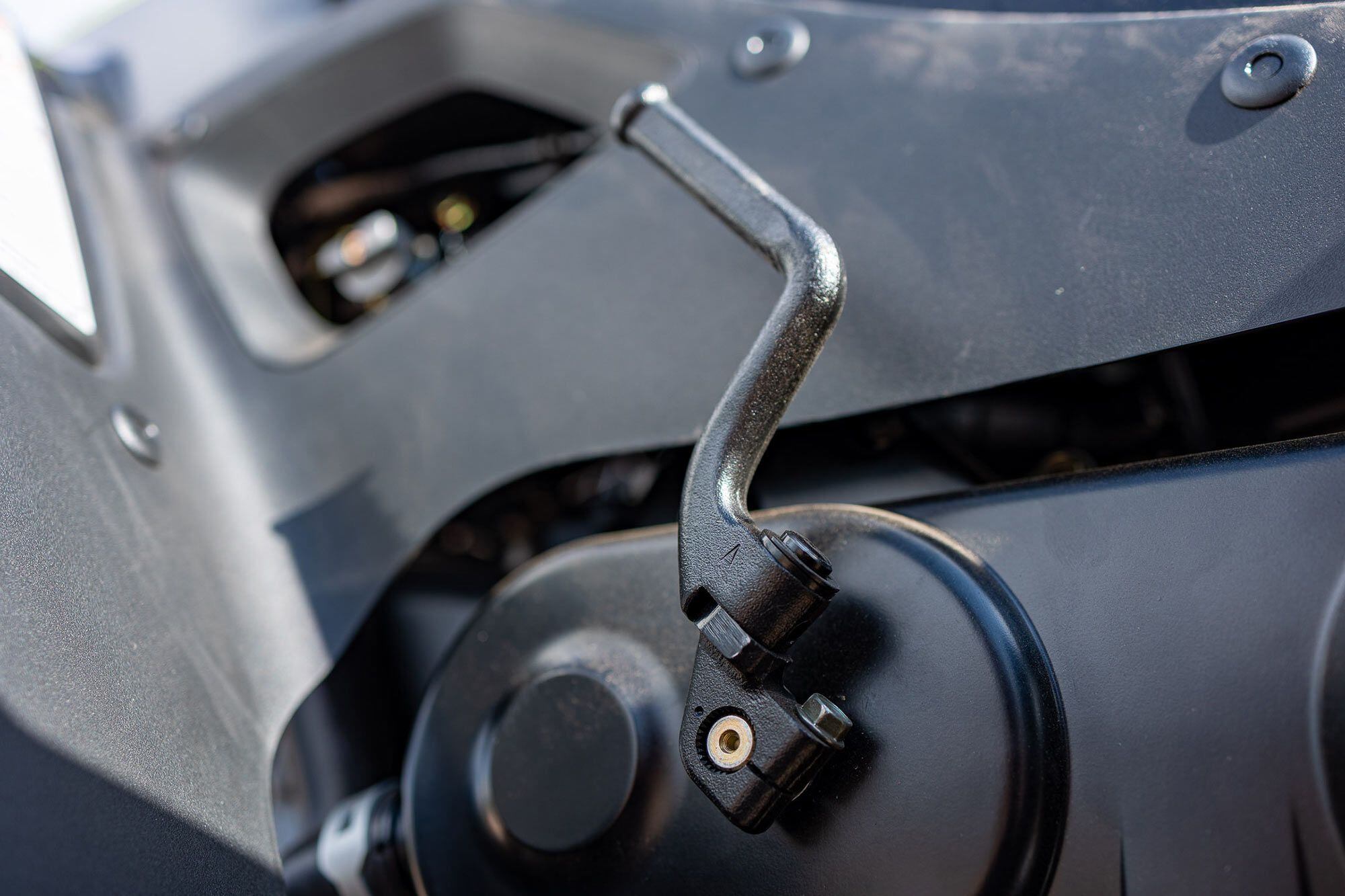 Electric start is standard but Kawasaki also included a backup kickstarter. (Kevan Ray/)
We already mentioned that the Kawasaki KFX50 has an electric start button. The rider has to engage the brakes before the starter will turn the engine over. A backup kickstarter is also standard. Just like a true sport quad, the KFX50 is 2WD and does not have a reverse gear. There isn't a park or neutral selection either. The automatic CVT transmission with final chain drive only moves forward. Give the KFX50 a little gas and the belt drive engages as engine rpm spools up.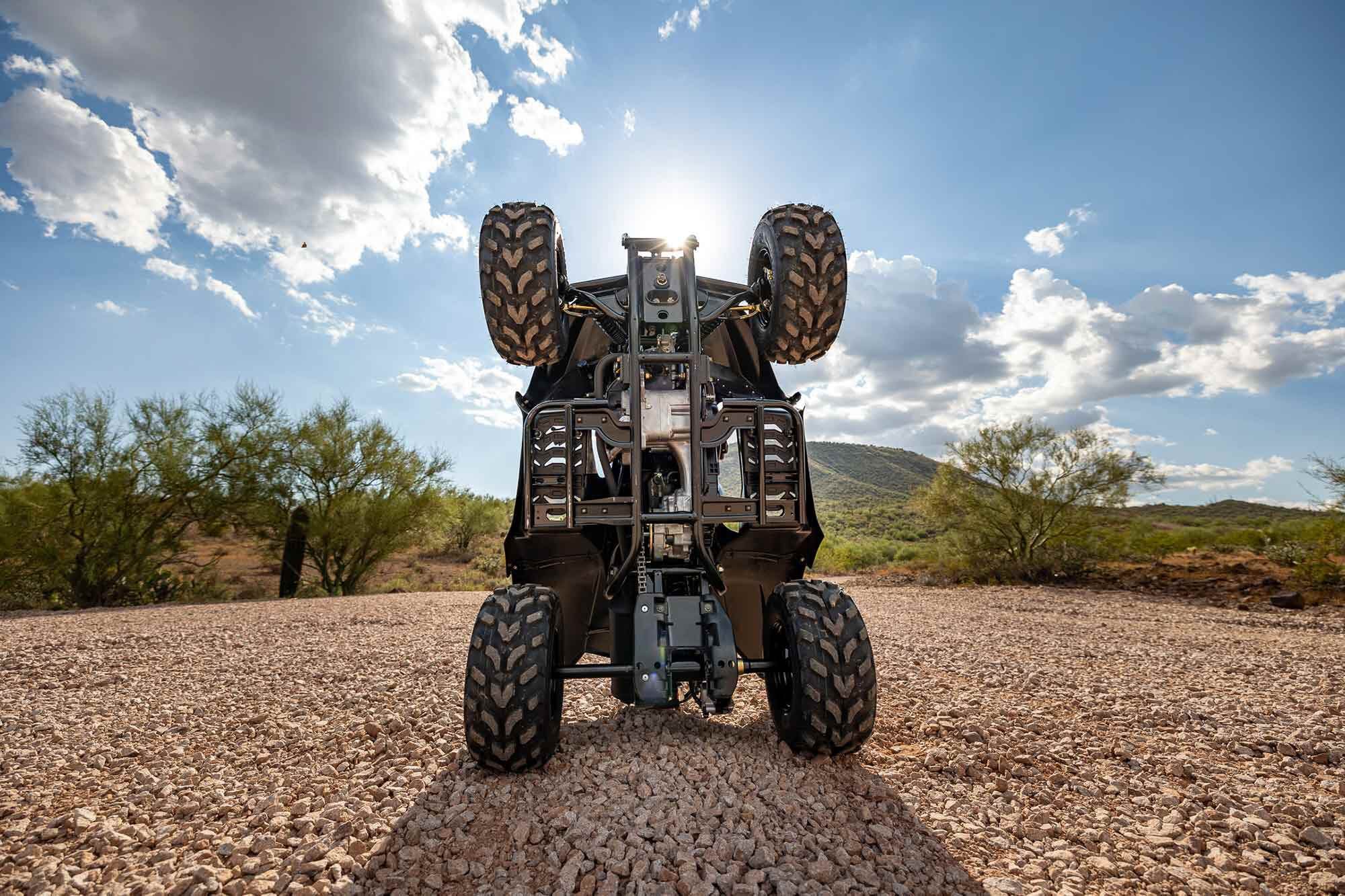 A strong frame, footwell support, and a swingarm skid plate provide good undercarriage protection. (Kevan Ray/)
A look underneath reveals the KFX50 has a sturdy frame with steel supports beneath the footwells that offer excellent leg and foot protection. A plastic swingarm skid plate protects the axle sprocket, chain, and rear brake disc. Mechanical drum brakes stop the front wheels.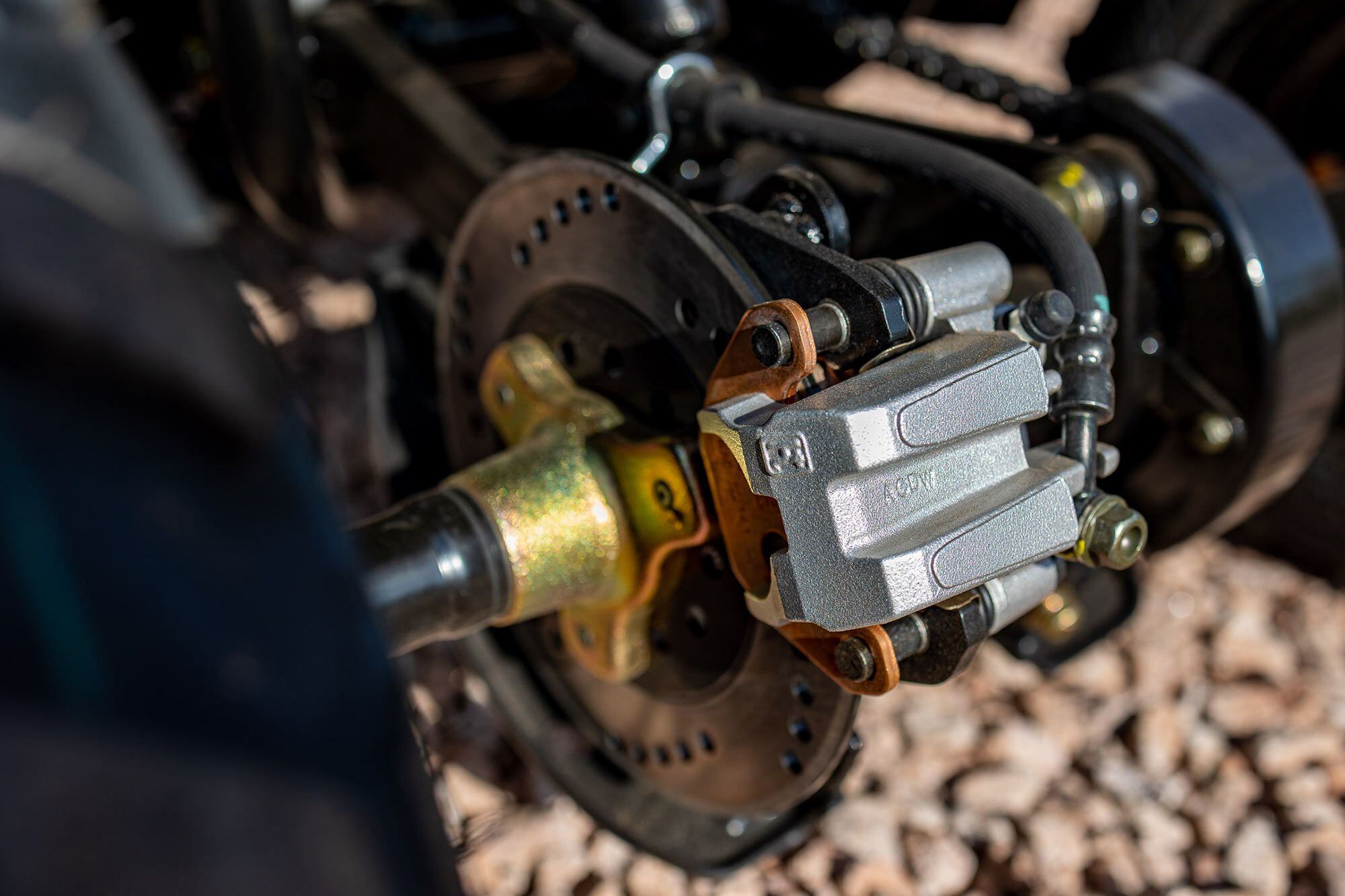 The KFX50 is equipped with a rear hydraulic disc brake and dual front mechanical drum brakes. (Kevan Ray/)
Maintenance is designed to be as simple and inexpensive as possible. Oil changes are made easier with accessible drain and fill points that don't require the removal of body panels or skid plates. The seat removes easily with a single latch, exposing the air intake filter, battery, and a small tool kit. The chain drive can also be adjusted by loosening the cam-style axle carrier and then adjusting chain tension with a single screw. The belt drive system is easily accessible and is designed to provide 1,000 miles of normal use on a single belt. Do-it-yourself mechanics will truly appreciate the ease of maintenance.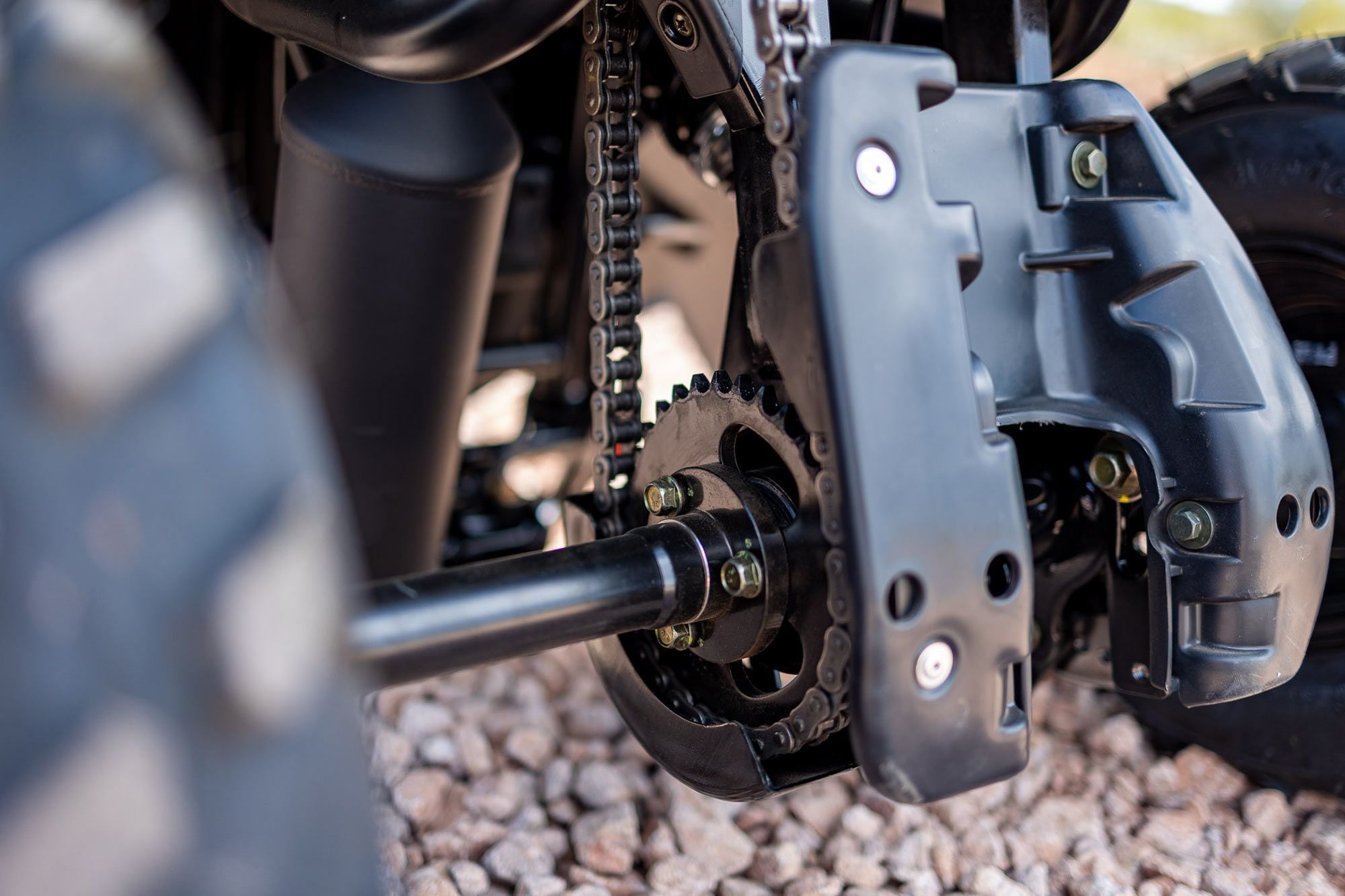 A cam-style chain tensioner makes chain adjustment easy. (Kevan Ray/)
With our first look out of the way, we're anticipating our first test ride. Since most of our staff exceeds the 187-pound weight rating, we've enlisted a 6-year-old test rider to provide us with accurate feedback. Check back soon for a full report.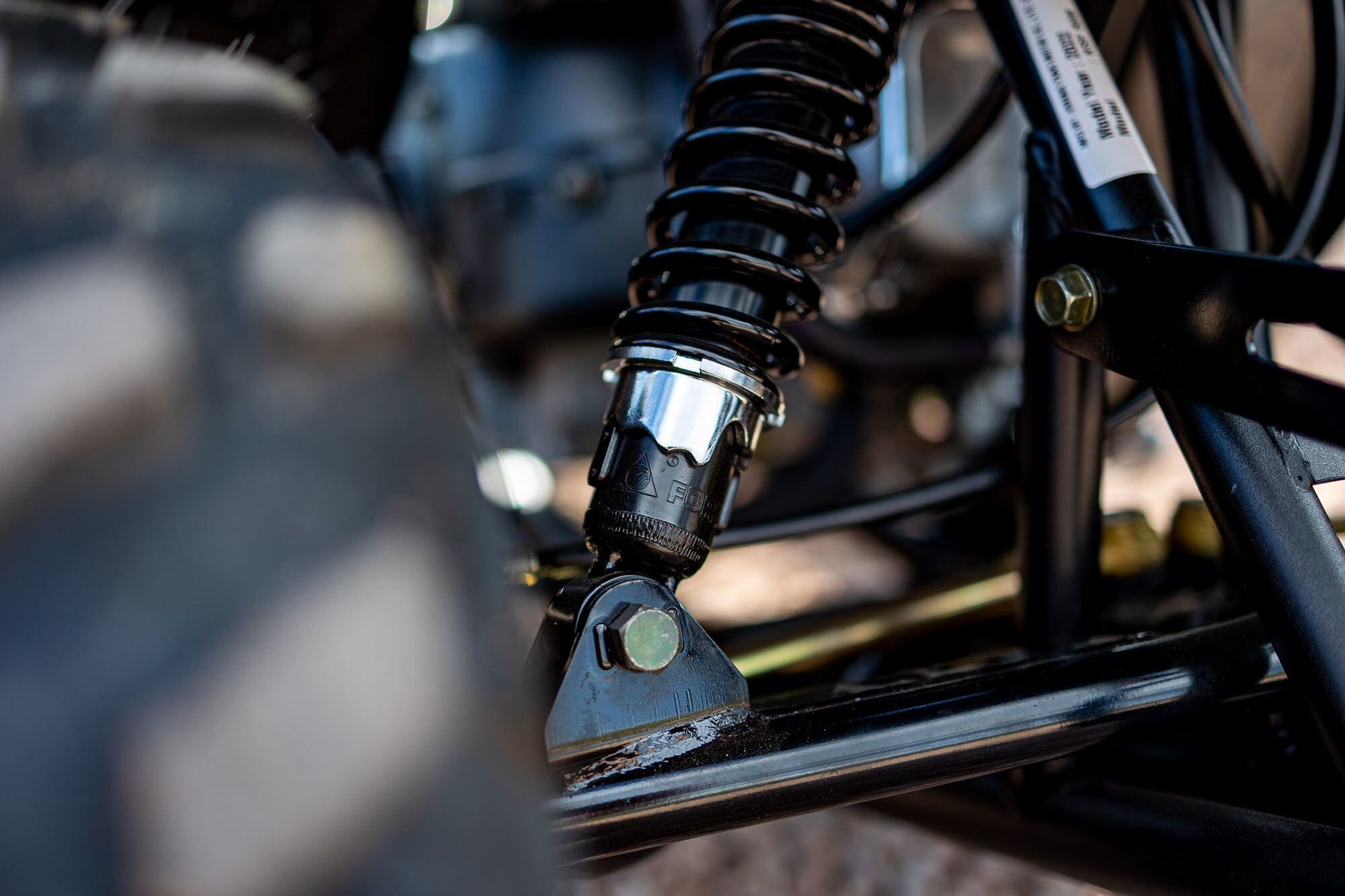 Front and rear shocks are five-way preload adjustable. (Kevan Ray/)
2022 Kawasaki KFX50 Specs
| | |
| --- | --- |
| MSRP: | $2,099 |
| Engine: | Air-cooled 4-stroke single |
| Displacement: | 49.5cc |
| Bore x Stroke: | 39.0 x 41.4mm |
| Compression Ratio: | 10.0:1 |
| Transmission: | Automatic CVT |
| Claimed Horsepower: | N/A |
| Claimed Torque: | N/A |
| Fuel System: | Carburetor |
| Drivetrain: | 2WD w/ chain final drive |
| Front Suspension: | Single A-arm independent; 2.8 in. travel |
| Rear Suspension: | Single shock; 2.9 in. travel |
| Front Brakes: | Dual mechanical drums |
| Rear Brakes: | Hydraulic disc |
| Wheels, Front/Rear: | 16 in. |
| Tires, Front/Rear: | Tubeless; AT 16×8-7 |
| Length: | 55.1 in. |
| Width: | 34.6 in. |
| Height: | 35.8 in. |
| Wheelbase: | 38.0 in. |
| Front/Rear Rack Capacity: | N/A |
| Towing Capacity: | N/A |
| Seat Height: | 25.0 in. |
| Ground Clearance: | 3.3 in. at rear axle |
| Turning Radius: | 8.7 ft. |
| Claimed Wet Weight: | 245 lb. |
| Fuel Capacity: | 1.5 gal. |
| Warranty: | 12-month limited warranty. Additional terms available through Kawasaki Protection Plus. |
| Minimum Operator Age: | 6 and older |
| Availability: | Now |
| Contact: | kawasaki.com |