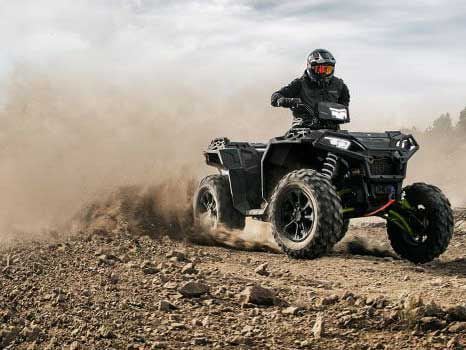 2022's most expensive adult ATV is the Polaris Sportsman XP 1000 S. (Polaris/)
Remember when it felt ludicrous that ATVs were just touching the $10,000 mark? We're long past that. Today's top-tier adult ATVs are on the back half of the slope between $10,000 and $20,000 for a machine. That's automobile money for many of us, but that doesn't stop the ATV manufacturers from pushing harder and further than ever before. These thrill makers are better equipped than ever and, yes, also more expensive. Here is our list of the priciest adult ATVs from each major manufacturer for 2022.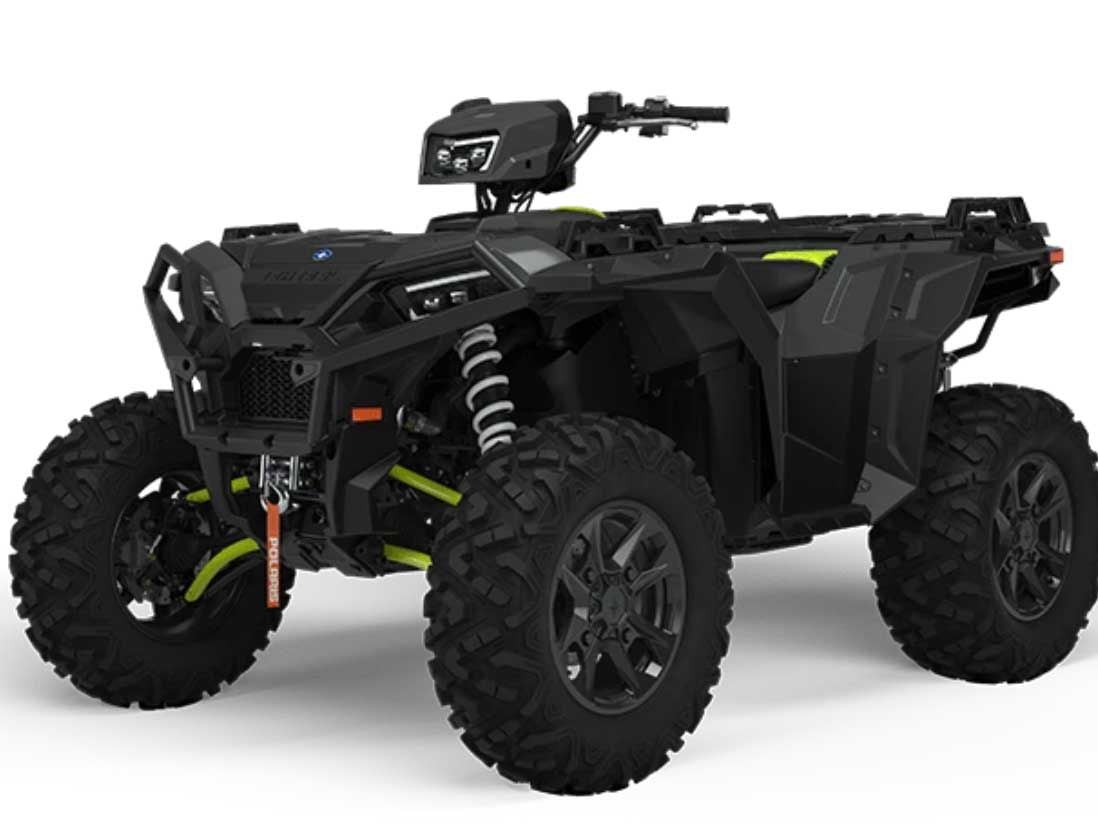 The 2022 Polaris Sportsman XP 1000 S. (Polaris/)
1. 2022 Polaris Sportsman XP 1000 S: $16,599
If you are like John Hammond and spare no expense, the 2022 Polaris Sportsman XP 1000 S is for you. So long as you're ready for the ride of your life.
The Sportsman XP 1000 S shares its twin-cylinder, 952cc ProStar engine with the already-crazy Sportsman XP 1000 Ride Command, which Jeff Henson said, "is a serious terrain dominator that is not suitable for beginners." Widen the XP 1000′s suspension, peel the plastics back a bit for a sportier look, and voila! The Sportsman XP 1000 S is 970 pounds of vehicular mayhem. It's the biggest, baddest, most expensive ATV on sale today.
The XP 1000 S' big price also comes with big features. It features Polaris' new multi-select electric power steering, ProSteer for bump steer elimination, and LED pod and bumper lights. Its suspension is the big derivative from the "normal" XP 1000, with high-clearance rolled A-arms front and rear that help make for a 55-inch-wide machine with 11.6 inches of front suspension travel and 14 inches of rear travel with 14.5 inches of ground clearance.
In this application the ProStar engine cranks out a whopping 89 hp (just a measly 1 hp shy of its 90 rating in the Sportsman XP 1000 Ride Command) and this brute can carry 500 pounds of cargo on its racks and tow up to 1,750 pounds. Standard are 27-inch Duro Power Grip tires as is True On Demand AWD, which we don't like as much as a traditional 4WD system with selectable locking differentials but still gets the job done just fine. Polaris says the XP 1000 S is being sold on "limited availability," which is good because this monster, like the Sportsman sibling, isn't for beginners or novices. The sky-high price reflects that accordingly.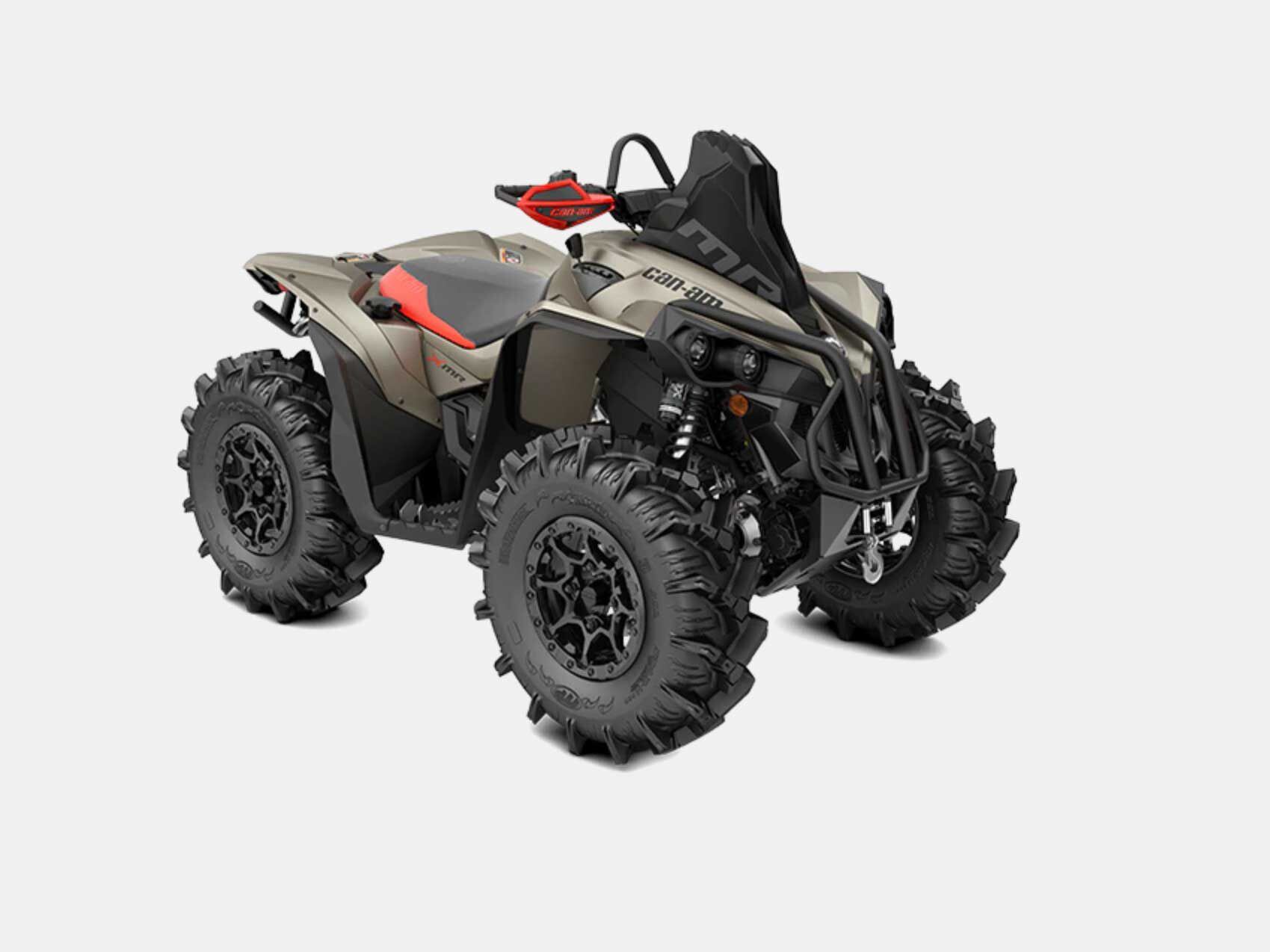 2022 Can-Am Renegade X MR 1000R (Can-Am/)
2. 2022 Can-Am Renegade X MR 1000R: $16,499
It's no surprise there's a Can-Am near the top of our list; in fact, it's even slightly surprising the brand doesn't hold the title for most expensive ATV for 2022. If it wasn't for Polaris' totally bonkers XP 1000 S, the Renegade X MR 1000R would be sitting atop the throne. And it only misses the champion claim by a mere $100—chump change when we're talking near-$17,000 ATVs.
Like the Polaris, Can-Am's big dog sport-rec ATV comes loaded with features that make the price somewhat palatable. The 976cc Rotax V-twin engine makes 91 hp and the huge output is matched on the suspension front with Fox 1.5 Podium QS3 shocks. Being a mud-focused model (that's what the "X MR" nomenclature designates) the big Can-Am also bears a standard 3,500-pound winch, 30-inch ITP Cryptid tires on 14-inch cast aluminum beadlock wheels, and bodywork designed to let everyone know this is a hyper-aggressive off-road machine. Steering is made easy by way of Can-Am's Tri-Mode Dynamic Power Steering (DPS), and the company's Visco-Lok4 front differential helps the quad claw its way out of sticky situations. Can-Am claims the Renegade X MR 1000R is for "mud, performance, and trail." It laughs in the face of all three.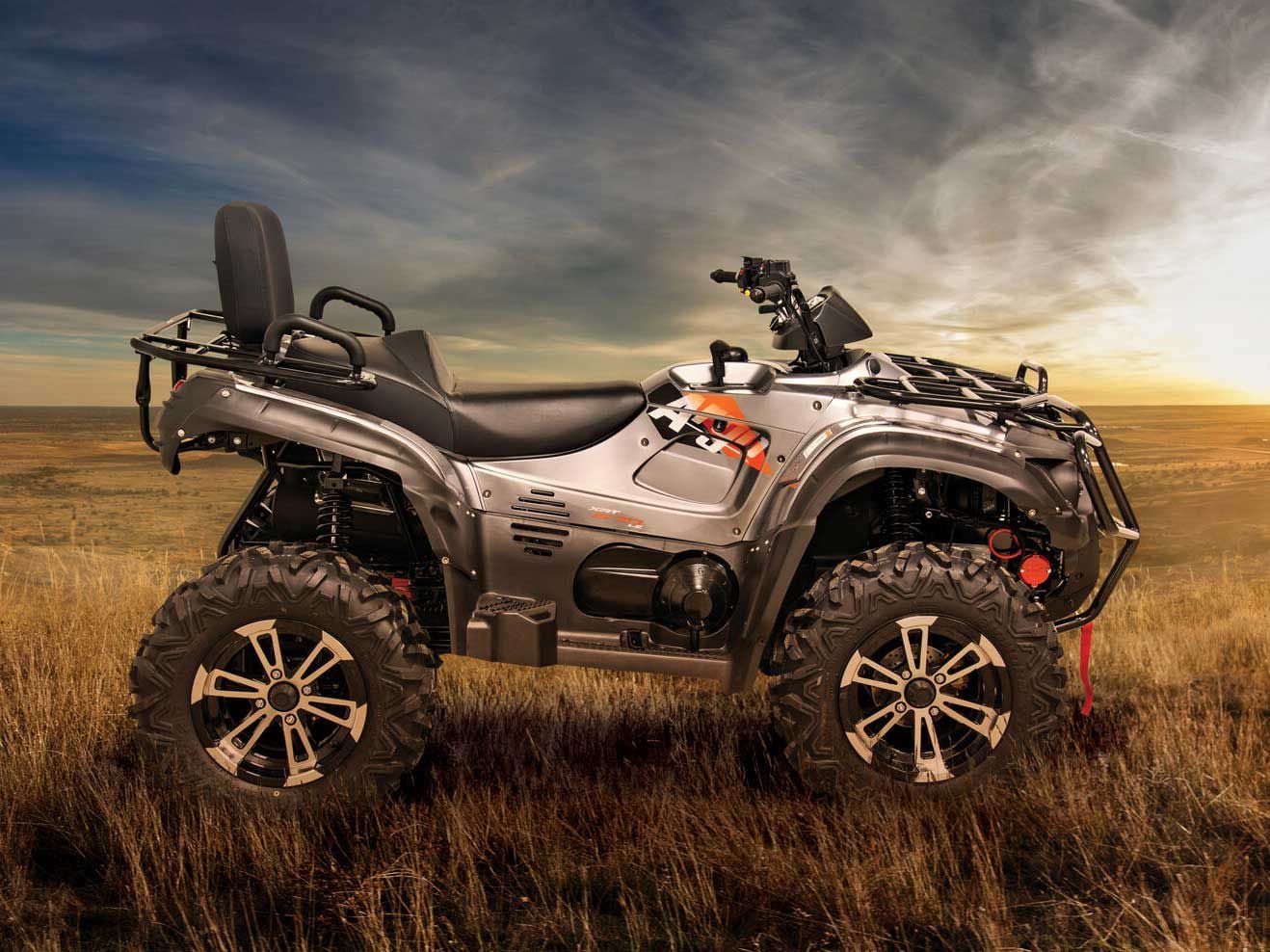 2022 Argo Xplorer XRT 1000 LE (Argo/)
3. 2022 Argo Xplorer XRT 1000 LE: $12,899
Many will be surprised to see that Argo is the maker of 2022′s third-most expensive adult ATV, but not many know about Argo in the first place. That's a shame, because the manufacturer builds some extremely interesting machines like amphibious vehicles and the utterly insane Sherp. Turns out it can build an expensive and well-equipped ATV too, and the 2022 Xplorer XRT 1000 LE is just that.
This two-up quad has a 997cc liquid-cooled engine, Tri-Mode Speed Sensing Electronic Power Steering (TMSS EPS), and a digital instrument panel with tons of information available at the rider's fingertips. A set of 26-inch Maxxis tires are mounted on aluminum wheels, hand guards are standard, and a 3,000-pound winch is included to get you or your buddies out of trouble. The Xplorer's suspension is well thought out with double A-arms both front and rear, and Argo mounts the shocks to the lower arm to maximize performance and increase rider comfort.
While the Xplorer XRT 1000 LE isn't the most widely known machine, it looks to be a good one. Expect to start seeing these around as Argo expands its operations in the coming years.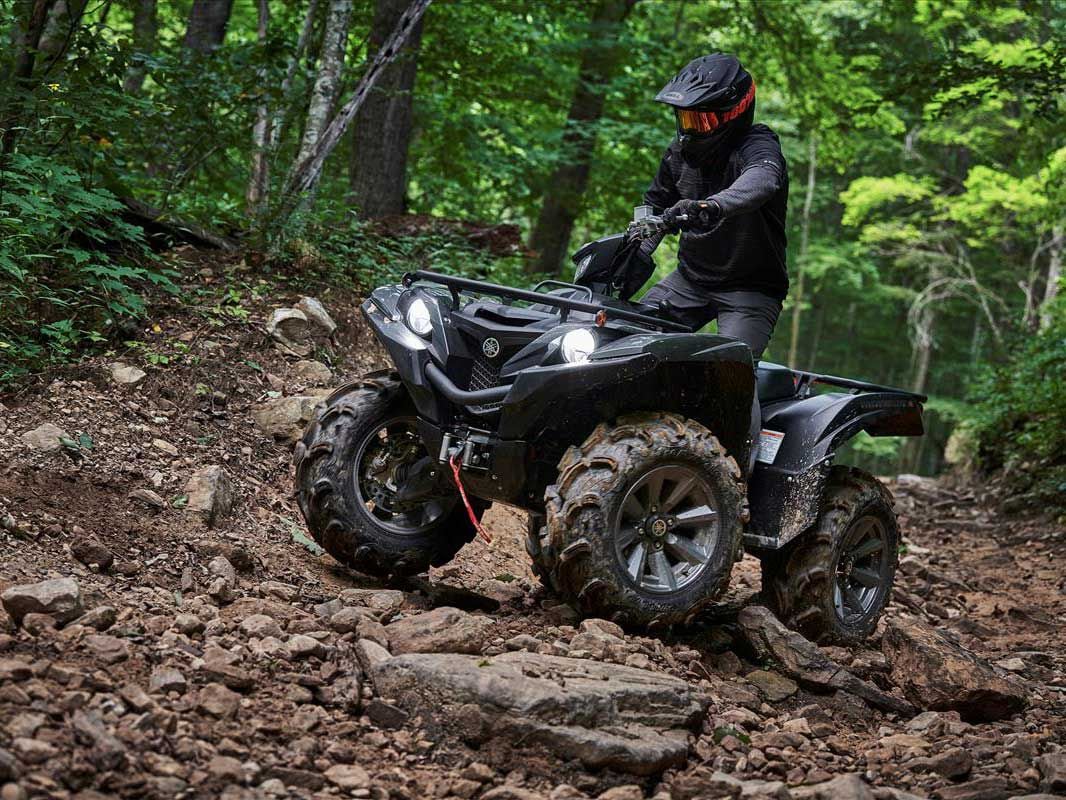 2022 Yamaha Grizzly EPS XT-6 (Yamaha/)
4. 2022 Yamaha Grizzly 700 EPS XT-R: $11,299
Like Toyota, Yamaha sells extremely well-built and long-lasting machines that are capable and competent, but don't really raise the bar for innovation or features. Once upon a time the Grizzly 700 did move the proverbial chains, but it's long since turned into an industry stalwart that sells itself on the known entities of reliability and general, overall competence.
That doesn't mean we don't like the Grizzly 700; in fact, we're big fans of it for nearly any usage. For 2022 the top-trim EPS XT-R rings in at a not-cheap-but-not-eye-watering $11,299. For that dollar you get Yamaha's killer reliability, the Grizzly's maneuverable and relatively nimble liveliness, and classic Yamaha looks. This model includes a factory-installed Warn winch, Special Edition paint, Maxxis Zilla tires, and wheels that are color-matched to the plastics. The 686cc single-cylinder engine lives on as the sole engine choice, and as much as we wish it had another cylinder or some extra power, we can't fault it for being thoroughly usable and fun to wring out. The Grizz also gets Yamaha's On-Command three-way locking differential, which might be our favorite four-wheel-drive system on the market.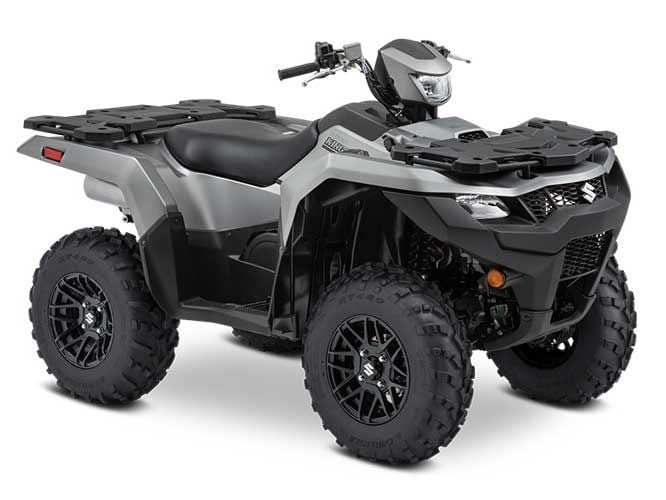 2022 Suzuki King Quad 750AXi Power Steering SE+ (Suzuki/)
5. 2022 Suzuki KingQuad 750AXi Power Steering SE+: $10,699
Like the Yamaha Grizzly 700 and Kawasaki Brute Force 750 4x4i, Suzuki's biggest quad has been around for a while and, though it could use a refresh, is still fairly solid in all categories. It lands fifth on our list of most expensive ATVs for 2022 with a price just $100 above the Kawasaki Brute Force 750.
The big 'Zuk is a fine machine, but nothing really stands out. Its Metallic Matte Rocky Gray bodywork is automotive-like and definitely a step above the other trims, and we like the cast aluminum wheels. Notable features are fender and handlebar-mounted headlights in traditional Suzuki ATV style, LED taillights, and an LCD instrument panel. EPS is standard on this trim and the Quadmatic transmission is smooth and easy to operate for riders of any experience level.
This ATV is powered by the same 722cc single-cylinder engine that lurks beneath the seat of all KingQuad 750s. It's tame compared to others on this list, but it motivates the 751-pound KingQuad just fine. There's a locking front differential for tricky, technical situations and steel racks are powdercoated with a wrinkle finish to withstand the beating utility ATVs are often subjected to.
The 2022 KingQuad 750AXi Power Steering SE+ doesn't include a lot of fancy gadgetry and premium features like the top-dollar machines on this list, and the price reflects that.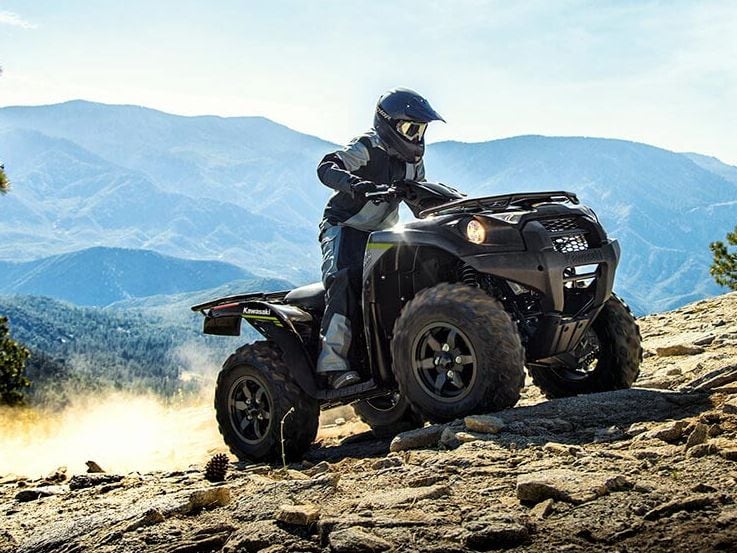 The 2022 Kawasaki Brute Force 750 4x4i (Kawasaki/)
6. 2022 Kawasaki Brute Force 750 4x4i: $10,599
One of the noble truths about adult ATVs is that the Brute Force will always try to prove its namesake true; its name really does match its mojo. Although the Brute is getting long in the tooth, Jeff Henson still found it to be a blast in his test this year, stating:
"It's really hard to go wrong with the Kawasaki Brute Force 750 4x4i EPS. After 200-plus miles of testing, it still feels, sounds, and performs like it did on day one. The drivetrain is virtually flawless, and the few items we have to complain about are fairly superficial. It doesn't have the largest displacement in the heavyweight ATV class, but power output never disappoints. It doesn't matter how tough the trail ahead is or the size of the chore you present it with, either. The Kawasaki Brute Force 750 4x4i EPS is always a solid contender."
The big Kawi is really a fun machine and one that is more than the sum of its parts. It has four-wheel independent suspension and EPS like so many other ATVs, but its 749cc V-twin engine delivers the bulk of its 42.7 lb-ft of torque down low where riders can make maximum use of the meaty powerband in the widest variety of situations. It's also fairly nimble thanks to a low 699 pound weight, so the Brute is fun on the trails and in work situations, too. We're big fans of the Brute, and its price seems reasonable given how enjoyable it is to ride.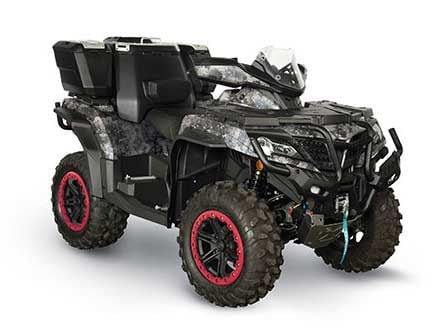 2022 CFMoto CForce 1000 Overland Camo (CFMoto/)
7. 2022 CFMoto CForce 1000 Overland Camo: $10,349
CFMoto continues to storm the ATV industry and has jumped into the deep end with the CForce 1000 Overland Camo. "Overland" is a buzzword these days, but there's a lot of niceties on the CForce 1000 Overland Camo that would in fact make us want to take it on a self-sustained camping trip.
CFMoto's "normal" 1000 Overland is priced at $9,999. Adding camouflage plastics brings the price up to $10,349 which is good for seventh on our list. Your dollars go to a stout 963cc V-twin engine that produces 79 hp, which is unfortunately billed with the duty of pushing around the Overland's 999 pounds of heft. At least there's EPS to make turning easier and the machine is filled with a lot of gear to make the weight worthwhile.
The 1000 Overland has 27-inch CST Clincher tires and 14-inch beadlock wheels. There's fully adjustable shocks and a trailing-arm rear suspension. Protection is a priority on this machine to keep it moving when the going gets tough. CFMoto equips the 1000 Overland with heavy-duty steel front and rear bumpers, a high-strength aluminum front bash plate, and full-length HDPE skid plates. Storage comes by way of removable cargo boxes, and the view of the trail ahead is improved with LED front flood lamps. An integrated front windshield keeps bugs and the elements off the rider's face, and hand guards protect from sticks and rocks that may strike the handlebars.
There's a lot to like with the CFMoto CForce 1000 Overland Camo, and its price is reasonable given what it offers.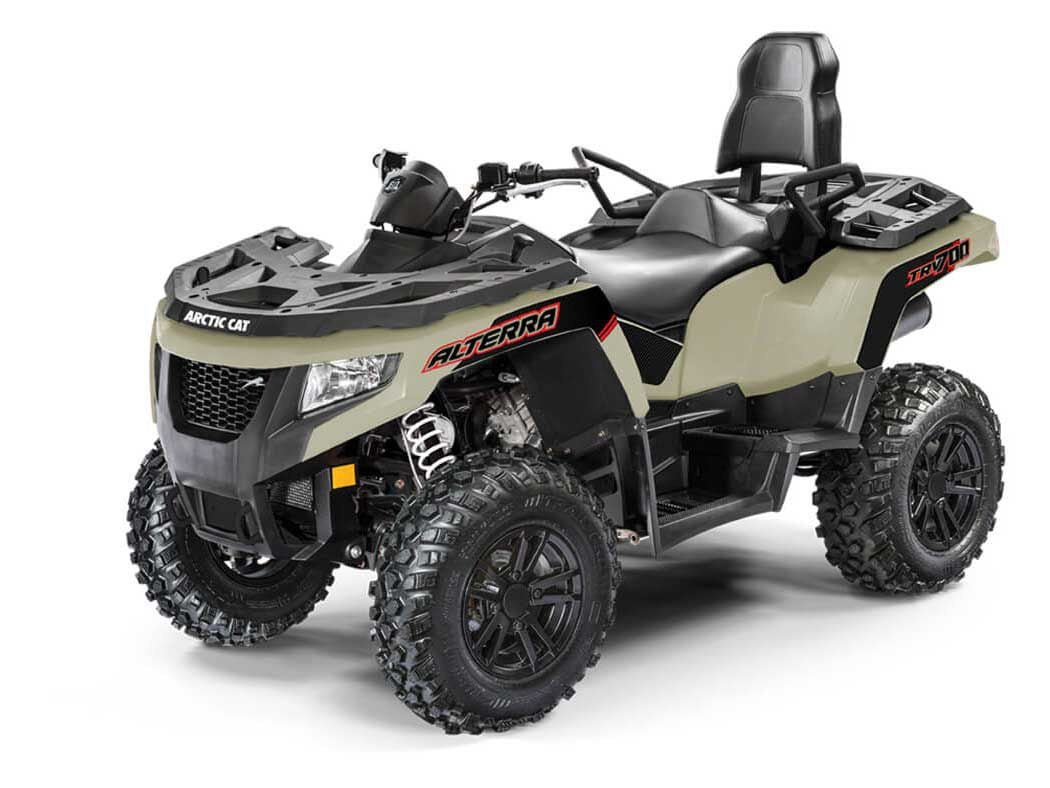 2022 Arctic Cat Alterra TRV 700 EPS (Arctic Cat/)
8. 2022 Arctic Cat Alterra TRV 700 EPS: $10,299
Representing Arctic Cat is the Alterra TRV 700 EPS, a two-up quad that carries a price tag of $10,299. It has the second smallest engine here and appropriately is the second least expensive machine at only $300 more than the Honda that closes out the list.
The Alterra is an interesting machine. It's neither a fire-breather nor dedicated workhorse, and straddles a middle ground of being perfectly happy putting along on the trail or getting chores done around the farm. The 695cc engine is adequate and we're grateful that it has 2WD and 4WD options with a selectable locking front differential. A healthy 11 inches of ground clearance and 10 inches of suspension travel are standard at the front and rear, thanks in part to double A-arm setups at both ends. The Alterra TRV 700 EPS can tow 1,050 pounds and has front and rear Speedracks for making quick work of mounting and dismounting cargo and work accessories. The 25-inch tires are standard, as are front tow hooks and a special commemorative badge celebrating Arctic Cat's 60th anniversary.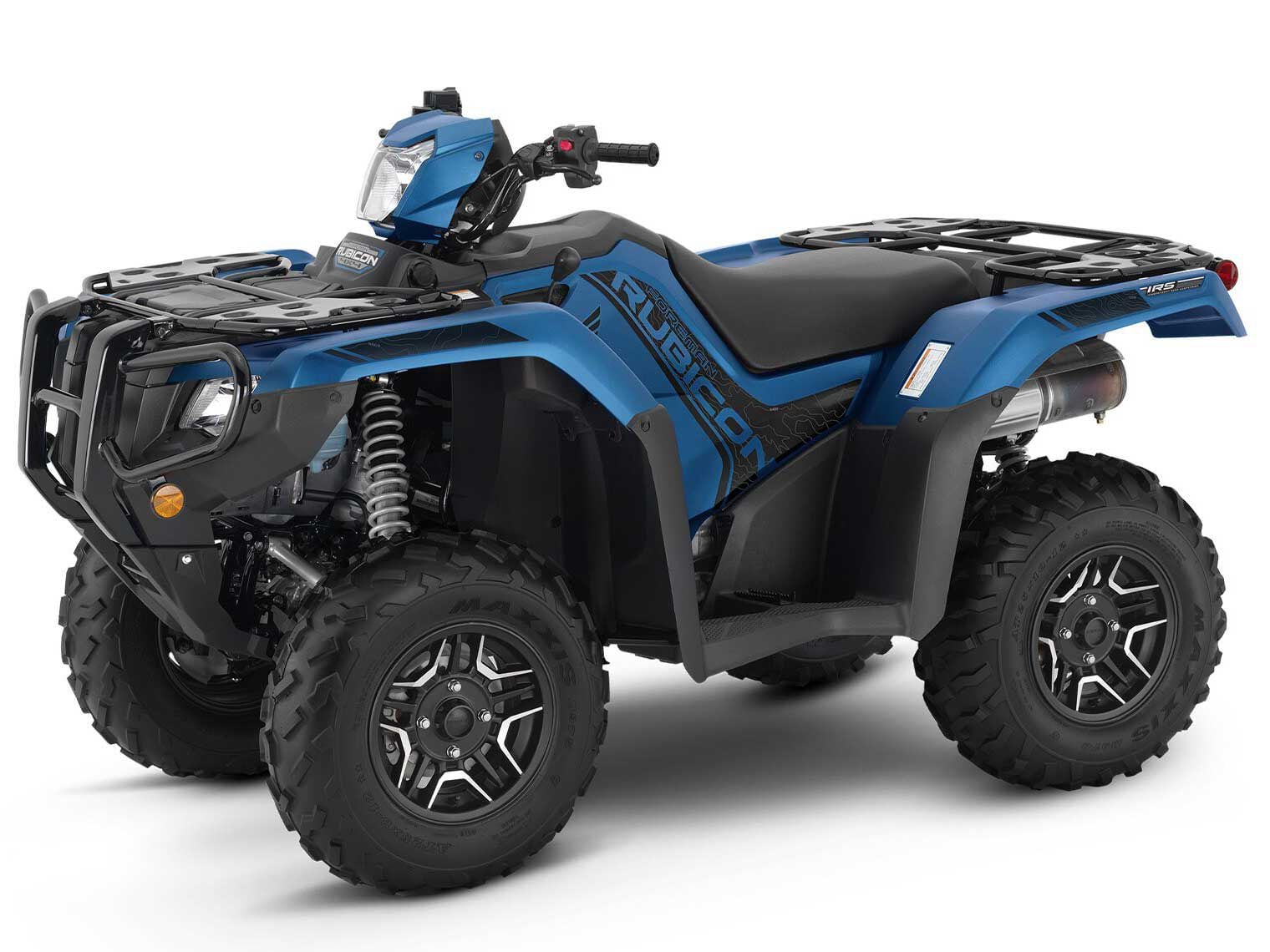 2022 Honda FourTrax Foreman Rubicon 4×4 Automatic DCT EPS Deluxe (Honda/)
9. 2022 Honda FourTrax Foreman Rubicon 4×4 Automatic DCT EPS Deluxe: $9,999
We love Hondas, and the FourTrax Foreman Rubicon is no exception. This unique quad rounds out our list of the most expensive adult ATVs on sale for 2022 by representing Honda as the only manufacturer left with a sub-$10K machine for its top-tier offering.
On top of an absolute mouthful of a name, the 2022 FourTrax Foreman Rubicon 4×4 Automatic DCT EPS Deluxe carries with it some genuinely interesting hardware. Most notable is the transmission, which is an automatic dual-clutch transmission (DCT) with high and low range. This is an automotive-style gearbox, and one we'd like to see other quad manufacturers adopt for some of their offerings as it's more fun and engaging than the continuously variable transmissions (CVT) that are generally standard across the board on 4×4 ATVs. The Rubicon also has a convenient reverse button mounted on the left handlebar for quick shifting between gears for instances such as working in close quarters. Smart stuff, in typical Honda fashion.
This Honda also features EPS and a venerable 518cc engine. Power is sent to either the rear or all four wheels via TraxLox selectable 2WD/4WD, and disc brakes slow the machine. This highly optioned model also gets aluminum wheels and appearance goodies like color-matched suspension and painted plastics. While the FourTrax Foreman Rubicon isn't going to set the ATV world on fire, it will likely be one of the only things to come out of the other side of the apocalypse; right there with the cockroaches and other Honda ATVs.