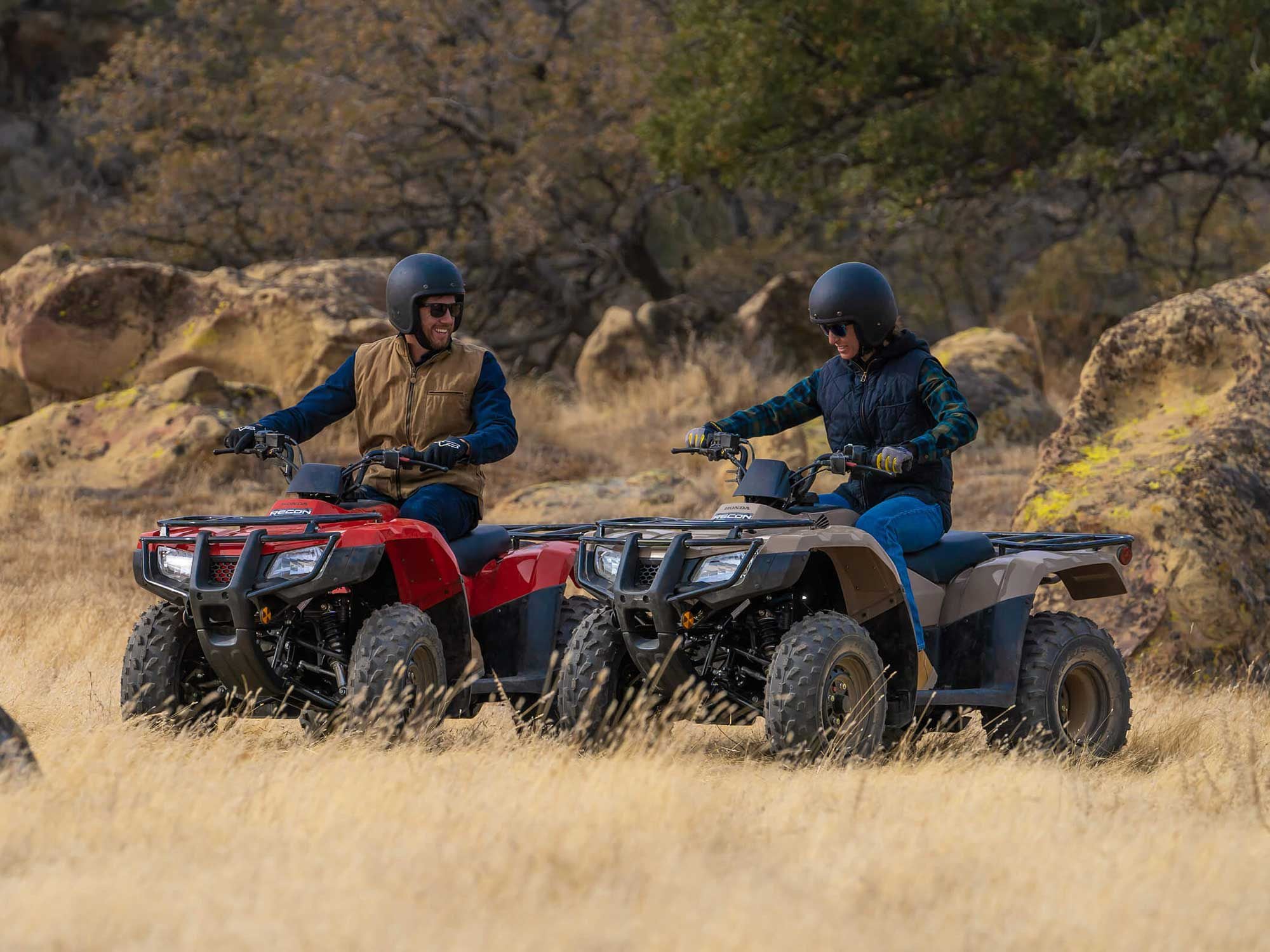 Honda's FourTrax Recon is the least expensive adult ATV for 2022. (Honda/)
Inexpensive doesn't have to mean cheap. You still have to spend some decent money to get into an adult ATV in 2022, but the least expensive options from each manufacturer are of a higher quality and better equipped than ever. Here's our list of each ATV manufacturer's least expensive offering for the 2022 model year.
Note that we didn't include sport ATVs on this list, because they are woefully underrepresented in the quad community, and most look for something that can serve as both a work and play machine when considering their first four-wheeler. That said, the machines listed here can conquer light to medium chores while providing good fun and a bunch of laughs.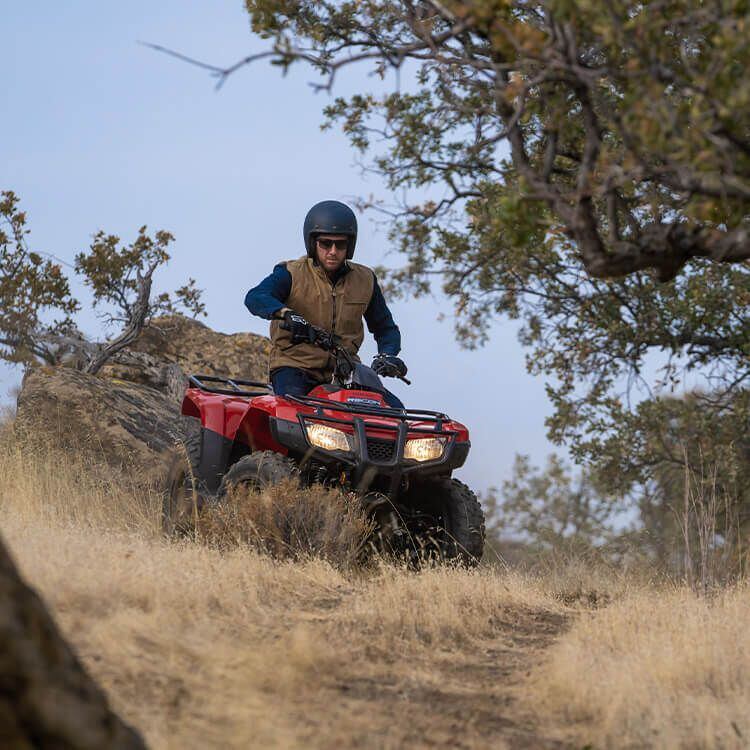 2022 Honda FourTrax Recon (Honda/)
1. 2022 Honda FourTrax Recon: $4,499
Who doesn't love a good Honda? We sure do, and clearly so does the ATV world as the FourTrax Recon is back for 2022 and, as always, it's an extremely inexpensive way to get into ATVs and to buy one that will keep on kickin' regardless of what's thrown at it.
What do you get for $4,499? Honda's amazing reliability, for one, but also a pretty decent four-wheeler to go along with it. Honda says the Recon's built around a "Do more with less" motto, and that's the truth. At the core of the Recon lives Honda's unkillable 229cc air-cooled engine. Its overhead valve and semi-dry-sump design make for a low center of gravity while also keeping the engine up out of the way for less intrusion into the area that would compromise ground clearance.
Despite being carbureted and that power only gets sent to the rear tires, the Recon makes the most of it with direct shaft drive which creates minimal drivetrain loss. Honda states the quad is a featherweight at a light 437 pounds "ready to ride," meaning that quoted figure includes all of the necessary fluids and even a full tank of gas. That low figure plus the standard five-speed manual transmission make for a truly fun machine even in spite of its low power. Think Miata, not Mustang. Fun to rip around in and fling through the gears. A rider's machine.
Included in the Recon's ultralow price tag are steel cargo racks capable of holding 33 pounds front and 66 pounds rear, and an LED taillight/brake light out back. The Recon is available in Zest Orange, Moose Brown, and classic Honda Red for 2022. This might be the least expensive adult ATV on sale today, but that shouldn't warn anyone off. The FourTrax Recon is a truly good machine. You don't get a ton of equipment or power, but you do get the Honda peace of mind for your hard-earned dollars. And for this price, that's a killer deal.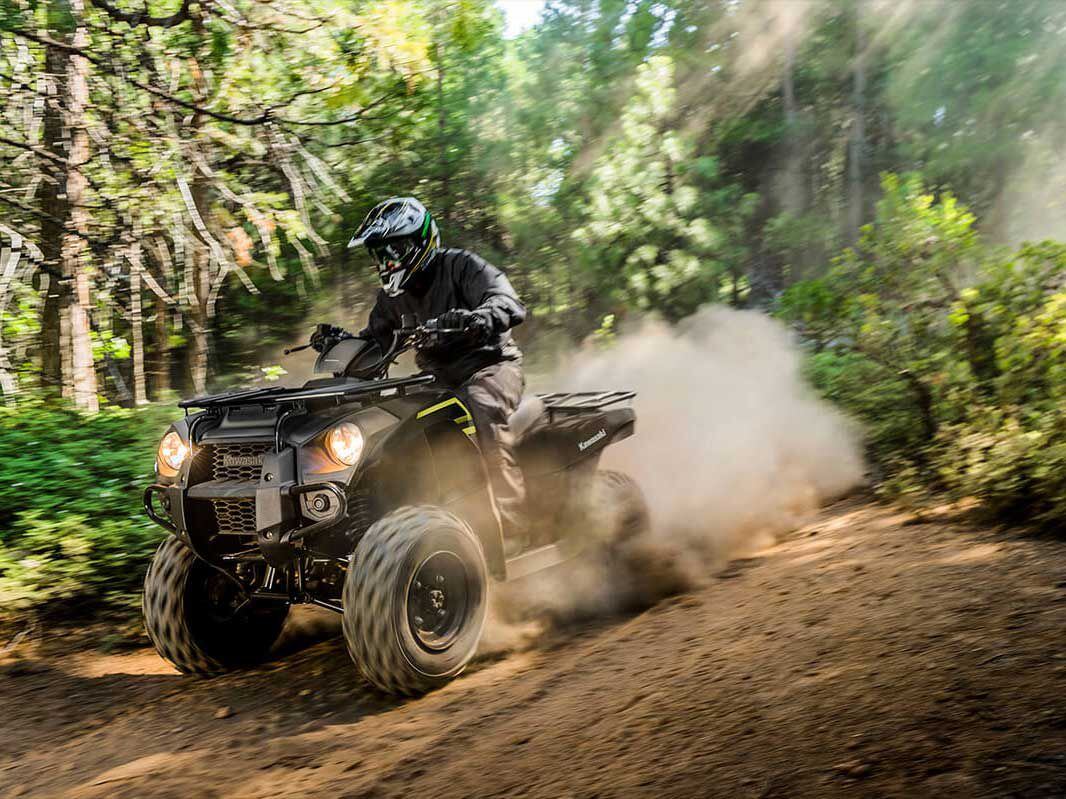 2022 Kawasaki Brute Force 300 (Kawasaki/)
2. 2022 Kawasaki Brute Force 300: $4,599
Kawi's "baby Brute Force" costs very little compared to most ATVs on sale today, and at $4,599 the 300 is a huge $4,400 less than its Brute Force 750 4x4i big brother. With the Brute 300′s low entry price comes a reasonable amount of equipment, though there's not any surprises here.
Weirdly, Kawi claims the BF 300 is "your ultimate outdoor accomplice," but it doesn't have four-wheel drive. You have to sacrifice something to get a price this low, and in the case of the baby Brute it's sacrificing driving the two front tires. With 2WD only, the Brute is tasked with hanging with others in its price range that offer 4WD and in some cases locking differentials. The Recon has 2WD exclusively too, but it's even less expensive.
The same goes for its engine. The 271cc mill is liquid-cooled yet, unlike so many machines with electronic fuel injection, it's stuck dealing with a carburetor. It's technology of yore, especially when other machines with similar price tags have EFI standard. The Brute only makes 15.9 pound-feet of torque and has to push around 536 pounds, but it's actually a fun and nimble machine that you can throw around on the trail.
The Brute 300 has a CVT with high and low range, and it can carry 44 pounds on its front rack, 66 pounds on its rear rack, and pull 500 pounds. There are full floorboards and a multifunction gauge cluster. The Brute Force 300 does come with independent A-arm suspension up front, but the rear suspension consists of a swingarm and single shock design.
The 2022 Kawasaki Brute Force 300 is a good choice for those who want Brute Force styling and heritage but not the price tag of Kawi's big-bore Brute Force 750 4x4i. The Brute Force 300 isn't a spectacular ATV by any means, but if you want one of the least expensive adult ATVs for MY 2022, this one fits the bill.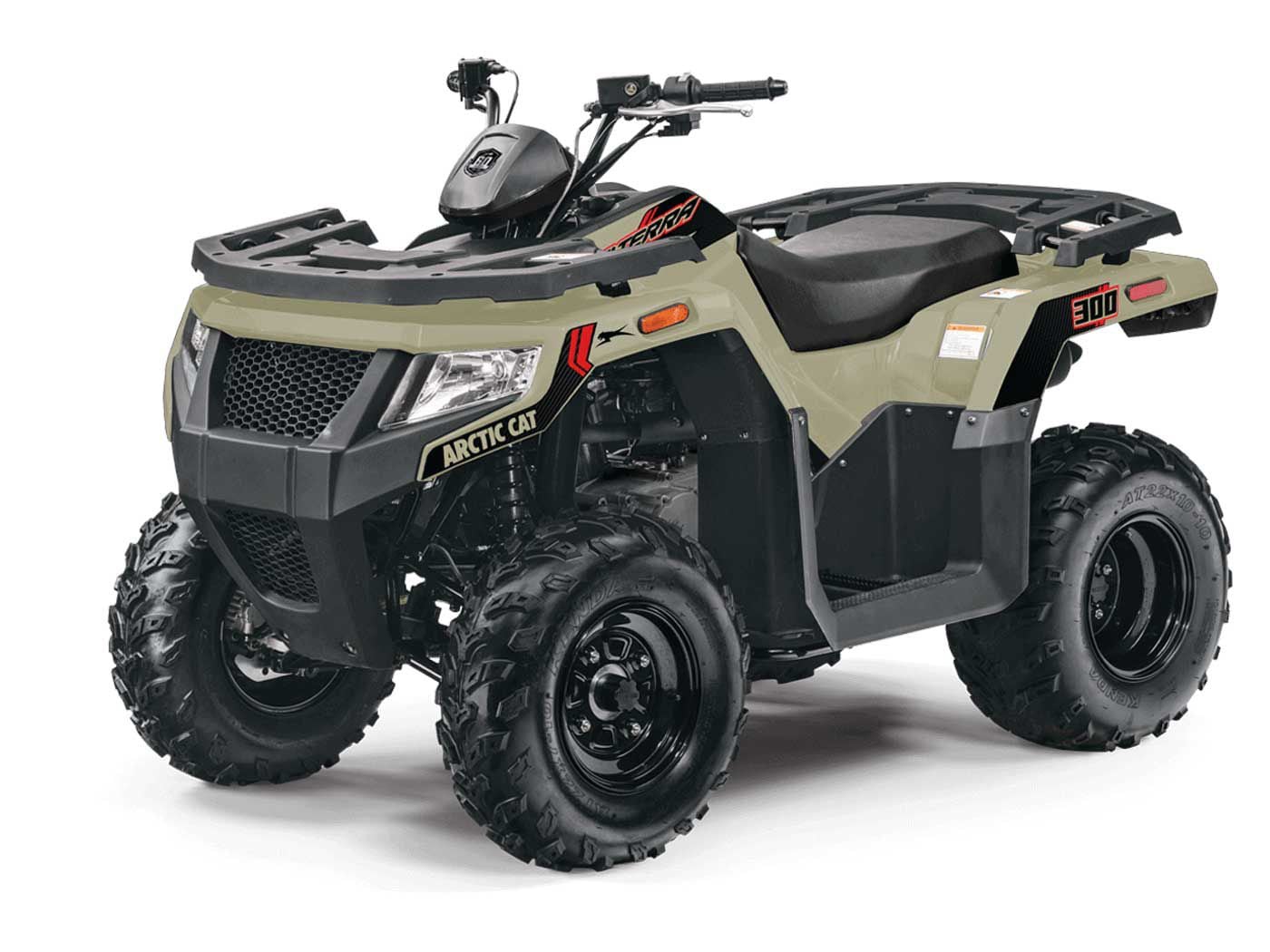 2022 Arctic Cat Alterra 300 (Arctic Cat/)
3. 2022 Arctic Cat Alterra 300: $4,649
Per the brand's website, Arctic Cat's Alterra 300 is "a versatile, lightweight machine made for work and long days on the trail." In all fairness, it does tick all of those boxes except maybe the lightweight one, yet it lags behind much of the competition and other machines on this list in many ways.
Arctic Cat's 300-class, 270cc engine is fine but not much more. It's carbureted and not particularly impressive on the power, torque, or sound fronts. You only get two-wheel drive with the Alterra 300, but at least the rear differential is fully locked to maximize the quad's ability to put down the power.
Suspension is similar to the Honda Recon and Kawasaki Brute 300. The Alterra 300 has double A-arm front suspension which is normal, however out back it's stuck dealing with a swingarm. Between the two, there's only 5 inches of travel front and rear. Add in that the ATV weighs 517 pounds. It's fun to toss around on the trail but it isn't exactly a speed demon. It can only tow 500 pounds, and its racks can only handle 50 pounds on the front and 100 pounds on the rear.
Arctic Cat equips the Alterra with a digital multifunction gauge and a fancy 60th Anniversary badge. It's a decent ATV for the intended audience, it's just a little outclassed, even given its low buy-in price.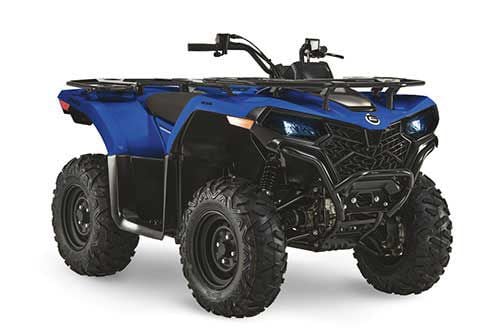 2022 CFMoto CForce 400 (CFMoto/)
4. 2022 CFMoto CForce 400: $4,799
CFMoto's line of ATVs is only getting rounder and better, and the entry-level CForce 400 continues to help the brand's reputation of selling inexpensive models to the masses. For a price tag in the ATV world, $4,799 is a small number, and even though this is only a 400-class machine, the 400 has a lot going for it.
On the power front, the CForce 400′s engine displacement reflects its name perfectly. The single-cylinder, 400cc, liquid-cooled engine has Bosch EFI and is good for 31 hp and 24 pound-feet of torque. It would be more than plenty if the machine didn't weigh 750 pounds, but if nothing else it should be stable and the weight helps it tow and haul, with a decent 620-pound capacity via 2-inch receiver. CVTech is CForce's transmission, and there's engine-braking standard. Front and rear racks can be loaded with 75 and 150 pounds of whatever your heart desires. Disc brakes live at each corner, and double A-arm suspension with coilover shocks contribute to the healthy 9.8 inches of ground clearance. Plan to make good use of it with 2WD/4WD available on the fly and front diff lock as part of the deal.
On the niceties front, there are high-intensity headlights, rear running lights, and a multifunction digital instrument panel. CFMoto doesn't mess around when it comes to shoving a lot of equipment into a machine at a lowish price, and the CForce 400 is no exception.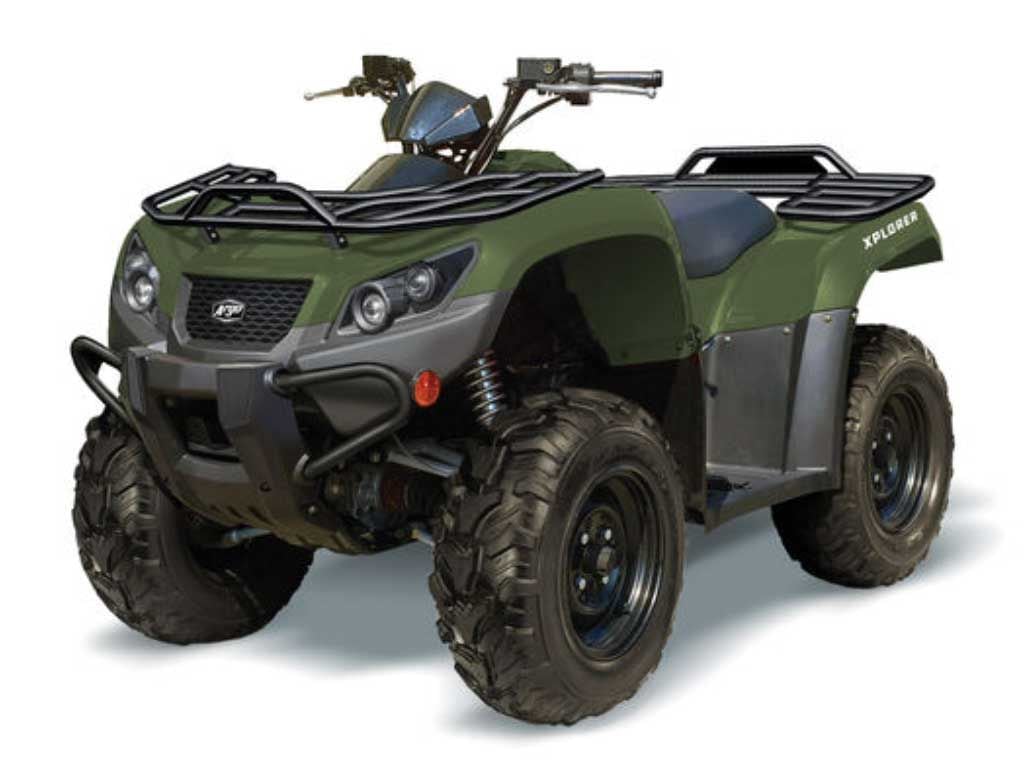 2022 Argo Xplorer XR 500 (Argo/)
5. 2022 Argo Xplorer XR 500: $6,299
Argo's Xplorer XR 500 isn't even close to being the least expensive machine on this list, but it's also a well-equipped, 500-class machine. All-new for 2022, Argo let the prior 500 live for only five years before throwing it to the wayside and releasing an entirely revamped version. And it did a good job of updating too.
The Xplorer XR 500 has a new 443cc, liquid-cooled, EFI engine with engine-braking and there's "performance clutching" to better put the power to the ground. Argo claims the suspension is "class-leading," with double A-arms front and rear. Like with the bigger siblings, Argo mounts the shocks to the lower arm to maximize travel and comfort. We appreciate the locking front and rear differential which gives extra traction in situations of tougher traction. Steel racks allow for 120 pounds of front and 240 pounds of rear carrying capacity, and the Xplorer 500 can pull 1,050 pounds off its 2-inch receiver hitch.
Argo also equips the Xplorer line with digital instrumentation, the 500 included. The 24-inch Kenda tires are standard and one of the only things that may be ready for an upgrade right off the bat. The $6,299 buy-in is money well spent with the Argo Xplorer 500, at least on paper.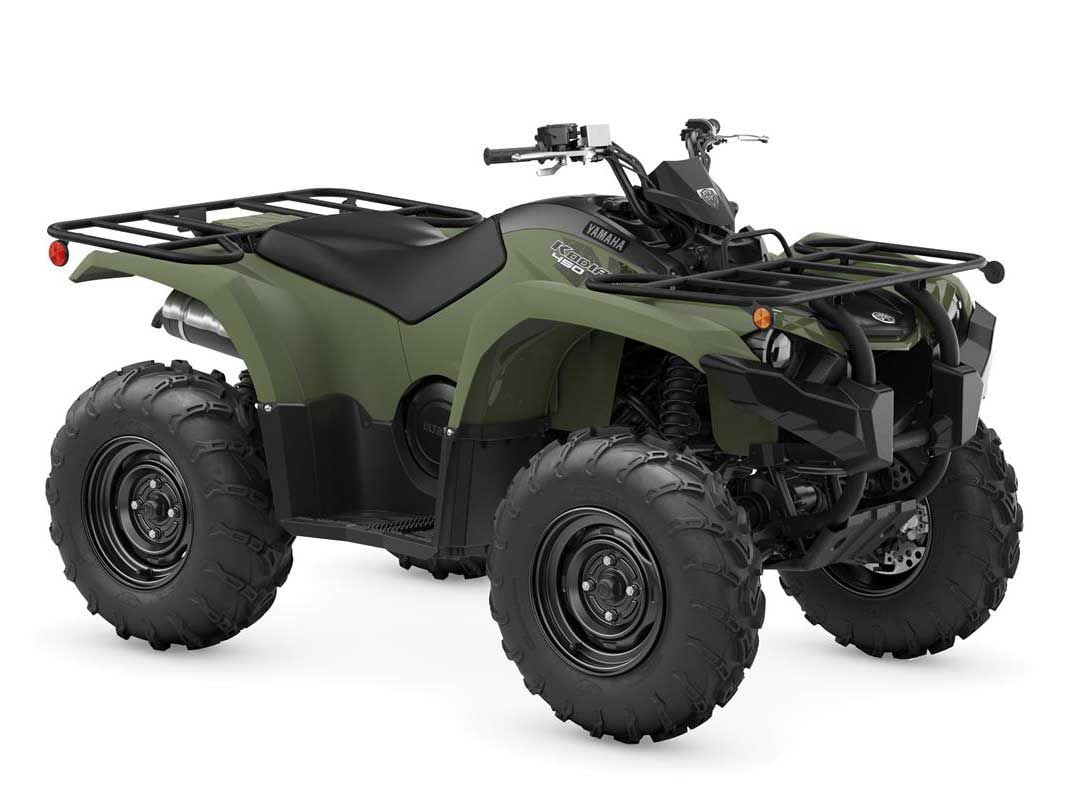 2022 Yamaha Kodiak 450 (Yamaha/)
6. 2022 Yamaha Kodiak 450: $6,499
The Kodiak 450 has been around a long time. It's a good machine, if not a bit underwhelming. What it lacks in equipment it makes up for in that amazing Yamaha reliability we all know and love.
Just $6,499 gets you in the door with the base Kodiak 450. It doesn't have EPS (you have to step up to the $7,599 Kodiak EPS to get power steering) but it does have the fantastic On-Command 2WD/4WD system. There's no locking differential unfortunately, but it will take you more places. Yamaha's Ultramatic transmission is excellent as well, and with EFI on board the 421cc engine is extremely reliable and low-maintenance. It's not a powerhouse, though it doesn't need to be.
The Kodiak 450 isn't going to be the most exciting machine for riders but it will provide flawless, headache-free performance day in and day out. It could be a little less expensive, or at least EPS could be included for the base price of $6,499, and yet we still dig the Kodiak.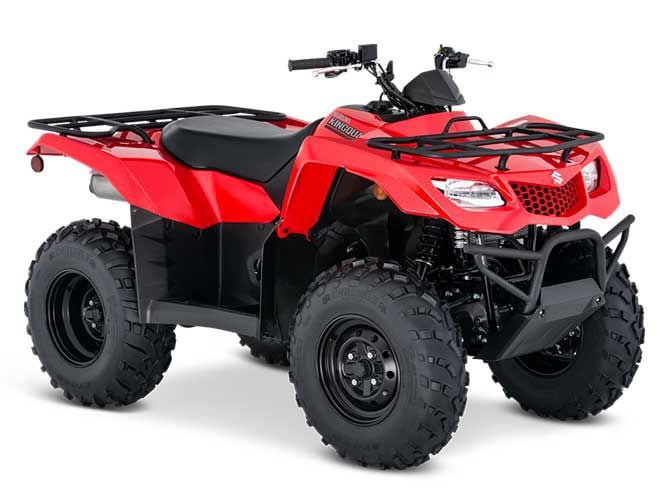 2022 Suzuki KingQuad 400FSi (Suzuki/)
7. 2022 Suzuki KingQuad 400ASi or FSi: $6,649
Suzuki's KingQuad 400FSi is a decent little machine, if not a bit overlooked in its class. We like it for its "alternative choice" factor and how much kit is packed into the base price of $6,649. It's in good company on this list, and for the money it's a decent machine on its own merits.
The KQ 400FSi uses a 376cc four-stroke engine that has electronic fuel injection and four valves for its single cylinder. It's not super powerful or torquey, but it's plenty snappy down low. Riders can maximize use of the powerband thanks to a five-speed manual foot-shift transmission with a semi-automatic clutch on the FSi, or you can get the fully automatic ASi. With four-wheel drive on tap (2WD/4WD is selected on the handlebars like all other machines), this is a fairly unique combination in the utility ATV space, and we appreciate that about the KingQuad 400FSi. Shaft drive makes for easy, simple use and keeps the power flowing to either the rear or all four tires, and up front a limited-slip differential maximizes traction without going to a fully locking setup.
Suzuki equips the KingQuad 400FSi with 25-inch Carlisle tires and LCD instrumentation with a good slew of information available on hand. There's a DC power outlet on the front fender, and the quad comes with winch-ready mounts and a wire conduit for easy winch installation. Suzuki hasn't done much to revitalize the KQ 400 recently, and yet it's still a solid choice through and through, especially if you're looking for four-wheel drive.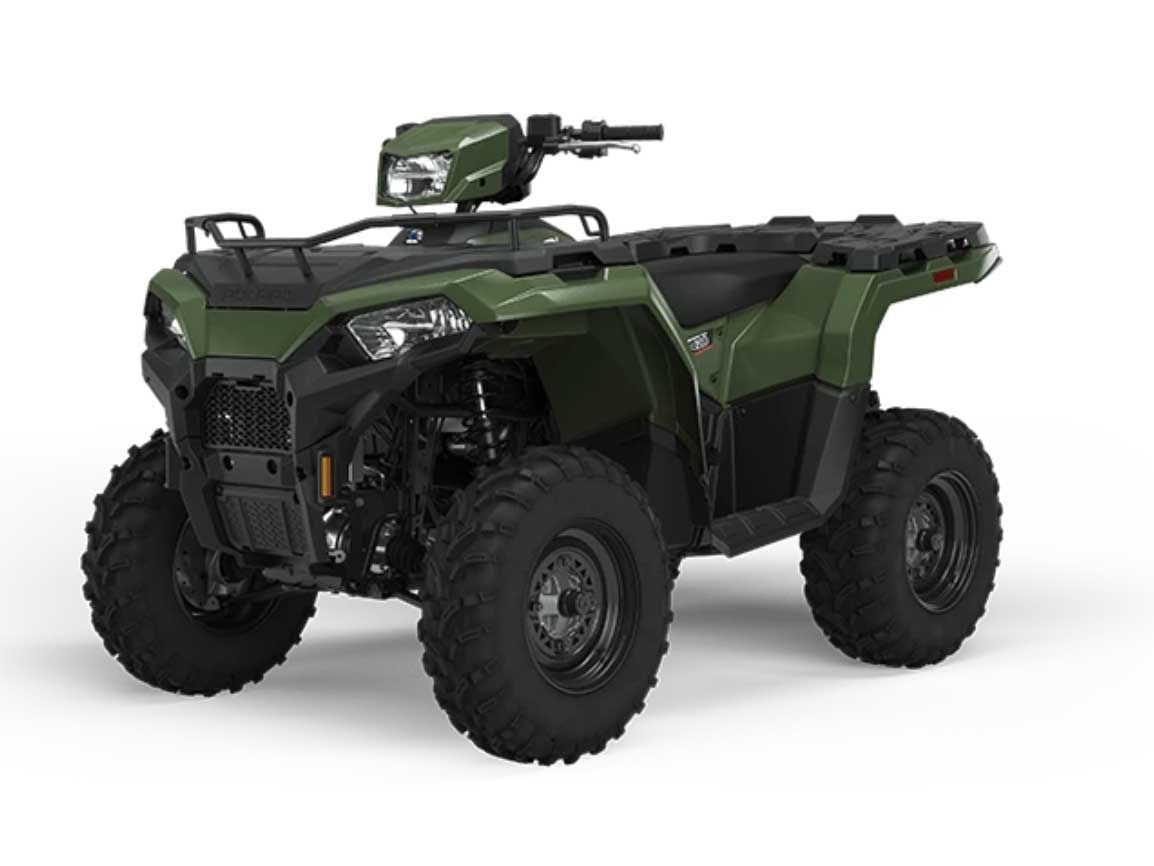 2022 Polaris Sportsman 450 H.O. (Polaris/)
8. (TIE) 2022 Polaris Sportsman 450 H.O.: $6,699
At $6,699 the Polaris Sportsman 450 H.O. brings a lot to the table. On the spec sheet it lines up more with midsize and some full-size machines than the others with which its price is so close.
Polaris regularly knocks it out of the park when it comes to suspension, and the Sportsman 450 is no exception. It has an extremely plush ride quality that is in some instances head and shoulders better than its competitors. There's 9.5 inches of rear suspension travel and 11.5 inches of ground clearance which is more than enough for nearly every instance the 450 will be up against. And when the going gets really tough, 25-inch tires with six-ply construction should get the job done on the traction front.
Although the Sportsman 450 H.O. weighs 700 pounds, its ProStar engine cranks out 33 hp which is enough to healthily motivate the quad. This engine contributes to the quad's 1,350-pound towing capacity which is a massive amount for the class and price.
Polaris equips the Sportsman 450 H.O. with a lot of electronic tech too. The digital gauge features a lot of information and in addition to the halogen pod and bumper lights, there's triple 50-watt high beams, dual 50-watt low beams, and an LED brake light and taillight. A 12-volt power plug lives in reach for powering accessories, and Polaris prewires the Sportsman 450 H.O. for hand and thumb warmers and also thrown in its brilliant in-pod battery charger. A winch mount is included, as is a front rack extender and a respectable combined 270-pound front and rear rack capacity.
What the Sportsman 450 H.O. doesn't get is EPS, but with this much gear and the quad's fantastic ride quality, it won't be sorely missed. Polaris claims the Sportsman 450 H.O. is "The industry's best value ATV, the 450 H.O. is smooth, strong and versatile, making your hard-earned dollar go further." We tend to agree.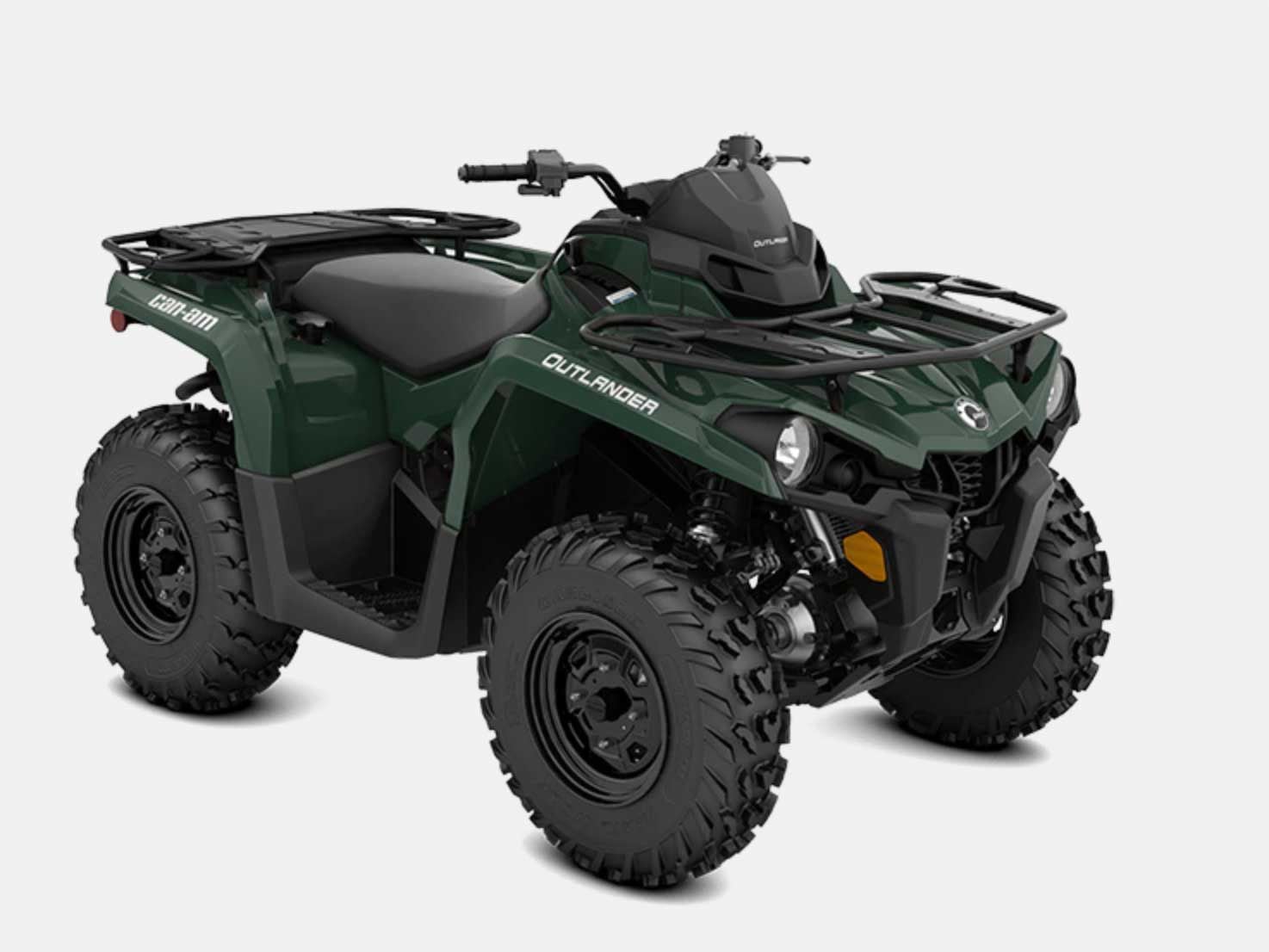 2022 Can-Am Outlander 450 (Can-Am/)
8. (TIE) 2022 Can-Am Outlander 450: $6,699
It's no surprise that Can-Am's offering is at the higher end of the price spectrum. Also unsurprising is that the brand's representation on this list is a very solid machine. The Outlander 450 may pale in comparison to the bigger Can-Ams, though that shouldn't stop anyone from considering it.
"Performance beyond its price" is how Can-Am touts the Outlander 450′s place in the lineup. The 450-class Rotax engine pumps out 38 hp, which is more than any other brand's least expensive model offers. The Outlander 450′s drivetrain is a good one too. Selectable 2WD and 4WD are standard, and there's the Visco-Lok automatically locking front differential. More advanced riders will be left wanting for a manually locking option, but this system works well in every model across the Can-Am lineup.
While the suspension isn't quite up to Polaris' level of suppleness, the double A-arms do make for 9 inches of travel both front and rear. And the Outlander 450 is good for a tow rating of 1,300 pounds, plus it can carry 120 pounds on its front rack and 140 pounds on its rear rack. These are big-bore capabilities. There are also steel racks front and rear with Can-Am's LinQ quick-attach accessory mounts, which is an impressive piece of hardware for instances in which the Outlander 450 is used by its owners for both work and play. LinQ allows for modular addition of accessories like a bed, rack, cooler, and so on. Out back is a 2.9-gallon water-resistant rear compartment. Riders are treated to a multifunction digital display, a lighter-type DC outlet, and dual front and rear lighting setups. Additionally, it's prewired for a winch.
While the Can-Am Outlander 450 carries a fairly hefty price tag for a brand's lowest-priced offering, it really is a good ATV that can do it all. It has good build quality, and while it isn't the perfect machine for everyone, the Outlander 450 can be something to all riders.